Thinking of adding pink to your home? It can be a scary thought to add in a color that most people associate with Barbie's Dream House but it's not that intimidating when you have a list of colors that go with pink. Adding pink to your home decor is as simple as knowing what colors will complement it. Sure we all may remember the pink 70s bathrooms or the bubblegum pink our mothers slapped up on the walls of our bedrooms when we were kids but pink has evolved when it comes to the home and it has a place in design trends. Depending on the hue, the color pink can be a calming color and is associated with love, kindness, and femininity so why would we not want it in our homes?
With a little help and guidance from the experts, adding pink is easy and you'll be surprised at just how grown up and elegant this color can be if paired correctly.
Pink + Grey
Pink and grey have been a trending color combo for many years now. Typical in little girl's bedrooms the grey breaks up the pink but still allows for a girly but sophisticated vibe. Add in just a little pop of pink with mostly grey to keep the femininity to a minimum but on the opposite hand add in just a touch of grey with pink and you can give a space a distinctly sophisticated look. But let's break down grey into two separate shades because between light grey and dark grey the looks are completely different.
Pink + Light Grey
A blush or very light pink always goes well with a matched muted shade. The light touches of gray and soft pink in this master bedroom leave a light and airy feeling. Using two soft pink armchairs to carry the pink from the master bedroom to the sitting area is a great choice for this room. This is a little amount of pink without being overwhelming. It's a soft and feminine touch but not too much that a man would feel out of place.
Pink + Dark Grey
For those that love grey but maybe prefer a darker hue, this muted color can also pair quite nicely with pink. Just one pink piece of accent furniture makes a bold yet delicate statement and adds just a hint of color to break up the dark grey. The blush velvet pink couch in the image above proves that you don't need to overdo the pink.
Mixing two grey tones together with a bit of pink is also a desirable look. Just one touch of dark grey on the headboard here adds a pop from the accent wall but also goes with the pink curtains to match the flowers in the stunning wall mural.
Pink + Beige
We are showcasing a lot of muted and blush pinks right now and I promise we will get to some fun, bold shades of pink but I must give this mixture of beige and pink its time in the spotlight. I love how the designer, Karen B. Wolf kept this room light and bright. She uses touches of beige in the furniture and fixtures to add a natural feel with gives this room a total earthy yet light vibe and totally complements the pale pink walls.
Pink + Green
Being on opposites sides from each other on the color wheel means that pink and green are the most complementary to each other and it also means that you can pretty much find any shade of green to go with pink. It's important to match the correct hues, though. Visit our page on colors that go with green to learn more about decorating with green.
Pink + Sage Green
Blush pink and sage green are one of the most common colors for a nursery. These two colors when used together have a total calming effect. Very modern and trendy, pairing the sage green with the pink also allows for a child to grow into their room. As in the picture above, you can see based on the trendy wallpaper and wall art, it would be very easy to transition from a baby to a little girl and maybe even a teenager in this room. Also, it's very striking to see that the sage green was carried through onto the ceiling.
Pink + Emerald Green
Sophisticated with just a hint of moody, the pairing of pink walls, throw pillows and this striking emerald green velvet couch is design genius. The contrast of the couch against the pale pink wall allows for a more grown-up vibe and paired with a simplistic modern gallery wall it allows the couch to be the focal point but adding the pink as a background undertone is beautiful.
Pink + Olive Green
As far as green and pink go, it's hard to get them wrong. These colors are so complementary and I am sure that you could pair almost any shade of pink with olive green. Here this designer, Leah Ward has combined a stunning fuchsia floral wallpaper up against a vivid olive green picked up in the bed canopy, throw pillows and accent chair. It's lovely that the bed and curtains are in a natural tone as to not overdo the room.
Pink + Blue
Much like green, there are several shades of blue that will complement pink quite nicely. When pairing with blue, this is when we see a lot of fuchsia, darker or hot pinks used. Pink and blue do match nicely together and culturally, these colors are seen as opposites so putting them side by side stimulates a sort of color harmony. Pink is not just for girls and blue is not just for boys anymore.
In this bedroom, the pink and blue share the weight. The nice, healthy mixture of the two completes the cheery and bright feel of this bedroom. One does not outshine the other and when pairing pink into the accent pieces like the modern end table you are left with a space that invokes sophistication but still allows for some feminine touches.
Pink + Navy
With navy, you could go either way — bright and bold or more subdued. I personally, love a nice blush pink up against the navy for a stark contrast. Like in this front porch, the blush pink door is perfect not only against the navy siding but also given the color of stonework around the pillars and at the side.
Pink + Sapphire Blue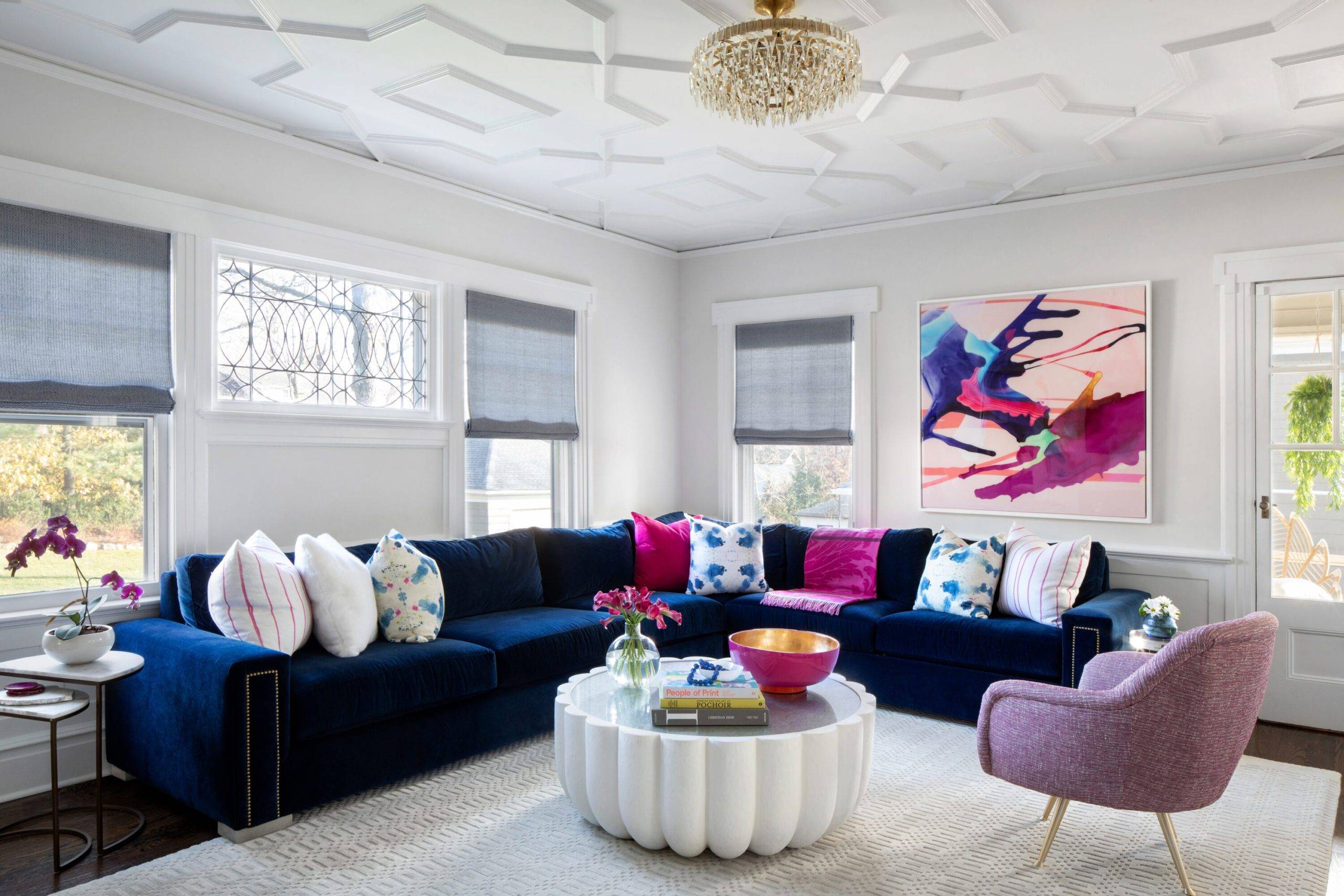 Fun and edgy come to mind when looking at this marvelous sapphire velvet sectional. There's a richness but also a modern edge to the design of this room. Throwing in pops of fuchsia in the pillows, artwork and even adding a bowl to the coffee table give this room a fun feel all while maintaining the richness and elegance. Historically, we know that blue and pink are two colors that are opposites but this room proves that opposites most definitely attract.
Pink + Yellow
Yellow is such an uplifting color and when you pair it with a beautiful pink the combination is sure to cheer up anyone. Adding in a pink couch here that is solid color allowed this designer to have a little more fun with a pattern for the ottoman. Throwing down a bright and vibrant rug that picks up both colors in the couch and ottoman brings them together and creates a unified design. Looking for more yellow inspiration? Check out our article on colors that go with yellow.
Pink + Black
The contrast here between the blush vanity and the stark black tile makes the vibe of this bathroom totally grown up and mature. Yes, you can have a pink vanity and still have a mature and classy bathroom. Black fixtures are also carried throughout in the lighting and mirror but then adding in just a few touches of gold in the faucet and shower fixtures really adds a nice glam to this space.
Pink + White
Completely traditional, this entryway and staircase have a certain allure and I believe that comes from the textured pink wallpaper. Breaking up the white wainscoting and adding in pink gives this traditional space charm and elegance but also a bit of fun. Throwing down a pink rug also calms the space and makes it less cold and more inviting.
Pink + White + Black
If we like pink and white together and we also like pink and black together then when we pair all three we know it's going to be an exquisite trio. If you have to be stuck in an office all day you might as well make it something that is pleasing to look at. Each color here is completely balanced and not one outshines the other. Yes, the black may add a stark contrast but the fact that it's carried throughout the middle of the room makes this room balanced and well designed.
Pink + Orange
Pink and orange are two colors that you may not think go together but when using the right shades they do have a great appeal. When working with orange and pink try to keep with fuchsia. These two colors are both very joyful and are quite close to each other on the color wheel but you can still have fun with them. A bolding clash when done correctly can create quite a statement and can provide a room with a little flair and creativity.
Pink + Turquoise
When working with pink and incorporating it into your home, you don't always have to go over the top with other colors. Sometimes just a little bit of color in a curtain or throw pillow is all you need. In this kitchen from Jasmin Resse Interiors, the bluish-pink kitchen cabinets are the main act and we just see a pop of turquoise in the patterned curtain. In this case, adding in any more color, I think, would have taken away from the simplistic beauty of these cabinets.
Pink + Dark Teal
Pink goes with teal, especially when it's a soft blush pink. By keeping the pink more muted and toned back the dark teal provides stunning contrast and that's when we really see these two colors work together nicely. This geometric wall pattern is quite a statement but one can't help but swoon over the complementary pairing.
Pink + Gold
The floor-to-ceiling pink walls and trim provide a beautiful background for this room. Adding in some gold tones gives this room richness and luxury which are two words one doesn't often think of when it comes to pink but this just proves that it can be done.
Frequently Asked Questions
FAQ
How many shades of pink are there?
Well, if we want to get super technical, there are around 29,000 different pink shades currently known to man. Although, when it comes to the design world and designing your home, you can usually categorize pink into two different shades — light/muted or dark/bold.
Blush, baby or pale pinks are very common and provide a soft and almost neutral balance to your home. Light pinks have an overall calming effect.
Fuchsia, hot pink and brighter pinks can be a little trickier to work with as they are bolder colors. These colors are more playful and fun. They are great for rooms that require a more cheery vibe.
Can I do multiple hues of pink together?
Combining different shades of pink together can definitely be done. It's easiest to do with lighter shades of pink and when you mix different shades it can provide a nice soft contrast to the room. Be careful not to get too carried away with too many different shades and too much pink, though. Go too far and it may look like a giant bottle of Pepto-Bismol exploded in your home.
Are there any colors that are an absolute no with pink?
It is said often that red and pink clash but that being said, I have seen some fabulous interior designs that pair red and pink together. Sometimes a bolding clash can come out in a beautiful and unexpected way. If you do want to try pink and red together just be picky about your tones and shades. I would avoid anything too Christmas-y red or also avoid shades like bubble gum pink or it may come out looking very Valentine's Day.
What does the color pink do for the overall feel of the home?
In color psychology, pink is a sign of hope. This color represents love and compassion and has a naturally calming effect in the home. Combining red and white is what gives us pink. The passion and strength of red are softened by white which is pure and untainted. Combining the two together we get the romantic and alluring color of pink. Different shades of pink exude different feelings, though. A deeper pink will invigorate feelings of passion and more energy whereas lighter shades give off feelings of calmness, serenity and hope.
Can I use a light pink with a dark color?
Yes! And more specifically, if you are using a light pink like a blush or a pale baby hue adding in a dark contrasting color will add sophistication and depth to your space. Mixing in dark colors such as a deep teal, navy or emerald green gives your space a mature vibe and moves the pink away from being a juvenile color.
Can pink be used as a neutral?
If using a less saturated hue of pink and then you tint it with white you can most certainly use pink as neutral and in most cases, this comes across beautifully. You will want to use this neutral pink with a palette of other soft colors and that's when it will really shine as a neutral. A soft pale pink has an ethereal quality about it and it gives just a hint of color and can be quite successful in conveying neutrality.
What is the most popular shade of pink?
When it comes to home interior design, blush pink seems to be the most popular hue choice. The reason is, that it combines nicely with so many different color choices. It tends to act more as a neutral meaning that you can mix it into pretty much any space. It's warm and gentle making your space feel ultra cozy. The subtleness of blush pink makes it a top choice and when using it in different textures such as velvet or suede can make it quite sophisticated.
What's the safest option if I want to add pink to my home?
If you're still unsure of adding pink to your home, start out small. We suggest starting with a grey base and then adding in small accent pieces of pink. Some blush accent pillows look lovely on a grey sofa or if you have grey walls try switching out your curtains for some pale sophisticated pink ones. This will give you a feel for your space and how the pink will look without going full commitment but I think that we can all agree after looking at these stunning photos of pink in the home that this hue has come a long way since the 70s.
Whether you want to add in a bold pop or just a subtle hue, pink can be a welcomed addition to any home when executed correctly. Take your time when picking out paint or accents for your home. If you're painting your walls pink you can always get some sample sizes and test out several different hues to get the right shade.
Even the smallest details have the ability to completely transform your space so when considering going pink, starting small can make a big impact.