Lavender is a beautiful color that is reminiscent of fresh and blissful summer. It conveys neutral sophistication with a glorious and artistic vibe. It is a popular choice of color for a girl's bedroom or nursery. But it is also an overall room motif or accent in any rooms in the home of grown-ups. You only need to learn what colors go with lavender to jazz it up without risking it from looking imbalanced. Here is our take on what colors go with lavender and how you work it out in home designing.
Before we go on, however, let us clear some confusion first. Lavender is often used interchangeably with purple. But, it is important to note that these two are not the same. Lavender is only a lighter tone of purple or a medium purple with a more bluish hue.
15 Mix and Match Color Schemes with Lavender
Ombre Gradient of Pink, Lilac, and Lavender
While lavender is a medium purple with a bluish stain, lilac is also a version of purple but more on the pinkish side. Using them together with a bolder pink tone sets the kindred feel and imparts a sassy vibe. This eye-catching ombre curtain is a funky pop of color. Yet, it still exudes a relaxing feel with its flowy three-tone gradient.
Classic Cool Neutrals
What colors go with lavender? Well, neutral colors like gray, smoke, and off-white are often the best ones to complement it. Lavender can turn around the depressing and muted impression of the cool neutrals. It also conveys a feeling of royalty and plush opulence with its subtle beauty.
Breaking the Monotony
Lavender is a strong hue that makes an eye-catching accent when used among natural and neutral colors. If you want to highlight something, keep your room's overall color in the undertone to allow the lavender to pop up. This playful yet simple children's room keeps the focal point of interest on the bed. And it goes as simple as painting it with the stunning lavender hue.
Dreamy Chocolate and Lavender
The lighter version of lavender best complements the warmer color tones. So for furniture stained with natural hues like mahogany or chocolate brown, a lavender undertone is the best. You may choose the pale lavender hue to avoid the contrasting and overbearing look against your primary room color.
Redirecting the Focal Interest
This flowery mauve wallpaper and a delicate cascade of the lilac curtain make a whimsical pair. But putting these colors together may look kind of bland and boring. That's why adding even a bit of detail, like the lavender headboard of this bed, gives it a subtle appeal. It sets the focal point of interest to make the flowy color scheme appear more noticeable.
Bringing Cohesiveness to Bold Tones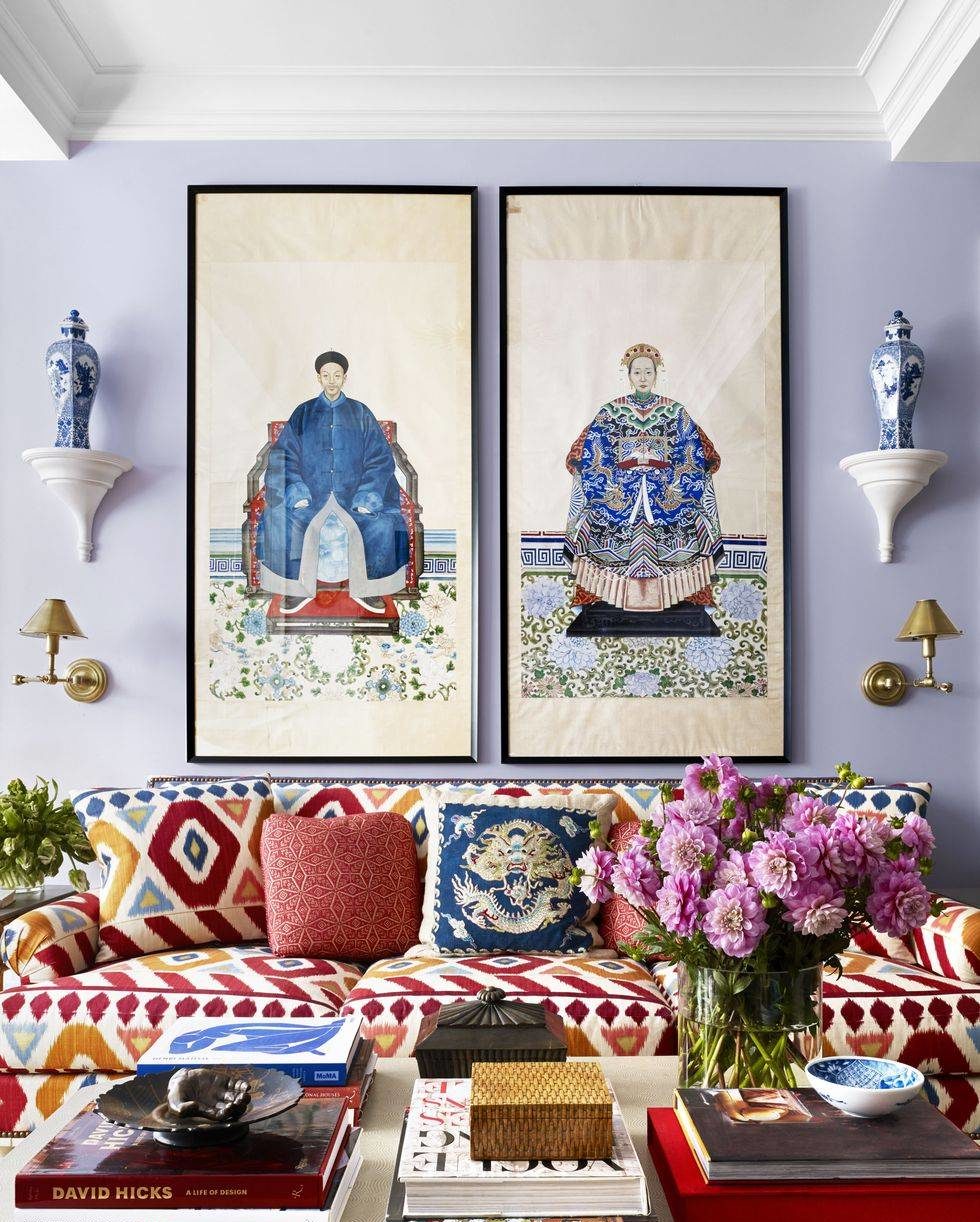 Depending on the tones of lavender, this color is actually quite a versatile complementary color. For example, in a room of dominating bold hues, a light lavender can bring cohesiveness. You will notice its effect in this eclectic Manhattan living room. The demure wall color exudes such grace despite the cluttered look and contrasting bohemian theme of the room.
Cheery and Sunshiny Lemon and Lavender
It sounds like a refreshing summer already, but lemon is one of the answers to what colors go with lavender. These two complementary colors look bold and therefore, a little risky to decide. But using them as accent colors is not such a bad idea. You can always tone it down with cream, tan, or white primary colors to tie cohesiveness.
Creating the Sense of Belongingness
Throwing lavender with its analogous color scheme brings out an eclectic flair. This room is filled with various degrees of purple that are neither simple nor chaotic. Its different textures, shades, and tints of lavender fill this room with a unique personality. They still appear connected, creating a sense of belongingness in the room.
Lavender and Brown Infusion
Here is another eye-catching pair of lavender and warm brown to show off a lovely modern nursery. Their stunning contrast emphasizes the luxurious and 'queenly' feel of the room. Their connection is bold, yet it still conveys the calmness parents would look for in a baby room. And according to science, the calming blue and whimsical pink found in lavender can even help soothe a fussy baby.
Painting the Exterior with Lavender and Turquoise
Dressing the home's interior with color schemes that work smoothly is not quite a problem. The biggest challenge is painting its exterior since this is what shows up even from a distance. If you want to infuse your favorite medium purple hue, then what colors go with lavender? Look at the turquoise outline of this lavender abode that looks like it is a real deal. The house looks funky and fun but still exudes a whimsical royal character.
Fun and Fresh with Olive Green
Who says lavender is for the baby and kid's room only? This adult bedroom with the striking combination of olive green and lavender looks playful and funky. The subtle dance between the two vivid colors highlights a dreamy positivity. The cream-colored carpet further balances the look while connecting the interior of the room.
Crisp with White
No better color goes well with lavender than the universal crisp and bright white. Obviously, white pairs pretty well with any color scheme. Pairing it with lavender will highlight its plush and luxurious appeal with the weaving thread of whimsicality.
The Deluxe Lavender Room
There is a luxurious connection between gray and lavender. So, here is our premium room to boast. The lavender-gray combination exudes elegance and modern sophistication with a romantic flair on the side. Incorporating plush textures like the sheer curtain, tufted furniture, and woolly rug makes it even more dramatic. It is the perfect way of showcasing stunning colors without being too overwhelming.
Simple and Subtle Touch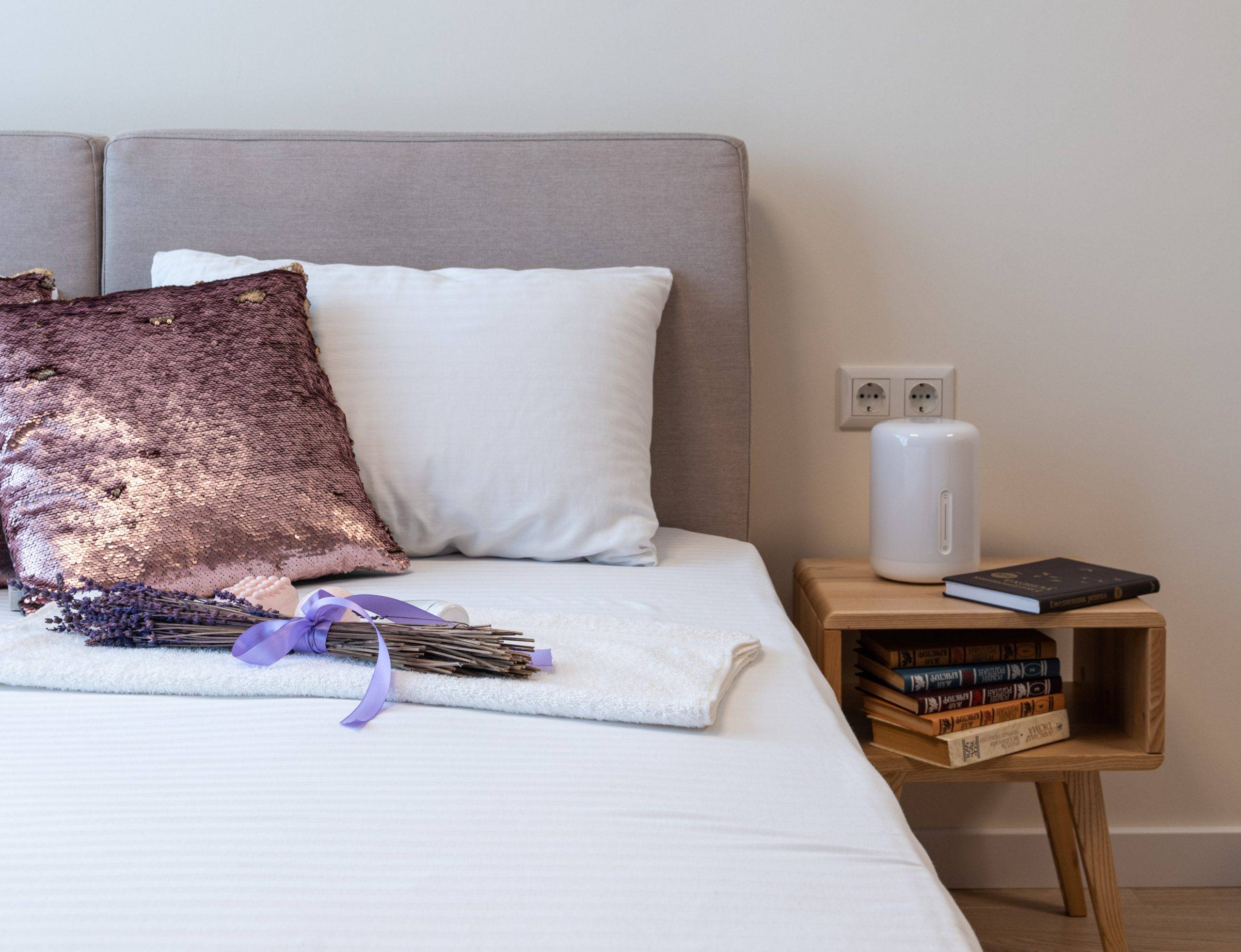 If you are afraid of going too bold with colors, adding an accent to your room is a clever idea. Simple accessories like a pillow, or even a bunch of lavender flowers, are a fresh takeaway. This humble effort adds a touch of glamour without going too much over the top. You may also add some other accessories like a vase or a lamp that suits your motif. It is an inexpensive way of bringing a dash of color into the room without going through a major renovation.
Black and Lavender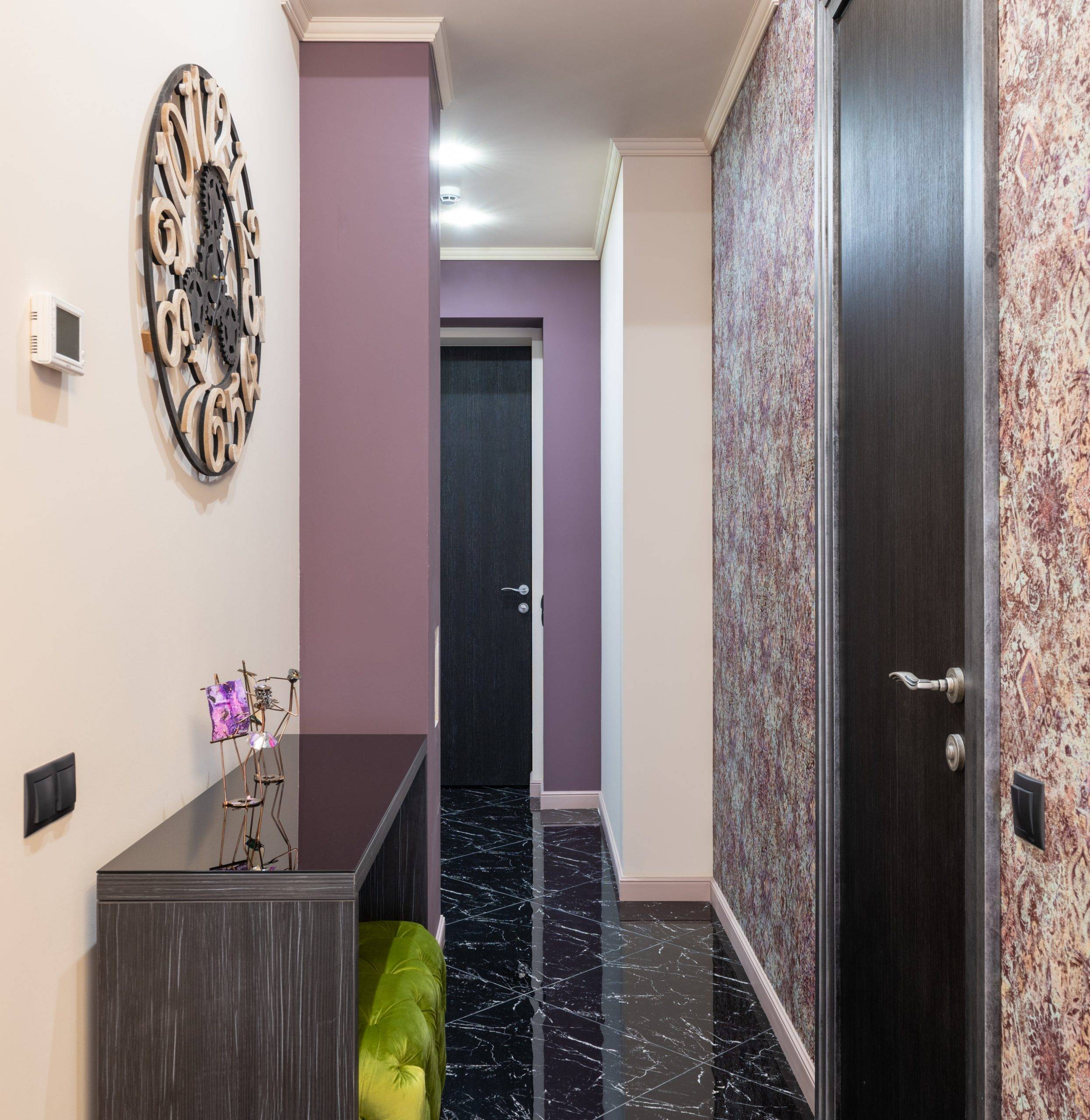 When thinking about what colors go with lavender, you probably would not give black a thought. It could maybe make it look darker and odd. However, the tone of lavender is what sets it to complement other colors very well. The darker shade of lavender in this corridor is an exciting twist to its dominating black motif. The balancing touch of cream breaks the dullness and makes it appear even more pleasant and stylish.
Takeaway
Back in the days, lavender was an underutilized color when it comes to home designing. That's maybe because of their association to a nursery or a girl's bedroom. Nevertheless, working with undertones and exploring what colors go with lavender turns the stereotyping around. It is now a popular complementing color for almost everything, and not just for the girly and queenly bedrooms. The lavender color comes in a range of tones that evokes different feelings from youthfulness to aristocracy. It is so versatile that some idea, creativity, and experimentation with it can put up the perfect home interior.