The "closet reveal" is a phenomenon gaining momentum in the design blogging community. Picture a living room or a dining room makeover, but this time the decorating magic is happening in the smallest space of the house. It's all about closet design! The reveal showcases an amazing transformation of a previously unremarkable (and sometimes problematic) space into an exceptional closet. In many cases, it's a master closest, but other destinations include craft closets, entryway closets and kids' room closets. Trust us when we say that these transformations deserve their own feature posts!
Today we use a few of our favorite "reveals" to explore top closet design trends that prioritize organization and style. Keep reading for design tips, colorful inspiration, and some spectacular displays that prove even the smallest of closets can benefit from a makeover! [pictured below: the stunning pink closet/dressing room of designer Tiffany Pratt, a collab with California Closets]
Master Closets
If you've ever dreamed of a walk-in master closet that includes flourishes such as a chandelier, brass knobs and pulls, and a rainbow of beautiful garments, the photos that follow will definitely grab your attention! This stunning master closet reveal from Studio DIY is the result of converting an outdoor kitchenette area in to a walk-in closet and laundry room. Note the colorful nature of the clothing items, shoes and other accessories on display. Here's a design tip for you: Consider keeping the walls and flooring white if you have vibrant garments to showcase. That way they'll really pop. Even scalloped floor tile in basic white is still FABULOUS:
The master closet of A Beautiful Mess blogger Elsie Larson includes built-in drawers that were upgraded with gold-toned hardware. A macrame curtain and a display of accessories and flowers are other highlights. Don't underestimate the design upgrade that results from changing out a few key features, such as drawer pulls.
One of Elsie's design principles: use accessories as decor. Not only does this keep essentials out in the open for easy access, it creates an intriguing visual display. And if the essentials are this interesting to look at, why keep them behind closed doors?! Learn more about Elsie's DIY closet organization at A Beautiful Mess:
It's hard to find a closet makeover as unique and fabulous as this ultra-colorful master closet from Aww Sam. A 1970s office was transformed into a walk-in closet featuring a mega IKEA hack, coral-toned geo tile, DIY door handles, and numerous retro artifacts and accessories. Thoughtfully chosen hardware, creative details and an amazingly vibrant vintage wardrobe are other highlights.
Don't be afraid to use affordable shelving to create a custom look! As you can see from the results above, the closet design is nothing short of amazing. Note how the use of coral/peach on flooring and other features incorporates a bright color while also creating a unified look.
Kids' Closets
Kids' closets can be challenging spaces to design. For one thing, closets in kids' rooms tend to me much smaller than master closets. There are also many items to keep track of, including an ever-rotating collection of clothes, shoes and accessories due to the rapid growth rate of children! A favorite design trend for kids closets: wallpaper. It beautifully offsets the small space and gives it a special feel. Also consider painting the closet doors for a burst of color. Check out all of the design details from the photo below by visiting Studio DIY:
Another beautiful example of wallpaper usage in an organizational space, this kids' closet from A Beautiful Mess also features a DIY storage solution in the form of drawers and shelves. Can you believe that the "drawers" are actually a dresser from Target, and the shelves on either side were added to create a custom look?! Don't hesitate to use baskets for additional storage. Earthy baskets are a design favorite, and as you can see below, even if you stick to completely neutral baskets, the possibilities are endless. Color-coded hangers are another way to unify your closet design.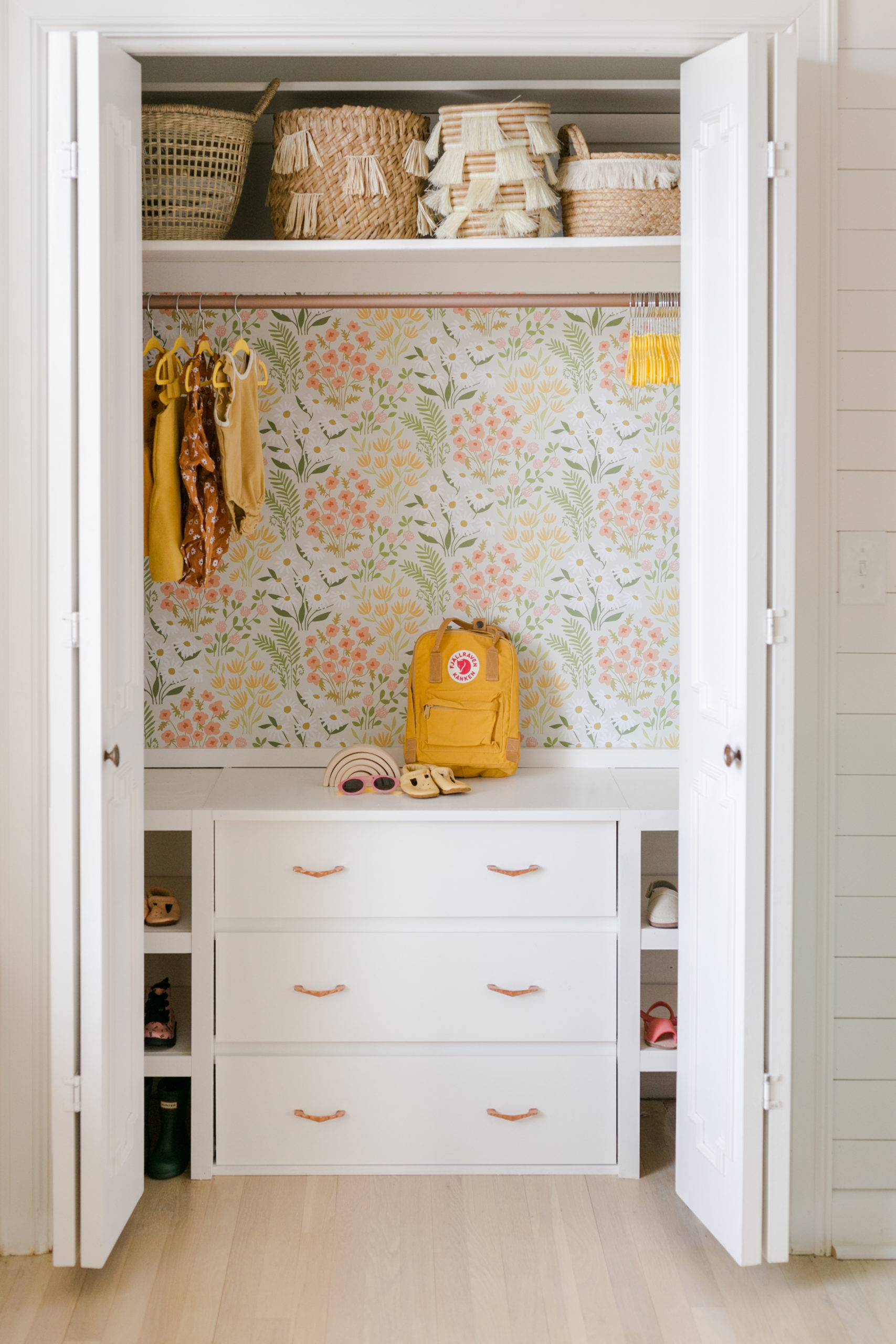 Specialty Closets
We now move from bedroom closets to closets in spaces such as home offices. Craft closets are a popular fixture in the homes and offices of design bloggers, artists and makers. Sugar & Cloth founder Ashley Rose shared a peek inside of her home office craft closet, which includes some pretty amazing color-coded organization:
Especially if using plastic bins, color coding your items is a great way to reduce visual clutter and display some vibrancy. As you can see from the photo above, cardboard hot glued into plastic storage boxes created compartments for easy organization. A woven basket holds wrapping paper, as well as photo shoot backdrop paper. Colorful, fun items are left on display rather than tucked into cabinets. Another radiant example of "accessories" serving as decor.
Blogger and lifestyle expert Camille Styles collaborated with California Closets to create the craft closet below. Consisting of floor-to-ceiling cabinetry rather than a traditional closet, this wall of storage was filled with handy solutions that make supplies accessible and easy to spot. If you can afford a custom closet solution, there's nothing like having expert help in using every square inch of available space.
Solutions such as clear drawers are a game changer for items such as linens and fabric, especially since pulling out the drawers to view and access items would require a step stool if the textiles weren't visible. Check out all of the custom solutions at Camille Styles.
Every Closet
As we wrap up today's post, here's a quick reminder that you don't have to have a custom closet (or even a large one) to create a designer look. In this final photo, Emily Henderson transforms a standard reach-in closet using products from Target's Made by Design line. Features such as hanging storage solutions and basic white furniture filled with boxes/bins creates a finished product with the look and effectiveness of a custom closet. Check out all the details at Emily Henderson:
Don't forget to have fun with the design and decor elements of your closet project. It never hurts to purchase a few baskets you love, or even a light fixture to elevate the space. There's nothing like the promise of displaying new goodies to motivate you as you reduce clutter. Happy organizing!