It's a running joke that every impeccably designed home has at least one closet door that remains closed at all costs! Do you have a closet that's overflowing with clothing, boxes or other items you wish to contain behind closed doors? I sure do! But my hope is that today's post will inspire you (and me) to take the reigns and get organized. Sometimes the best way to start the organization process is to shop around for ideas–inspirational images that will motivate you to develop a system for stashing, storing and retrieving.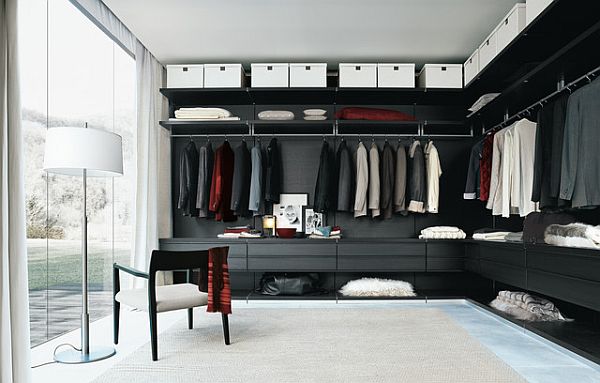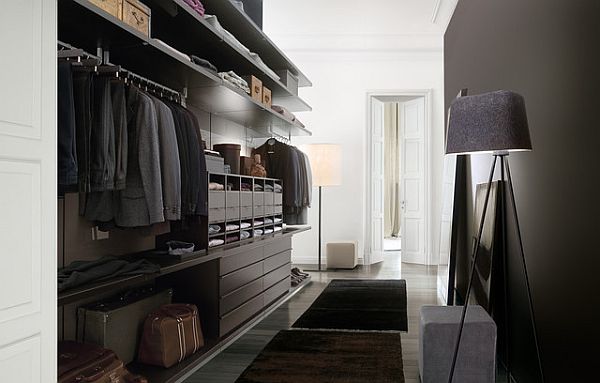 Ubik Walk-In Closets by Poliform USA
Whether your closet holds linens, clothing or bathroom supplies, the pics below illustrate a range of organizational strategies, including assigning similar items to a shared shelf, purchasing baskets to hold smaller items, and leaving space for the display of eye-catching items. With the help of today's featured images, we'll show you how to organize a closet in style… Now let's get started!
Making a Plan
Sometimes beginning a project is the hardest part. Yet if you're faced with an empty closest such as the space below, it can be all too tempting to fill it haphazardly. After all, you can just close the door if things get out of hand, right? Instead of cramming now and asking questions later, try formulating a plan of action. Begin by designating areas of your closet to hold specific items. Use sticky notes as temporary labels until you've finalized the layout. [from William H. Fry Construction Company]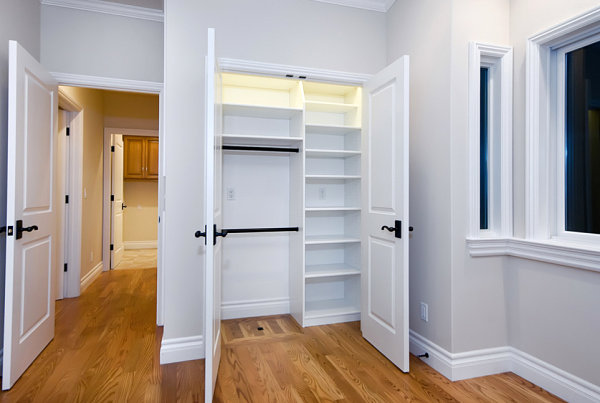 One helpful tactic: Make your closet appear as large as possible. If you're lucky enough to have ample space, try resisting the urge to fill every corner. Having a little room around the edges gives the illusion of extra square footage. Contain unruly stacks behind closed drawers and make a point to keep all visible items tidy. [from Strause]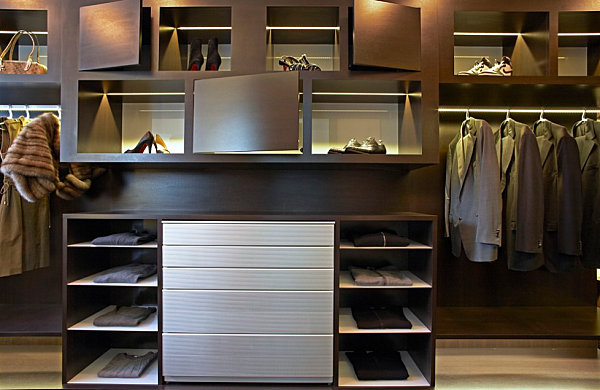 If your closet is practically a room of its own, you have the luxury of designing the layout of your dreams. Lucky duck! As a general rule of thumb, plan on giving yourself easy access to the items you use most. [from Closet Organizing Systems]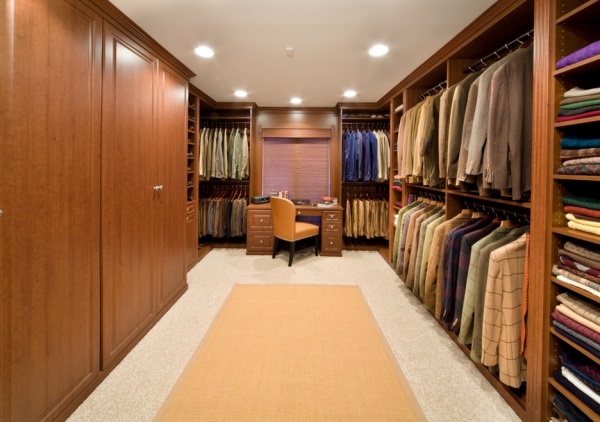 Be sure you customize your closet for its specific purpose. For example, an entryway closet will fulfill a different role than a bedroom closet. [from ClosetMaid]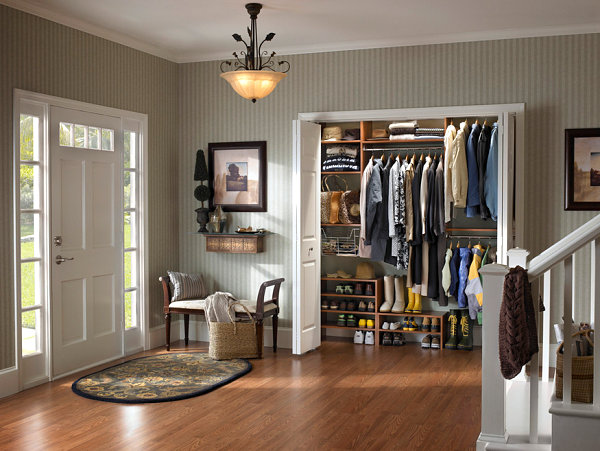 Will your closet doors frequently be open? Will you be showing off your closet to guests? If your closet is equal parts storage area and display area, you will want to make sure you have plenty of open shelving for the display of eye-catching items… [from Emma Delon]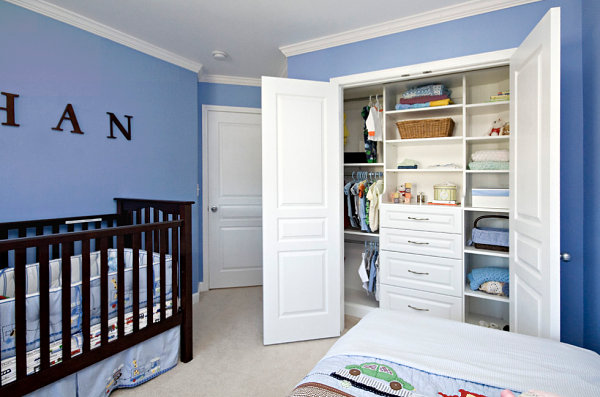 Let the Organization Begin
You've considered the needs of your space. You've come up with a temporary layout, as well as a plan for maximizing room. Will your clothing, linens and supplies fit accordingly? If not, what are some alternative organizational strategies? Here are a few ideas to consider… For starters, try grouping like items on each shelf.  The closet below neatly categorizes hats, shirts, shoes and bags, even leaving room for the display of photographs. [from EuroCraft Interiors Custom Cabinetry]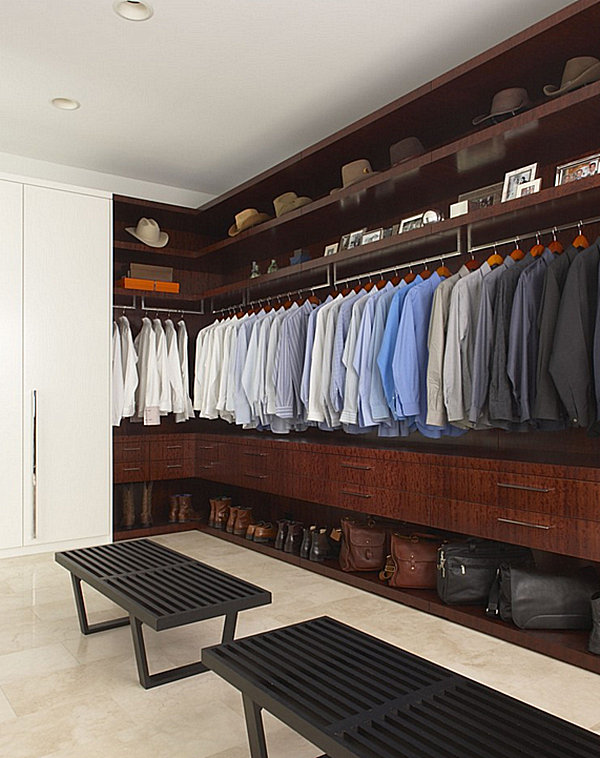 How you arrange items such as clothes, shoes and purses will be determined by your preferences and your needs. As mentioned, make sure you have easy access to the items you use most. If you're lucky enough to have drawers at your disposal (as shown below in a closet space designed by California Closets), use them to contain small items, such as scarves and jewelry. [renovation completed by CARNEMARK, photo by Anice Hoachlander]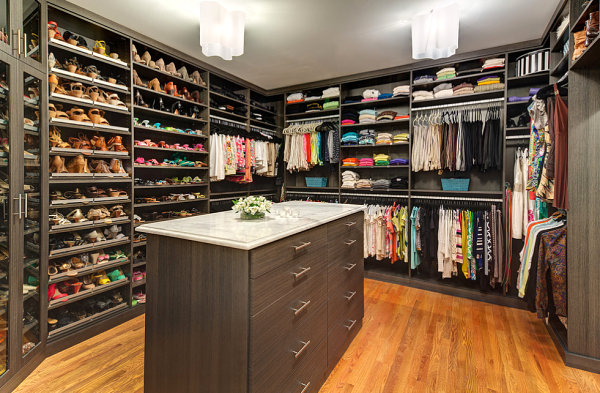 Don't underestimate the power of color coding items such as clothing. This is a strategy I've used for years, and it helps me to locate exactly what I need, even when my closet space has gotten out of hand… [from California Closets]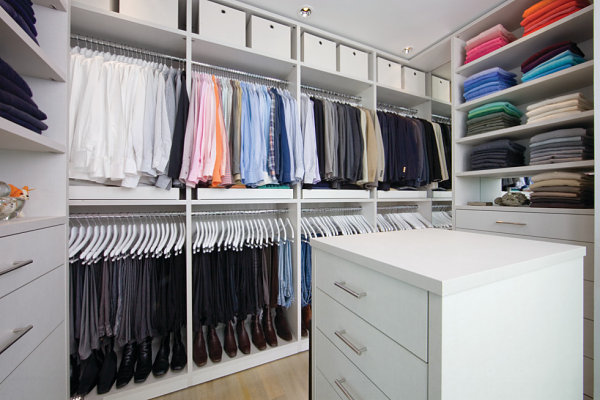 If you have open shelving, consider purchasing boxes for the containment of smaller items. For a clean look, select matching boxes and baskets that nicely complement your space. [from CARNEMARK]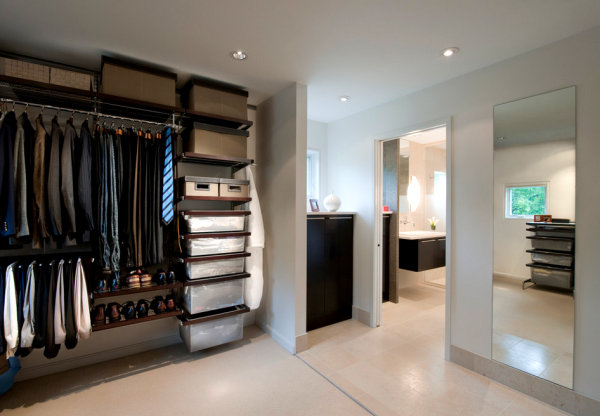 We can't overlook the obvious… Custom closets are AMAZING! Built to fit the exact dimensions of your space, they can maximize every square inch. If custom designing your closet is out of the question due to budget constraints, try incorporating modular pieces, such as drawer sets, that give you plenty of storage options. [from ClosetMaid]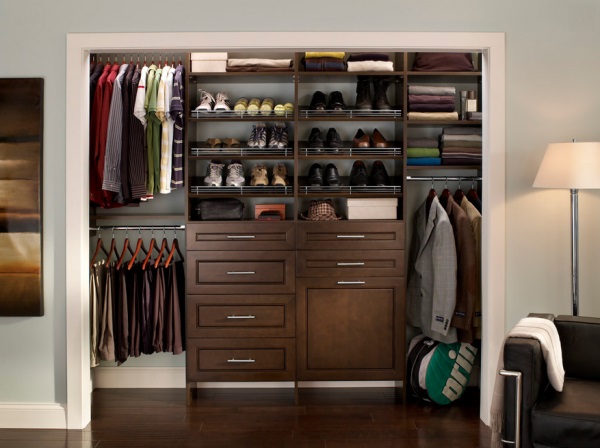 Got space for luggage? Try stashing suitcases at the top of your clothes closet on upper shelving. Since you don't need to access your suitcase on a regular basis, this is the perfect type of item to place in harder-to-reach spots. [from LA Closet Design]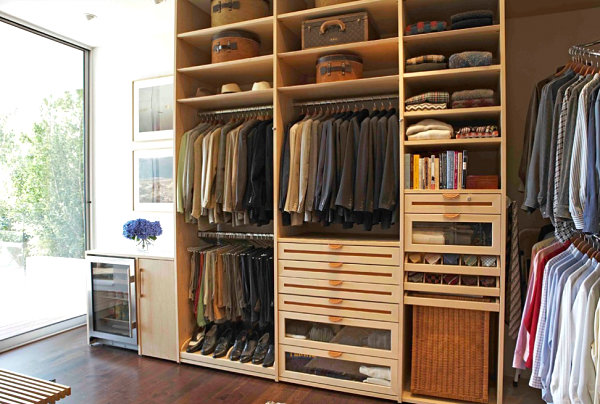 Even with ample shelving, sometimes there's simply not room to display everything you have. Pack away seasonal items, such as winter boots and sweaters. This simple strategy prevents a cluttered look and frees up space for your current favorites… [from Landmark Services]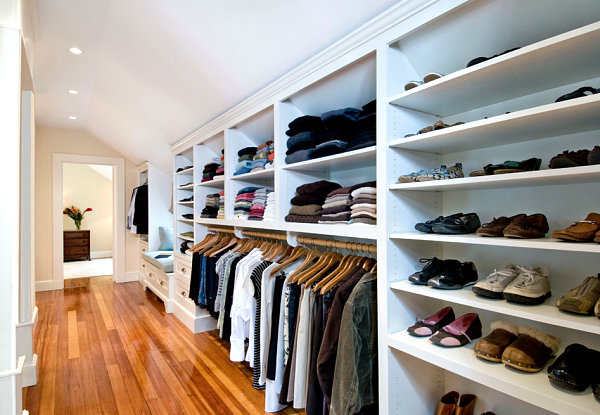 If you're organizing a linen closet space, don't hesitate to use open shelving to display soaps, sea sponges, bath gels and more. The space below from California Closets is the perfect blend of sheets, towels and toiletries…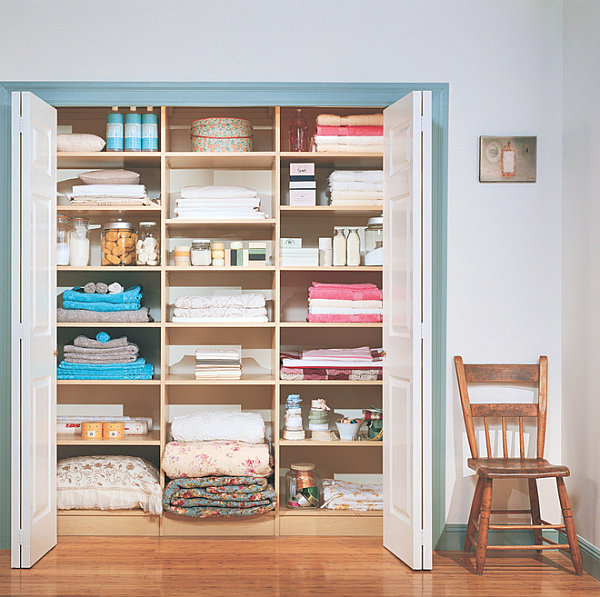 Another rule of thumb for linen closets: Make sure sheets and towels are neatly folded and that small items are stashed in baskets, drawers and other containers. [from TransFORM]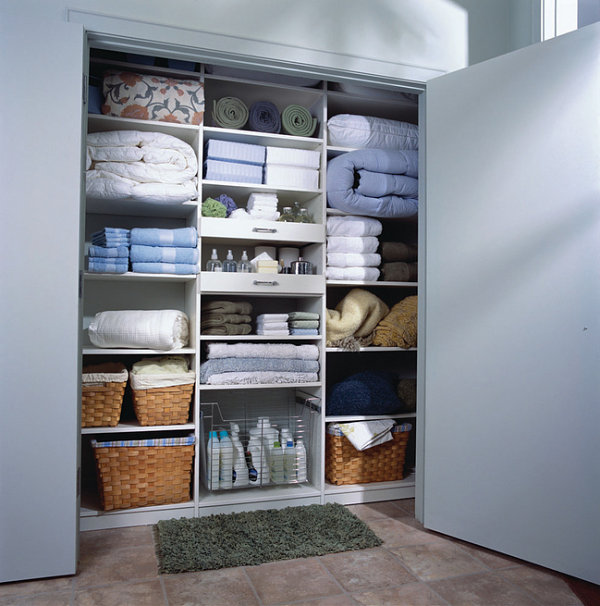 If the closet doors will be open on a regular basis, choose colorful containers and receptacles that complement the color scheme of the room. For a fun look, don't hesitate to use curtains rather than doors. [from ClosetMaid]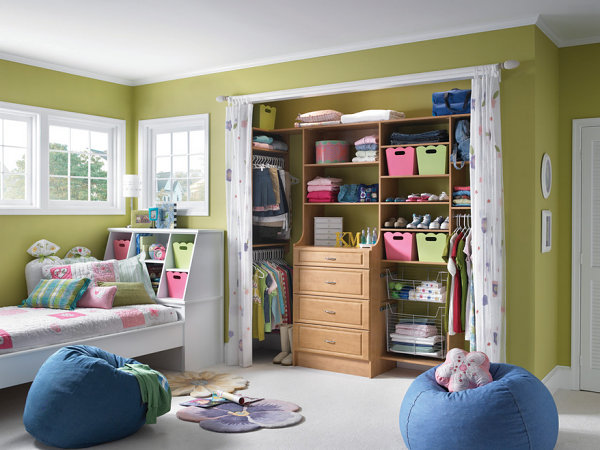 The Icing on the Cake
We end with a few words about closets that double as display areas. In fact, displaying decorative items on closet shelving is a popular strategy for kids' rooms, as shown in the girl's bedroom below. [from California Closets]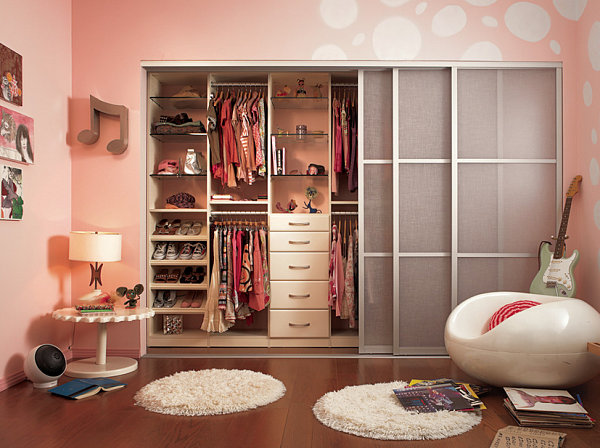 Painting the back of your closet shelving makes the displayed items truly pop. And when toys are the collectibles of choice, the brighter the paint color, the better! Below we see an orange and yellow room that makes the most of its closet space, even incorporating a desk and study area into the mix. [from California Closets]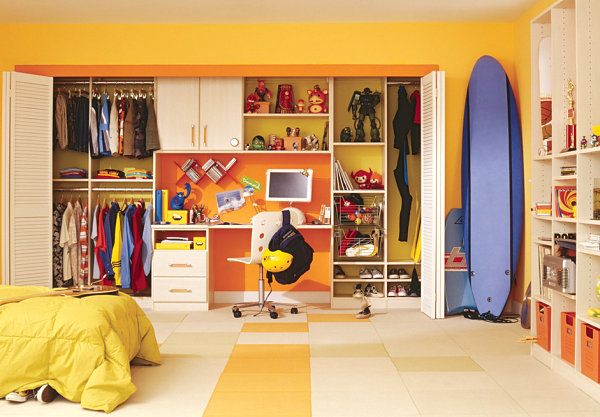 When arranging the interior of a closet that is visible at all times from the room it inhabits, treat the space (at least in part) as a decorative one. Sure, it's a functional area, but that doesn't mean you can't choose to display items that naturally complement the space. Again, be sure to prevent needless clutter by packing away items are not currently in use. [from California Closets]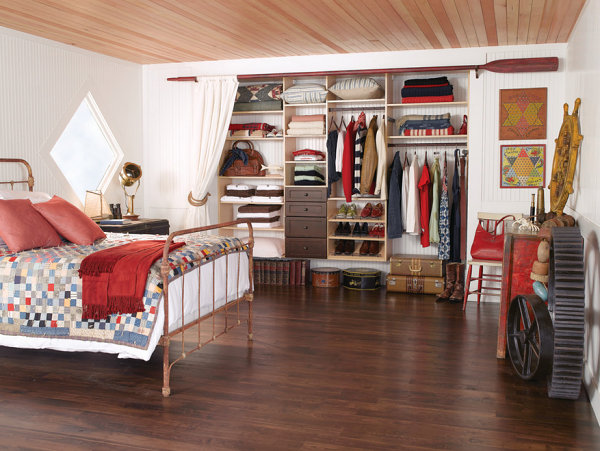 Do you have any closet organization tips you'd like to share? Don't hesitate to leave a comment below…
Liked the story? Share it with friends.