There's something dreamy going on in the world of nursery design, and it involves a bit of heavenly style. Whether you infuse your nursery with clouds, stars, suns or moons, a celestial motif is a great counterpart to more clean-lined modern elements. In fact, you can regularly find clouds, stars, and sun and moon patterns on many Scandinavian-style nursery bedding options, as well as on merchandise ranging from mobiles to wall art. Celestial style is making a big impact in grown-up land as well, but we love how it adds a big dose of whimsy to even the most sparsely decorated nurseries. Below you will discover a collection of delightfully fun finds with heavenly flair…
Dreamy Textiles
When it comes to the crib, there's nothing like a few celestial motifs to help your little one drift off into dreamland. When star-themed bedding meets cotton muslin, the results are nothing short of enchanting. The Star Print Crib Fitted Sheet from RH Baby & Child features the pattern you see below: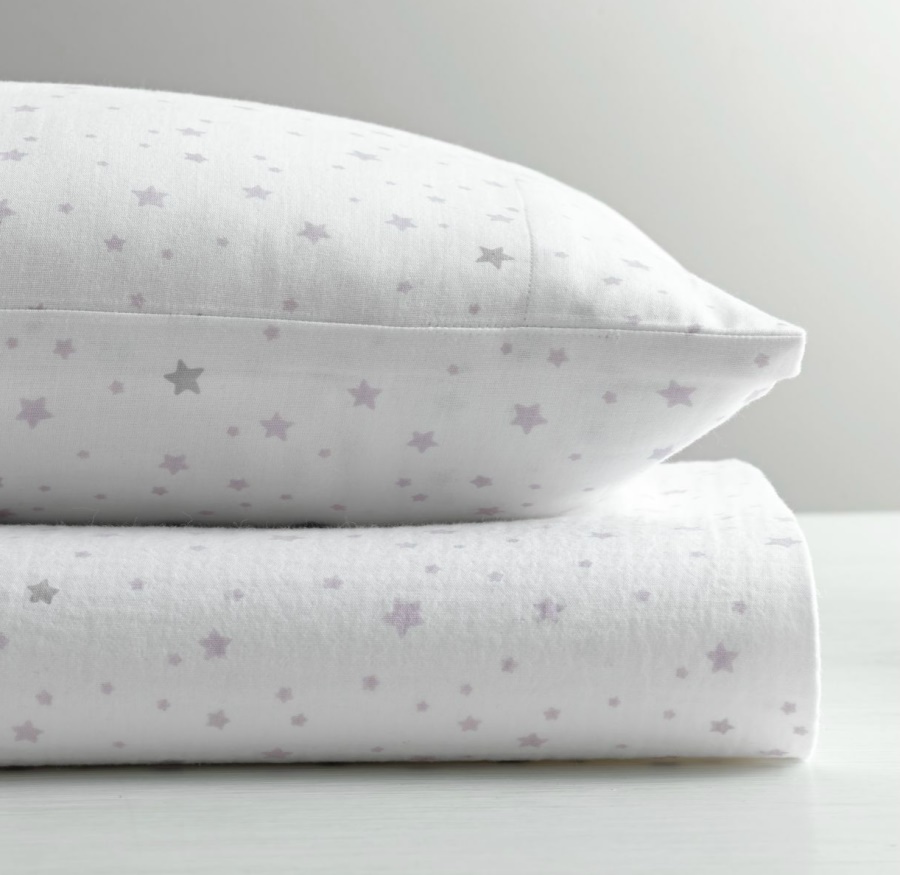 Pottery Barn Kids' Emily & Meritt Scattered Stars Crib Fitted Sheet boasts a delightful starry pattern by fashion designers Emily Current and Meritt Elliott. Plus, the sheet is ultra soft!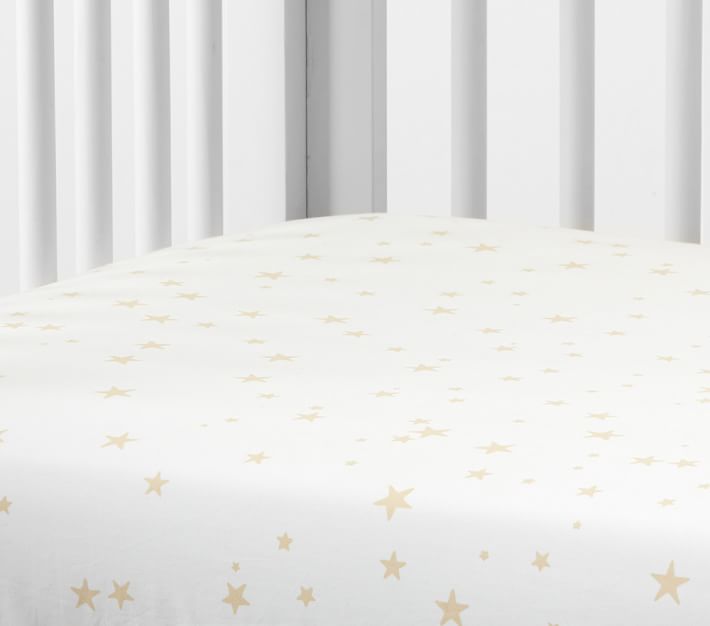 Shades of grey, blue and yellow come alive on this Nightfall crib bedding from The Land of Nod. Planets, moons and stars are in whimsical form, thanks to the design of artist Leah Goren: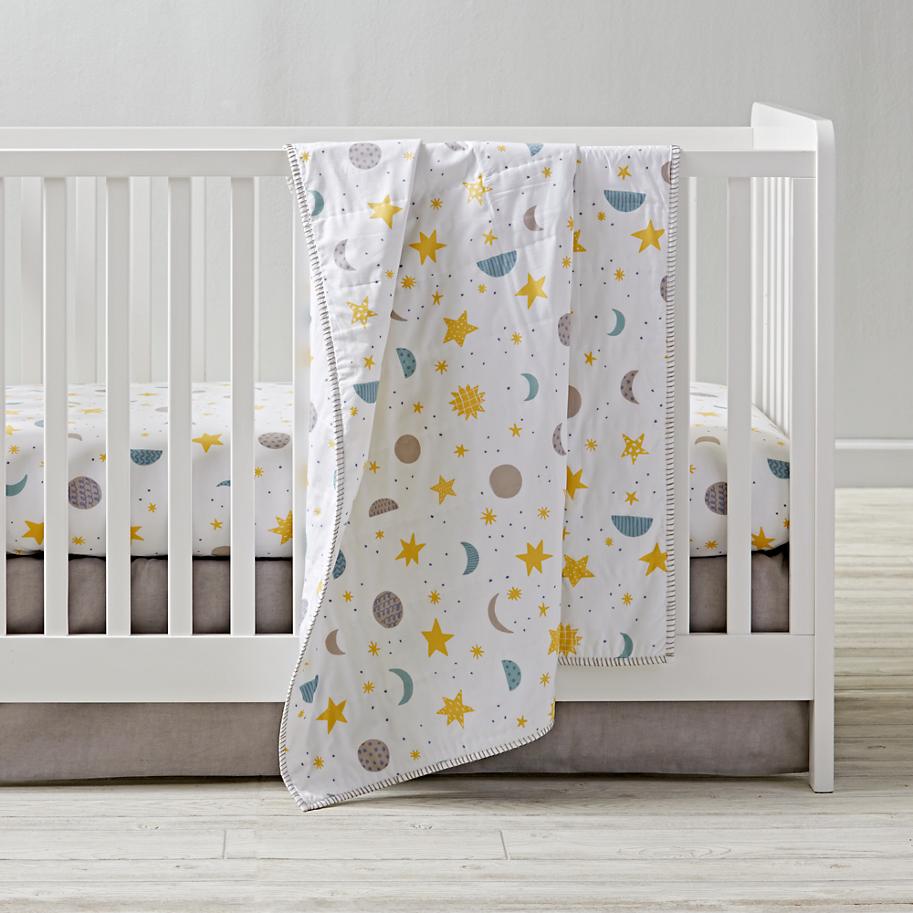 We're also smitten with The Land of Nod's Lullaby pattern, shown on the changing pad cover below. Featuring a pattern designed by artist Virginia Crofts, the design includes striped forms for visual interest: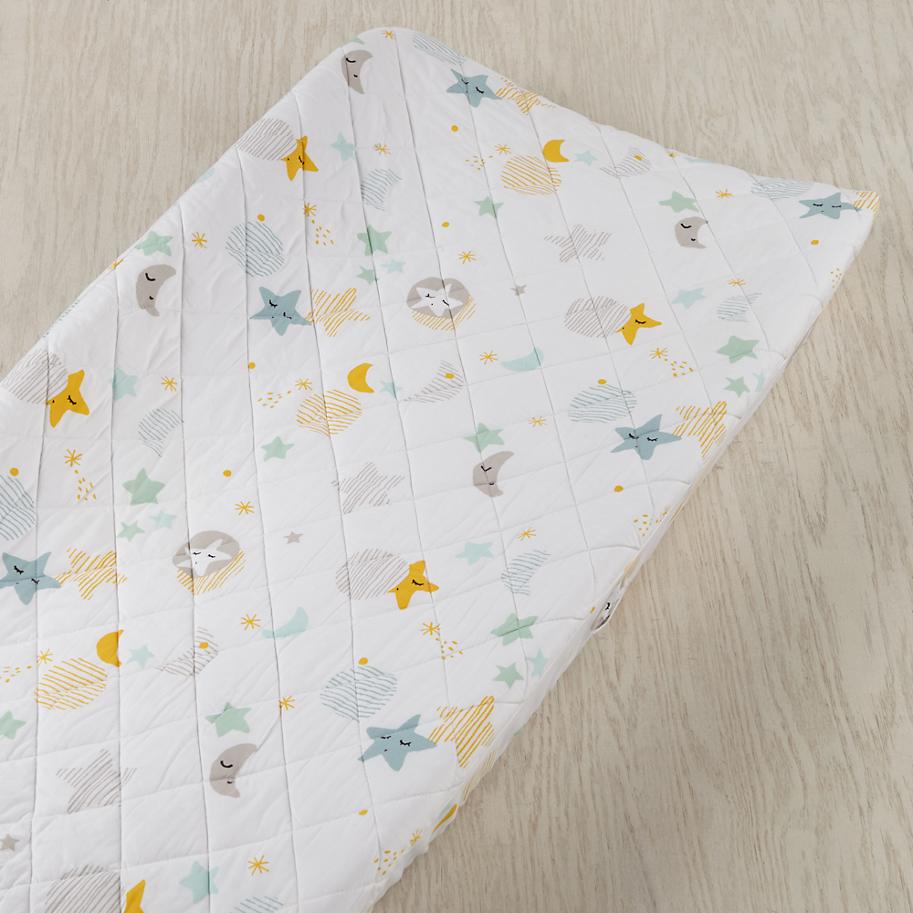 For a modern statement in aqua, check out this Moon crib bedding from The Land of Nod, which features a series of aqua moons on a white background. The power of repetition at its finest!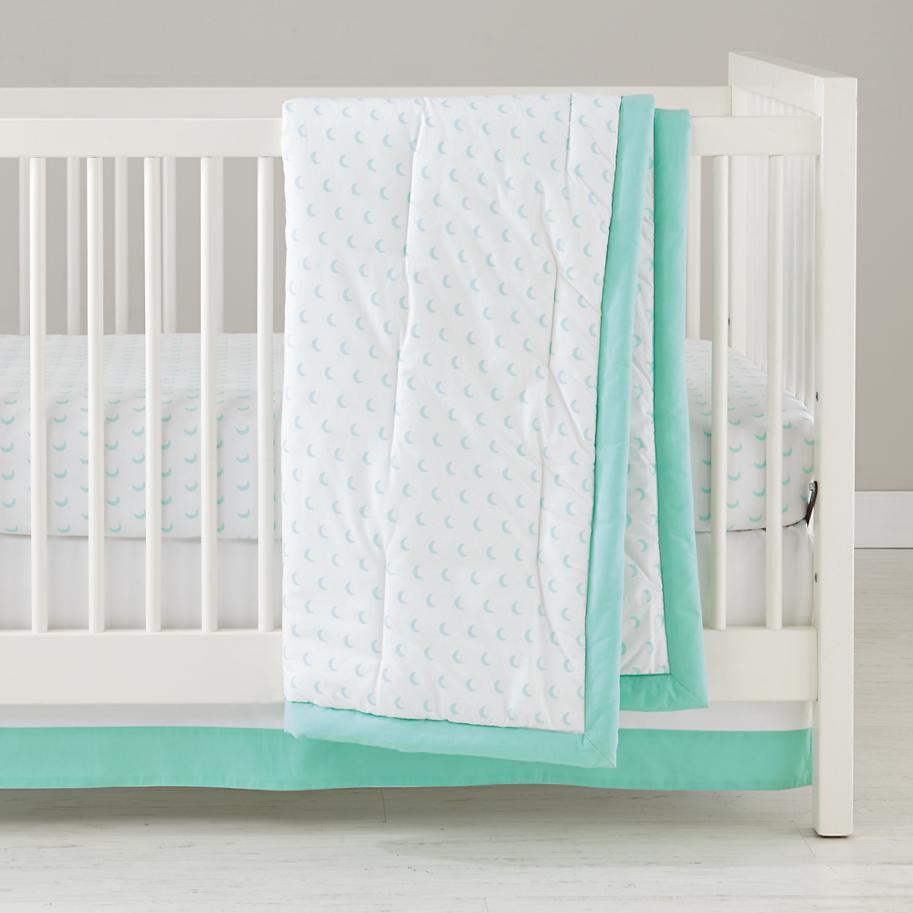 Keep your little one safe and warm with Pottery Barn Kids' Fuzzy Cloud Stroller Blanket. Choose from gray, light blue and light pink. You can tell which one is our favorite: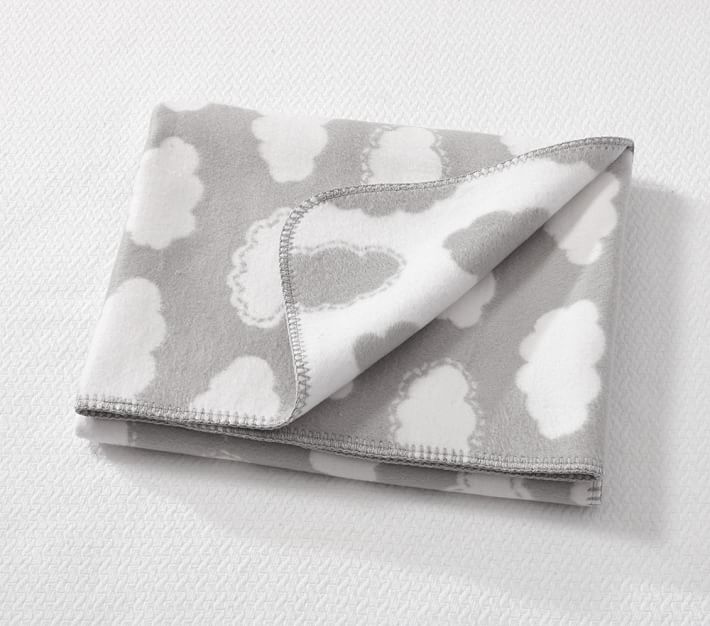 Don't forget to swaddle! These cotton muslin Star Swaddle Blankets from Aden + Anais are wonderfully neutral (and gender neutral!). Purchase them in a set of 4 via The Land of Nod: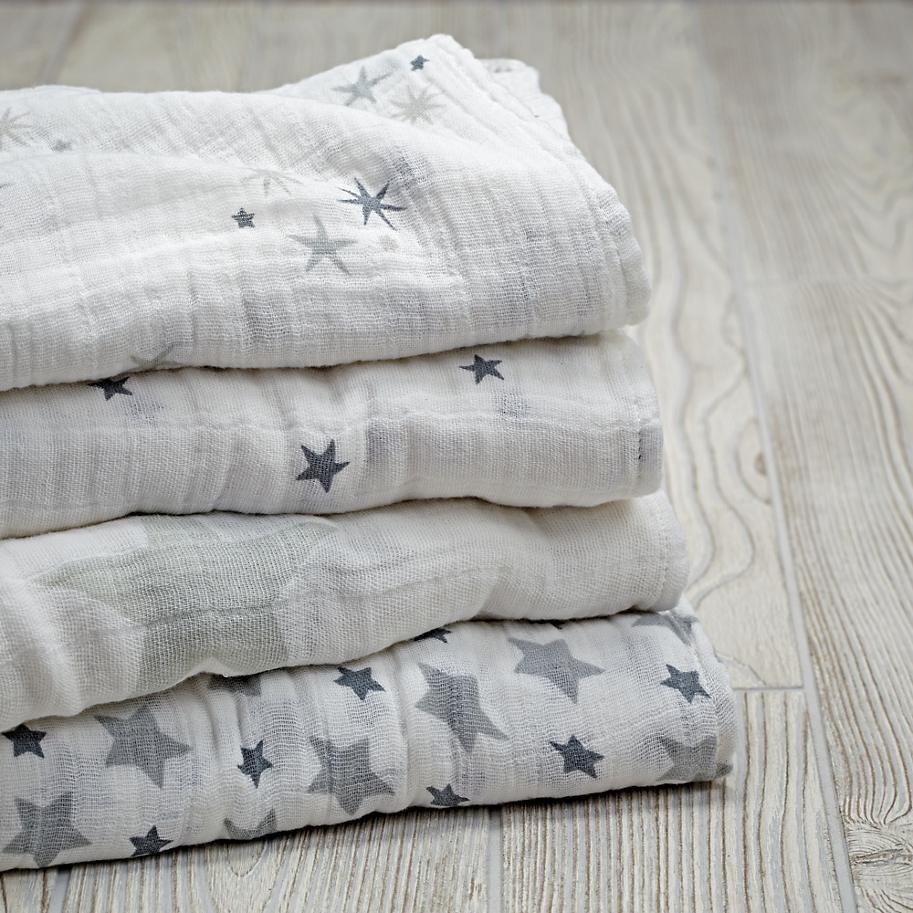 For the Walls
Let's talk about covering the walls with dreamy imagery….When the soothing clouds of the sky come to your nursery walls, there's nothing your little one can't achieve! This Cloud Photography from Etsy shop Golden Age Prints features original photography by Daniel Jung: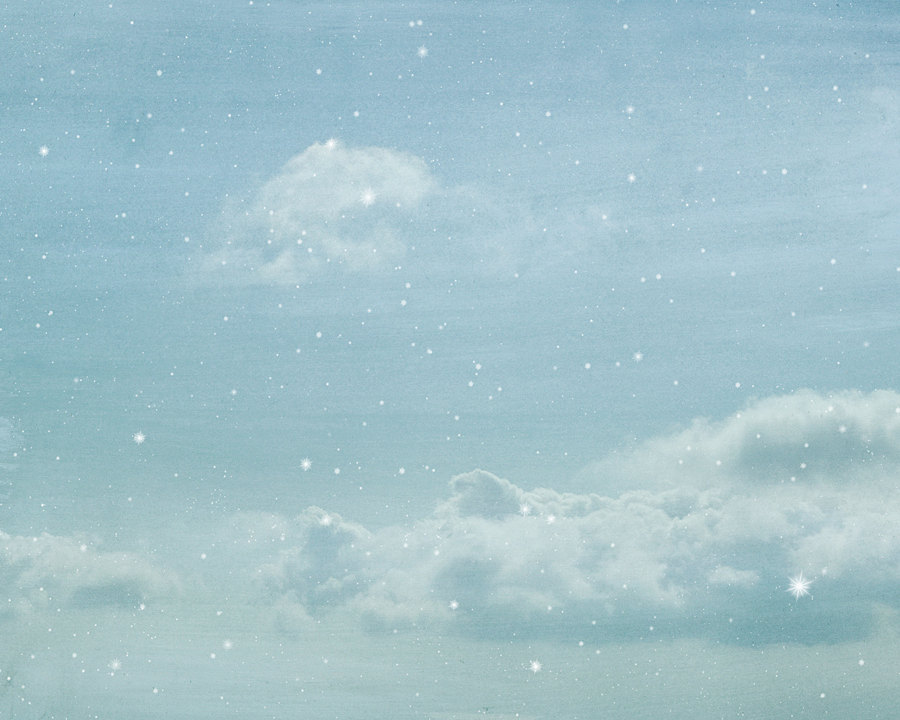 Bring some 3D flair to the nursery with this Night Sky Canvas Art from RH Baby & Child. Handmade felt cloud, moon and star forms take center stage. Purchase each piece individually, or buy all three canvases as a set: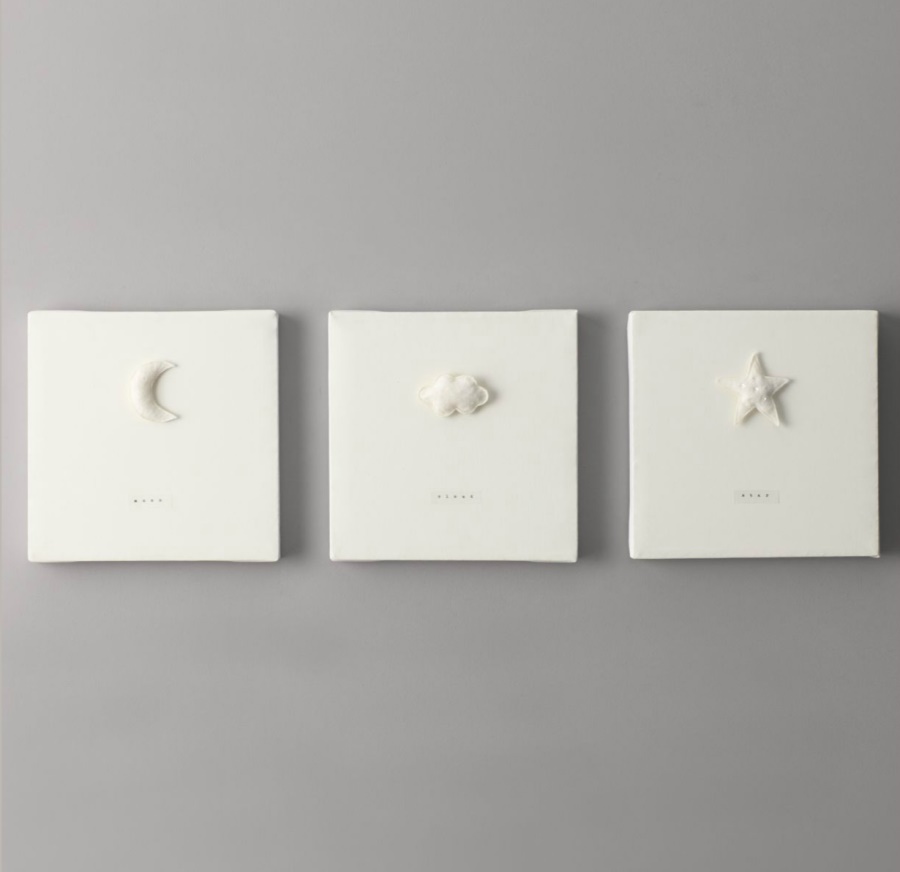 Spark the imagination with these Moon and Stars Nursery Prints from Etsy shop Limitation Free! They can be yours with a simple, affordable digital download. Gotta love convenience!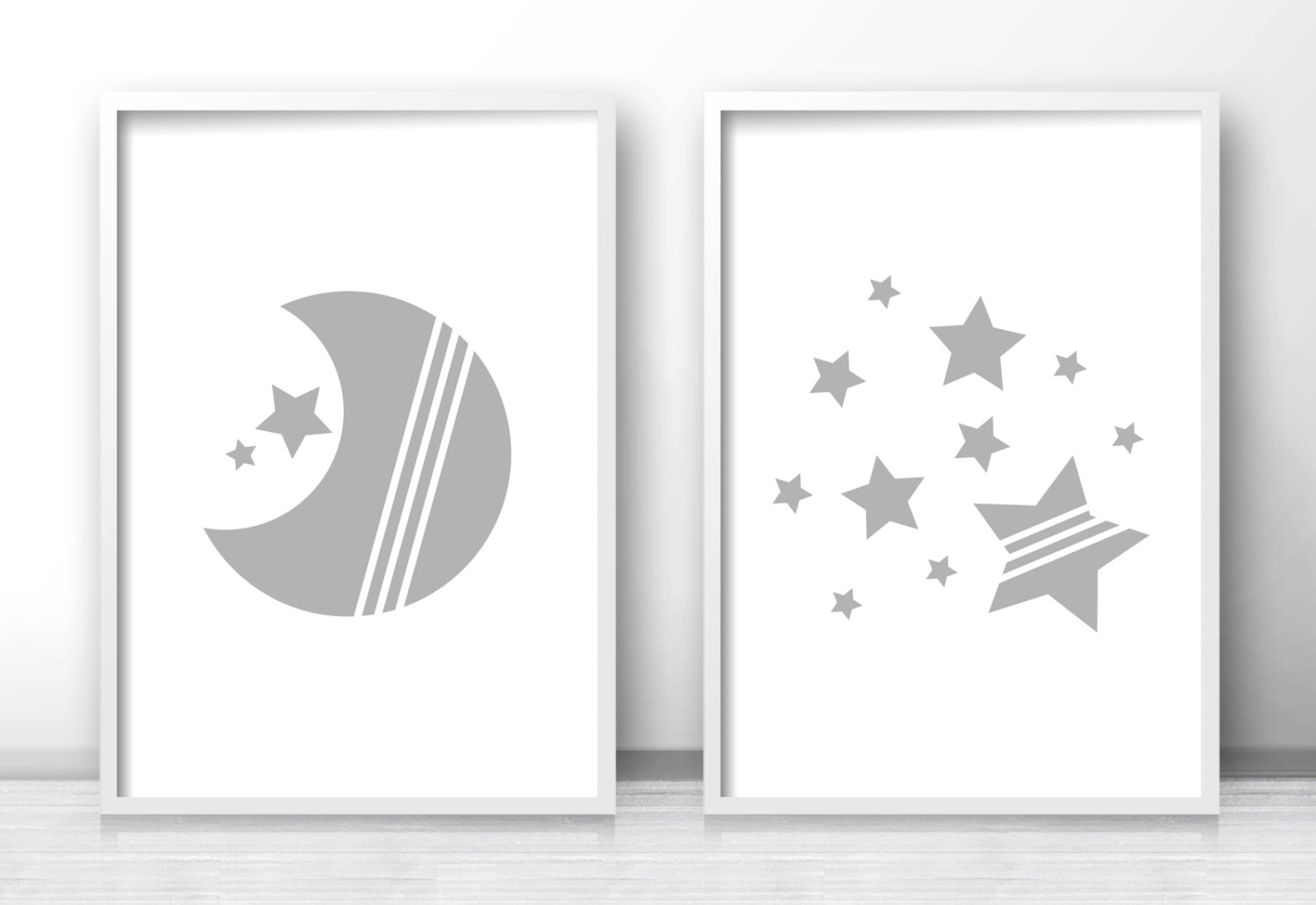 Whether you hang this Night Sky Garland from the ceiling or you drape it along the wall, you'll love the soft statement it makes, thanks to wool felt in white and grey. Available at The Land of Nod: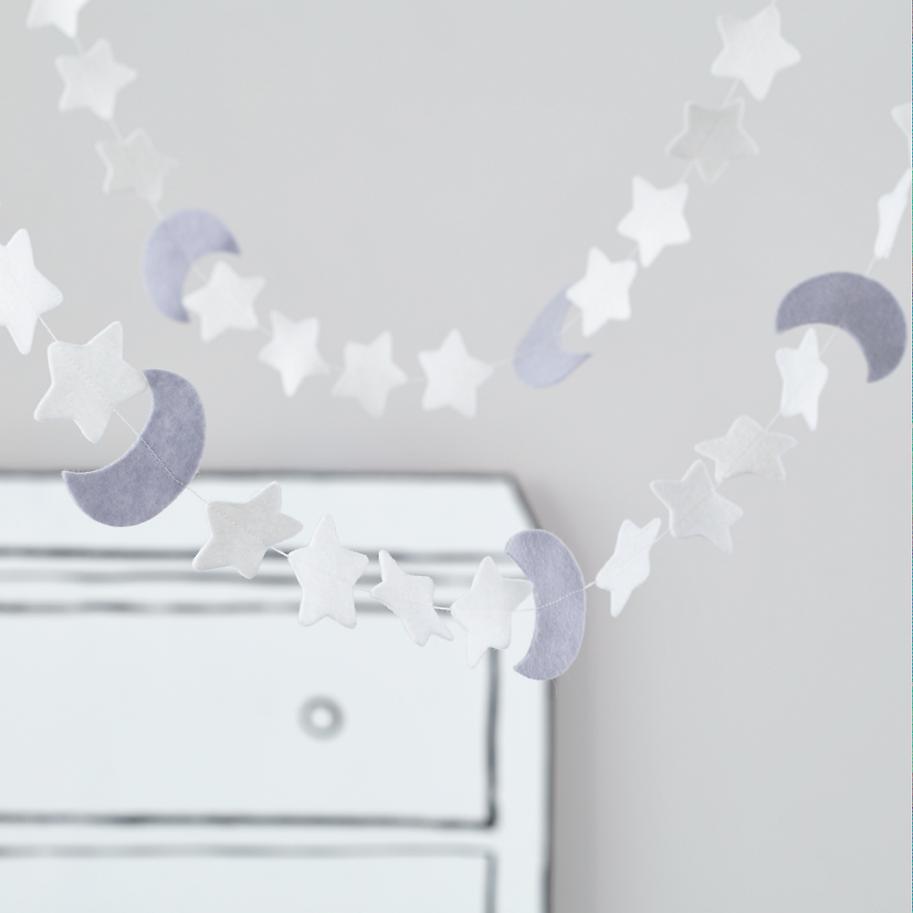 What about covering the entire wall?! ferm LIVING's Cloud Wallpaper features a sky-fabulous pattern printed on WallSmart wallpaper, which is easier and faster to hang.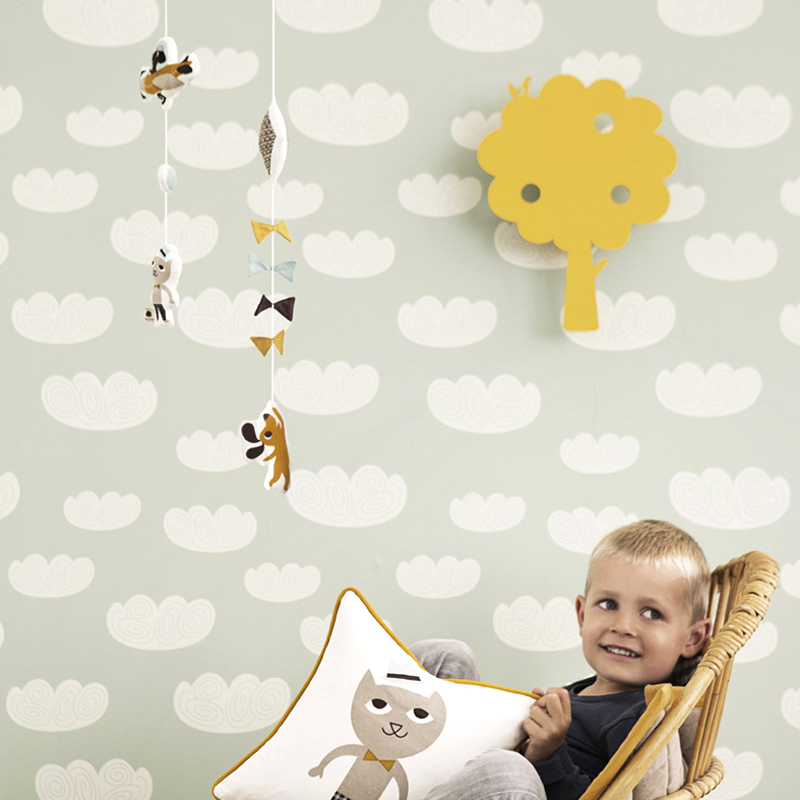 Don't forget the windows! These delicate Silver Star Curtains from The Land of Nod are the perfect finishing touch for the modern nursery. Made from 100% cotton, the curtain panels are covered in silver stars. Soft and magical, they are understated enough to be mixed and matched with other patterns: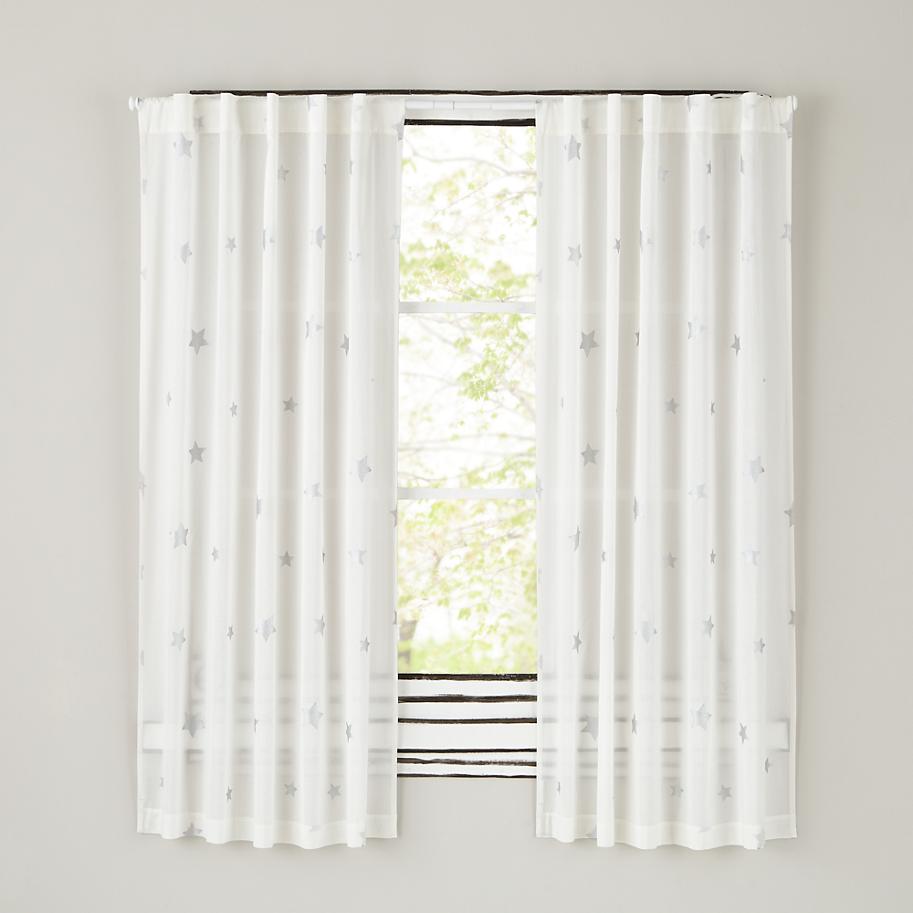 Look Up
Look up…what do you see?! If you're in the nursery and the answer is "nothing," perhaps you should consider a mobile! The more celestial, the better. In fact, the hanging nature of a mobile gives it an extra dose of playful whimsy. There's nothing like a shining star that twinkles as it catches the light of a nearby bulb. This Gold Star Cloud Mobile from Etsy shop Baby Jives Co. definitely gets the job done: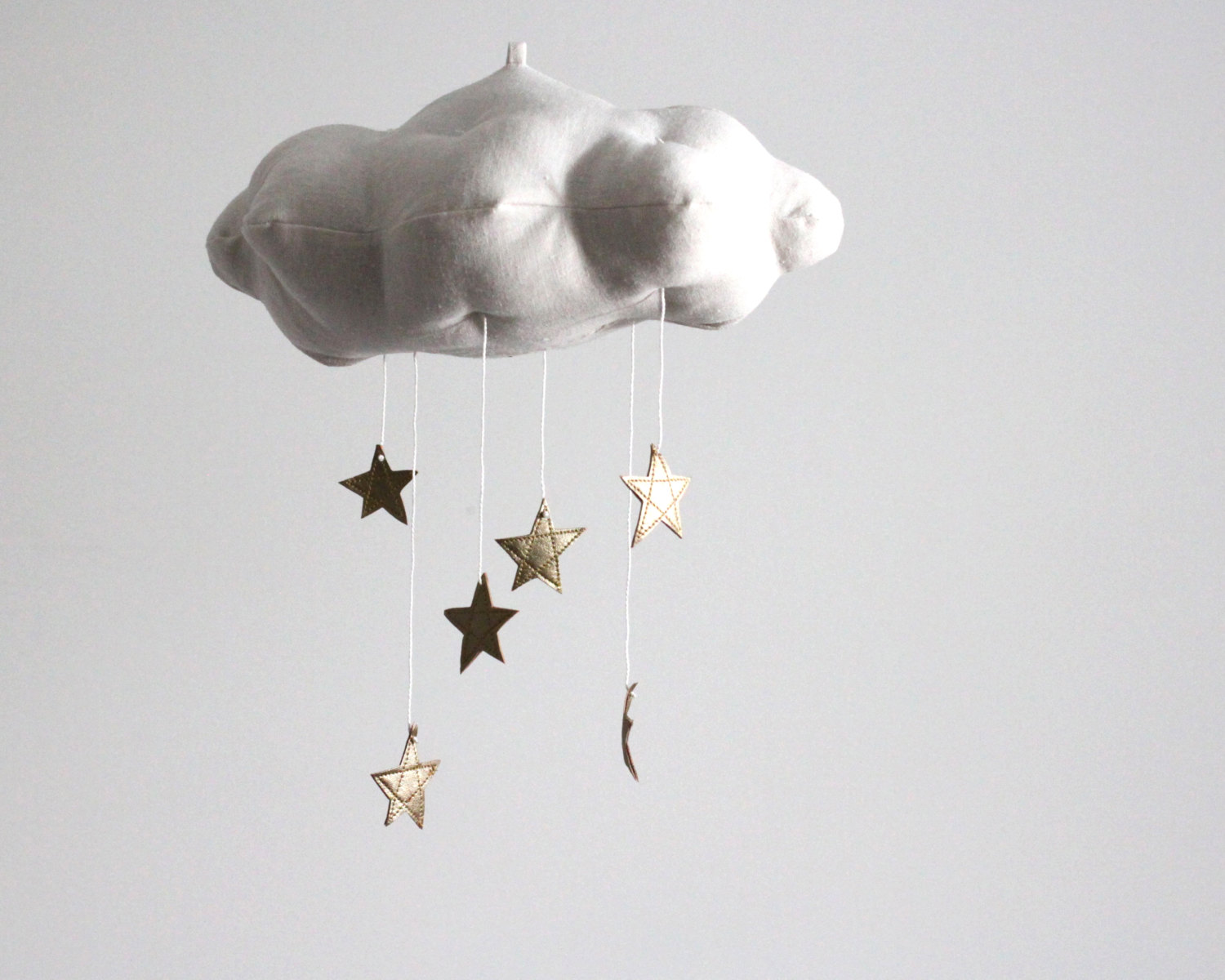 Throw in a moon, and you have the Cloud, Moon and Stars Mobile from Etsy shop Blossom Hill. An extra perk: the mobile's length and colors are customizable!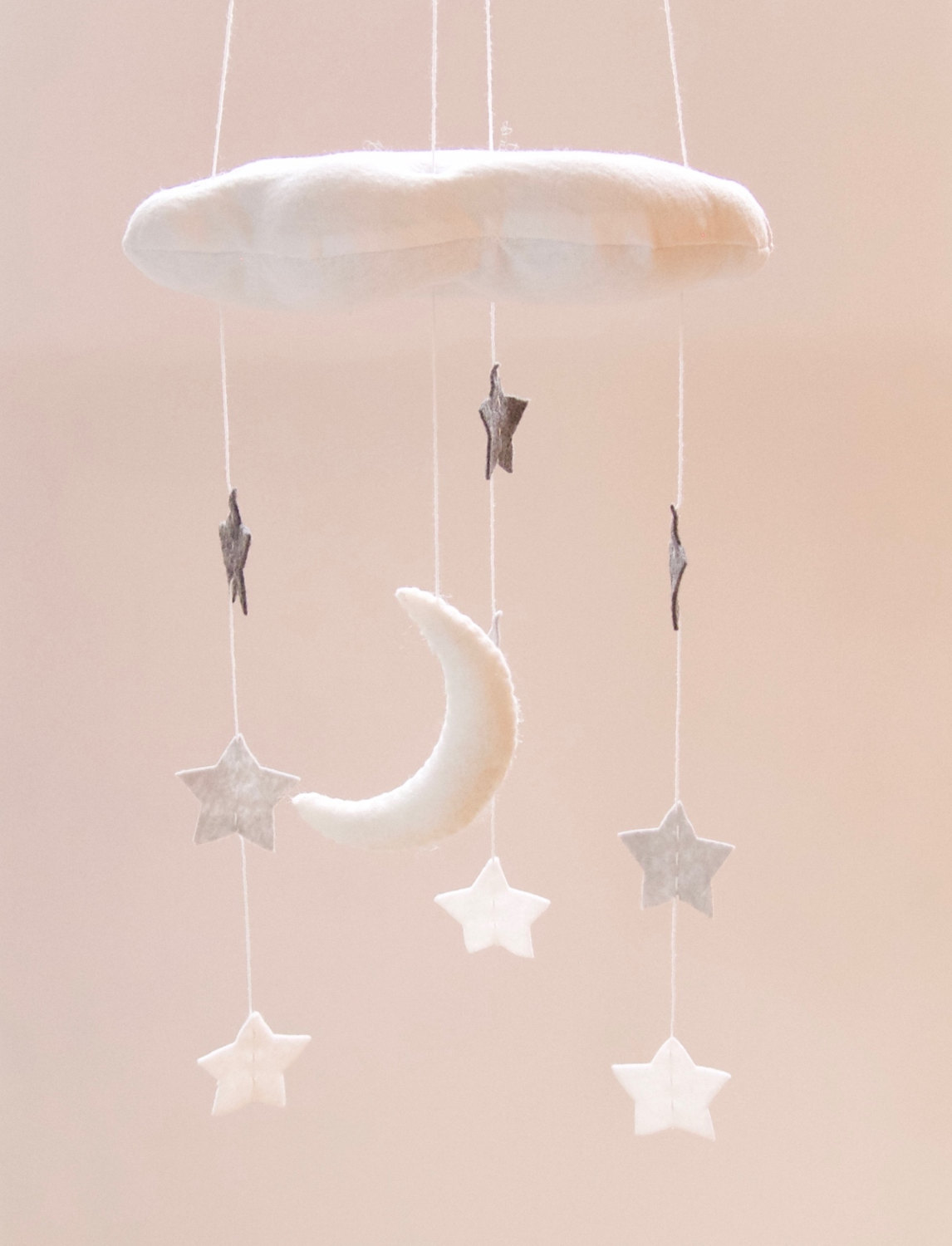 When the moon has a face, the "enchanting" factor skyrockets, don't you think?! This Felt Moon and Starry Sky Mobile is available through Etsy shop The Lady Bird Tree. There's nothing like a hand-sewn piece with scalloped edges!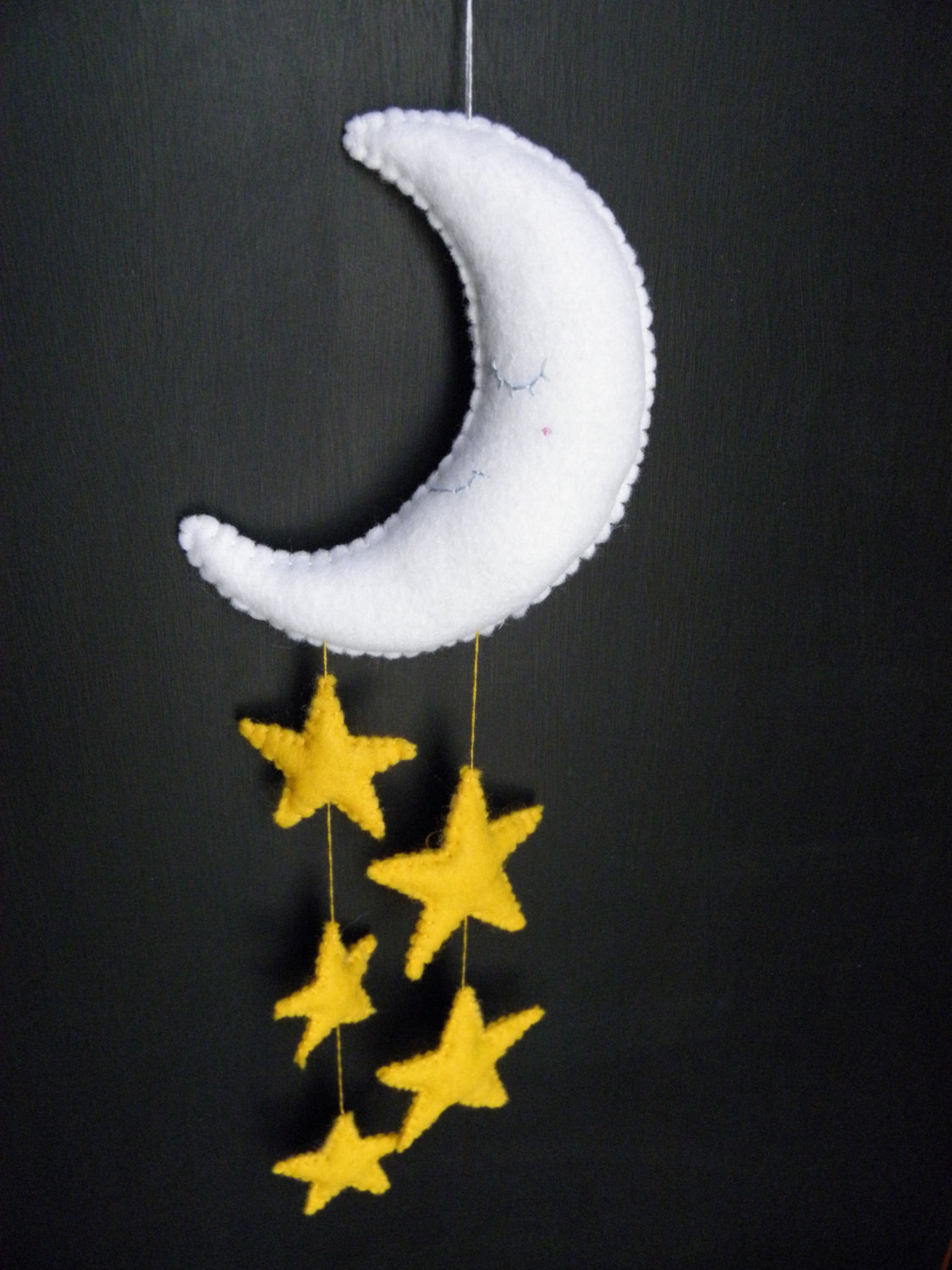 This Gender-Neutral Felt Ball Mobile from Etsy shop Mandy's Favorite Things is eco-friendly and non-toxic, thanks to bamboo, as well as felted wood tinted with toxin-free dye: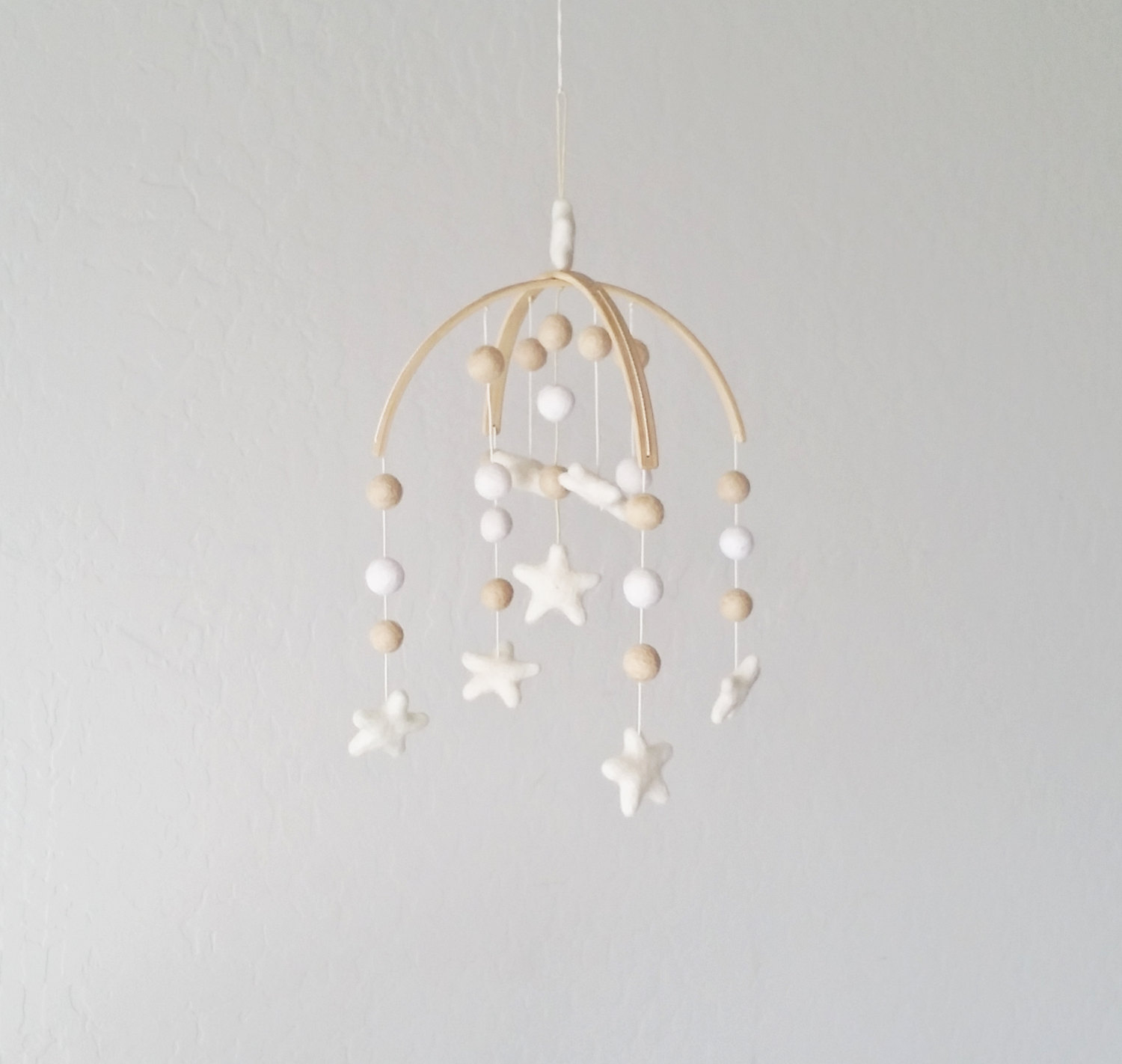 Etsy isn't the only place where you can find celestial mobiles for the nursery! This Wool Moon and Stars Crib Mobile from Pottery Barn Kids comes with a music box that plays "When You Wish Upon a Star" for three minutes before shutting off: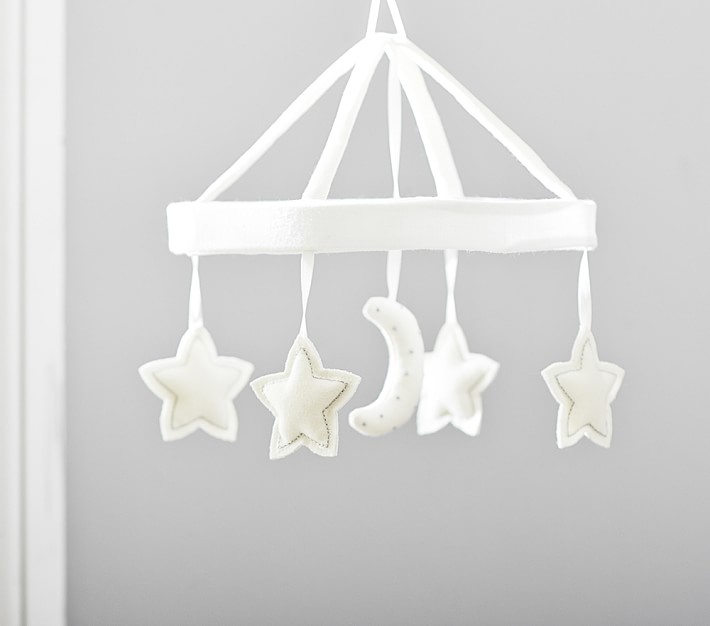 Did you notice how most of today's heavenly finds feature neutral tones? It's easy to mix and match them in nurseries boasting a range of colors and motifs. Happy Decorating!