As one of the most relaxing rooms of the house, the bedroom has to feel like it's aligned with the design that calms us down and allows us to rest. It all comes down to a comfortable bed, the amount of light you let into the room and the color palette you choose as the defining factor in your sleeping quarters. A blue bedroom has a natural cool appeal that helps with a good night's sleep and a moody ambiance that gives the room plenty of depth! Dive into these these breathtaking blue bedrooms and swim in inspiration!
Head in the Clouds
The shade of blue that reminds us of a clear blue sky is one that instantly induces daydreaming. The entire bedroom feels serene and calm, which is just the energy you need before you go to bed! If your head is in the clouds, make sure your feet are planted on the floor of a stunning, dreamy blue bedroom!
RELATED: Shades of Blue for a Powerful Interior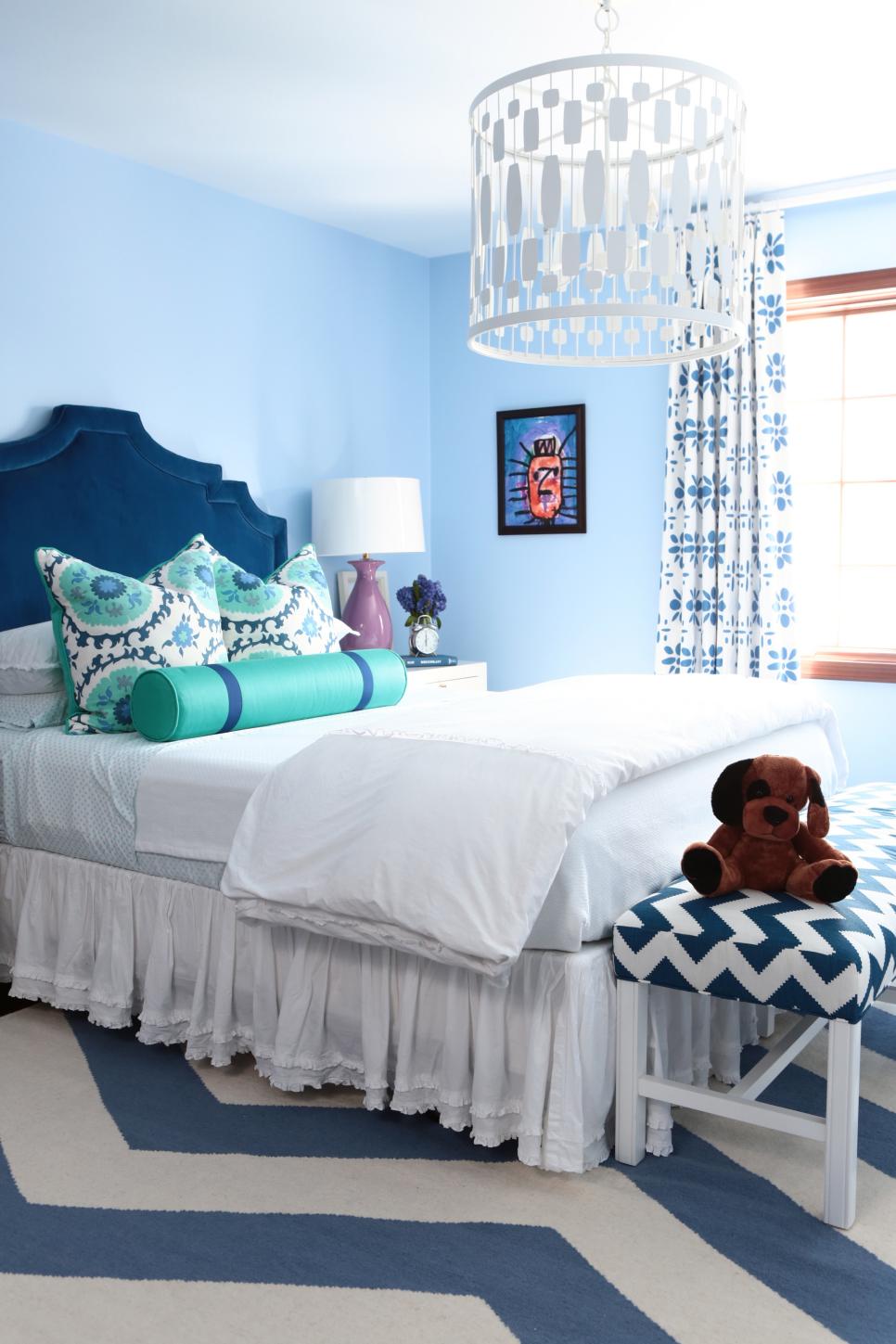 A beautiful sky-blue bedroom should always be well-lit! The walls feel like they are cradling the room and the experience within is made perfect by the illuminating sunlight!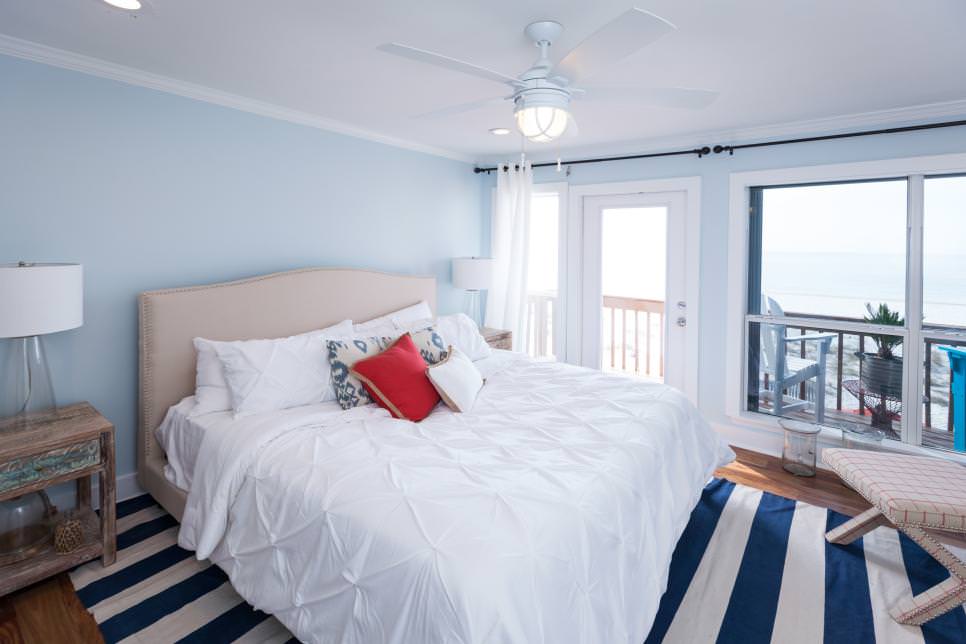 A coastal bedroom that combines the charm of blue and the brightness of white is the ideal space for anyone who is dreaming about a dazzling bedroom with beach house vibes!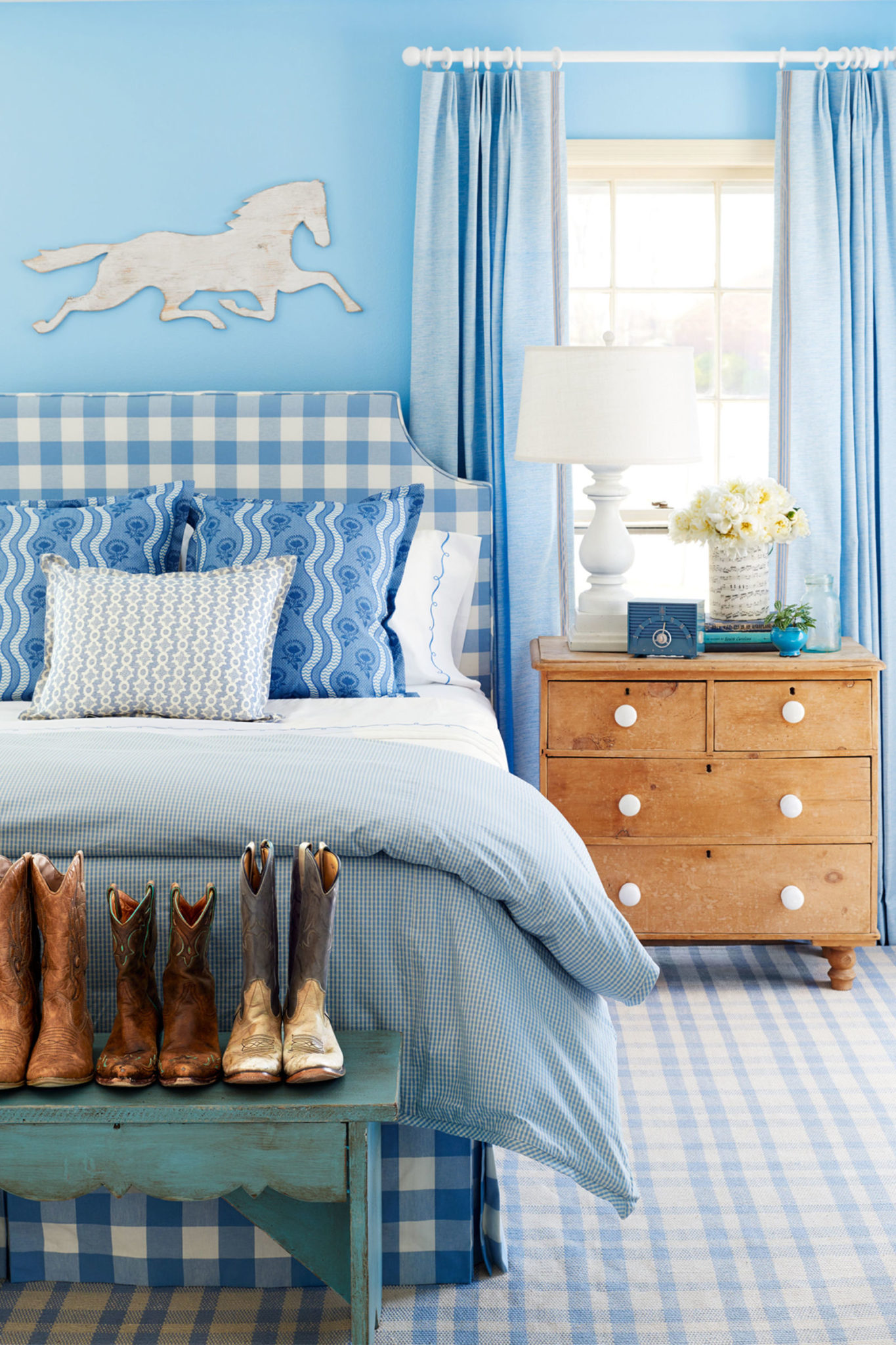 If you are planning to add some shabby chic elements to your bedroom, the blue color palette is perfect to go with them! It's an excellent way of making the room feel fresh and youthful!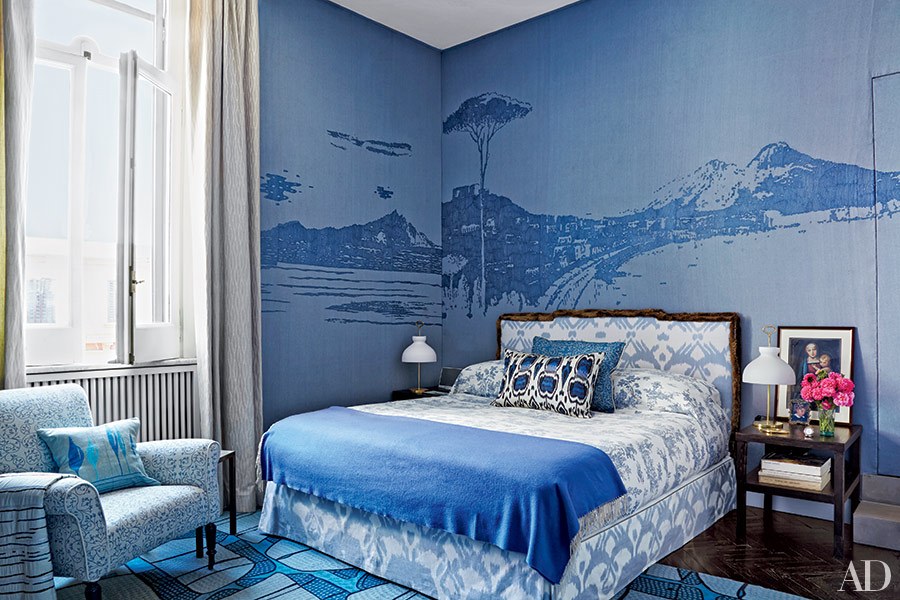 When your vision for the bedroom includes a specific design for the walls, the best choice is custom-made tapestry that embodies all of your wishes and brings something exclusive to the magical blue bedroom! [Courtesy of ArchitecturalDigest]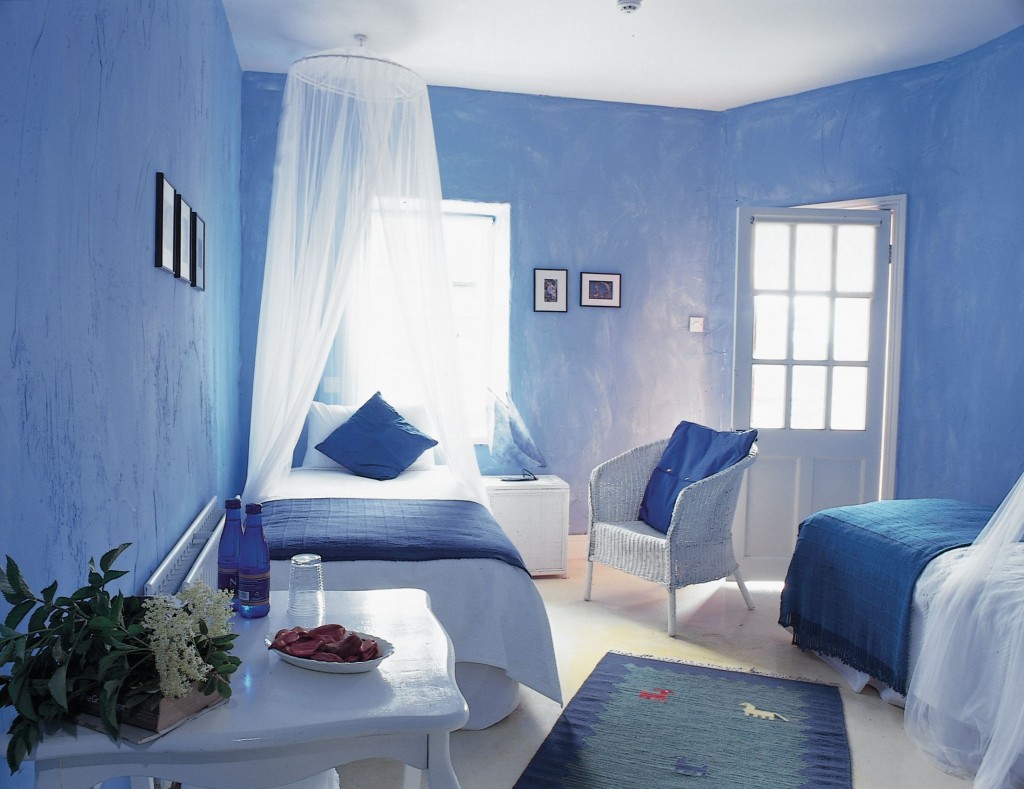 Look to the classic Greek houses for some white-and-blue interior inspiration! Their traditional look channels the beauty and the freedom of the open sea with the mesmerizing choice of colors!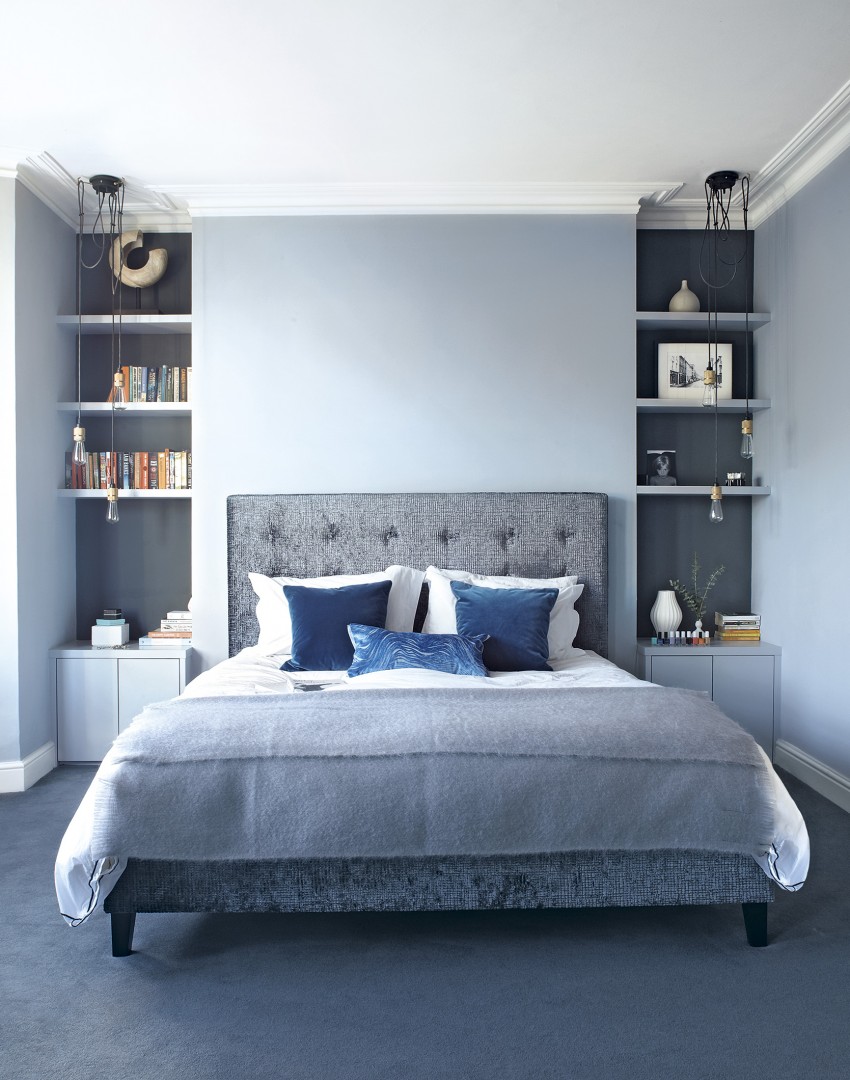 A well organized bedroom with many neutral elements can quickly start feeling monotonous, so a simplistic light blue wall is the best thing to keep the interior refreshing!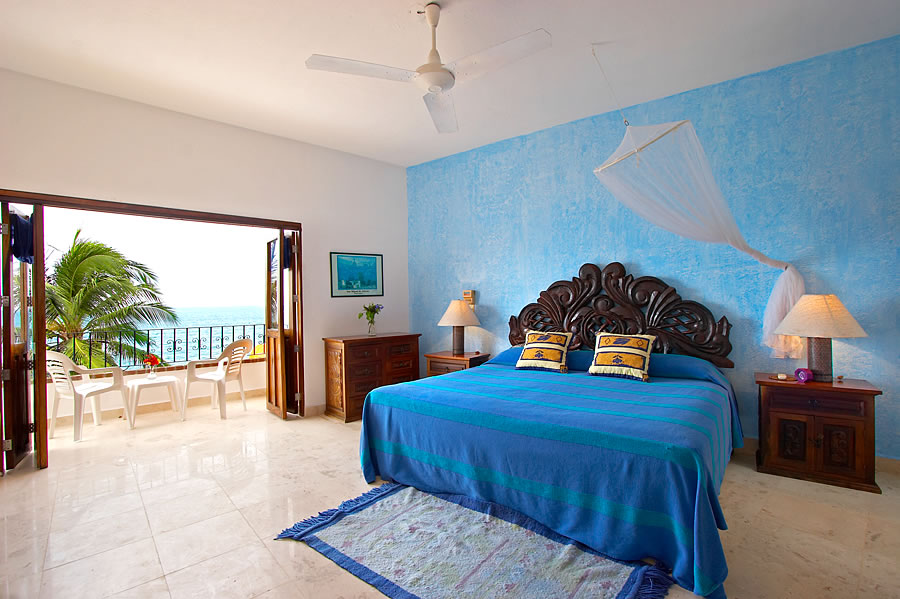 When you sleep in a bedroom like this one, every day feels like a vacation. It all comes down to making the best of open space by not filling it up with unnecessary furniture and choosing the shade of blue that mimics the color of the sky on the sunniest day!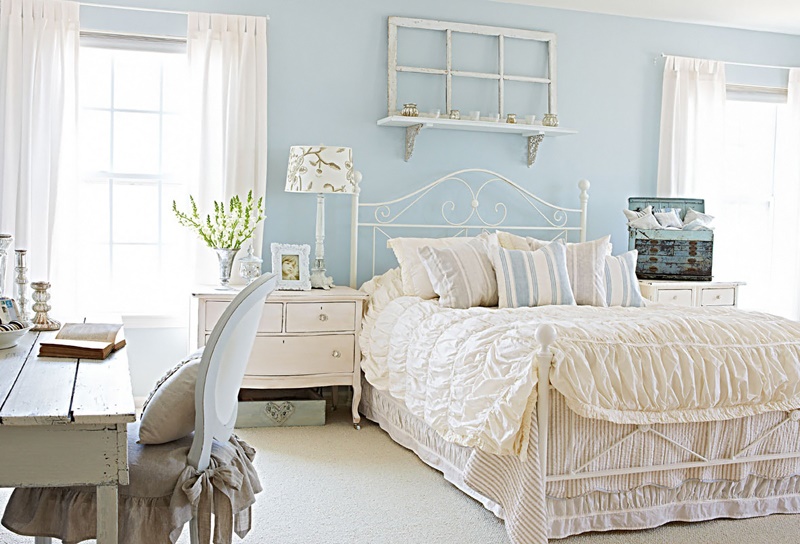 A white antique bedroom has so much class and character, it's a joy just to look at it! Enhance its vintage atmosphere by painting the walls in the lightest shade of blue and so give it just a sufficient amount of color while leaving it bright and cheerful!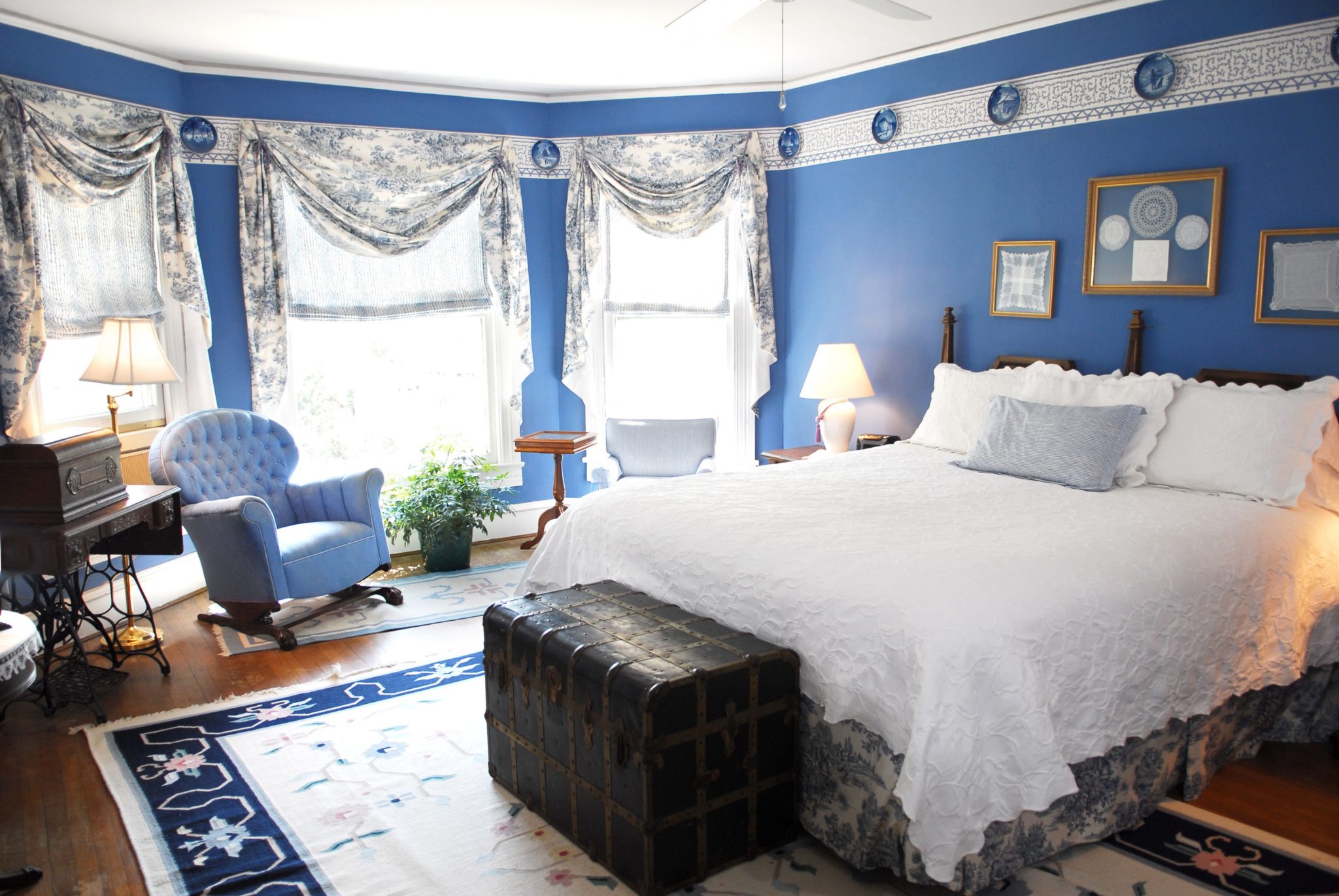 A bedroom should feel comfortable and cozy, but when you have a really big room sometimes this feeling can get lost. The blue walls will optically shrink the room just enough to give it that cozy atmosphere every human yearns for!
Cool and Modern
The blue bedroom is definitely one that easily impresses within a modern setting. It pairs well with most colors and can bring a whole new energy to a minimalist bedroom. Where a white modern bedroom feels open and airy, a blue modern bedroom feels peculiar and unexpected!
RELATED: Fiery and Fascinating: 25 Kids' Bedrooms Wrapped in Shades of Red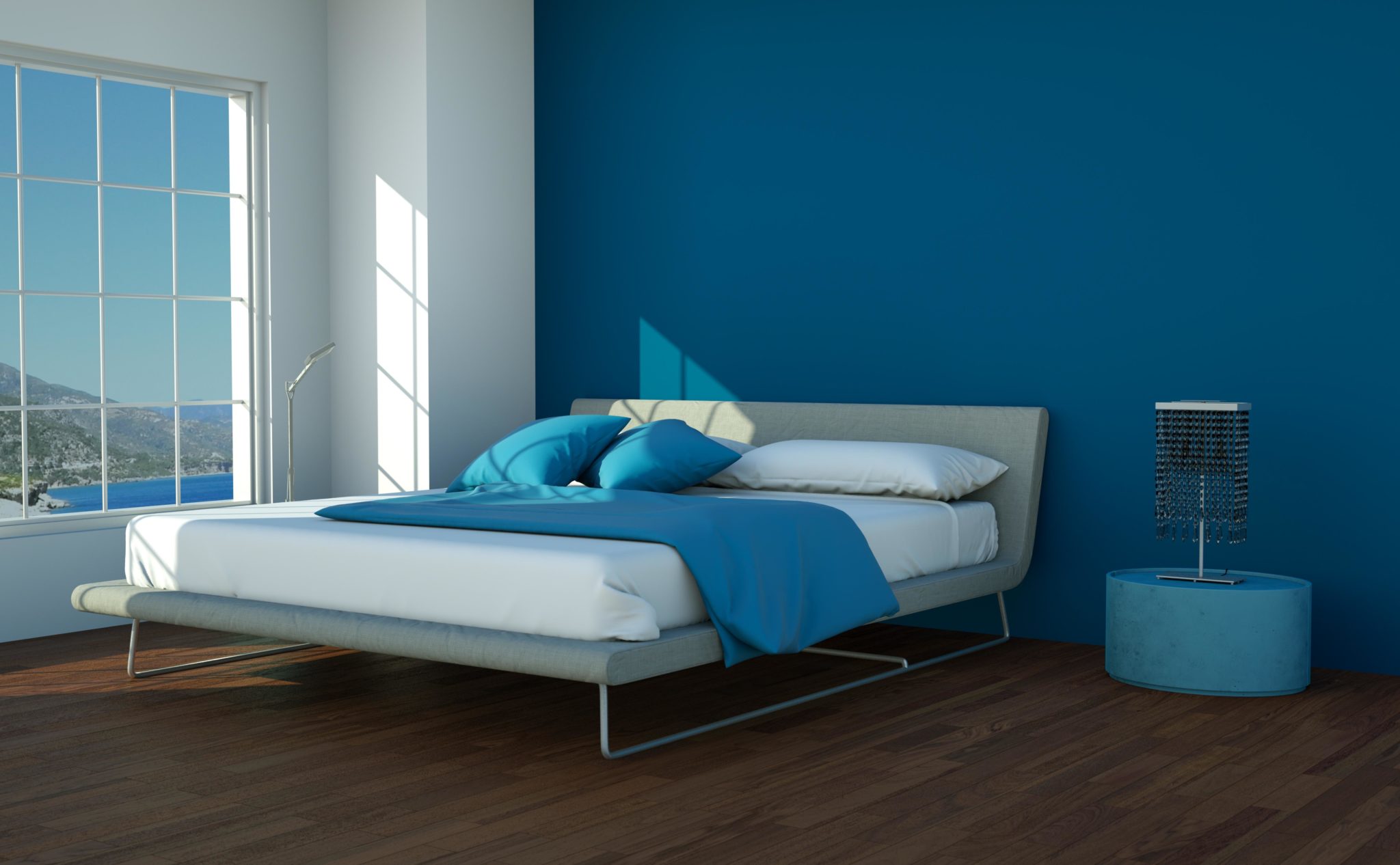 No need to over furnish a bedroom that's beaming in hues of blue – the color scheme alone will fill it up and give it a self-sufficient appearance!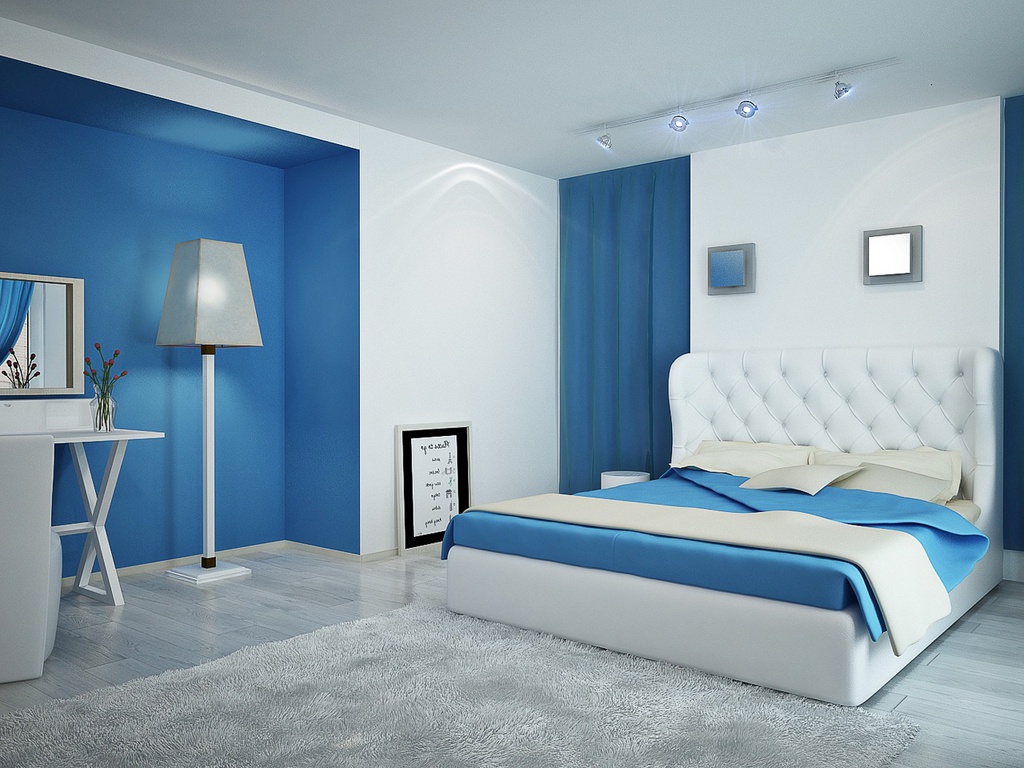 The unmistakable elegance of a blue bedroom mixed with white and cream elements is one that embodies the philosophy of modern minimalism!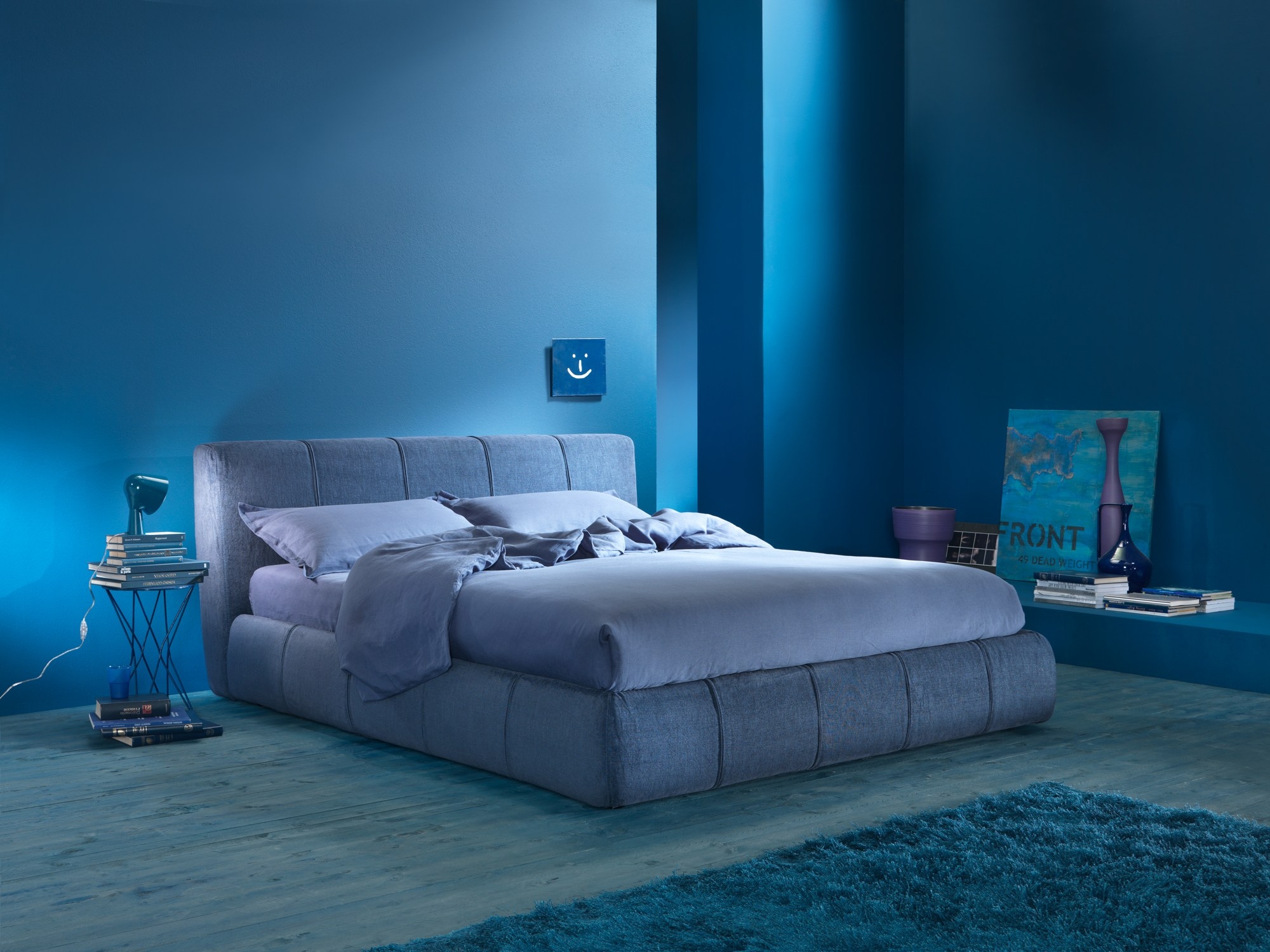 A dark blue bedroom with plain walls, clean shapes and gray bed is a perfect contemporary "sleeping cave" for anyone who wishes to rest in a room that channels the feeling of being deep underwater.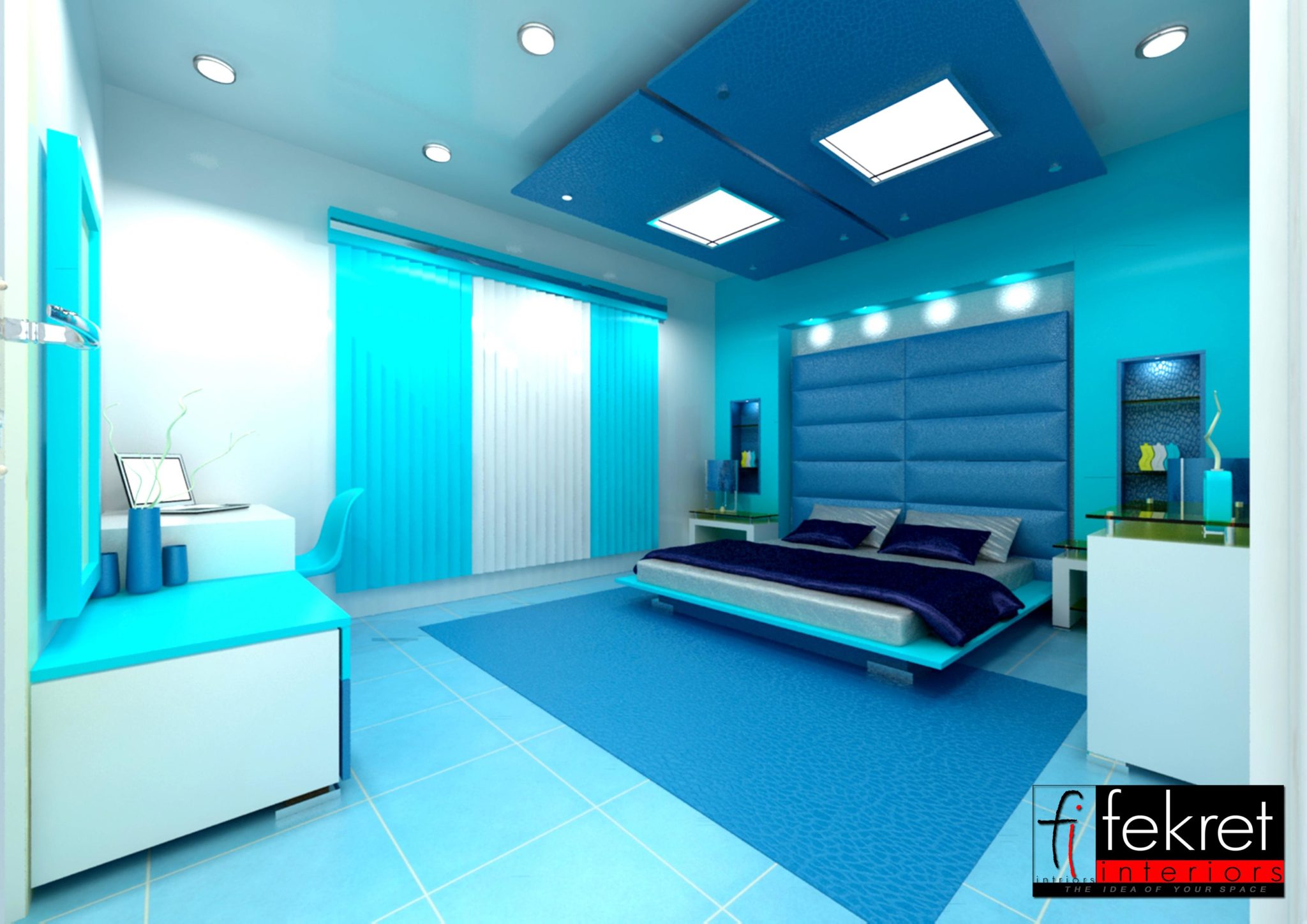 For a truly dynamic and diverse bedroom, mix up different hues of blue. Darker shades are ideal for the area with your bed, while brighter ones are more appropriate for a designated workspace! [Image by Fekret Interiors]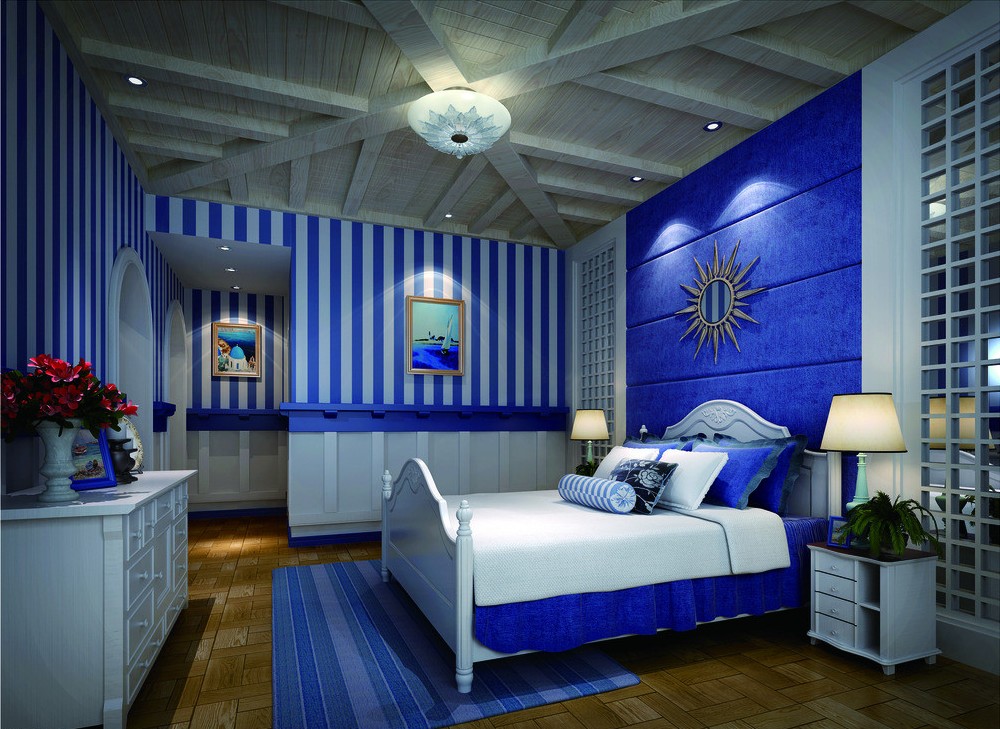 Allow the bold blue interior to be the main thing that captures the attention! You can add some modern decor elements and play around with how you style the walls, but keep the shade of blue consistent throughout the room to achieve a harmonious atmosphere!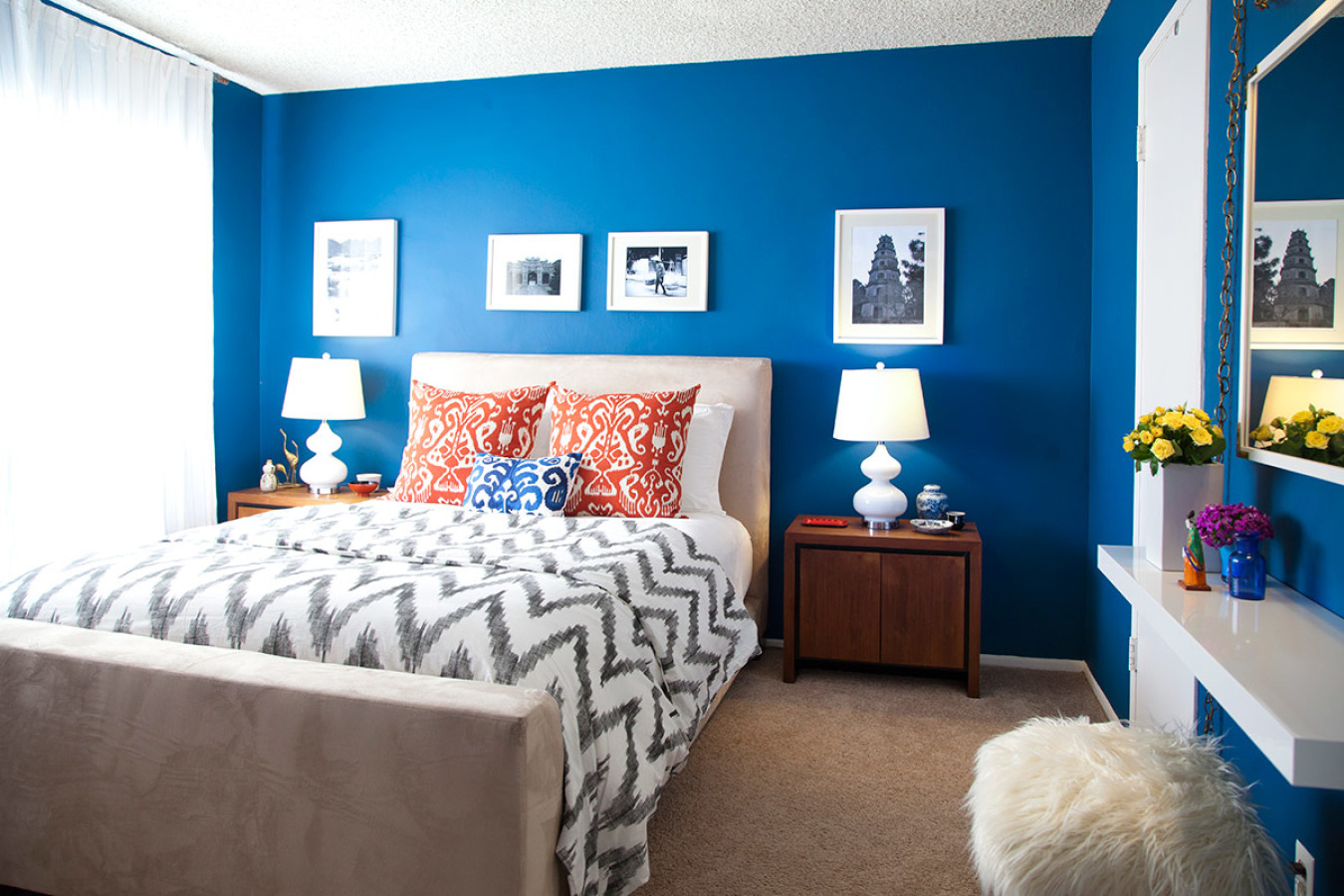 Only when a bright daylight illuminates the strong blue walls can you understand their power within your bedroom! They are an amazing background to all of your other elements and easily make them stand out!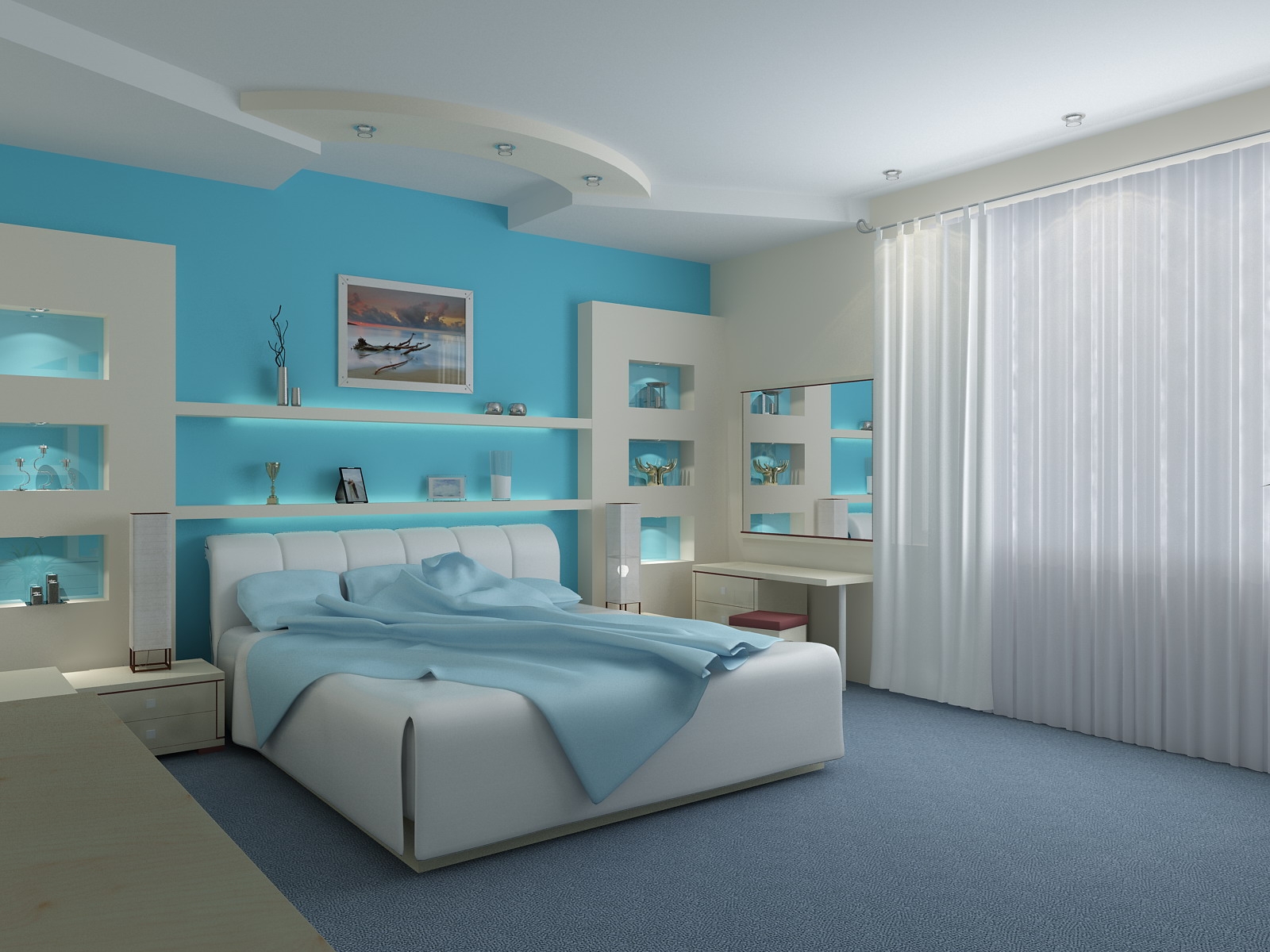 Turquoise and cream, the dream combination for any modern-crazed homeowner whose ultimate goal is to sleep in the trendiest bedroom decorated in the latest fashion!
Moody and Mysterious
Dark blue walls create a compelling moody ambiance that draws you in and makes you wonder if the room is holding onto any secrets. It has a mysterious, dim appearance and is a great choice if you can't envision yourself sleeping in a bright bedroom. Even on the sunniest days, a dark blue bedroom will retain its steady, cool look and will not disappoint with its melancholic style!
RELATED: Decadent Jewel-Toned Bedrooms for a Glamorous Interior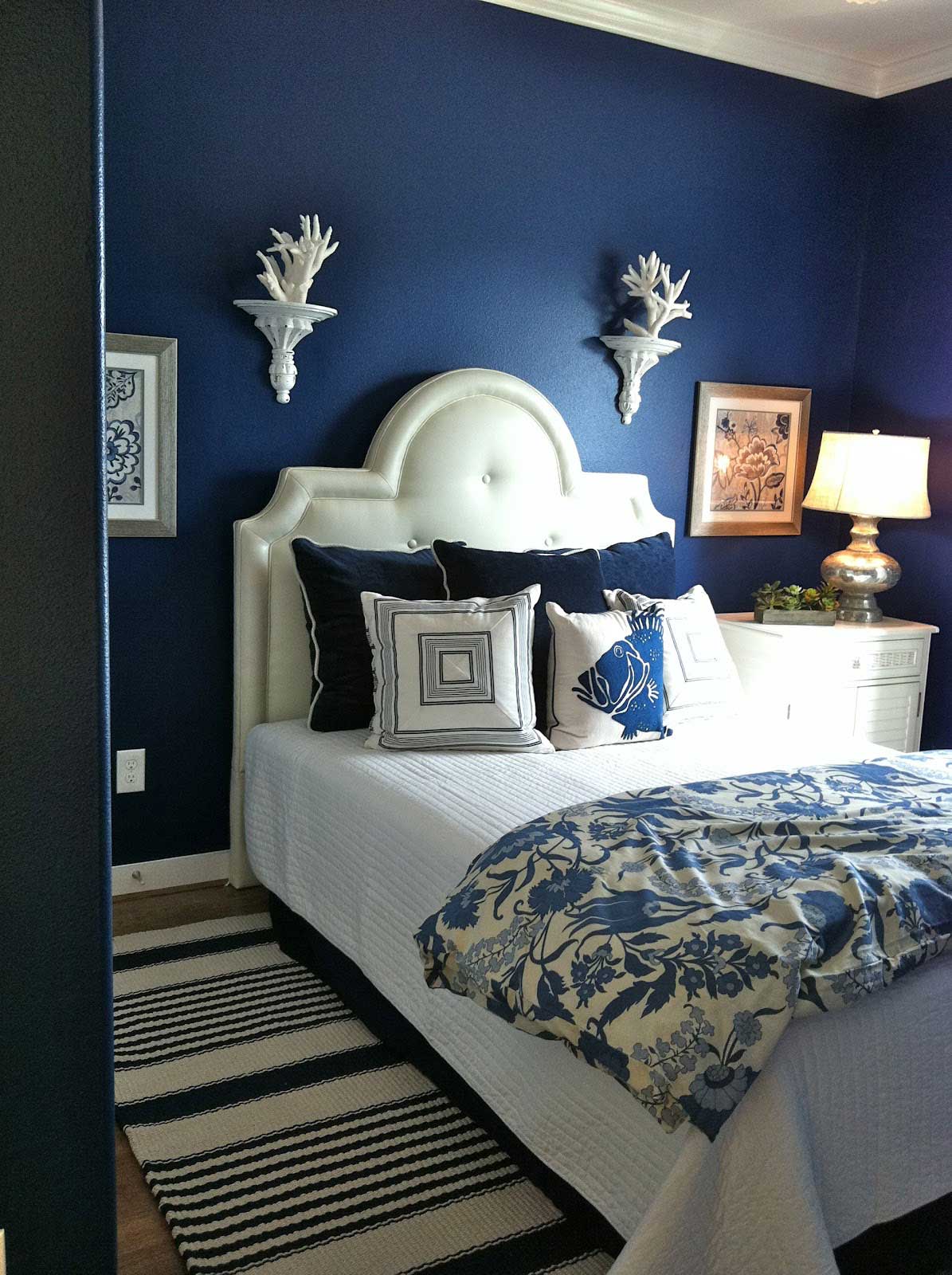 A smaller bedroom is made marvellous by navy blue walls that give it a sense of significance and intention! The whole room looks determined and incredibly stylish!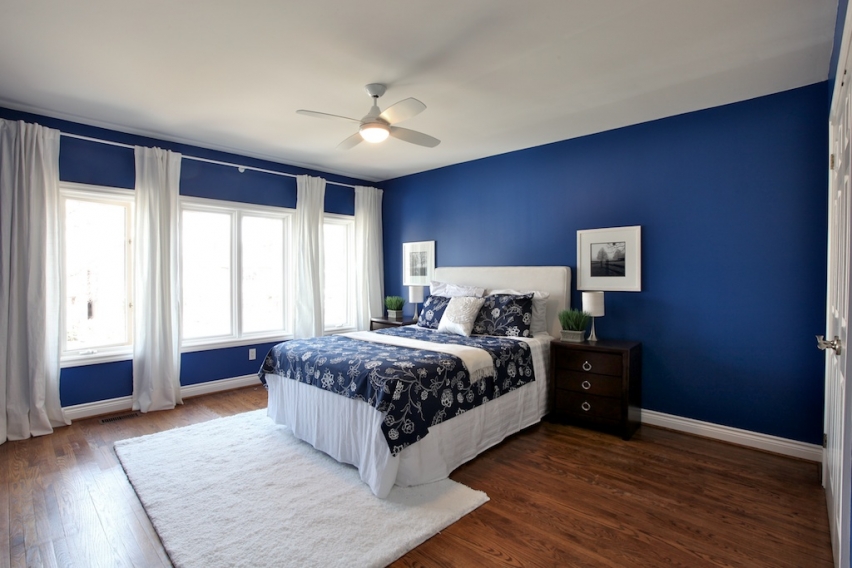 Want to have a well-lit room that still feels cool and fresh? Give your big bedroom blue walls and with them a moody atmosphere that balances out the brightness!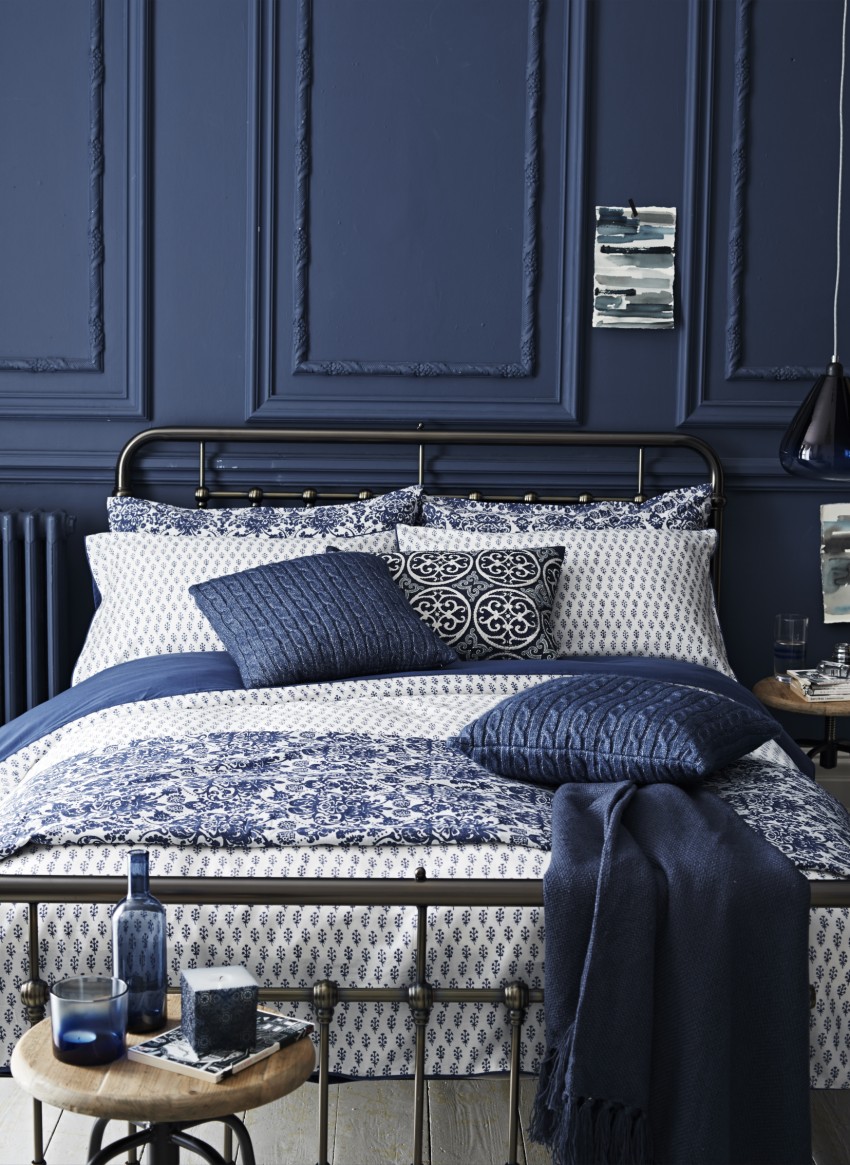 A bedroom with indigo interior carries a special charisma and will suit those who love darker rooms and thrive in dim atmospheres! Match the decor elements in the room to the indigo walls to create a coherent sleeping area!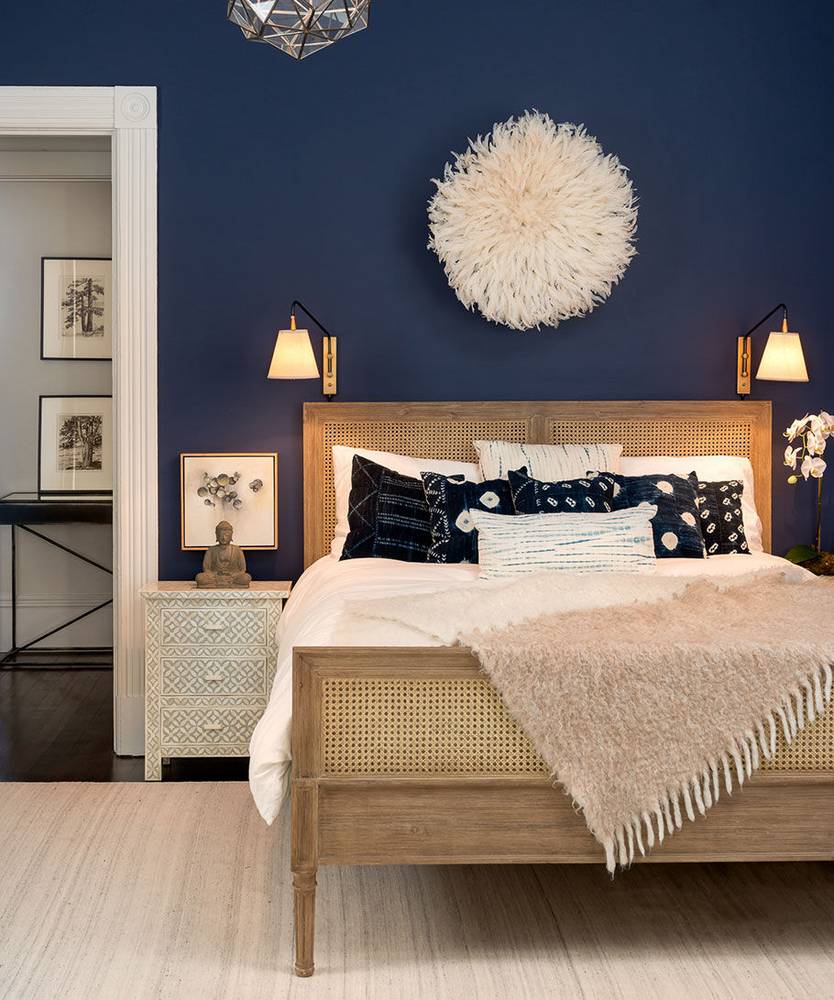 The dark blue wall is complimented by a wooden bed and other elements in a gentle beige color, creating a marvellous balance between the light and the dark!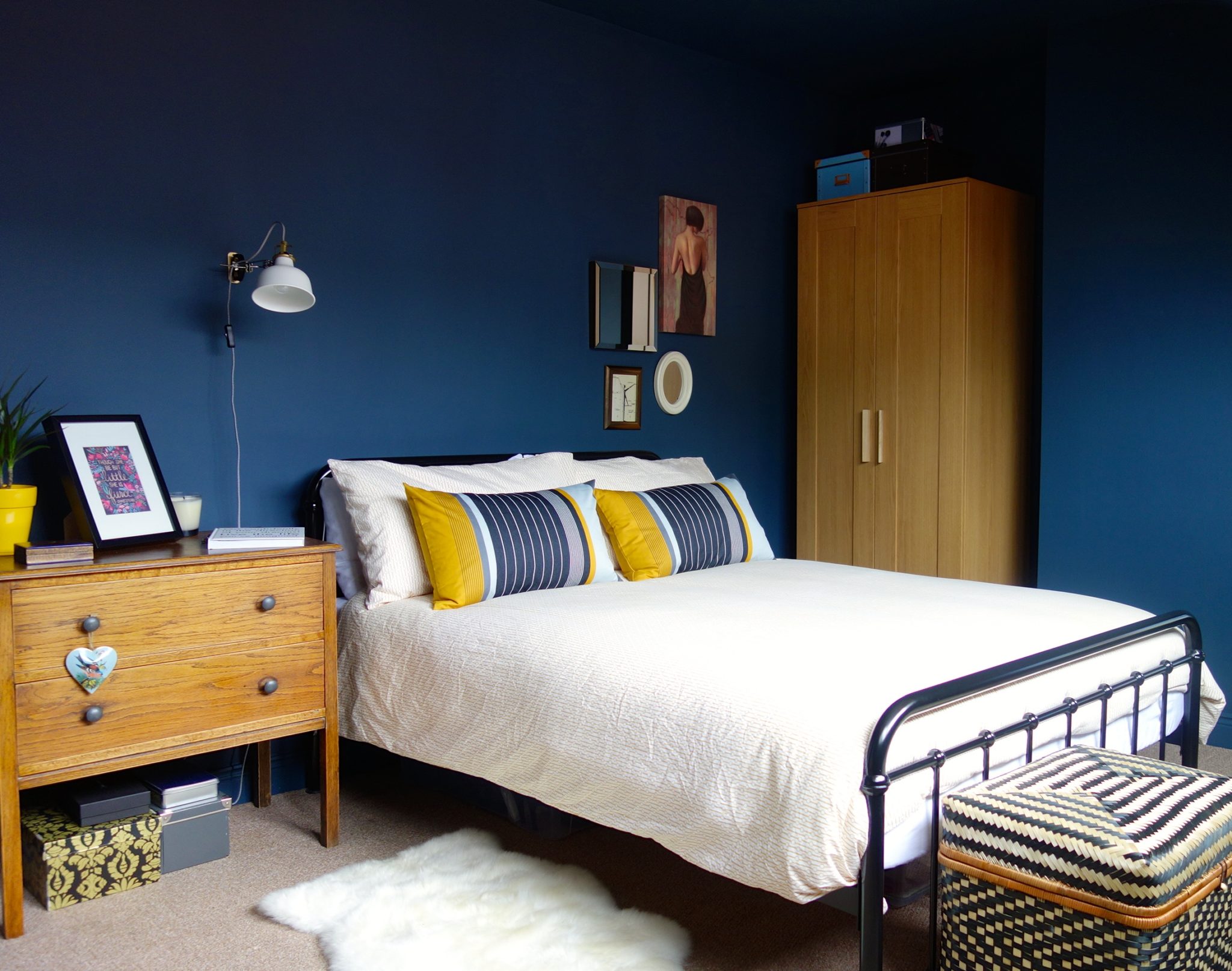 One of the great attributes of the color blue is how easily it fits with other colors, both cold and warm. Balance out the brisk feeling of blue with a warm touch of wooden furniture and lively decor pieces.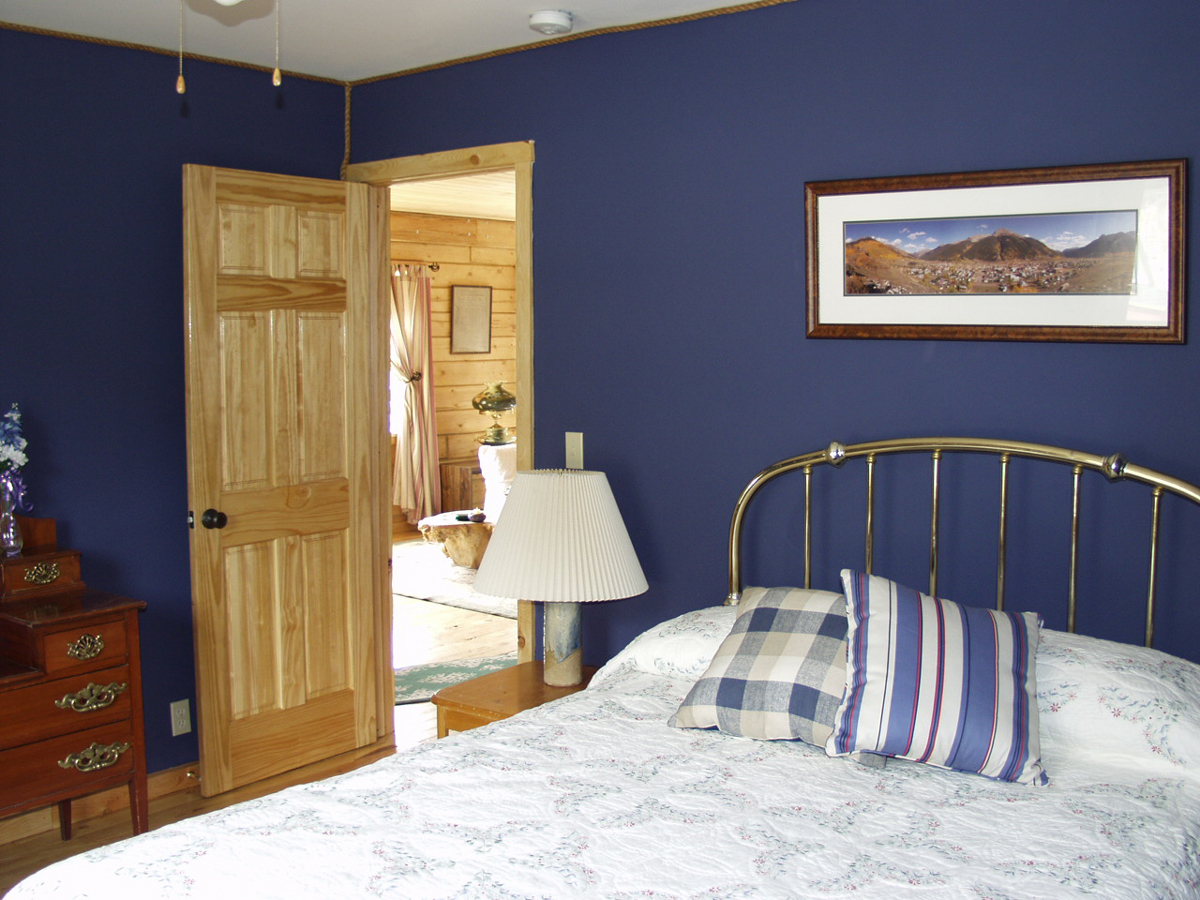 Indigo blue may be associated with modern interior but it's actually a wonderful way to spice up a more traditional bedroom and give it a sense of progressiveness!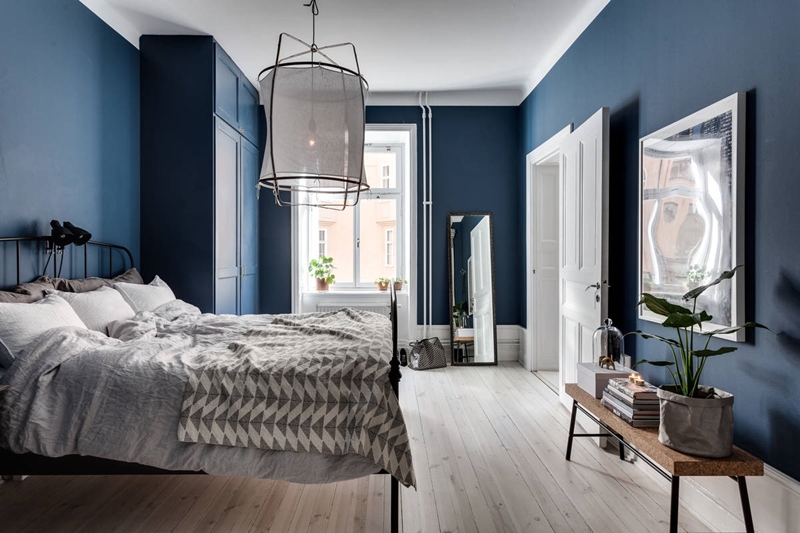 Your bright bedroom deserves a touch of mystery and what better way to channel that than through blue interior that always feels curious and enigmatic!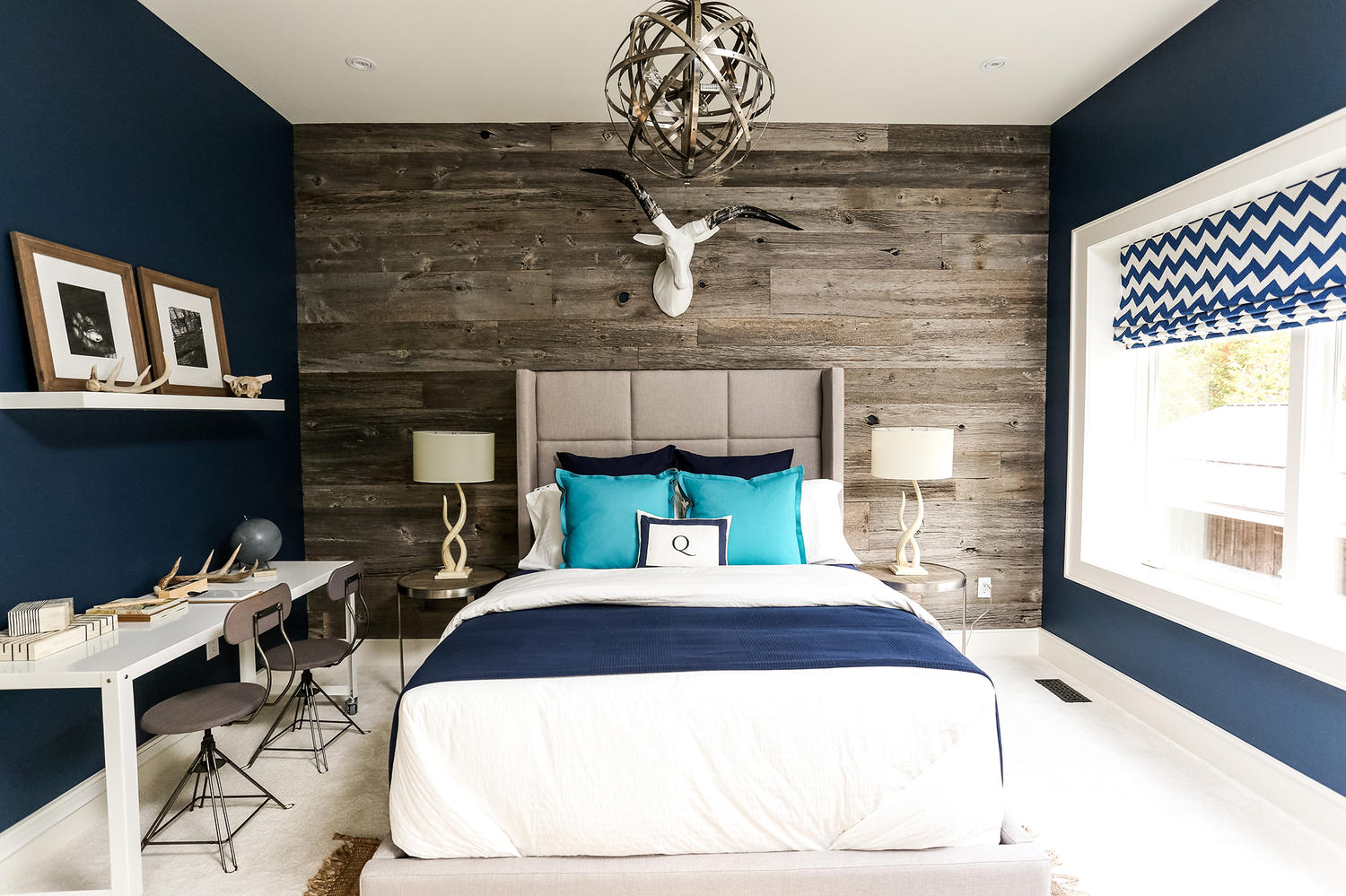 The harmony between the navy blue walls and rustic elements in this room is truly captivating. Perhaps this is the future of countryside-inspired modern bedrooms! Would you let your kids pick this?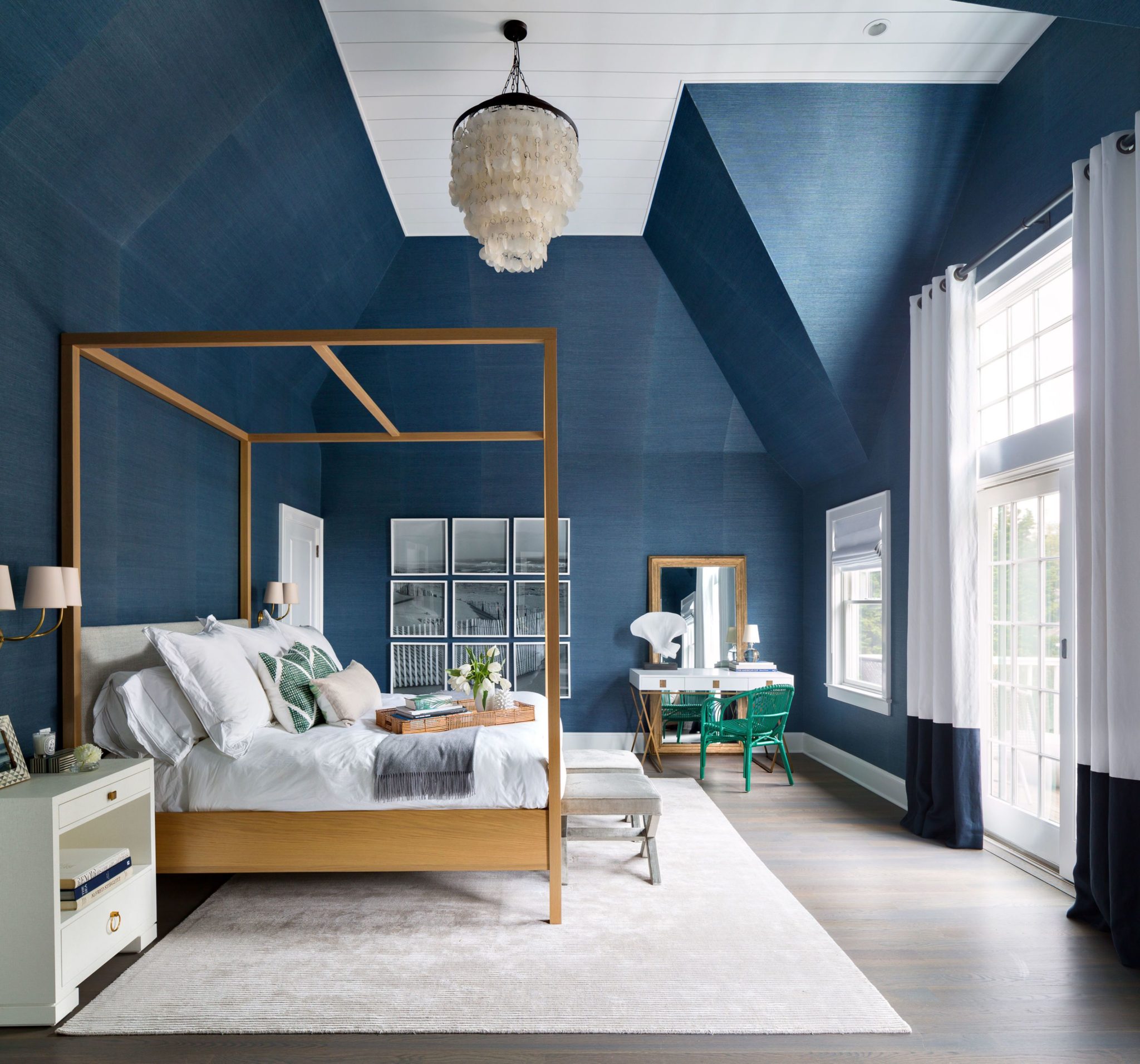 A spacious room with high ceilings can be quite intimidating if you prefer cozier, more comfortable spaces. The blue walls help you create a bedroom with a snug and secure ambiance that feels like a supersized nook! Guilty for creating this airy summer vibe for this home are designers Andrew Kotchen and Matthew Berman of Workshop/APD.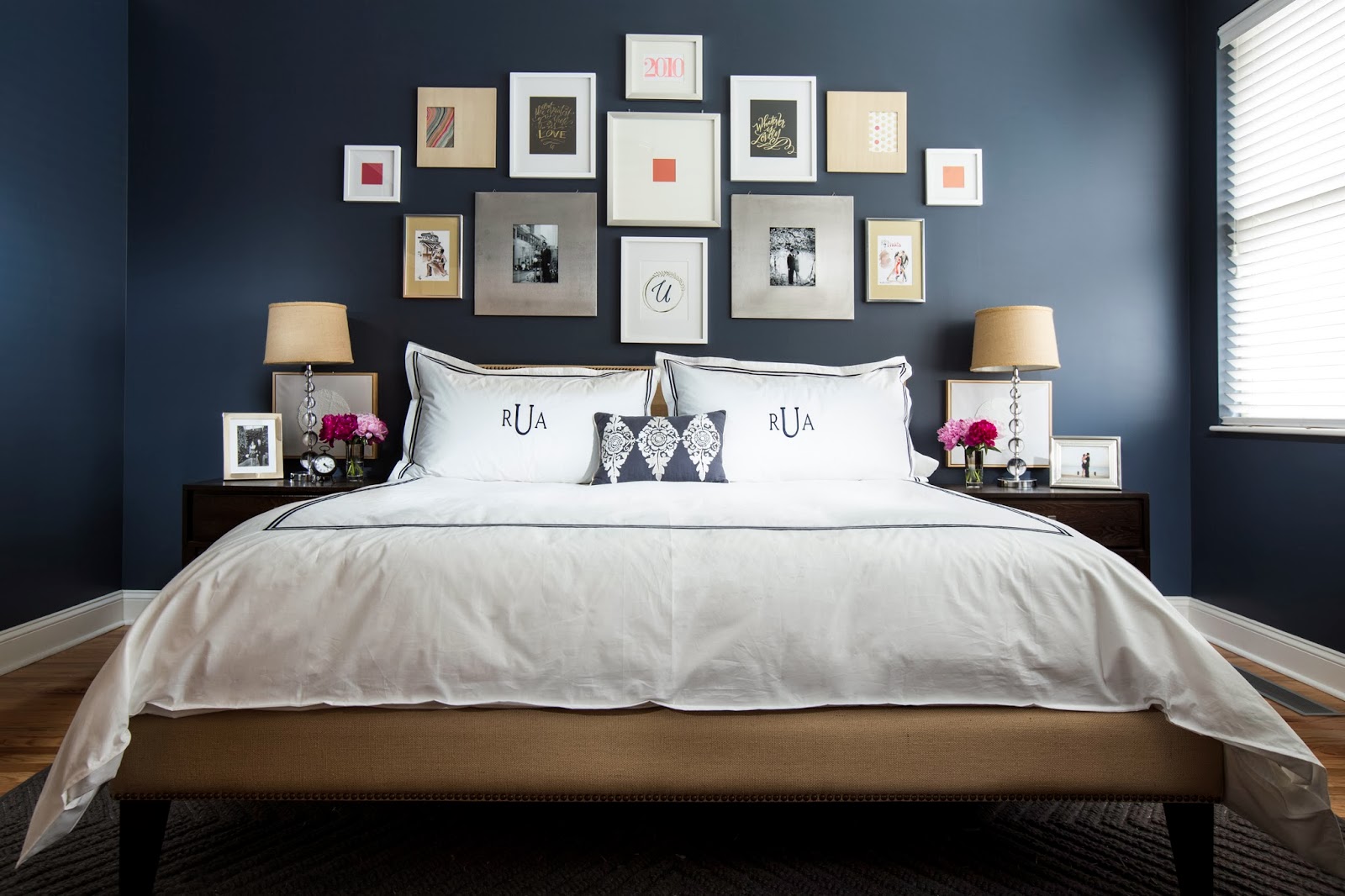 Decorate your misty blue bedroom with a wall gallery that stands out against the dark background and brings an exciting personal element to the space where you enter the world of dreams!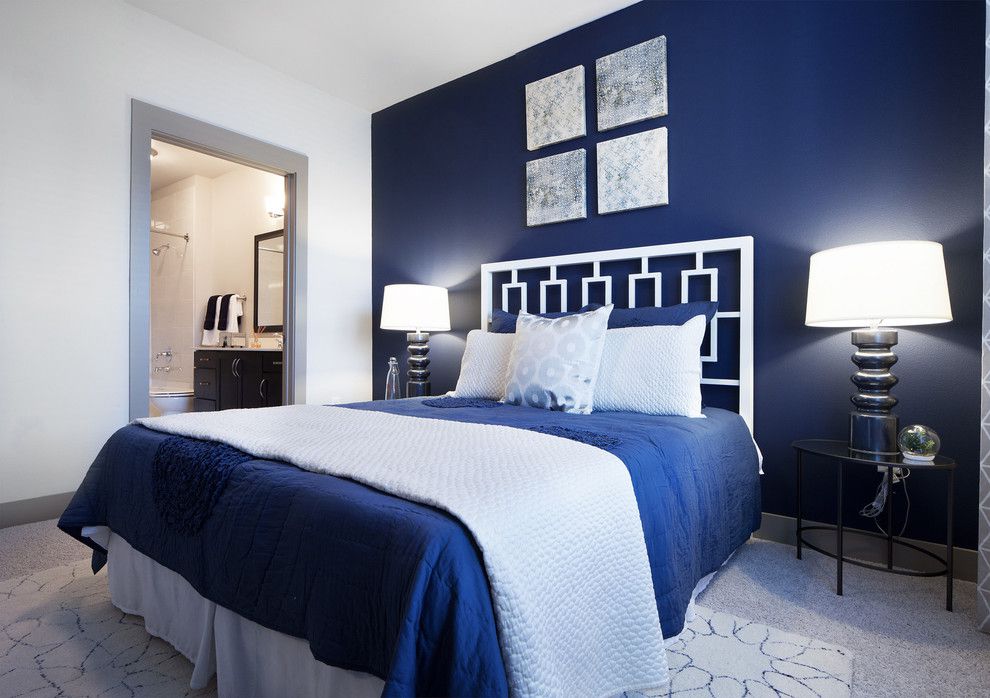 A blue bedroom isn't created solely by painting all the walls blue – you can choose to paint just one of the walls and then coordinate a few decor pieces with it to achieve a cold and complex ambiance!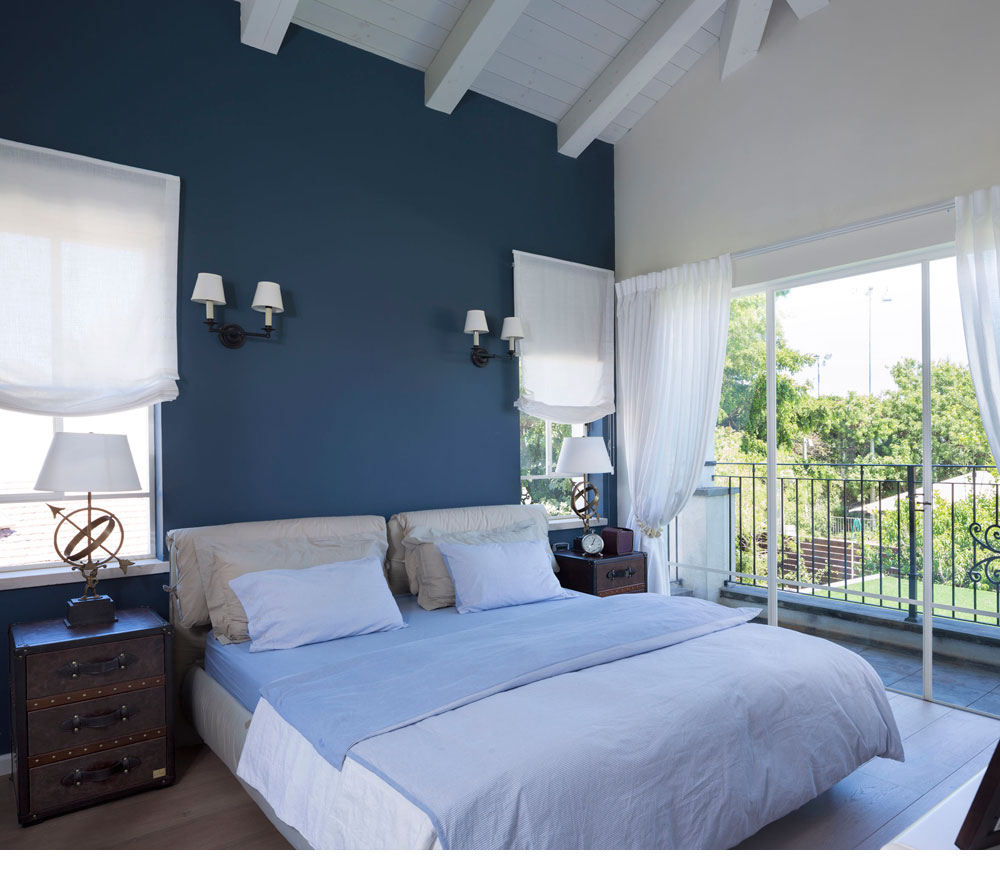 This blue bedroom feels absolutely free and while it may not be the biggest in size, it still gives the impression of spaciousness! It has the look of a contemporary beach house with plenty of dark charisma!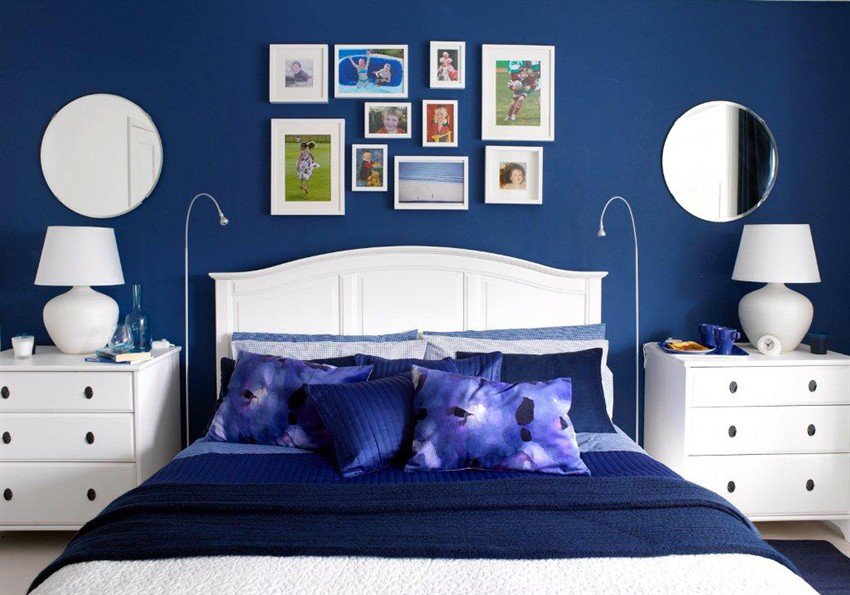 The contrast between bright and dark is very apparent in this alluring blue bedroom that showcases the magic of finding balance between two sides of a color spectrum! At last, you get to enjoy in the best of both!