Birch bark is making a comeback, thanks to the work of artists and designers such as Anastasiya Koshcheeva. Not only can this material evoke a sense of rustic style, it has the power to add modern flair to clean-lined homes, especially when innovative design is involved. Birch bark is beautiful and durable, not to mention, naturally water-repellent and antibacterial! Today we take a look at ten fabulous finds (including two projects) featuring
birch bark
, from the smallest of containers to the coolest of
lounge chairs
…
Modern Style
Let's start with the stunning work of
Anastasiya Koshcheeva
, a designer who is taking age-old Siberian birch bark crafting in interesting new directions. Below we see
Tuesa
, a set of three storage containers that are perfect for holding food, spices and tea. Manufactured by Siberian craftsmen, the pieces showcase the beauty of traditional workmanship and modern style: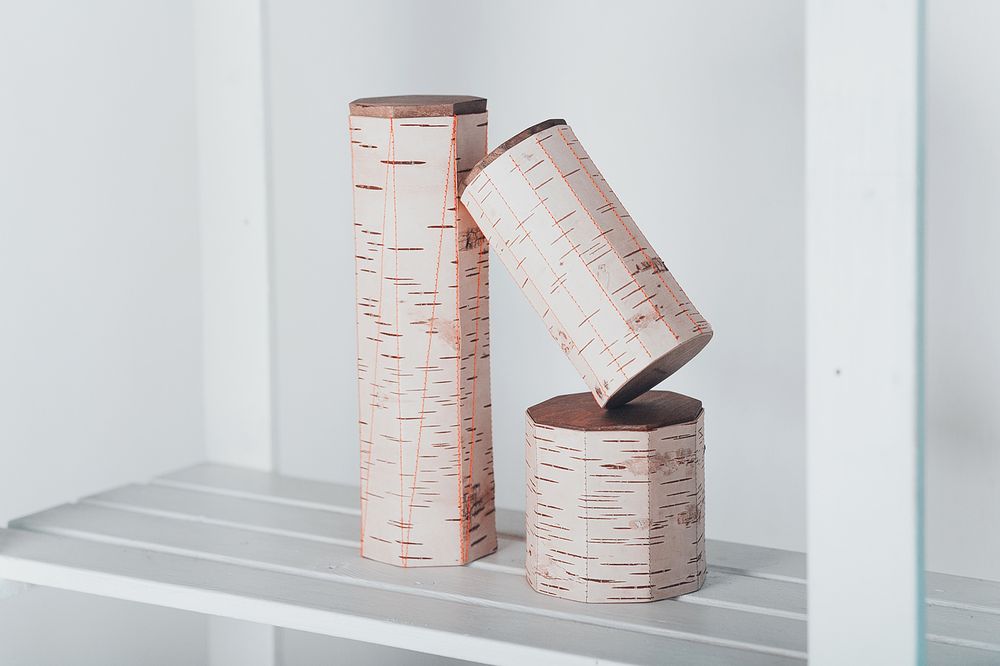 Next we see the Plain Edition of Tuesa (note that there are no threaded accents). The striking angles and the surface of the birch bark take center stage.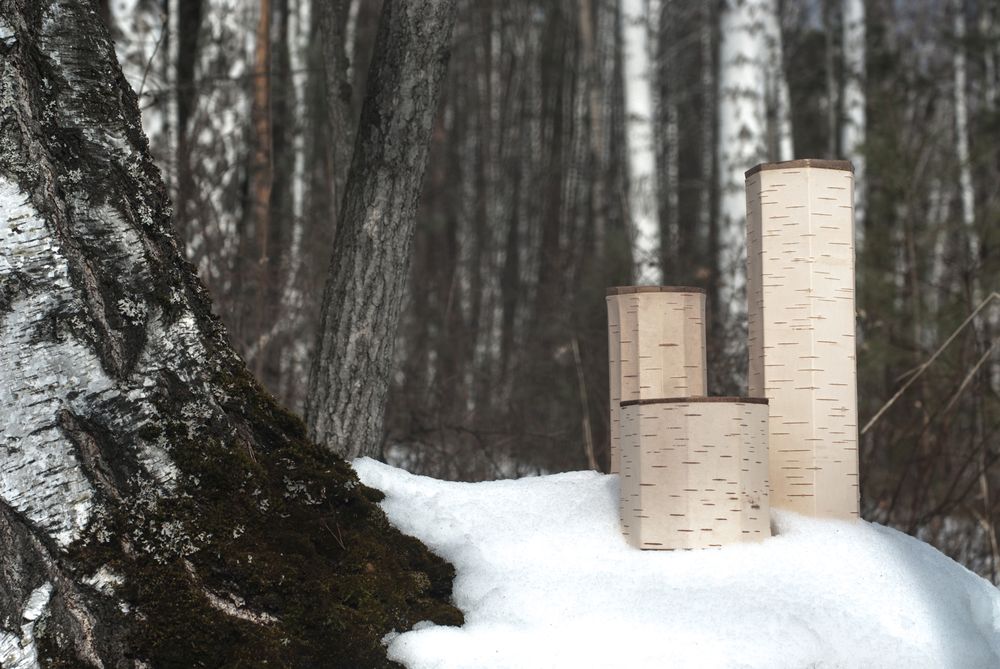 Ready to focus on furniture? Anastasiya Koshcheeva's Sibirjak won the second prize at Salone Satellite Worlwide Moscow. This contemporary lounge chair made of birch bark creates a striking contrast between the natural and the geometric: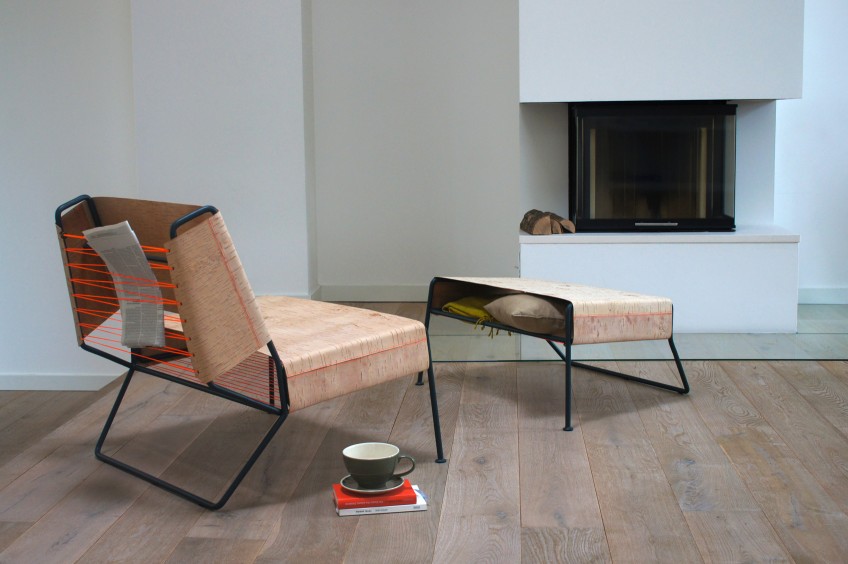 Birch Bark Finds from Etsy
If you're wanting to browse an array of affordable birch bark finds, Etsy is the place to look! There you will discover a range of interesting creations that breathe new life into a beloved material. This package of 8 birch bark hearts from Etsy shop CrazyBirch is a great buy, and the hearts can be used as labels, garland supplies and more!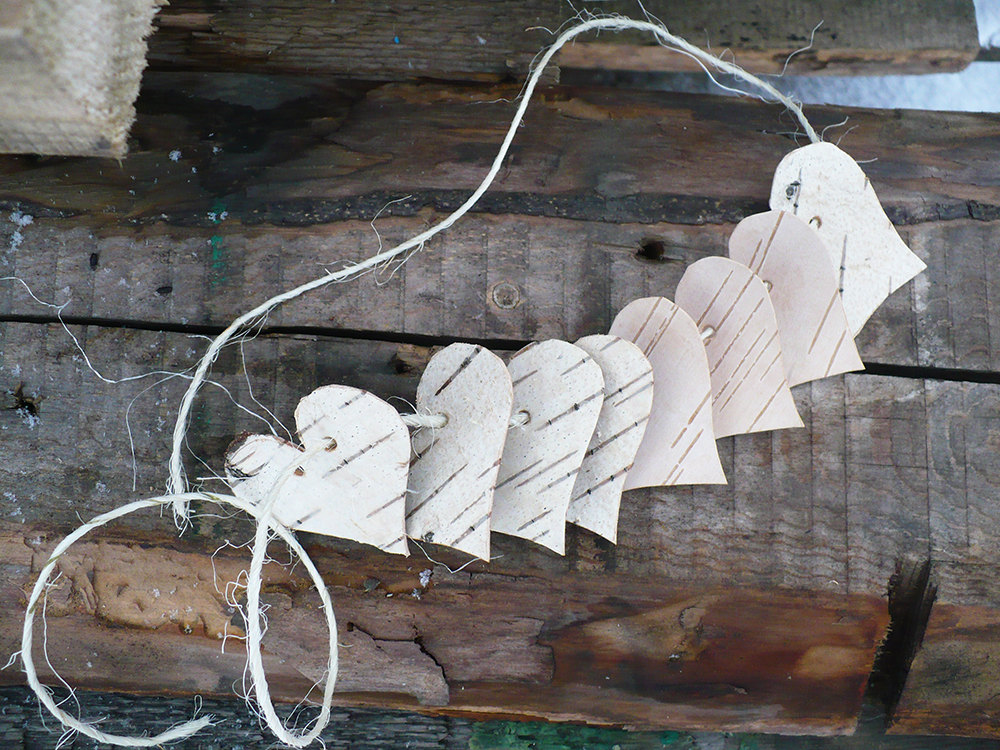 A journal gets a naturally beautiful cover! This mini birch bark journal from Etsy shop ExiArts EcoCrafts is available in an array of sizes…and thread colors! It's hard to beat the classic, intriguing look of a blank book with a hard cover surrounded by birch tree bark: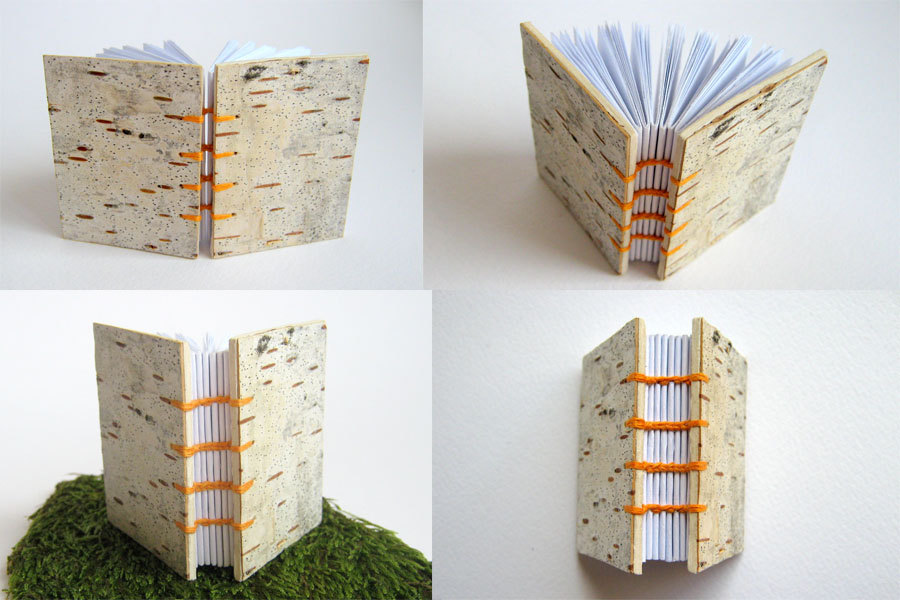 These birch bark-wrapped bowls from Etsy shop Fashion Silk Flowers take clean-lined glass containers to new heights. Perfect for interiors with rustic-modern style!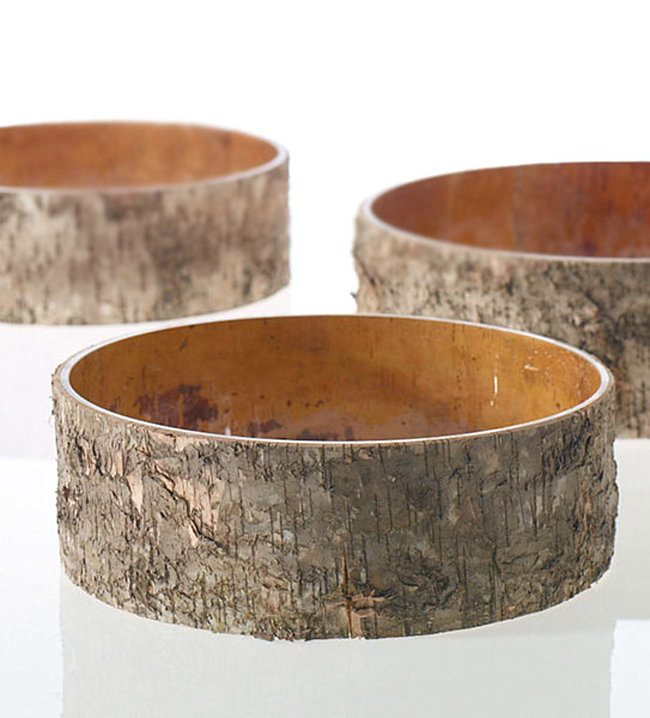 In fact, today's featured birch bark items would make lovely additions to homes that showcase Scandinavian design. Can't you see this set of 4 vintage Swedish woven birch bark baskets in an interior featuring white walls and clean lines? Learn more at Etsy shop Vintage Butik Gita: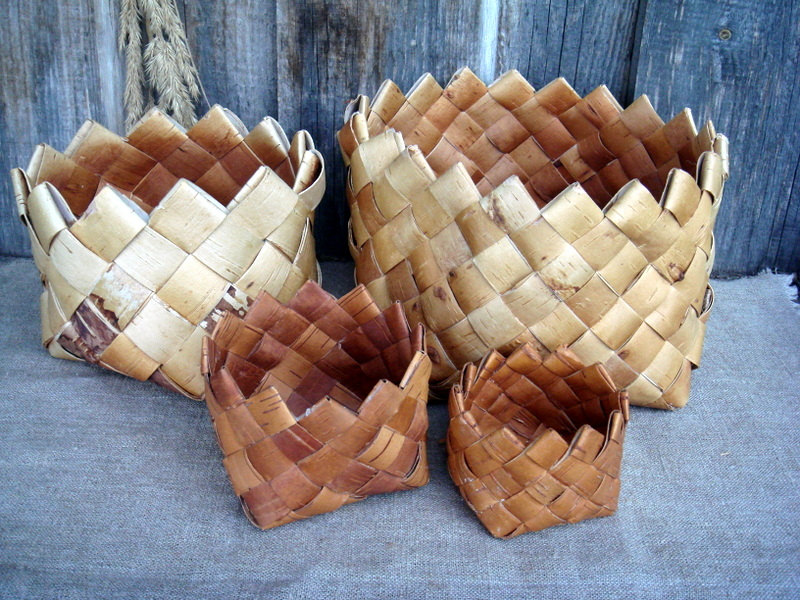 With the look of birch logs, this collection of 3 birch bark vases from Etsy shop Bettula features selections in large, medium and small. Perfect for a winter tablescape!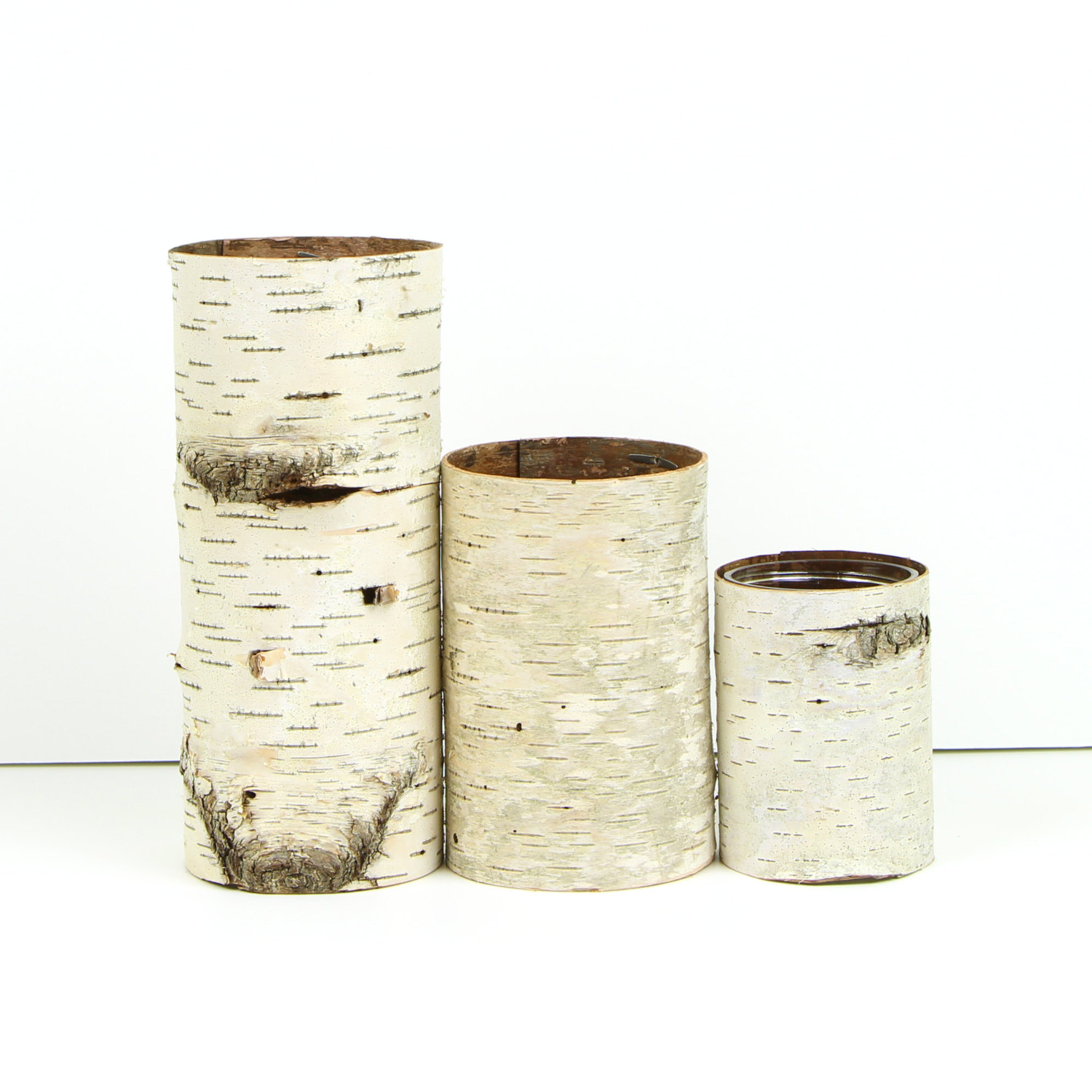 DIY Possibilities
We end today's post by featuring two DIY projects that celebrate the simplicity of birch bark. In fact, these DIY Birch Bark Candle Holders from My Kitchen Sink are super easy to make, especially since all you have to do is wrap the thin outer layer of birch bark around a glass candle holder and secure it with twine!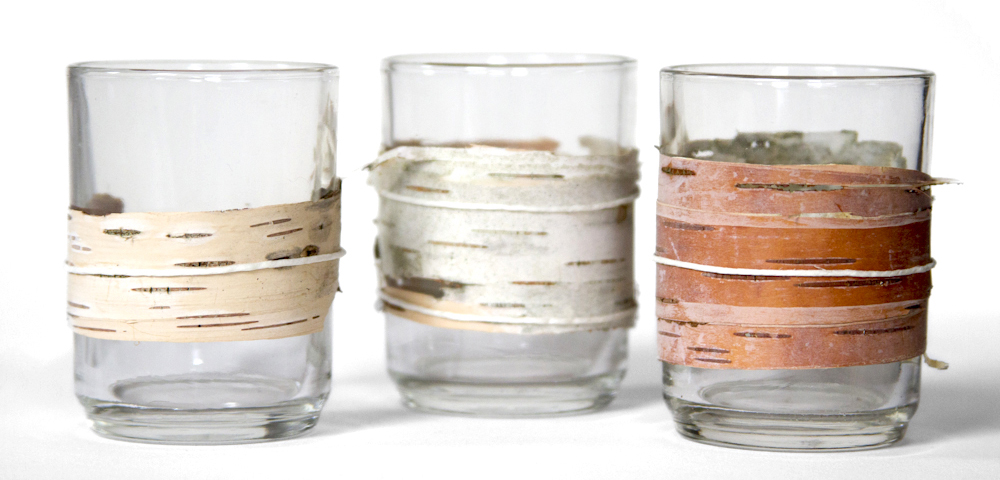 Last but not least, Ruffled offers a tutorial for DIY Birch Bark Lamps that is easy to follow and filled with great pointers that make the project safe and effective. Instant rustic flair!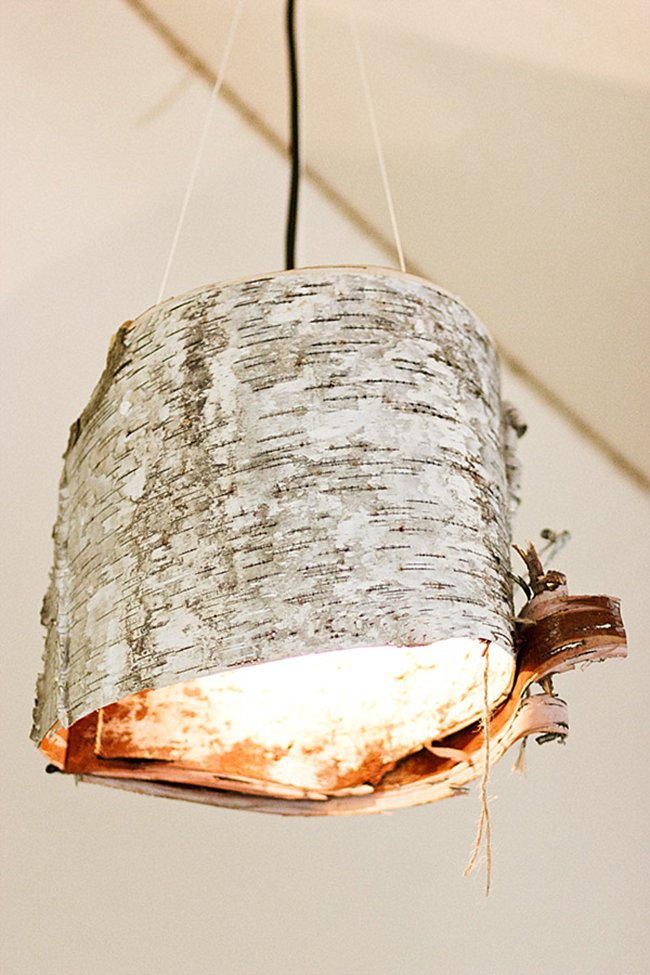 Winter is an ideal time to add birch bark accents to your home. Did any of today's featured projects and finds catch your eye? Share your thoughts by leaving a comment below…