When we last checked in about flatware trends here at Decoist, silver tones were still going strong, but the real news was the rainbow of new finishes that had come to the realm of tableware. From gold and copper to chocolate brown and black, non-traditional finishes were dominating place setting style. Fast forward a few years, and a wide variety of finishes can still be found. Yet to keep the designs fresh, some fun new trends have emerged, from unique silhouettes to a fresh take on texture. Join us as we highlight a collection of flatware sets that are sure to add flair to the table of any design lover! [flatware below from Mepra]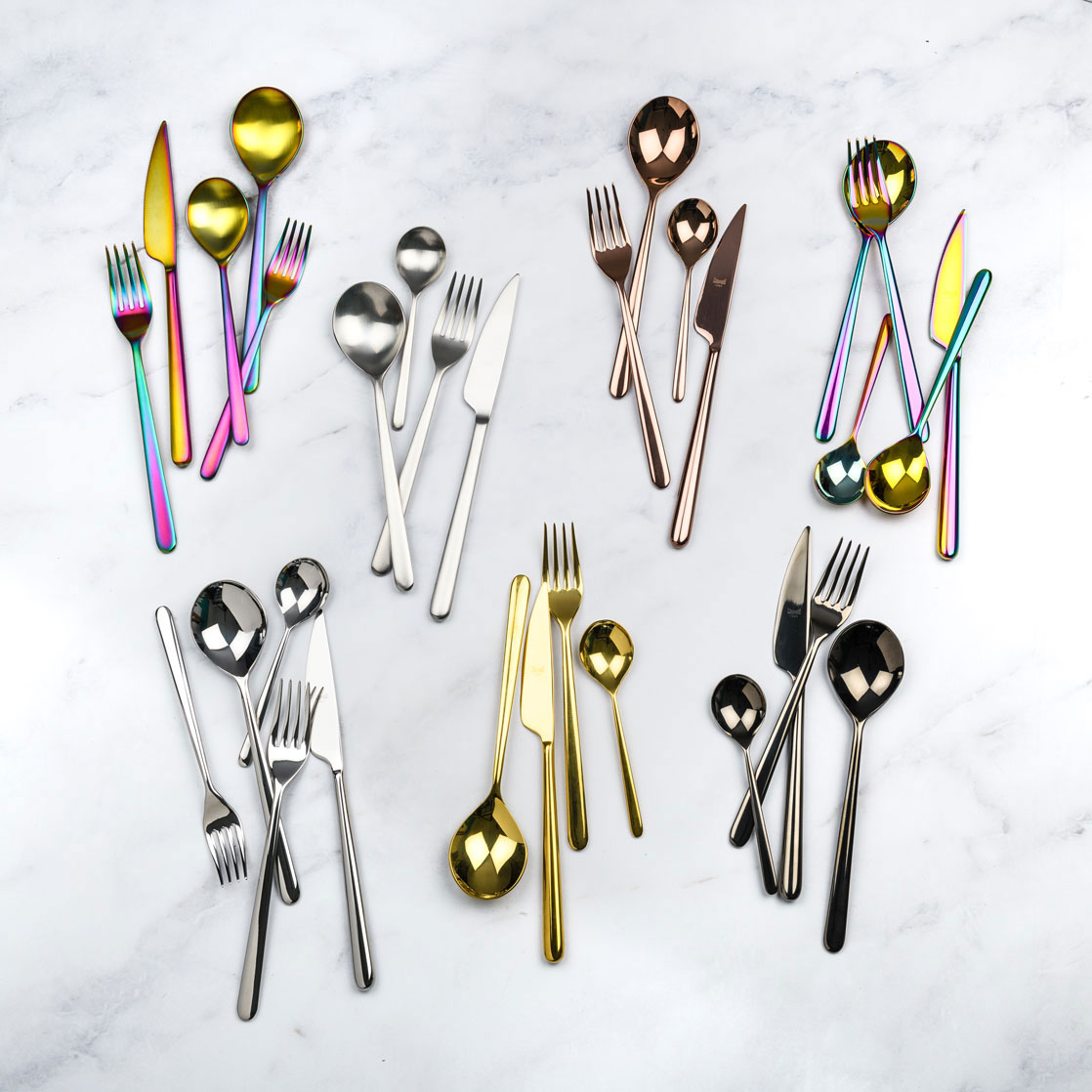 Fabulously Faded
One of the biggest flatware trends of recent years has involved gold, rose gold and copper finishes. They're still out there, but they've definitely evolved, thanks to designers looking to inject something new into the mix. For example, one way to keep the warm-toned flatware trend fresh: a fade-in approach. We're loving this interesting take on flatware precisely because it blurs the lines between silver and gold. Below we see a mixed-metals effect from CB2. This 20-piece Haze Two-Tone Flatware Set features slim square handles and ultra rounded spoons: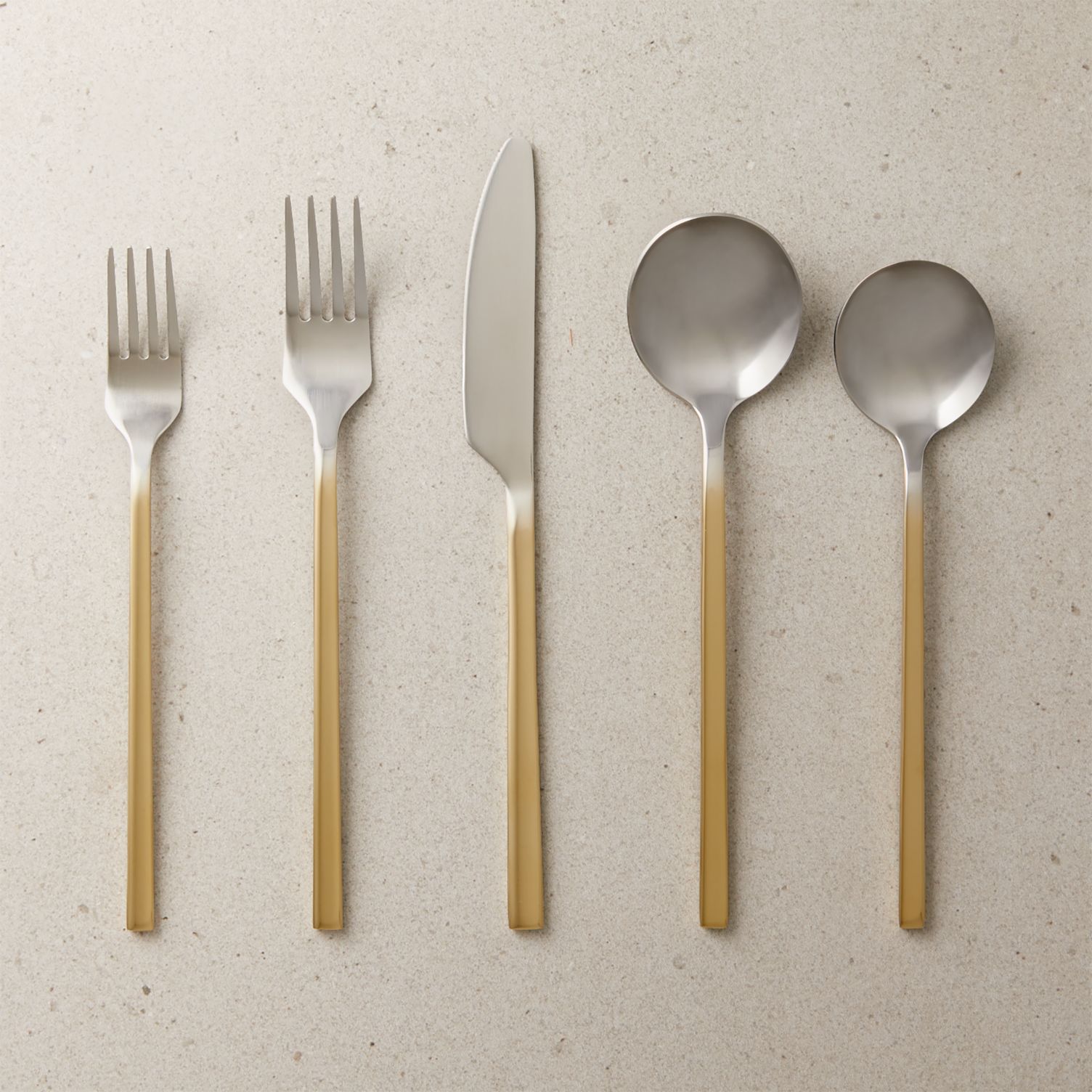 Reverse the concept, and you have silver-toned handles rather than gold ones. Once again, stainless steel is the material of choice, but this 20-Piece Pin Tumbled Two-Tone Flatware Set (also from CB2) is anything but expected: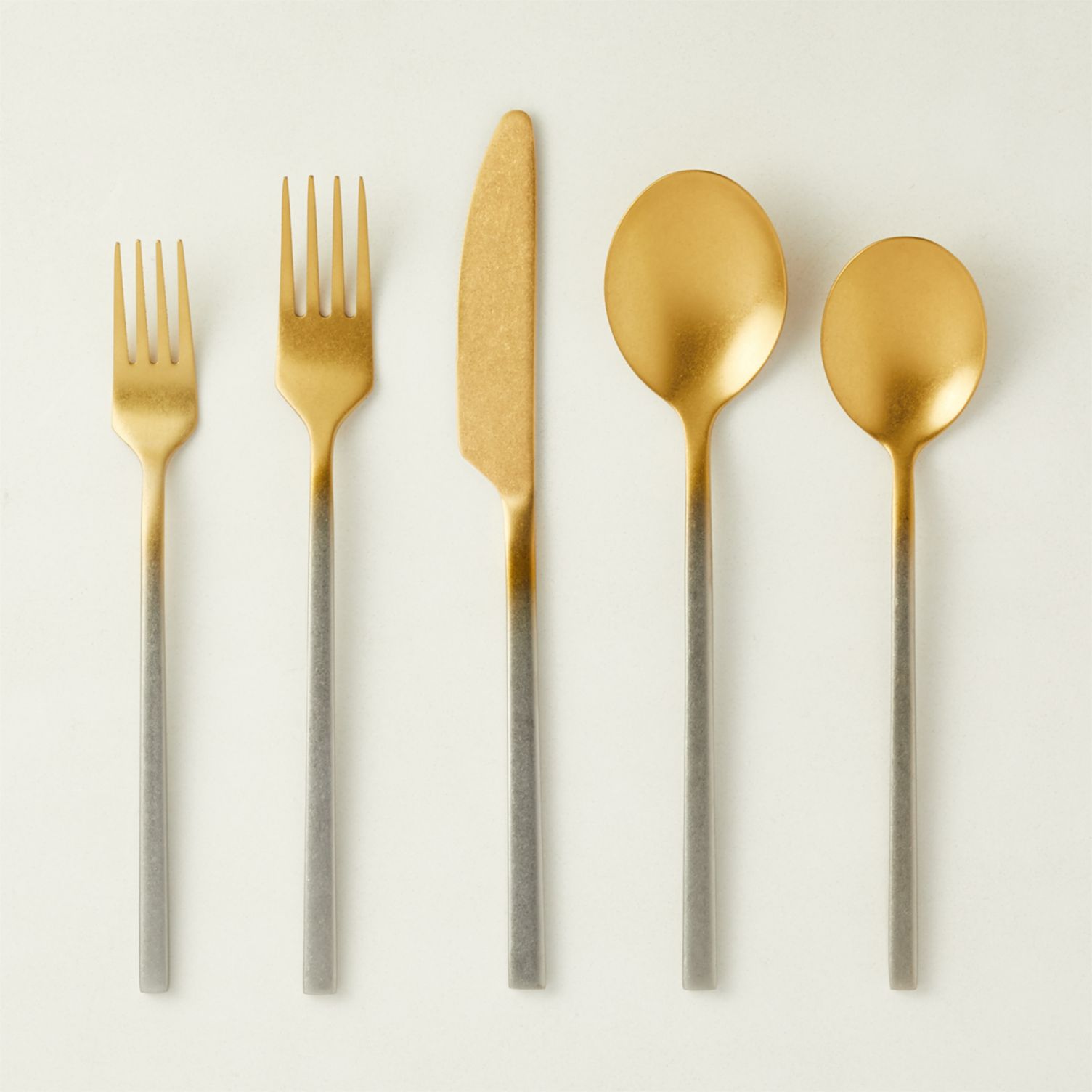 Sleek Silhouettes
While there may be nothing new about black, copper and gold-toned flatware, when these non-traditional finishes are placed on unique silhouettes, it's a game changer. The Luna Flatware featured in the next image is sold in 5-piece sets. Choose from a variety of finishes, including Brushed Rose Gold and Brushed Gold with a Blush Handle. Order a table's worth of matched sets or mix it up. Flourishes such as tapered ends and rounded spoons make this flatware a standout: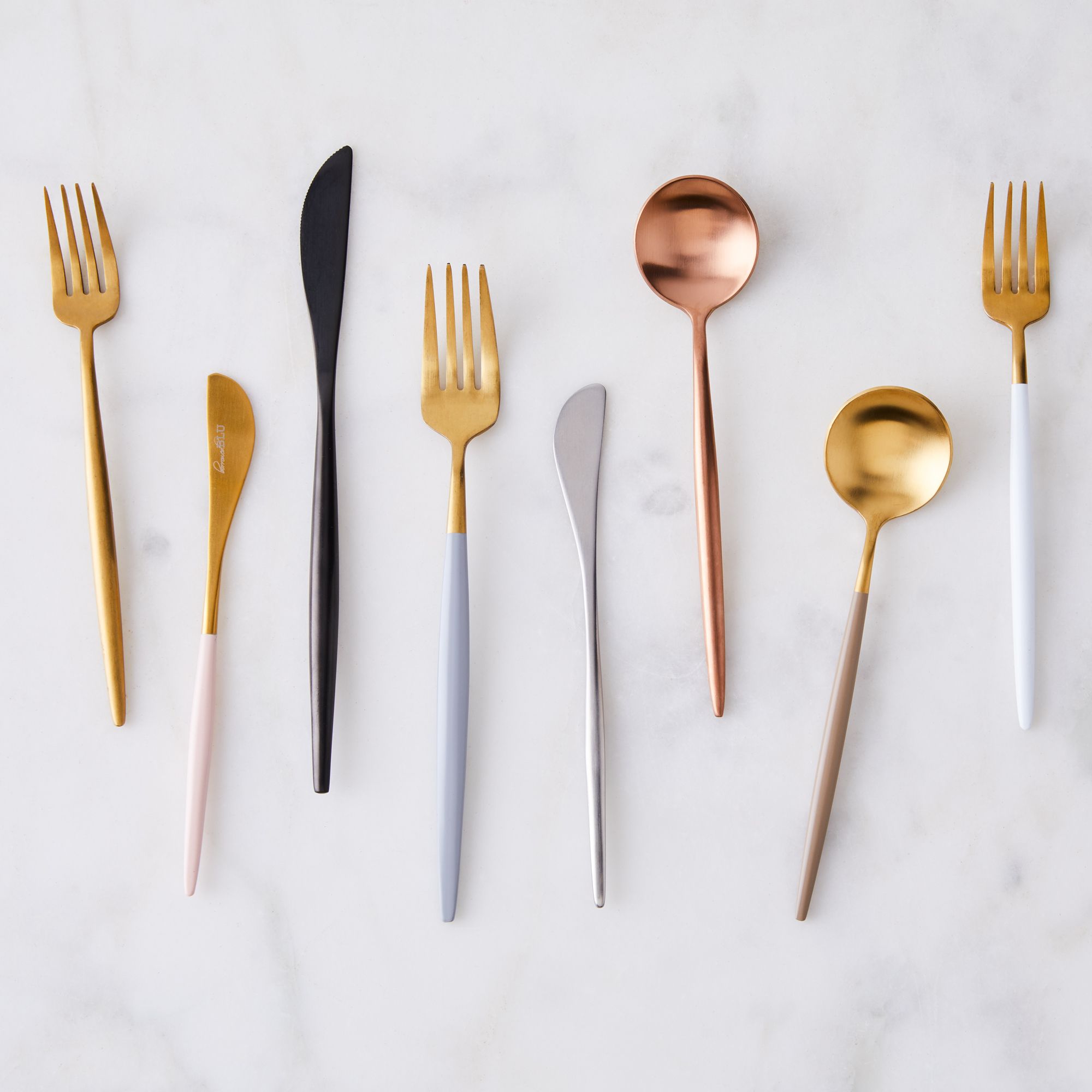 Rounded spoons are replaced with wing-like forms that no doubt give this Dragonfly Flatware from West Elm its name. Sold in 5-piece or 20-piece sets, the finishes include silver, black and gold (the latter two are shown below).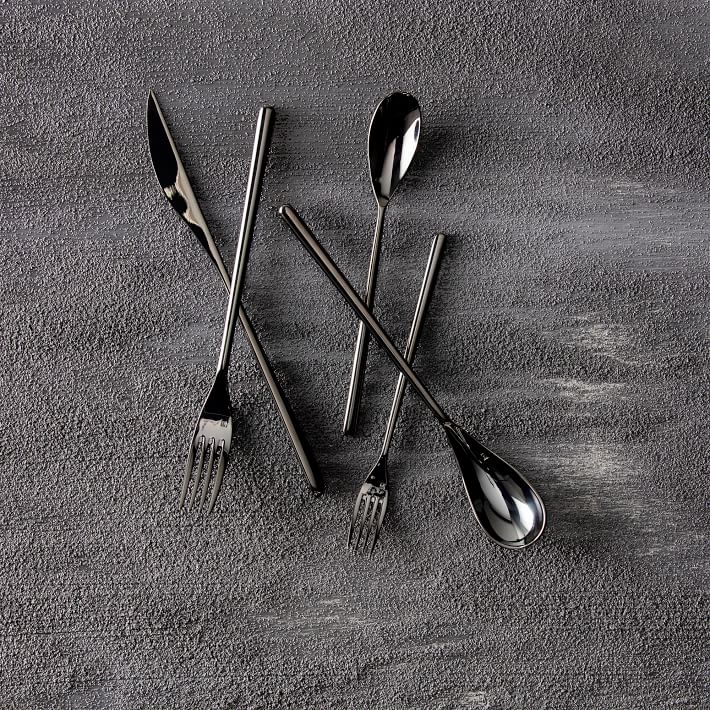 Unexpected, slender designs reign in this set, which will add an air of modern elegance to your tabletop. After all, there's something mysterious about a spoon that defies the norm!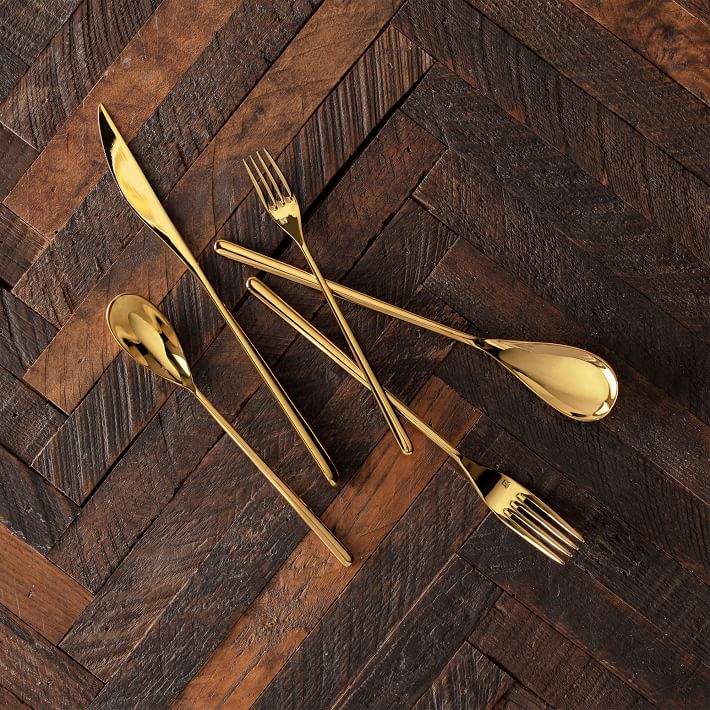 Long and sleek is definitely a growing trend, as shown once again with Anthropologie's Spindle Flatware. Slim is the name of the game, and stylized place settings are the beautiful, inevitable result. While you may be used to bulkier handles, the trimmer ones beckon you to take note of each grasp and bite, adding another dimension to the dining experience.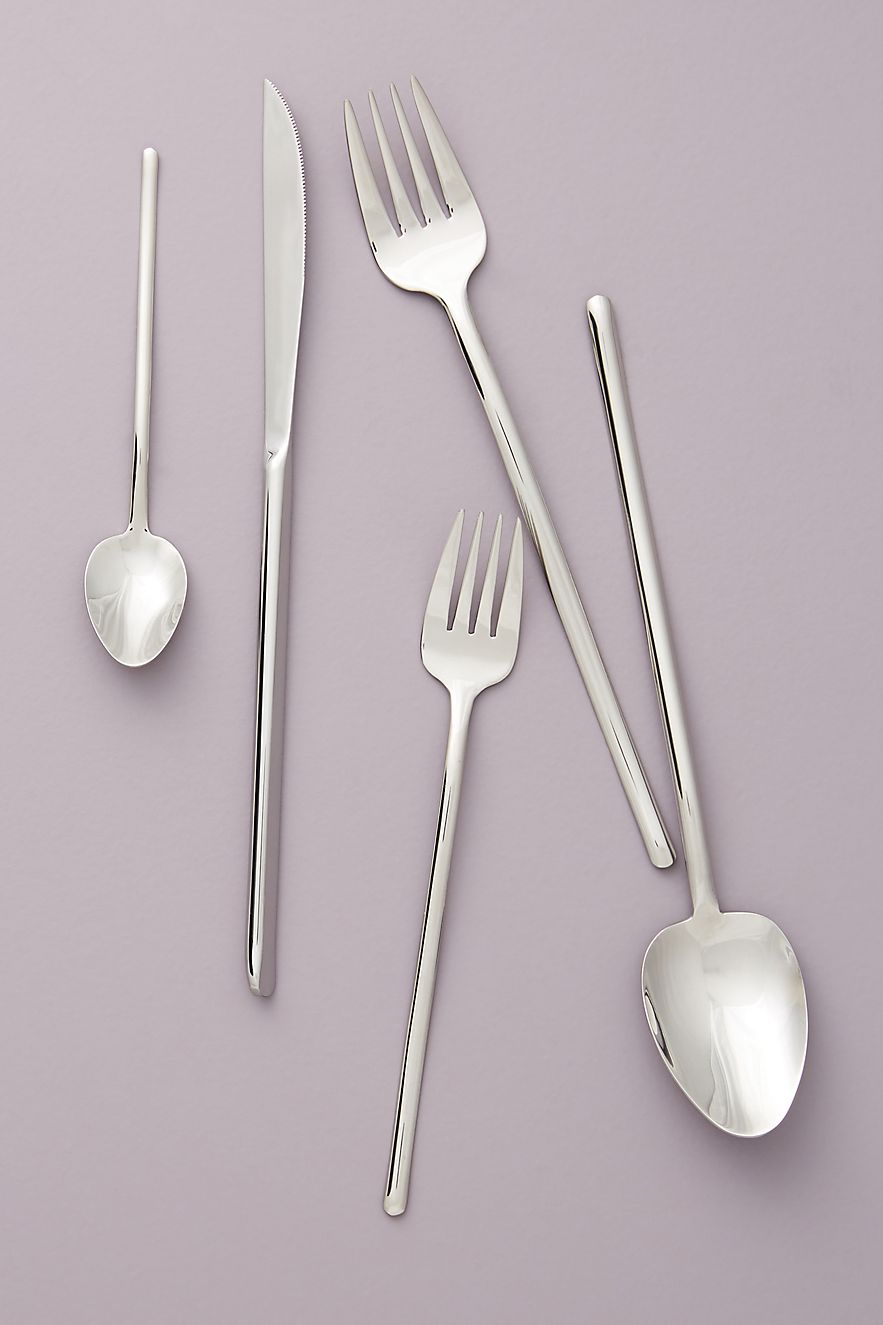 Classic with a Two-Toned Twist
This next section of the post is dedicated to designs featuring classic motifs. Yet the update lies in the mix of finishes. As with the "fade effect" sets featured above, this class of flatware sets gets its power from a juxtaposition of silver and gold. Grand Hotel is a beloved pattern that has graced many a table. Yet somehow the 24-karat gold-plated beads on the set below add another level of glamorous contrast. Available at Crate & Barrel: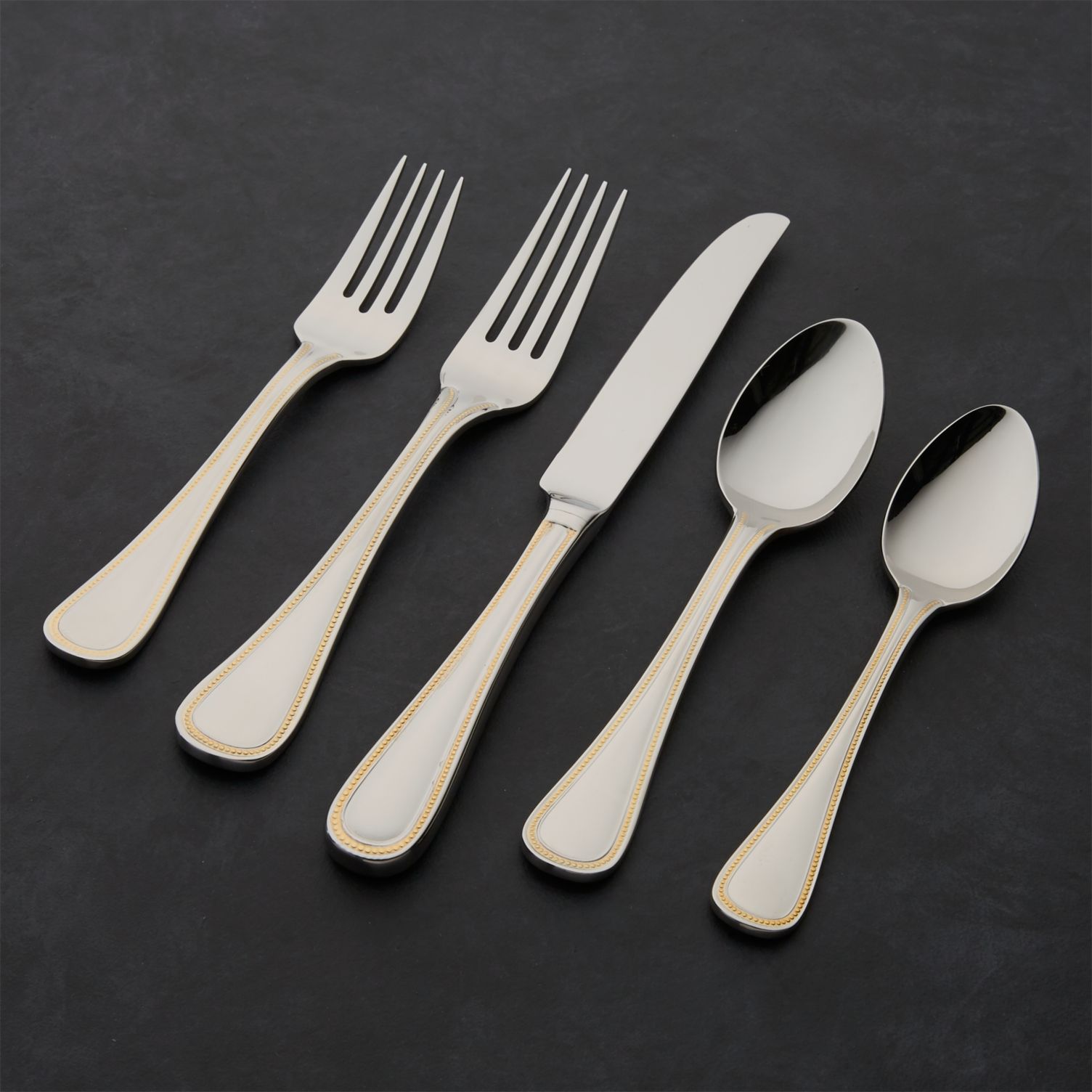 If this next set makes you think of The Great Gatsby, it's definitely done its job! Deco-style flatware can be found in the offerings of many a brand, yet there's something about the bold lines of this piece that truly come to life with the help of a shiny gold finish. Once again, silver and gold take the cake. It's a Deco lover's dream. Say hello to the 5-Piece Alessandro Two-Tone Flatware Set from CB2: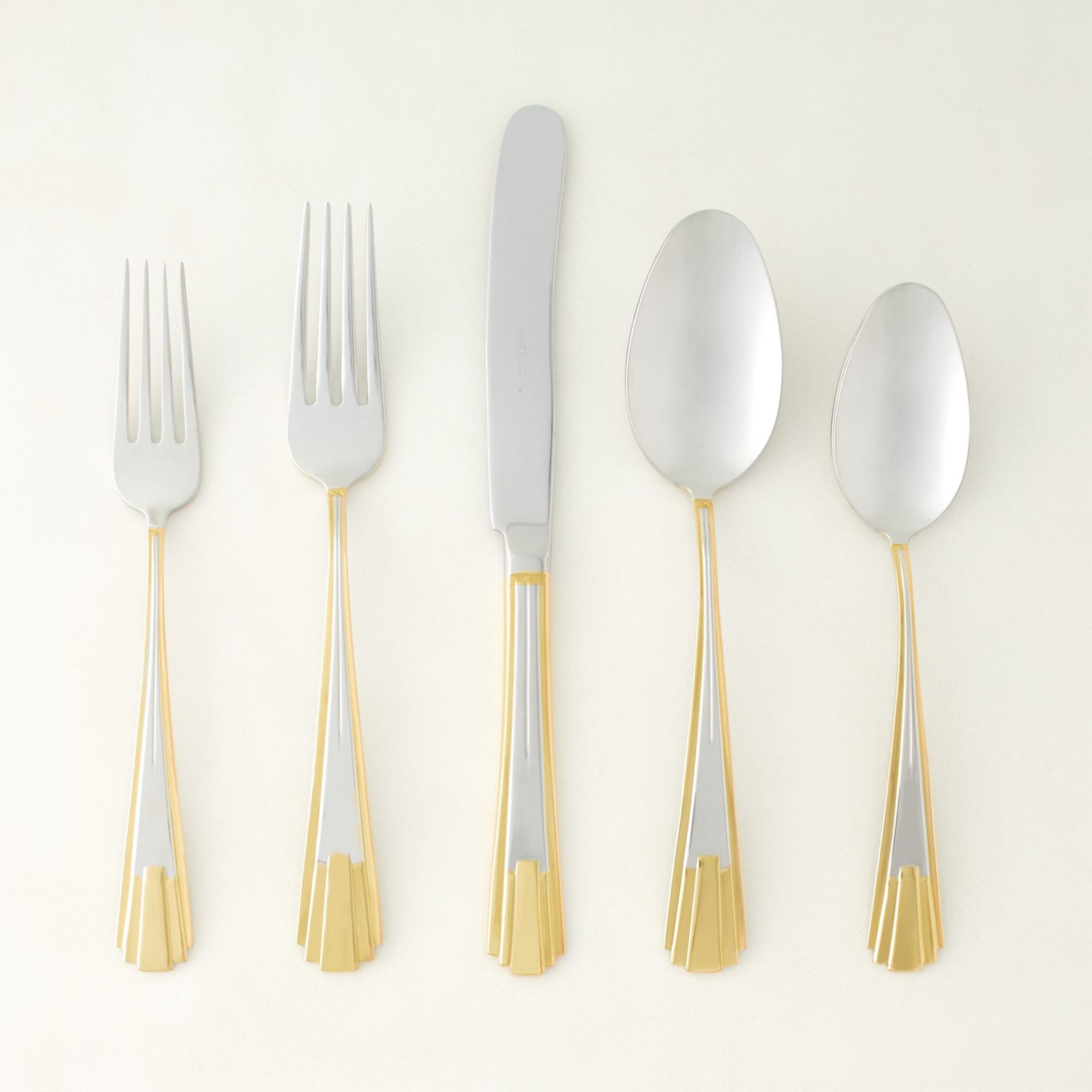 Textured Handles
Handles with texture are no new development, but recent trends in tableware texture involve a particularly interesting set of markings. From bold designs you can't deny to fine grooves that are striking in large numbers, these handles bring a bit of the unexpected to the table. Below we see Anthropologie's Stratford Flatware, featuring hand-carved stainless steel with a gold-toned finish: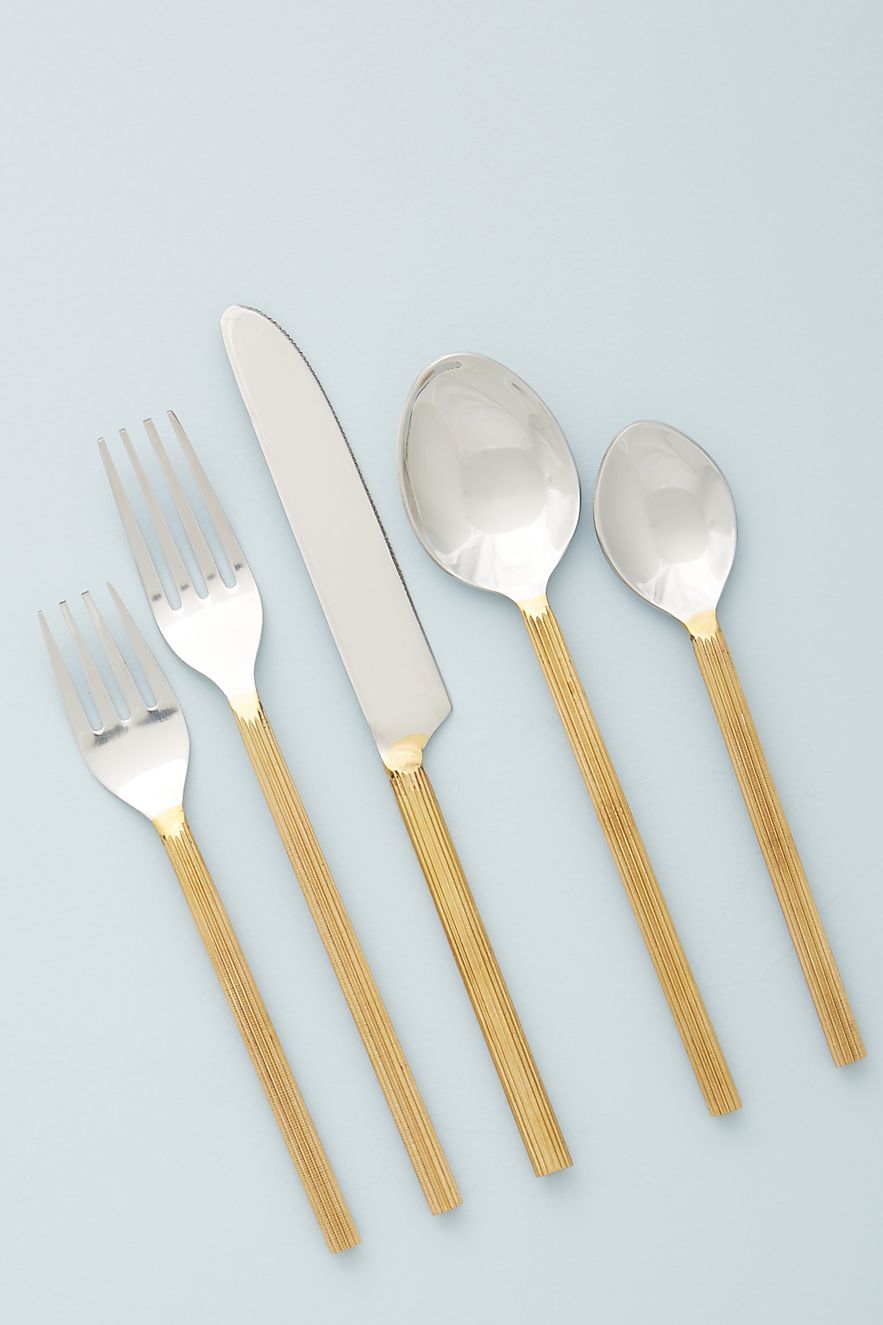 Less is more when it comes to the number of grooves in Hay's Sunday Flatware Set. Yet each line truly counts, making this bold, streamlined flatware a true work of art. Designed by Big-Game, the striking set of 20 pieces with fluted handles is made from stainless steel: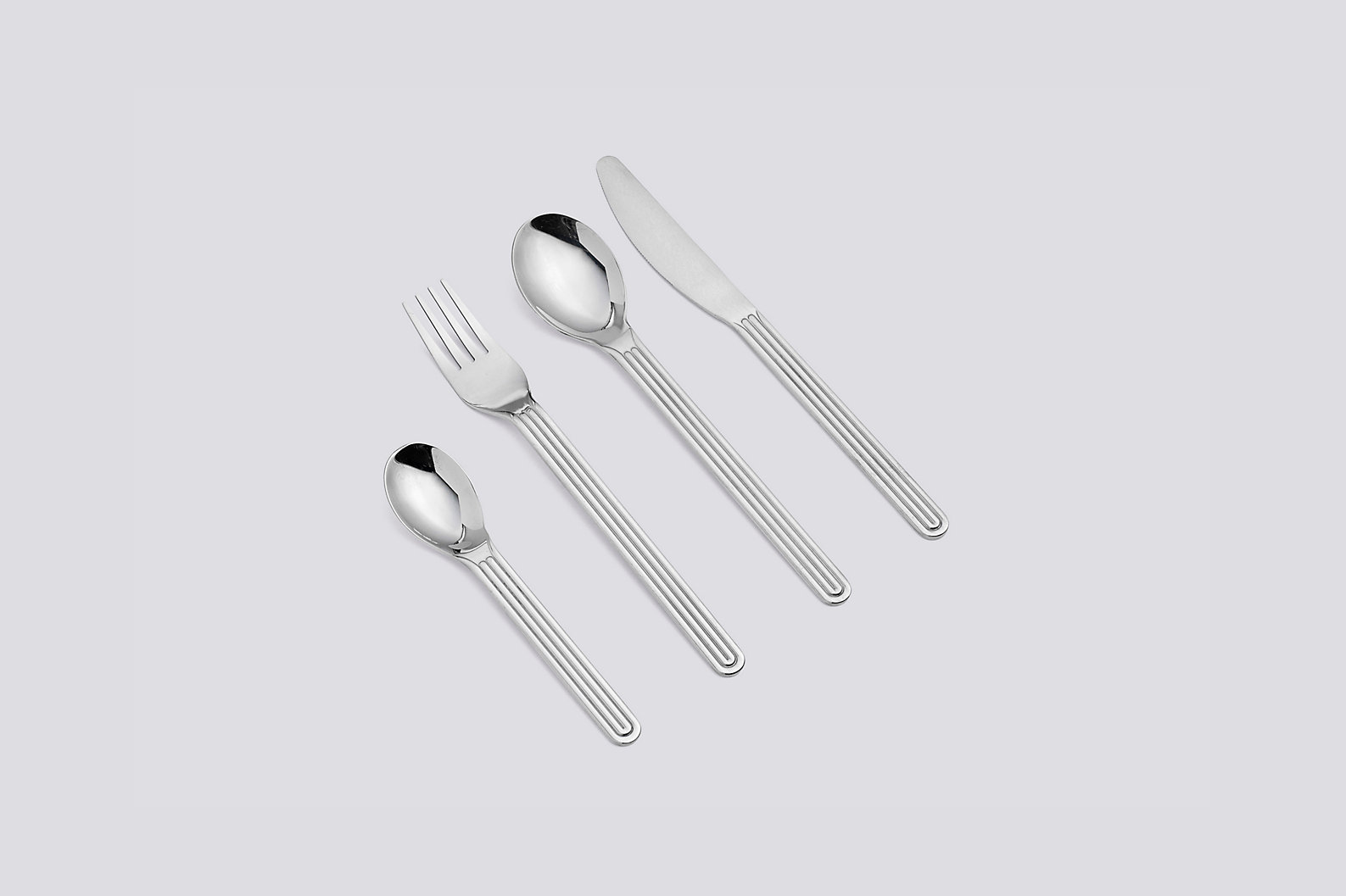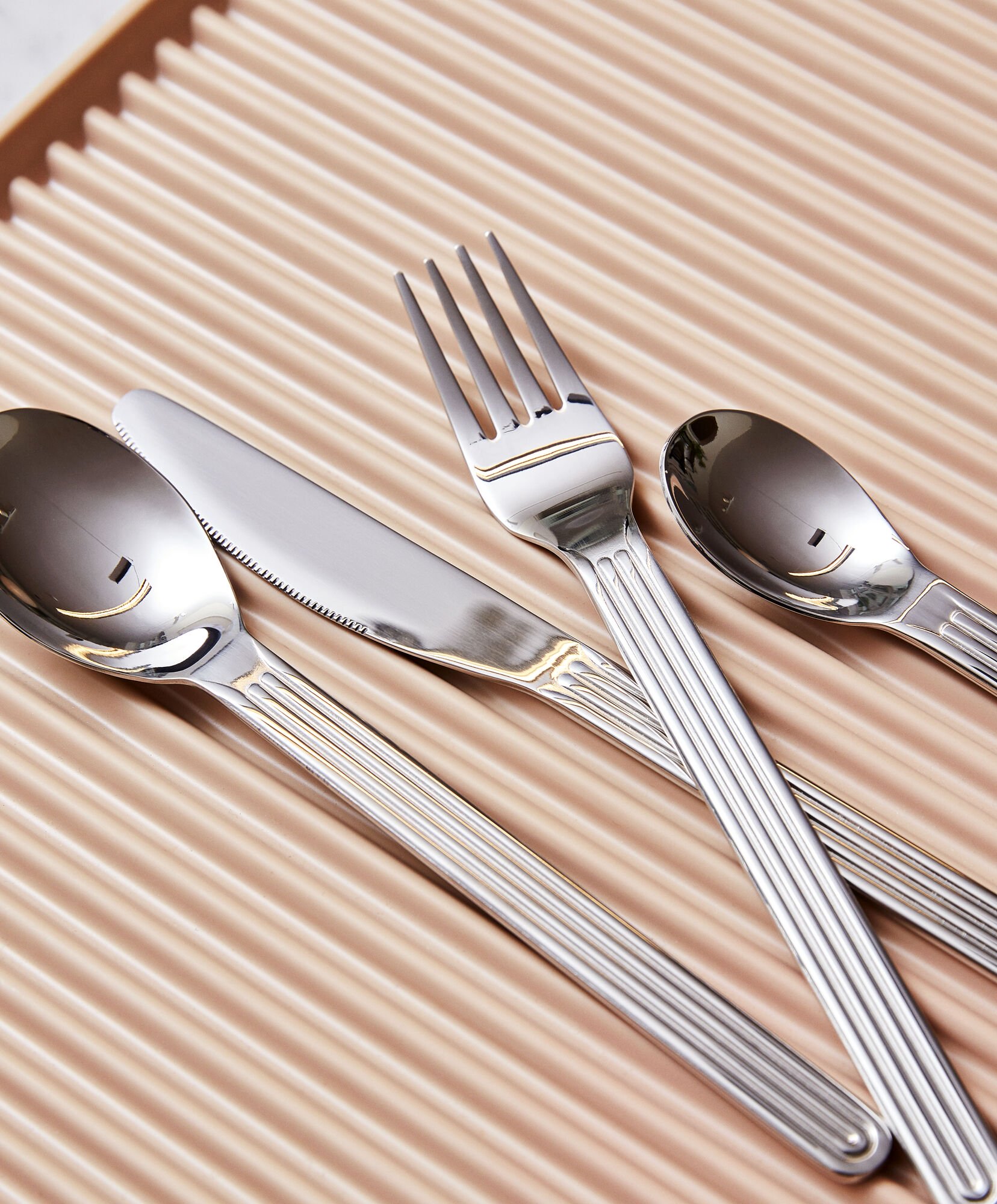 Pitted handles with a not-so-obvious sheen give Crate & Barrel's Greyson 5-Piece Place Setting the look of stone. It's rustic and modern at the same time, with a look that's both artisanal and laid-back. This flatware pairs well with your everyday dishes, yet it can be dressed up with the right dinnerware for any occasion.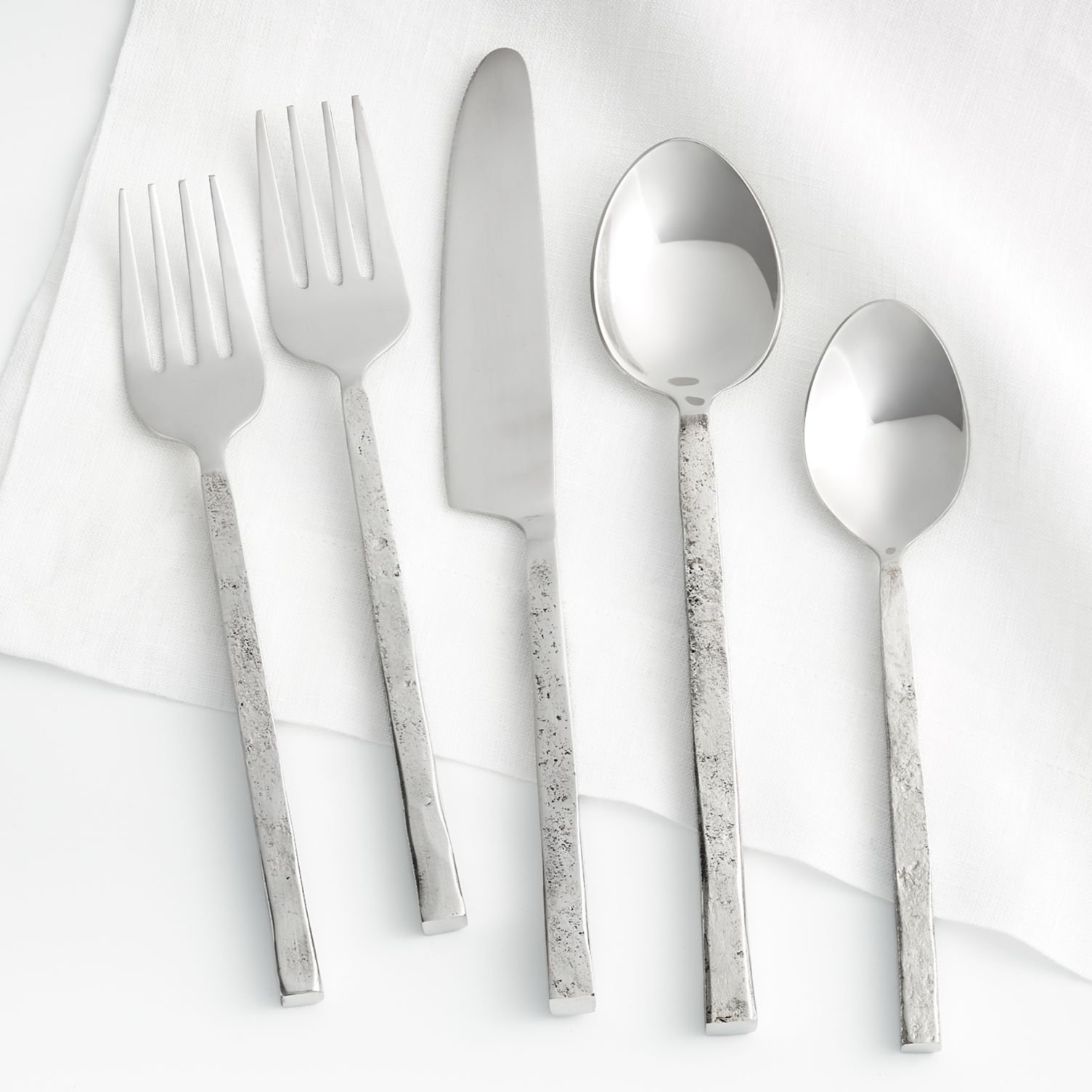 A Rainbow of Possibilities
We end today's post by shining the spotlight on flatware sets with a rainbow of options. According to current trends, when it comes to choosing your flatware (and even what you end up with at the table), sometimes more is more. First up: Mepra's Fantasia flatware, which proves that more possibilities equal more opportunities for creativity. As seen below, there are many options, sometimes even a large array within the same color family.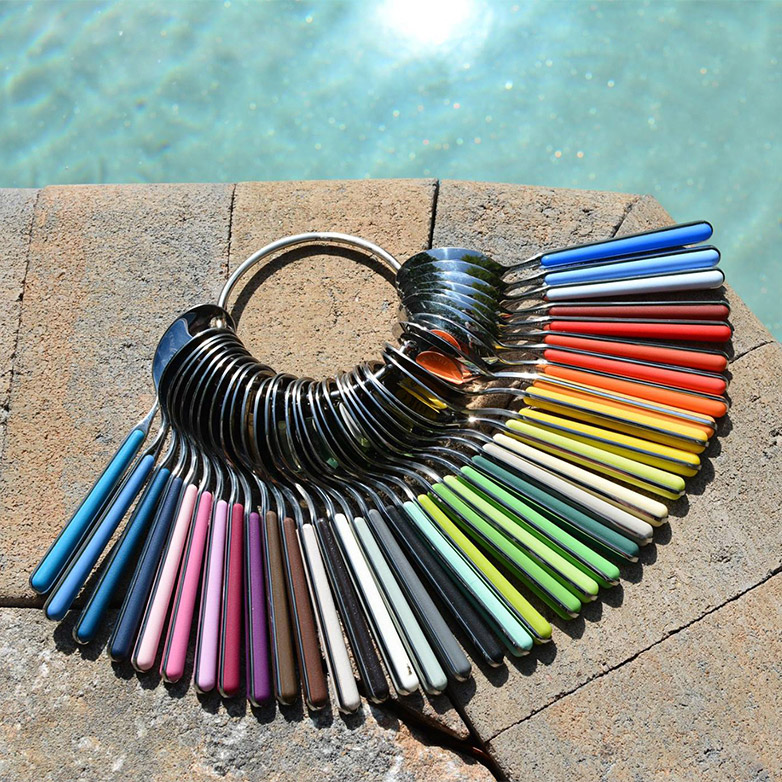 Fantasia can be purchased in true monochrome fashion, or you can mix and match it. This possibility is especially alluring for design lovers. In the next image, we see the beauty of combining a few select shades from the rainbow of options. Note that Fantasia's resin handles include glass fibers that help each color stand out.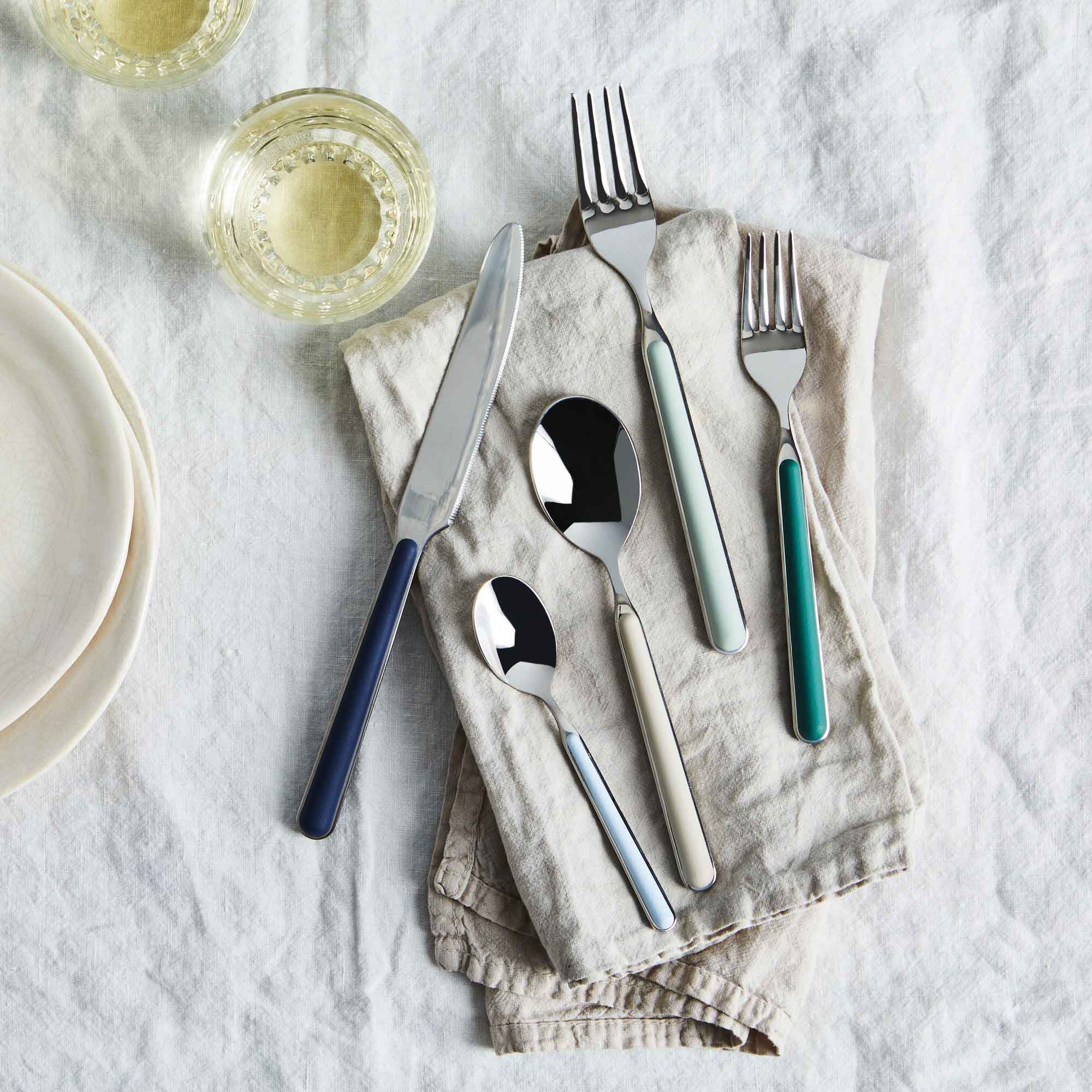 Mepra's Natura Rainbow 5-Piece Place Setting proves that iridescent flatware will be sticking around for awhile. It's not brand new to the table, but its intrigue will continue to tempt color lovers everywhere. After all, who can resist a rainbow finish?! As with Fantasia, this flatware selection is made in Italy: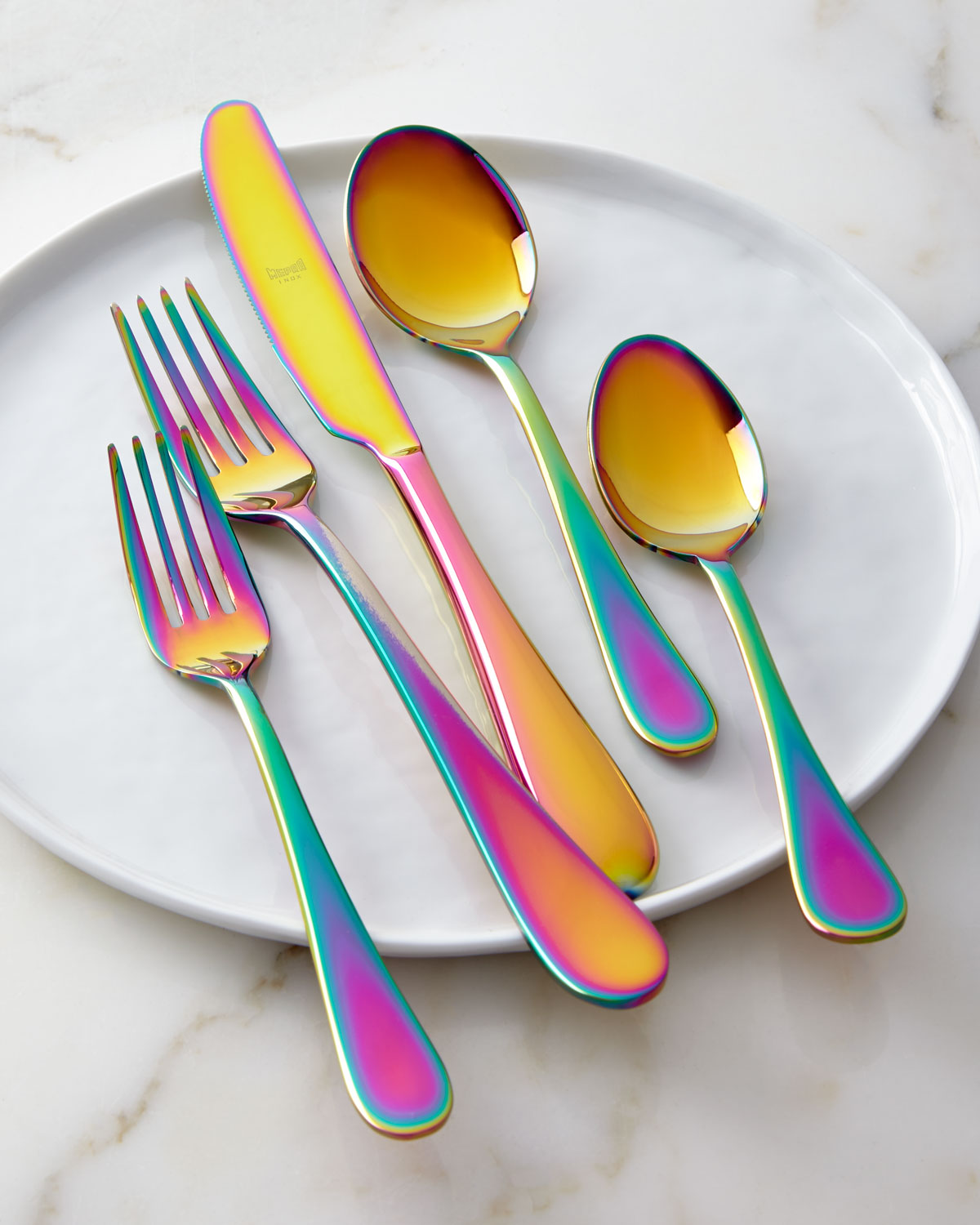 Flatware is like jewelry for the table. Jewelry that provides a key function, of course. No wonder designers delight in creating special pieces to punctuate each place setting! As trends continue to evolve, it will be interesting to see new creations unveiled. With so many finishes, forms and textures already on the table, we can't wait for what's next. Thanks for reading!