Drench in light-infused joy all year long, a sunroom allows you to welcome in the outdoors gleefully irrespective of the weather outside. Even on the coldest day of the year, a carefully designed sunroom manages to drive away the gloom as you take in the ever-changing sights and sounds outside. Add to this comfy seating, a cozy fireplace or heated floors and a relaxing ambiance, and you have the perfect hangout that can be easily turned into an informal dining space or even a kids' playroom when needed. And often, building a new sunroom or even turning an existing patio into one is more cost effective than building a full-fledged living space.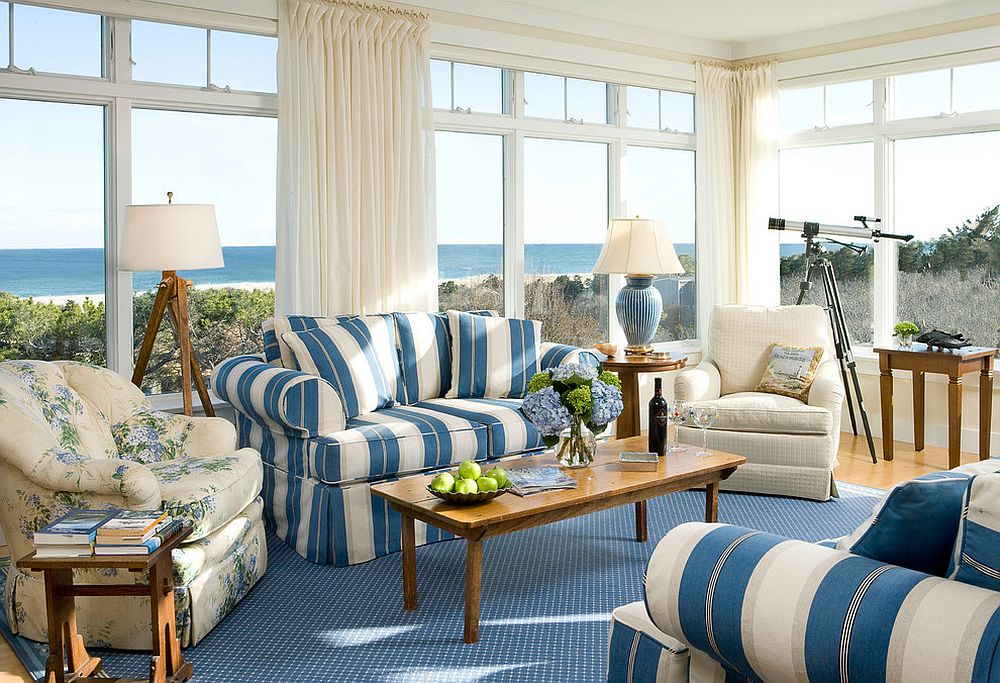 With spring already here and summer knocking on the door, a beach-style sunroom with all the charm of life on the coast seems like a tantalizing prospect indeed! Refreshing, energizing and perpetually 'hip', a beach-style sunroom will serve you well, even in the colder months, as it creates a gorgeous, private hub that lets you escape the chill outside. Bringing home the magic of that dreamy summer vacation in the tropics, this is a sunroom that never disappoints!
Classic Blue and White
Think of beach style and the first two colors that come to mind are white and blue, and this is a classic combination that you simply cannot go wrong with. While a tranquil blue and white beach-style sunroom is easy to create, go beyond just these two hues and play with the many shades of orange (or maybe coral) and even red to give the sunroom a truly exclusive look. Pastel hues are also perfect for spring, and you will be surprised at how natural they feel even during the colder winter months. Since there is no shortage of natural light in the sunroom, even the most modest hues seem chic and impactful.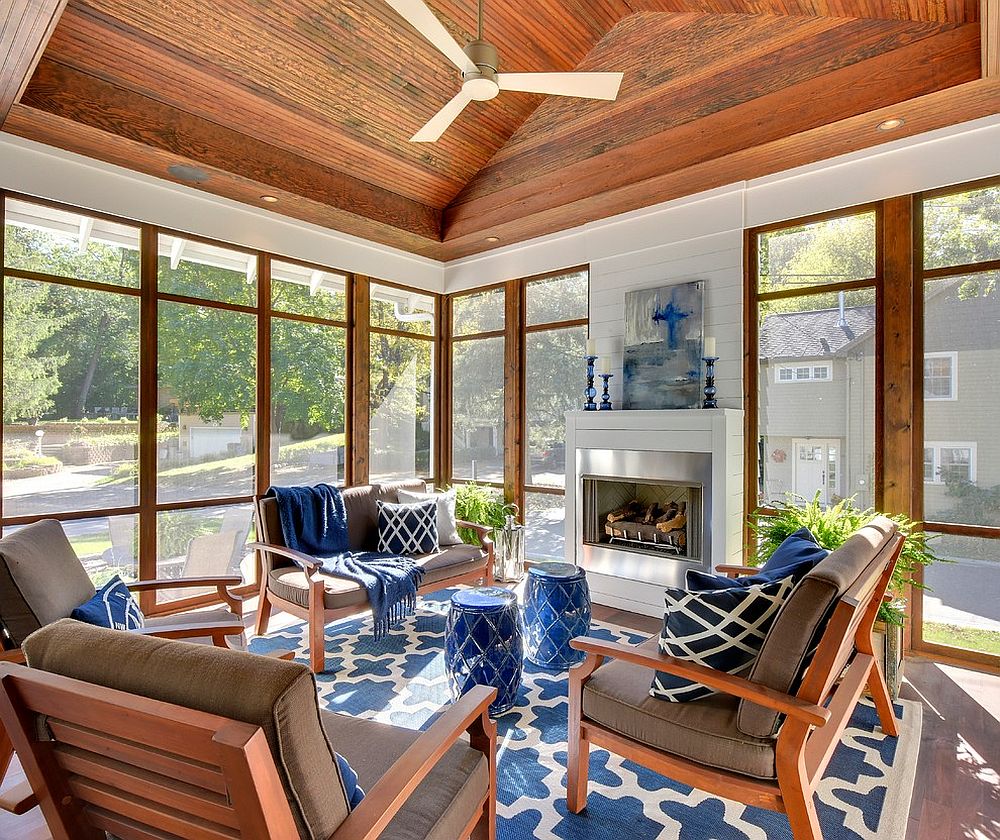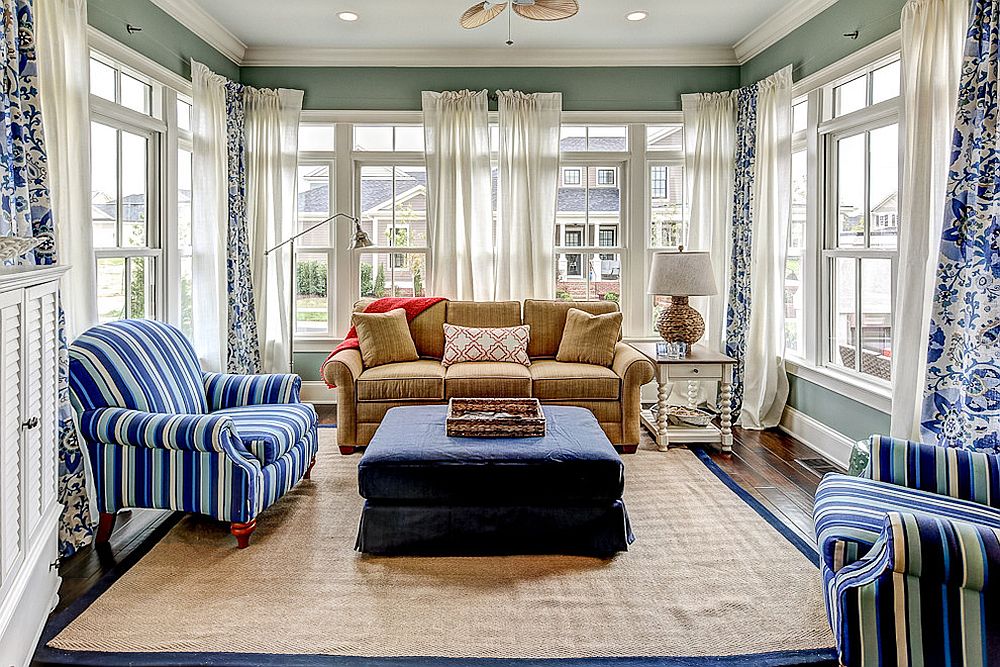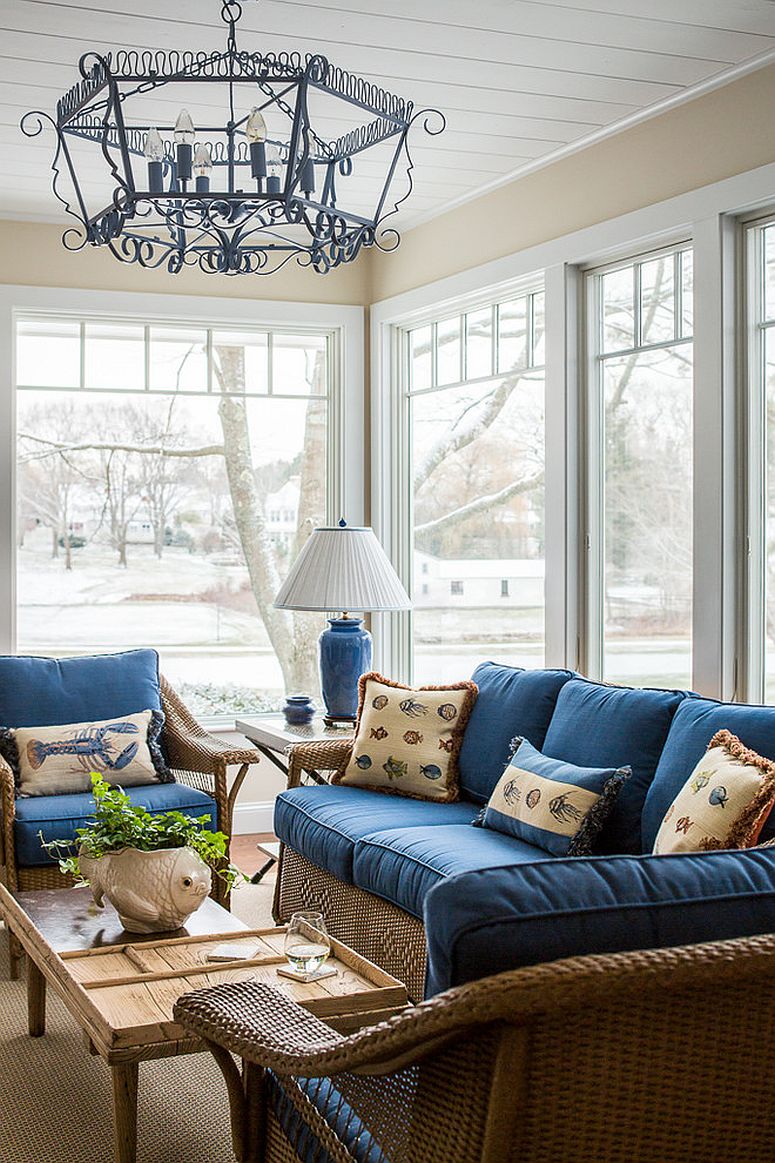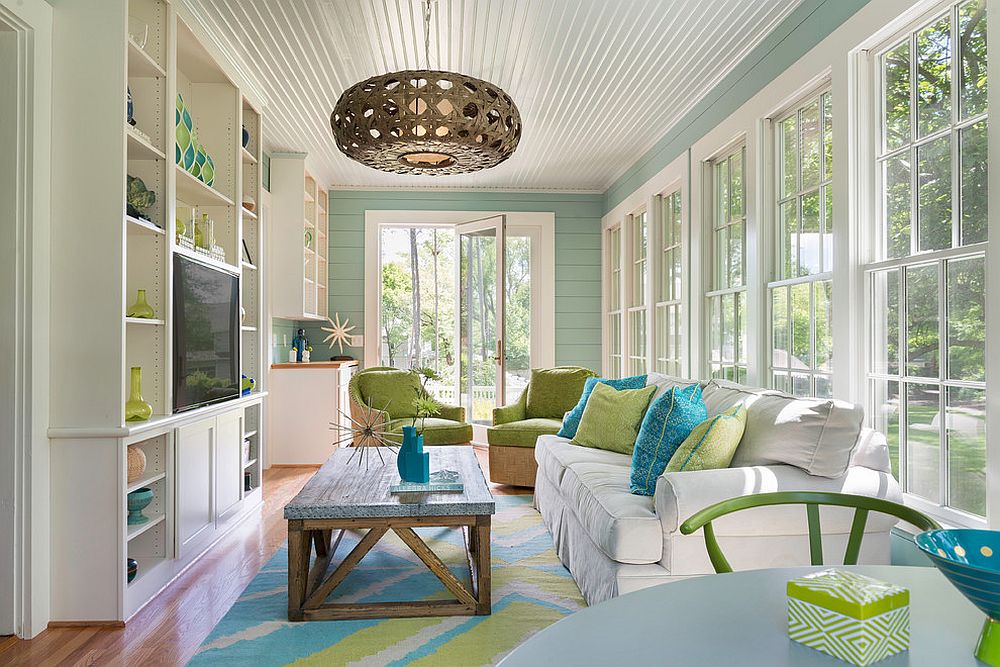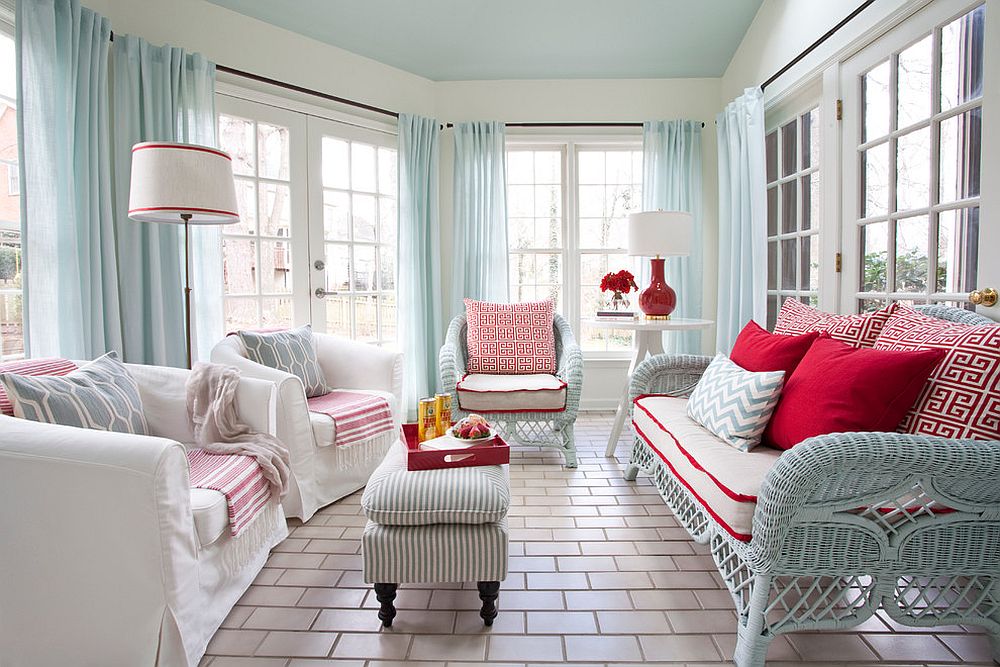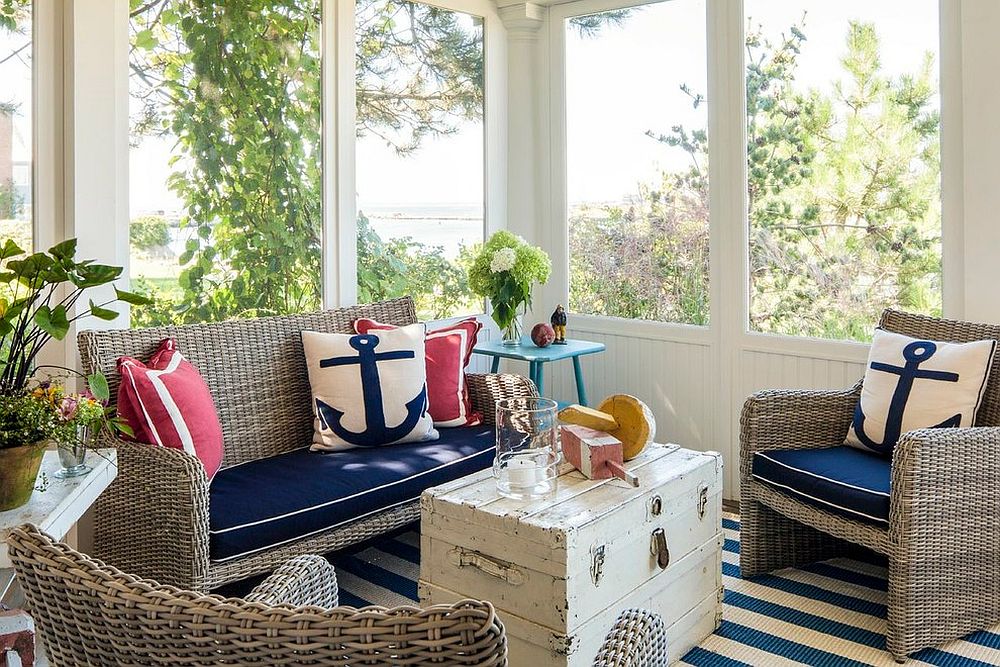 Décor with Coastal Magic
We are not suggesting you fill up the room with ship wheels, surfboards, lanterns and nautical-style windows, but there is still a smart balance you can achieve between modern and beach style by ushering in just the right amount of coastal. Throw pillows with beach-inspired motifs, a collection of conch shells neatly lined up on the windowsill or even a tacky 'rope lamp' can do the trick. Combine this with modern vases and furniture in natural materials like wicker or rattan to get that idyllic sunroom. Sofas and armchairs in rattan and wicker would also stand the test of direct sunlight, and those who want a hint of tropical flavor can try out bamboo décor as well.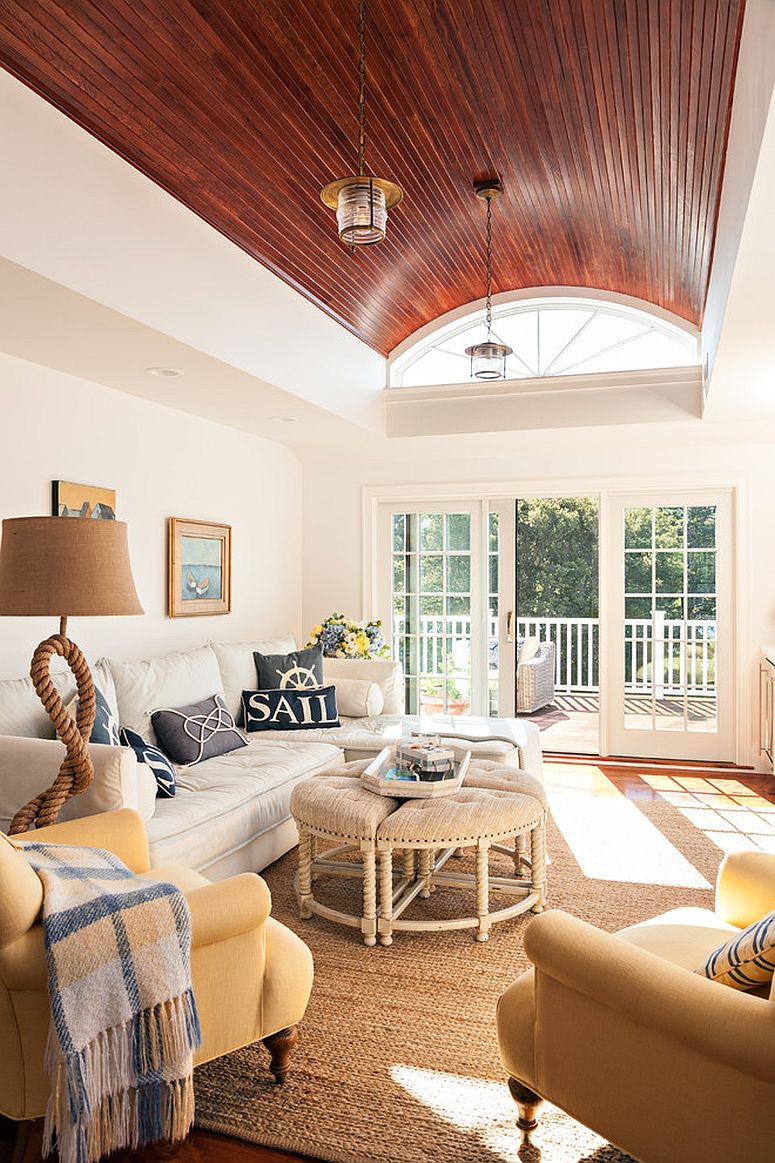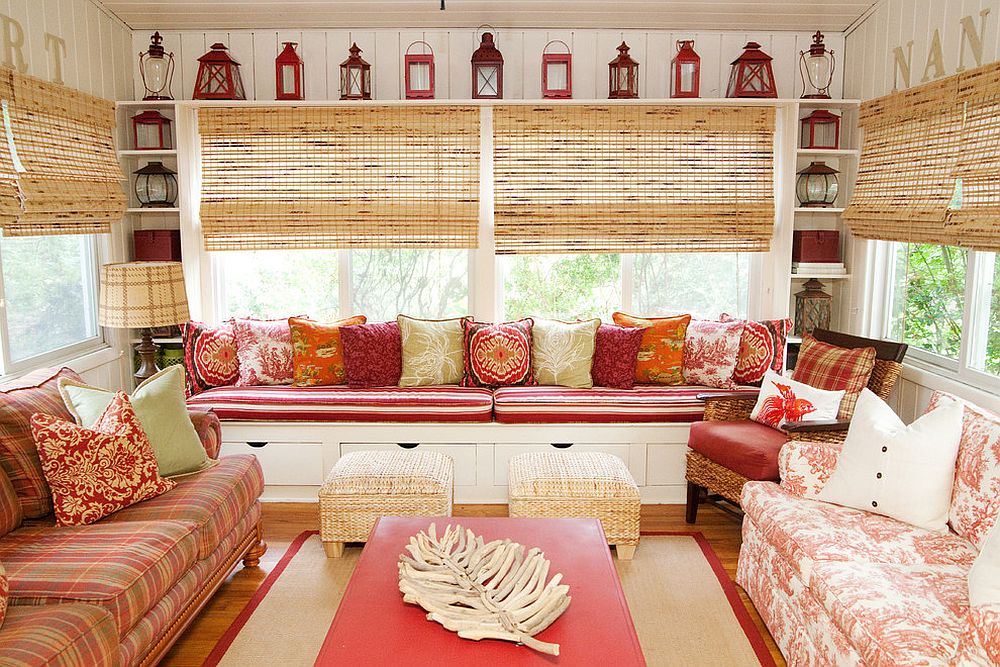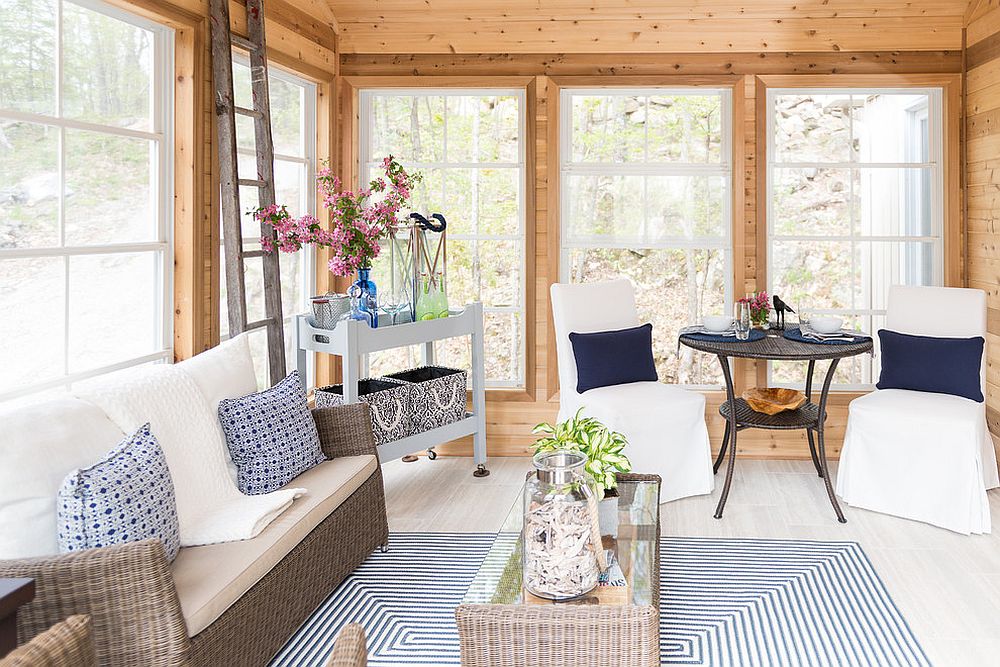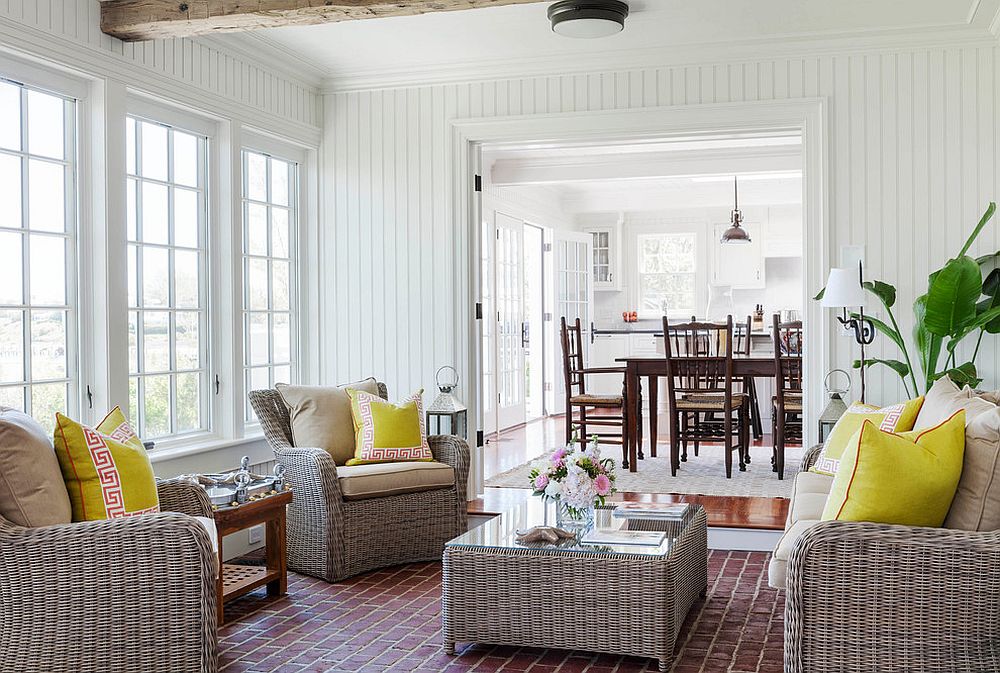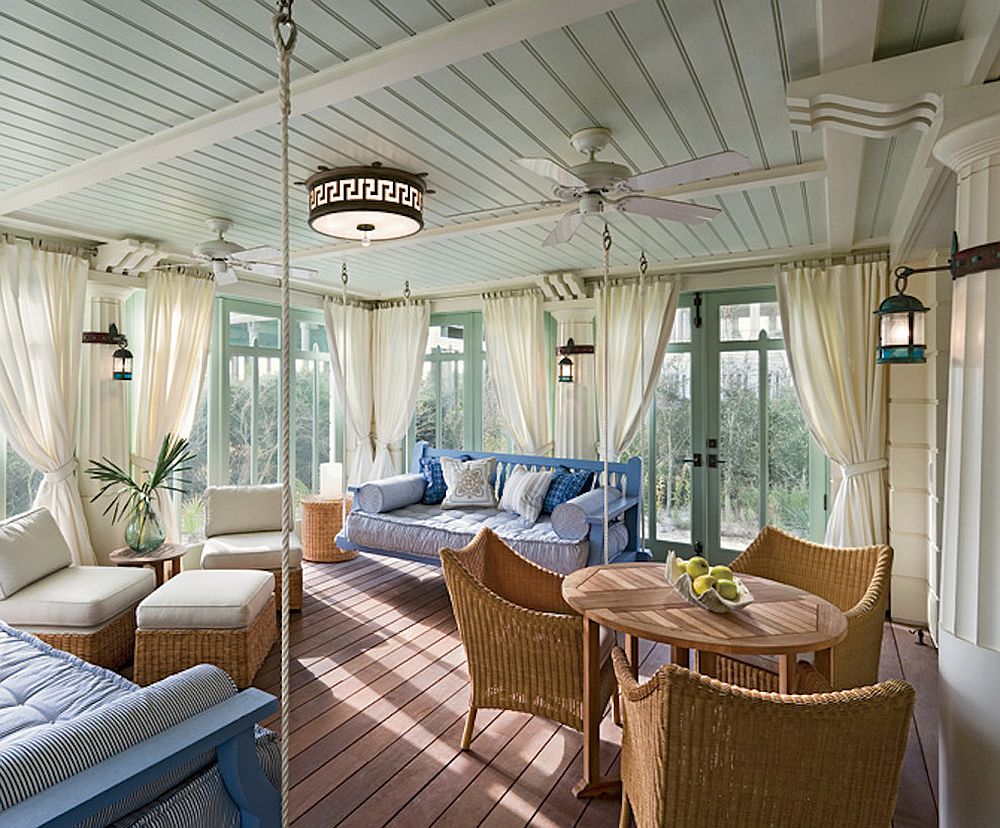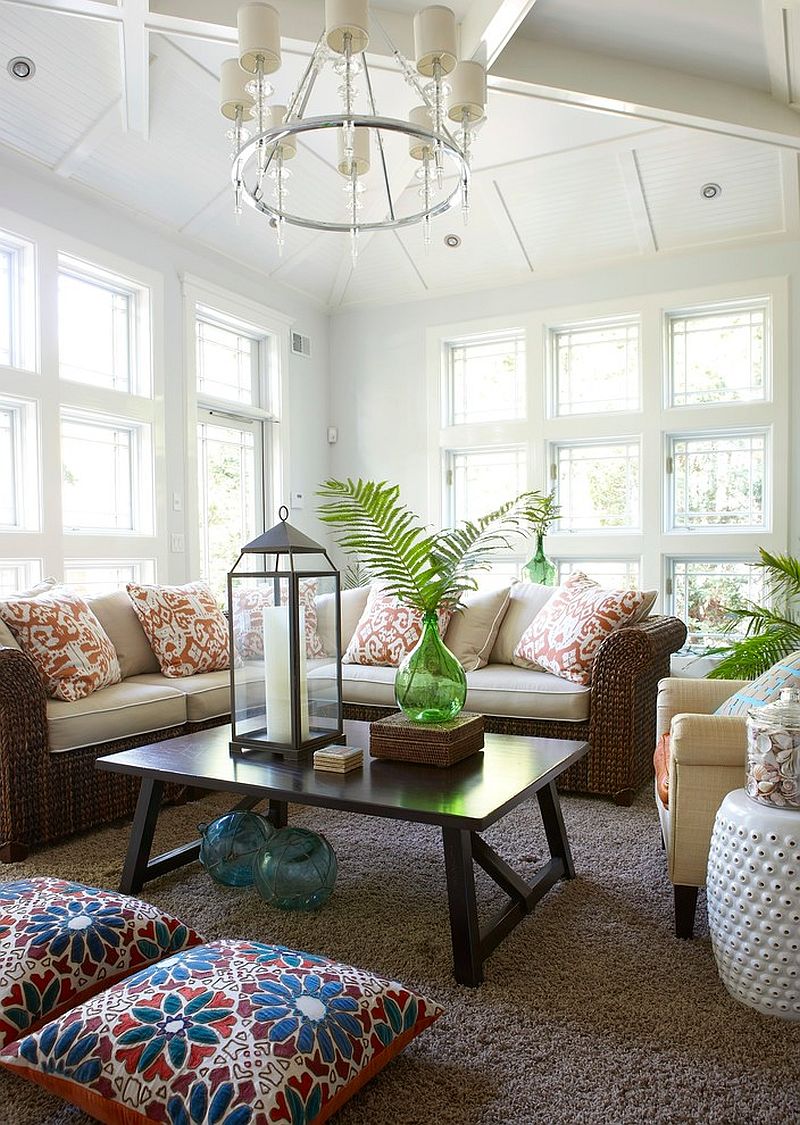 A View That Matters!
What is a lovely sunroom without a view to match? Bringing the outdoors inside is increasingly becoming the most important objective of a sunroom, and it is no longer about just staying warm and cozy alone. Even if it is just a city skyline view on offer, choosing the right windows makes all the difference between a stunning sunroom and one that seems boring. With beach style, this becomes even more essential to the overall ambiance! A half wall with windows is the most preferred choice, as it combines privacy and a chance to add a few wall-mounted shelves, storage and even a window seat or two with unabated views.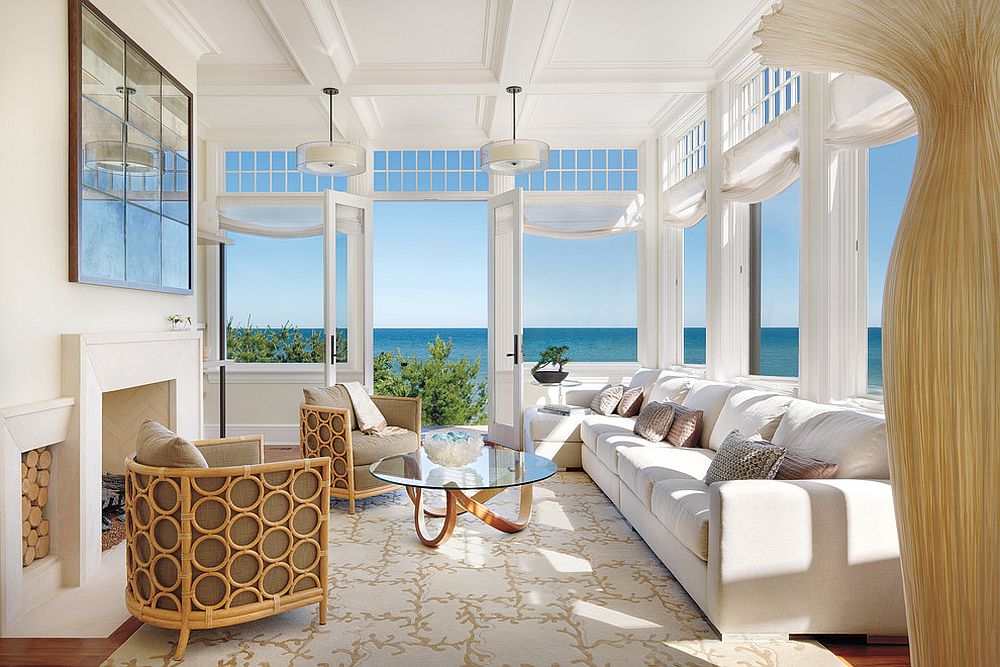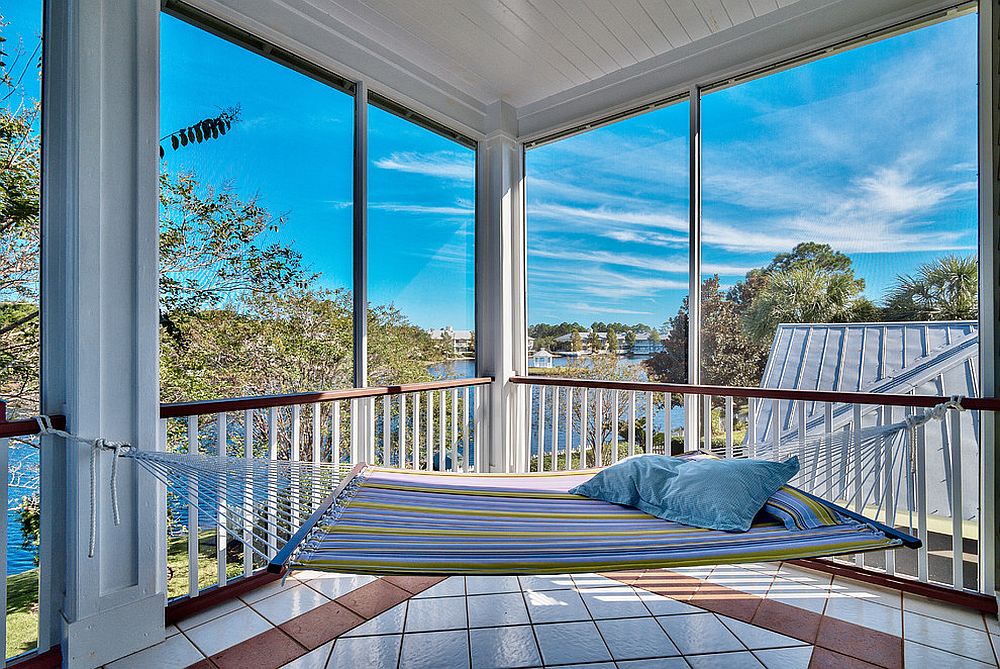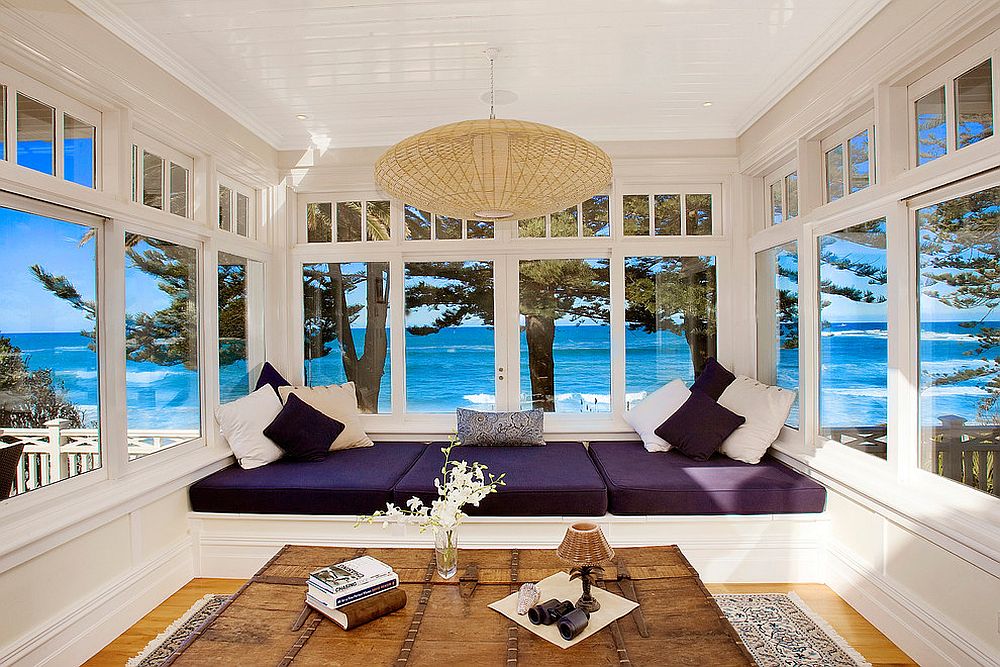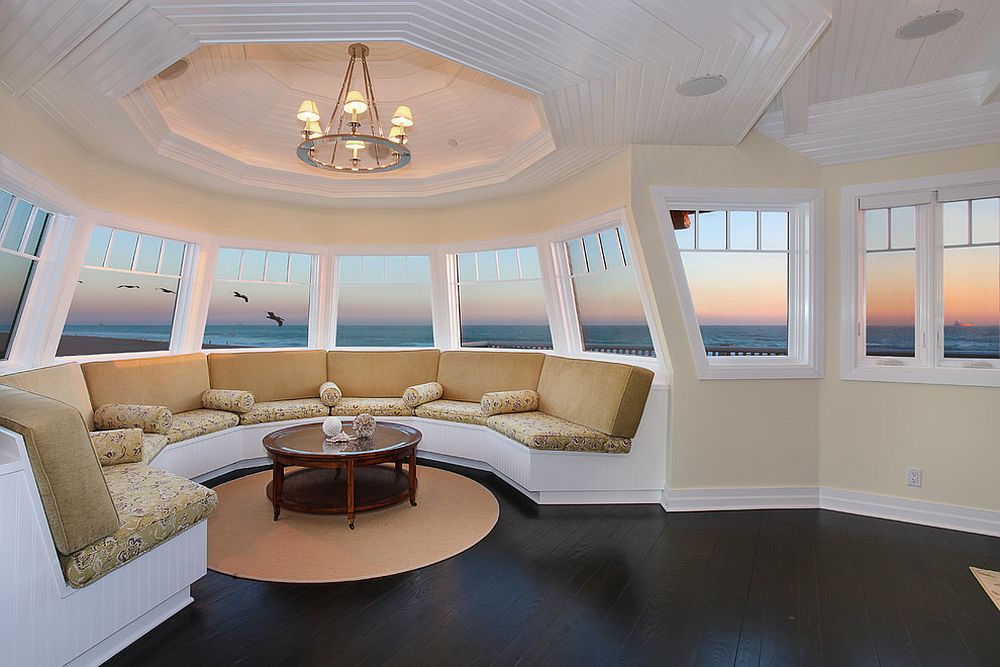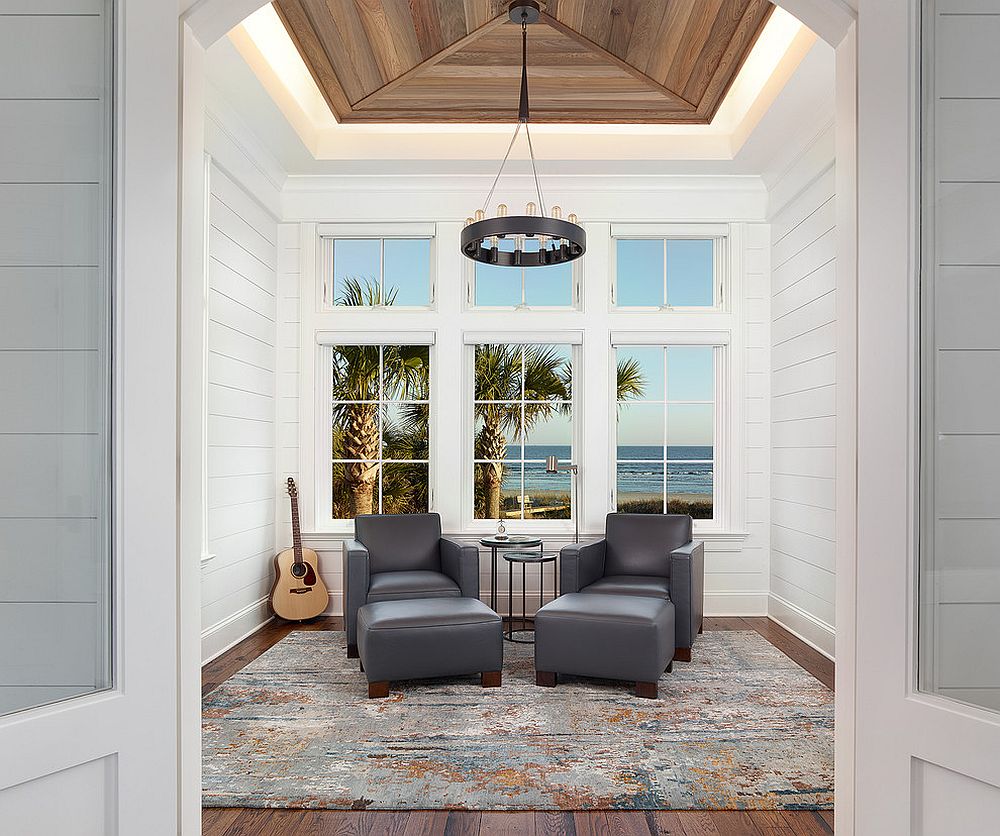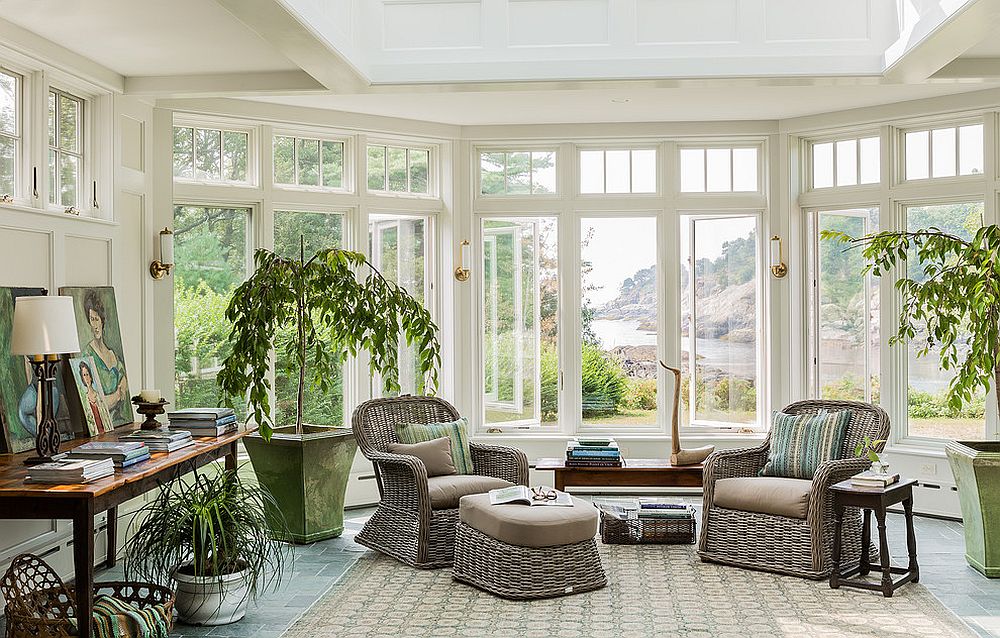 Nifty, Space-Conscious Designs
The biggest issue with designing an exclusive sunroom is often space. Most homeowners feel that they simply do not have enough space to spare for a dedicated sunroom. But you do not always need an entire room or even a dazzling structure in the backyard for a restful sunroom. A porch with smart screening, a long corridor around the house that overlooks the canopy or even a clever nook in the open living space can be turned into a snazzy and inviting sunroom. Designs like these also help illuminate the rest of your home and break away from the traditional notion of dedicated sunrooms.