If you're looking for a mobile for the nursery, rest assured that there are many stylish selections that will help soothe Baby AND meet your high standards for amazing design! In fact, many of today's featured selections are as popular with grown-ups as they are with kids. You don't have to be sleeping in a crib to appreciate the combination of color, form and balance that a beautifully designed mobile can bring to your interior. So if you need one more accent to draw your eye upward in the living room, today's post is for you. And of course, if you're looking for a special addition to your nursery, we've got you covered on the baby mobile front as well.
Before you purchase and hang a mobile, check out the product description and/or directions to ensure that it's safe for your little one. For example, some mobiles are not meant to be placed within your baby's reach! Read on to discover a collection of our favorite designs. Enjoy…
Flensted Mobiles
We begin with mobile design royalty: the superior craftsmanship of Flensted. Chances are you've seen one of these beauties! Colorful, classic and timeless, Flensted mobiles represent the best in whimsical modern style. In fact, the very first Flensted mobile was designed in 1953. The mobiles "are designed so the elements are in constant movement while the entire mobile maintains a harmonic balance." Learn more at Flensted. Below we see the Fatamorgana (mirage) mobile, available via Euro Style Your Life: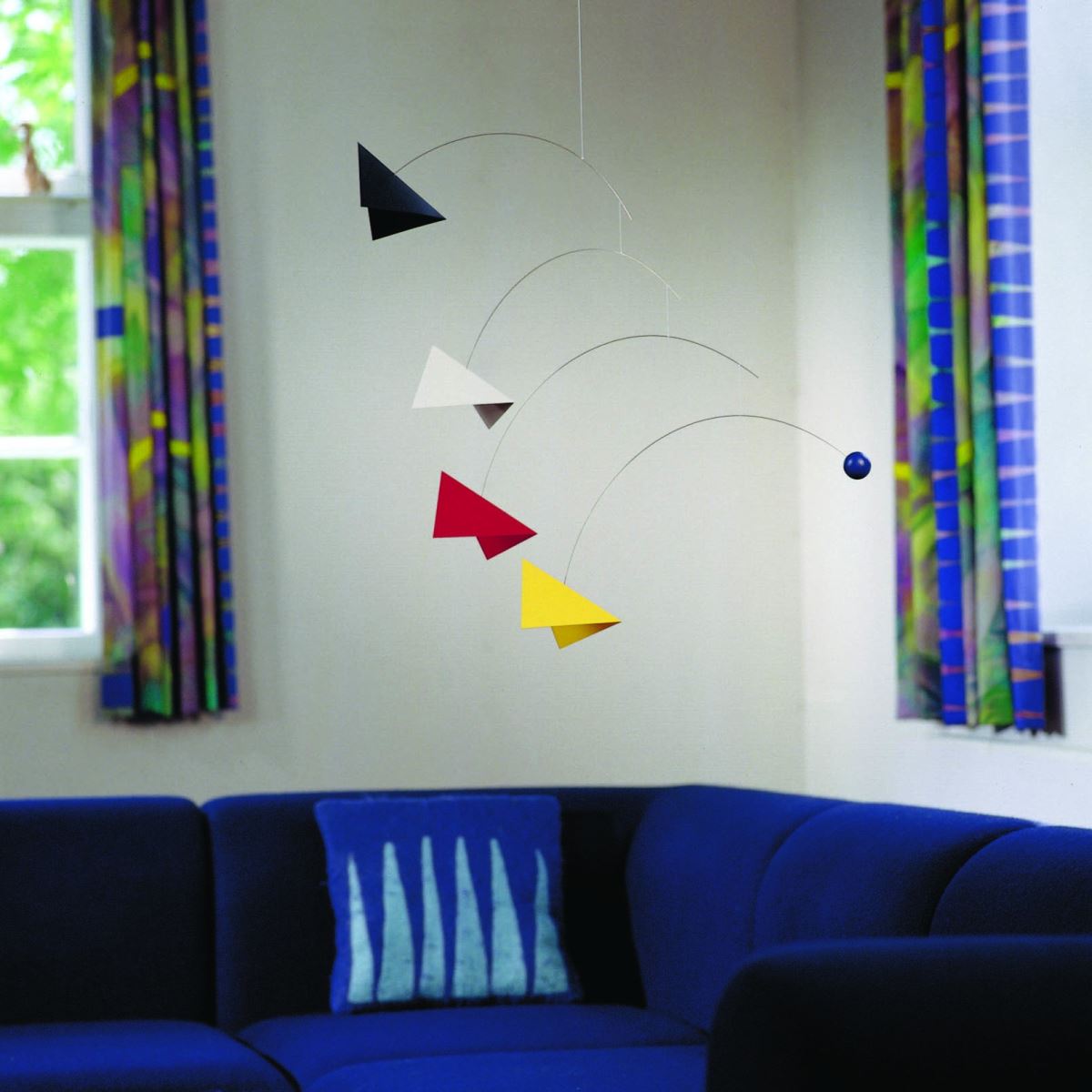 Next up is the colorful Flensted Balloon 3, which is inspired by hot air balloons from the past and present. All of the Flensted models shown today can be purchased online through Flensted, and this one is also available through Euro Style Your Life: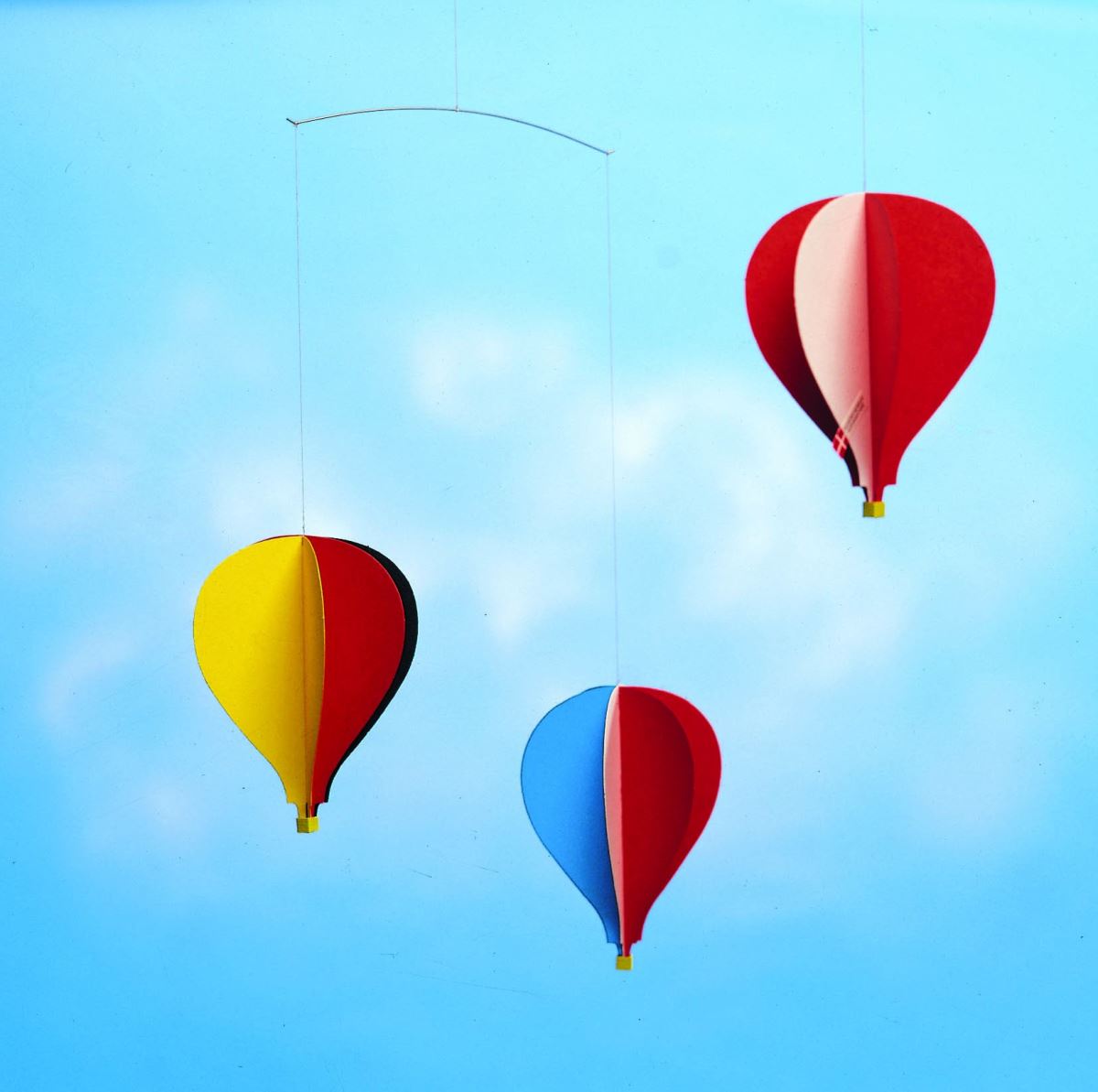 Turning Leaves evokes the feel of leaves falling from the sky. This Flensted mobile (from Euro Style Your Life) can also be purchased in black and white: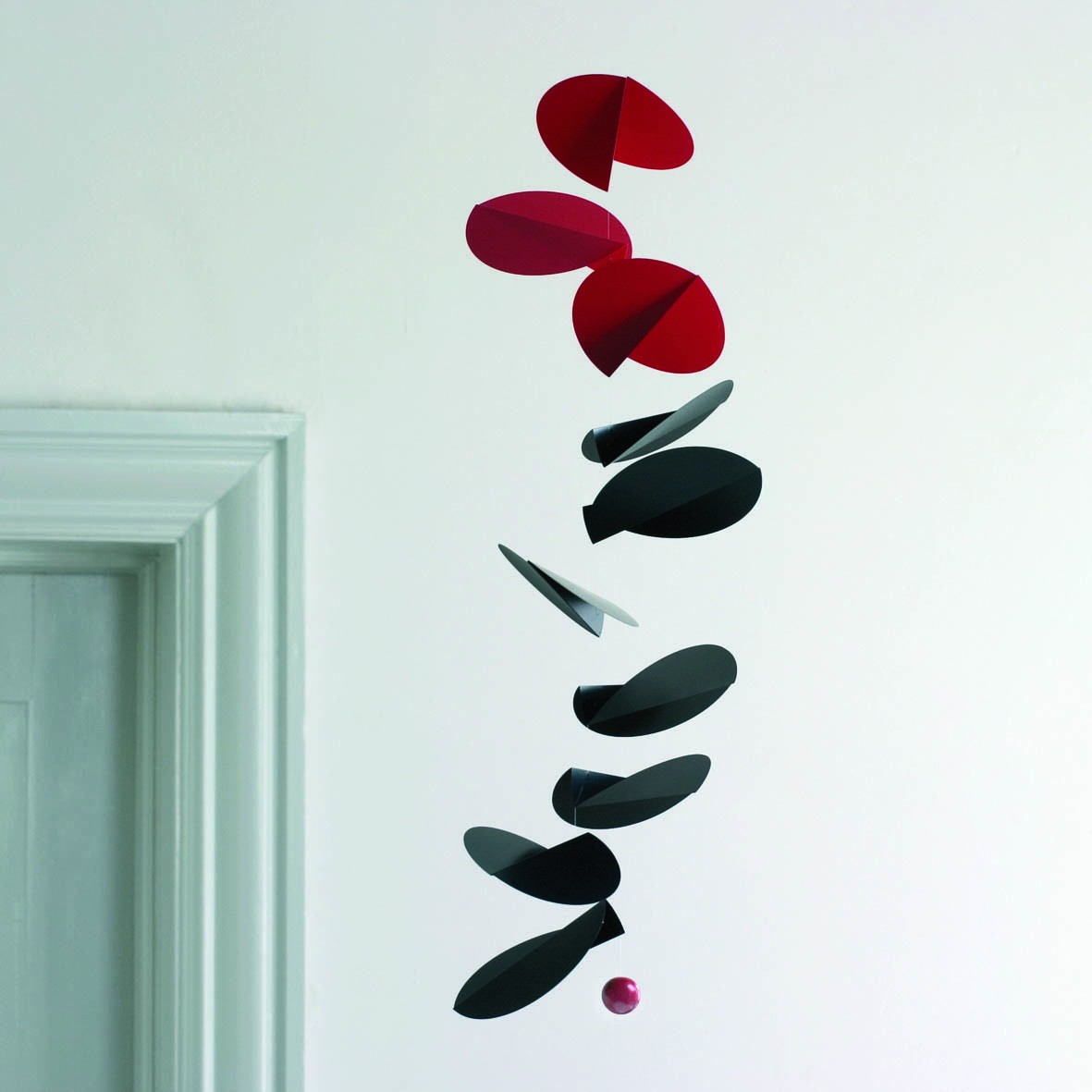 A gentle current will get Flensted's Life & Thread mobile moving. Available through Howkapow, this piece features a small green globe hovering between night and day. Sleek enough for the living room, it's a peaceful addition to Baby's room as well: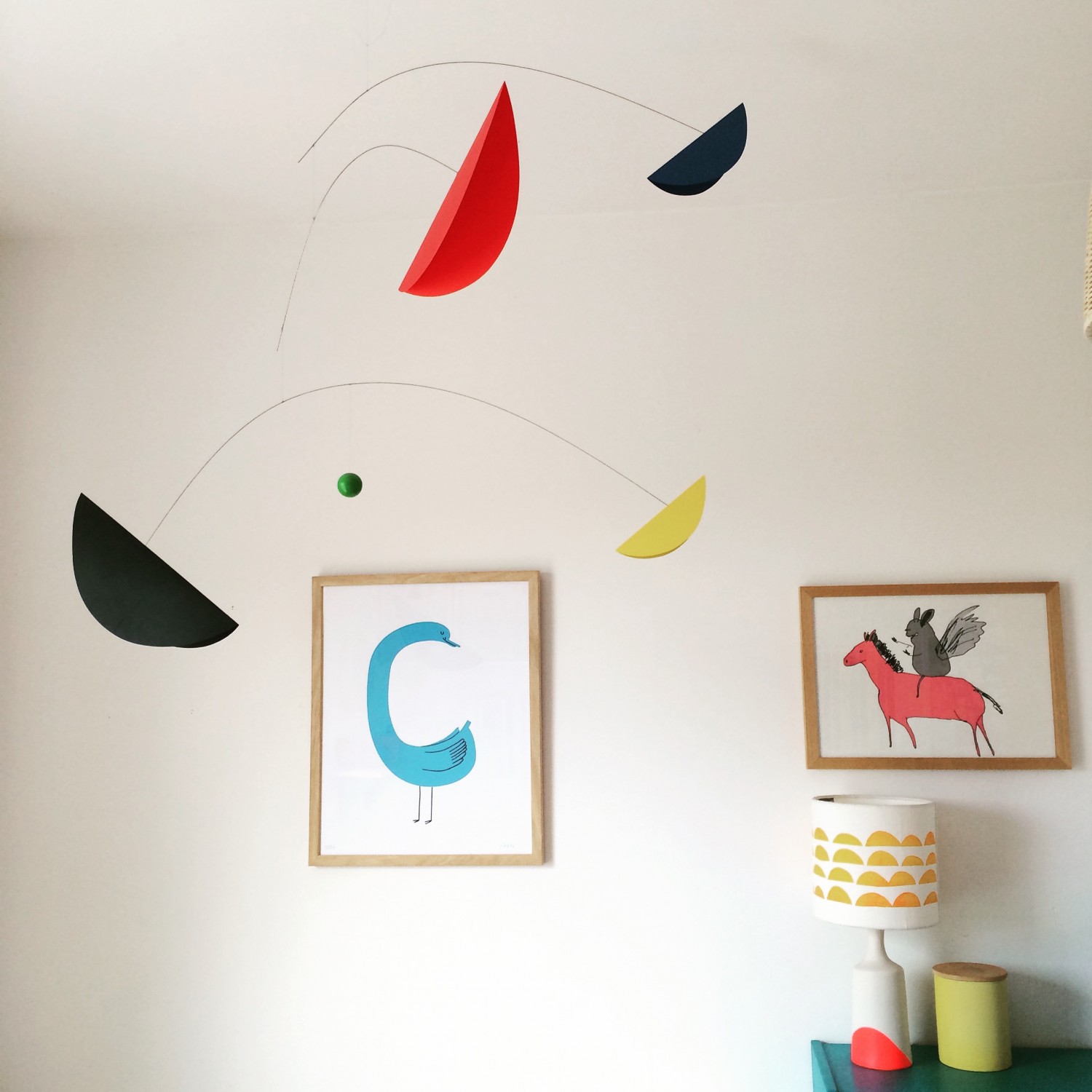 One of our very favorites (and also from Howkapow), Breeze features six arcs that display vibrant wings. It's all about bright colors and striking curves:
Refreshingly nautical, the Dinghy Regatta 5 mobile supsends a group of sailboats accented with vivid colors. Like a lovely day on the water, this breezy mobile design brings a touch of summer style to the nursery all year long. Discover more info at Flensted. [photo via Woont]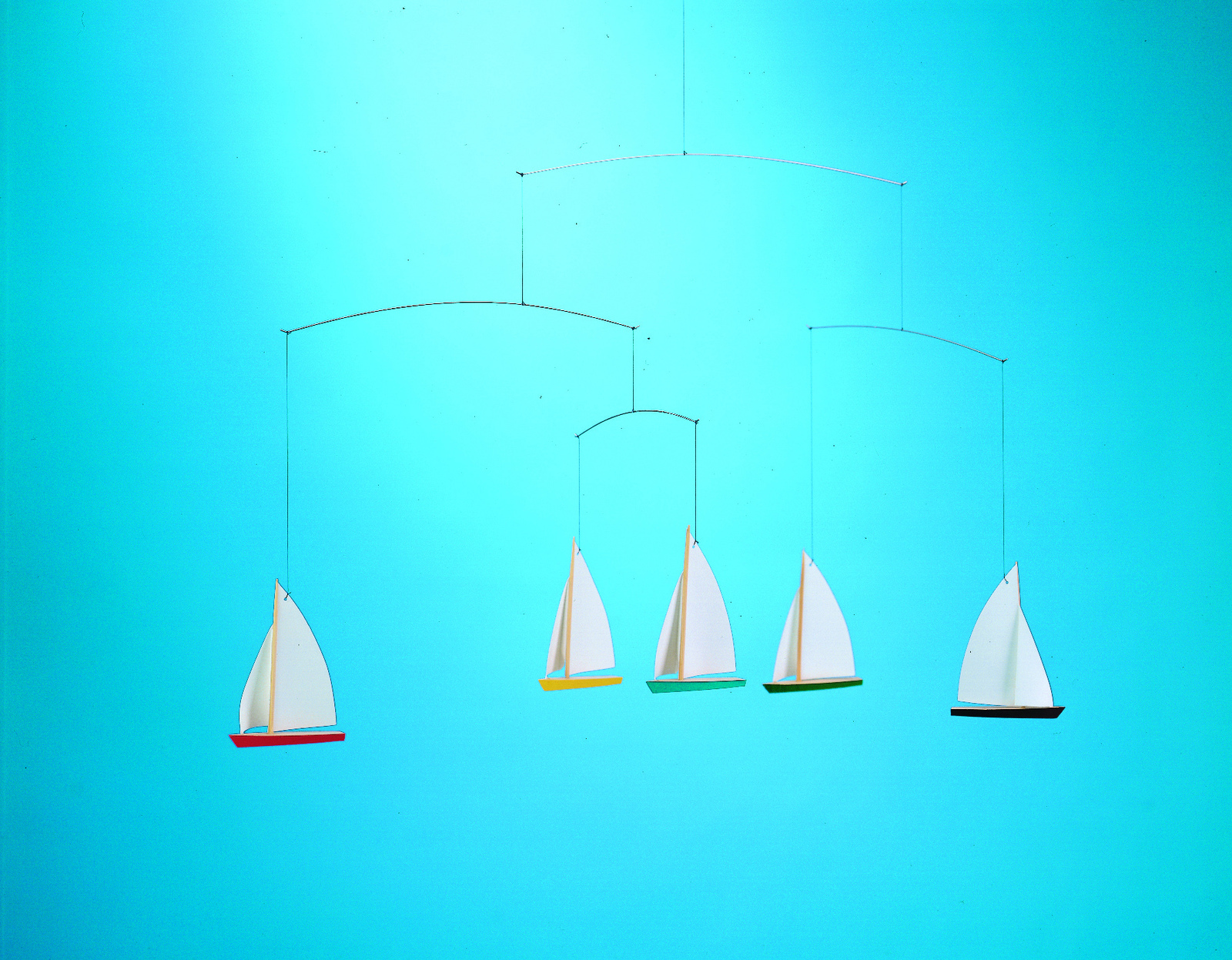 Spot on Square is another source for Flensted selections, and this Flowing Rhythm mobile is a vision in yellow. Curves delicately balance in a fluid design that's as mesmerizing as it is vibrant: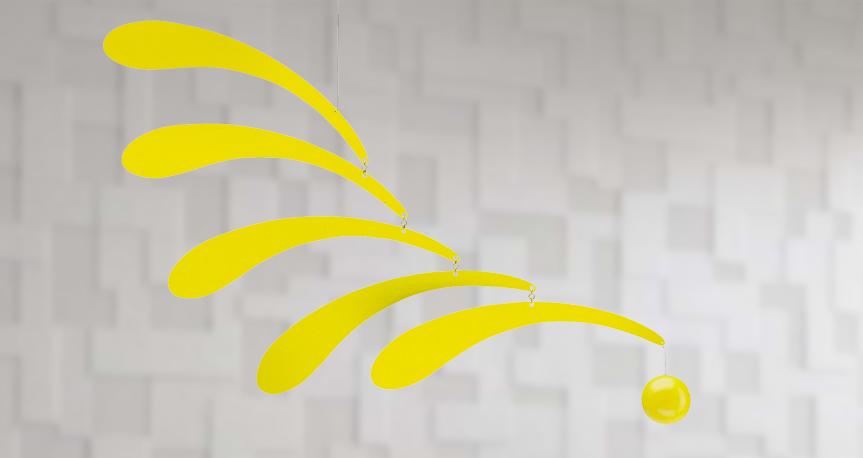 Stylish Mobiles from Etsy
Etsy is another wonderful source for modern mobiles, as artisans sell their unique creations that showcase a range of styles and materials. This cloud mobile from Etsy shop Fairyfolk is nontoxic (this shop is known for its eco-friendly creations). There's something magical about the way the felt balls are suspended from the "cloud". Plus, the "raindrops" can be customized to match the color scheme of your baby's nursery.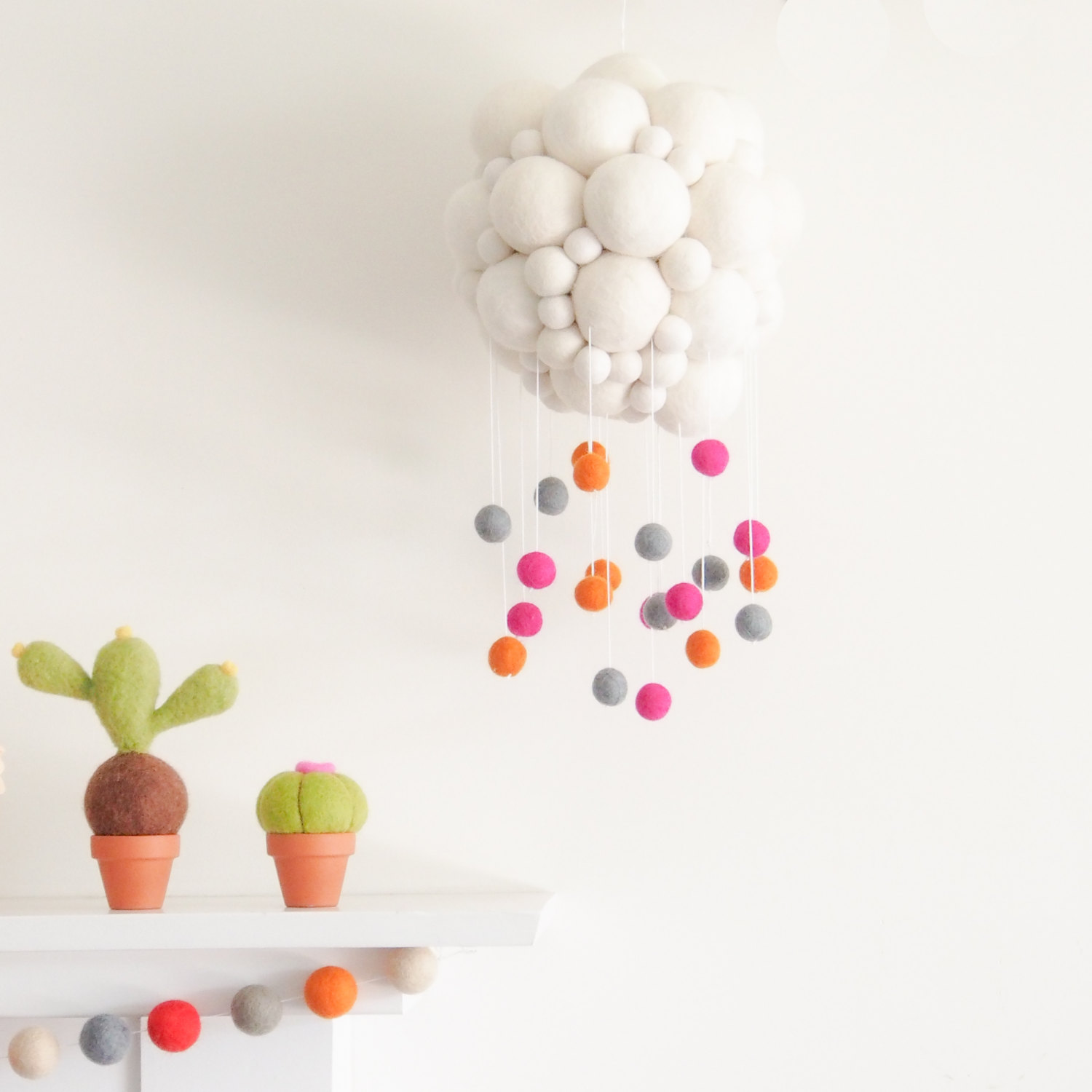 The heart mobile below (from Fairyfolk) is perfect for Valentine's Day, as well as any day of the year when love is in the air! Plus, you can customize the color of hearts. Although the red is quite classic, don't you think?!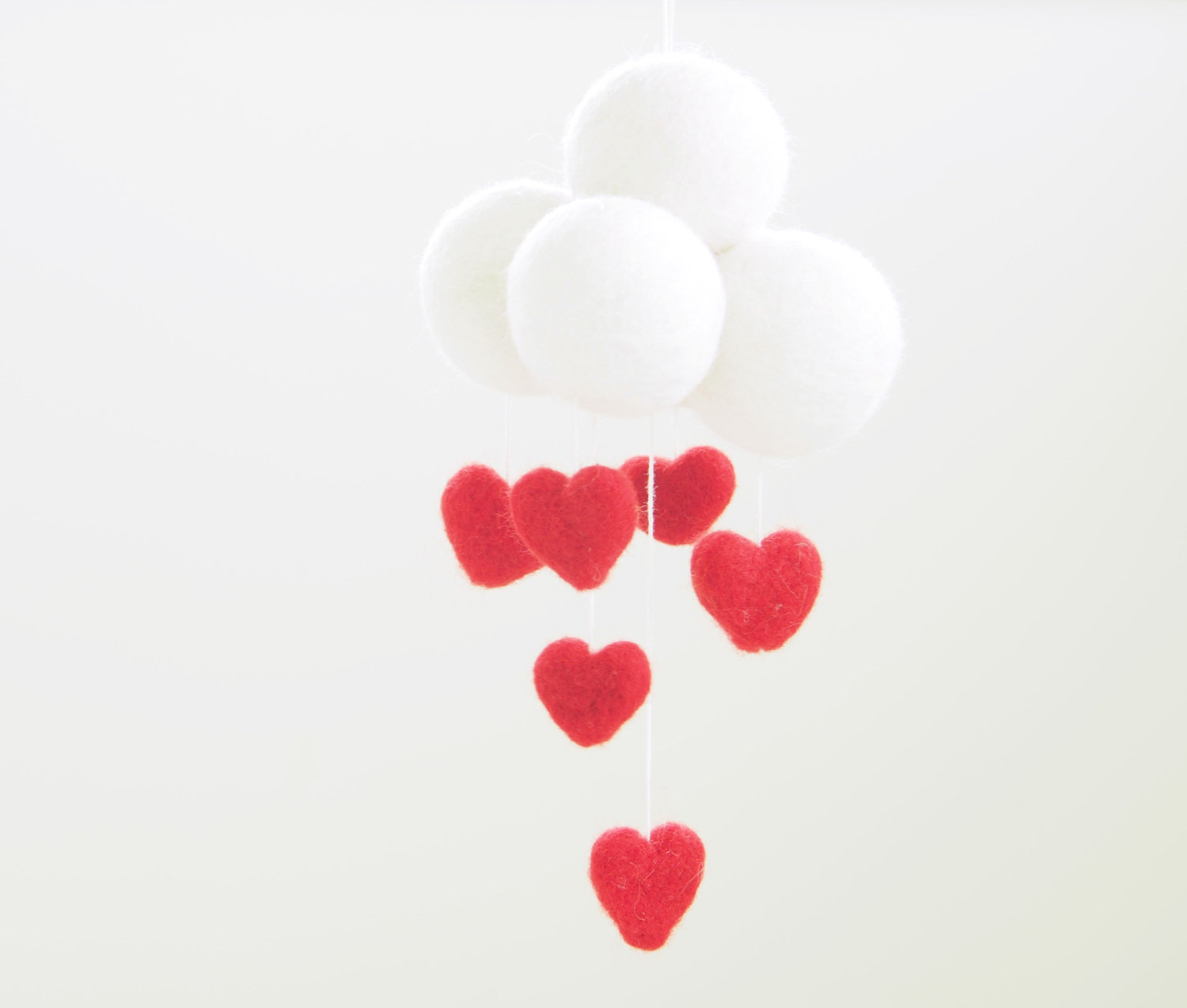 Also from Fairyfolk, this star nursery mobile features felted wool, stars in rainbow colors, and cotton string. The clean lines and round forms create a modern display that's fit for a fairy tale: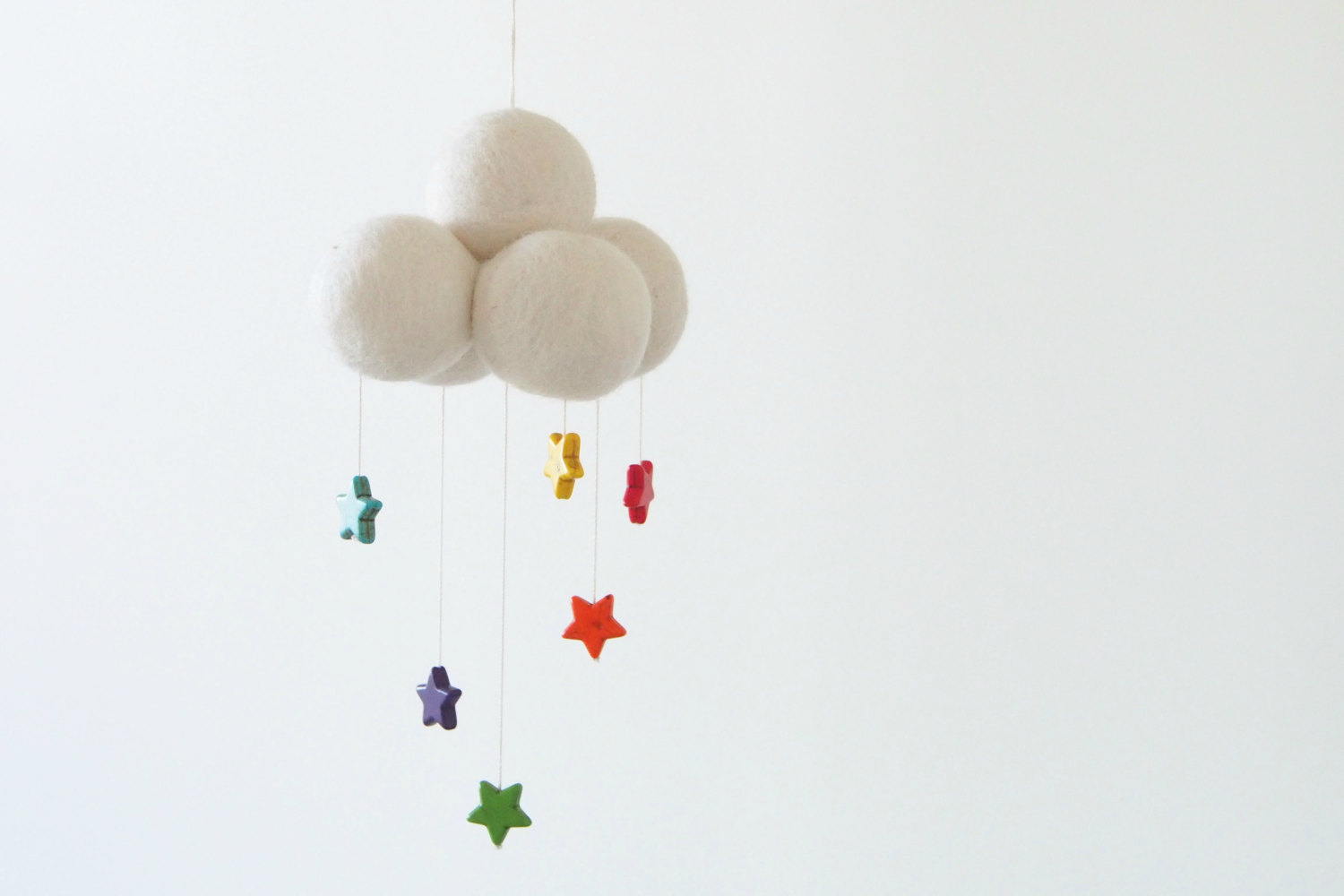 Pingvini is an Etsy shop that uses all-organic materials to craft their mobiles, from the natural cane of the ring to the twisted threads of wool yarn. Below we see a bunny mobile that surely would intrigue Peter Rabbit: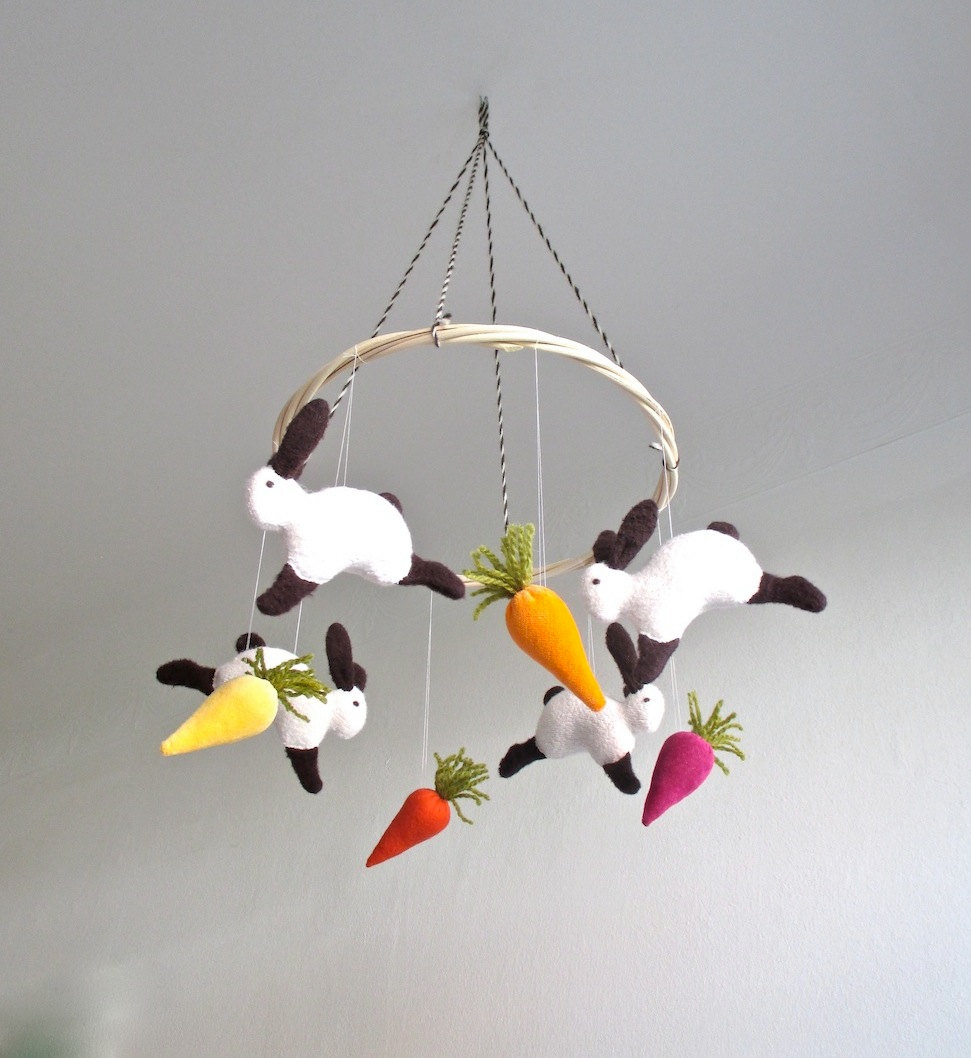 From rabbits to cats, this kitty mobile features yarn balls that will entertain your child as they move with the currents of air. Plus, the black and white stripes of the cats are particularly eye-catching for young babies: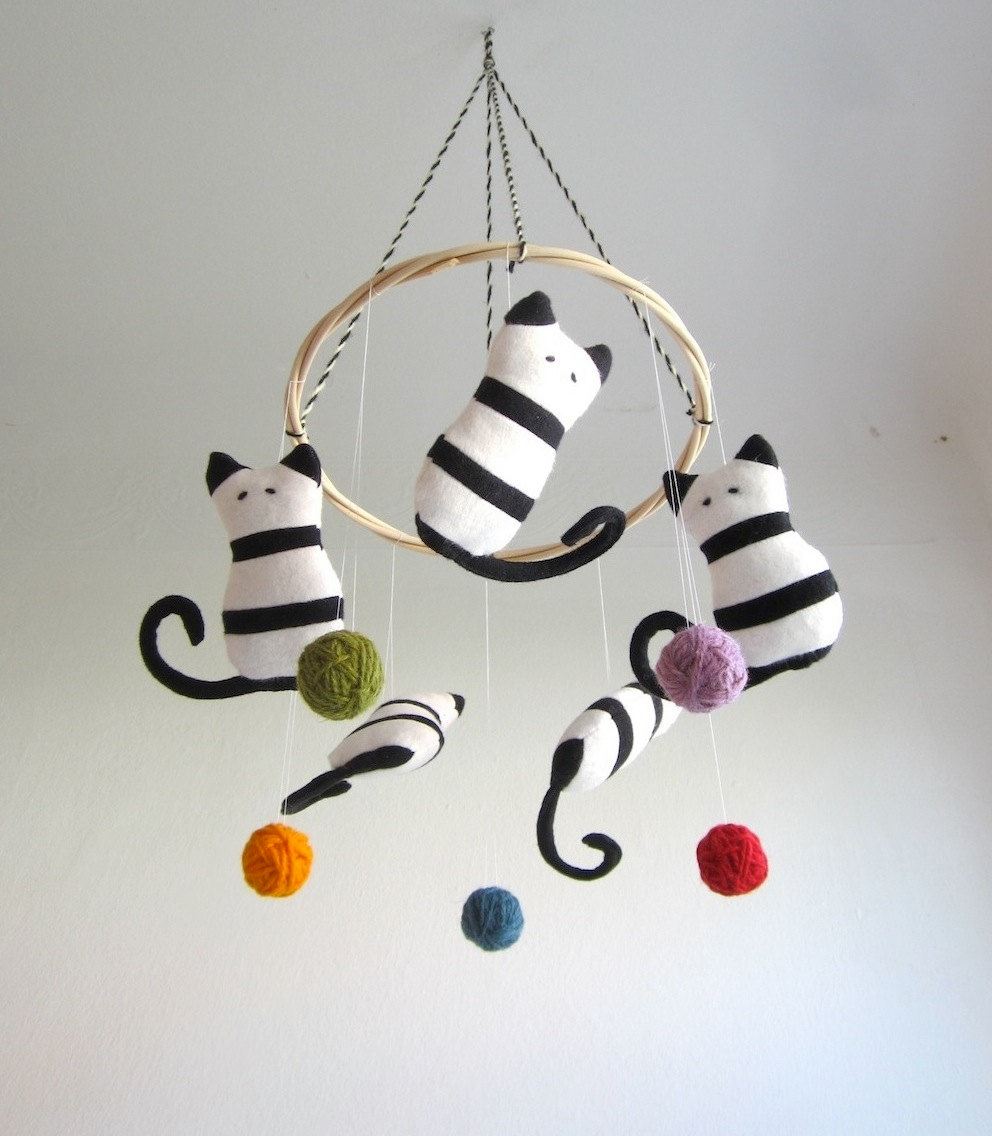 Next we feature the Etsy shop of Moran Alhalel, which offers origami selections like the mobile below. A red and white lattice pattern covers the boats, which are made from 100% cotton. Balsa wood paddles anchor the design. Plus, the boats can be detached to give your little one the tactile experience of feeling the fabric.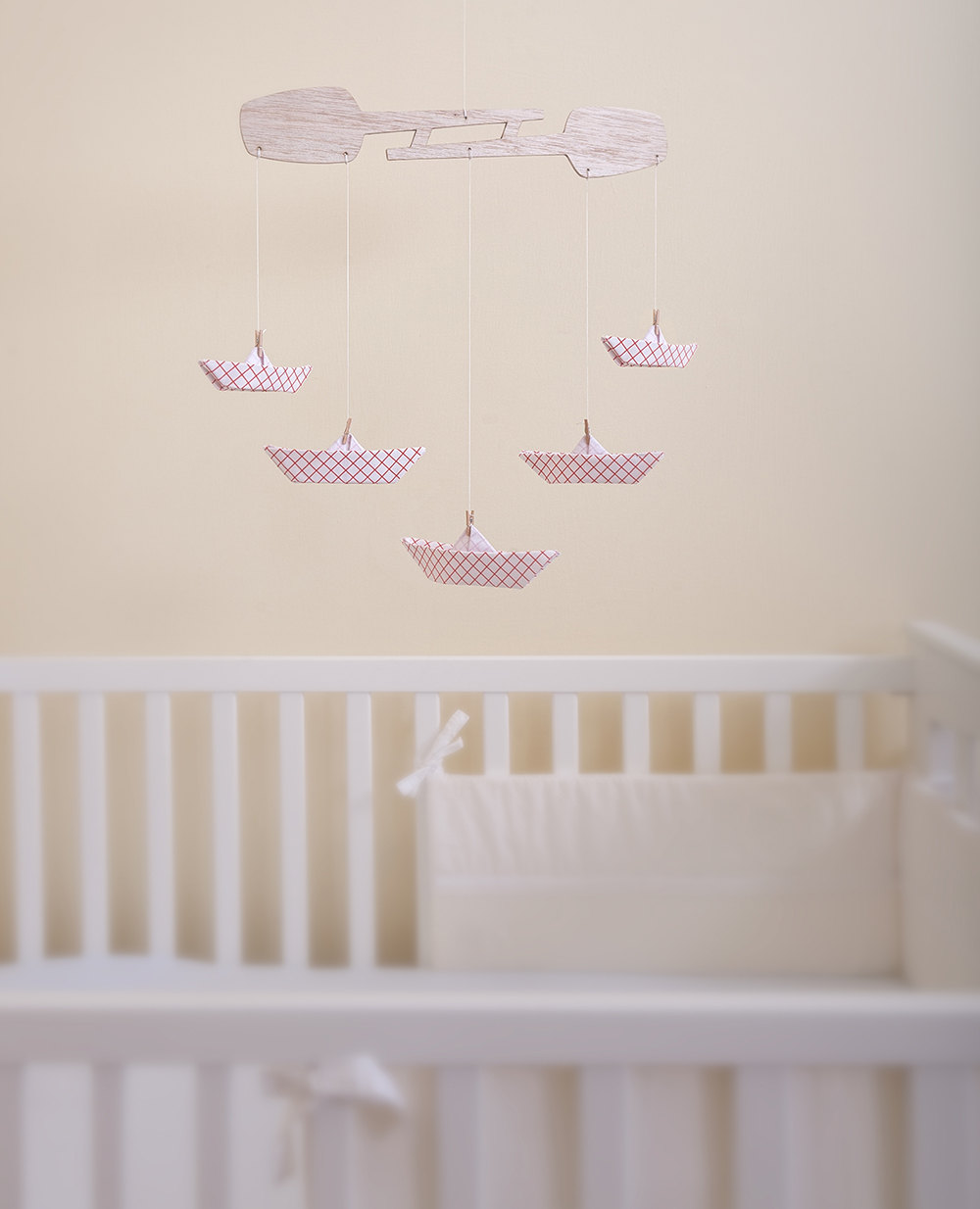 Also from Moran Alhalel, this origami bird mobile features colorful origami fabric doves that are suspended from a natural bamboo branch. The linen fabric can be customized in the colors of your choice and crafted in a size that suits your space: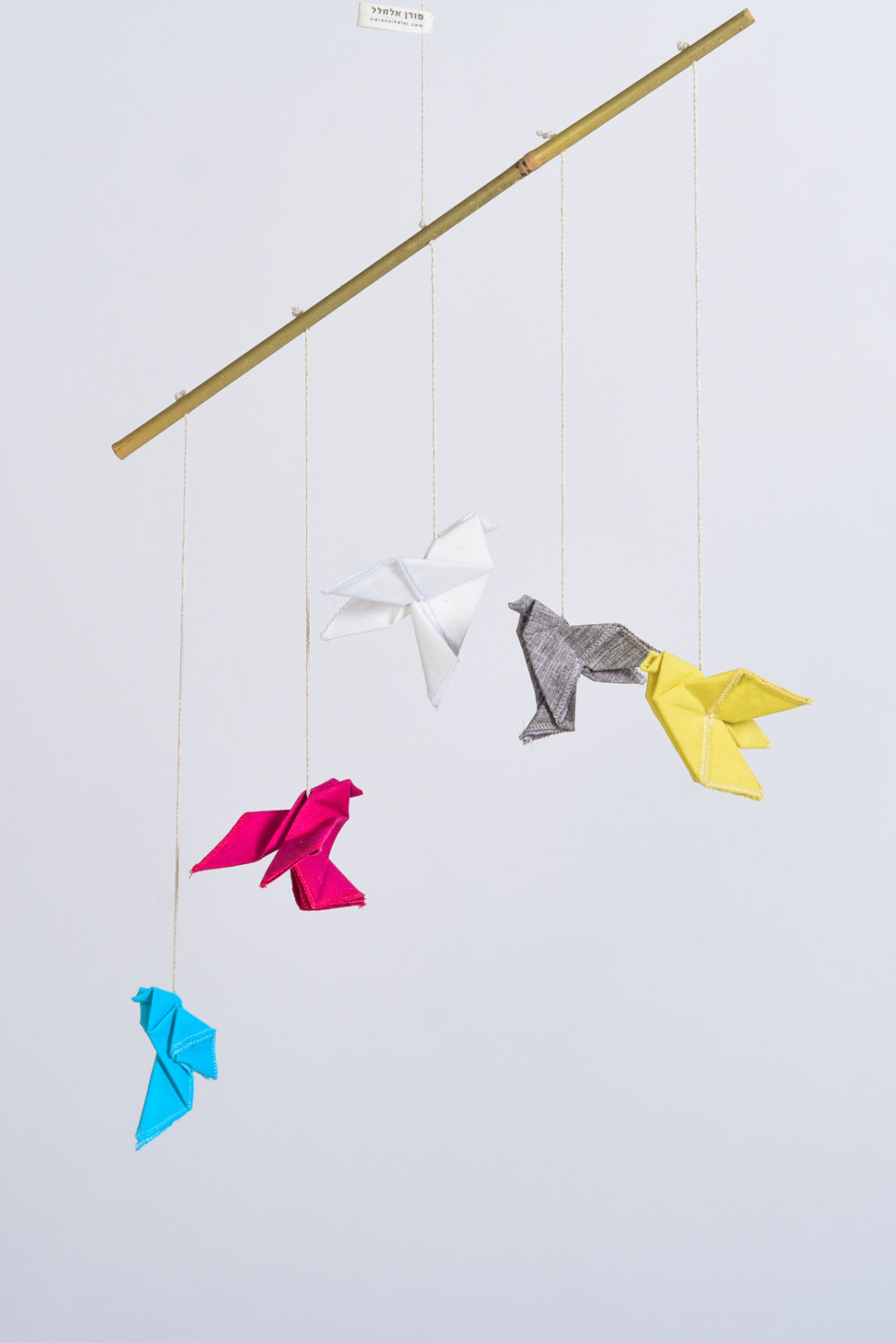 Brand Favorites
Last but not least, we end today's post by sharing an assortment of mobiles from two brand favorites: ferm LIVING and The Land of Nod. For starters, this Whale Mobile from ferm LIVING is made from 100% cotton and stuffed with polyester: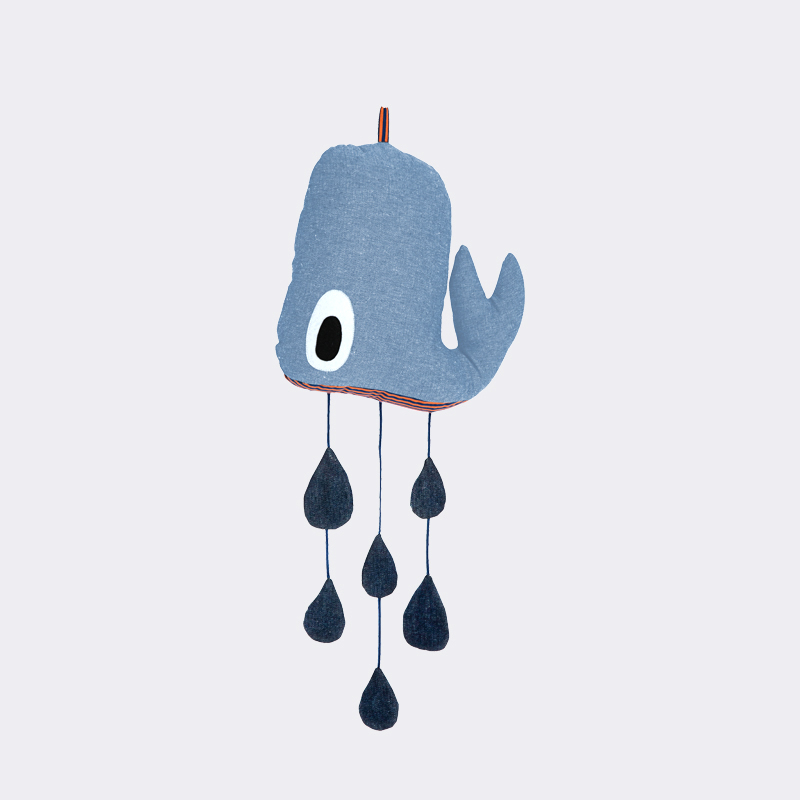 Also from ferm LIVING, the Elkeland Mobile in Blue has a New Memphis feel, thanks to textural patterns and geo forms: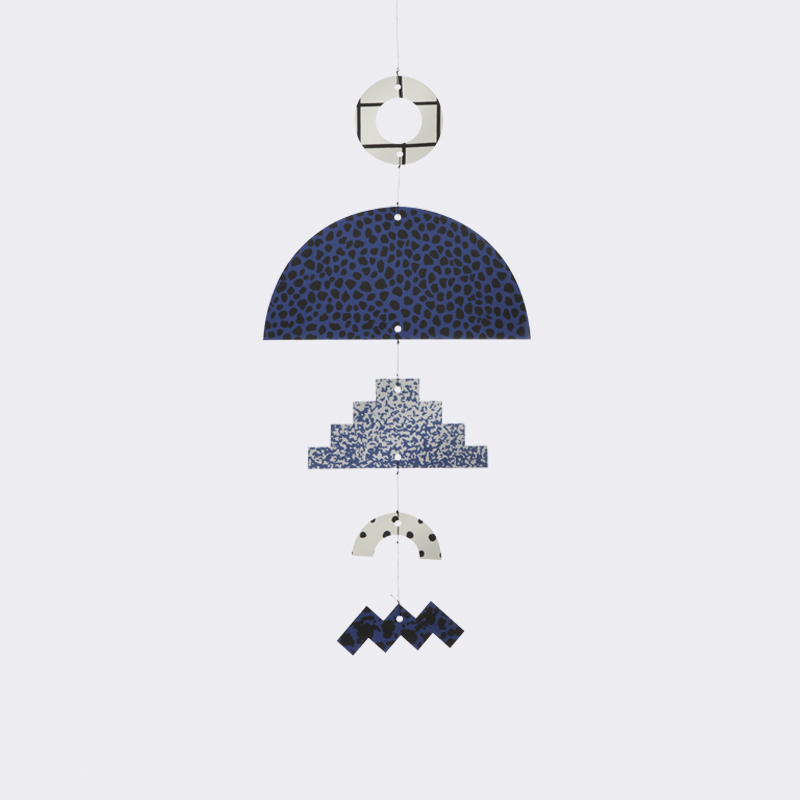 The Land of Nod's Luxe Moon Mobile is a Baby Jives design featuring a linen moon, along with metallic leather stars. Dreamy and modern: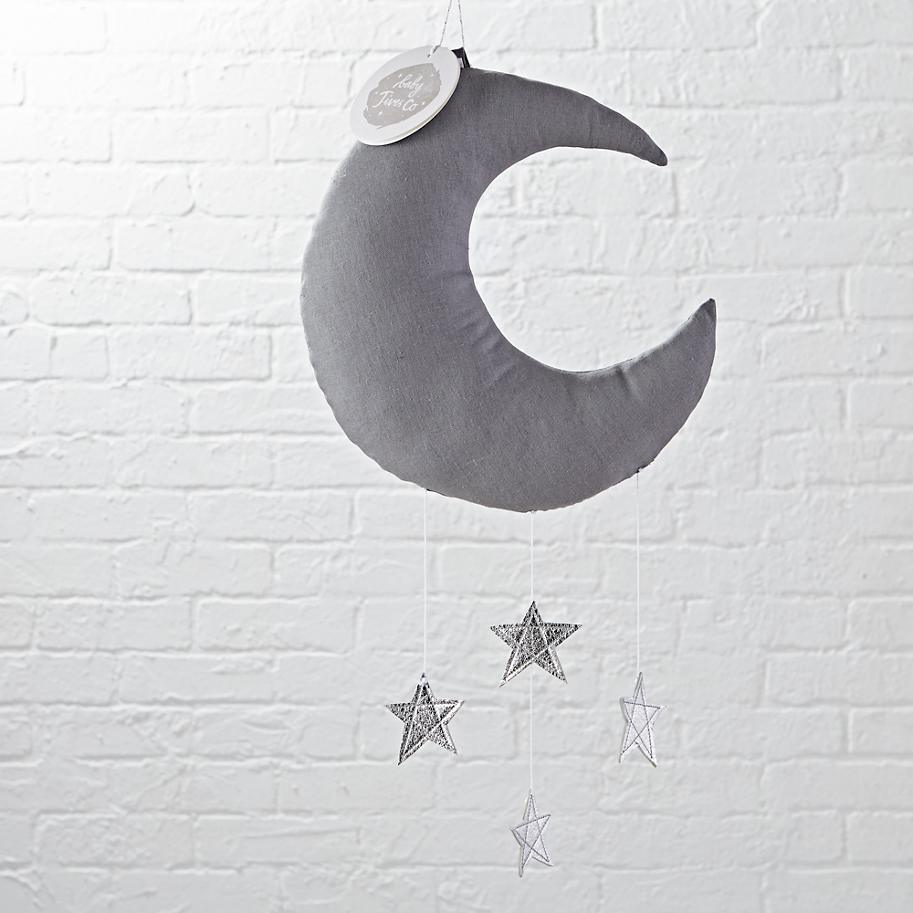 Also from The Land of Nod, this Balancing Birds Mobile has a folksy feel. Designed by Junzo Tereda, the mobile features a range of patterned pieces: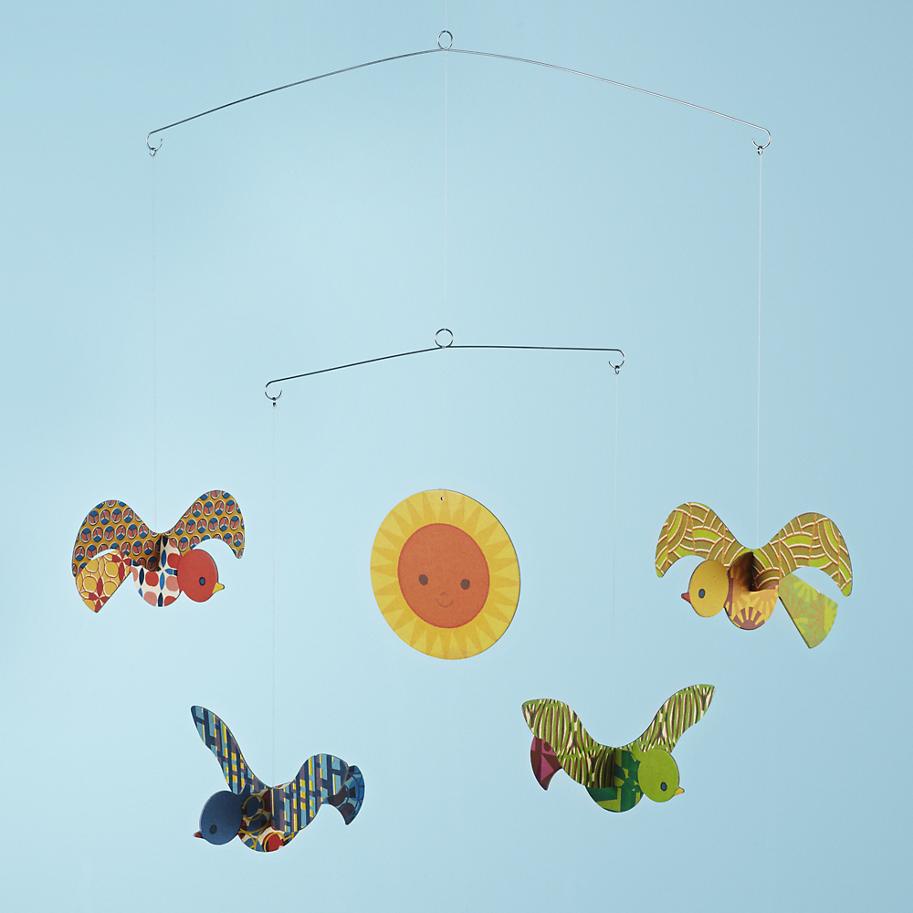 Perhaps one of today's featured mobiles will inspire your next purchase, or even a DIY rendition that includes some of your favorite elements. Happy decorating!