Some say the day after Labor Day is the unofficial beginning of fall. Here we are, the day after Labor Day, and I'm still not ready to say goodbye to summer. Who's with me here? Luckily, some of today's most popular design brands are on the same page, because a slew of new arrivals in shades of blue have proven that transitional decor is alive and well this fall. And don't get me started on the pineapple motifs! So why don't we all transition from summer to fall by honoring the best of summer in the process?!
Shades of the Sea
Let's get started with decor and accents that channel the soothing hues of the ocean. Bring the sea to your living room with this Hand-Loomed Shine Rug in Blue Lagoon from West Elm. That gorgeous sheen is created by mixing wool with viscose!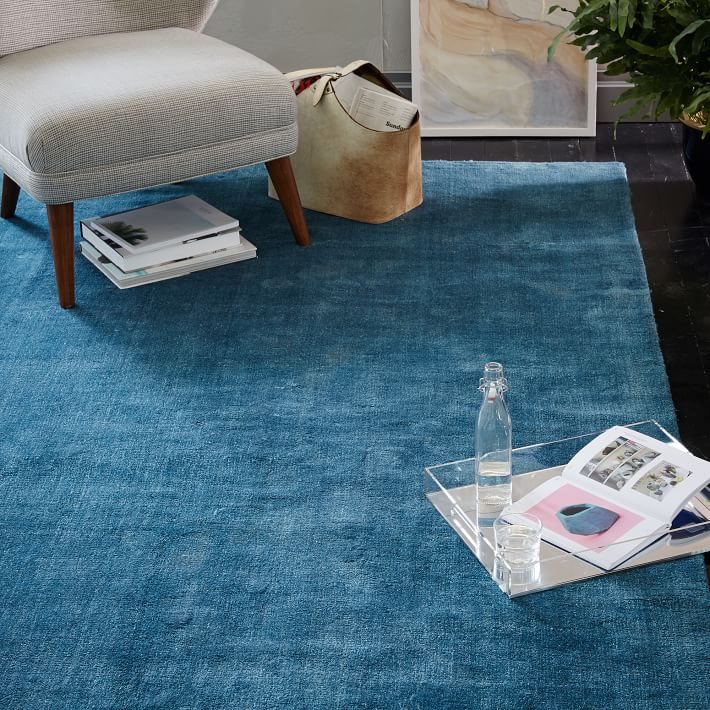 Abstract art is one of today's top design trends, and I'm loving the way this Abstract Painting Rug from West Elm brings the look to the floor, creating a watercolor-style centerpiece. And speaking of water, the blue tones in this rug make it perfect for keeping summer alive at home all year long: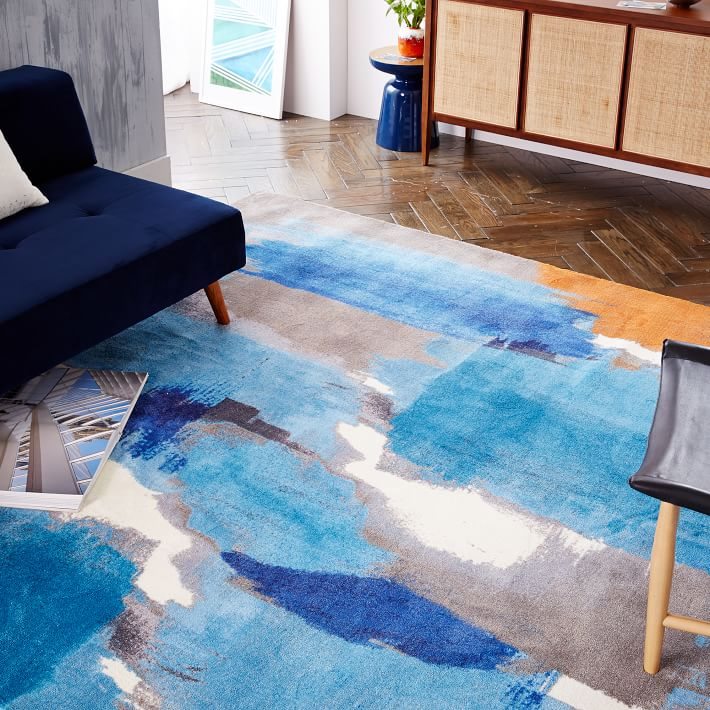 Peacock is a hue that's going strong this fall, and I for one am thrilled! It's hard to say goodbye to the refreshing blues of summer, but the smart teal undertones of peacock blue are elegant, polished and fall-perfect. Below we see the Mrs. Godfrey Sofa from Jonathan Adler in Venice Peacock. Check out that luxe cotton velvet: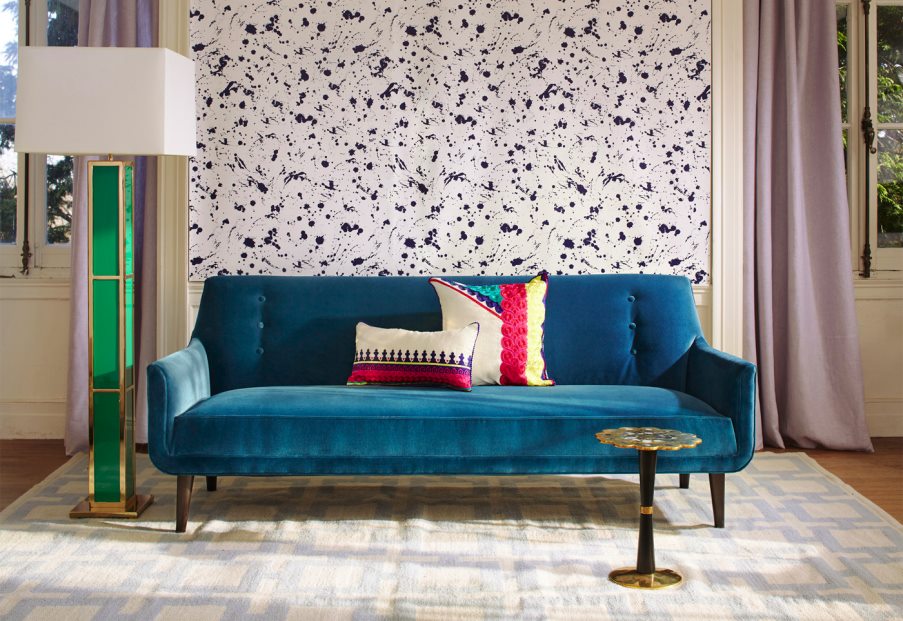 Lemons pop against the Peacock Linen Tablecloth from Crate & Barrel. It's tidy, vivid and hard to take your eyes off of: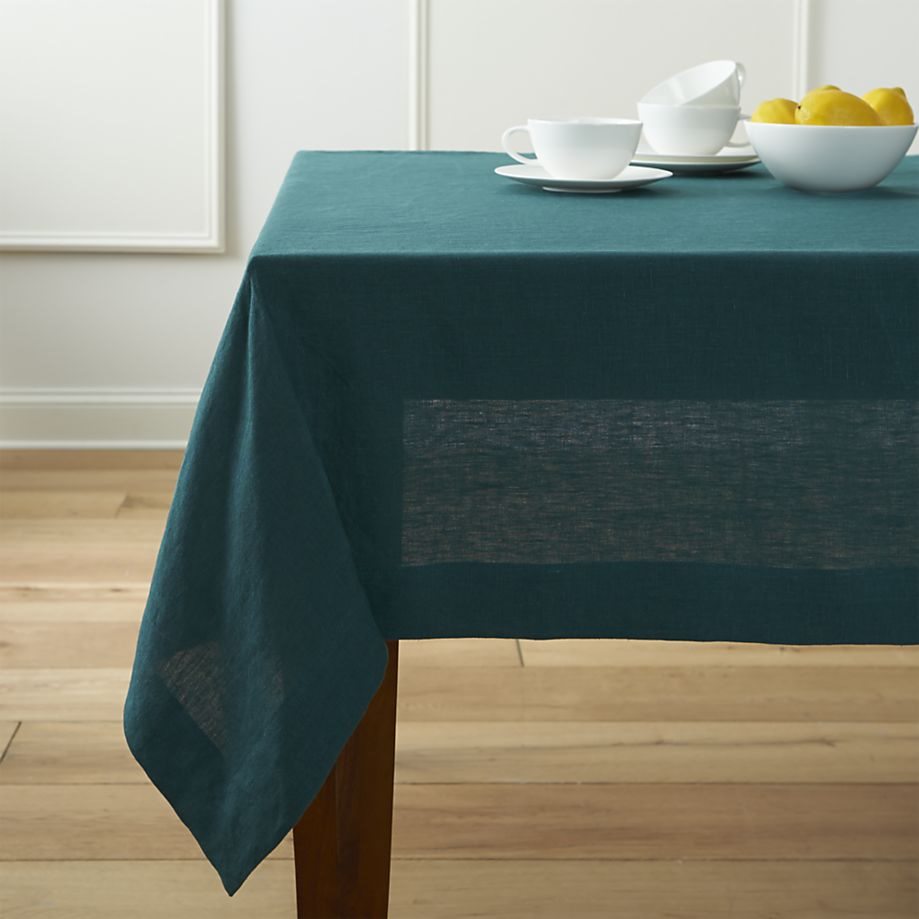 And since we're reveling in all things peacock, here's one more find to enjoy: the Tropical Palm Peacock Placemat from Crate & Barrel! Perfect for fall, yet evoking the tropical feel of summer, these placemats are handmade from natural Mexican palm: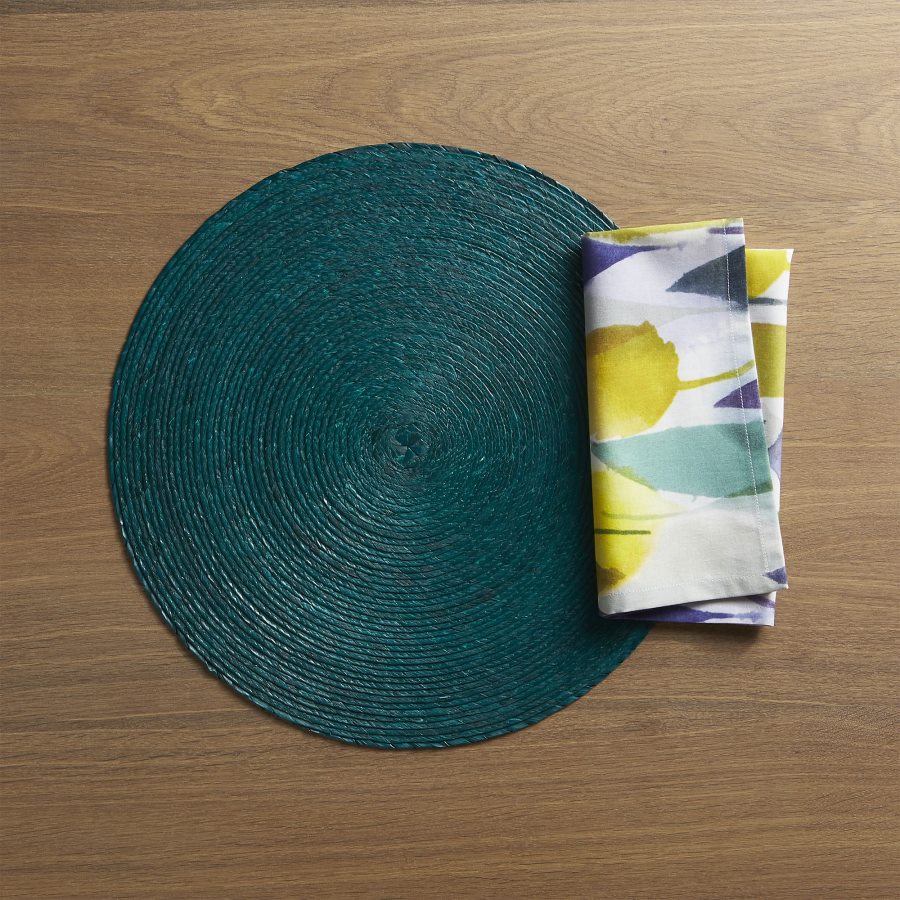 Blue isn't the only shade of the ocean! Mix blues and greens at home for jewel-toned flair that's summer-perfect yet festive (even through the holidays). Jonathan Adler's Emerald Pop Decanter is pictured at the far right of the image below. Bonus points if you recognized Courtney Love in the painting!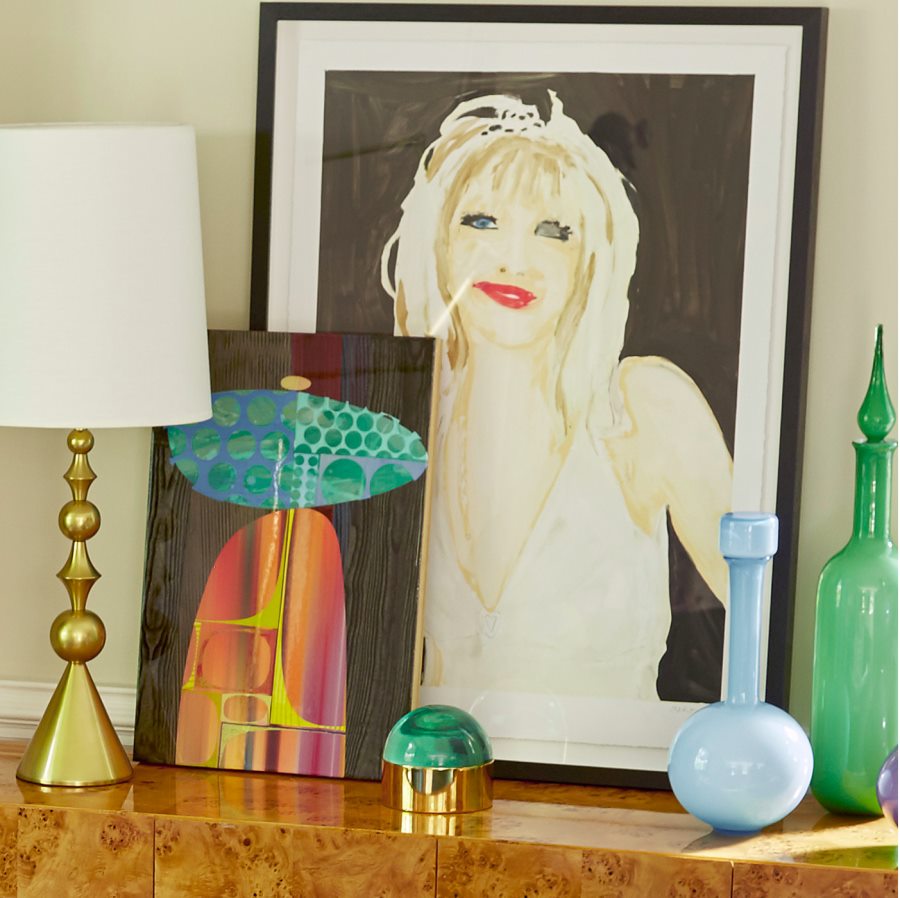 Summer Motifs
Believe it or not, summery motifs are still going strong, even in the new fall arrivals! We have CB2 to thank for keeping pineapples at the forefront of our decor this fall. The Escape Copper Pineapples 18″ Pillow by Brooklyn-based designer Aelfie Oudghiri is a vision in navy and copper: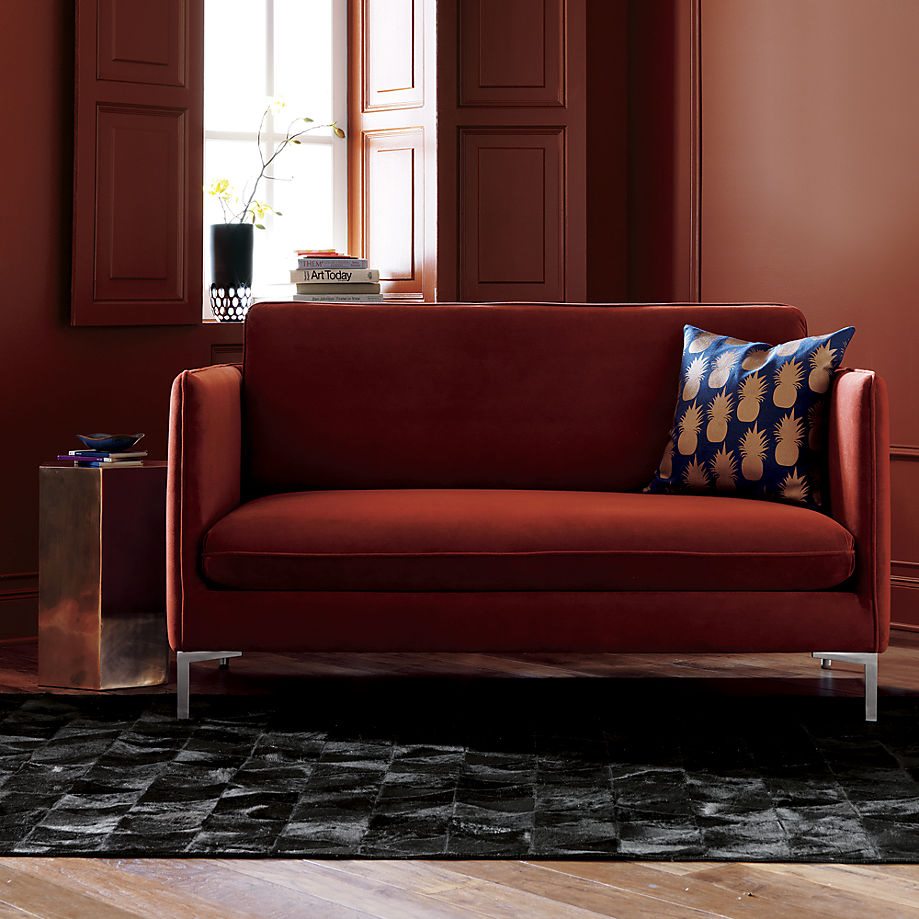 If you like the look but crave a different palette, feast your eyes on the Escape Teal Pineapples 18″ x 12″ Pillow, also by Aelfie Oudghiri and available through CB2. Teal and black have never been more crisp and refreshing: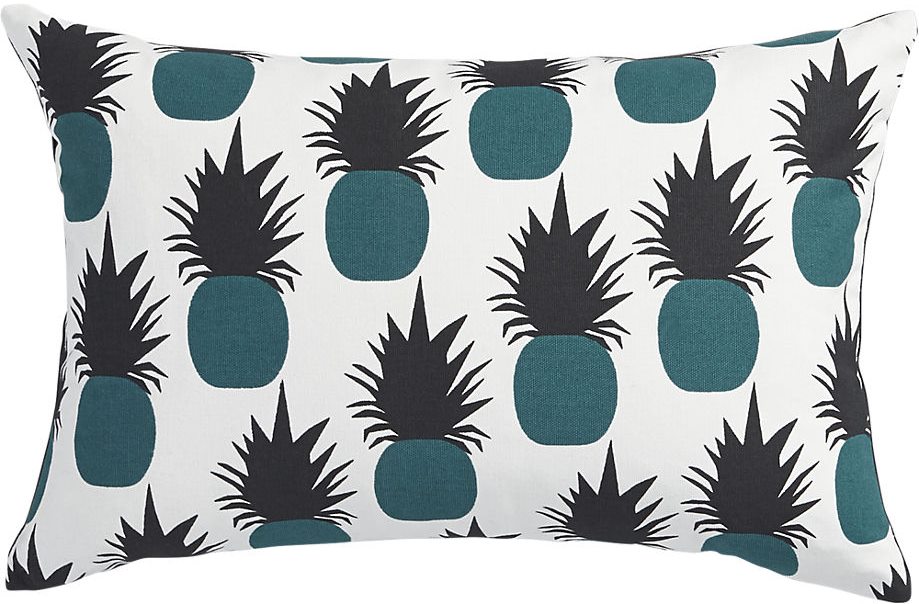 Just a friendly reminder to keep lemons on display when you want to channel summer style! Even better if they're contained in this Cradled Wire Basket from Anthropologie. I'm a fan of the blue geo version pictured at the bottom of the photo below: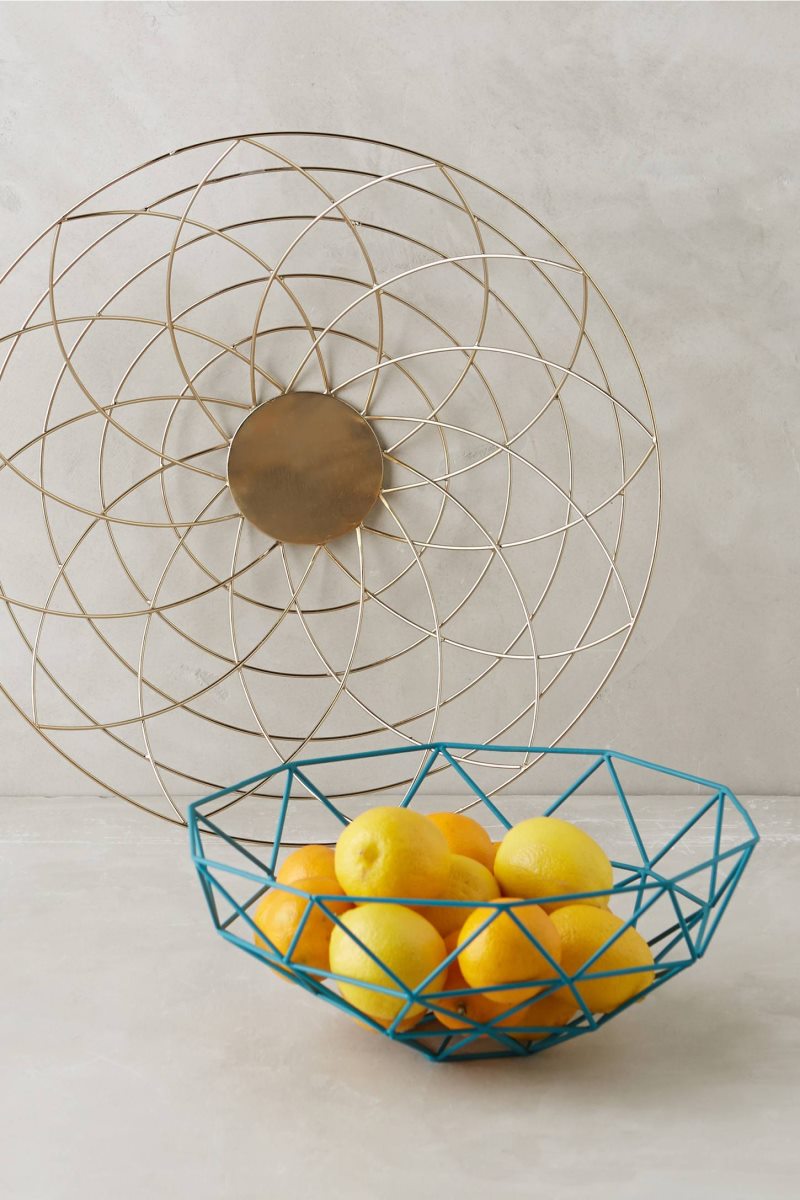 And last but not least, while much of today's flamingo decor has a strictly summer vibe, this "Flamboyance II" original painting by Jenna Snyder-Phillips (via Jonathan Adler) is bold enough to be on display all year long, thanks to Japanese sumi ink and abstract creature features: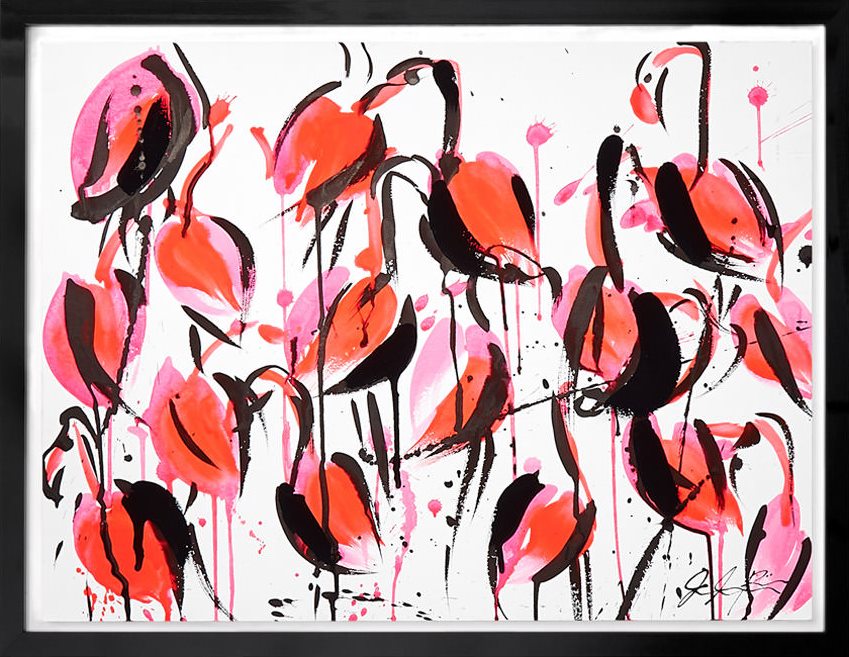 Will you be keeping summer alive at home throughout the fall?!