Pour yourself a cup of tea and get ready to relax, because today's post is sure to lower your blood pressure! We've rounded up 20 modern bathrooms with stunning views, because there's nothing like unwinding at the beginning or end of the day from the comfort of a tub that overlooks a green meadow, an aqua ocean or a city skyline. If your bathroom doesn't have the view you desire, don't fret. Check out the luxurious bathroom design and soothing decor that each of these spaces boasts, and perhaps you'll get some ideas for bringing upscale style to your powder room. Ready for some modern design rejuvenation?…
Gorgeous Greenery
If you're lucky enough to have a view of lush green landscape, call attention to the outdoors by keeping it simple indoors. This first featured powder room is filled with clean lines and sleek marble. [from Gregory Phillips Architects]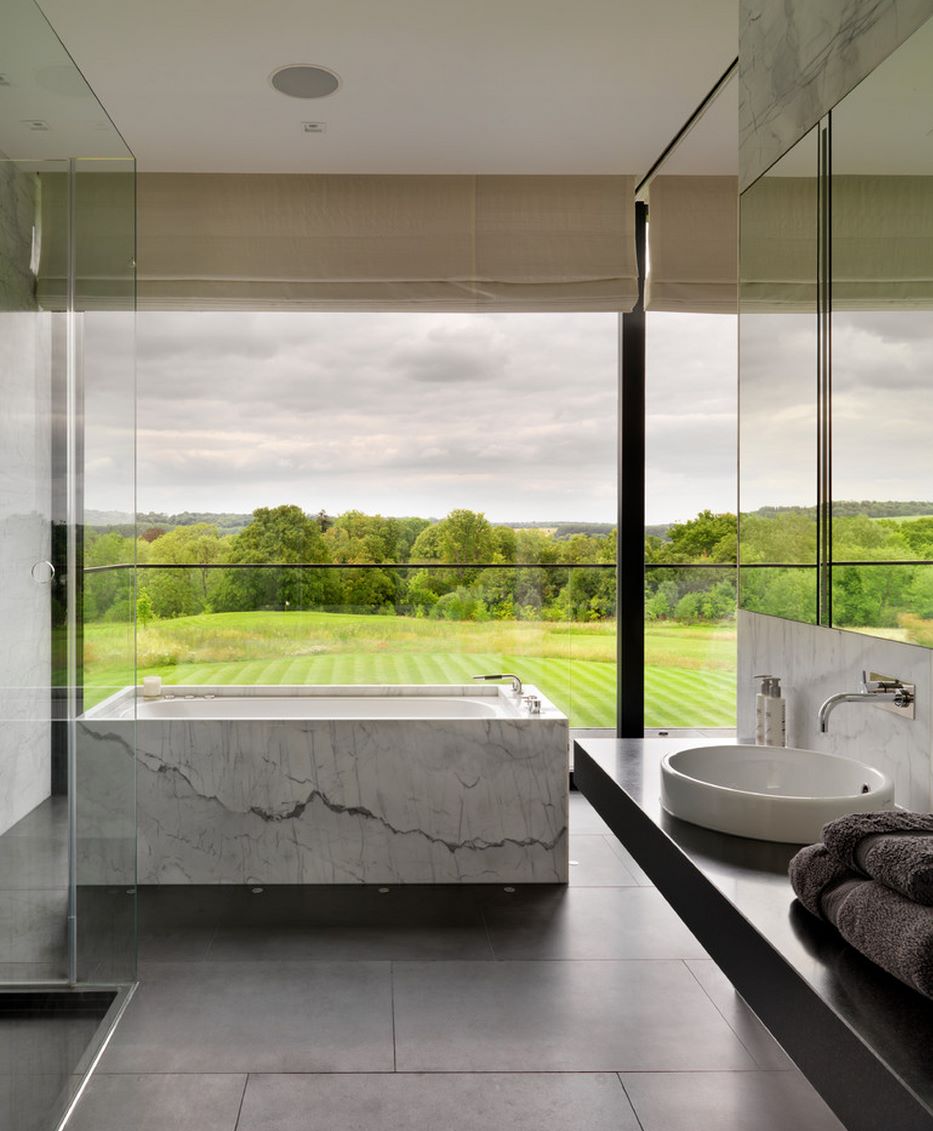 Marble is a popular choice for modern bathrooms with a view. And of course, a tub by the window is a must! [from Michael Lee Architects]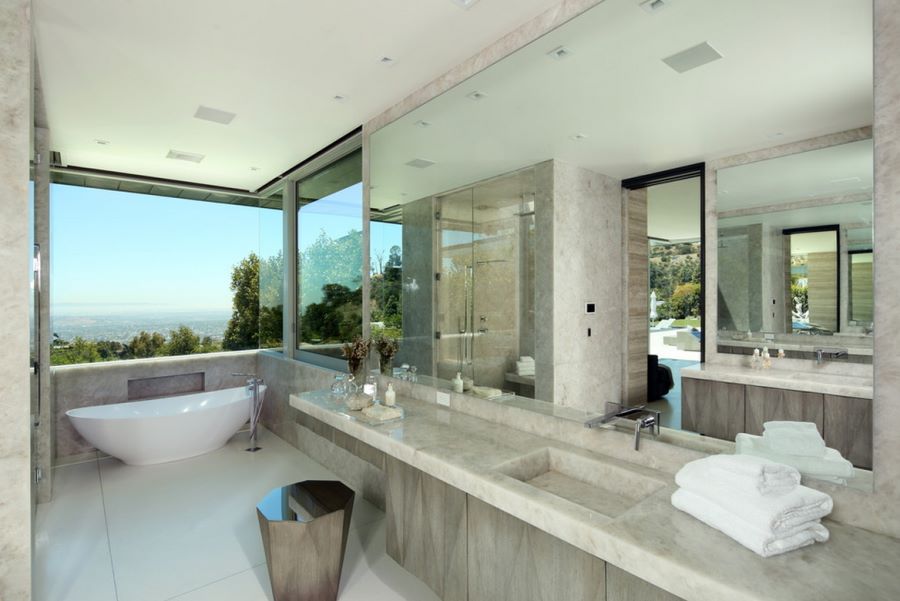 Earthy details such as wooden cabinetry can beautifully mirror the earthy landscape outside, as shown by this bathroom featuring a contemporary tub and a glass shower. [from Mark English Architects, AIA]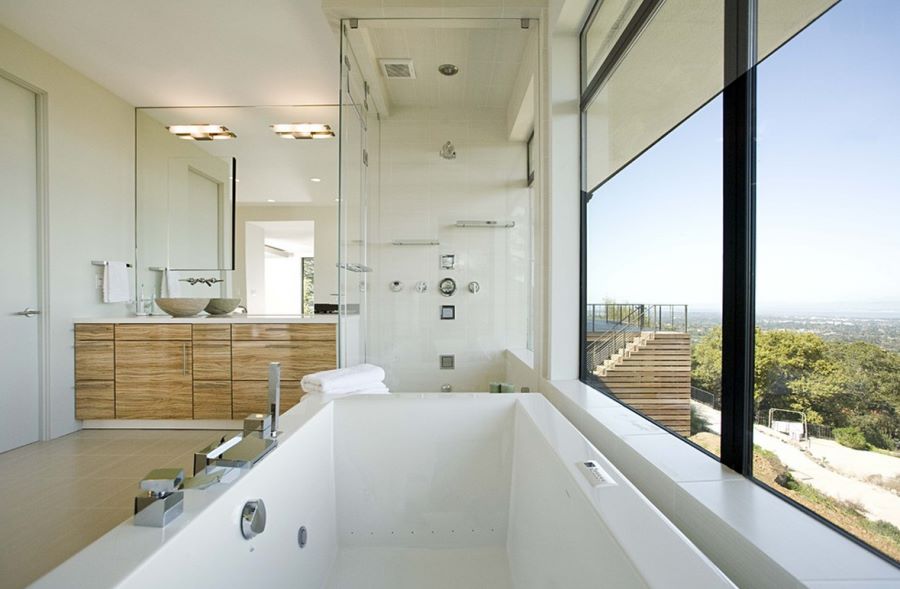 There's nothing like cleaning up after spending a day trudging through the forest! But why go into the forest if you can enjoy the view from the comfort of a soaking tub in your marble and tile bathroom?! [photo by Peter Hughes Photography, from Rodrigues Bodycoat Architects via Houzz]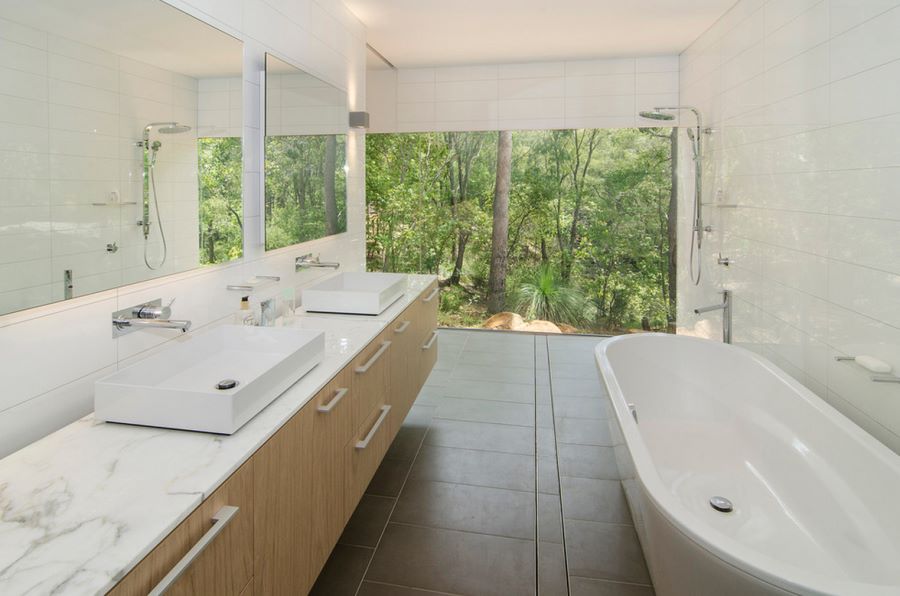 Under a canpoy of trees, everything seems more magical. Which is why this collection of vases on a shower ledge dazzles against the green woodsy backdrop! Consider a skylight or another type of feature that gives you a view from below if your powder room is surrounded by trees. [from Skylab Architecture]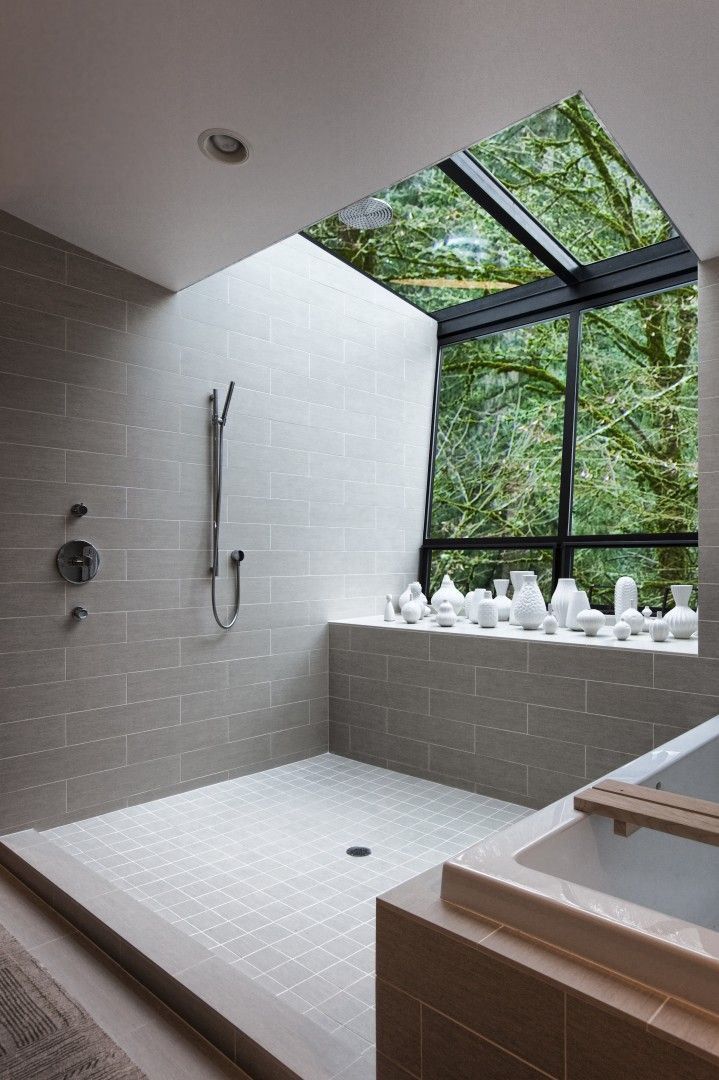 By the Sea
From the trees to the ocean, we now shine the spotlight on bathrooms that take advantage of their seaside location. This powder room has a window to the water. And what's not to love about a coastline framed in marble?! [photo by Matthew Carbone, from Stelle Lomont Rouhani Architects]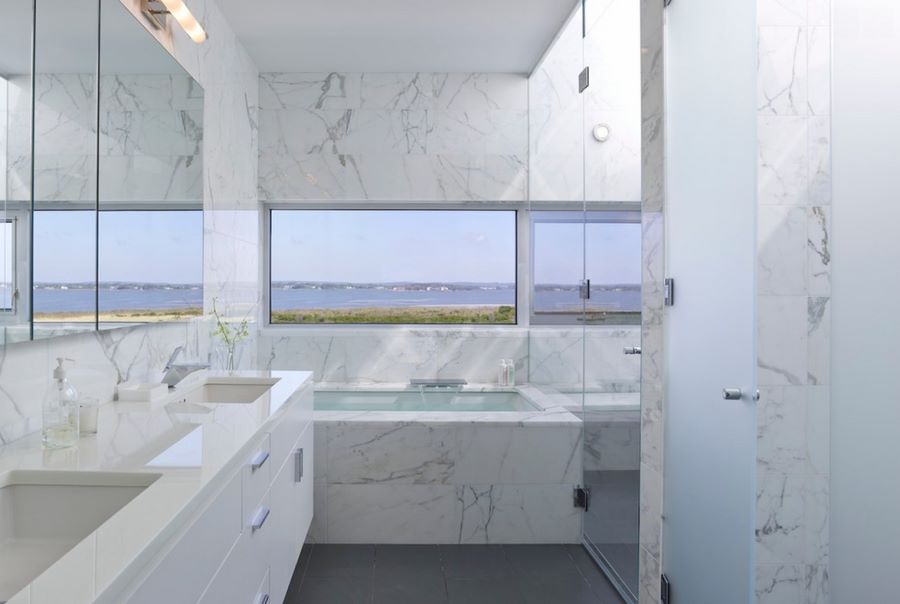 Here's another powder room with a window to the water, and this time the view is framed in earth tones and wood. Rustic-modern style at its best! [from Meynell Hoolahan Architects]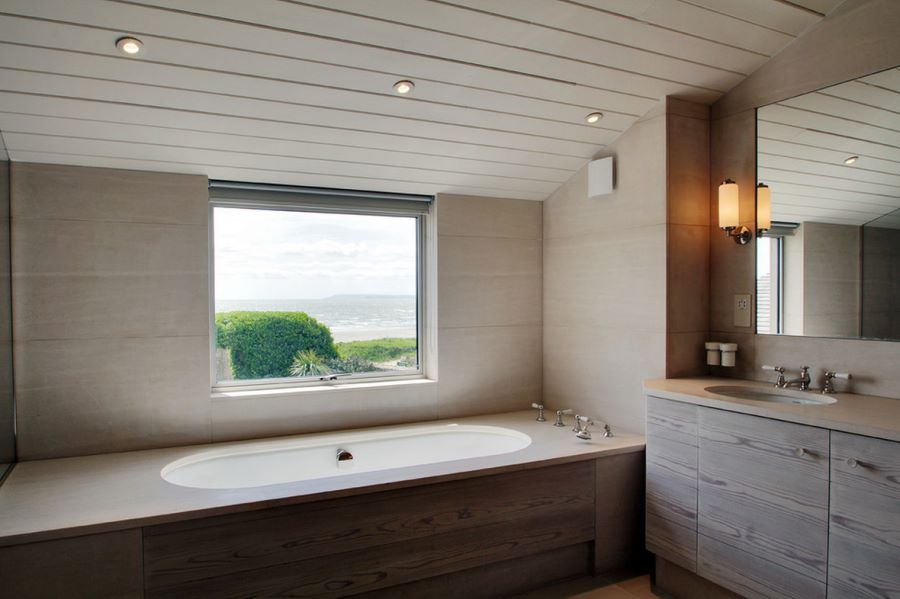 Take a bath in the middle of the lake! This bathtub might not be floating in the water, but it might as well be, thanks to the room's knockout floor-to-ceiling windows. [from Raven Inside Interior Design]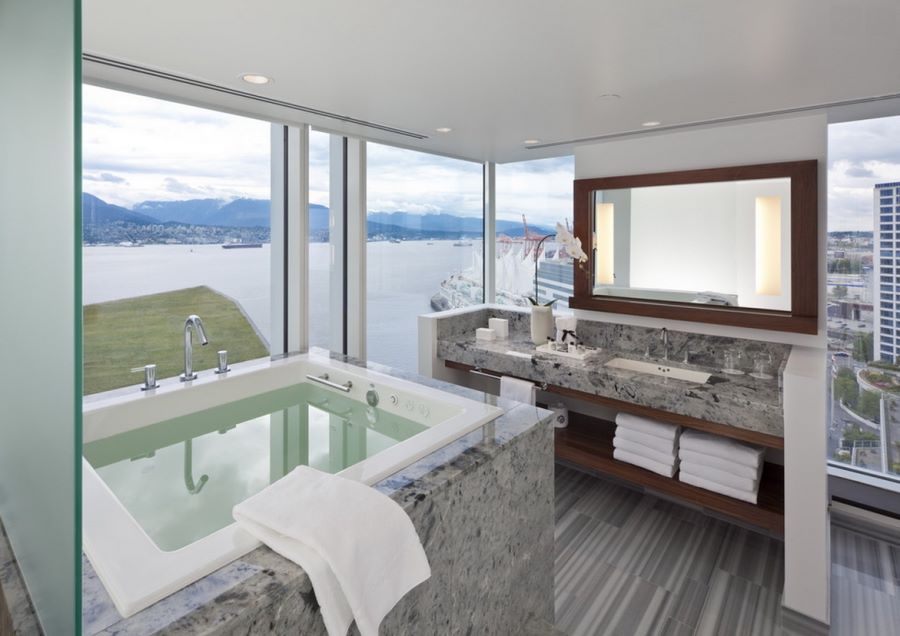 There's something cozy about this bathroom that overlooks a rocky body of water. While the bathtub nook isn't huge (which we love), mirrors give this powder room a spacious feel and reflect the gorgeous view. [by Rolf Ockert Design, photo by Sharrin Rees, from ArchDaily]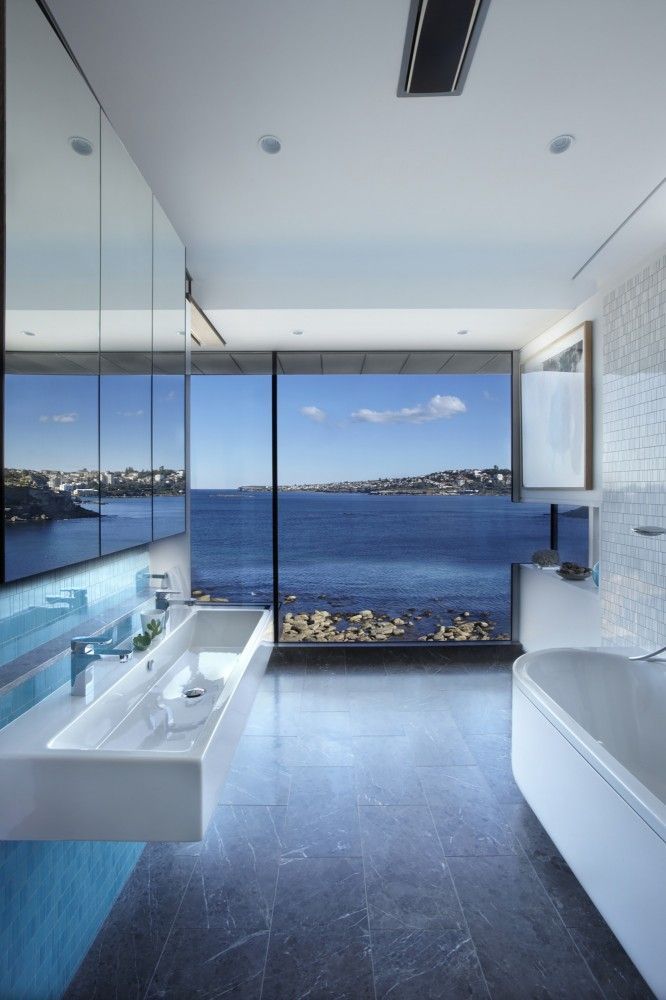 Speaking of cozy, how wonderful would it be to have a fireplace in the bathroom? Overlook the lake on a winter day as you shower or bathe, then towel off while surrounded by the warmth of the flames. Sigh! [from DesignShuffle.com]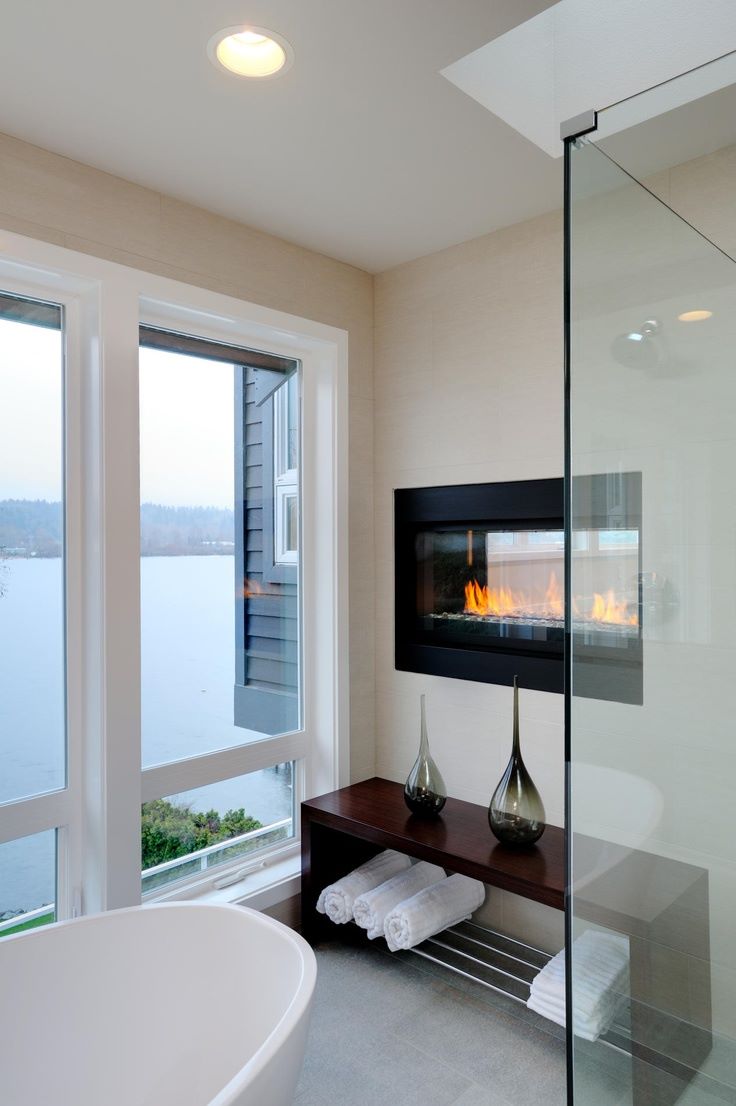 We now take things in a beachy direction, and what better way to do so than with a bathtub that's literally on the beach?! But don't worry about the floor-to-ceiling windows. There's not a crowd on that coastline, so privacy is yours! [Photo by Francesca Giovanelli and Kay Wettstein von Westersheimb from Stelle Lomont Rouhani Architects]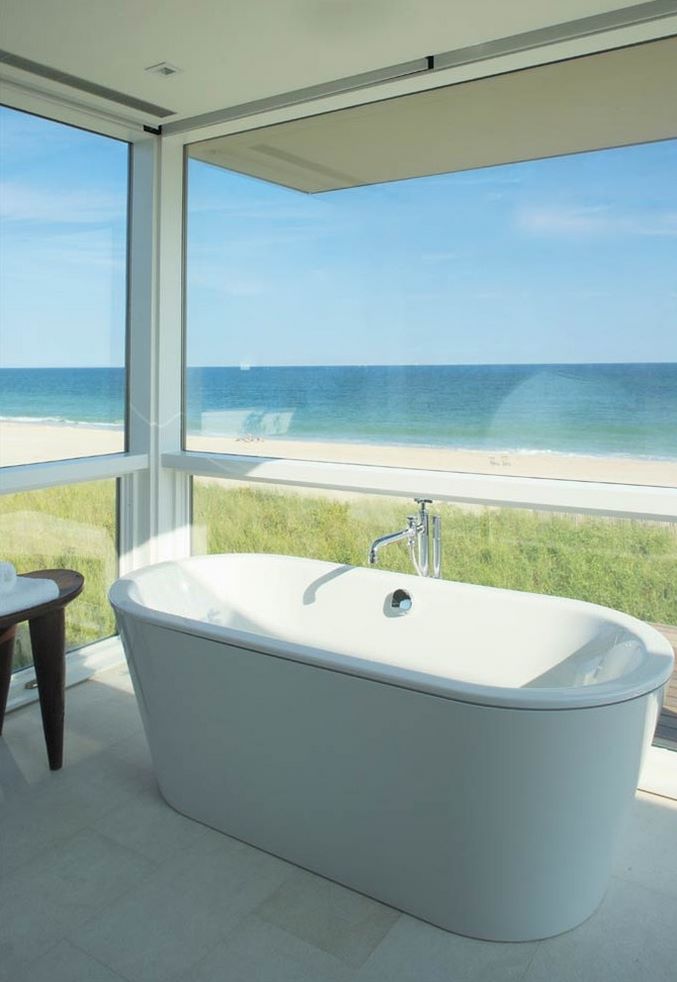 Ooh la la! This tropical bathing area is from Thai retreat Villa Beige, which celebrates the natural beauty of Koh Samui. And now we're tempted to sprinkle our bath water with blooms for a resort-style touch. [from Cuded]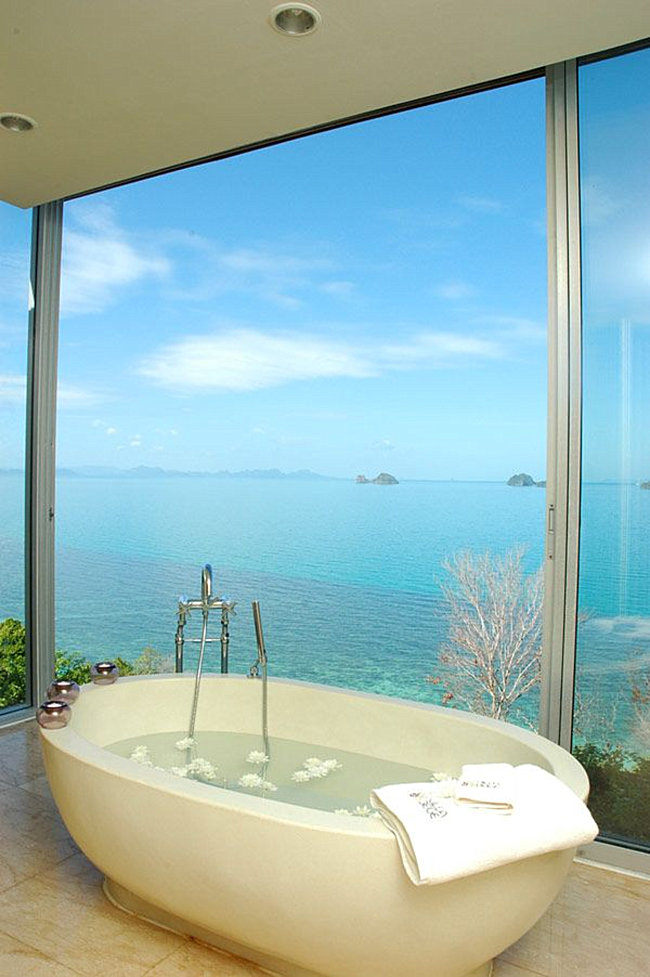 Speaking of resorts, this powder room from Four Seasons Resort Seychelles creates a seamless view that flows from bathtub to infinity pool to the ocean beyond: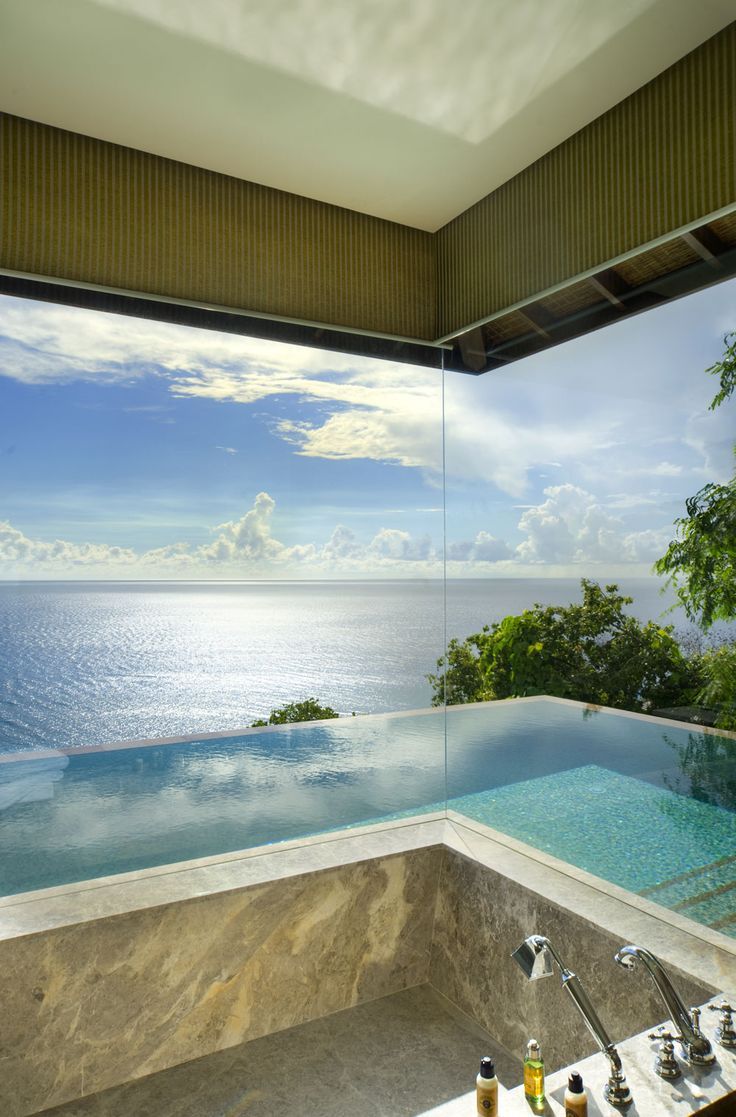 When a powder room beautifully blurs the line between the indoors and the outdoors, design perfection is achieved! This villa bathroom is from Cambodia's first private island luxury development. Learn more at The Wall Street Journal: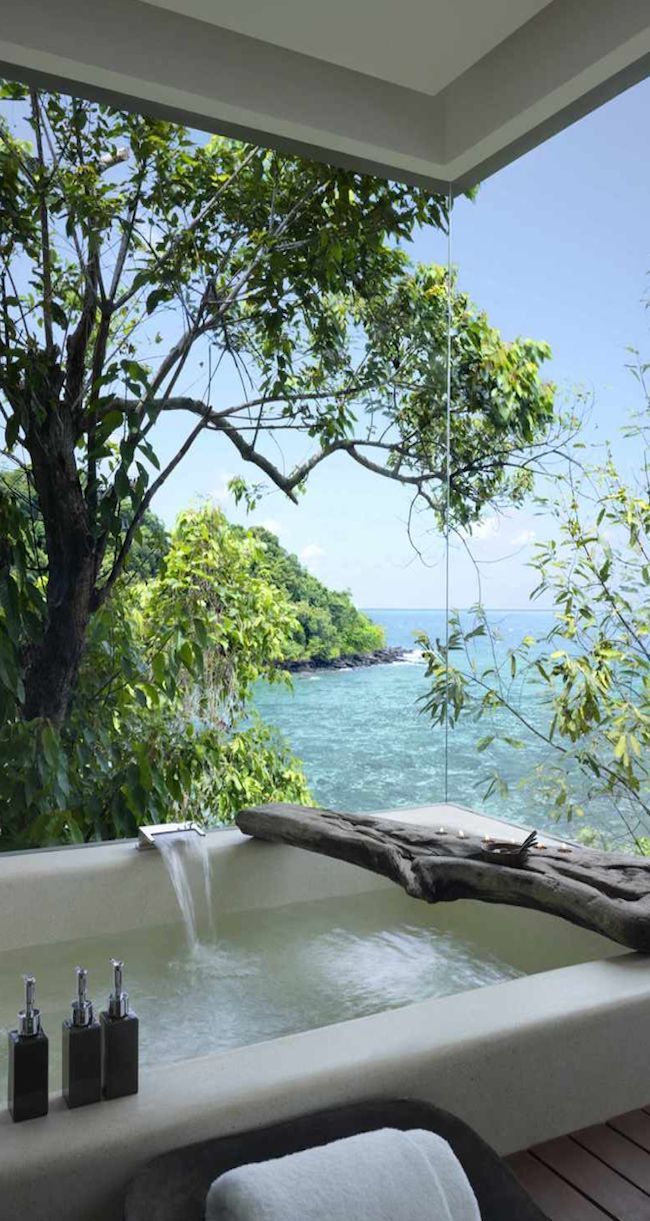 City Retreats
If you live in the middle of the city, you might think the hustle and bustle of urban life is the last thing you want to view from the comfort of the shower! But there's something peaceful about watching from a distance and knowing that you're comfy and relaxed from your powder room haven. [from Concreteworks East]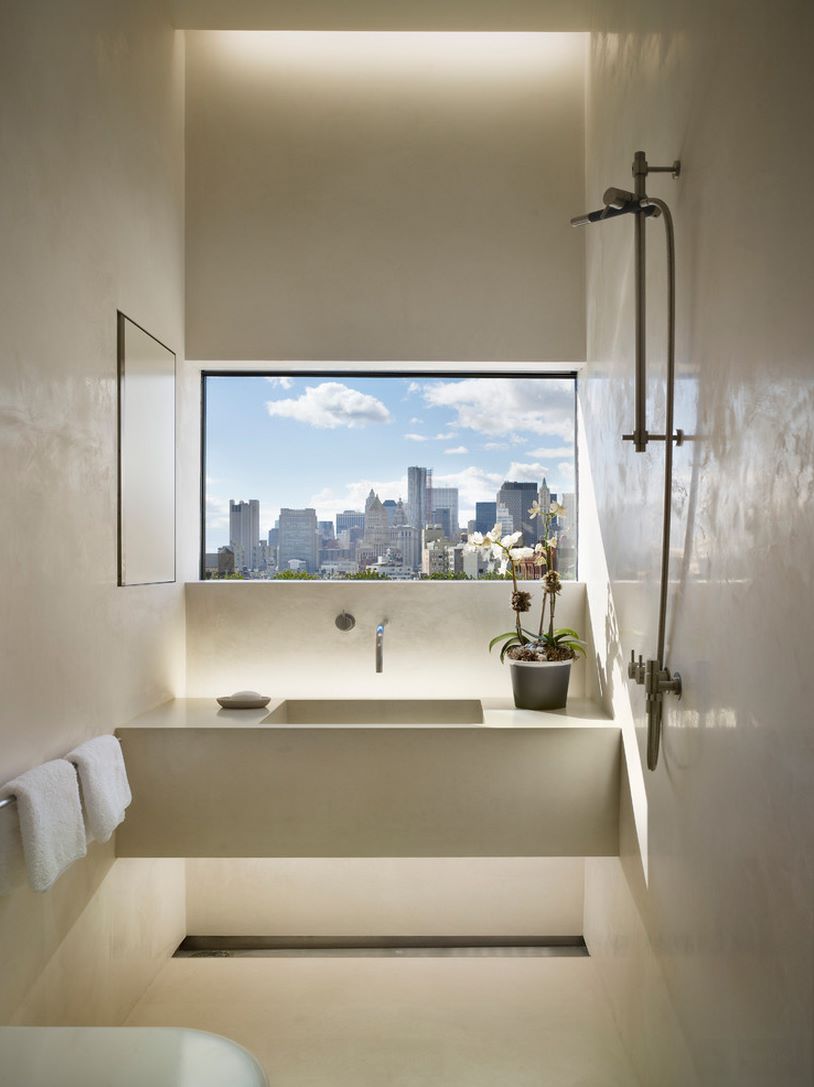 This just might be our favorite powder room space in today's post. Why? Because it's hard not to completely relax when a powder room visually reminds you to take time and unwind in the middle of a busy day. The word awaits outside, but right now the sky is dim and the real party is in the bathtub! And it's a chill one. [Photo by Peter A. Sellar]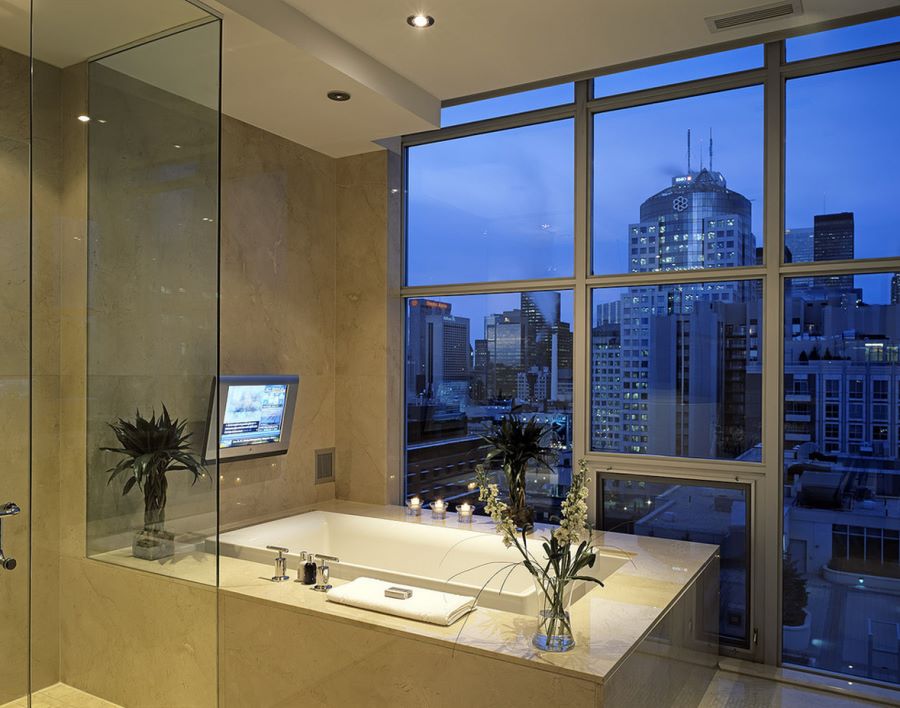 And you can't beat a bath after dark, especially when the tub overlooks the twinkling lights of the city. Champagne and candles are optional. [from Valkyrie 3D Visualization Studio]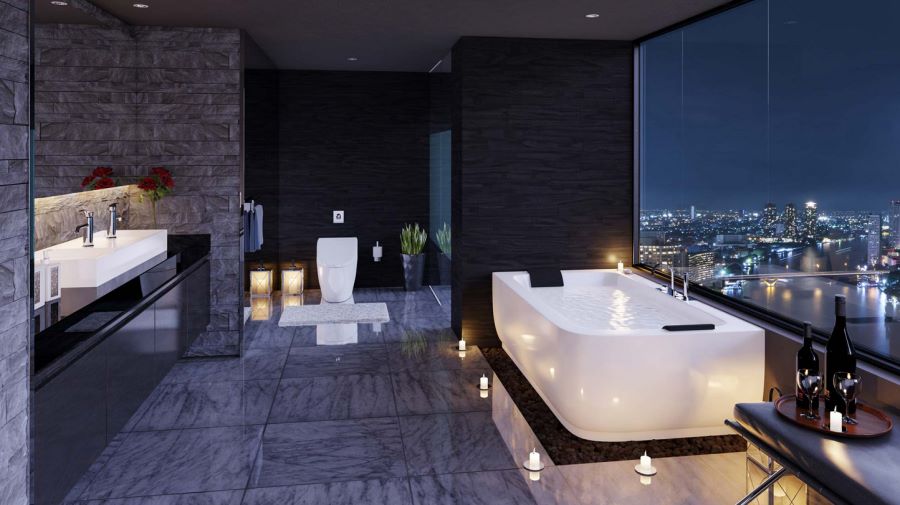 Create Your Own View
Feeling rejuvenated? If you're wishing you could enjoy a beautiful view from your powder room, don't throw in the towel just yet! If your bathroom has a window but there's a wall or fence outside rather than an ocean or a cityscape, you can create your own view with the help of some strategically placed greenery. [Rio de Janeiro bathroom built by Progetto, from Arch Daily]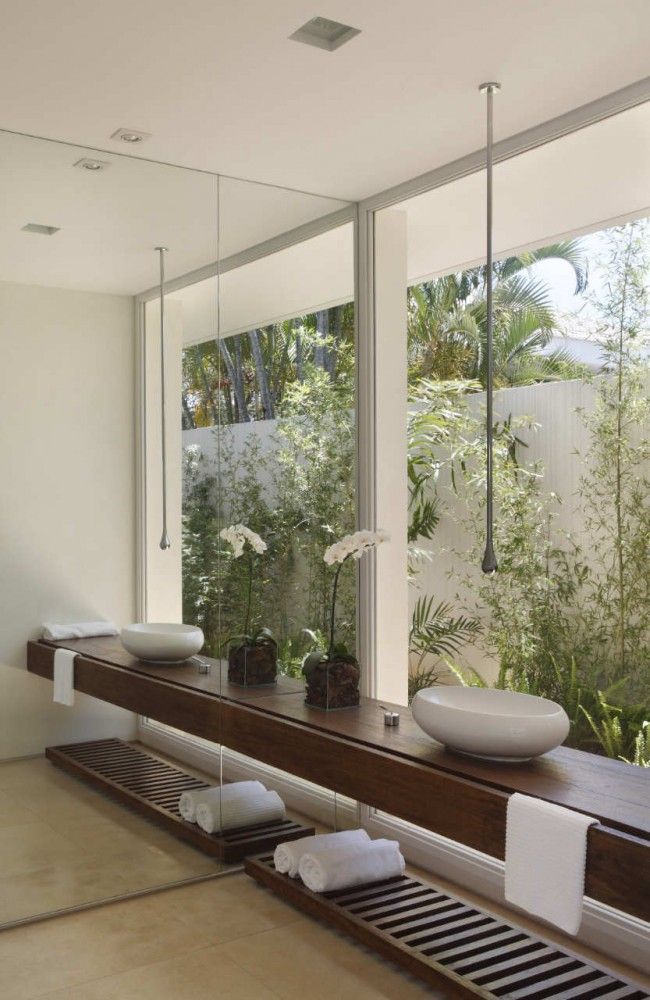 And if you don't have a window (or there's nothing much to see through the glass), try purchasing artwork that brings the view to you! This Nyc Times Square photo by Nina Papiorek is available through FineArtAmerica: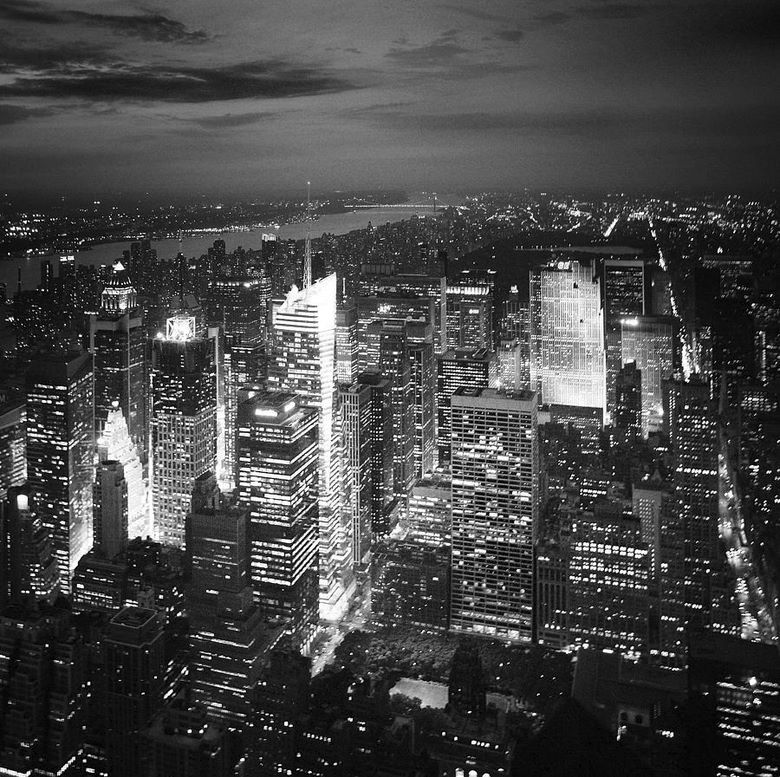 When it comes to artwork, select a piece with a look and feel that soothes you. If city buildings aren't your thing, try something that evokes the peaceful atmosphere of the coastline. Below we see "Ocean Storm" by Katherine Gendreau, available through UGallery: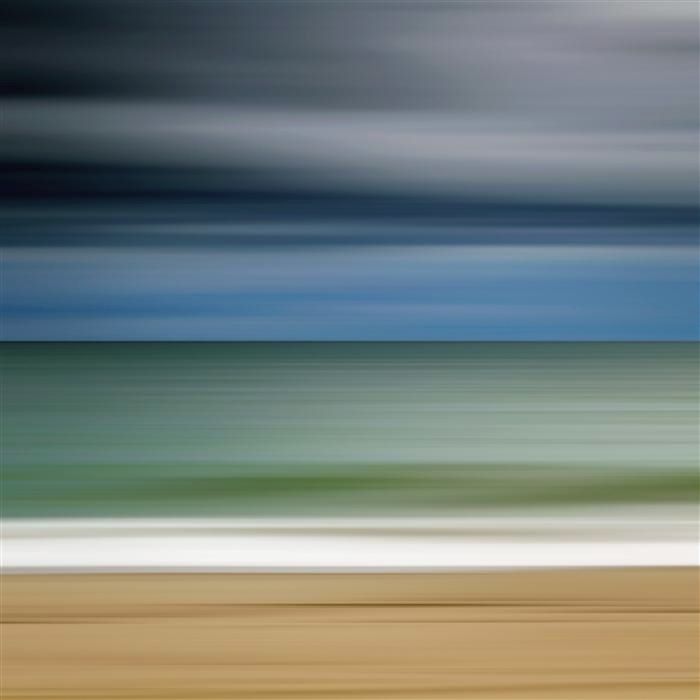 Other ideas for setting a relaxing tone in your powder room: rolled plush white towels, greenery in planters or vases, and beautiful bath products. Remember, less is more. Now we want to know: what was your favorite powder room featured today?! Share your thoughts by leaving a comment below…
Liked the story? Share it with friends.