If you're going for an upscale look in the nursery, today's post is for you! We've rounded up 20 high-end furniture finds and included helpful links if you feel like doing some serious shopping. But if you're mostly in it for the design inspiration, you'll love the beautifully decorated nurseries below, and it never hurts to revel in the beauty of a thoughtfully designed crib, dresser or glider. Enjoy…
A Touch of Glam
We begin with glamorous furniture finds for the modern nursery. The Vanderbilt Dresser from DwellStudio evokes Hollywood Regency style with its raised molding and decadent brass drop pulls: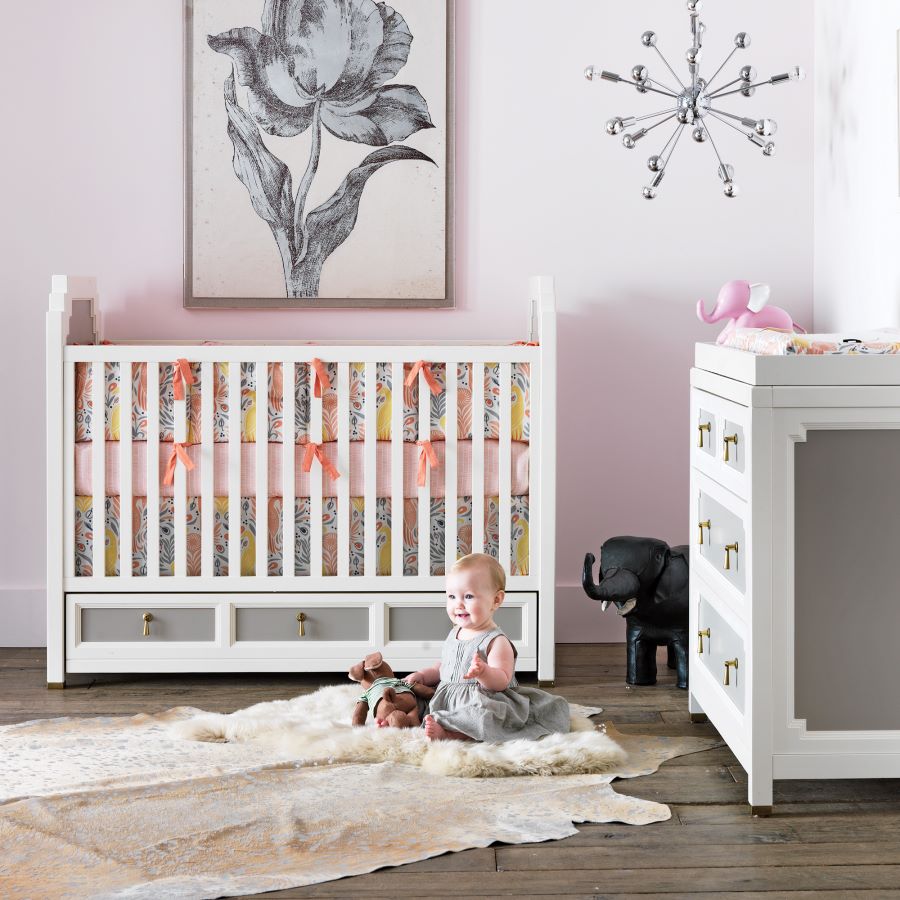 The same pulls can be found on the Vanderbilt Convertible Crib, shown in the images above and below.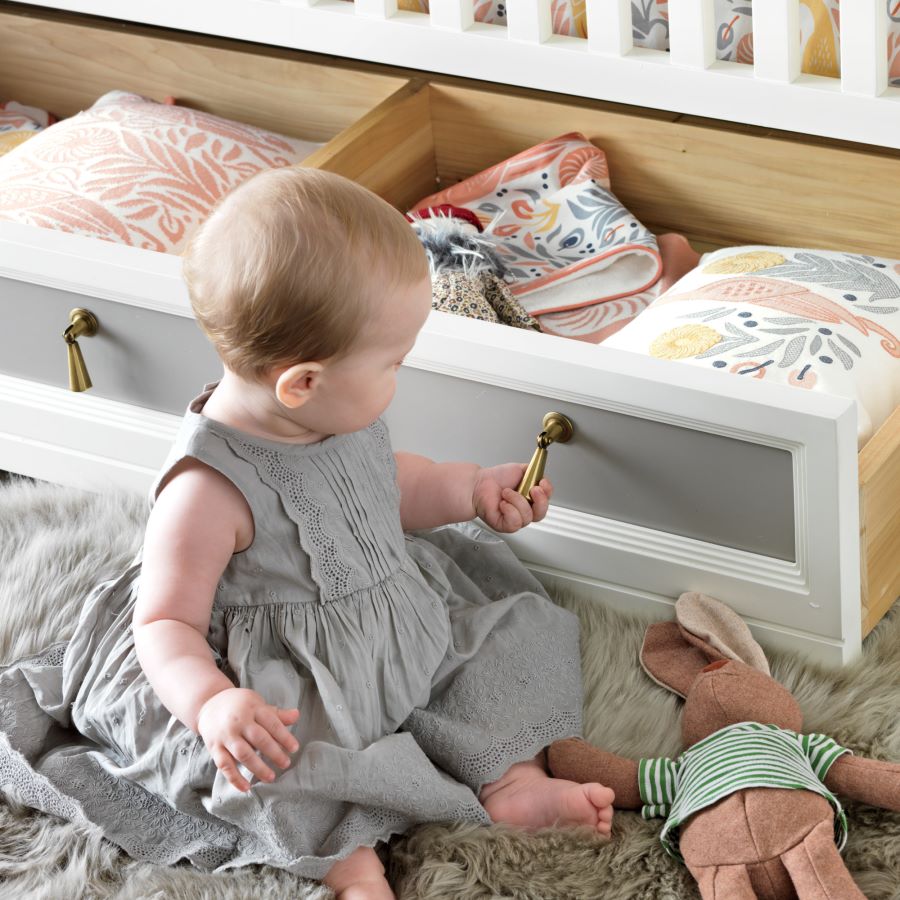 Can you spot the Beverly 2 Door Bookcase from 2 Sweet Sisters in the chic nursery below? Once again, we see the powerful contrast and tailored flair created by raised molding: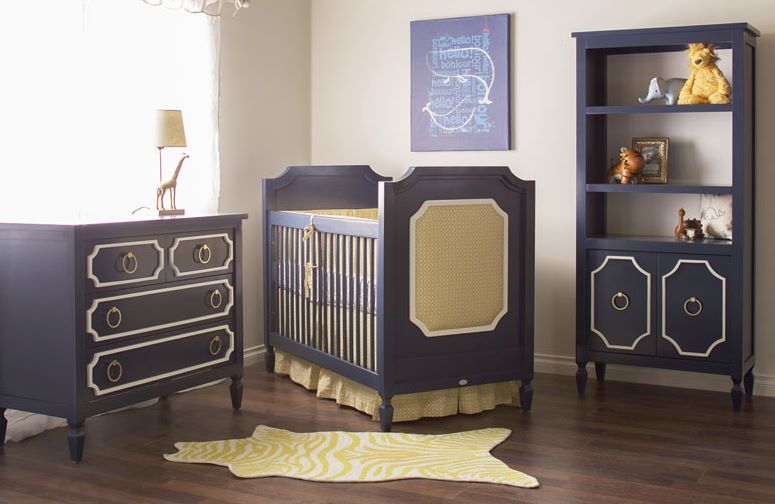 For a tasteful dose of color, opt for a crib in bold coral. This Cape Cod Smooth Panel Conversion Crib from 2 Sweet Sisters will grow and change as your child grows and changes, thanks to conversion kits that transform it from a crib into two different bed options: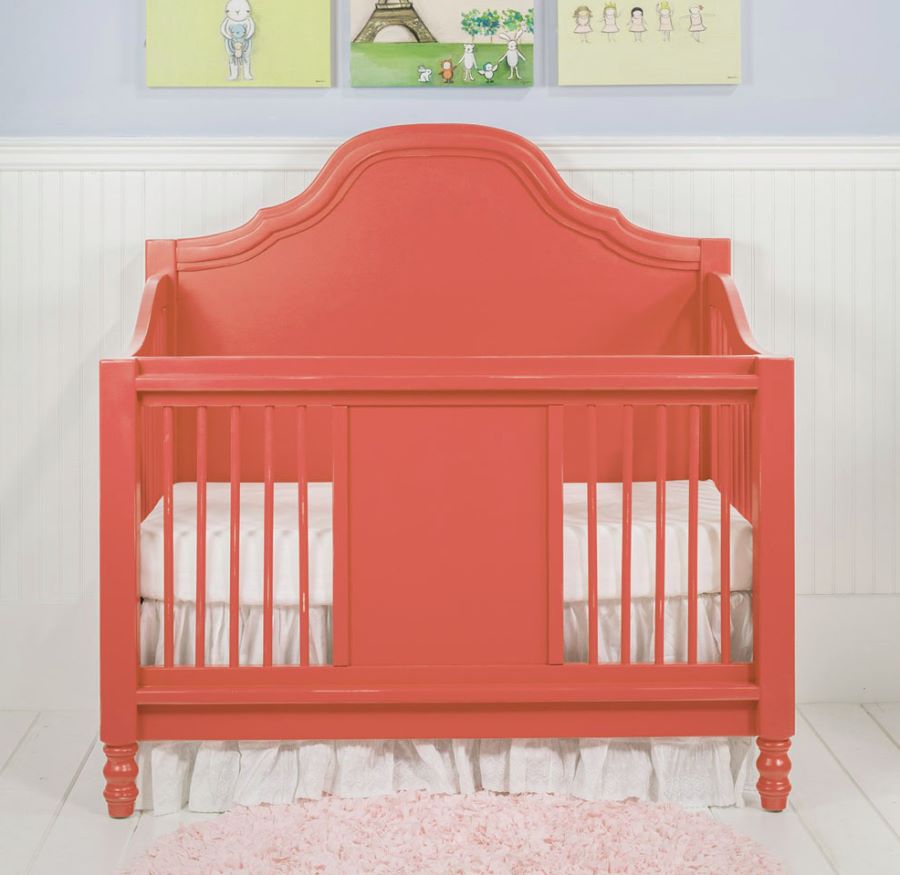 Some of today's most luxurious nursery furniture finds involve upholstery, and this French Upholstered Wing Crib from RH Baby & Child does not disappoint. Inspired by a classic 19th-century French wing chair, this standout crib is a cozy, stylish haven for your little one:
Bring on the tufts! Upholstery is given a cushy, luxe feel in this Chesterfield Tufted Crib from RH Baby & Child. It's like a Chesterfield sofa for the nursery!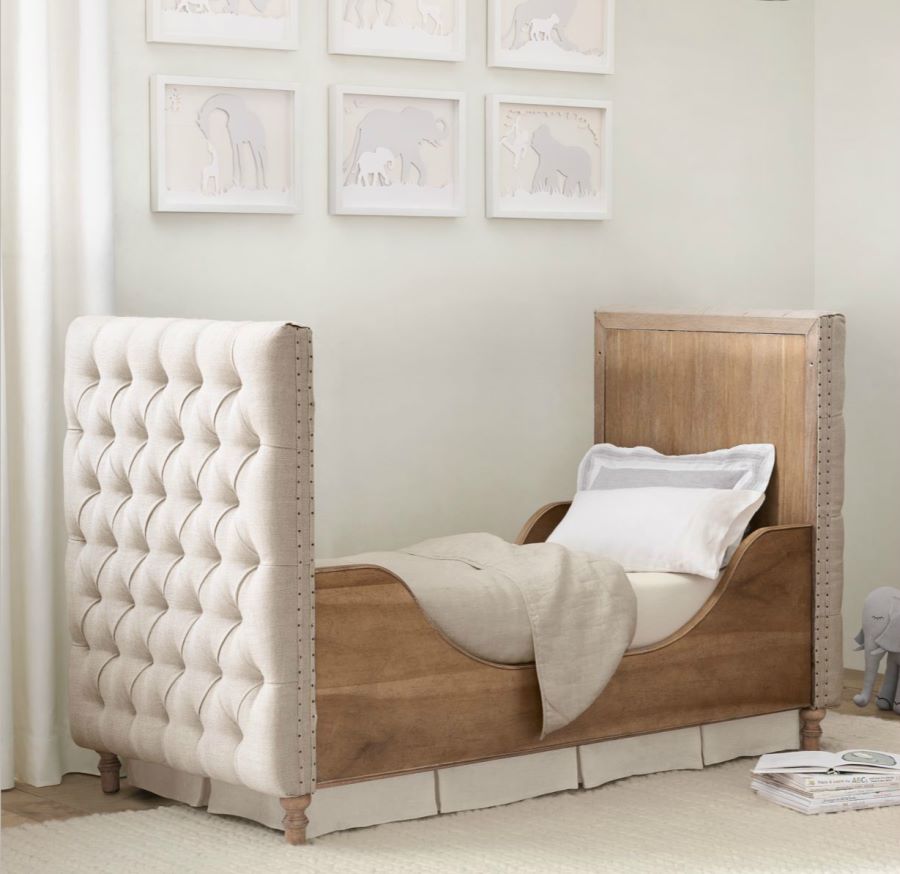 For a darker, more modern look, check out the Bowery Crib from The Land of Nod, a piece inspired by classic menswear. A stained black finish enhances the contemporary outline of this furnishing: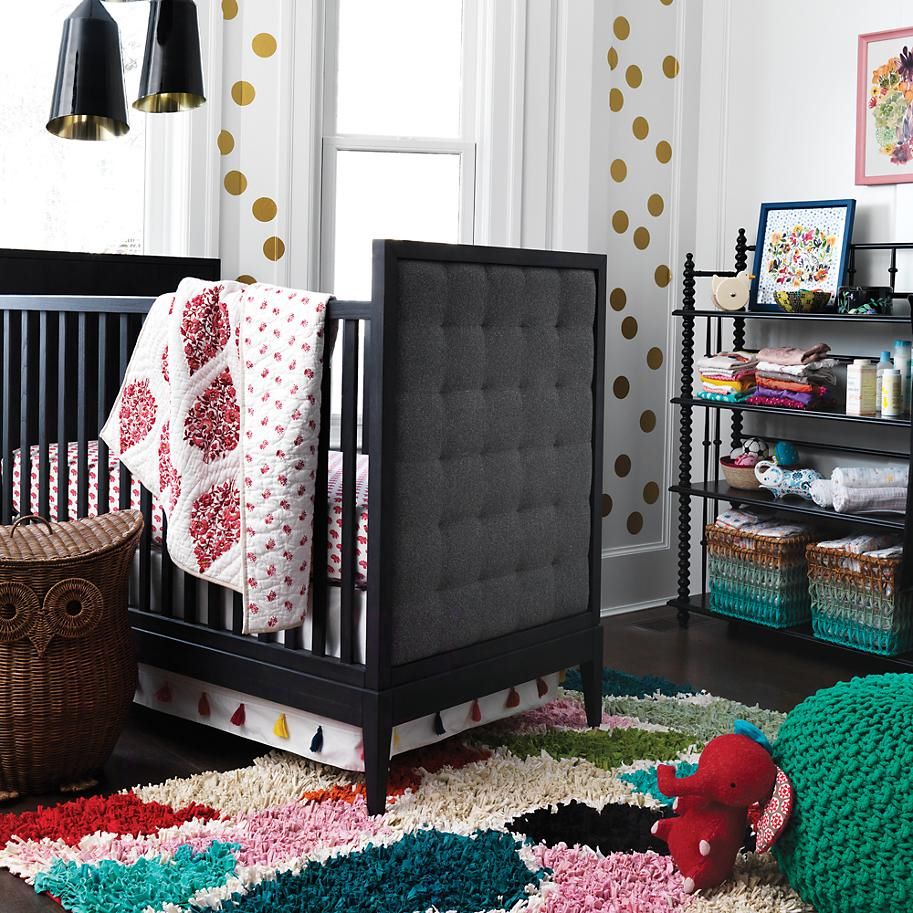 From tufted cribs to tufted seating, this Empire Rocker by Nurseryworks from Rosenberry Rooms is crafted from 100% woven natural fibers. Ash hardwood legs are a lovely contrast to the light upholstery: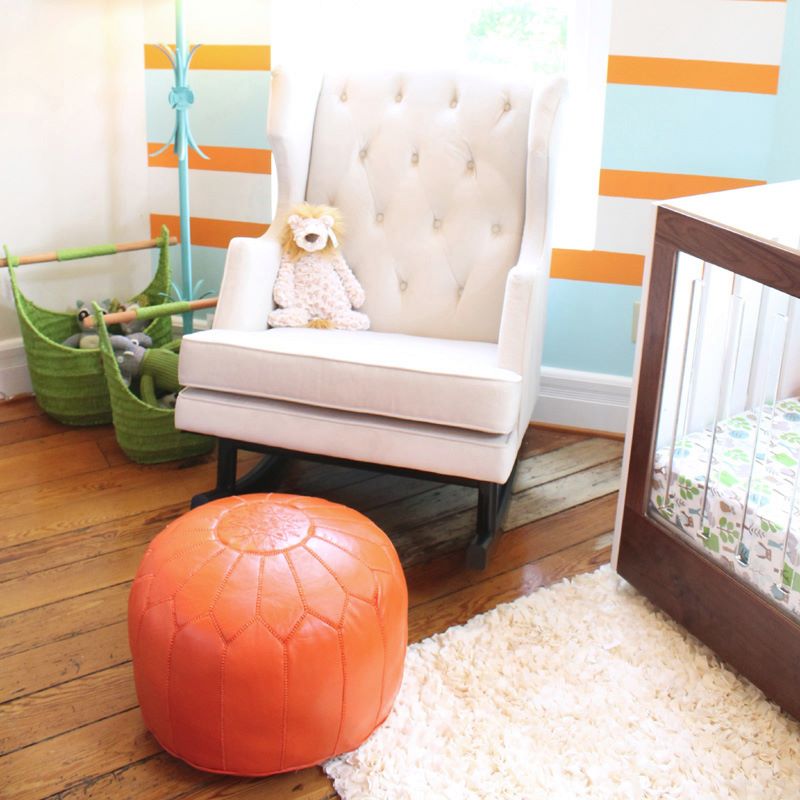 We couldn't bring this glam section of the post to a close without featuring at least one piece of mirrored furniture. Say hello to the Wide Mirrored Dresser from RH Baby & Child, which is the perfect blend of weathered wood and mirrored panels: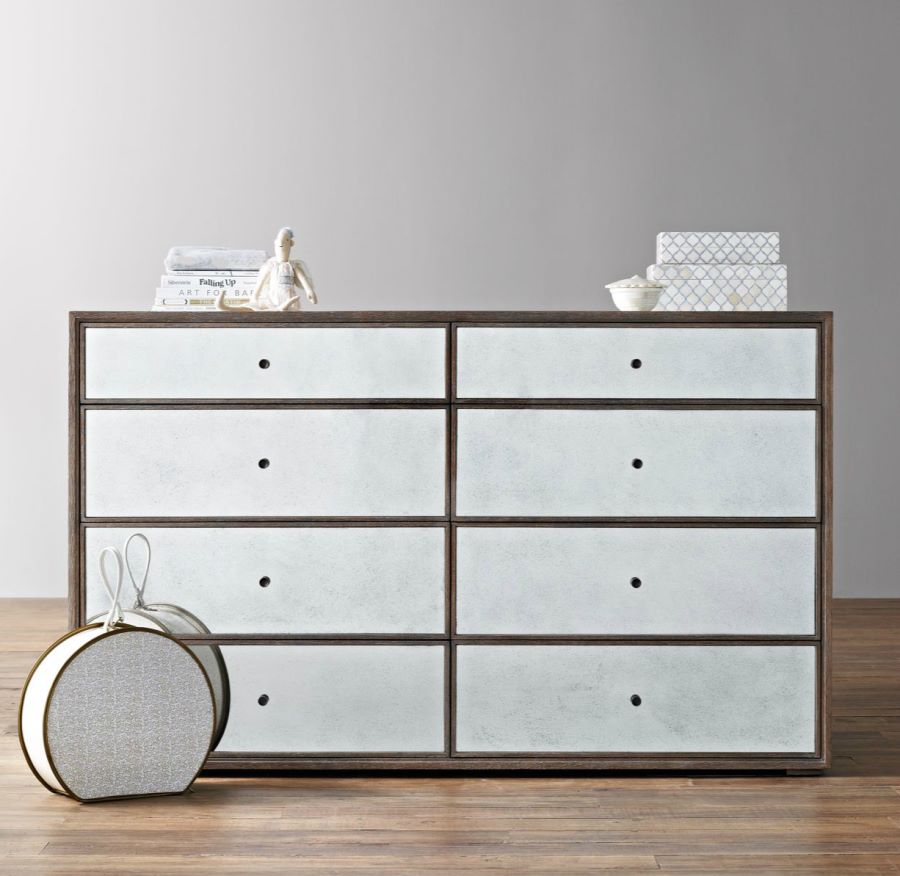 Modern Marvels
We now shift from the glam to the striking and modern, starting with the Nola Glider from Oilo (available at Rosenberry Rooms). With a classic form that includes plenty of comfort, this faux leather piece is available in two neutral colors. Plus, it's water- and stain-resistant!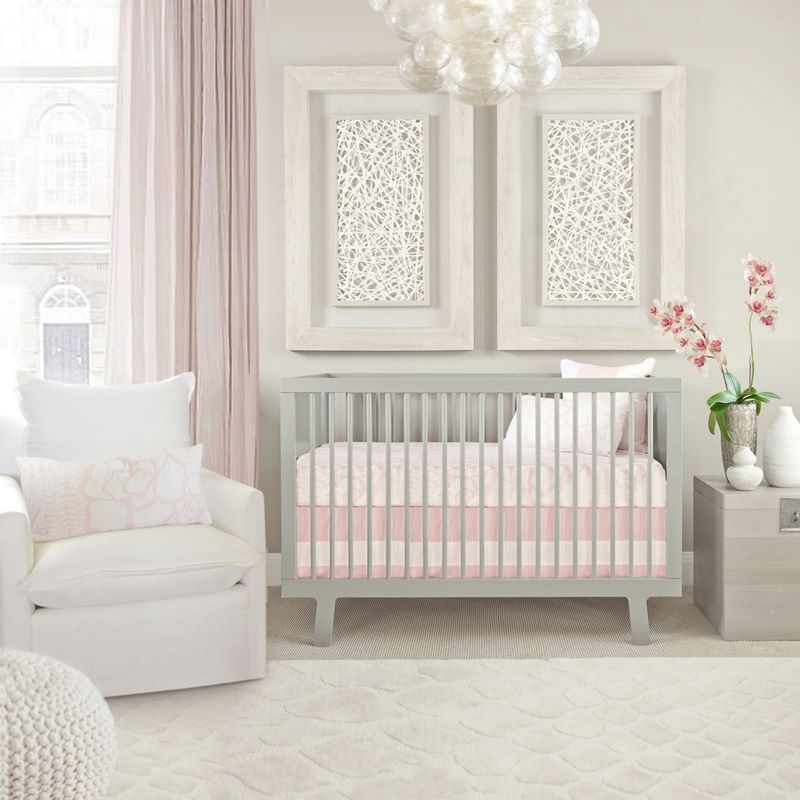 Also available through Rosenberry Rooms, The Eddy Rocker by ducduc is crafted from 100% hardwood and is available in a range of fabrics so you can pick just the right look for your modern nursery.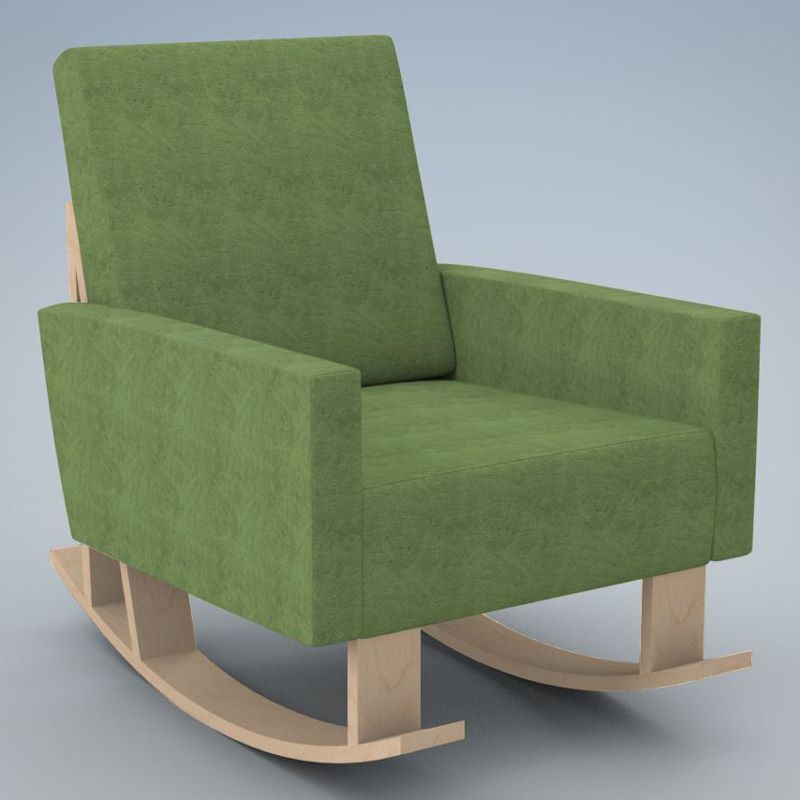 The Collins Rocker is yet another fabulous find from Rosenberry Rooms, and below we see a patterned upholstery fabric that manages to be bold yet neutral at the same time. In addition to the sleek silhouette, you've gotta love the solid wood frame of the piece: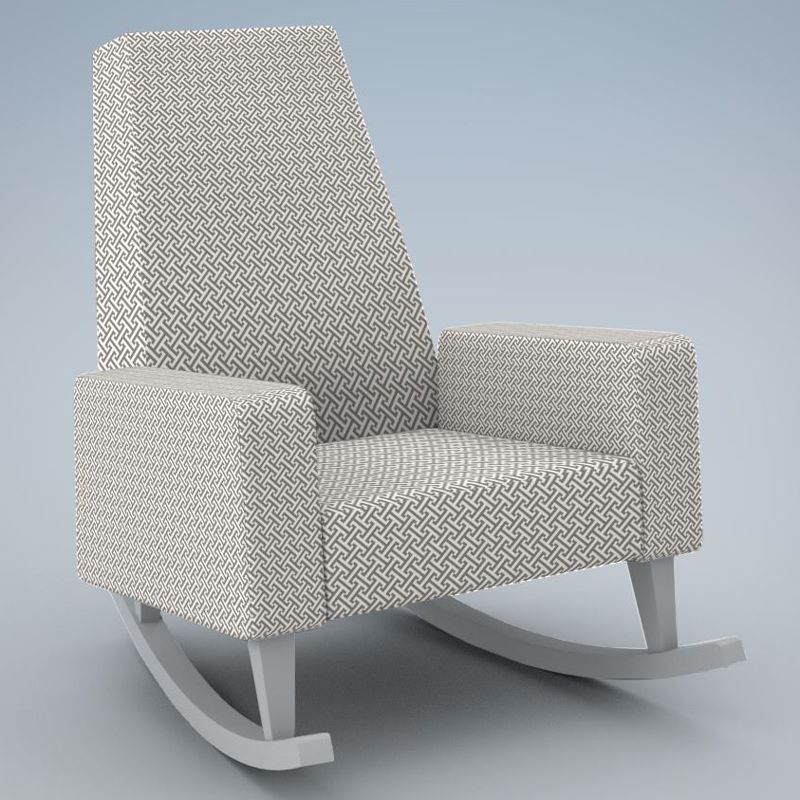 When a white crib meets an chocolate-toned base, you have a lovely marriage of dark and light. And that's what the pine Modern Snow White Convertible Island Crib with Espresso Base from Rosenberry Rooms is all about! Plus, it can convert to both a toddler bed and a toddler daybed with the optional available kits.
Poplar wood is the material of choice for this Mid-Century French White Convertible Crib from DwellStudio. Tapered legs complete the retro look: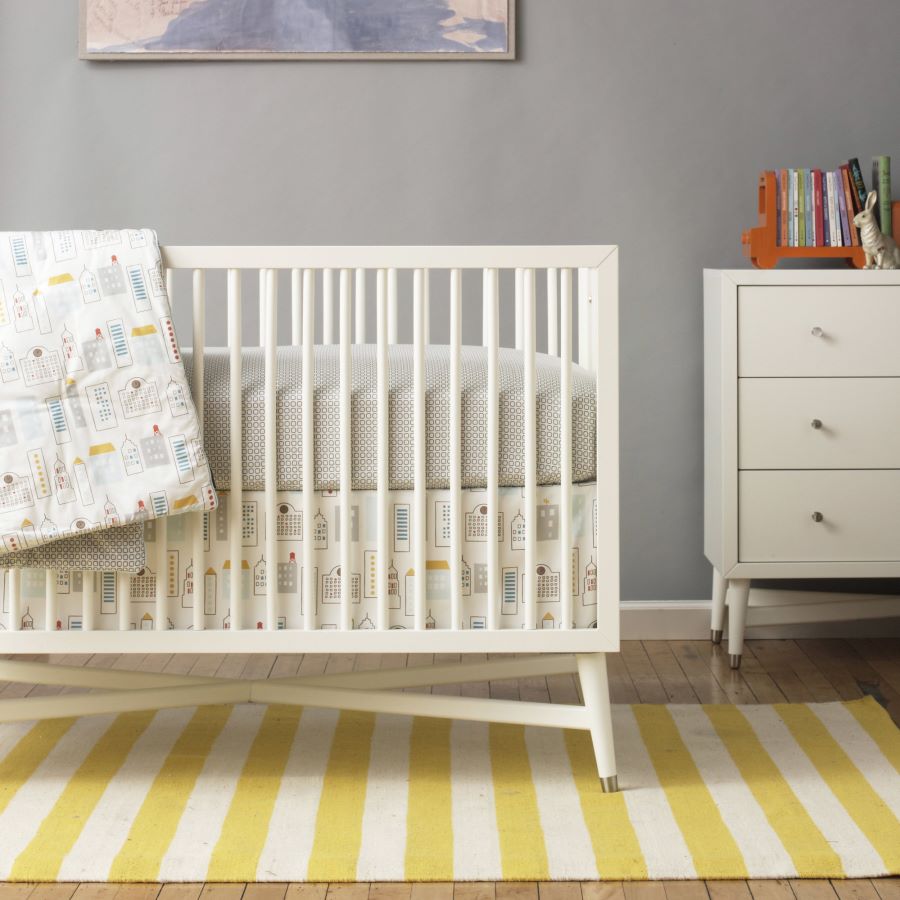 The Austin Convertible Crib by ducduc (available through Rosenberry Rooms) is a clean-lined piece crafted from 100% hardwood. From the balanced form to the eye-catching legs, this crib manages to be strong yet chill at the same time: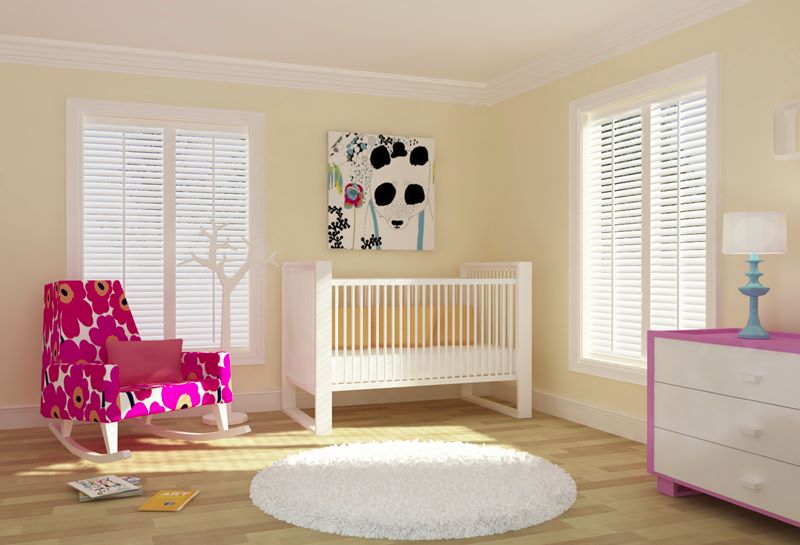 If you're looking for a modern piece with an earthy touch, check out the Callum Crib from RH Baby & Child, which is finished by hand to create a chic, lived-in look: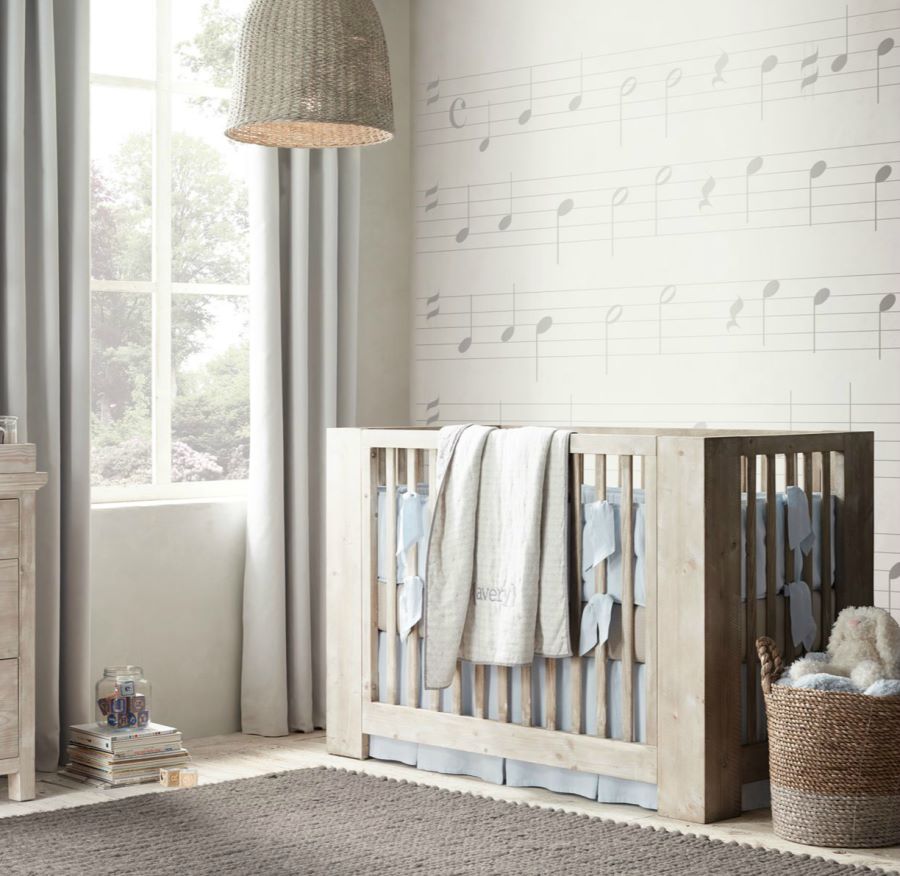 The award-winning Caravan Crib from Kalon is one of today's most popular nursery furniture finds for design lovers. Evoking the whimsy of a circus wagon, the piece is available in a range of rail colors. Not to mention, it can convert to a toddler bed as your child's sleeping needs change.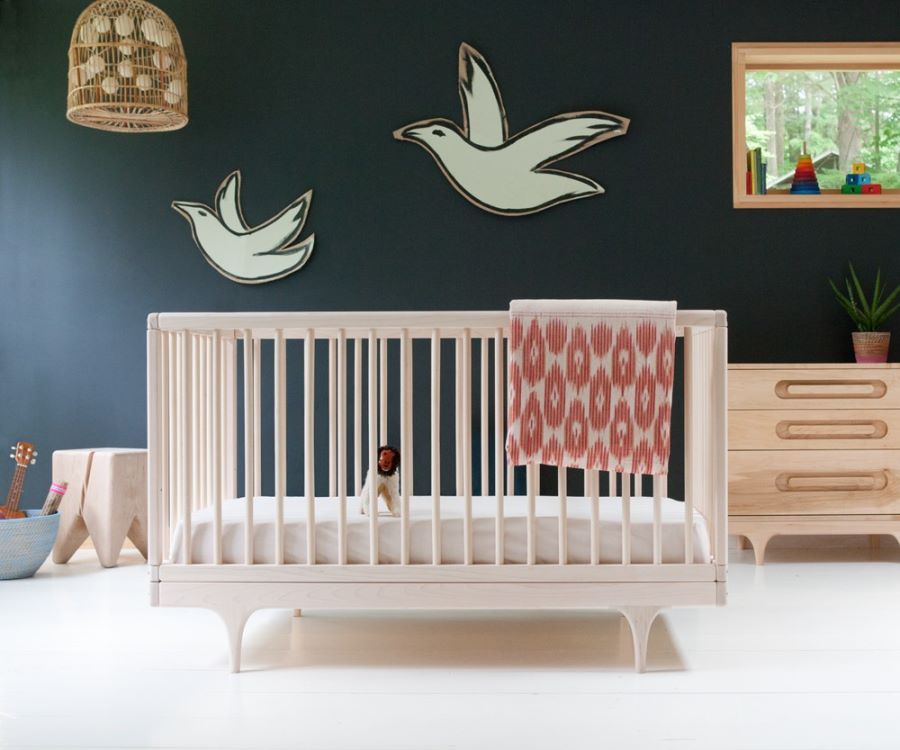 Pair the Caravan Crib with the Caravan Dresser, made from solid maple (shown below):
Leather pulls give the Harrison Dresser true personality. Finish off the piece with the Harrison Dresser Topper and enjoy a clean-lined changing table/dresser with the ability to hold a range of items.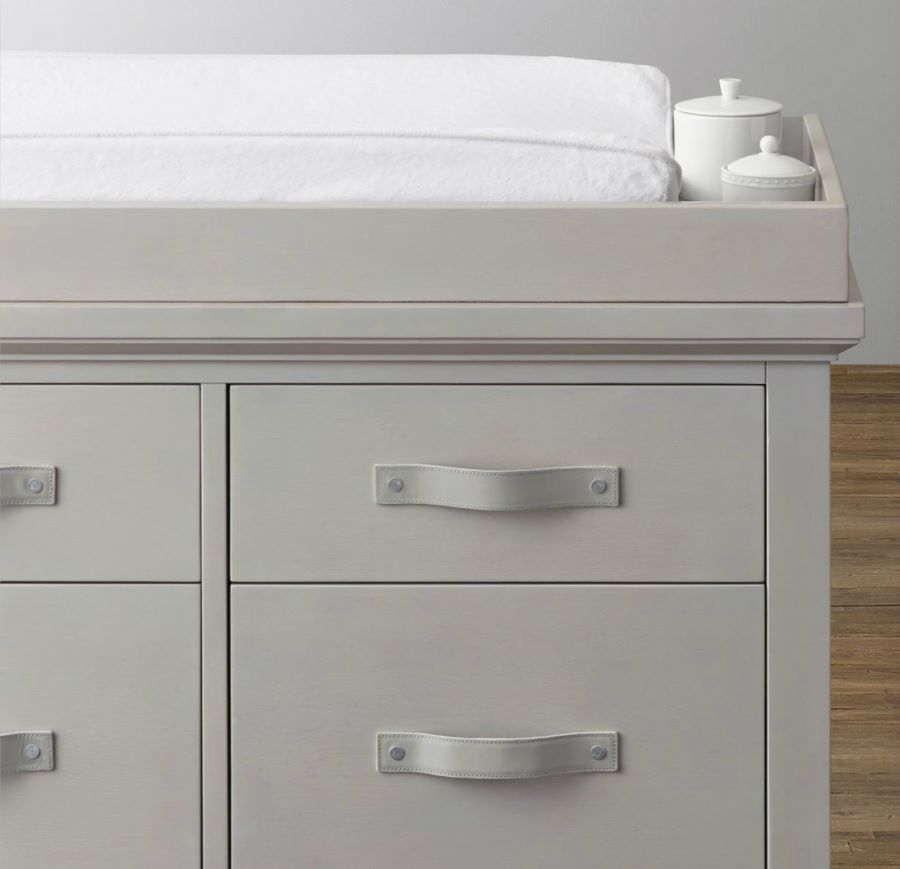 Don't forget the beauty of an unforgettable bookcase! This Mid-Century French White Bookcase from DwellStudio features an x-base and cone-shaped legs that evoke the style and flair of Mid-century design: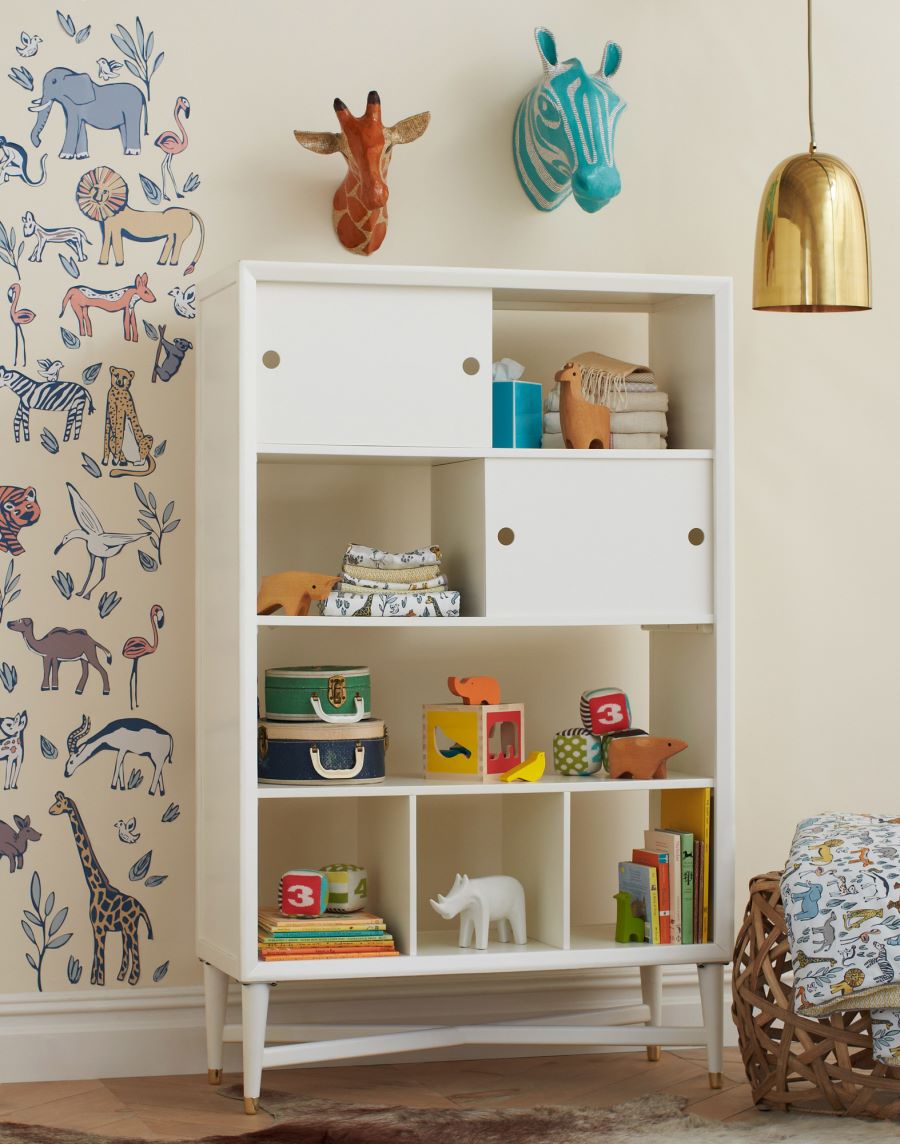 Did any of today's featured finds catch your eye? Share your thoughts by leaving a comment below…