Are you in the middle of a dining room makeover? So am I! Today's post is dedicated to dining room decor that gets noticed. It's not about how much money or time you spend on your dining room design project. It's about creative thinking and choosing pieces that make a statement. Here are some simple ideas, plus a slew of pictures to inspire you in your endeavor. Enjoy!
A Statement Wall
The first design idea of the day is a statement wall, which can range from hanging a gallery of photos to painting a design on the wall itself. Would you consider a geo pattern created with paint or stain? Some painter's tape could help achieve the precise angular look below. [photo from CB2]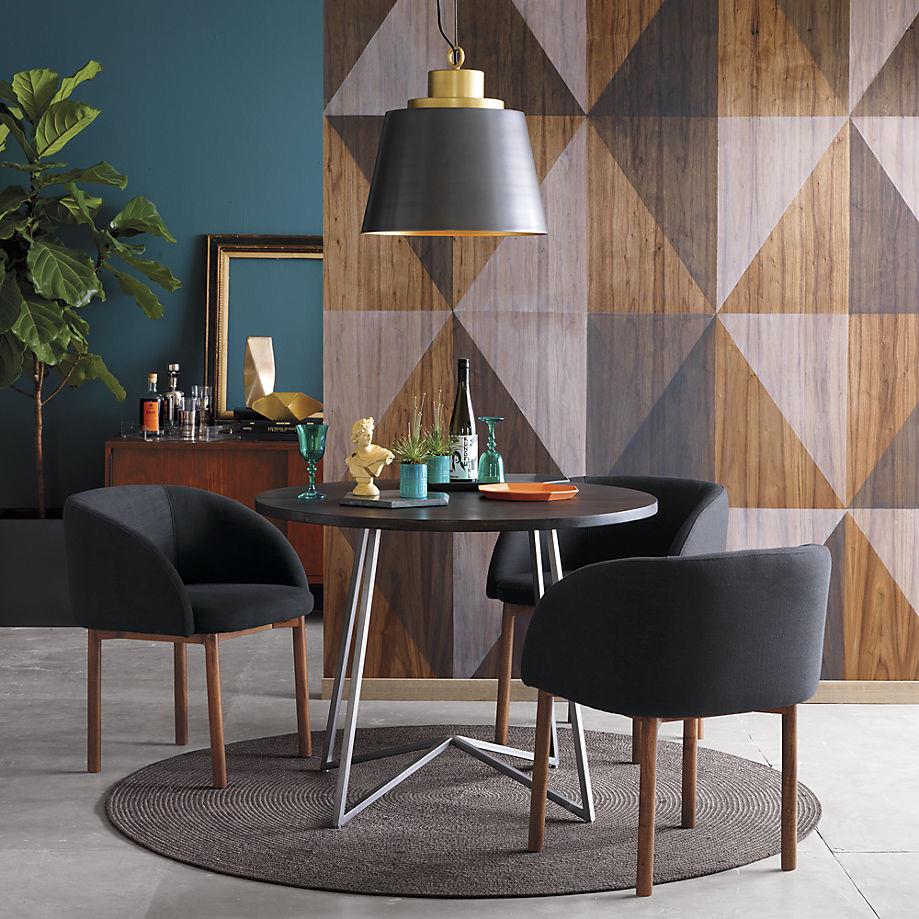 If you don't want to paint directly on the wall, you could hang a series of panels or large canvases painted in an abstract brushstroke-style pattern, as shown below in this dining room from West Elm: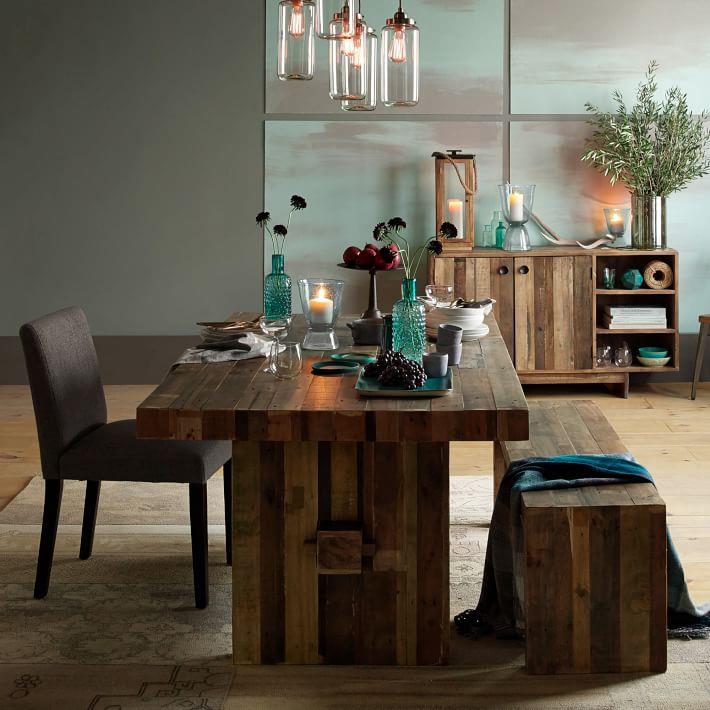 Sometimes one large framed piece is enough, especially if the artwork is as eye-catching as the selection in the next image. Let's hear it for the power of black and white! You're looking at the dining room of fashiontoast's Rumi Neely, featured at Camille Styles: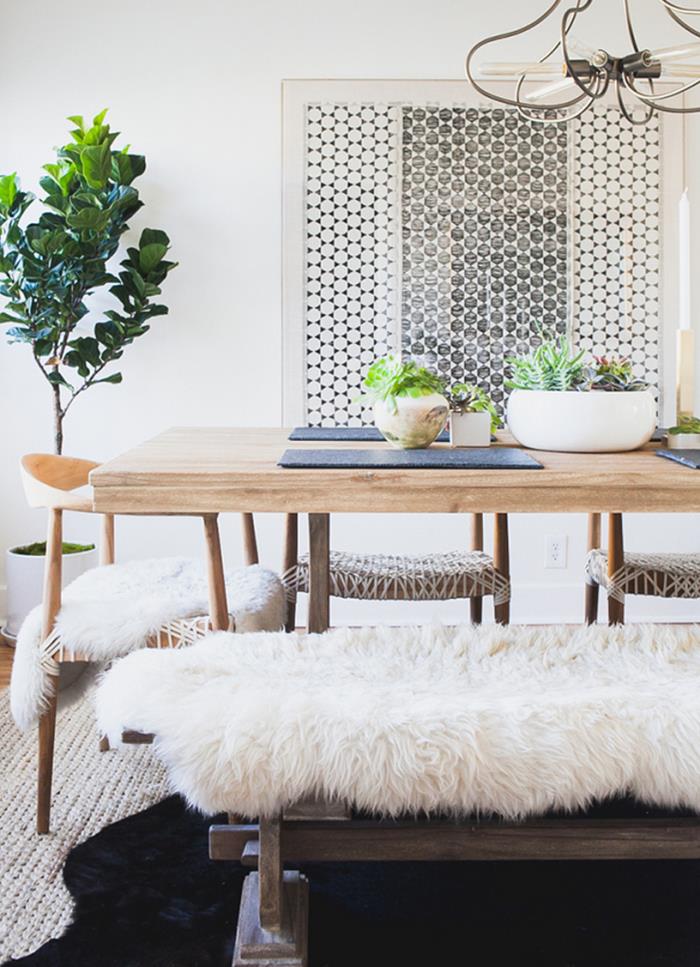 In my dining room, I've created a statement wall using brass cubes from CB2. Don't forget that sculptural wall art is a wonderful way to add interest. We now move from the walls to the floor…
A Bold Rug
A patterned rug has the power to anchor the dining room, serving as a strong focal point and setting the stage for a space that makes an impact. Below we see the dining room of A Beautiful Mess blogger Elsie Larson. Go for bold color to create a vibrant space. The rug was an Etsy purchase: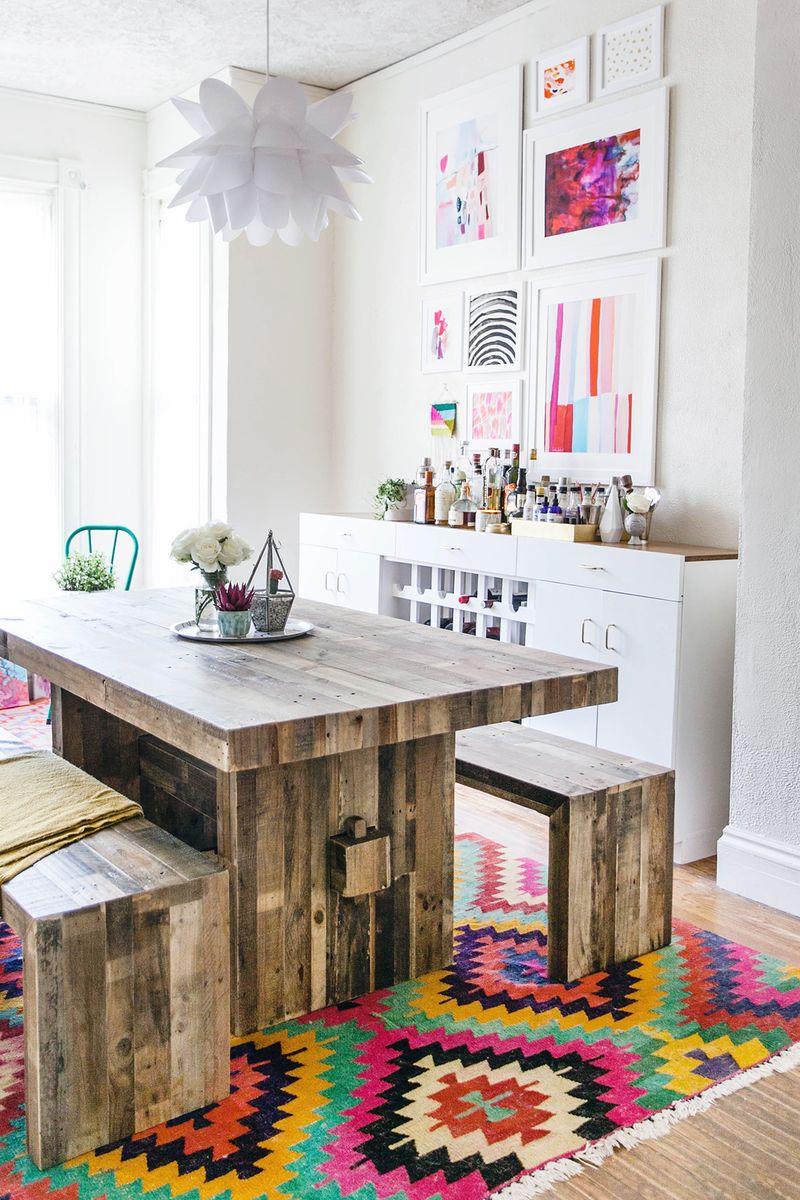 Jordan Reid of Ramshackle Glam incorporated the Painted Desert Rug from Lulu & Georgia into her new dining room, and its pattern is the perfect backdrop to her substantial furnishings. This is one eclectic room that gets noticed without hitting you over the head.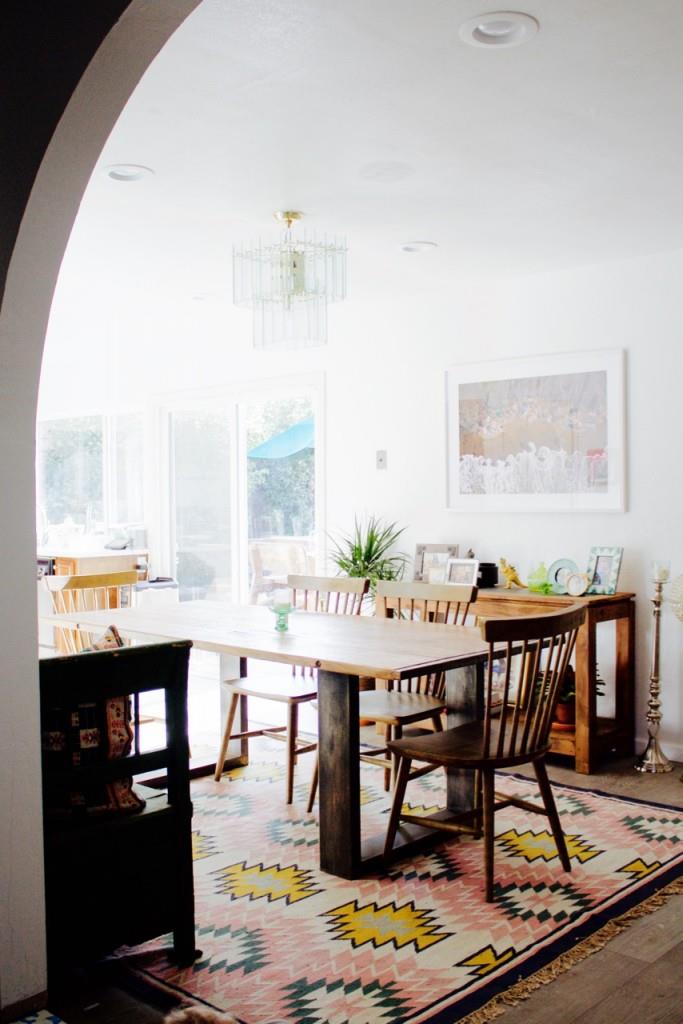 For a neutral approach, select a rug with colors such as grey and white, yet choose a powerful pattern such as stripes for a look that gets noticed. Below we see the Grey and Natural Bridget Kilim Flat Weave Rug from Jonathan Adler: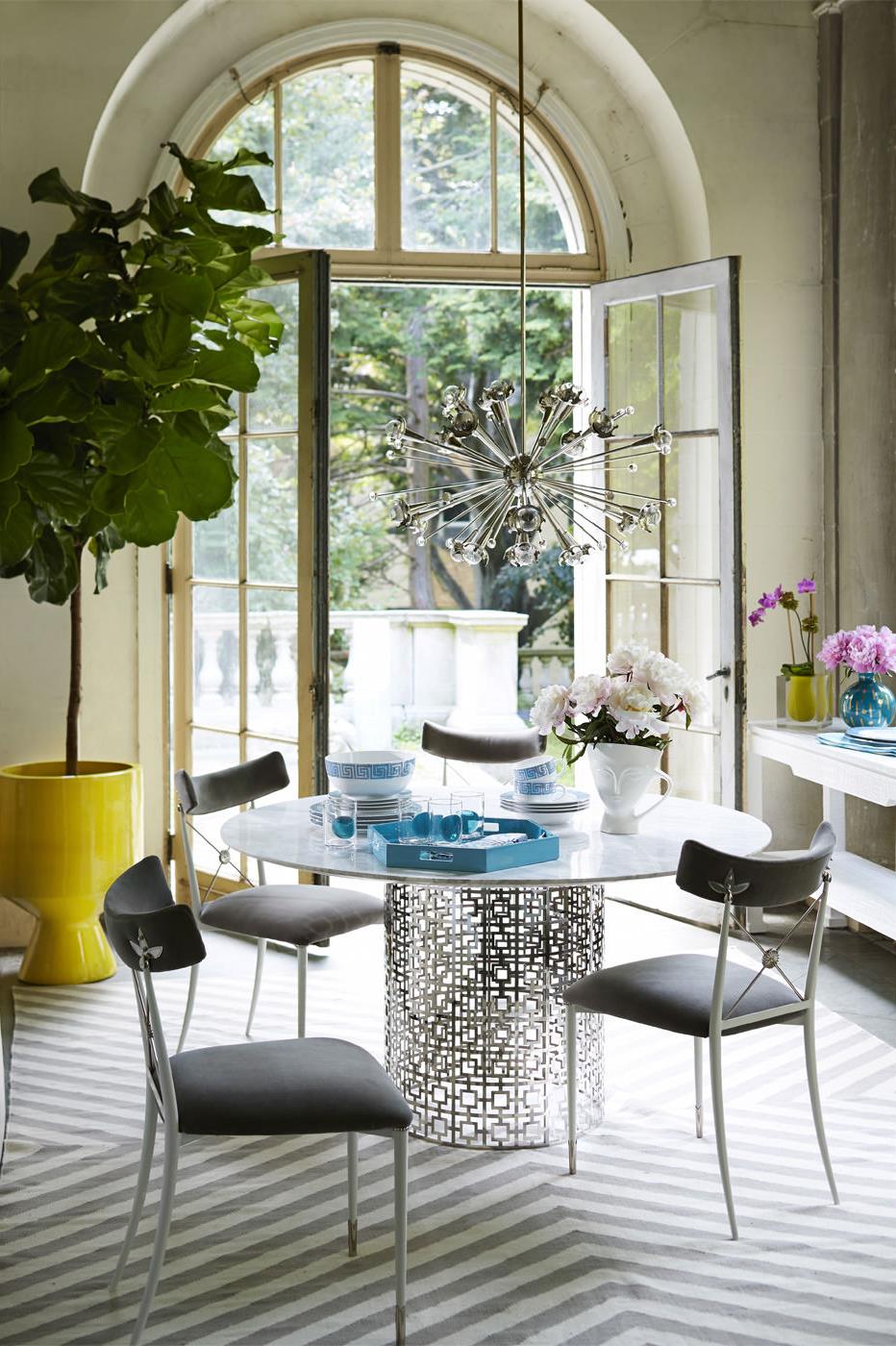 In my dining room, a Thomas Paul rug makes a patterned statement. This quality piece was a wedding present, and after 7 years of marriage it's still going strong. When it comes to rugs, if you invest in a quality piece, you will get a lot of mileage.
A Large Pendant Light
A striking pendant light takes the dining room to another level. It can also help clarify the design style you're going for. Geo pendants are a popular choice for modern dining spaces. The geometric pendant below graces the dining room of A House in the Hills blogger Sarah Yates Mora: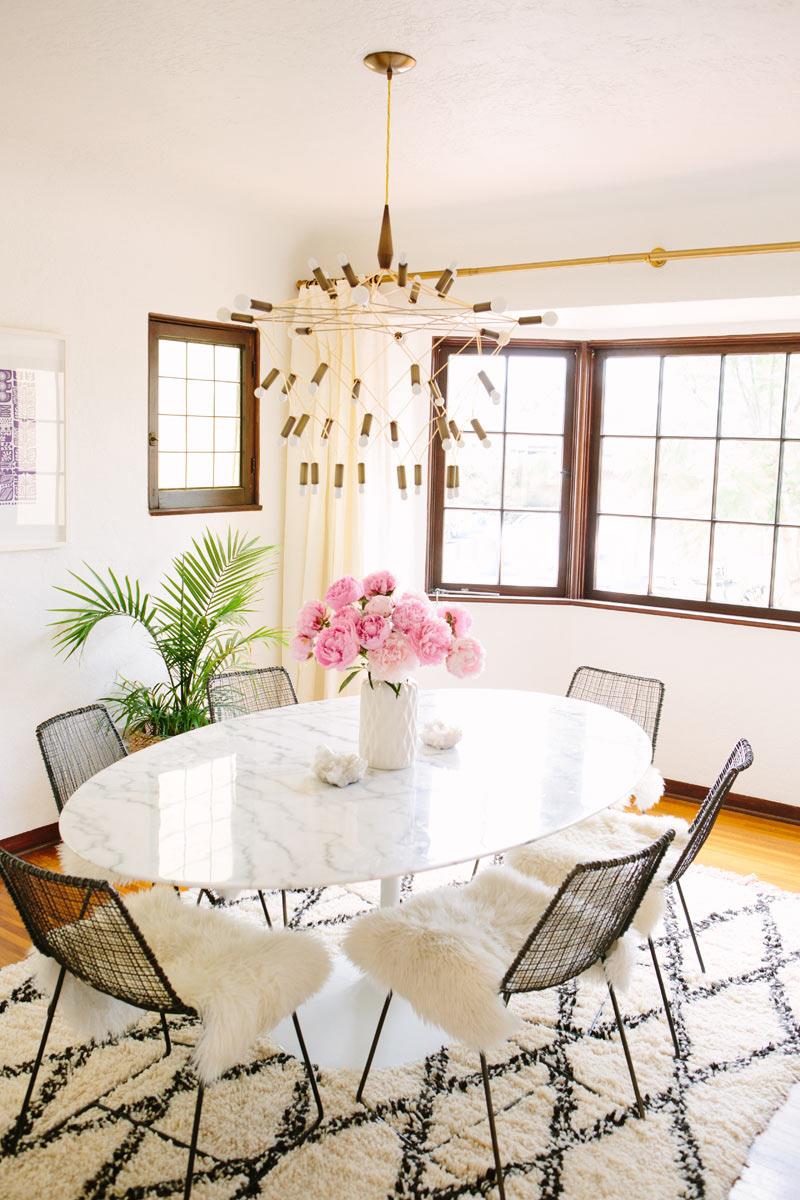 A brass pendant with retro style can create a sense of elegance and drama, especially when the walls of the dining room are painted a deep, rich color. This Jonathan Adler space does not disappoint: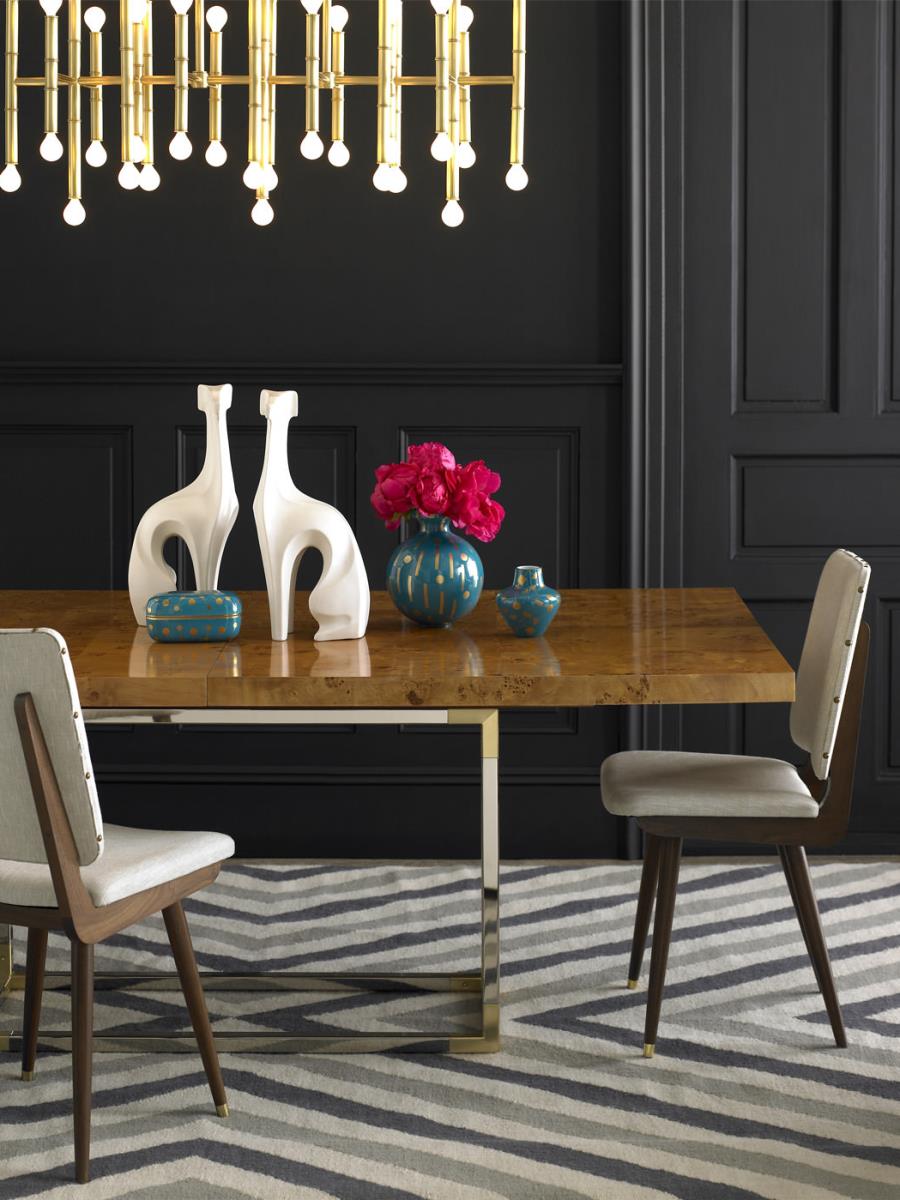 For a tropical touch, opt for a pendant light made from natural materials. This Kenaf Pendant Lamp from Anthropologie steals the show with its earthy look. Throw in an abundance of plants, and you have a breezy space where it's summer year round!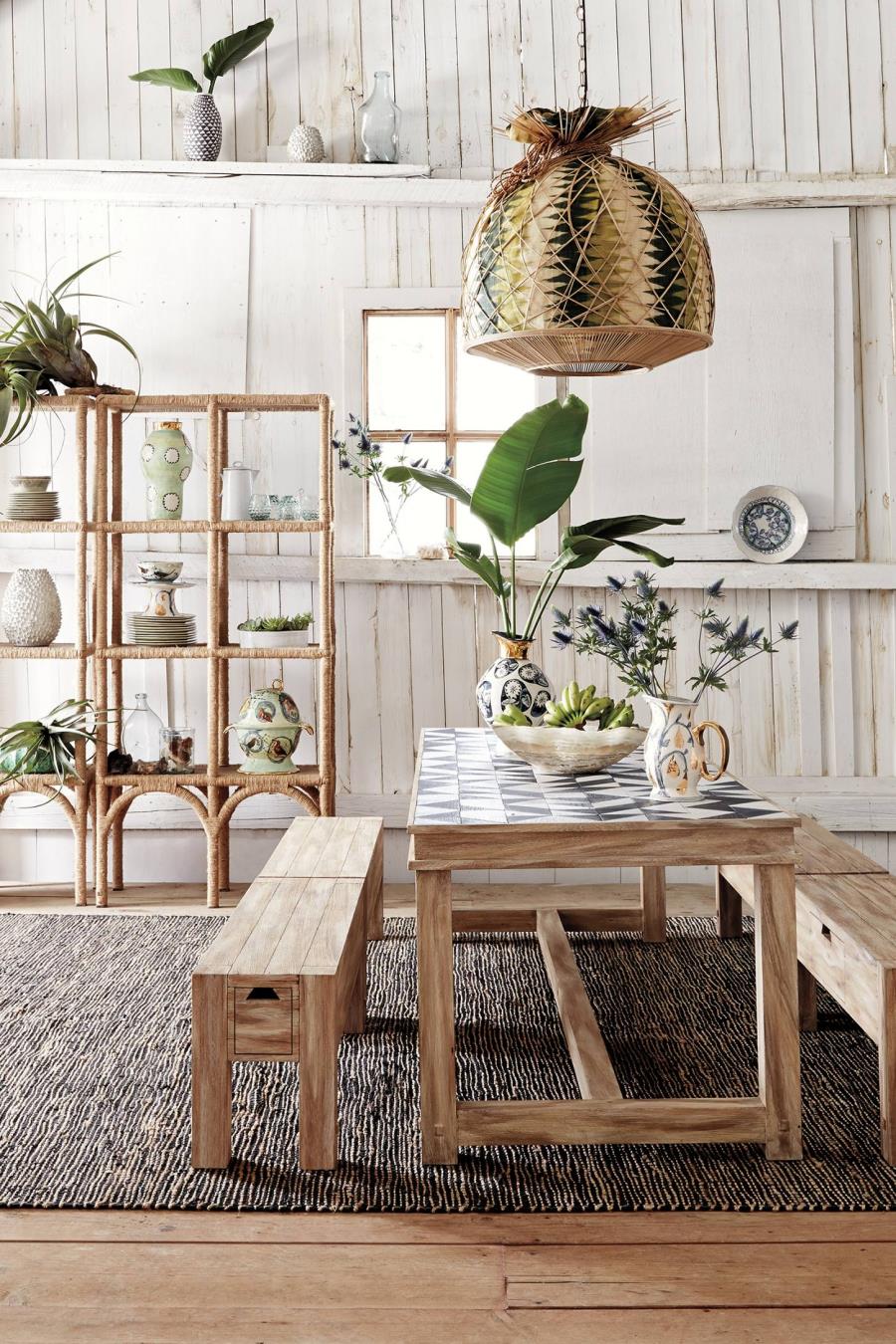 Purchasing a large pendant light was the best thing I did for my dining room when we moved into our home. We were on a very tight budget, but thanks to IKEA, we were able to get a substantial domed pendant light at a fabulous price!
Plants!
there's no denying that plants are some of the trendiest "icing on the cake" decorative statements you can purchase for your dining room. They have a way of pulling everything together! Choose a large potted plant for dramatic effect, as shown below [photo from CB2]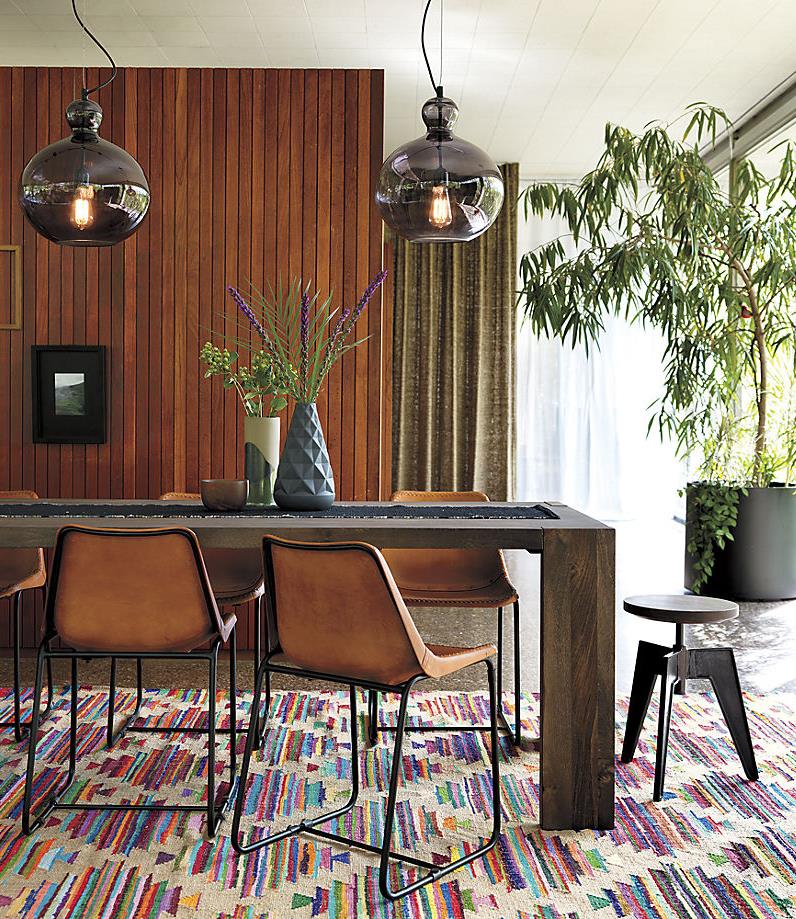 One of my favorite plant additions to the dining room comes in the form of tropical leaves. They have the potential to last for weeks and are affordably priced, so I never think twice about splurging on an extra-large leaf or two! [photo from West Elm]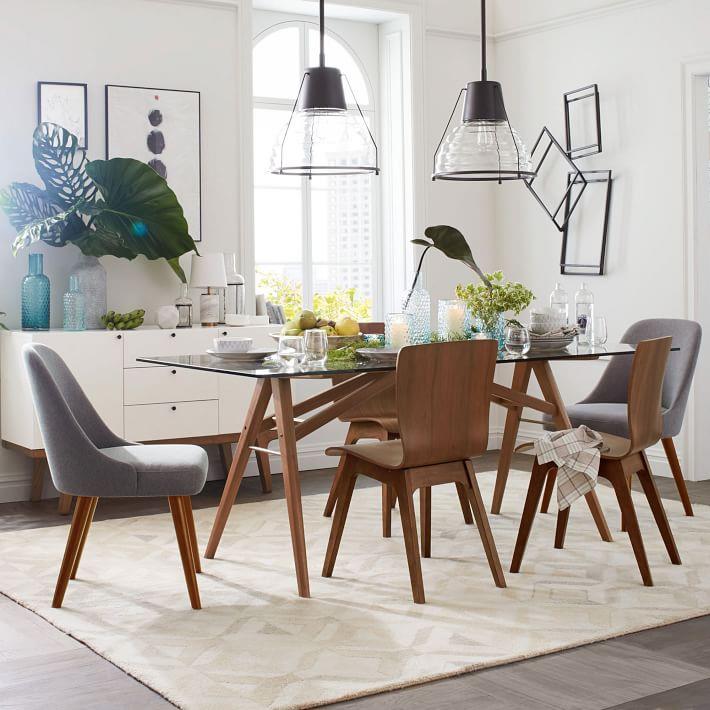 Blossoming branches are a dining room favorite, especially in the springtime. There's nothing like the sophisticated yet festive feel of flowers bursting from woodsy stalks. [photo from West Elm]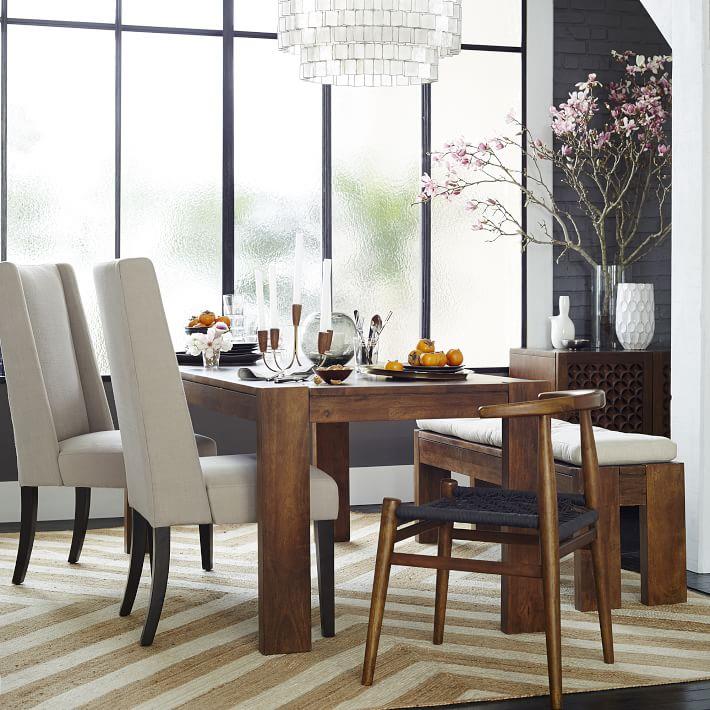 For a cost-effective centerpiece, go with a potted plant that can take center stage all year long. For added drama, display a tall plant in the middle of the table. [photo from Anthropologie]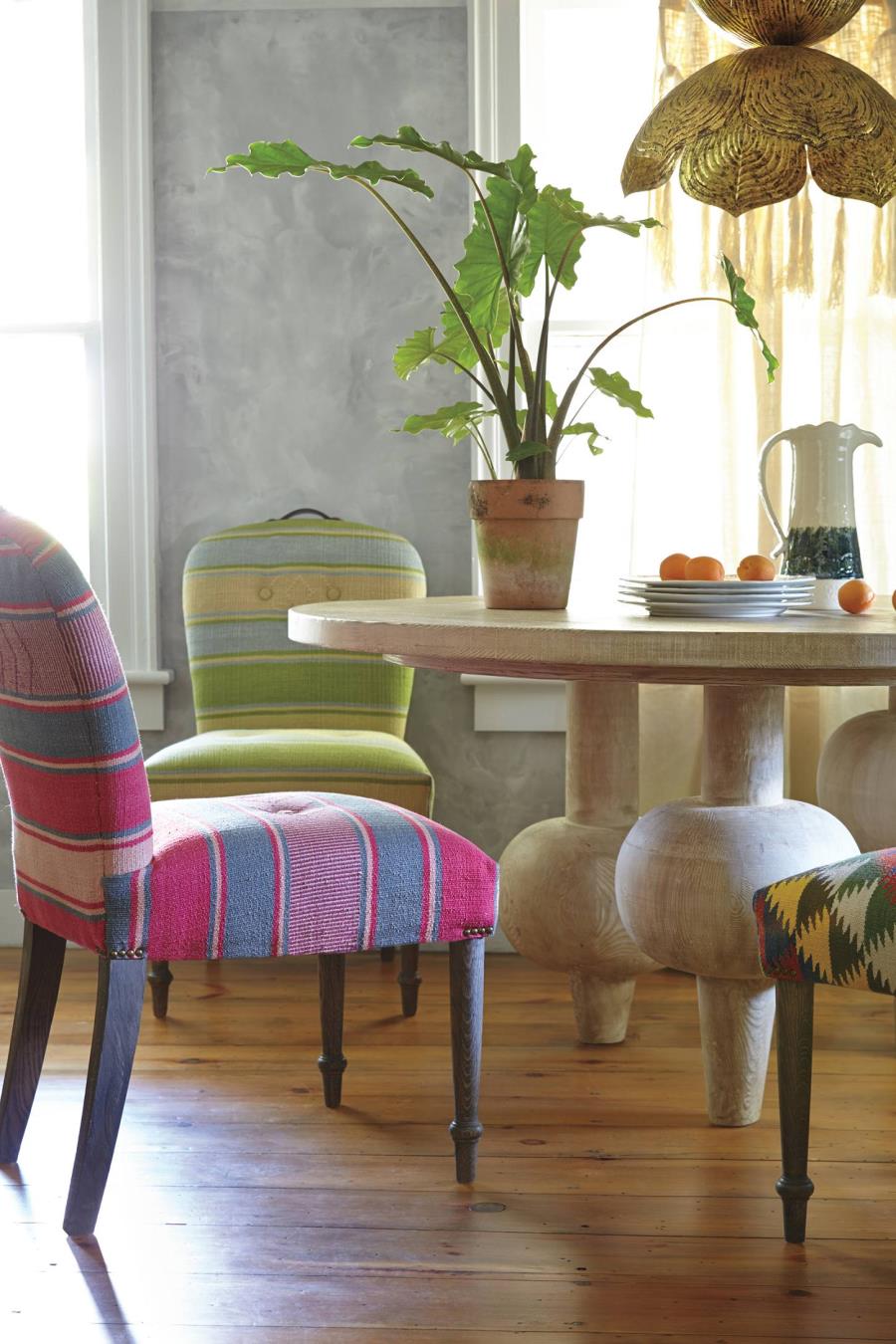 Not to mention, a cluster of plants makes a big impact. Grouping potted plants with plants in terrariums and plants in vases creates a truly eclectic feel, as shown below in this unforgettable dining room from West Elm: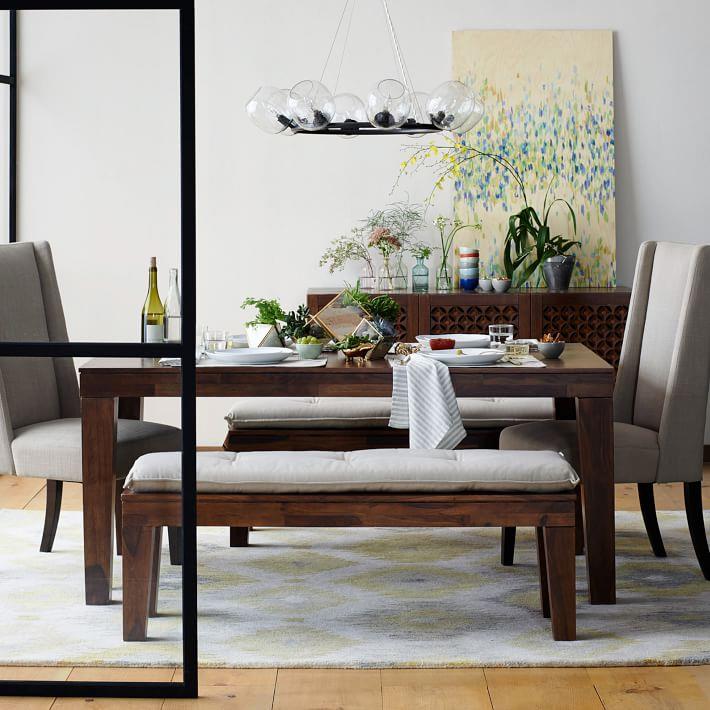 As mentioned above, I often display a large tropical leaf or two in the dining room, yet I'm looking to add a large potted plant to the mix. Unfortunately, my dining space doesn't get a lot of light, so my options are limited. I'm considering a cast iron plant because I love the shape of the leaves!
A Clean Look
Many of today's featured dining rooms showcased layered decor consisting of many details and elements. Yet if your dining area or eating nook is a small one, you may be seeking a more minimalist look. In fact, a clean-lined, uncluttered approach may be just what your dining room needs! [photo from CB2]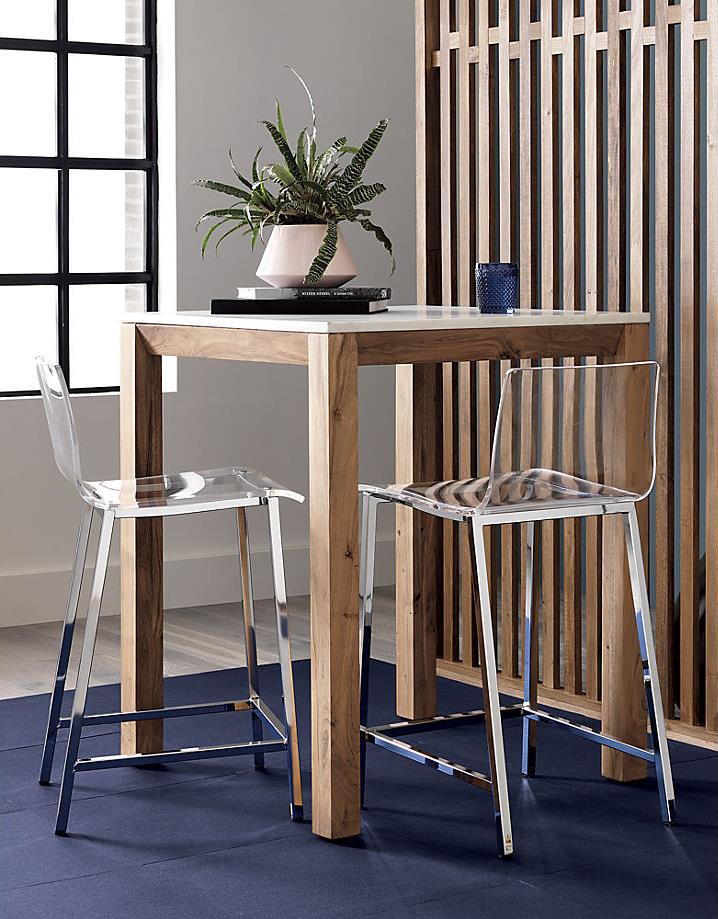 In the case of small eating nooks, select decor that emphasizes the open space at hand. A small table, chairs with a bold silhouette, or a pendant light crafted from clear glass will work with the square footage, not against it. [photo and decor from CB2]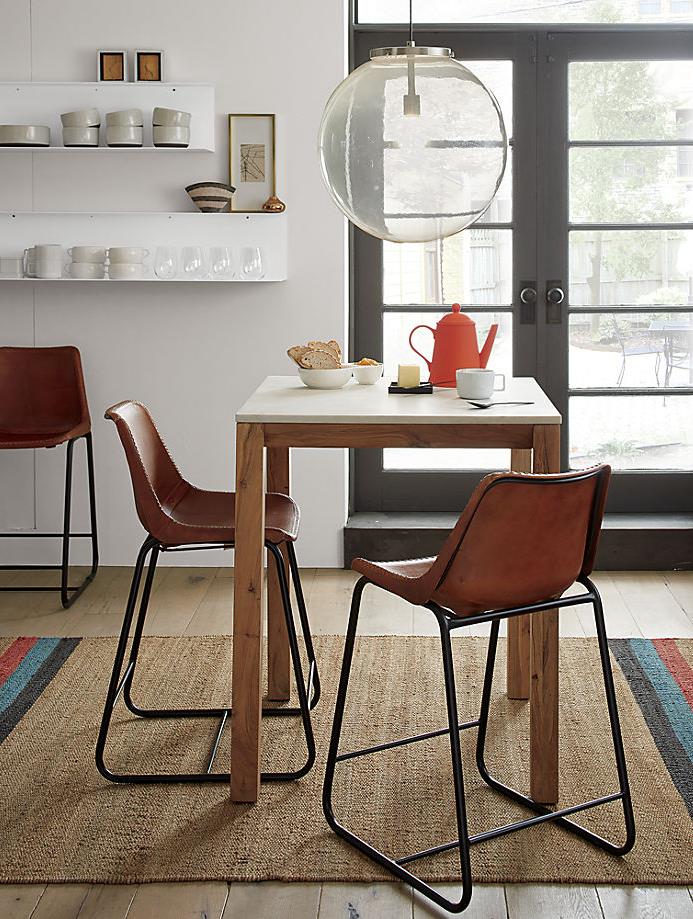 /Did any of today's decor ideas catch your eye?! Tell us about your dining room design plans by leaving a comment below…