With geo design a well developed trend, it was only a matter of time before triangles, circles and hexagons hit the walls. Geo shelving is the perfect modern touch for interiors that range from the sleek and the minimal to the playful and the Bohemian. You just can't go wrong with a geo form on the wall! While this phenomenon isn't brand new, it continues to unfold and develop in fun, unexpected ways (as shown below by new arrivals from the likes of retailers such as Urban Outfitters). Here are a few of our favorite pieces…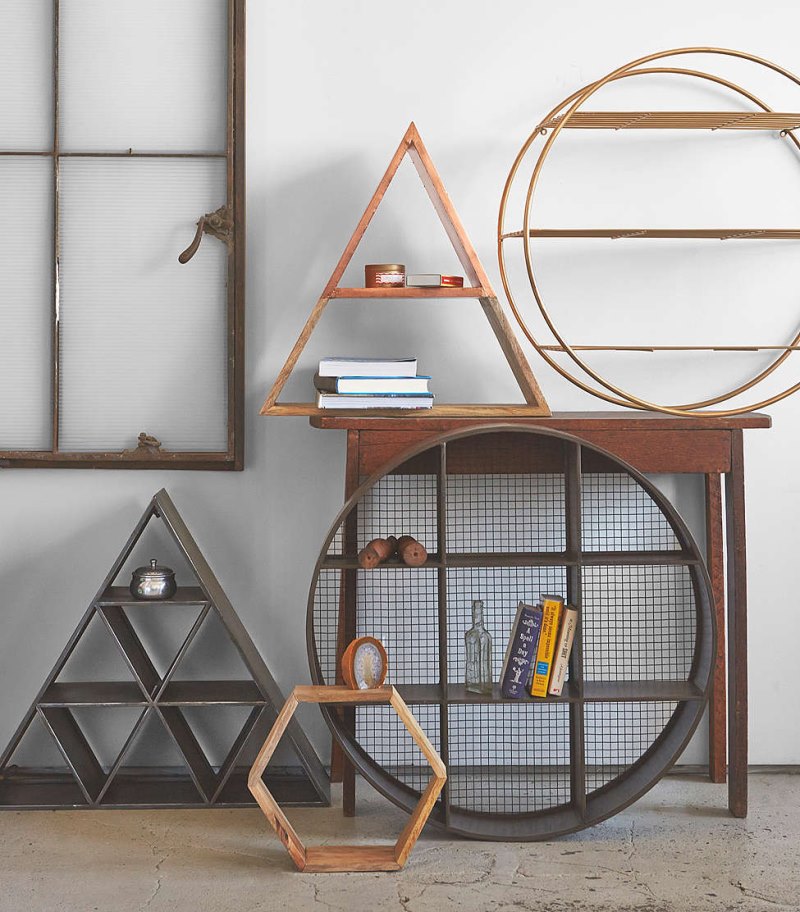 Circular Wall Shelves
The Round Dorm from ferm LIVING is one of the most beloved geo shelves for modern design enthusiasts. Constructed of beech and birch plywood with a leather string for hanging, this round shelf even inspired one of Decoists's own DIY projects!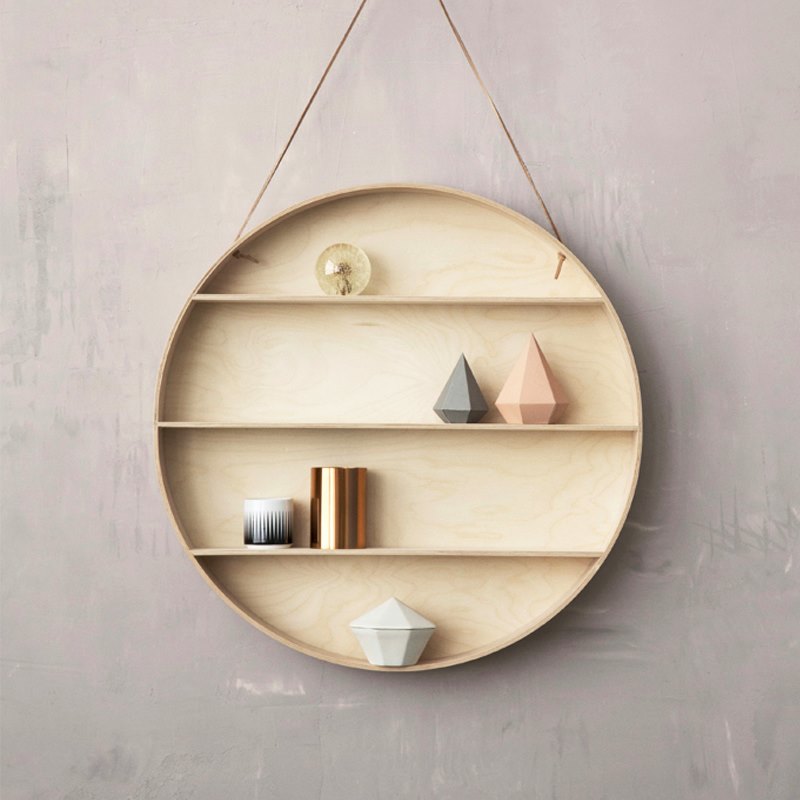 The 4040 Locust Wooden Circle Wall Shelf from Urban Outfitters includes four shelves within its slatted circular frame. Antiqued wood and iron are the materials of choice, and whether you use this piece to hold books, plants or objets d'art, they're sure to look fabulous!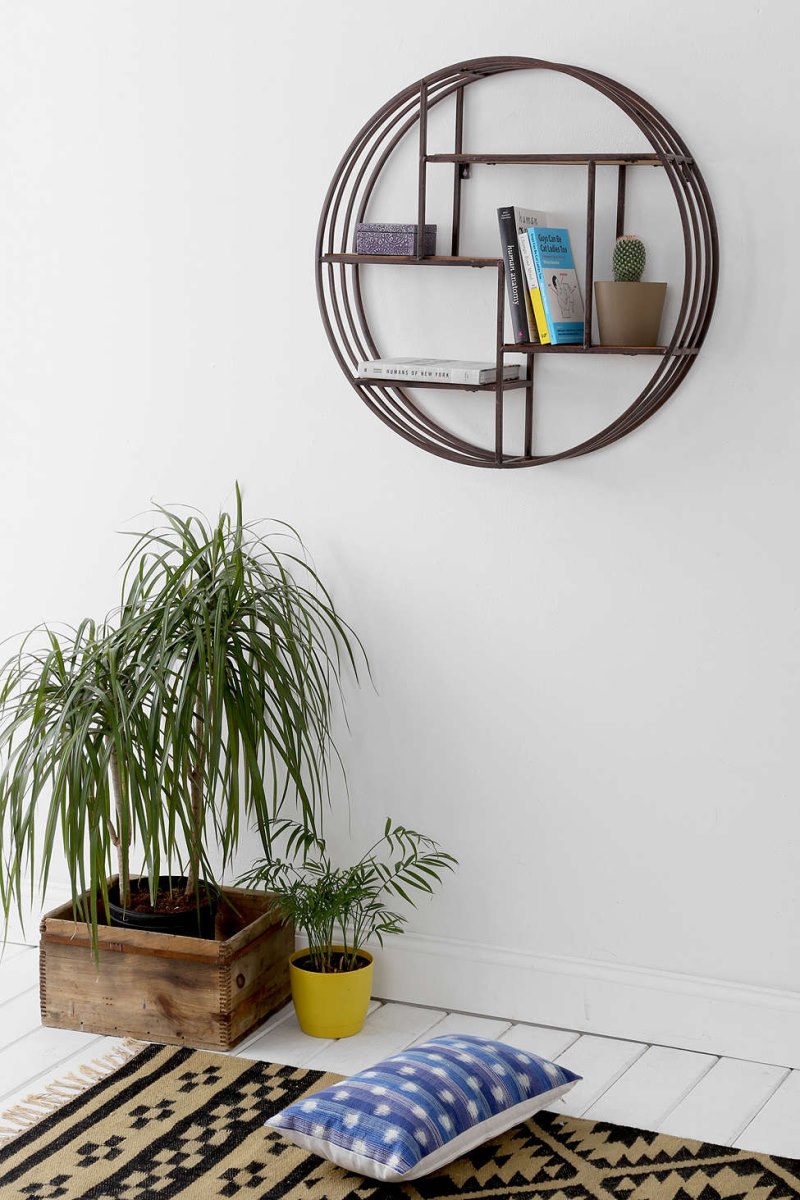 Add some color to your wall with this Radial Wall Shelf from The Land of Nod. It's shown here in a child's room, but we think its powder coated iron construction and eye-catching lines make it the perfect piece for grown-up rooms as well. Ideal for collections and whimsical items!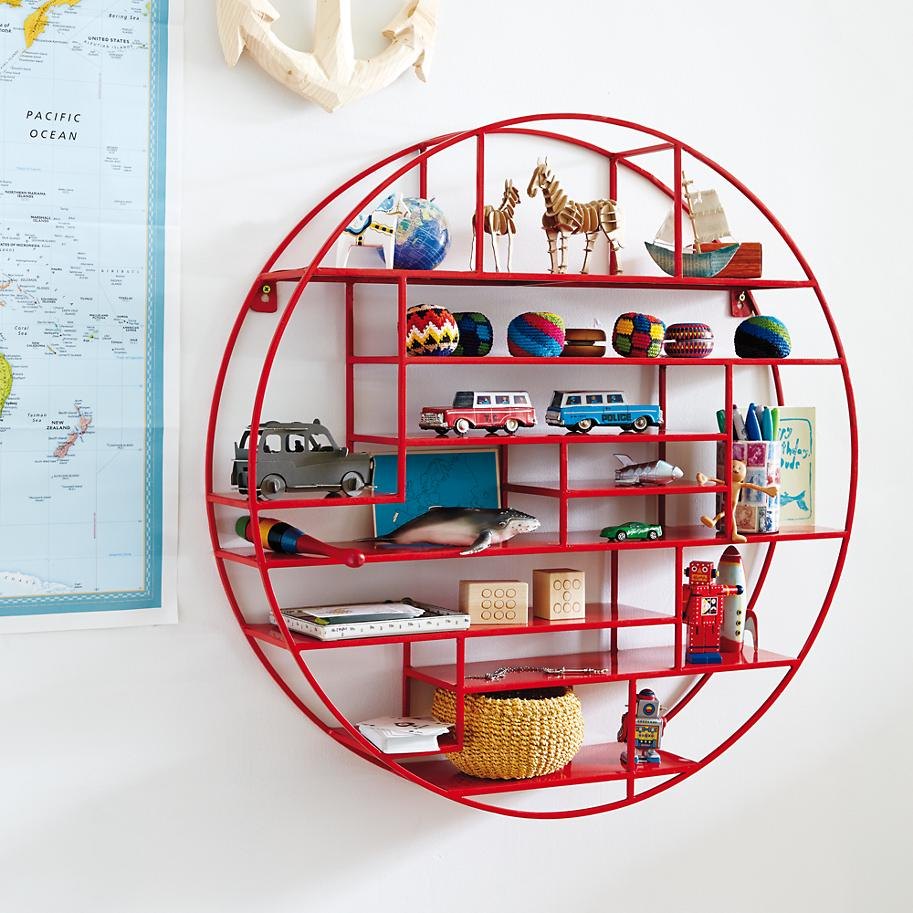 All About Angles
We now shift from round forms to bold angles, and there's nothing like a grouping of triangles to wake up your wall! These A Frame Shelves look great in a group, but one can make a big statement as well. Three sides, three angles and three shelves per piece! Hang them pointing up or down—you decide.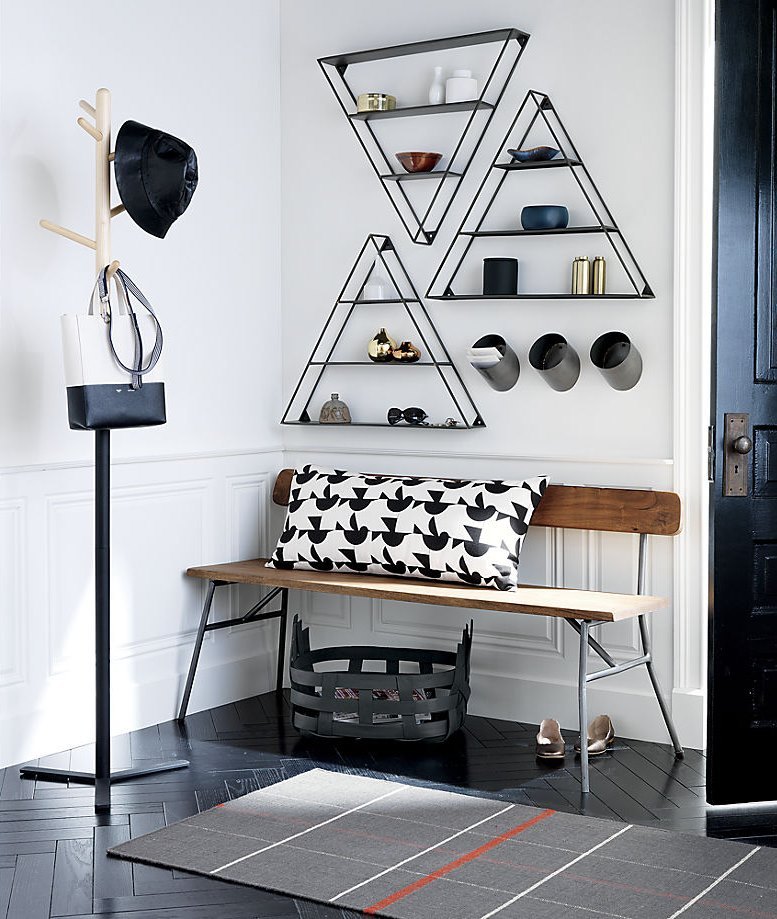 A blend of two leading trends (geo forms and moon phase motifs), this Triangle with Gold Moon Phases geometric shelf from Etsy shop O + E Creations is hand crafted from sustainably resourced pine wood and embellished with gold foil moon phases. A perfect display piece for natural treasures!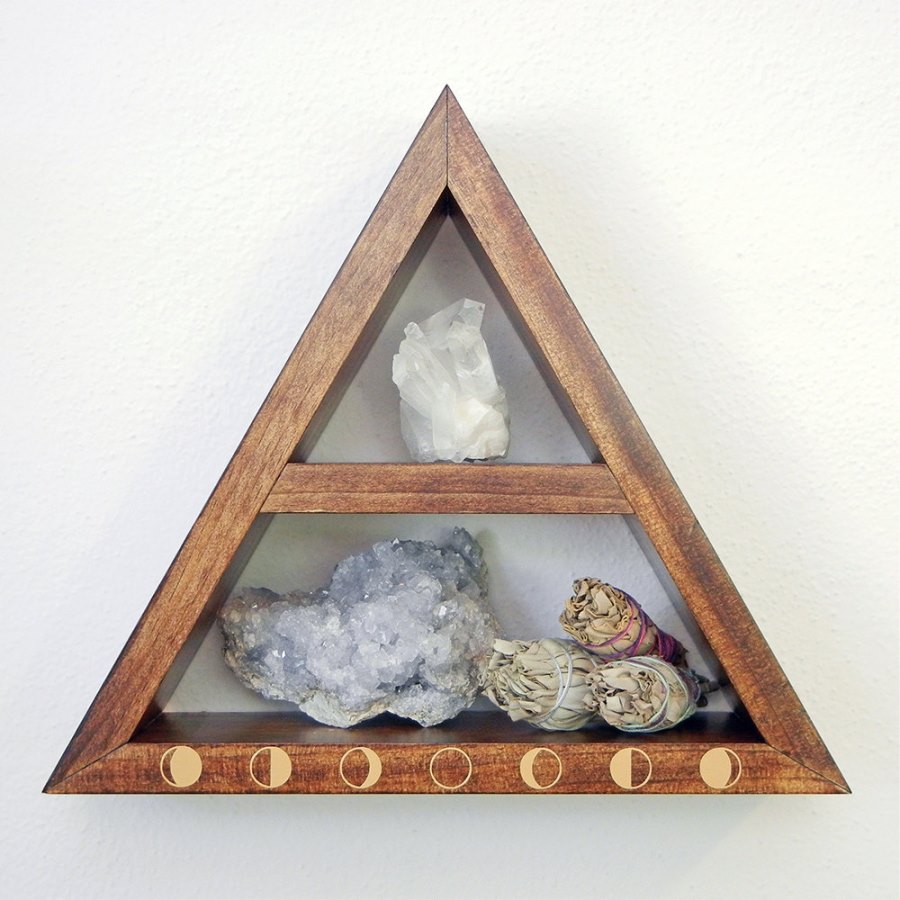 These geo shelves from Urban Outfitters are a vision in angular wood. We love how the Bryn Mountain Display Shelf (on the right in the grouping below) can be displayed pointing up to evoke the look of mountain peaks or down for a unique presentation.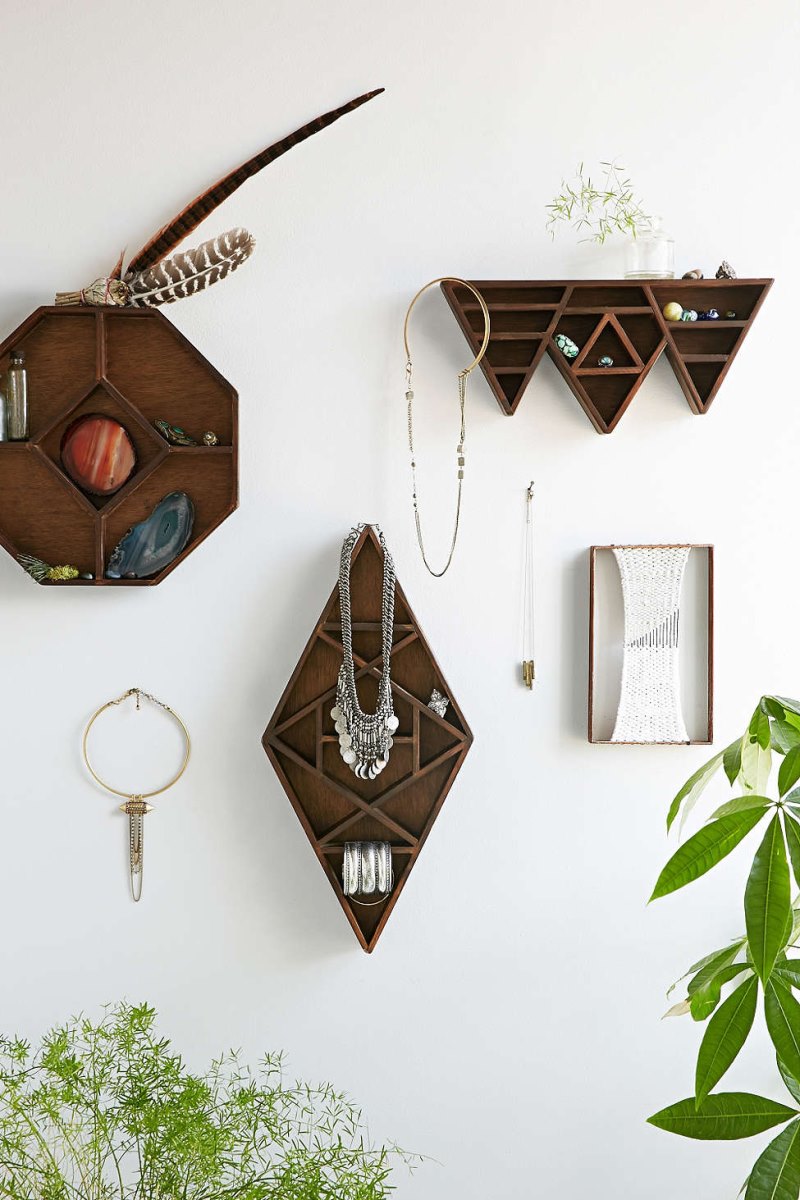 Triangles within a triangle: that's how we love to describe the Geo Triangle Shelf from Urban Outfitters. Crafted from metal, this shelf features a range of compartments that make leaning books and spotlighting small treasures a design-fabulous endeavor!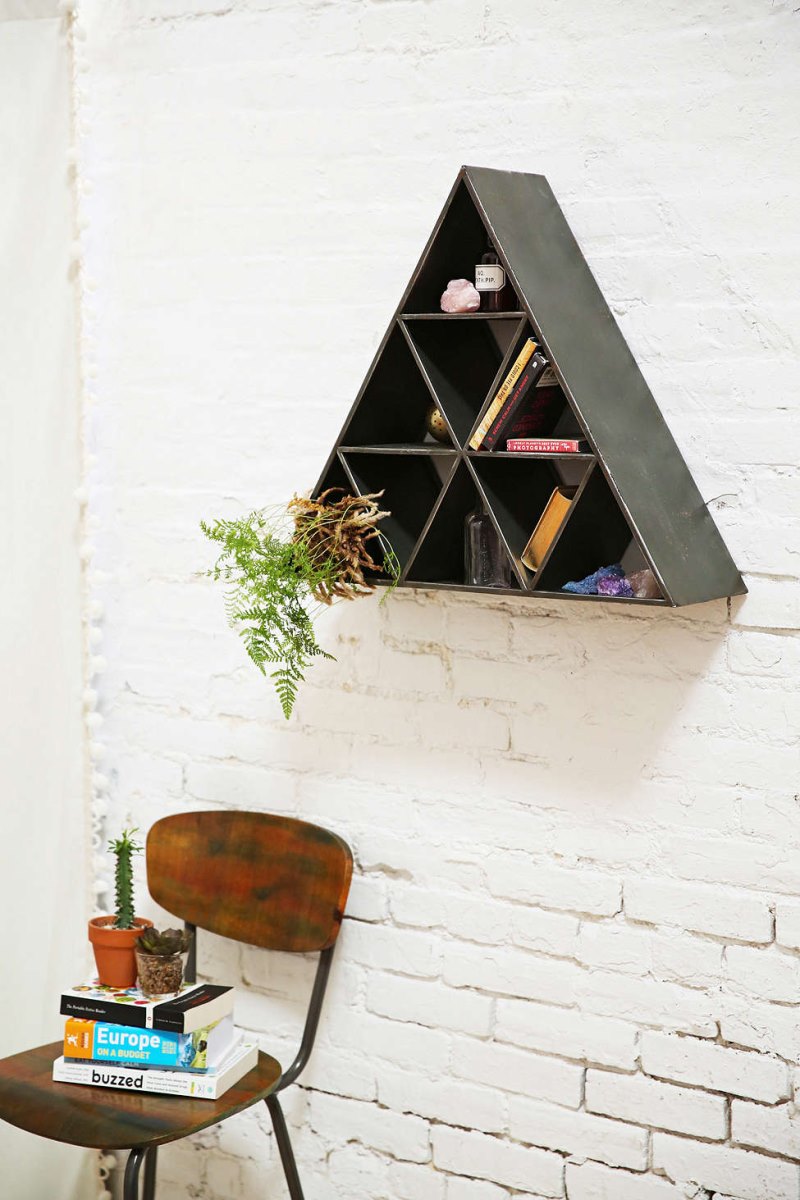 With an outline resembling the silhouette of a house, these Studios from ferm LIVING combine smoked oak venner with paint for a two-tone display. Purchase one in the color of your choice, or hang a grouping on the wall for a skyline that makes a statement: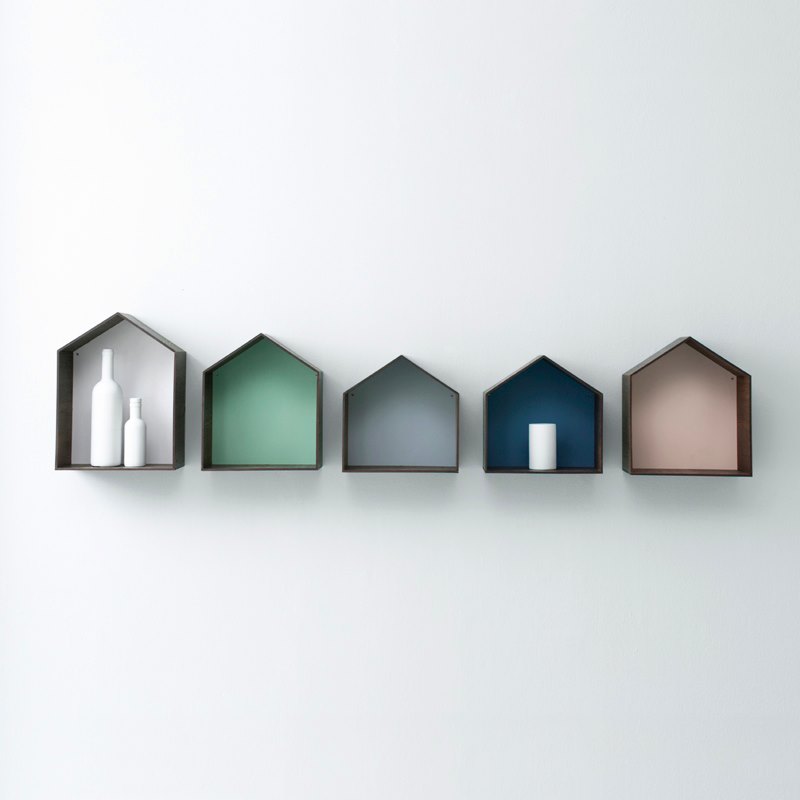 Last but not least, we feature a shelving concept that lets you choose the perfect shape. It's the Shape Shifter Wall Shelf from The Land of Nod, which can be displayed alone or in multiples. Triangles, rectangles, arrows, hexagons…the possibilities are endless! They're a vision in powder-coated iron: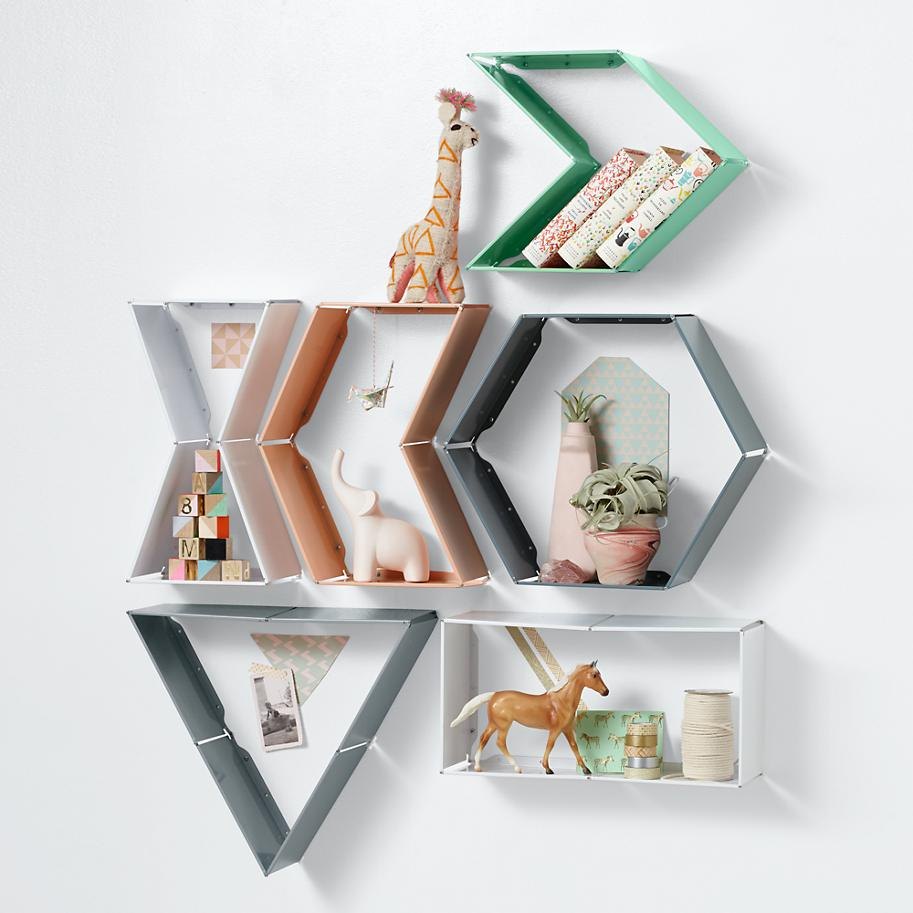 Remember that you don't have to completely fill your geo shelving with knickknacks. Sometimes when you leave a little bit of open space, you can appreciate the form of the shelf even more. Happy Decorating!