We're in the middle of a peacock chair revival, folks! If you've noticed a slew of DIY peacock chair projects and woven chair makeovers, there's good reason! After all, these dramatic seating solutions are sculptural, throne-like and undeniably eye-catching. Originally imported from East Asia in the 19th century, peacock chairs had their first major revival in the '60s and '70s. Now they're back with a vengeance, and designers (as well as DIYers) are putting a unique spin on these seating statements with vibrant paint and other embellishments. Read on for 12 fabulous peacock chair makeovers…
Add Vibrancy with Paint
Purchased new, peacock chairs can cost hundreds of dollars. The beautiful Pink Peahen Chair below (from Millie + Eugene) is a lovely example of new peacock chair style! If you're lucky enough to find a retro peacock chair at an affordable price and you're on a budget, try repainting it and then matching the cushion color to the paint color for a monochromatic look.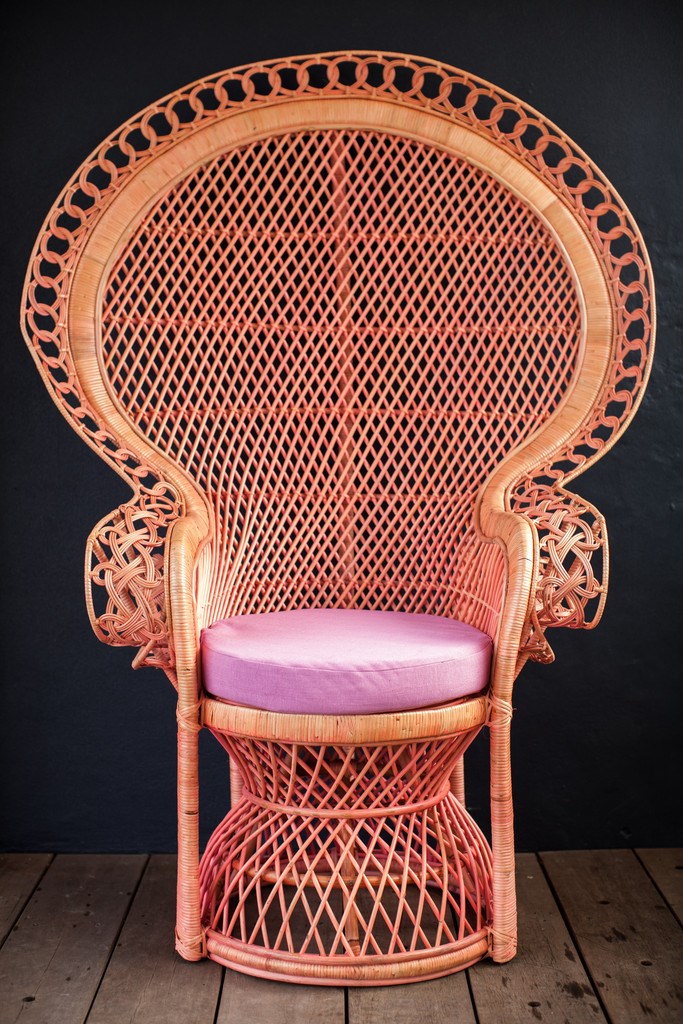 You can also make a big statement with a pastel peacock chair and a patterned cushion. Ever since this mint woven chair from The Family Love Tree caught our eye, we've been able to think of little else. The combination of sea-green paint and the candy-colored cushion is irresistible. [via Flodeau]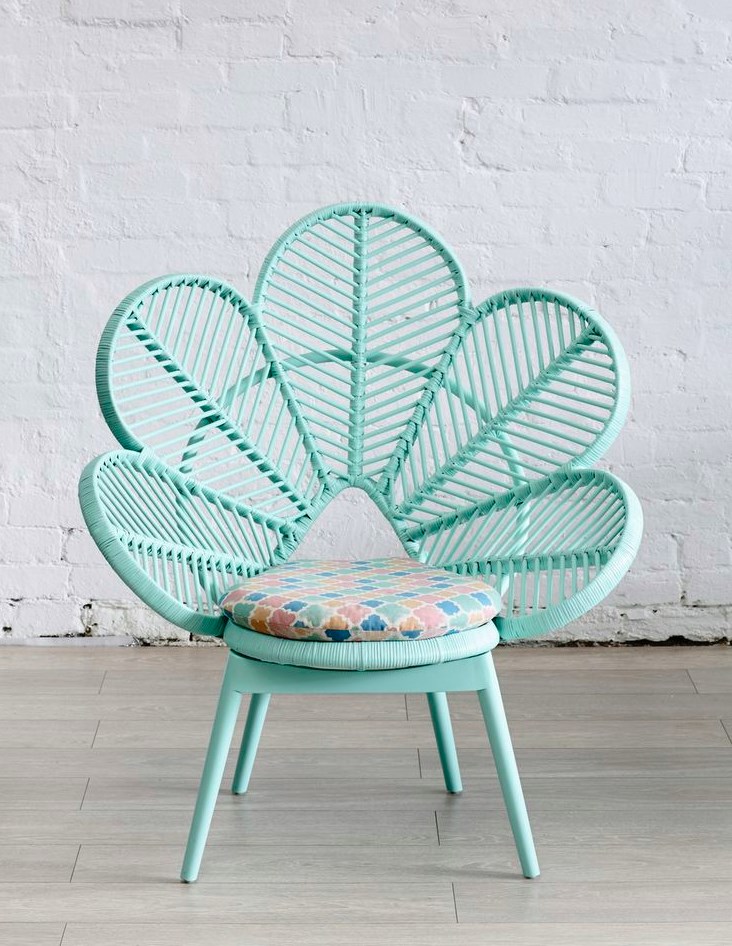 If you have more than one peacock chair to work with, try painting them in complementary pastels to double the refreshing, breezy effect. Below we see peacock chairs in mint and peach. Don't they look good enough to eat?! [via Preciously Me]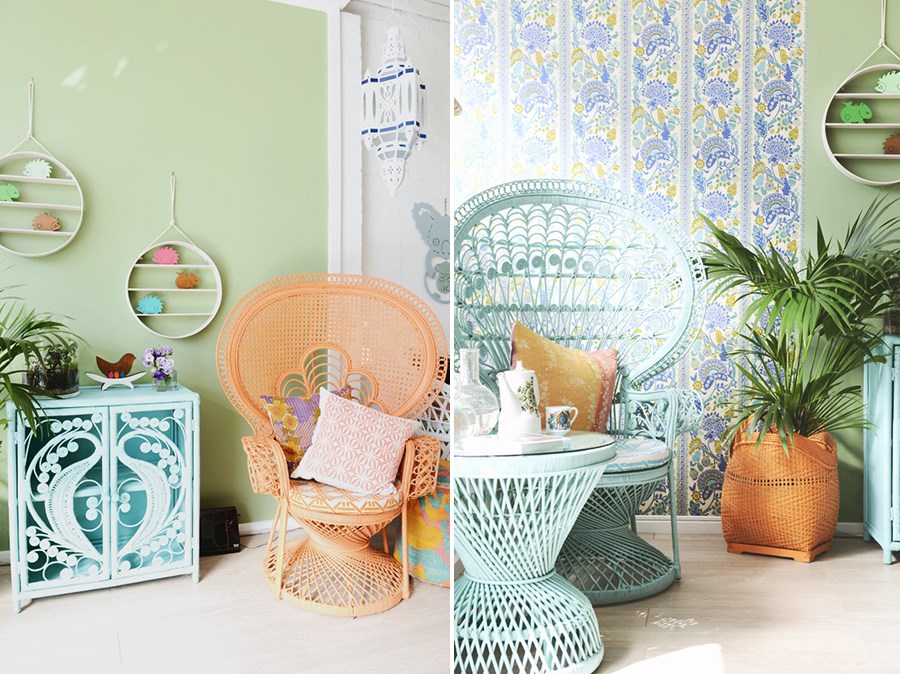 Just how do you go about painting a peacock chair? While some may resort to spray paint for quick coverage, others claim that painting with a brush may result in better coverage. Chanel Dror of Camille Styles employed this technique in her DIY Peacock Chair Makeover. After all, spray paint tends to just blow through the holes of the woven chair. Blue was the color of choice, and the result is divine!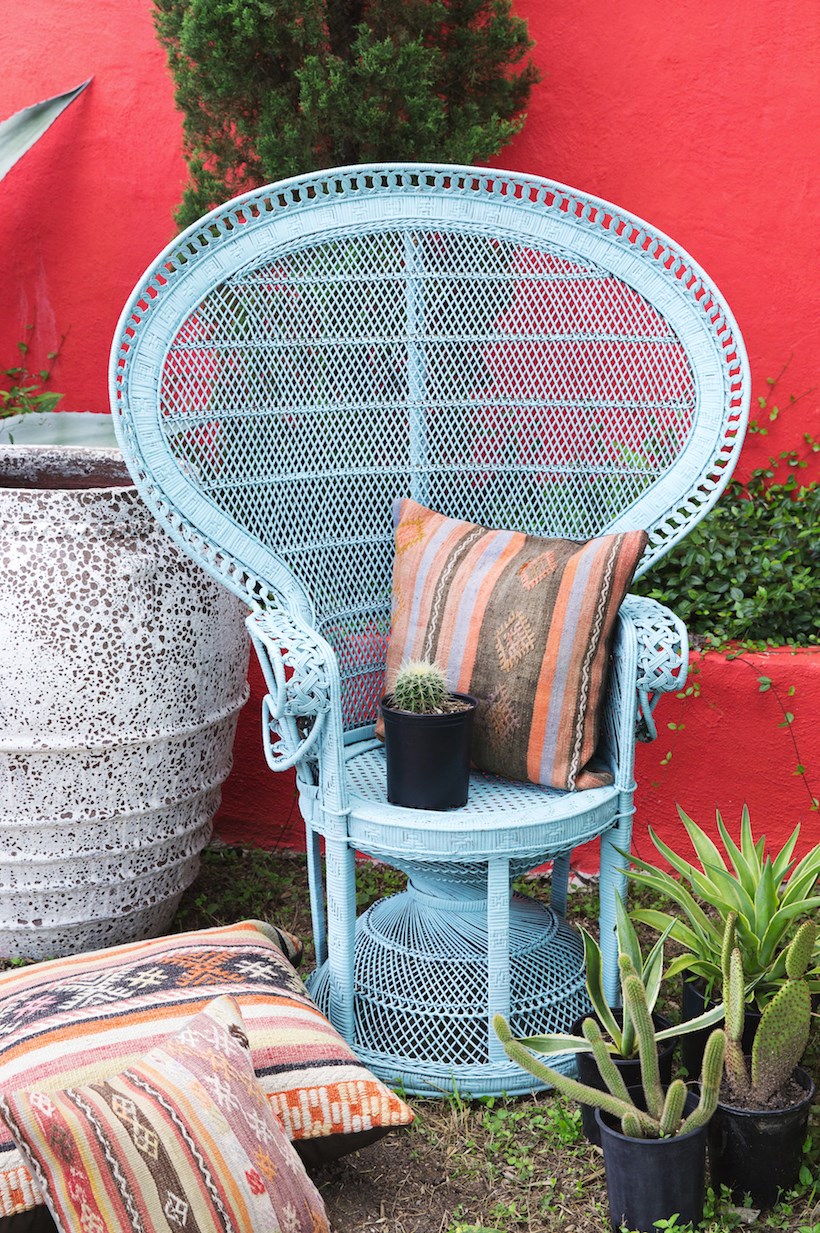 We now shift gears from pastels to ultra-vibrant colors, such as purple! Using a combination of spray painting and hand brushing, Amanda from Recycled Consign & Design created this vivid masterpiece. Note the two shades of color involved. Doesn't the chair look fabulously modern in the vignette below?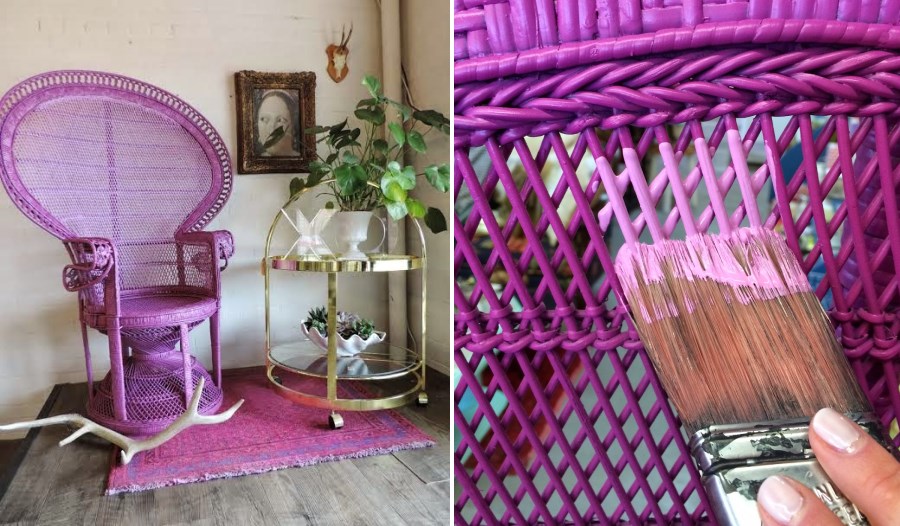 Ready for some peacock blue? What could be more fitting for a peacock chair?! The image below reminds us that a sheepskin (or a faux sheepskin) can put a modern twist on peacock chair style. [via The Jungalow]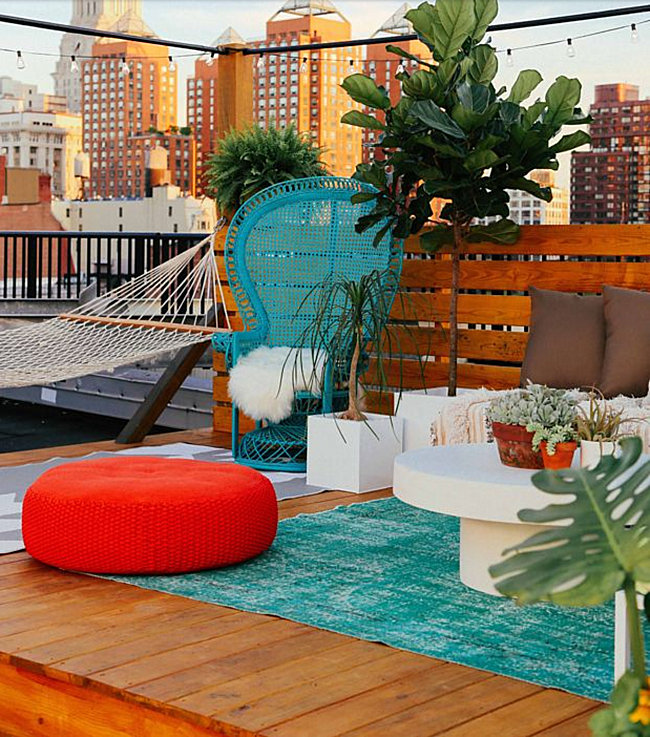 Don't forget the power of a vibrant cushion in contrasting colors, especially when you choose a bold paint color for your peacock chair. The resulting look is striking, and can veer from the opulent and decadent to the breezy and tropical. [photo via Pink Pearls Boat Shoes]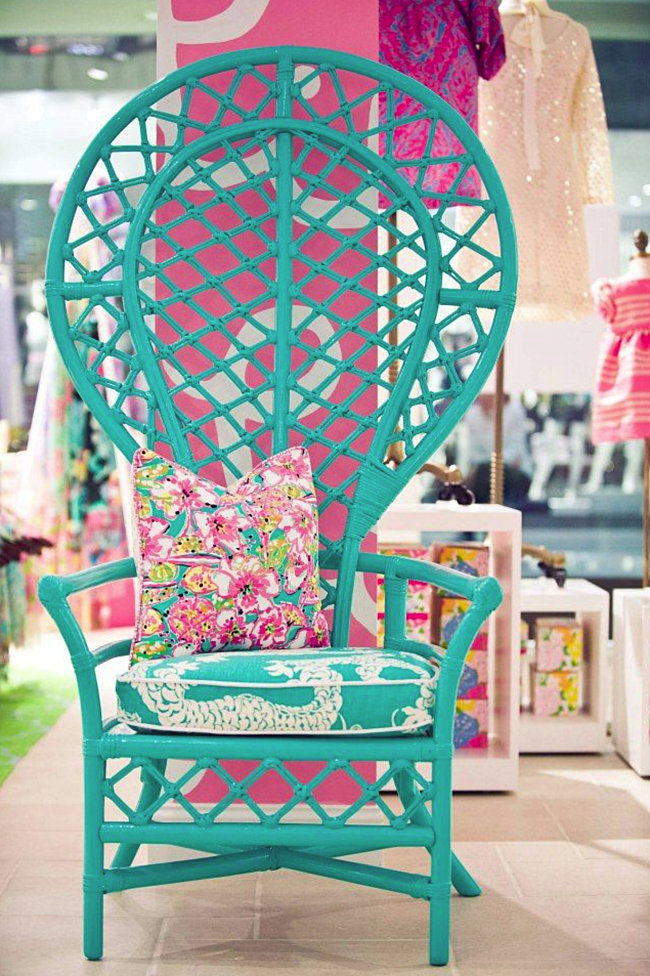 We'll take a look at one final painted peacock chair before moving on to some fabulous woven embellishments. The color at hand: magenta! Nadia from Preciously Me chose to spray paint her chair, and then she finished it off with a spray varnish. She also made a cushion from foam and beautiful fabric. Would you consider making a custom cushion for your peacock chair makeover?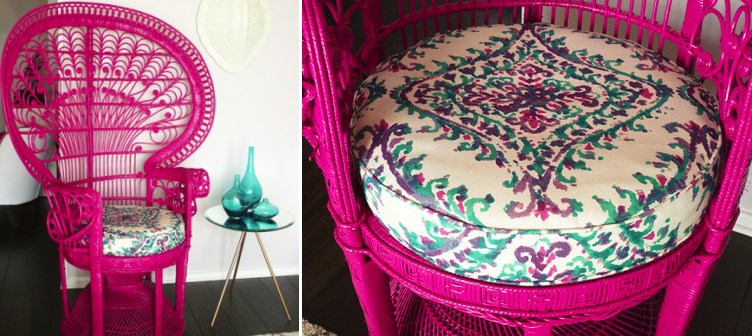 Weave Some Magic
Adding vibrant color to your peacock chair is a great way to go, but you can also take things up a notch by incorporating some weaving into the design. Below we see a peacock chair makeover from Glam & Grace. Note the use of yarn to create a geometric focal point at the center of the chair, as well as tassels!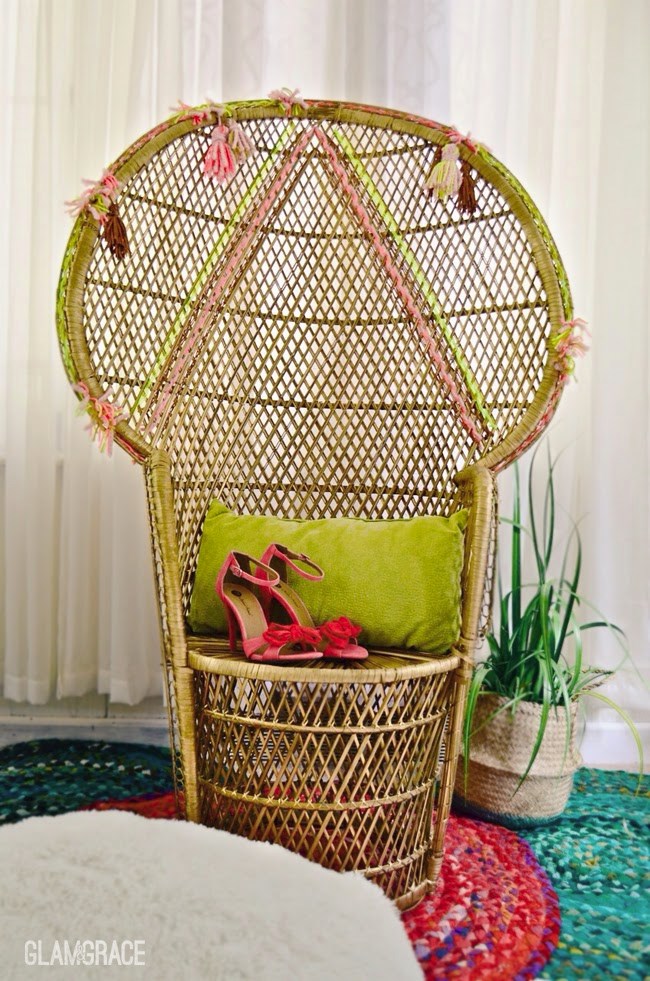 Like the chair above, this next peacock chair makeover began with gold spray paint. And it followed with the addition of yarn to create designs and pom poms as colorful embellishments! Check out all the details at Design Love Fest: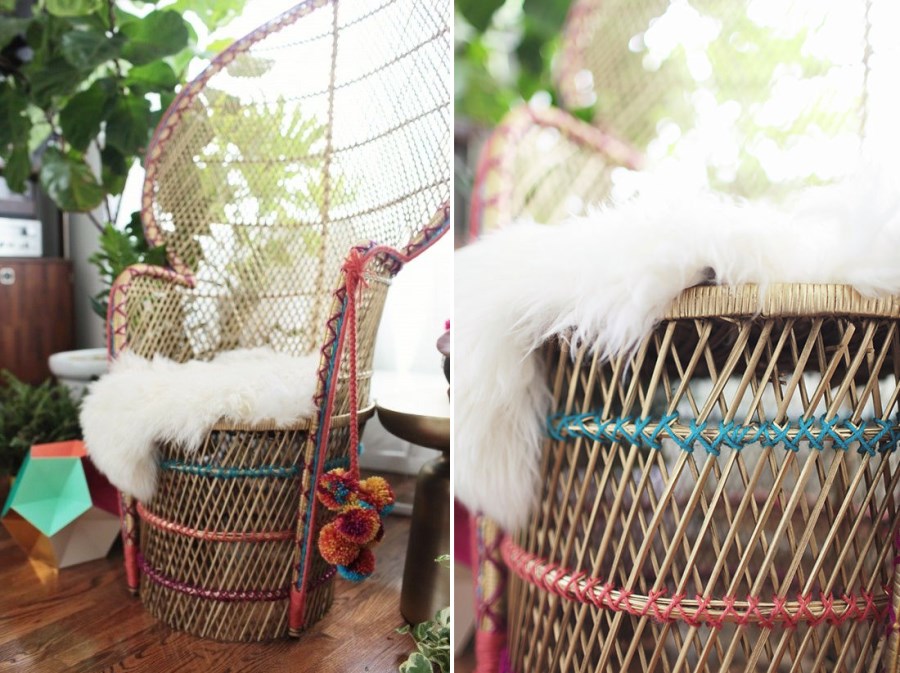 For more pom pom fun, take a look at this DIY Pom Pom Peacock Chair from Reniqlo. Love the pom poms around the base of the chair: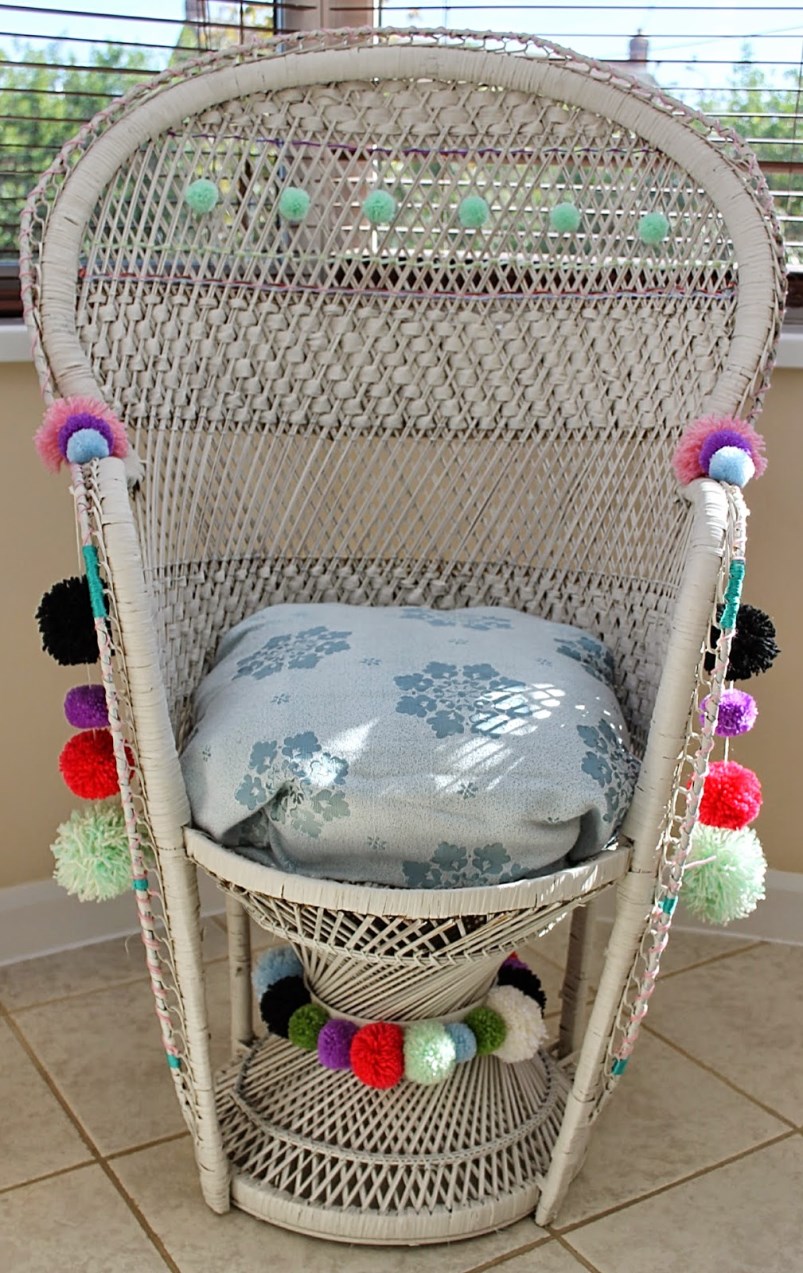 Last but not least, this DIY Fall-Inspired Chair Makeover from Jeanne Connolly for Flea Market Decor is unique in its use of cut fabric strips that are woven through the holes of the wicker. A no-sew solution that makes a modern statement! Are we noticing a theme here with the sheepskin cushions?…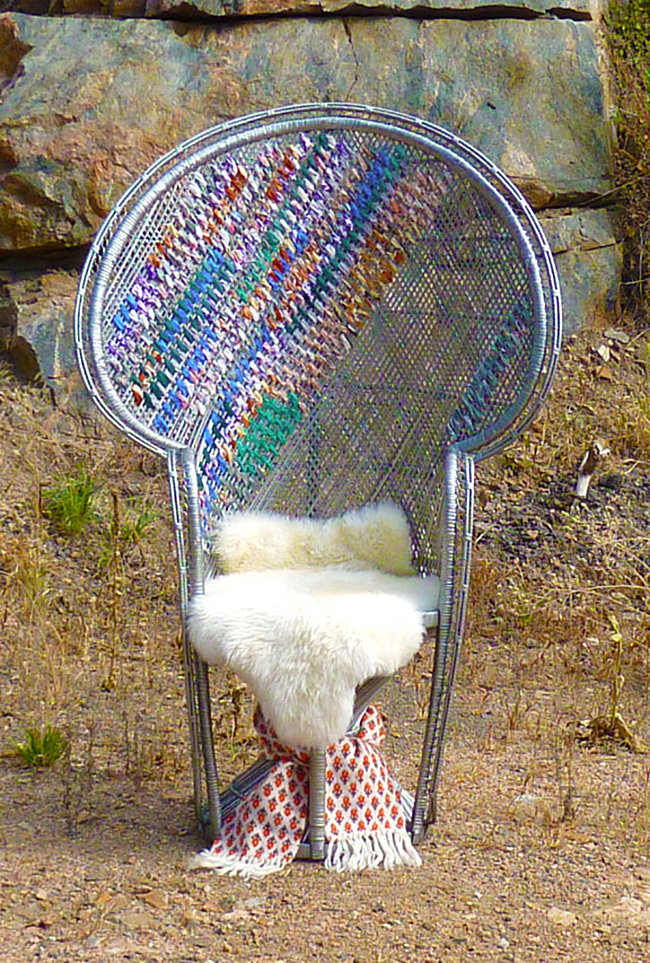 Would you add a peacock chair to your interior? Which colors are your favorite when it comes to makeover solutions? Would you take things up a notch with woven embellishments? Share your thoughts by leaving a comment below…