When it comes to yard maintenance, there are often two types of people: those who want to do everything themselves and those who want to hire someone else to do everything! Both approaches are valid. Since today's post is dedicated to backyard landscaping ideas made easy, it's important to acknowledge that sometimes it pays to get help with big tasks, even if you have to pay for it. Below you will find a range of ideas, including suggestions on how to make life easier by not doing everything yourself…
A Lush, Green Lawn
Unless you want to forgo the grass in favor of a xeriscaped yard, chances are you're hoping to incorporate a lush green lawn into your landscaping plan! This plan may include a sprawling backyard lawn, a small green area surrounded by a gravel garden, or something in between. [photo from Becker Studios]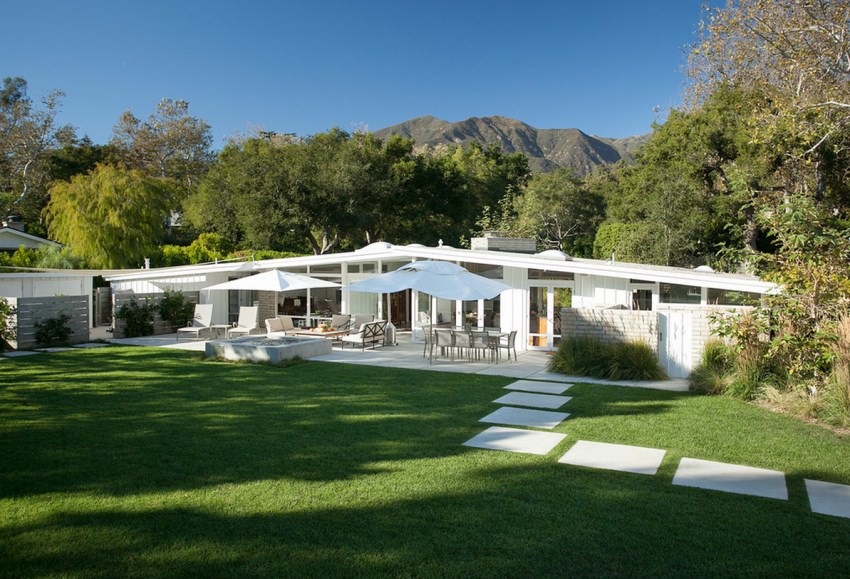 The first step is to decide what you're truly wanting for the space. If you have kids, perhaps a large lawn will provide a place to play and picnic. If you're looking for a lower maintenance yard, a small lawn just might do the trick. [photo from Rolling Stone Landscapes]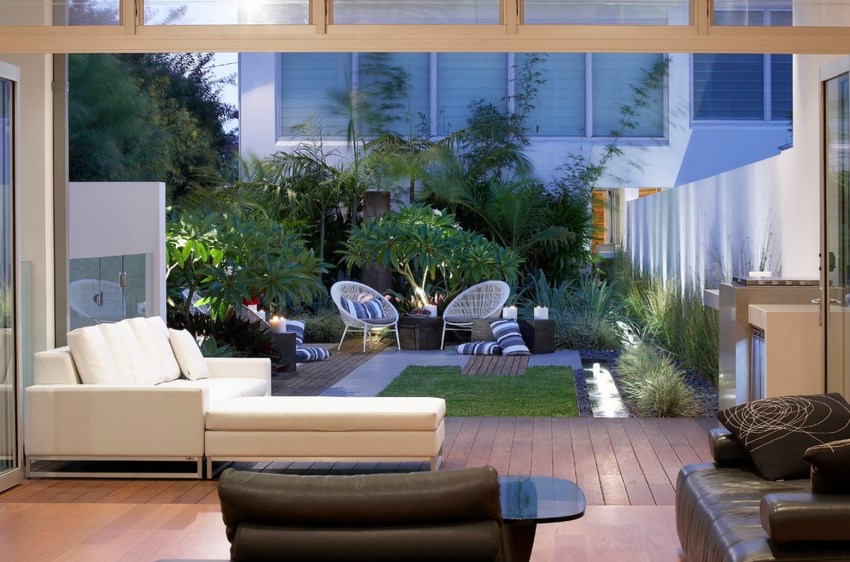 Speaking of maintenance, lawn care may seem simple enough. Regularly mow the yard, and fertilize and/or fill in patchy spots with sod or seed as needed, right? In reality, a range of complications can arise on your quest to maintain a green lawn. [photo from Garden Arts]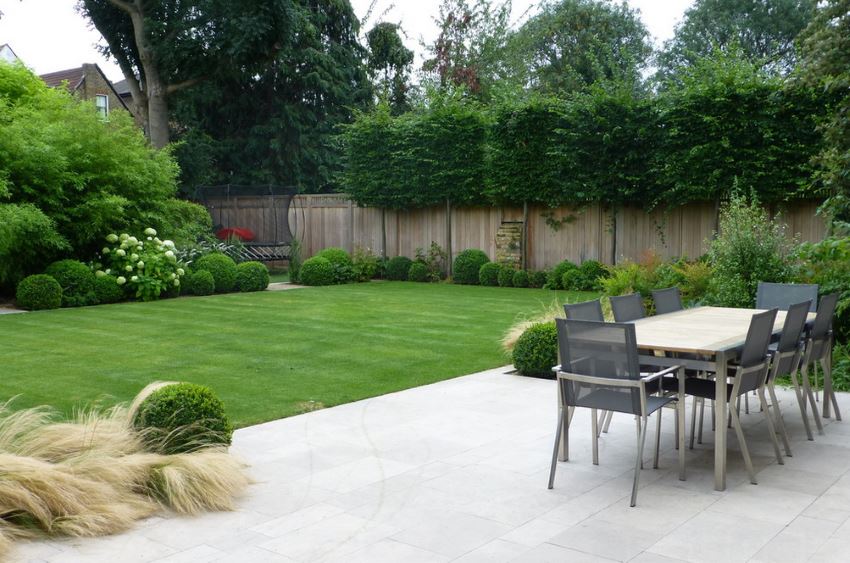 Check out our post on how to maintain green grass in your yard for helpful hints, such as the importance of not over-fertilizing and the benefits of not cutting the lawn too short when you mow. [photo by Creo Landscape Architecture]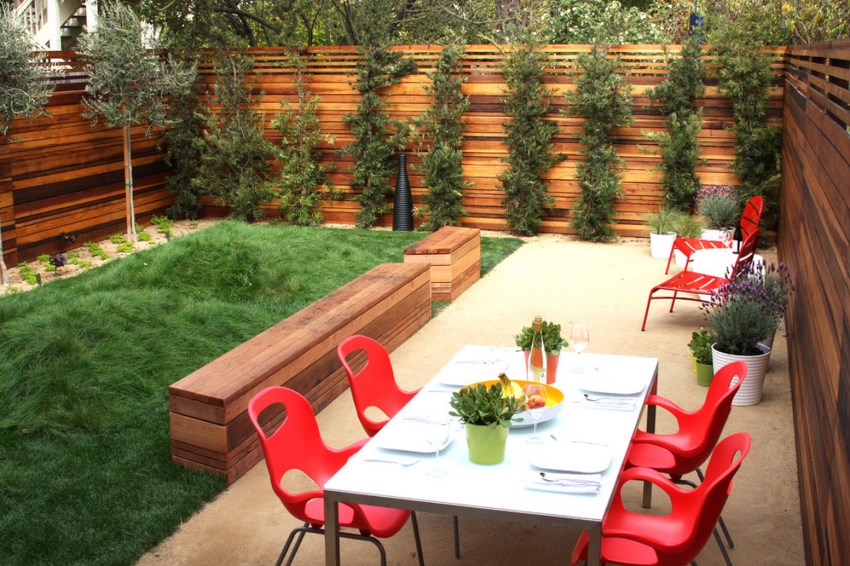 It's important to understand what you're taking on when you sign up for a large green lawn, but you don't have to do it all yourself. First of all, it might pay to have a lawn care service or landscaping company install new grass so you can make sure everything is off to a good start. And what about regular maintenance? [photo from Big Red Sun]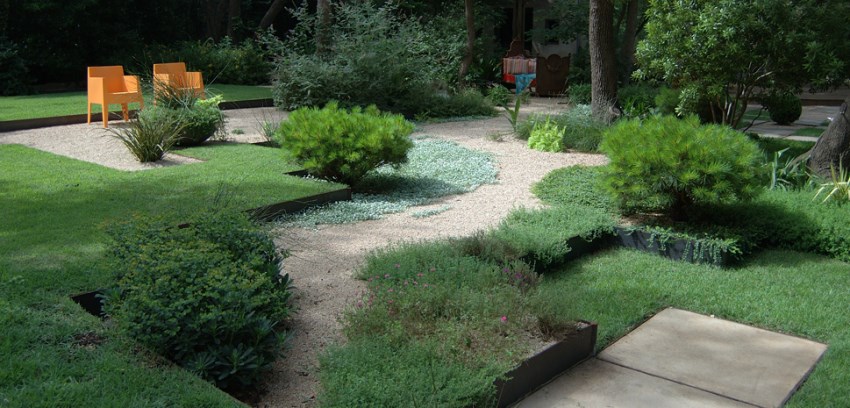 If you don't want to mess with a mower, there's no shame in hiring someone to cut the grass for you. This can range from a professional lawn care service to the neighborhood high school student wanting to make some extra money. [photo from My Food Diary]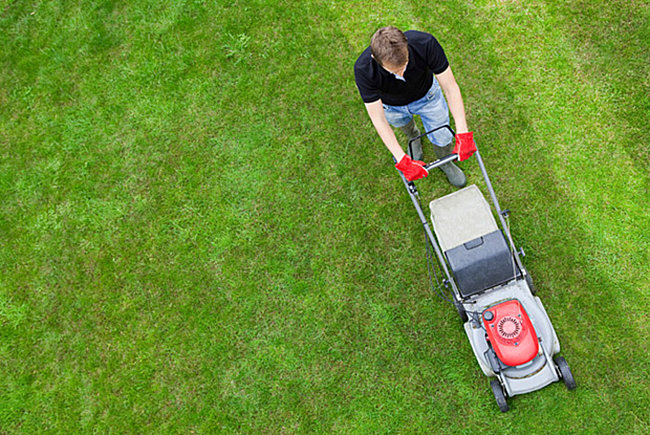 However, if you're paying someone to mow the lawn, note that problems can still occur. You may have time to diagnose them yourself (checking for pests and ideal growing conditions, altering your watering strategies), or you may find it easier to consult outside expertise, especially if the people cutting your grass are not experts. [photo from Most Beautiful Gardens]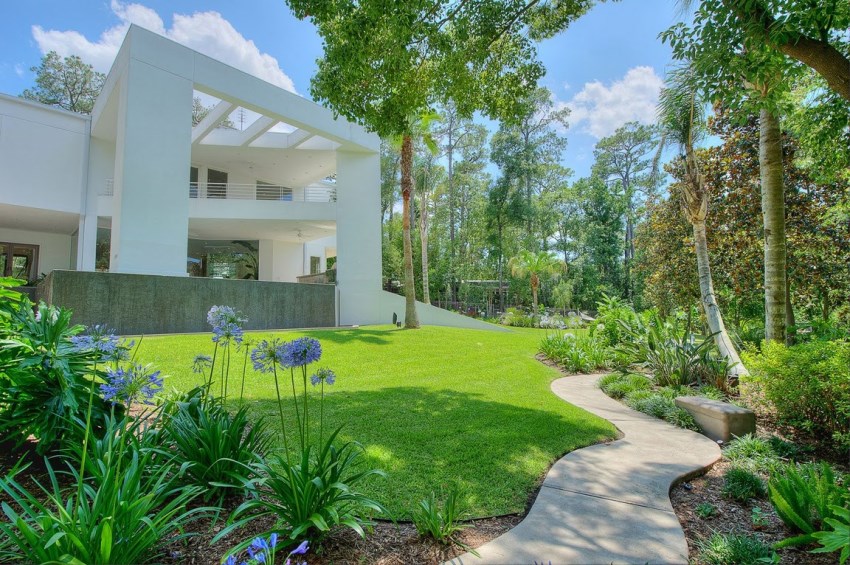 The bottom line: when planning the landscape of your yard, make sure you understand what's involved in adding green grass to the space. But don't run away from this lovely option because you don't want to take on the work required to maintain the grass. It's possible to find affordable lawn care, which will give you quality time to spend on the rest of your outdoor space. Speaking of…
Stone, Rock and Gravel
Borders, edges and non-lawn areas of the yard are often filled with some type of rock, stone or gravel. In fact, you may decide to completely fill your yard with rocks or gravel to make it a truly low-maintenance space. [photo from B. Jane Gardens]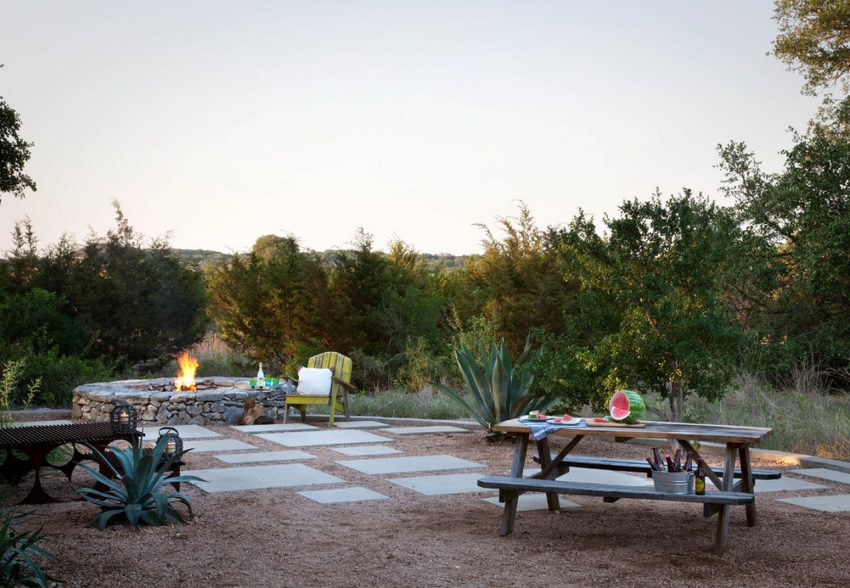 Stone can be helpful in designating a patio area. When selecting stone for the backyard, consider the type of look you're after. While square or rectangular stones are undeniably modern, organic forms can also convey a sense of contemporary style. [photo by Jeffrey Coupland Photography for Berger Partnership]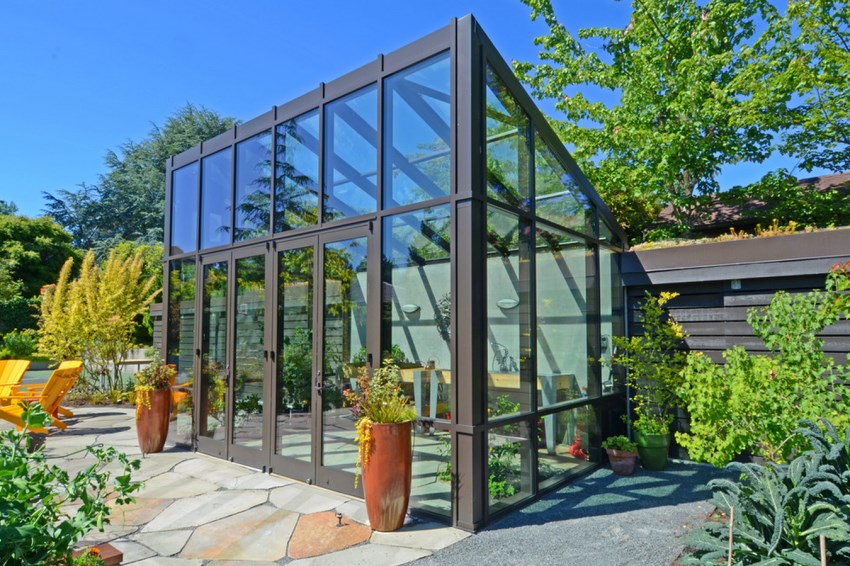 Let's talk gravel. One of today's most popular modern landscaping tools, gravel can embellish flower beds and borders, adding a clean look, especially when native plants such as blue agave and Mexican feather grass are involved.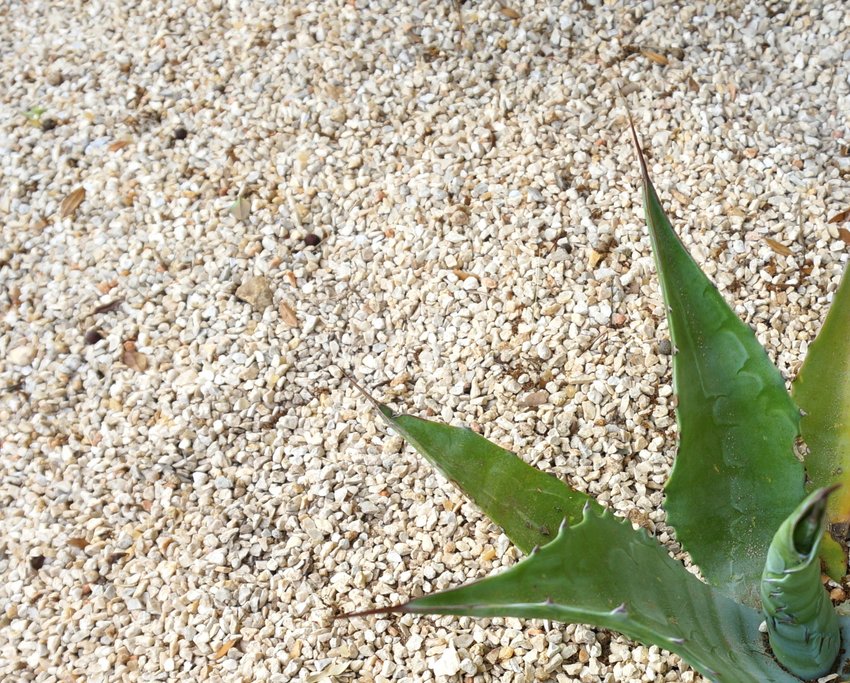 Gravel also softens up the landscape, providing a contrast to elements such as grass, stone tile and paved areas. There are many different types of gravel to choose from, and it can be fun to browse options. Below we see a garden filled with black star gravel. This basaltic gravel turns to an eye-catching glistening black in the rain: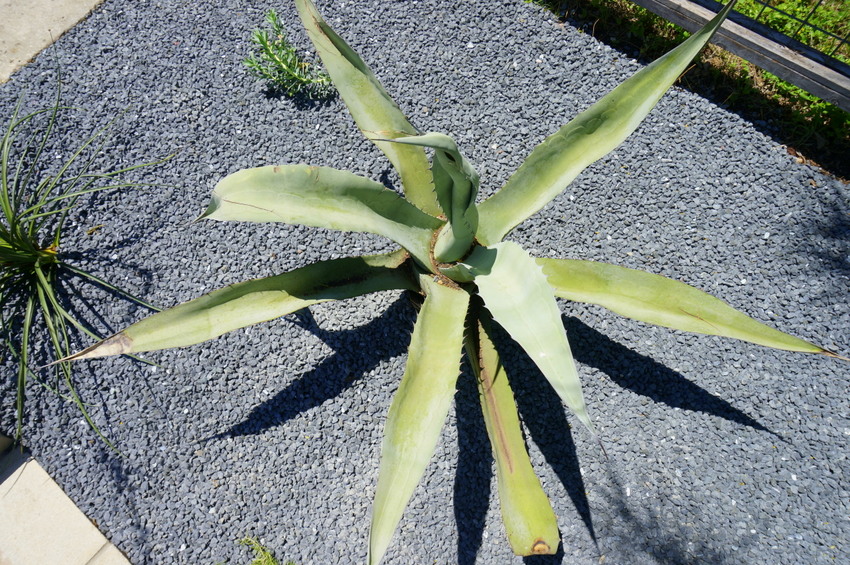 Gravel is universally appealing, as it can enhance traditional and modern spaces alike. To keep gravel in check, consider adding metal edging, as shown in the next image. Clearly designated areas of the yard create a manicured look that can be a lovely contrast to wild grasses and sculptural succulents. [photo from Big Red Sun]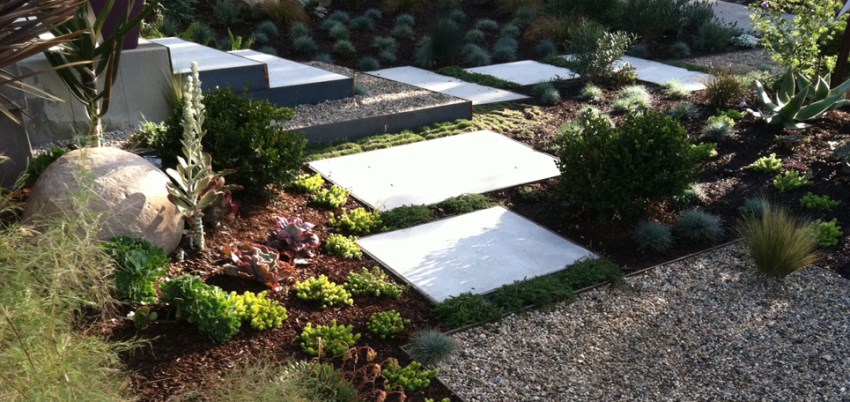 Another interesting landscaping option to consider: terracing. If you have limited space, this strategy is particularly appealing, as it creates levels within your yard, optimizing surface area for grass and gravel alike. [photo by Bruce Damonte for Martha Angus Inc.]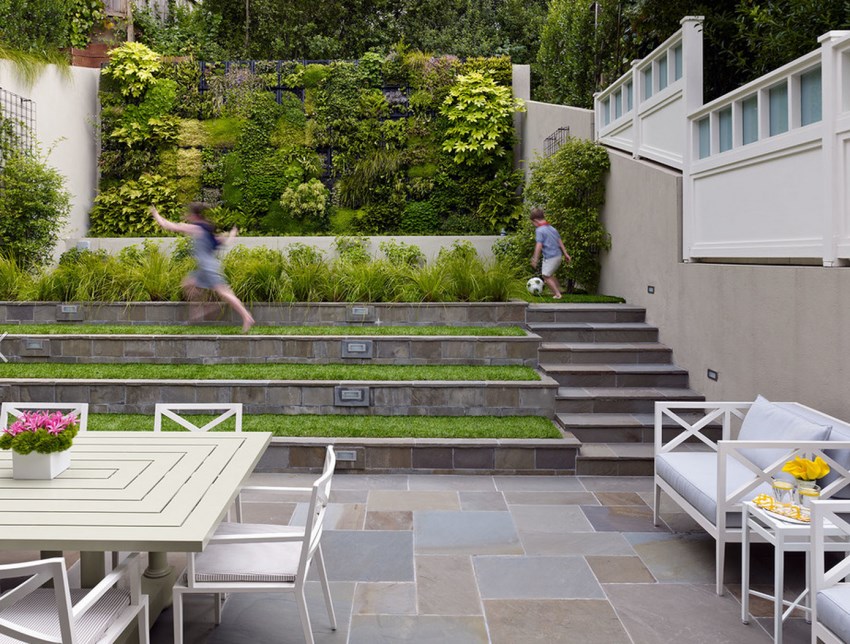 And of course, don't forget about non-stone surfaces such as wood, which can be used to create decks for dining, lounging and other essential outdoor activities! [photo from Hsu McCullough]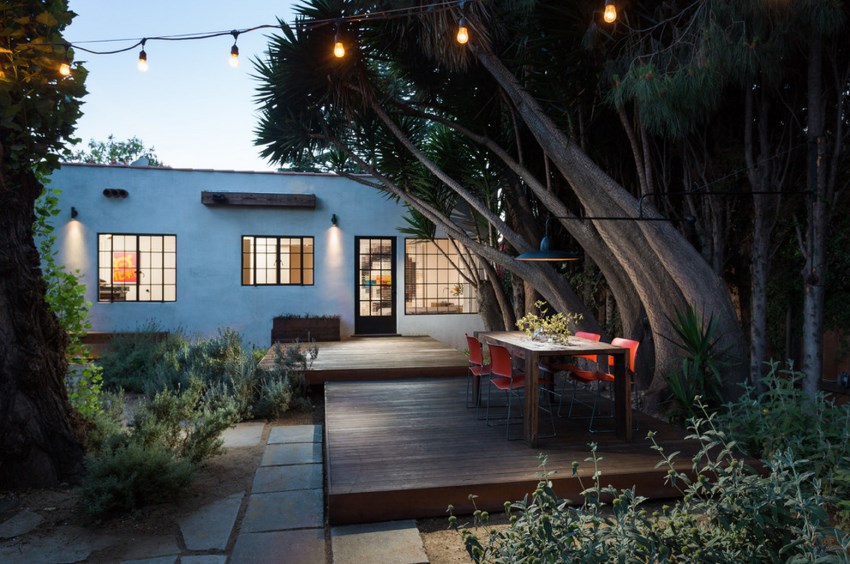 We hope today's post has filled your head with creative ideas. We love a good outdoor DIY project, but don't forget the value of getting help with areas outside of your expertise. If your budget doesn't allow you to pay for ongoing yard care, hire the experts to get your backyard set up the way you want it and ask for advice on how to maintain it yourself. Whatever it takes to create the outdoor space of your dreams!