'Tis the season for decorating! Warmer weather often translates into a desire to freshen up the home and embark on new design endeavors. Luckily now is a great time to be shopping for kids' rooms, as well as nurseries. After all, children's decor is increasingly mirroring popular design trends for all ages (hello ombre curtains and pendant lighting). Not to mention, a range of new eco-friendly offerings makes it easier for environmentally conscious parents to find stylish decor that reflects their priorities. Here are a few of our favorite new spring and summer finds. They're simple yet fabulous, and they can be used in girls' and boys' rooms alike… [photo from The Land of Nod]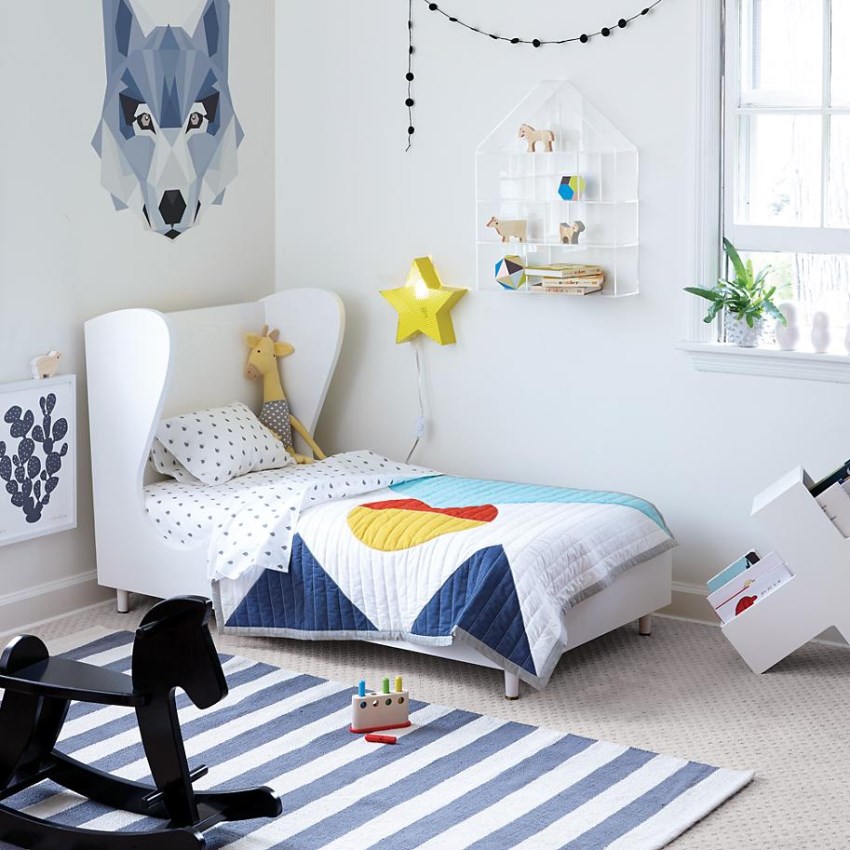 Fabulous Furniture
Clean lines in black and white dominate this New Issue Modern Bookcase from The Land of Nod. A three-tier piece designed by Royce Nelson, the shelf makes it possible for your little one to see the covers of each and every book on display.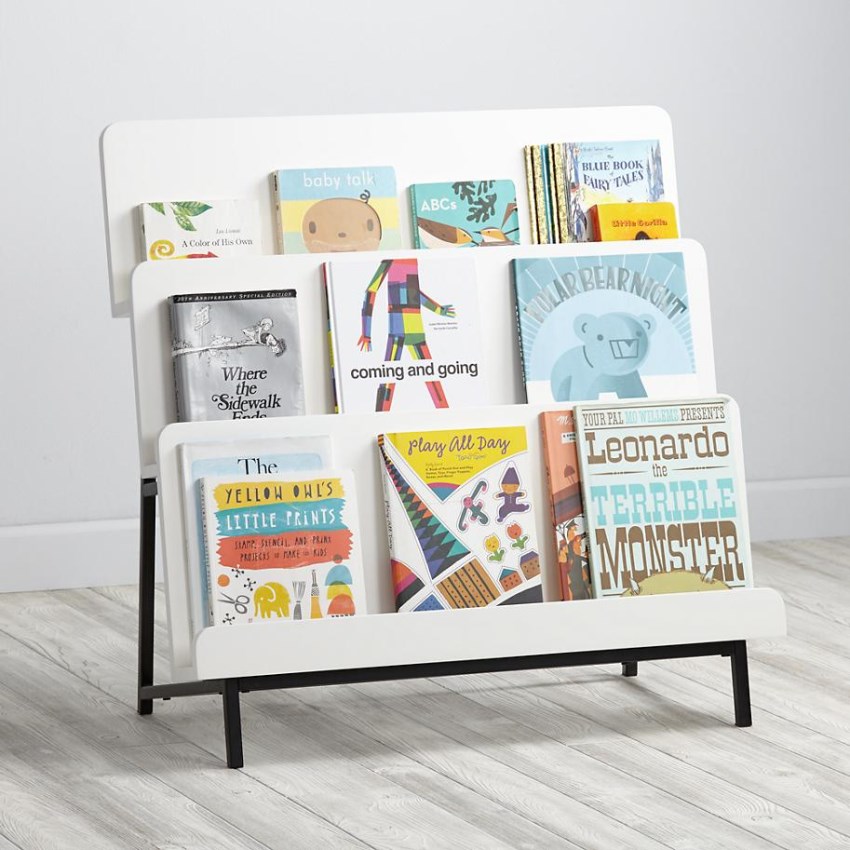 Kalon's Caravan Crib is already a beloved piece among design enthusiasts. But a new color been added to the mix: coral! A solid wood piece with no toxins and no off-gassing, this crib is also colorful, thanks to the red-orange hue that you can now choose for your baby girl or boy. The best part: the crib easily converts to a toddler bed that can also be used as seating. Win-win!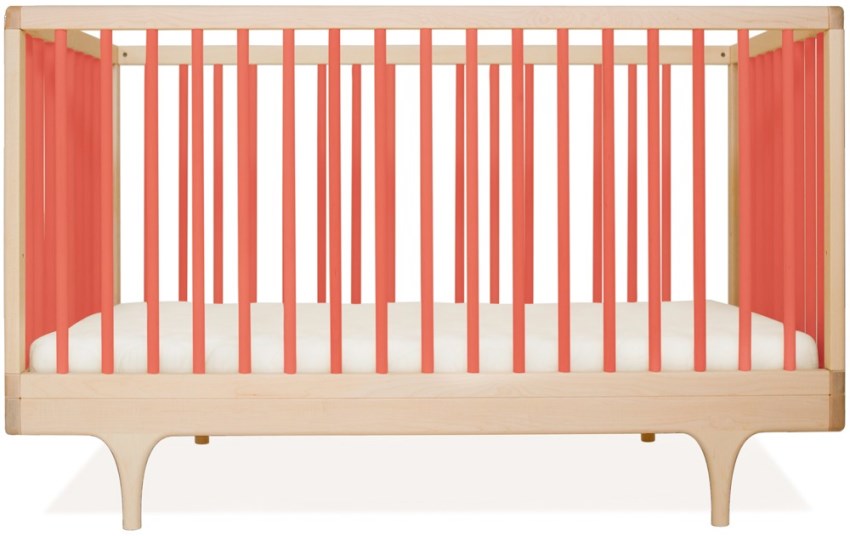 Restoration Home's Neoclassic Bookcase is sculptural, charming and grand at the same time. This hardwood piece is GREENGUARD Gold Certified and meets or exceeds stringent chemical emissions standards. An arched form, Doric pilasters and an heirloom white finish are standout features.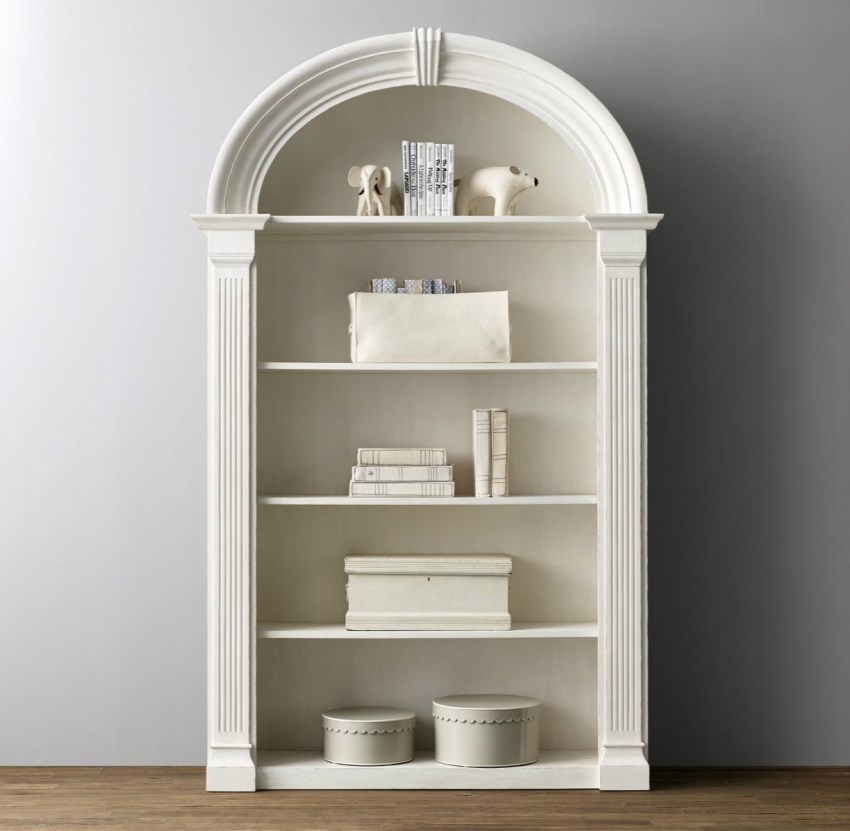 Playful Textiles
This Mini Dot Sheet Set from PB Teen proves that it pays to look outside of children's specialty shops for interesting kids' room finds. PB Teen consistently offers bedding options that take the design factor up a notch, especially when it comes to the typical fare offered for younger kids. Classic yet playful dots rule in this pattern, which comes in a variety of colors: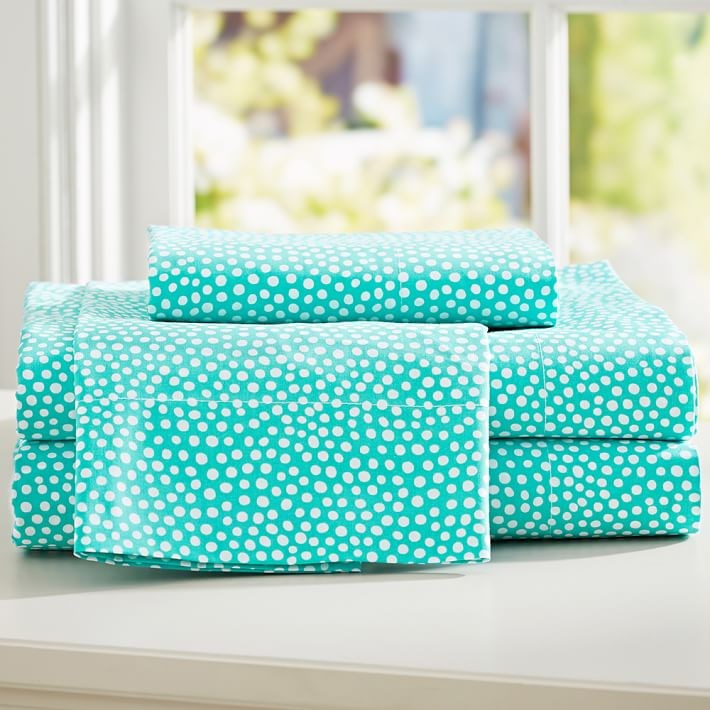 Restoration Hardware's Boucle Cloud Changing Pad Covers bring light and airy style to the nursery, not to mention, a dash of whimsy! Puffy cloud appliqués give these covers their signature style: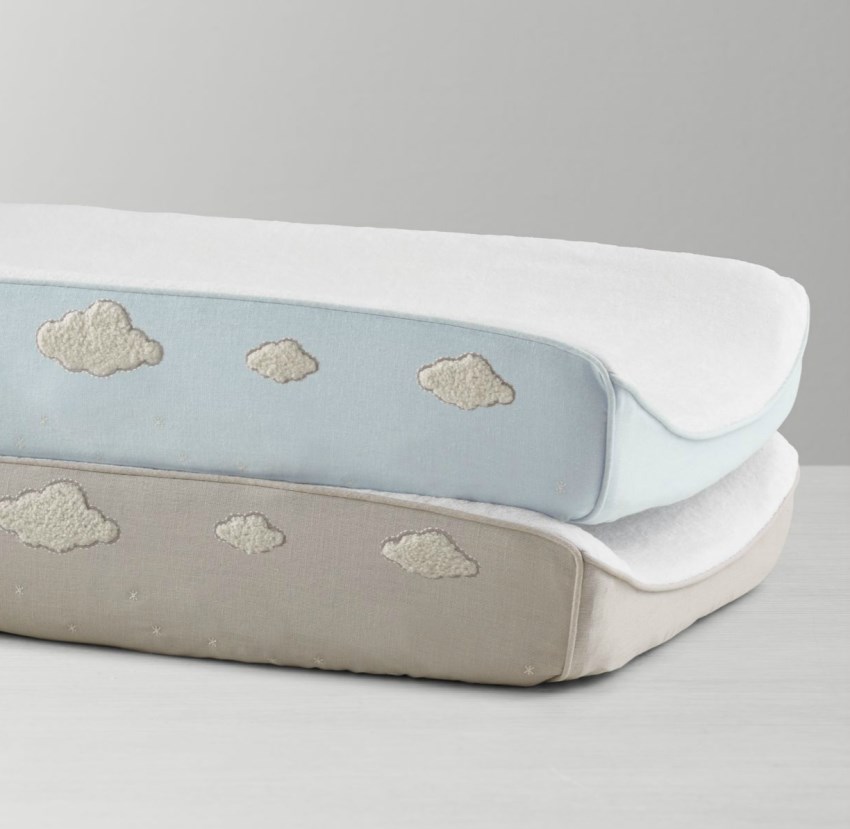 Patterned Rugs
The Land of Nod's Half-Stripe Rug in Aqua is made from 100% cotton. A dual-tone approach is a fresh, modern take on the classic stripe, and the combination of aqua and grey is perfect for gender-neutral spaces: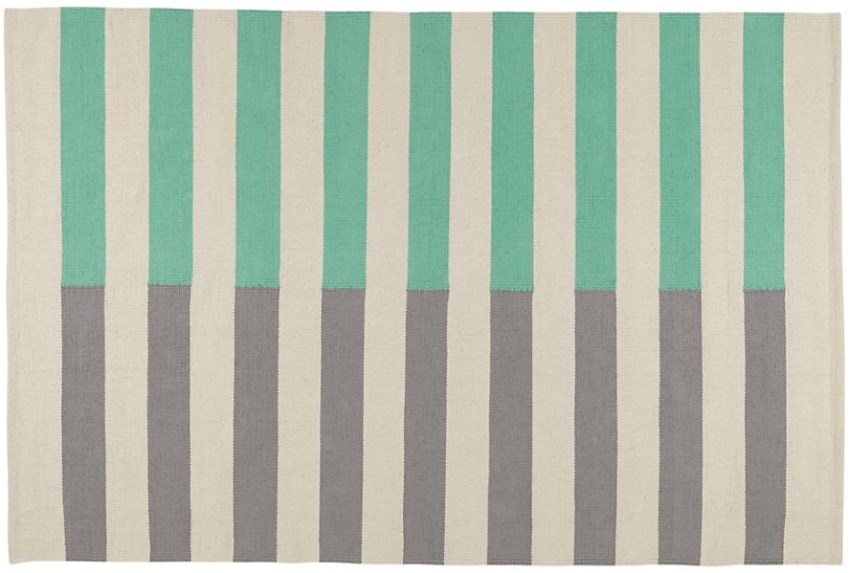 As in the case of bedding, rugs for your baby's nursery or your child's bedroom can often be purchased at shops for grown-ups, as kid-friendly patterns are alive and well in today's design realm. Don't hesitate to leave the comfort of the children's decor store to find something that may be perfect for your little one's space. Below we see the Printed Overlay Rug from CB2: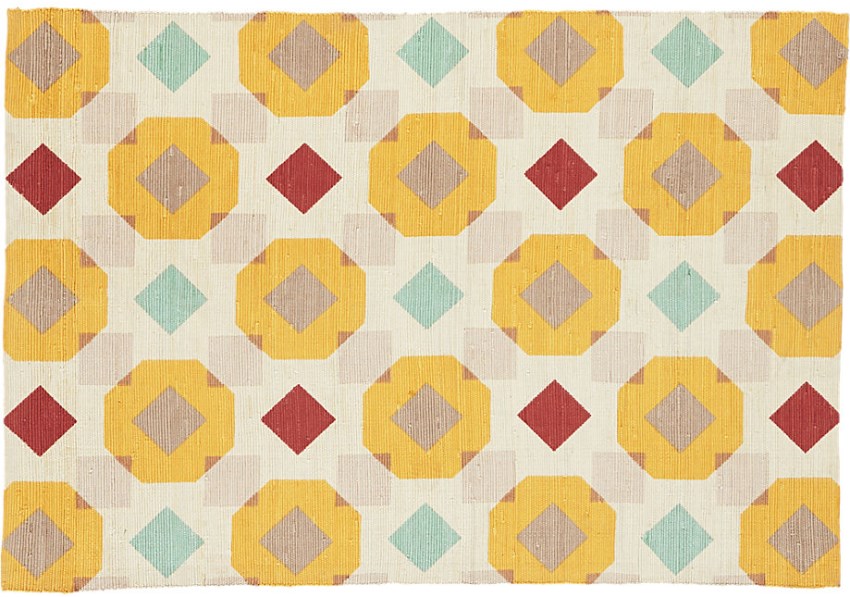 Eye-Catching Toys
These Build Me Up Boats Puzzle Blocks from The Land of Nod are colorful and striking enough to double as decor, and their eco-friendly construction is another bonus. FSC-certified linden wood hand-finished with a water-based non-toxic stain is an ideal combination for toys that will be repeatedly handled by your little one.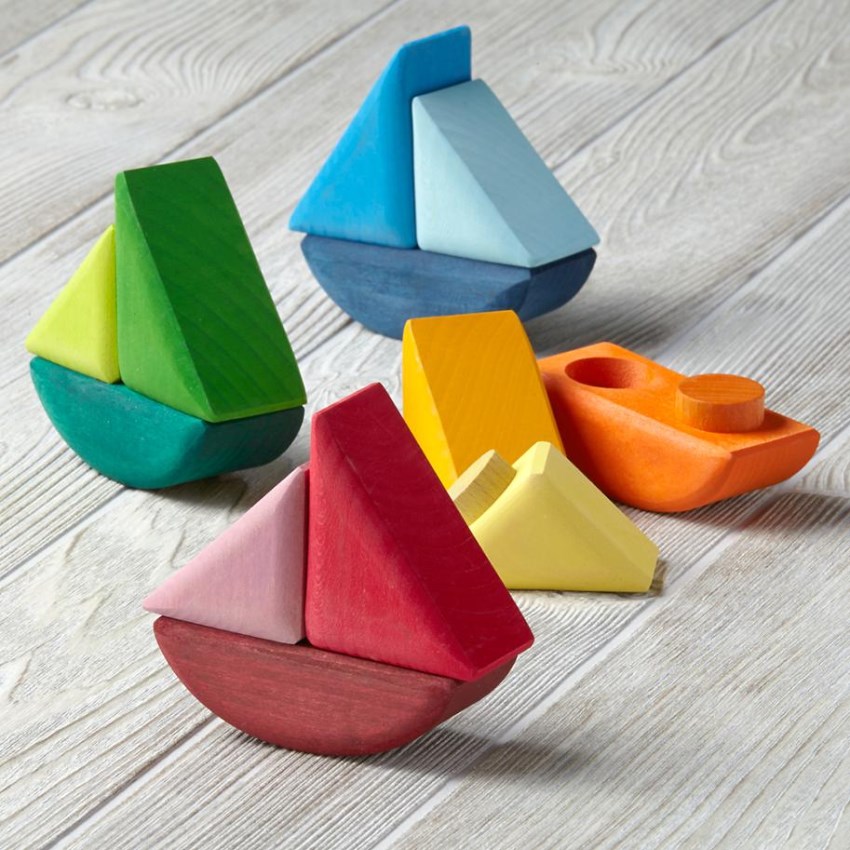 Don't let the toys take over your space! These STICKAT baskets from IKEA come in sets of two, and they're perfect for stashing small items and keeping toys organized: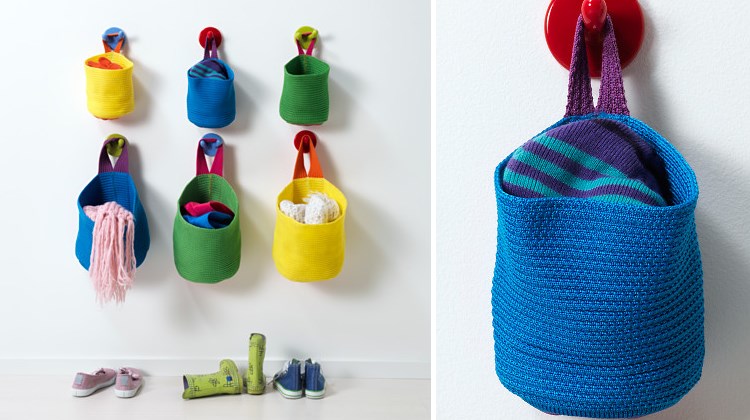 Are you in the process of decorating a nursery, or a room for your toddler or older child? Tell us about the process and your favorite design finds by leaving a comment below…