It's prime time for outdoor dining, folks! Are you dreaming of long tables draped in linen and beautifully set with an abundance of dishware? Time to shift gears…because aside from that rare party, outdoor dining is often much more about creating a few special moments while the bugs inspect the food. Yes, outdoor dining can be a bit of a juggling act, which is why today's post focuses on keeping it simple. This is the kind of dining you can enjoy every night of the week, or whenever the summer breeze inspires you! [photo from Oehme van Sweden Landscape Architecture]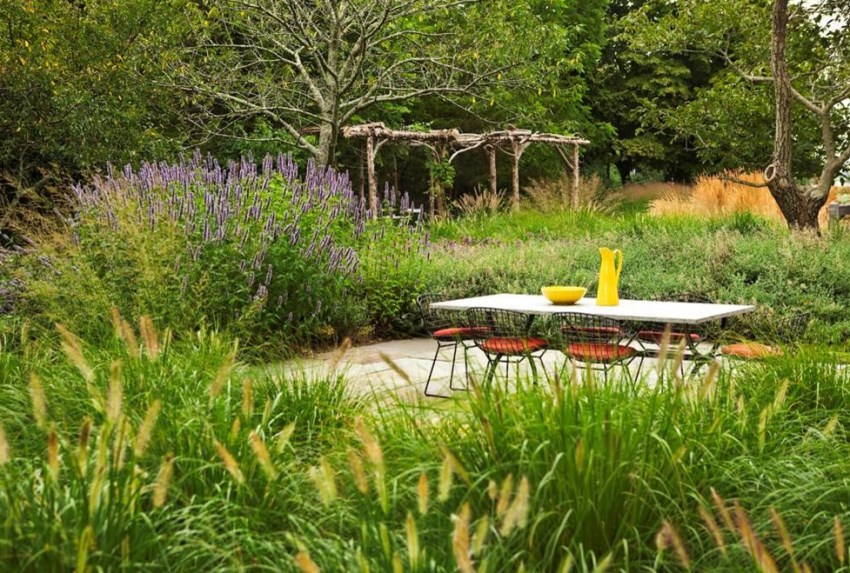 Setting the Stage
Let's start with the setting. Chances are your outdoor dining table is in a spot that's either practical (for example, on the patio) or beautiful (for example, in the prettiest corner of the yard). Maybe both! Use your table's location to your advantage. If it's surrounded by plants, let them become a part of the night's festivities. A collection of potted plants makes the perfect centerpiece for a night of dining al fresco. [photo from Scott Weston Architecture Design PL via Houzz]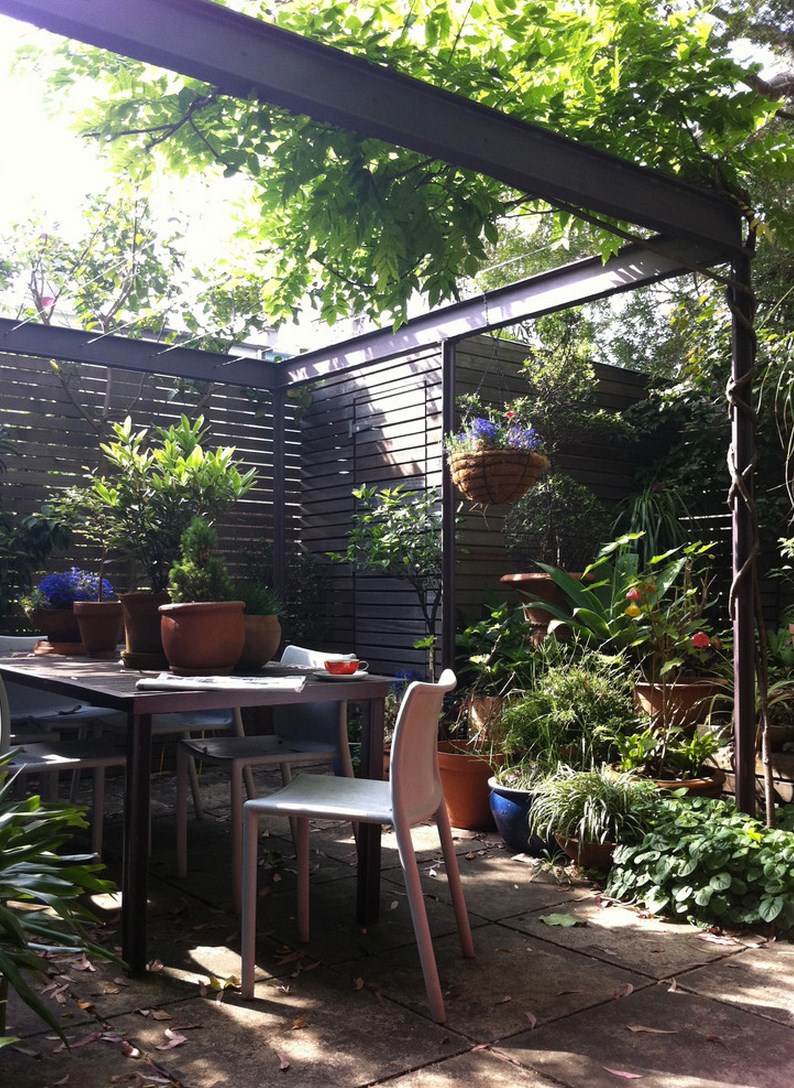 Think about simple ways to add atmosphere, such as string lights over the patio, which double as helpful lighting once the sun sets. Speaking of atmosphere, note that pests such as mosquitoes can absolutely kill the mood. Simple additions such as an oscillating fan or two near your table can help keep the bugs at bay. Be sure to check out our list of natural mosquito repellent ideas for more information! [photo by Rob Campbell, from KBC Developments]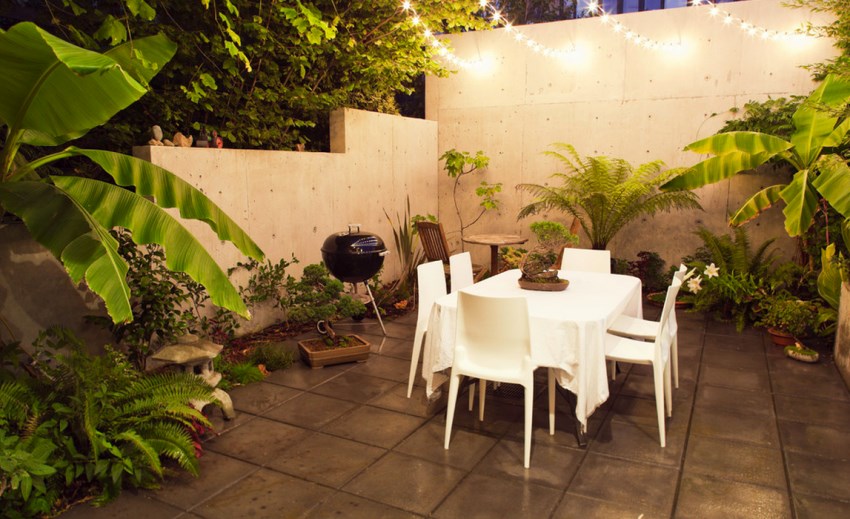 If you're hosting a large party or you feel compelled to set a beautiful table, keep it low maintenance by opting for clean-lined dinnerware, topped off with a refreshing dash of greenery on each plate. Vintage bottles make the perfect receptacles for flowers. And cushions make the perfect chairs, especially when bulk seating is required! Below we see a beautiful dinner party hosted by Athena Calderone, featured at Lonny: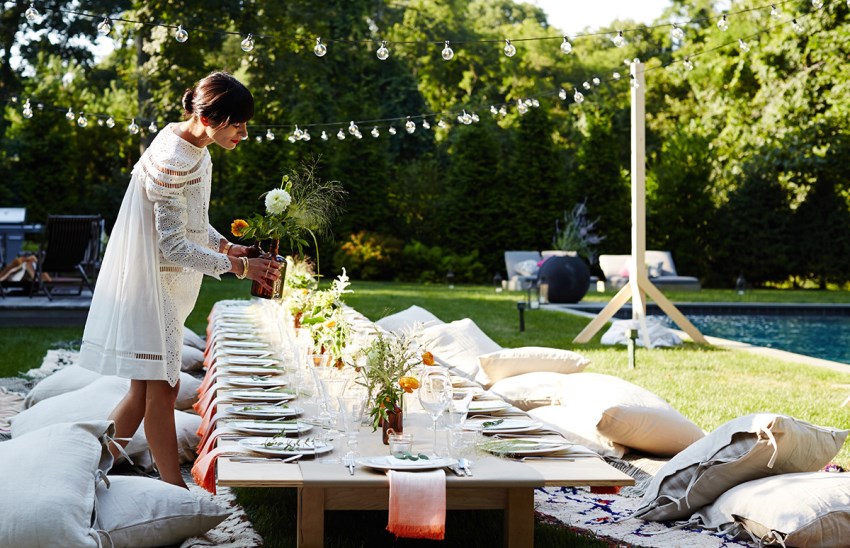 In fact, when it comes to outdoor dining, individual plants at each place setting can add the perfect embellishment to your table. Not only do they reinforce the outdoor theme and dress up even the simplest of place settings, small individual plants can double as party favors for guests. [table from Crate & Barrel via Mum RX]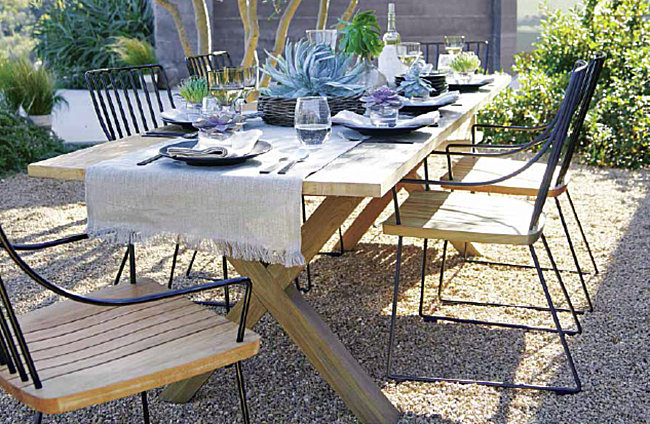 Practical Outdoor Solutions
Let's talk practical details! An impromptu meal on the deck on a breezy summer night necessitates some go-to pieces that make life easy. These Basketweave Placemats from CB2 are crafted from waterproof, fade-resistant PVC. Not to mention, weather-proof placemats are the perfect alternative to a tablecloth.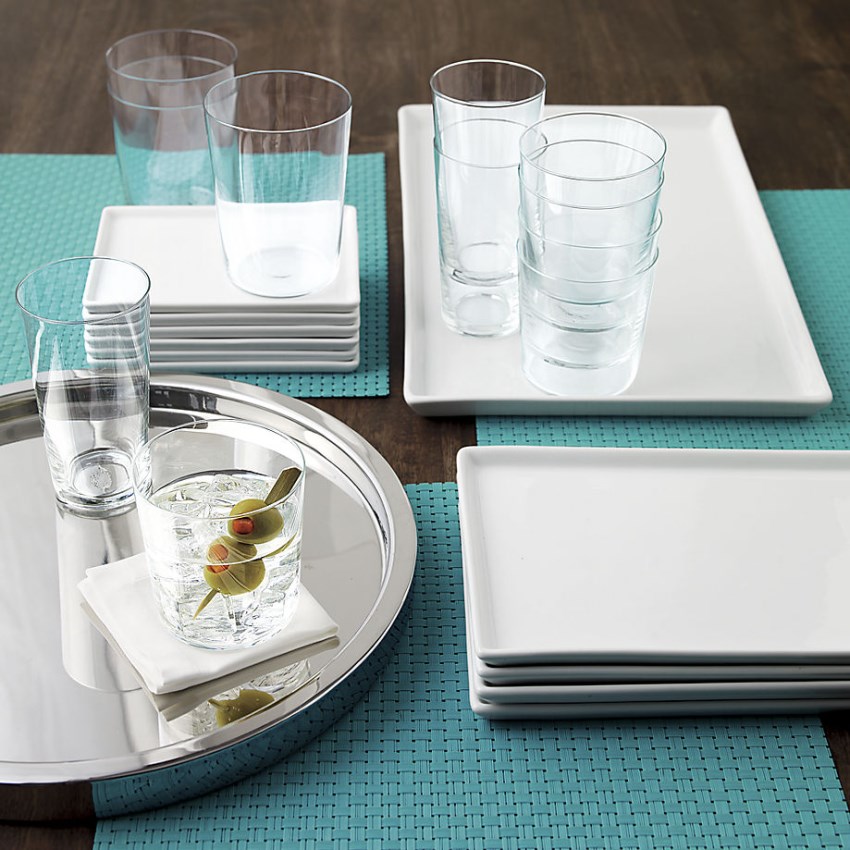 Another outdoor dining life saver: trays! When you're transporting food and drink items from your kitchen to your patio, you need a way to move multiple items at a time while keeping them together. A tray is your answer. Purchase several trays, and use them to give items such as appetizers and drinks a quick lift outdoors. [Jardine Dining Table from West Elm]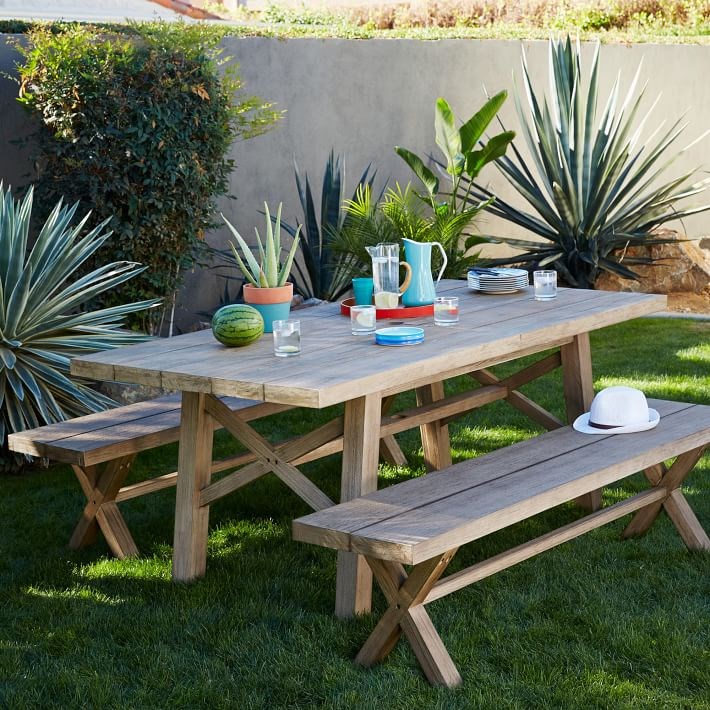 Don't forget the value of having everything you need at the table during the meal. This means making it easy for guests to refill drinks. Keep a carafe or a pitcher in the middle of your outdoor dining table so refills are just a quick reach away.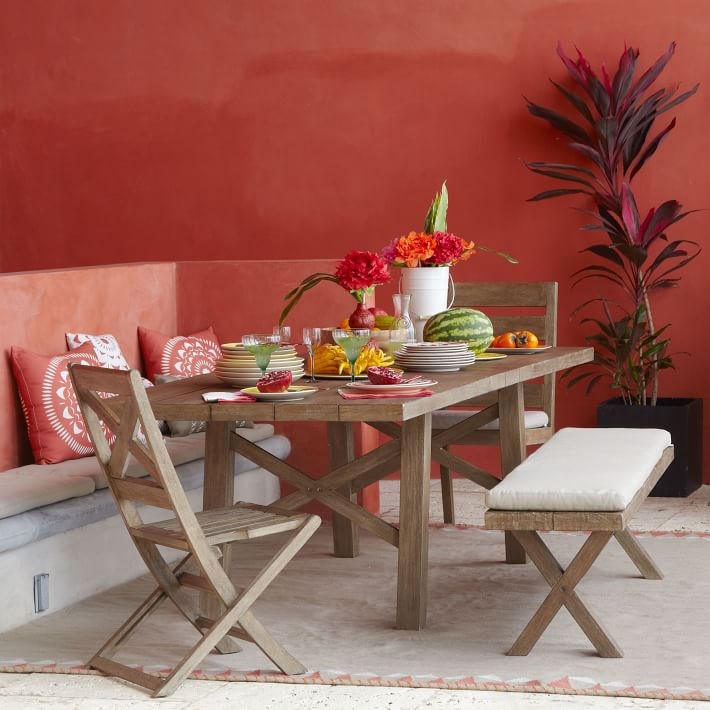 If you're looking for an easy approach to outdoor entertaining and you don't want to give the flies time to buzz around a big spread of food, simply stack plates and bowls at the table and let guests come indoors to serve themselves. Then it's back out to the patio for a delicious dining experience! [photo from Austin Outdoor Design]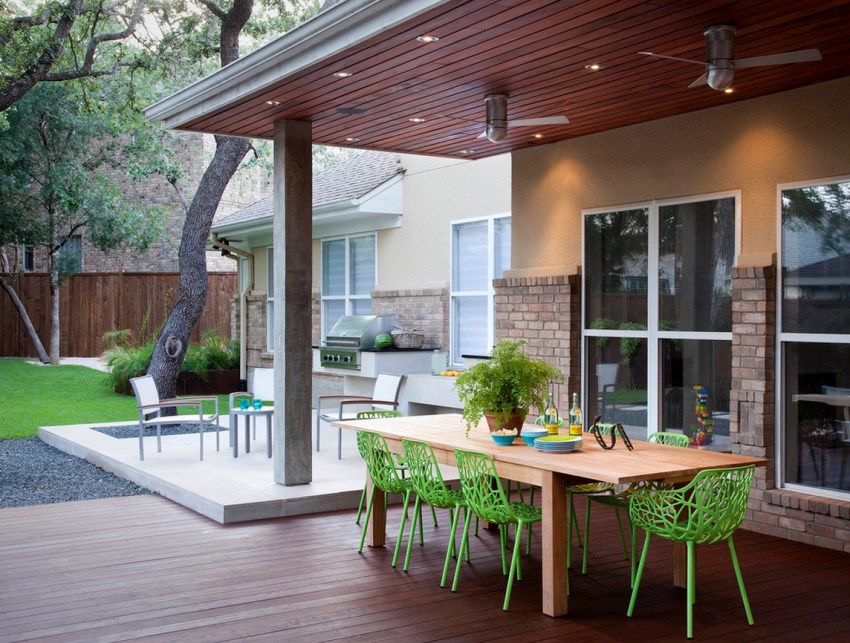 Keep an eye out for ways to make setting the outdoor table a grab-and-go experience. Grouping flatware into easily accessible bundles is one way to keep it simple. Bonus: this Seersucker Red Flatware Goodie Pouch from Crate & Barrel is currently on sale. Stock up!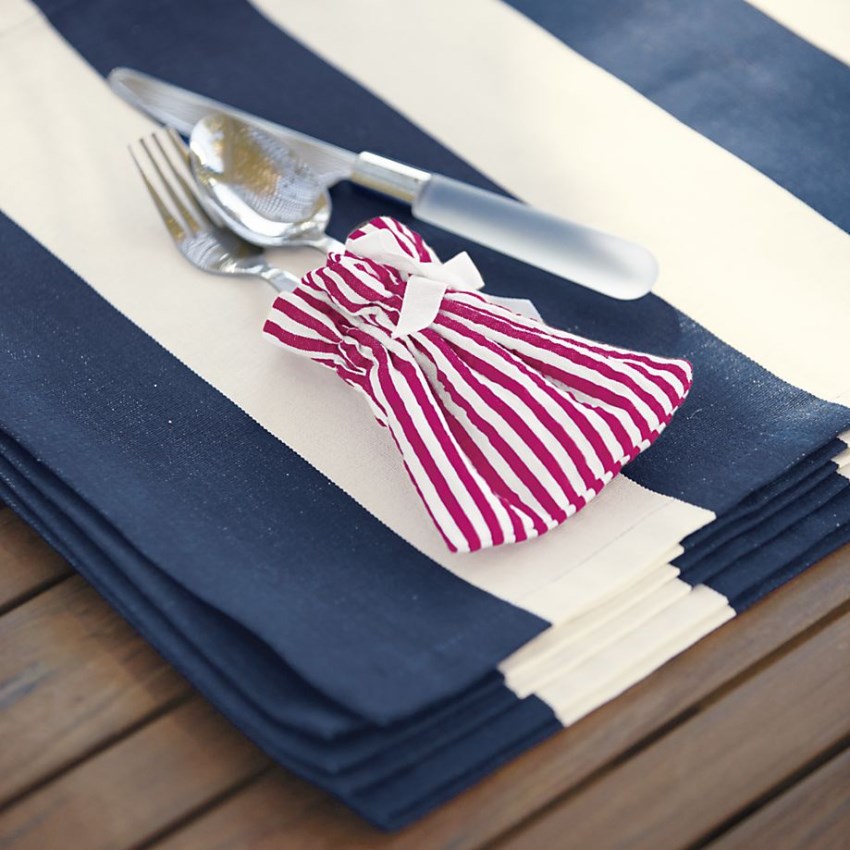 Looking for a quick and easy place setting idea? If you're compelled to take things up a notch, try this winning formula: a woven placemat; dinner plate and salad plate topped with a napkin; a fork, knife and spoon; one cup of water. Simple yet lovely! [photo from Crate & Barrel]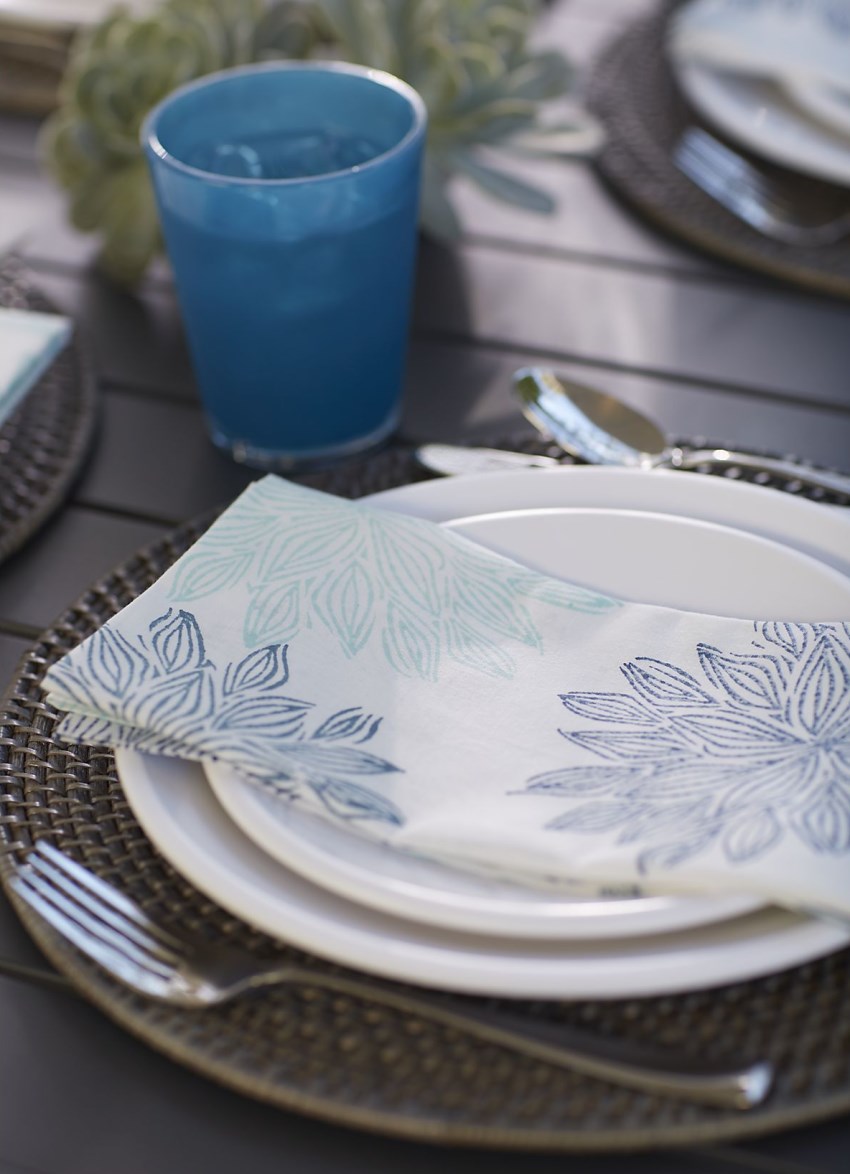 Finally, if you plan on spending the evening outdoors rather than eating a quick bite, set up a drink station where guests can easily replenish drinks, grab another glass, or access a clean plate for nibbles. The Glass Beverage Dispenser below is from CB2: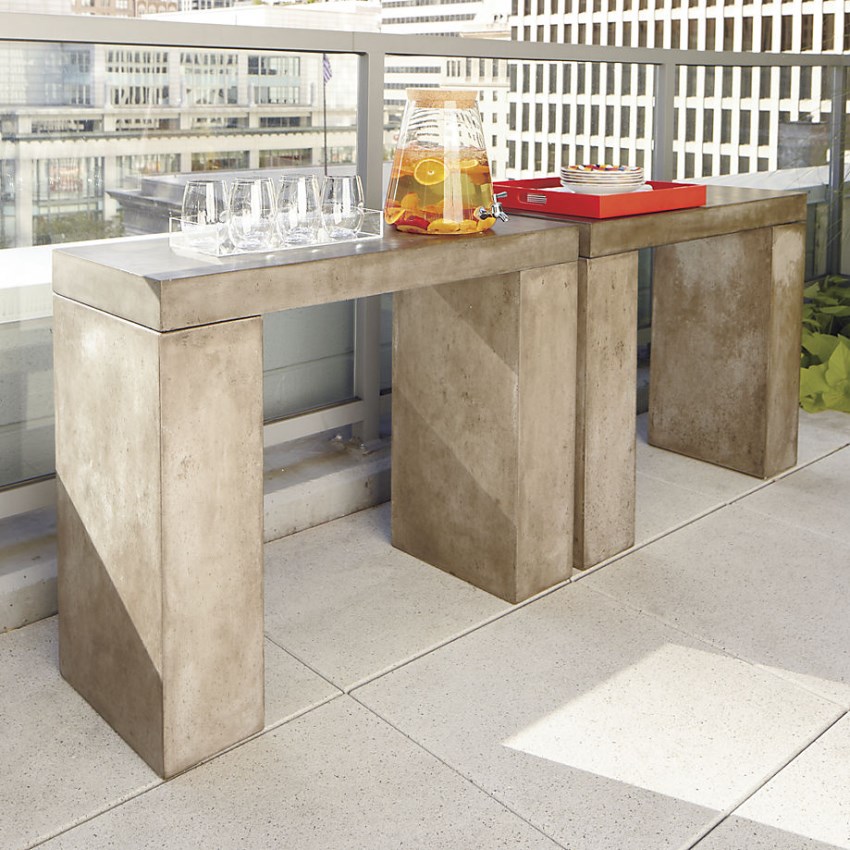 Do you have any outdoor dining tricks you'd like to share? Leave a comment with your tip or helpful hint below…