'Tis the season for outdoor dining! Do you have a patio with a dining table and chairs? Perhaps you're hoping to turn your outdoor space into a relaxing retreat where you can share good food and good conversation with the people you care about. Today's post is a great step in the right direction! Below you will find some stunning images that prove outdoor dining can be a lovely form of escape…
Patterned Walls
Our first batch of outdoor dining spaces create atmosphere with the help of patterned walls, as shown in this Midcentury dining area featuring a beautiful Silverstrand table and chair combo by ZuoMod. Happy side note: you can even purchase the chairs through Home Depot! [Photo by Patrick Ketchum for H3K Design]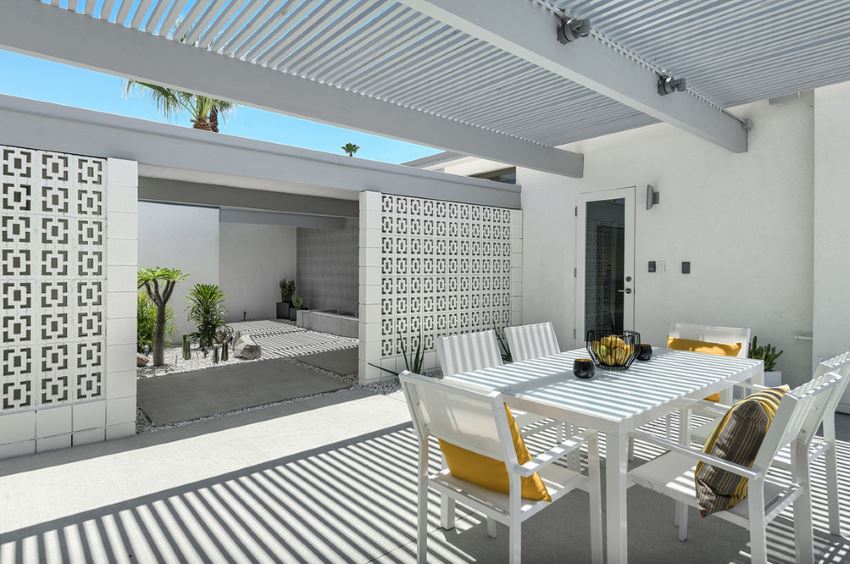 From light to dark! This rich-toned dining space features an intricate wall panel that adds drama, right along with a tropical centerpiece in a sculptural vase. Dark, sleek and fabulous! [from Mr. Mitchell]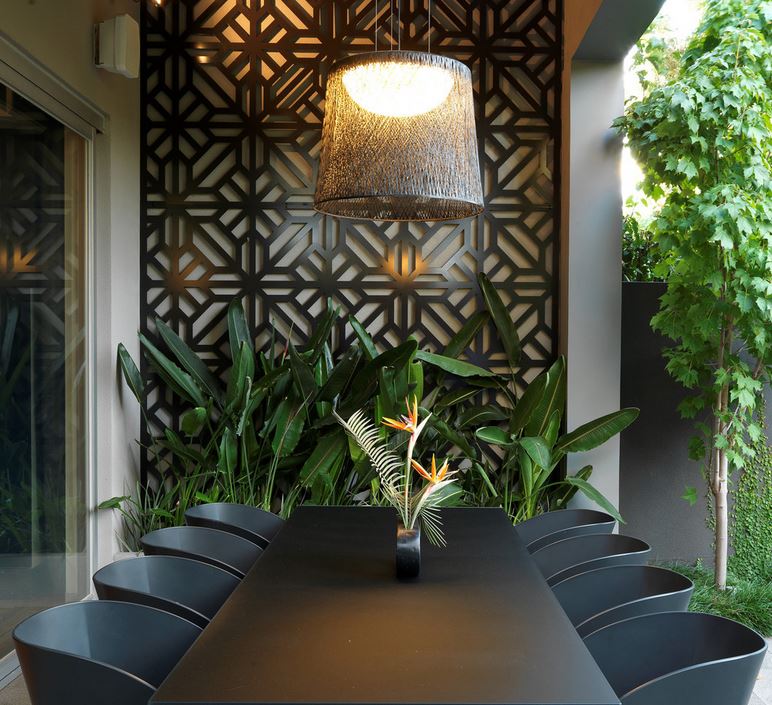 Perfectly Modern
These next three outdoor dining areas feature modern surroundings created with the help of strategic decor and beautiful landscaping. The outdoor Napa Valley dining space below by Garden Architecture is a beautiful extension of the natural world. A graveled courtyard is filled with brown and grey tones (including the dining table itself), while the seating mimics the fresh green of the trees: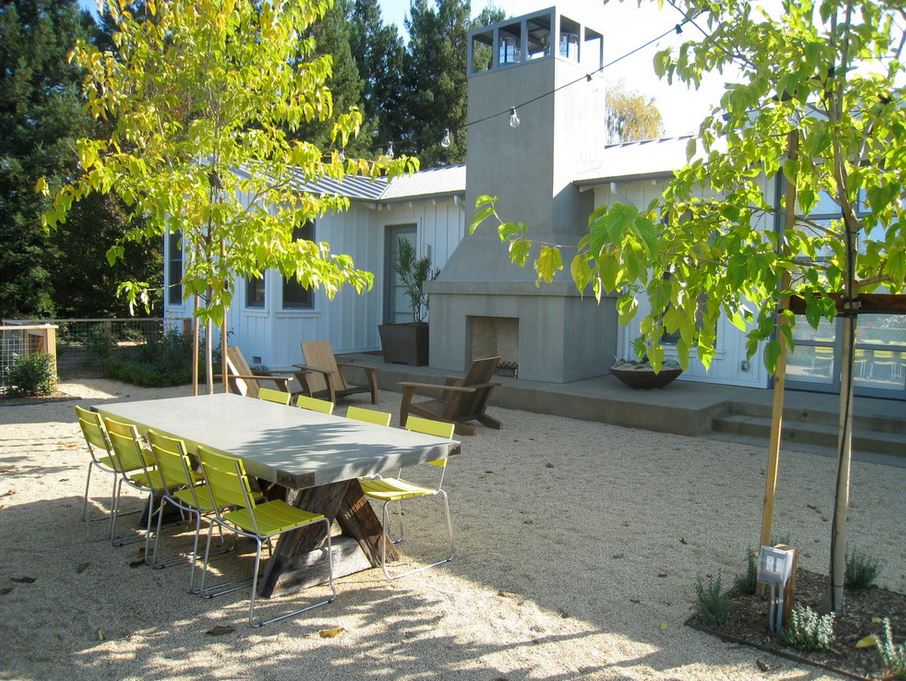 The Apollo Dining Table from CB2 is showcased in the modern outdoor dining area below. Designed by Jannis Ellenberger, this piece is crafted from durable FSC-certified, plantation-grown mahogany wood. An angled base and slatted top are other standout features. Add Apollo seating and a cactus- and gravel-filled courtyard, and you have the perfect eating spot: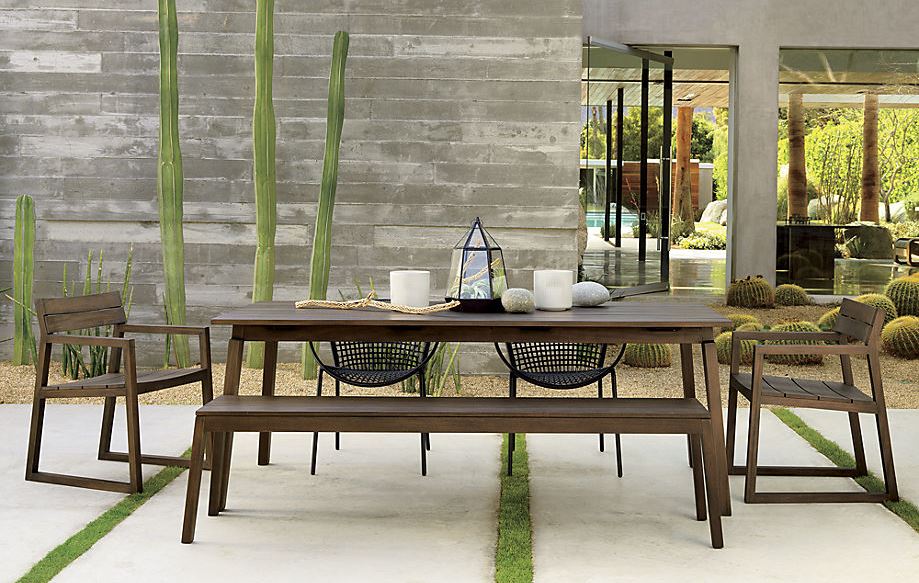 In another dining space featuring CB2 items, we see the Dockside II Dining Table, designed by Jonas Wahlstrom. This photo proves that you can use color to your advantage when it comes to dining al fresco. Note the colorful umbrella, vibrant chairs, eye-catching glassware and radiant plants. You don't need a view of the ocean to make a dining space memorable!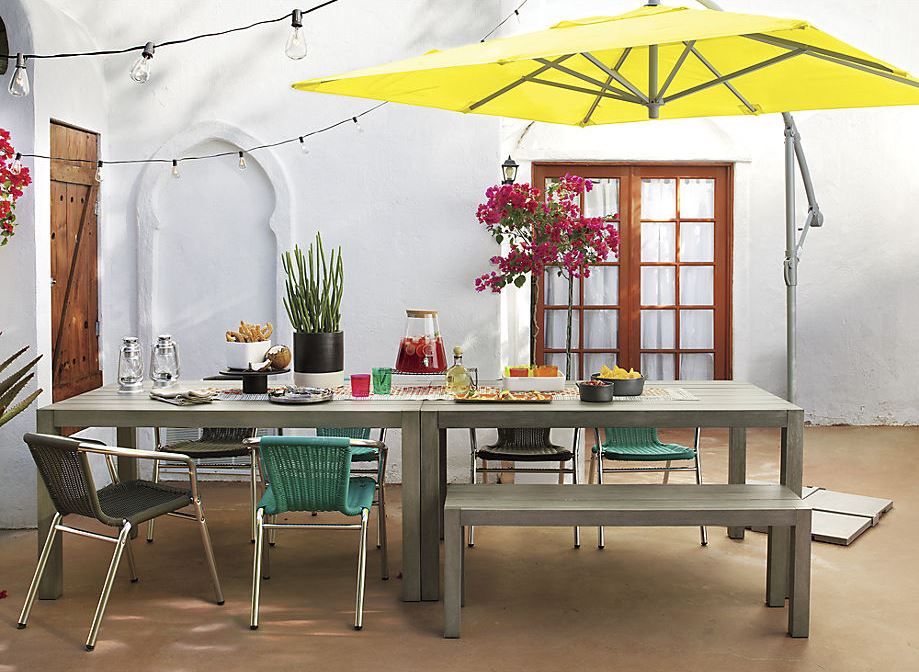 All About the Plants
Lush plants are a key ingredient in many an outdoor dining space. By adding just the right dose of greenery, you can create privacy while celebrating nature at the same time! This photo features West Elm's Mid-Century Dining Table in Auburn, as well as plenty of plants that create a modern statement in shades of green: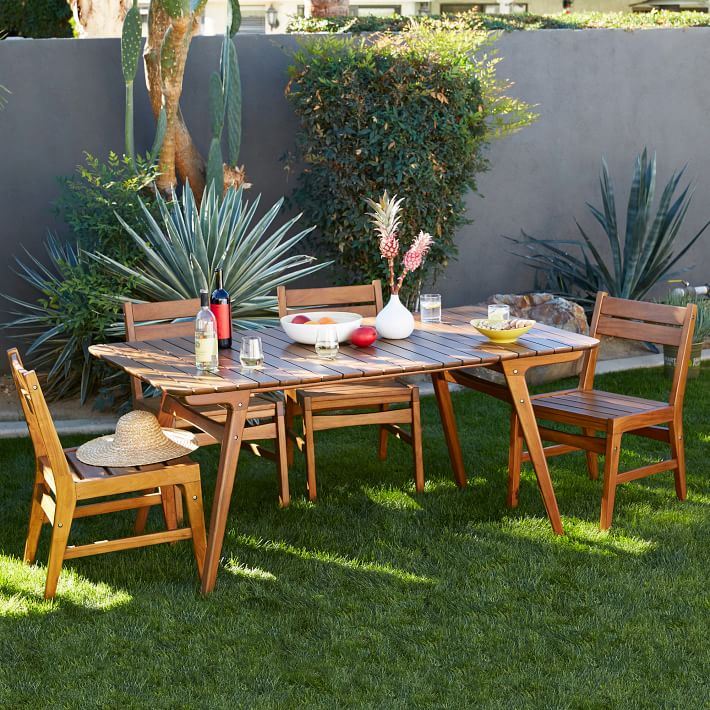 When Design Love Fest blogger Bri Emery hosted a backyard dinner party in collaboration with onefinestay, the results were nothing short of gorgeous. Flowering vines surround the outdoor dining table, which was set with an abundance of rose and earth tones for the evening. See more photos here. [photos by Brittany Wood]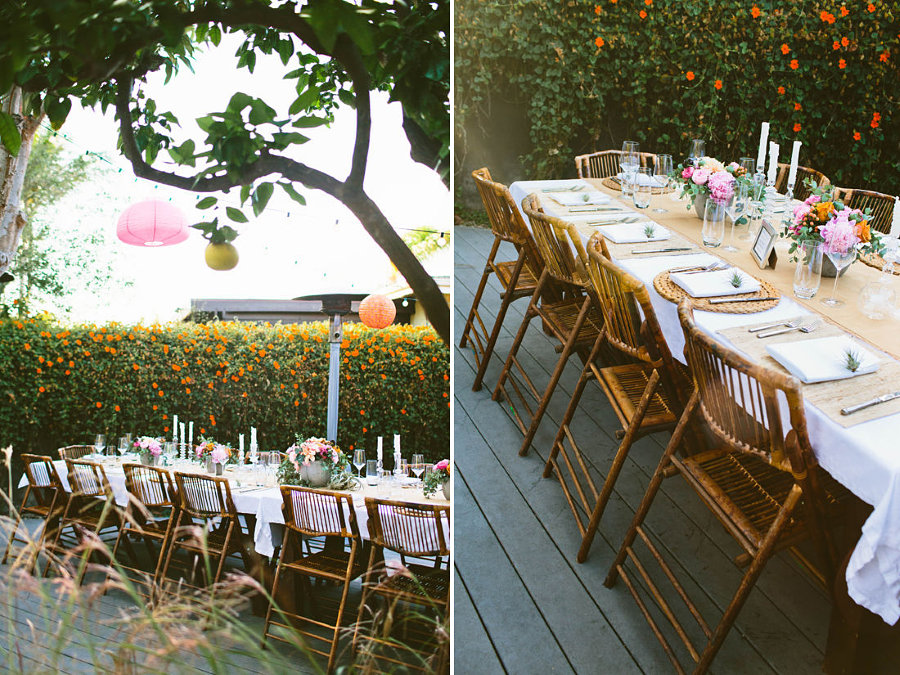 Outdoor Dining with a View
There's nothing like an outdoor dining space with a view! And when you live in Carmel Valley, California, the view is undeniably stunning. Add lovely trees and shrub selections such as Nepeta and Sage, and the landscaping that surrounds the dining table is as beautiful as the view itself. [from Arterra Landscape Architects]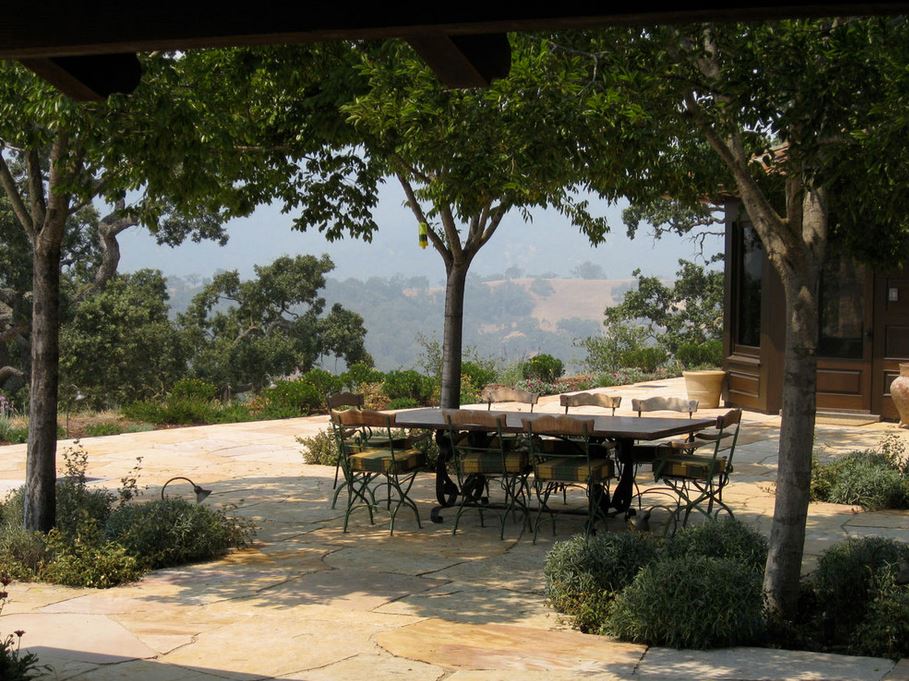 A view of tall buildings is undeniably modern, and these Dune Dining Chairs from Crate & Barrel are a perfect complement to the cityscape on the other side of the glass railing: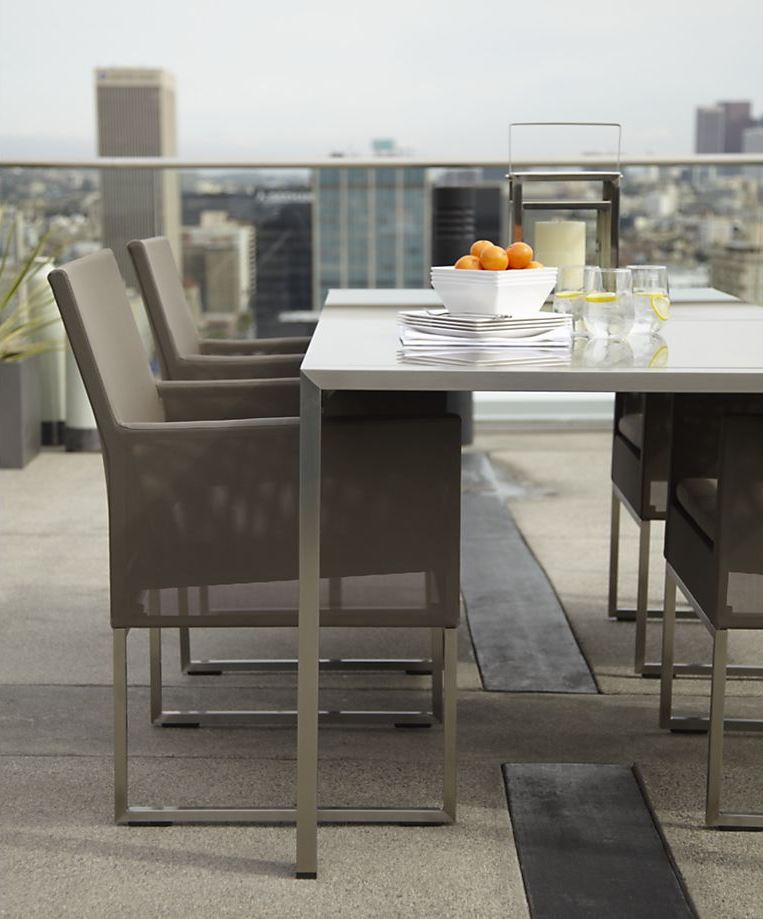 Flowing curtains add a touch of drama to this outdoor dining space with an ocean view. Fresh flowers grace the wooden table, and the sea breeze does the rest! [from Peter Rose + Partners]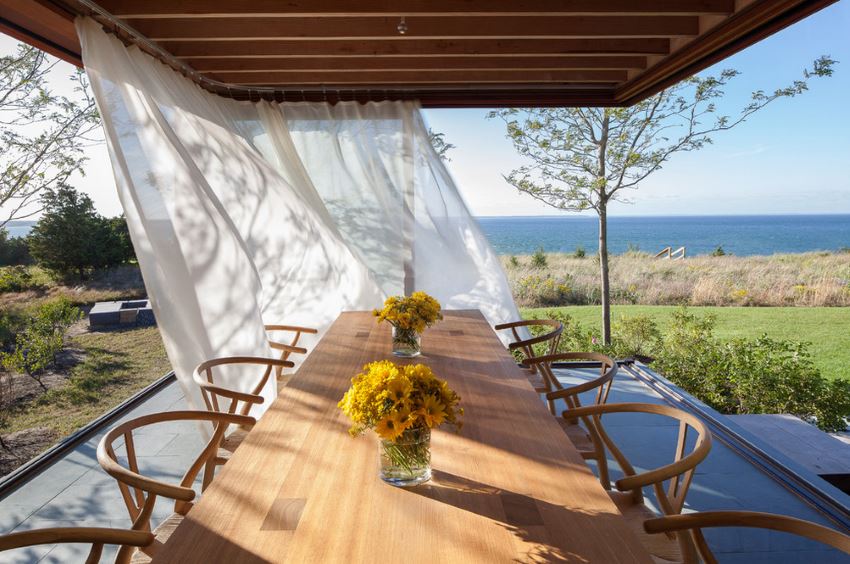 Whether your patio with view will be the setting of many parties or your small balcony simply needs a place to sit and enjoy a quick bite, we hope today's images have inspired you with their creative landscaping, modern furnishings and interesting accents. Here's to a season of beautiful evenings and delicious food!