If you're reading the title of today's post and thinking, "You style a trellis with vines—done!", you're right. But it can take awhile for vines to fill the trellis, and sometimes even when they do, you can't help but want to add a little bit more to such an inviting area of the yard! Whether you have a trellis, an arbor or a pergola, today's post shares some fun styling ideas to enjoy, especially if you're still waiting for those vines to grow in… [photo below by Jeffrey Edward Tryon for Princeton Design Collaborative]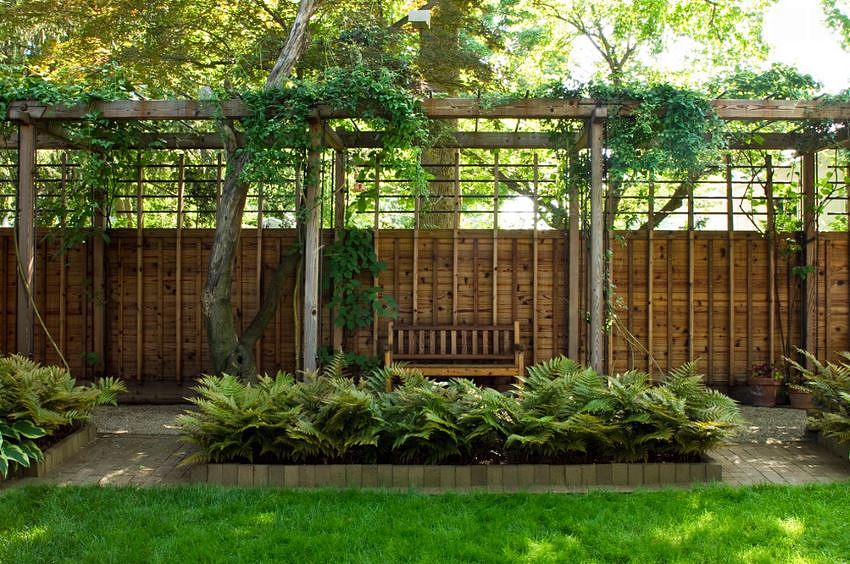 Plants at the Base
While you likely have plants at the base of your trellis that you're hoping will climb up the slats sooner or later, you can also add potted or in-ground plants to help the trellis area create a bigger impact in your yard. [photo by Steve Williams for Leone Design Studio]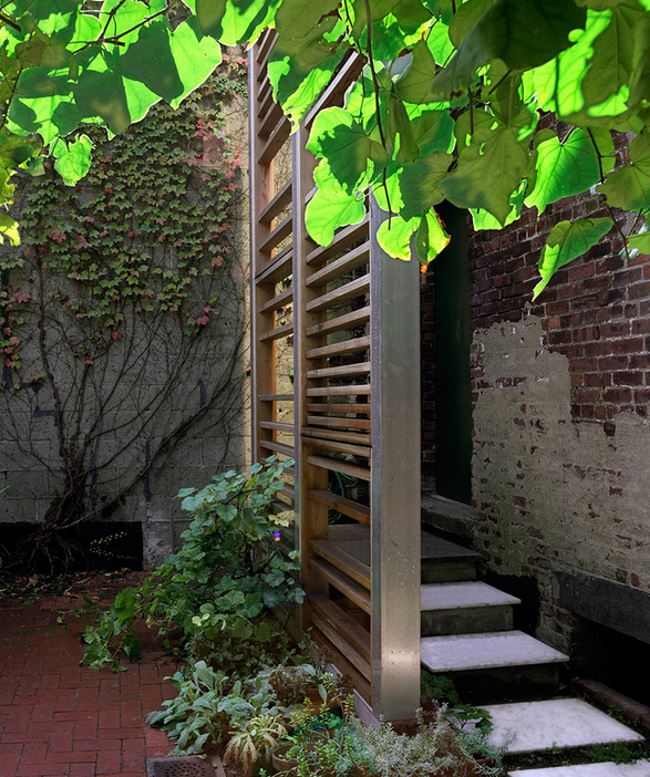 You can even add layers of plants (of different heights) at the base of the trellis, creating a lush vignette like this enchanting garden featured at Lonny: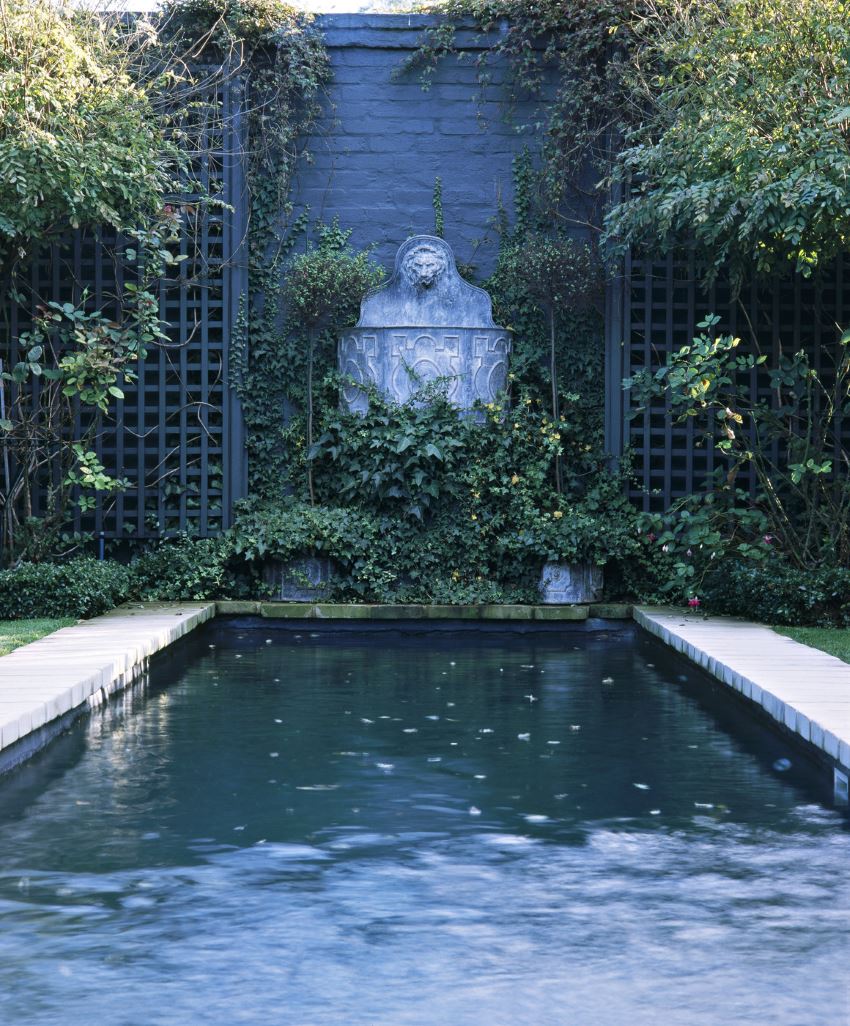 String Lights
If you have a pergola or an overhead trellis, you can always bring it to life with a row (or four!) of string lights, which invite guests to pull up a chair, kick back and stay awhile! [image from Third Nature Studio]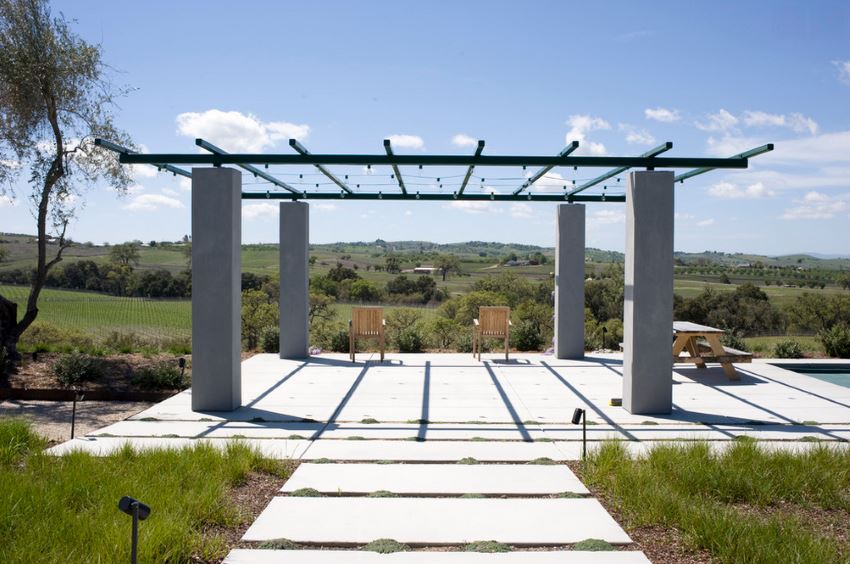 Here are some string lights hanging from my very own trellis at home. I purchased them a couple of years ago at Party City. They were inexpensive, they're quite durable and I simply replace the bulbs as they burn out over time. When the leaves of the trumpet vine fall off for the winter, the lights remind me that warm days on the patio are just around the corner once spring arrives!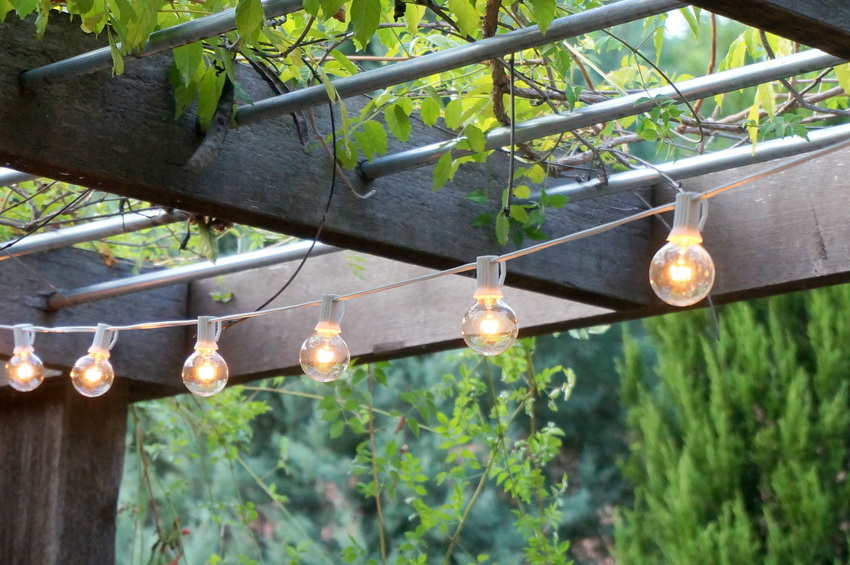 Outdoor Seating
There's nothing like enjoying the shade that a trellis provides! Punctuate your trellis area with some unforgettable seating, like these crisp modern selections at Port Antonio's Trident Hotel. [featured at Lonny]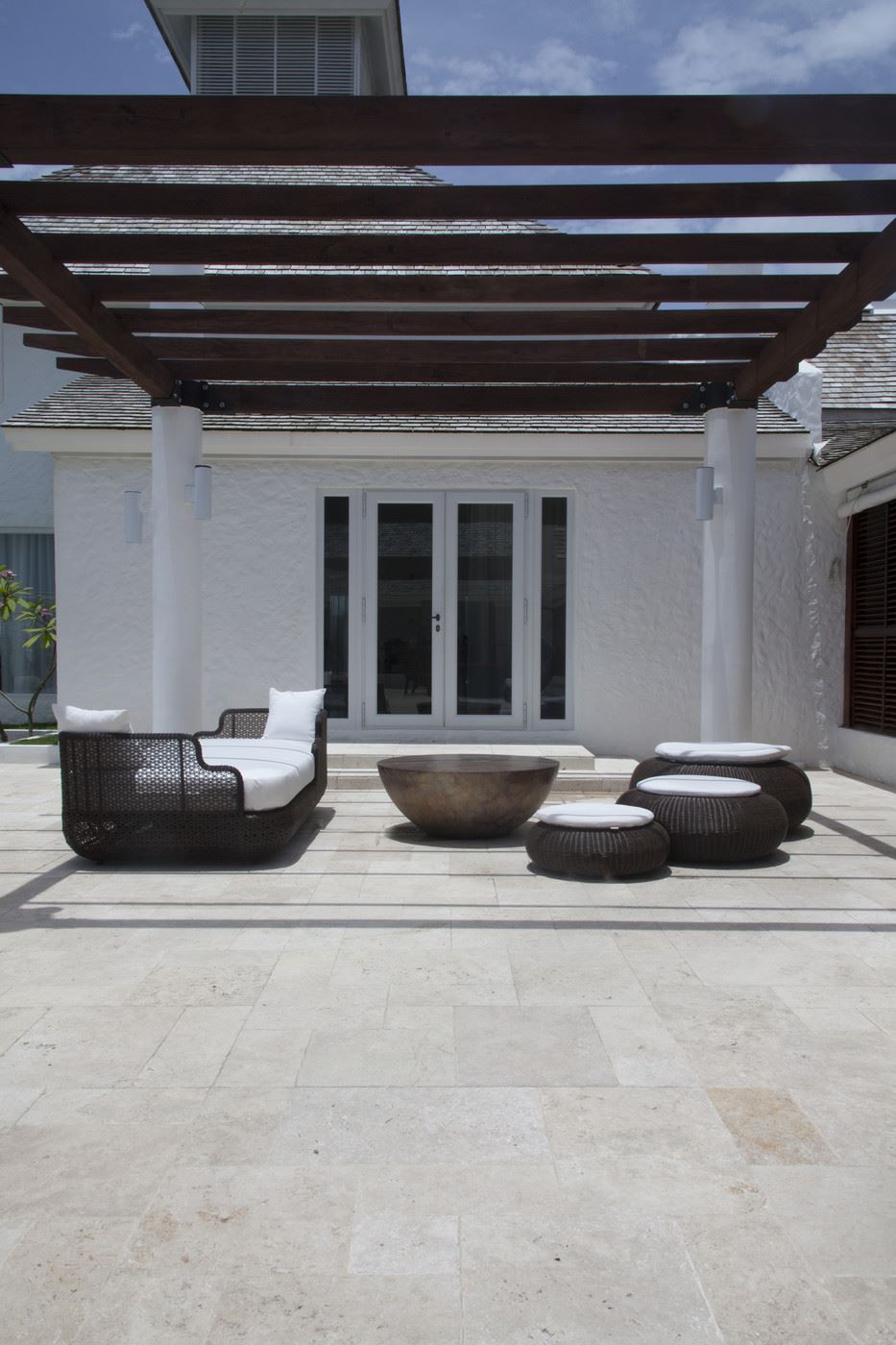 A bench is another wonderful option, especially when the view is this exquisite. Even if your only view is of flowers and leaves, a trellis naturally invites you to take a break from the worries of the day. Give yourself a place to sit! [photo by Elliott Johnson for Gast Architects]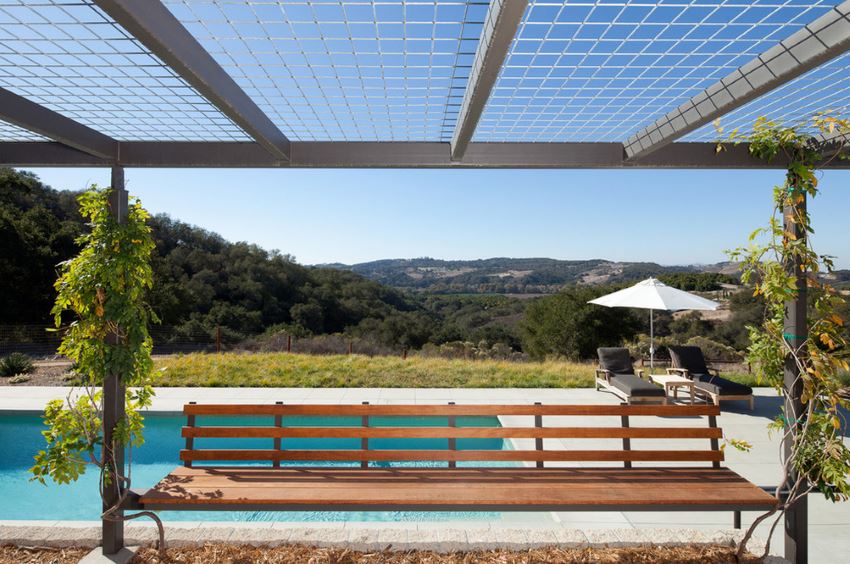 Colorful Accents
There's nothing like a little bit of color to enhance vibrant blooms on the trellis (or remind you that someday soon your trellis will be brimming with radiant flowers). The yellow wall in the image below is the perfect pop of color in this inviting yard. [image from Coffman Studio]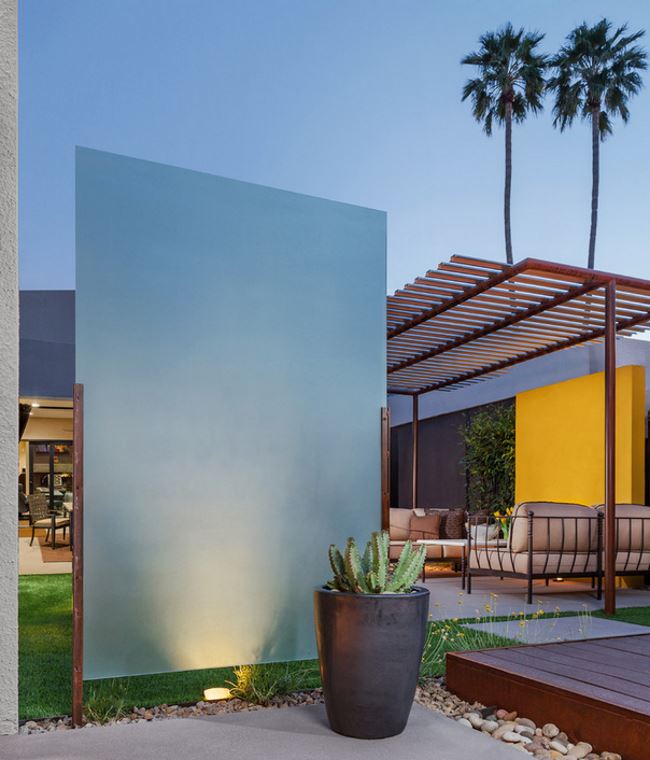 Here's another shot of the trellis area in my yard. A colorful Ixora plant is on the verge of blooming, and I've repainted my hanging planter a bright shade of minty turquoise. There are a lot of brown and grey accents in my backyard, so adding color is very important! Read more about my spring yardwork endeavors for some fun, practical ways to refresh your outdoor space.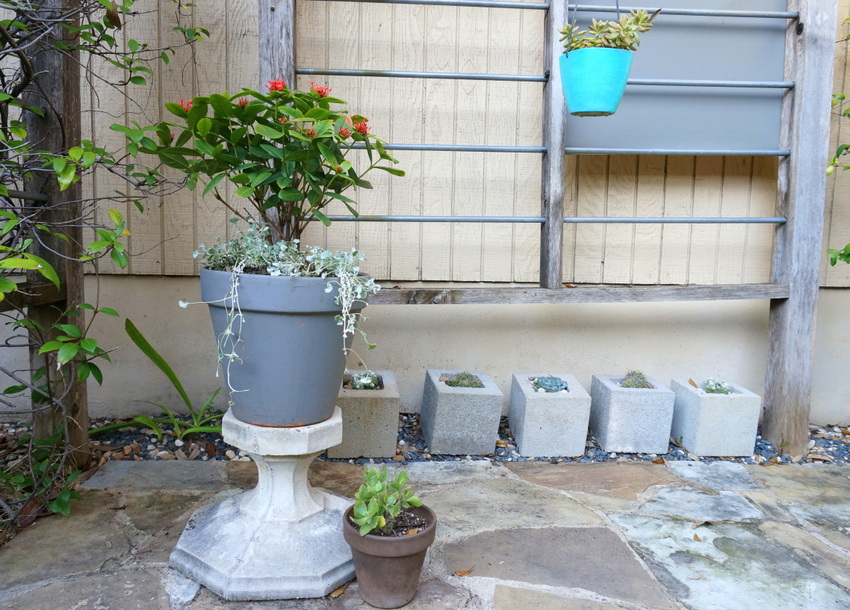 Even little things mean a lot when it comes to introducing color to your yard. Painted window frames can be found on either side of the pergola below. Blue flowers also make a big impact! [photo by Edward Caldwell for Arkin Tilt Architects]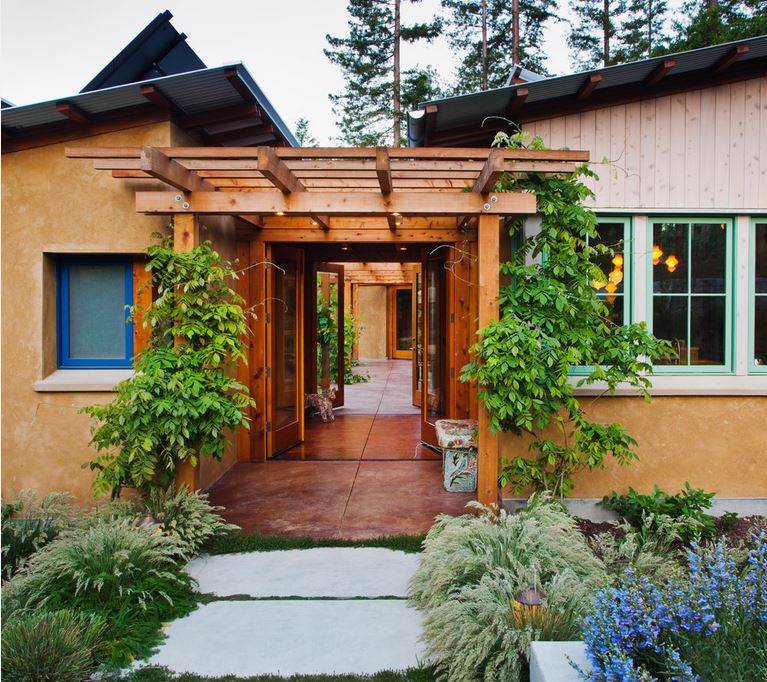 We hope today's trellis styling ideas will provide inspiration for your springtime gardening endeavors. Enjoy!