When it comes showcasing the work of talented artisans, it's hard to beat the modern style of Darkroom. This independent online shop and design label also has two London locations. A cheerleader for emerging artists, Darkroom often features work that boasts vivid colors, tribal patterns and clean forms. Rather than relying on traditional retail display techniques, Darkroom transforms its physical shops into installations that showcase collaborations with innovative creators, as well as the label's own work. Today we take a look at Darkroom's latest offerings for spring…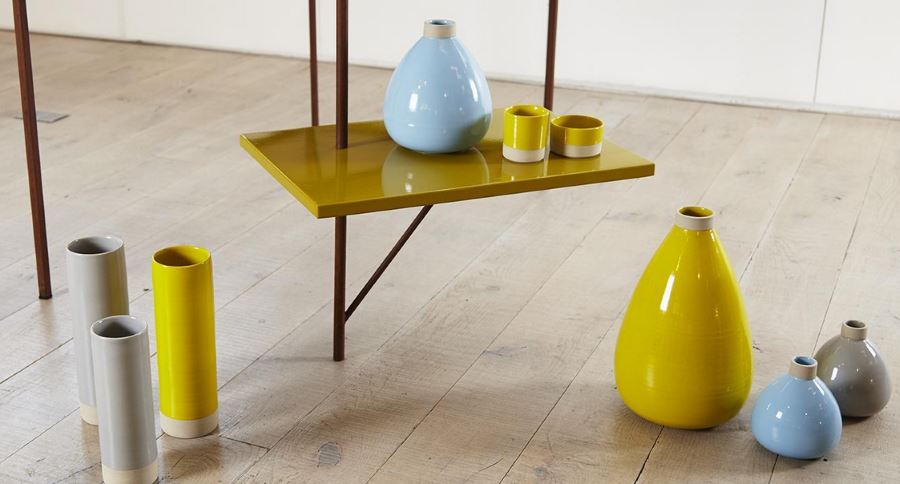 Ceramics by Les Guimards
Founded in 1976 by Nicole and Claud Hurtault, Les Guimards is now run by the couple's son Christophe. This season, Darkroom is featuring an array of colorful vessels and tableware from Le Guimards, including the pastel pieces shown below.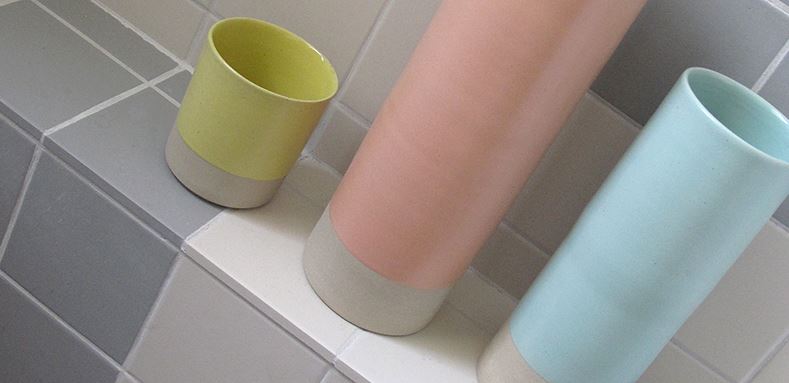 These Large Cylinder Vases are fully glazed on the interior and partly glazed on the exterior. Grey stoneware is enhanced with candy-colored hues that look good enough to eat.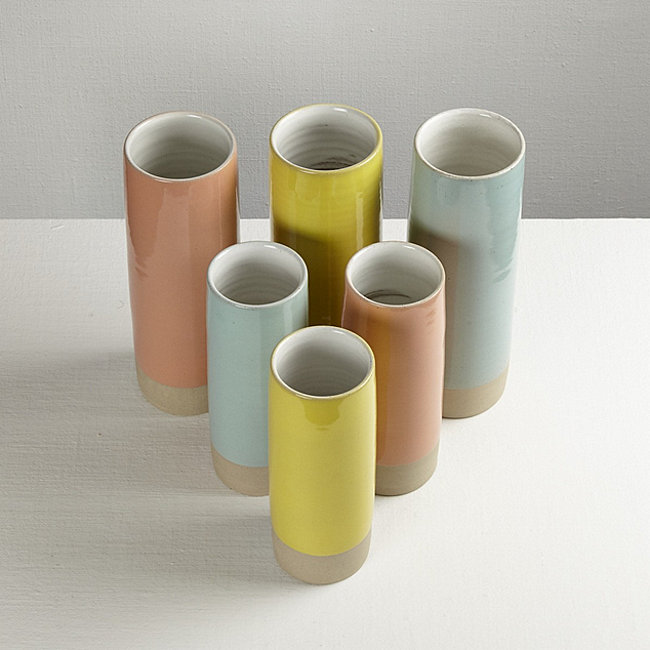 Below we see the rounded Koom Vases, which feature glossy glazes in coral, mint and smoke. Perhaps their color and form inspired Darkroom's descriptive header "Colour Drops"! Made in France, these Koom Vases feature slight indentations, the result of their potter's wheel origins. In the image that follows, the vases rest on a hand-finished 3 Pieces Desk by Muller Van Severen at Viaduct Furniture: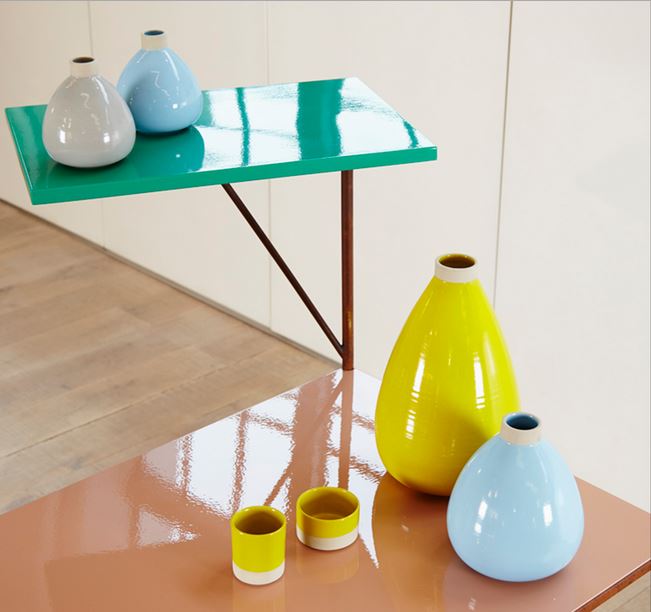 Crow Canyon Splatterware
If you're drawn to bright hues and bold contrasts, you'll love Darkroom's Splatterware by Crow Canyon, a family-run business filled with true experts in enamelware.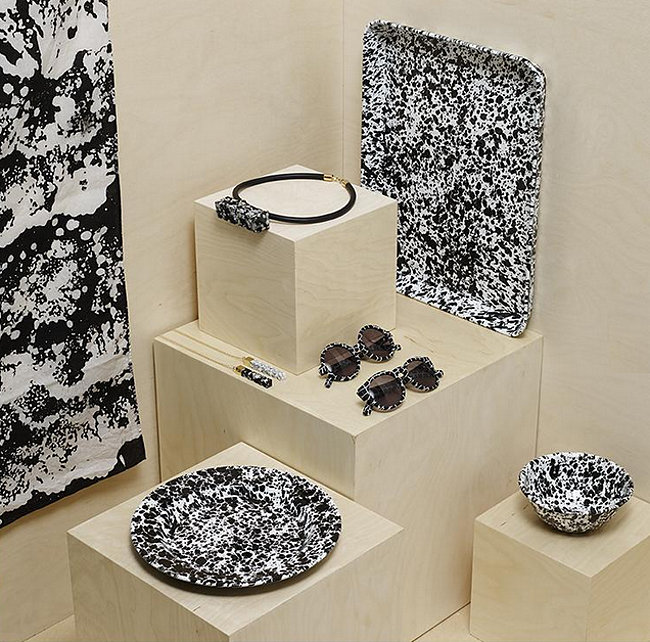 The beauty of enamelware is its durability. You can cook with it, bake in it and even put it in the dishwasher. Not to mention, its iconic look is also perfect for serving food. Did we mention that Splatterware is affordable?! Above we see Splatterware on display with other speckled and marbled items from Darkroom. Below we see a range of Splatterware pieces in red, black and blue: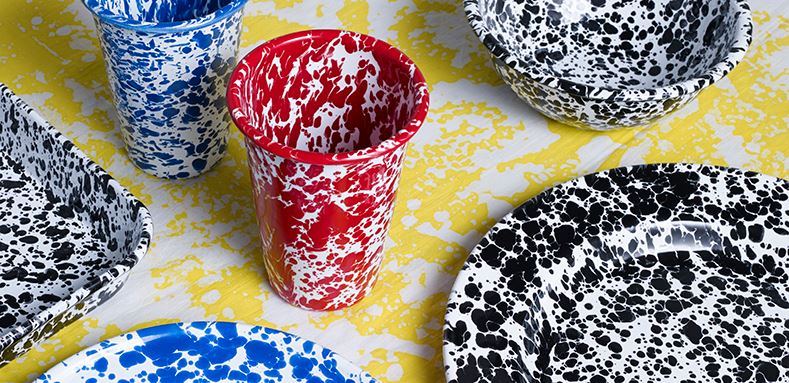 Crow Canyon Splatterware is available in dinner plates, salad plates, mugs, tumblers and salad bowls. These ceramic enamel-coated steel pieces are flicked by hand. That means no two items are alike! Plus, they're conveniently rimmed, which means your food is neatly contained in each receptacle.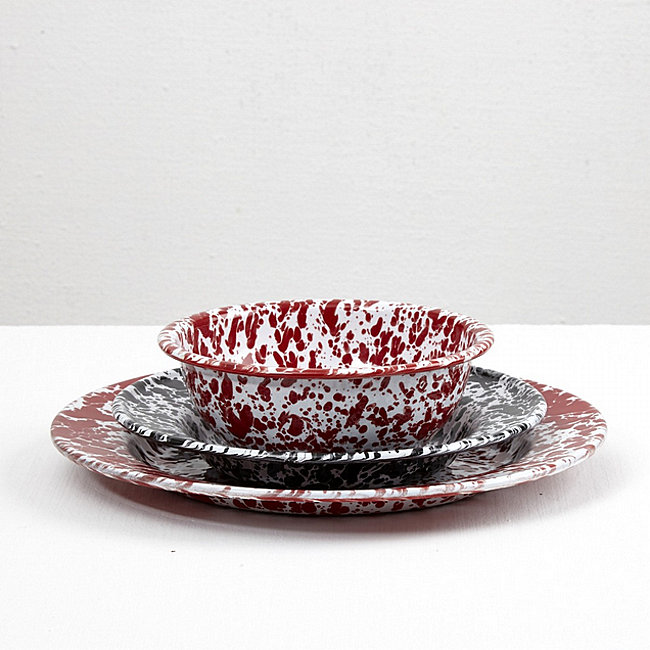 Baskets by Mifuko
Today's last featured collection is Darkroom's series of baskets by Mifuko, a design company that blends African craftsmanship and Finnish design. The company's goal: to produce items that benefit the lives of Kenyan craftspeople.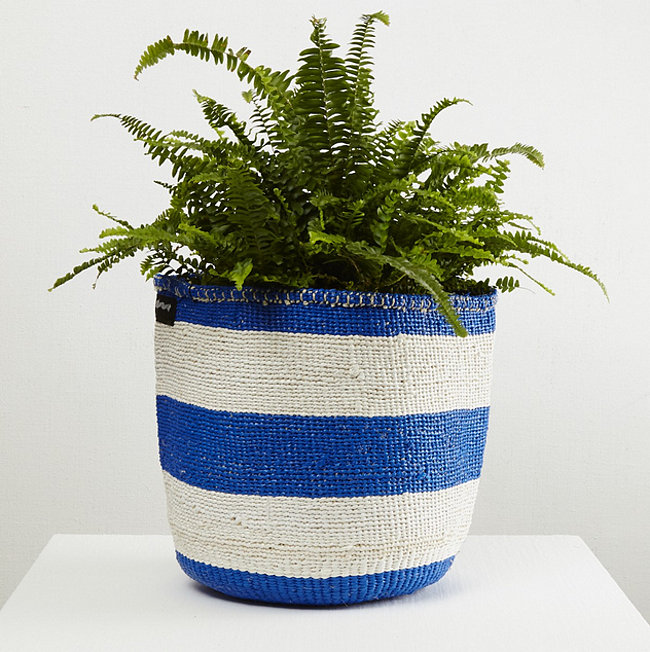 Above we see the Mifuko Medium Basket in blue and white, and below is the Mifuko Medium Basket in red and white. What can you do with the baskets? Use them to store small items, or use them (as pictured) to contain plants. Don't worry–they're easy to clean!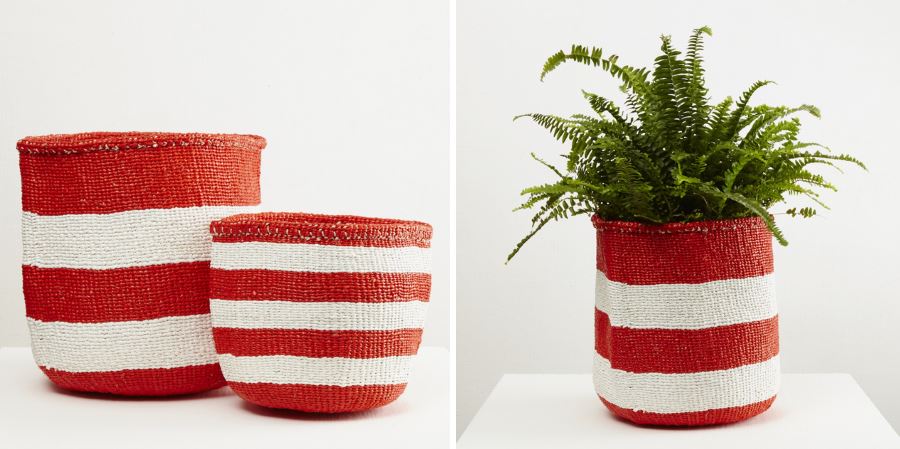 Each basket is handmade in Kenya. Choose from medium and small sizes in a variety of different crisp combos: black and white, red and white, blue and white, and yellow and white! Color blocking and stripes have never been so radiant!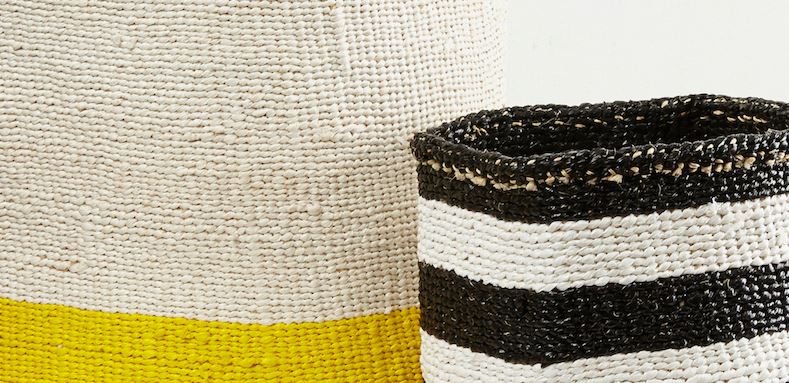 Spring is all about brightening your home with new pieces. At least for design lovers! So which Darkroom creations are you drawn to? The candy-colored stoneware, the speckled Splatterware, or the vibrant baskets? Share your thoughts by leaving a comment below…