Whether you're headed for the depths of winter, or just emerging into spring, there's something inevitably appealing about a table setting that features natural ephemera. From the more obvious (flowers) to the more unusual (vegetables?), tablescapes that reflect the season are a celebration of the season.
But garden-centric arrangements plus dishware and napkins can be tough to pull off. Take inspiration from the tables below, which echo great table setting advice for any time of year. Either keep it simple and mix it up (leaving plenty of white space so unique details can be enjoyed), or go for broke but limit yourself to a chosen color scheme.
Romantic and Elegant
Flowers and plants can of course be very, very romantic. This table setting features fresh from the garden flowers as well as a creative light source fashioned from Christmas lights, bark and roots. The theme is echoed in the tall vases on the tables, which allow guests to see each other easily under the flowers (or over the short arrangements in the middle).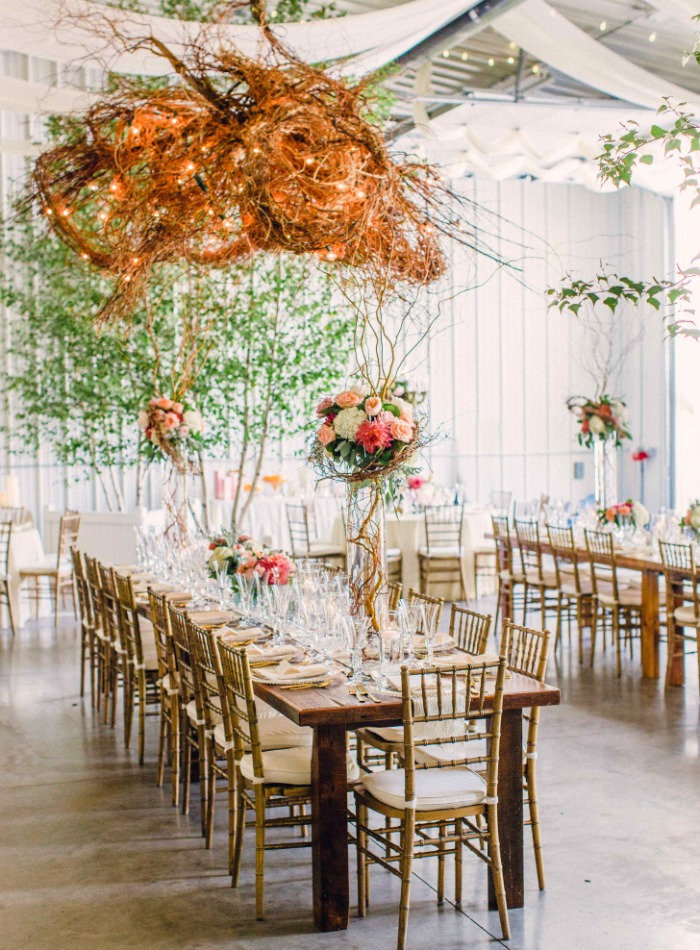 This gorgeous summer dinner table may be on the lawn, and seating may be pillows, but that doesn't mean it's not sophisticated. A simple layout with garden-plucked blooms makes this large dinner party both fancy and fun.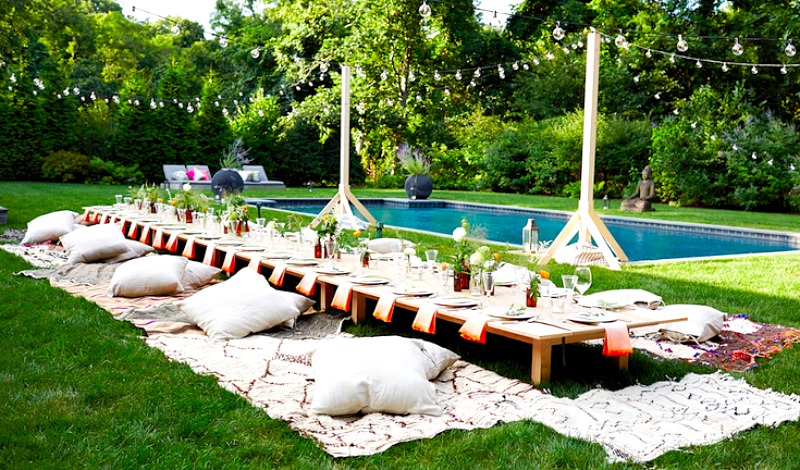 Super Simple
Keep it simple at a weekend brunch with sweet spring blooms; here just pink cherry blossoms grace the table—a bright blue jar brings a touch more color to the table, and pink glasses complement the flowers. Off to the side, bright yellow daffodils draw the eye and bring a spot of sunny warmth while keeping the vignette from being overwhelmingly pink and blue.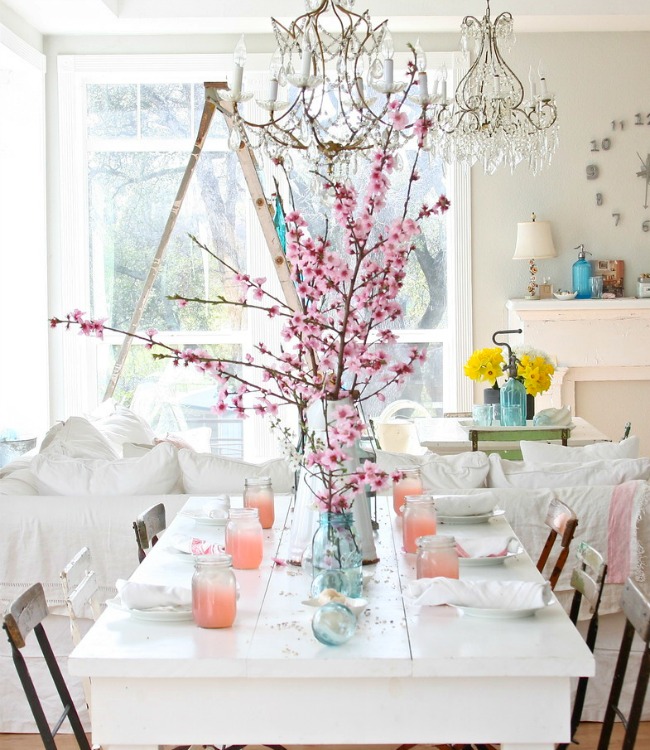 This summer tablescape from Martha Stewart uses herbs you already have (or can enjoy later), along with brightly painted paper tablecloths. Simple, colorful, low-waste and fun for a summer's lunch party.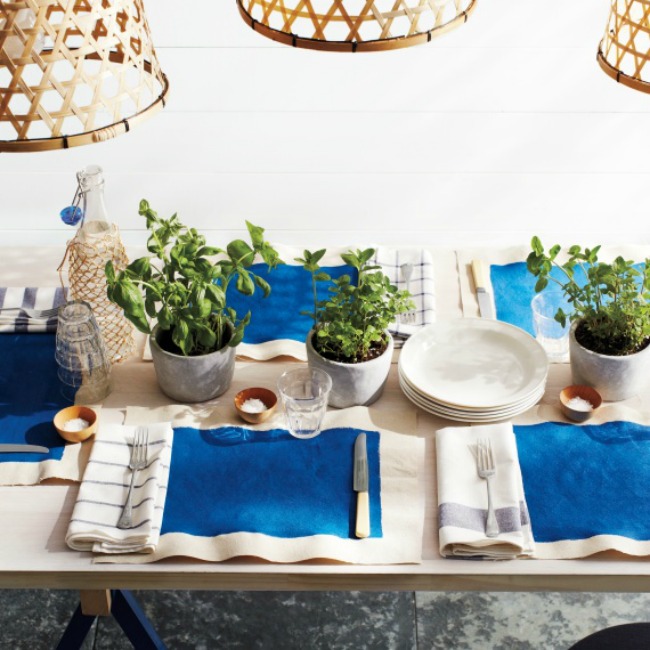 Wildflowers & Natives
Proving that even wildflowers can be quietly elegant, this table setting by Athena Calderone utilized native flowers, herbs and greenery, as well as simple brown glass bottles for a farm-hosted gathering.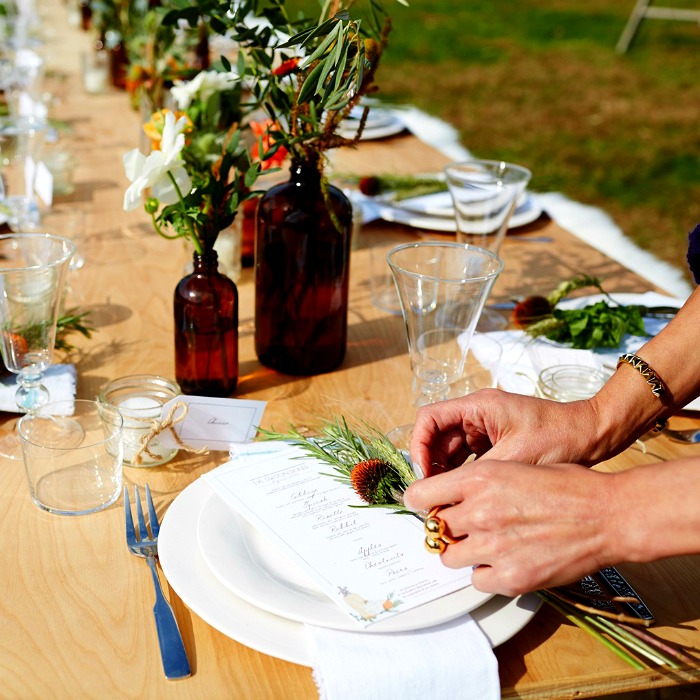 You absolutely don't need a lot of money to create a gorgeous tablescape. Case in point: In the gloriously sunny spring-summer spread below, the humble dandelion is gathered into jam jars and paired with bowls of lemons, local white flowers with greenery left on, and a vintage lace tablecloth. Perfection for pennies.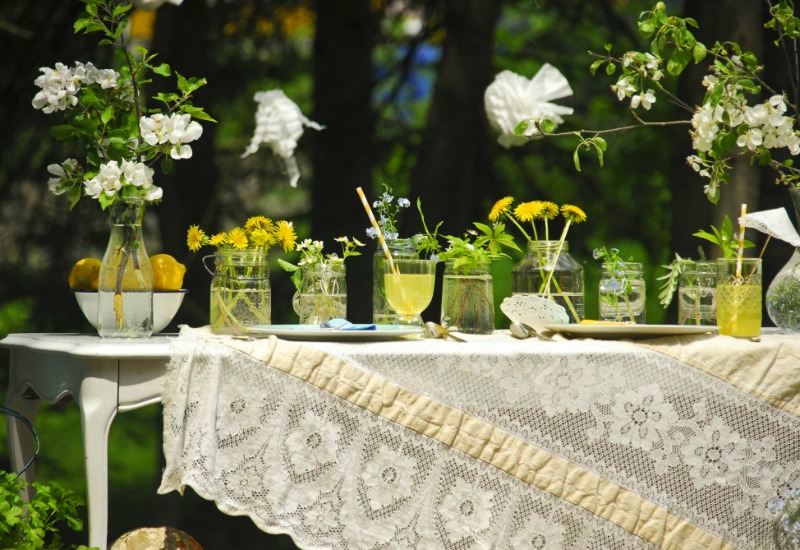 Veggies Galore
Who says you have to use flowers to bring the outdoor vibe to your table setting? How about garden-fresh veggies in a panoply of colors and textures, as in this example below? Topped off with a take-home gift of jam, it's a little different, and totally memorable.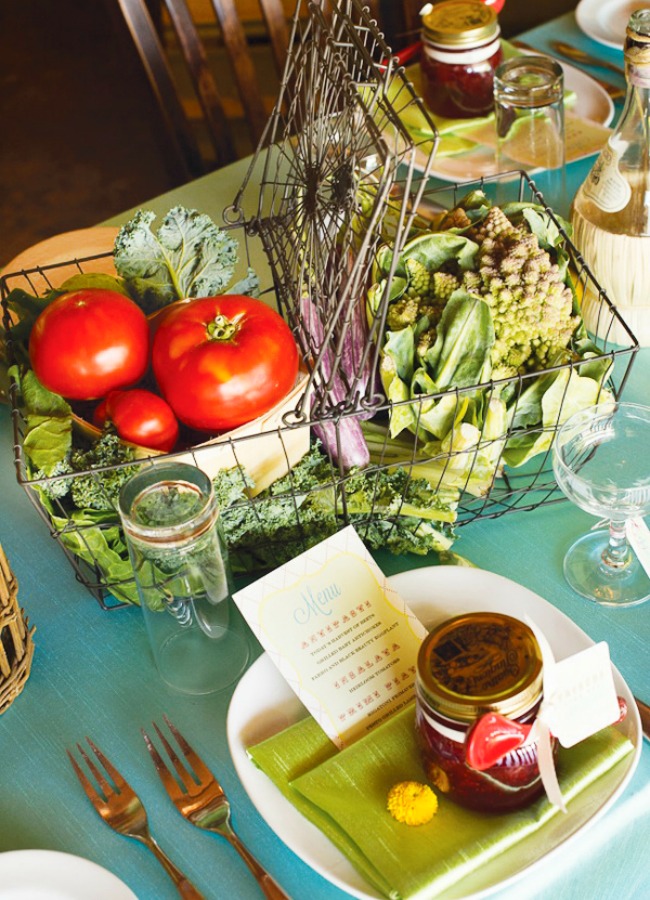 Native wildflowers, lettuces and purple artichokes make this fruit-and-veggie combo table incredibly lush, visually interesting, and perfectly romantic for the couple it's for (one half of the duo is a green thumb!).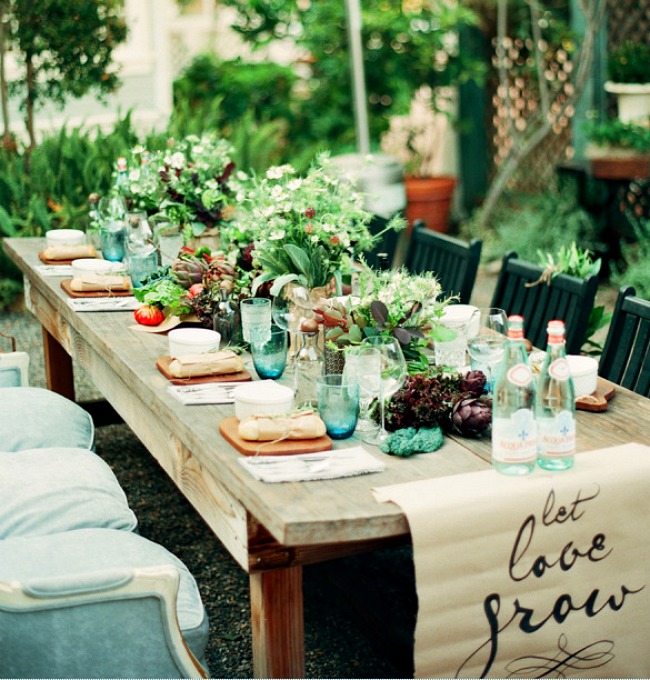 If you are in a more autumnal state of affairs, of course harvest foods also make gorgeous centerpieces and decor as well, as in this pretty table set for dinner in a fall field.