Gone are the days when a mirrored wall was an instant sign of outdated design. Yes, mirrored walls are back, and they can evoke a variety of looks, from the clean and modern to the luxe and decadent. While I personally love the retro feel of a room with a mirrored wall, today's post focuses on spaces that are contemporary and elegant. Read on for a look at how reflective surfaces can maximize light, create a sense of space, and add sleek style to your interior…
Modern Mirrored Walls
Since today's post is all about redefining the concept of a mirrored wall, I couldn't imagine a more perfect photo to kick things off than the one below. This minimalist bathroom from Ian Moore Architects is the epitome of clean, crisp style. The mirrors enhance the light, open feel of the room. [photography by Iain D. MacKenzie]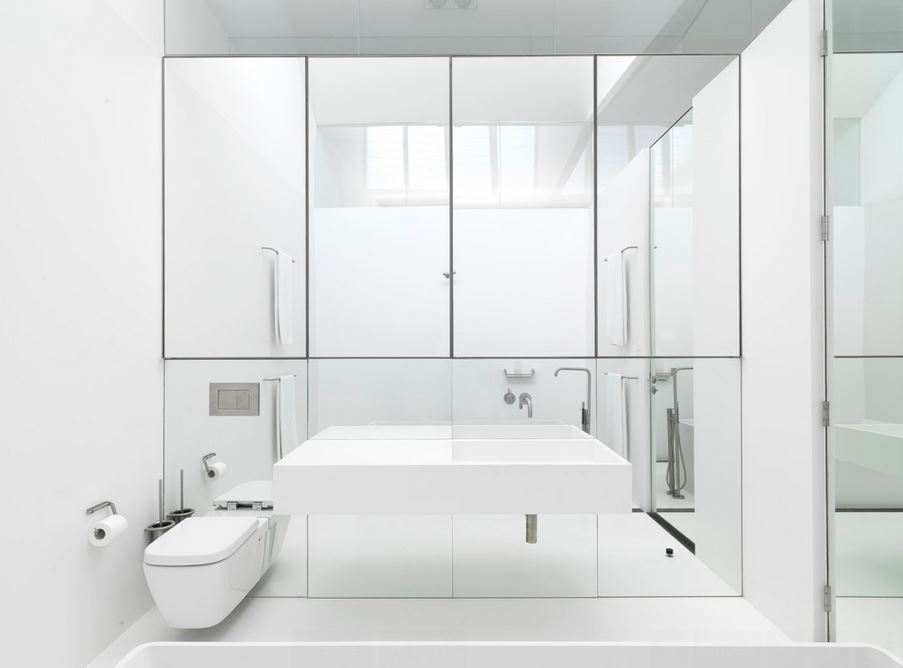 Mirrored walls are also a great option for spaces with interesting details. This powder room features a wall crafted from 126 six-inch tiles. Notice how they're cleverly organized by color gradation. Instead of incorporating boldly painted walls that would detract from the design, mirrors were used to open up the space and reflect the unique tiled statement wall. [from Turett Collaborative Architects]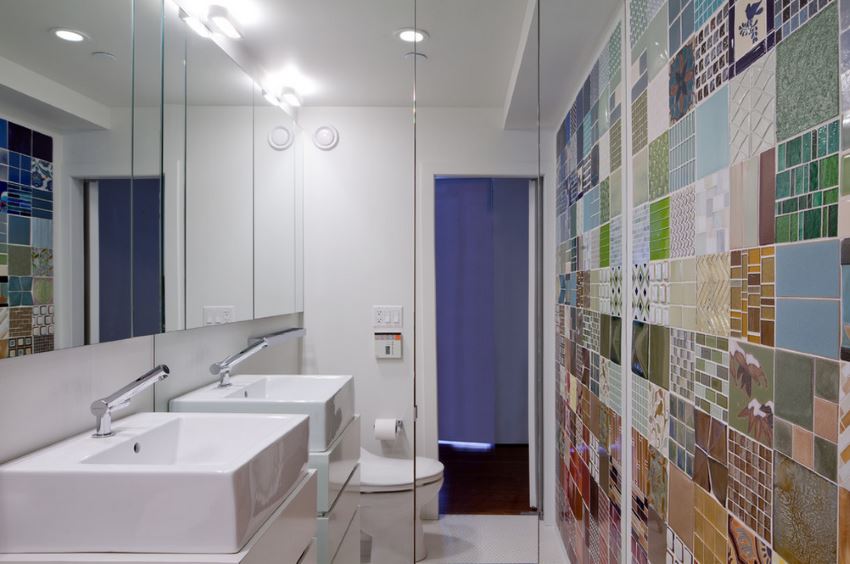 Floor-to-ceiling mirrored walls definitely punctuate a space, but keeping the mirrors at a half-wall capacity can be equally alluring. This next modern bathroom shows the reflective power of mirrors that meet at the corner. [from Cassidy Hughes Interior Design & Styling]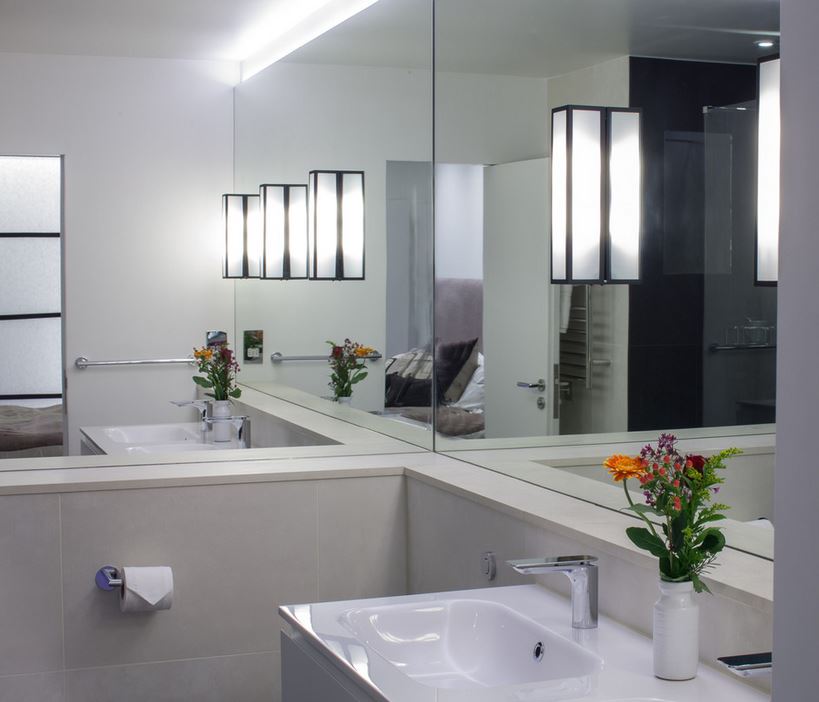 Speaking of reflective power, when there's a stunning view right outside the window, mirrors are an obvious choice. This modern apartment with an ocean view makes the most of the dining room by adding a mirrored wall that brings the blue of the ocean indoors. [from Sarah Barnard Design]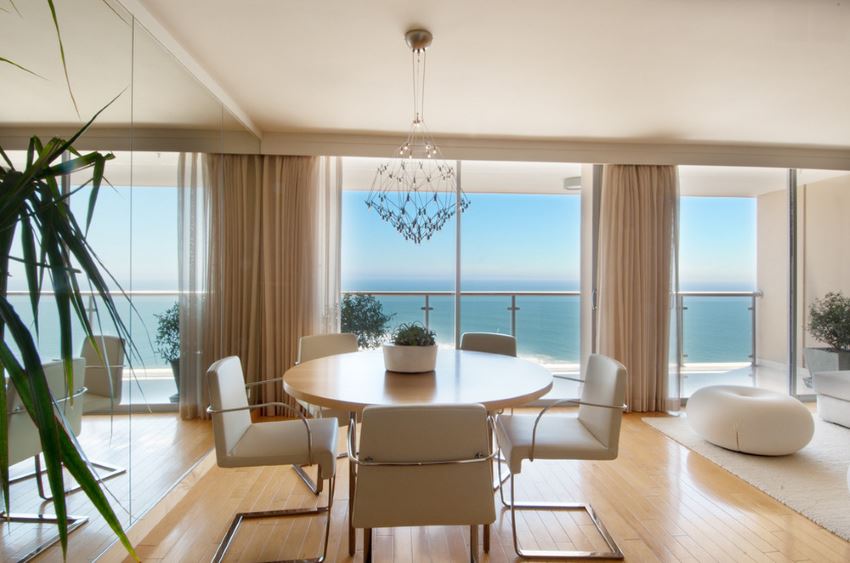 Mirrors can add shine to otherwise low-key spaces, and the results are often quite serene (rather than overwhelming). For example, neutral tones are brought to life in the contemporary living room below, thanks to a mirrored wall. [from My Dream House]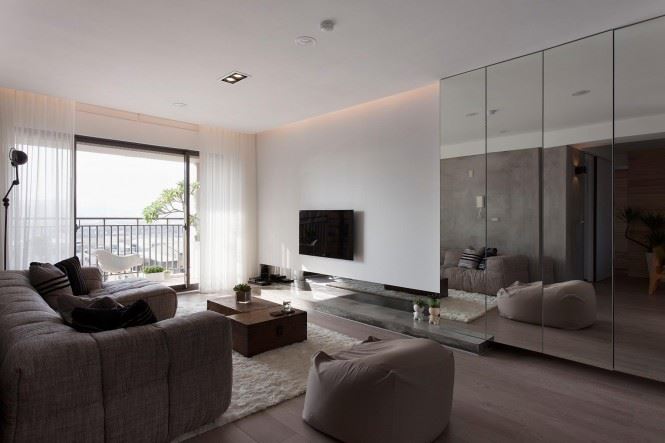 For an extra dose of boldness in your sleeping space, try adding mirrors to the wall behind the bed. The reflective backdrop will dramatically set the stage for your bed and nightstands, yet you can still keep things clean and modern with your furniture choices. [from Luxe Interior International]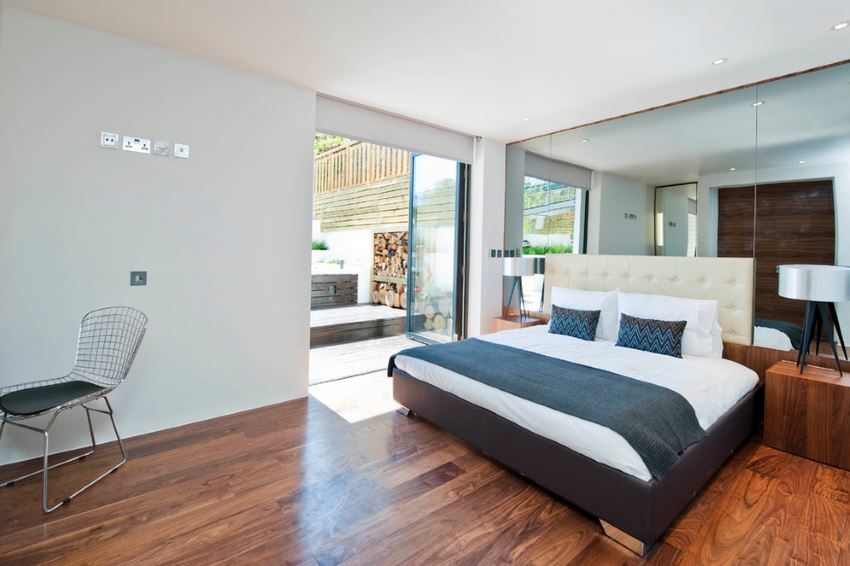 Luxury Mirrored Spaces
While clean, contemporary mirrored rooms are undeniably appealing, sometimes a little bit of luxury is in order! It's not always the style of the mirrors that matters. It's how you fill your space, which will ultimately influence what's highlighted in your reflective wall. This Hollywood Regency room from boutique hotel Maison 140 is definitely all about luxe style. The mirror isn't ornate, yet it reflects each and every decadent detail. [from Lonny]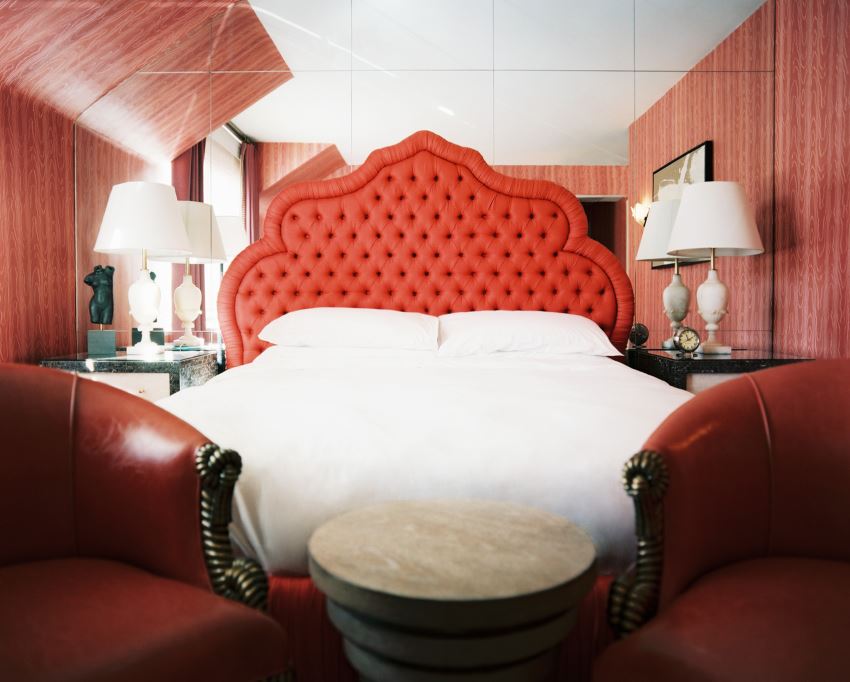 The dining room is an excellent location for an elegant mirrored wall, and this gorgeous space featured at Lonny is nothing short of spectacular. Note how the wall reflects special touches like the pendant lighting, the topiary and the peacock! Perhaps a mirror is only as fabulous as what shines on its surface.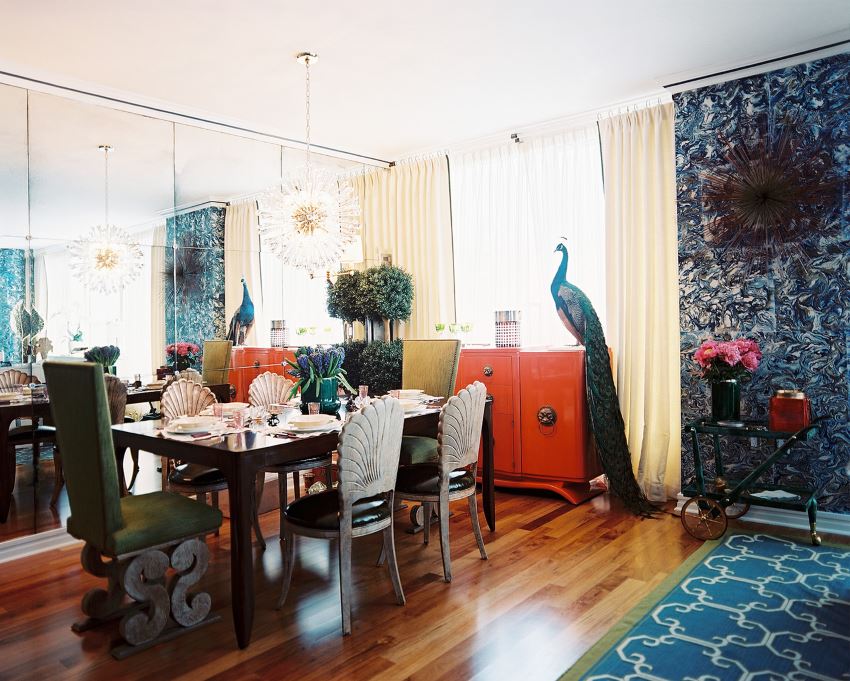 We now move into specialty wall territory. These are not your ordinary mirrored walls, folks! There's nothing like the dramatic angles and reflections of a pleated mirrored wall, as shown by this chic entryway featured at Lonny: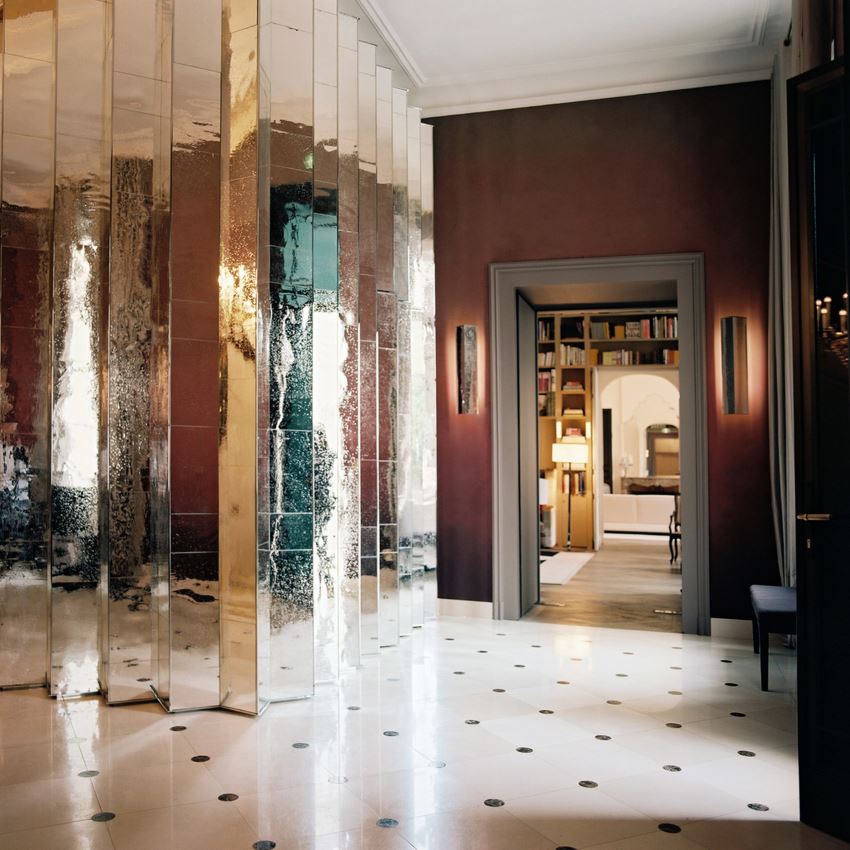 Have you ever considered layering another surface on top of your mirrored wall for a bit of texture and interest? This striped accent wall from Toronto Interior Design Group consists of a mirrored wall juxtaposed with grasscloth wallpaper mounted on MDF. The result is shiny yet earthy in the sleekest of ways: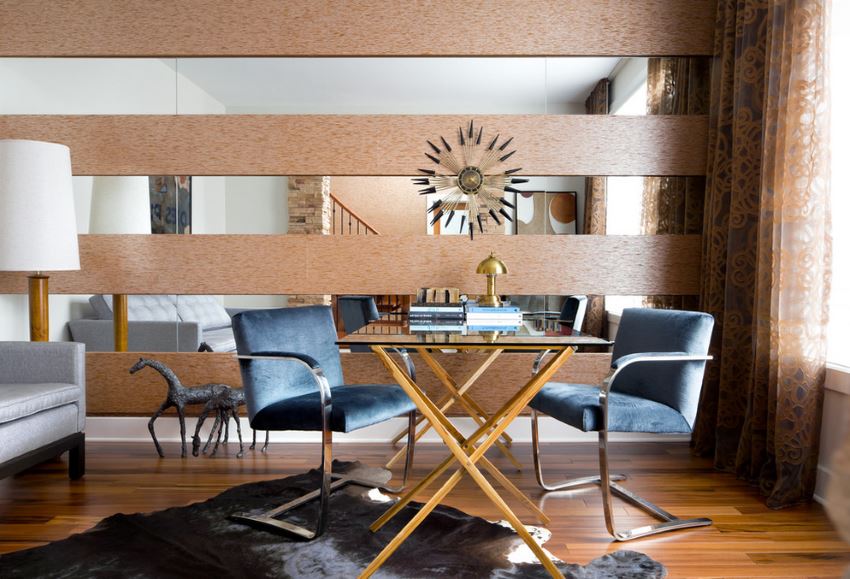 When it comes to mirrored walls at home, do you prefer a clean modern look or a luxurious one? Would you consider adding a mirrored wall to your space? Share your thoughts by leaving a comment below…
Liked the story? Share it with friends.