You know that list of much-needed items you have for your home? I'm not talking about a "wish list" with items like vases, greenery and other flourishes. I'm talking about those practical items that you really can't do without. Like a mirror to hang over the bathroom sink! Ever since I moved to a new place, I've slowly been making my way down this list, trying to find items I like that I can also afford. I have to admit–it's a lot of fun to browse!
It's in this very spirit that I present today's post: a roundup of wall mirrors that will hopefully make you consider the reflective possibilities for your space! Whether you're looking for a mirror for the powder room or the living room, we're focusing on mirrored finds that serve a purpose. In other words, they're not just there for show! Until I find the the selection of my dreams, I'll continue using my mirrored closet doors to see my reflection as I apply makeup and make sure my clothes aren't too wrinkled before leaving the house. Then again, maybe one of these will do the trick…
Wall Mirrors with Metal Frames
We begin with sleek finds framed in metal. I'll be honest–I'm going for a crisp, clean look in my powder room. A linear piece with a metal border would be perfect for the space. Something like the Metal Wall Mirror from West Elm, with its brushed nickel frame! And you can hang this one horizontally or vertically…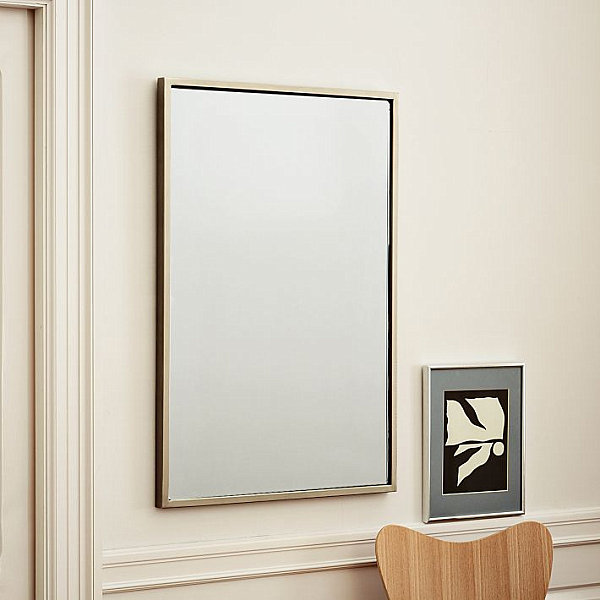 I have to admit that I hadn't considered the possibility of hanging two smaller mirrors side by side. I'm loving the look of the Infinity Square Mirrors from CB2, shown below. Framed in aluminum, these pieces really blend seamlessly into a modern space, don't you think?!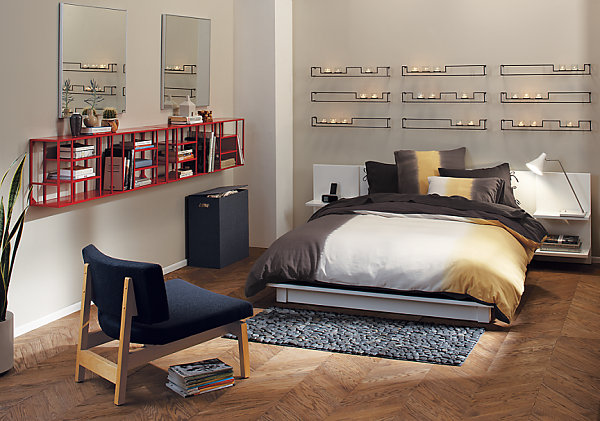 For a slightly more elegant look with a hint of industrial style, check out the Kensington Pivot Mirror from Pottery Barn. A sleek shape and chrome finish give the piece its flair. There's a reason this is a best-seller, folks!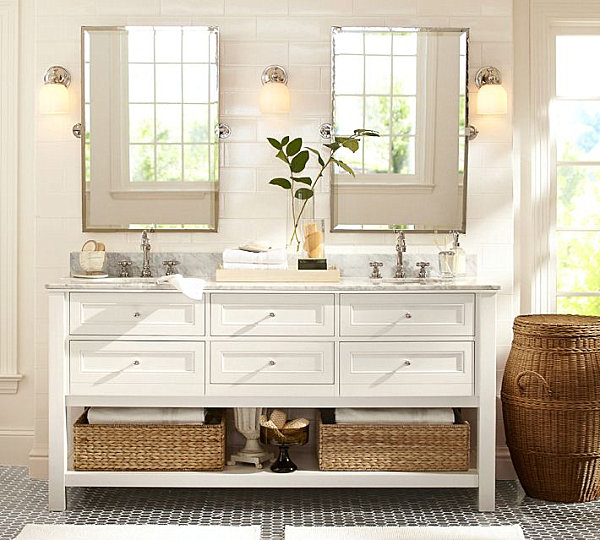 And this one comes in a horizontally-oriented version as well. Say hello to the Kensington Wide Pivot Mirror from Pottery Barn. Equally chic…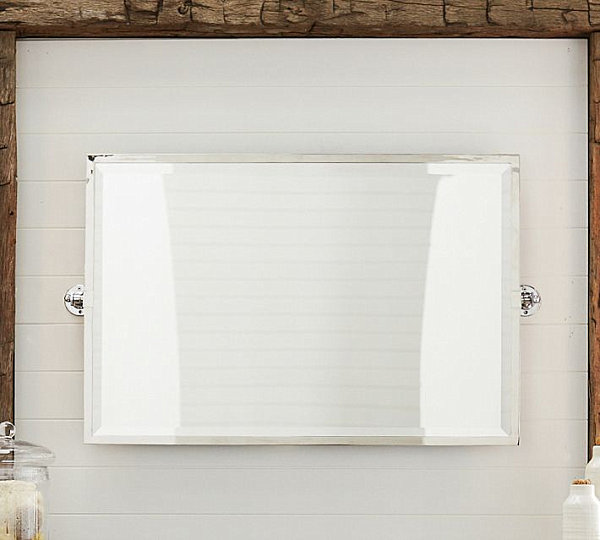 We at Decoist have made no secret of our love for brass. And yes, there's a current brass revival taking place in the world of interior design as we speak. Which is why this Tork Brass Dripping Mirror from CB2 is extra stylish! Not to mention, we're fans of the piece's concentric metal rods, perfectly covered in molten brass…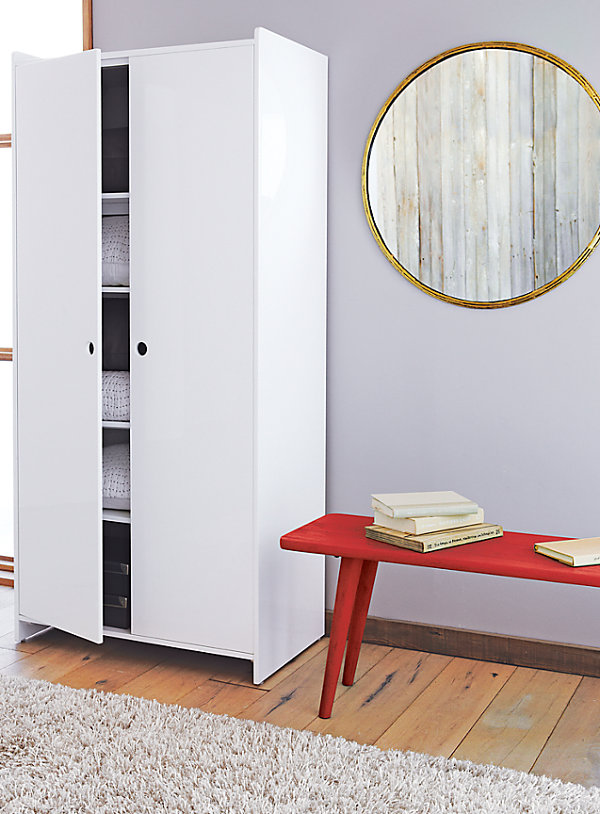 Wall Mirrors with Wooden Frames
From metal to brass… We now turn our attention to mirrors with wooden frames, like the Parsons Wall Mirror in Gray Herringbone from West Elm. Dark meets light in this stylish pattern created by a solid wood and bone inlay frame. And yes, this piece hangs horizontally or vertically: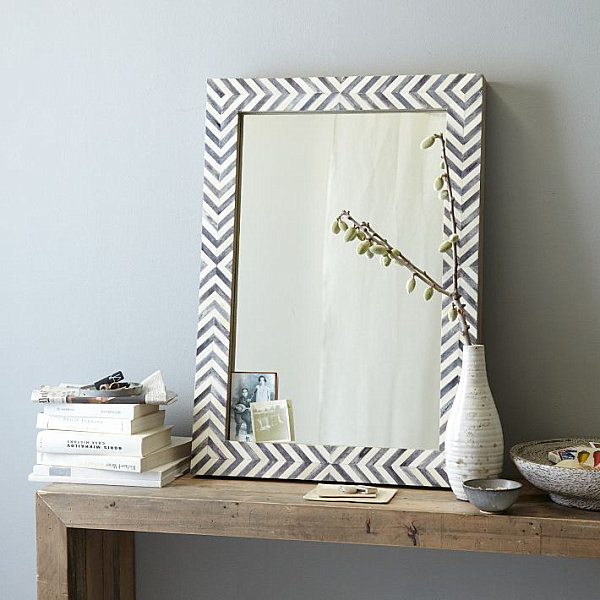 A textured frame is the highlight of the Parsons Wall Mirror in Natural Grass Cloth from West Elm. With grass cloth over an engineered wood frame, the piece has a vintage look that can go modern, beachy or both. Would you hang this piece vertically or horizontally?…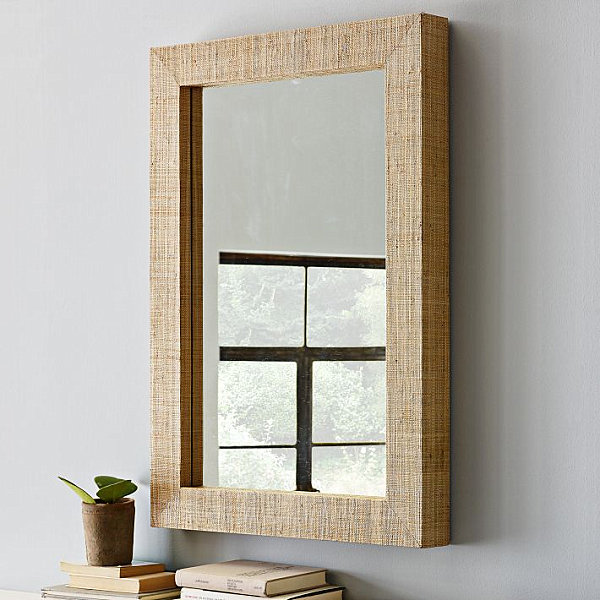 There are four clear corners on the Recycled Teak Mirror from CB2 but a Mid-Century-style design gives the mirrored portion of the piece a rounded look. Which makes it truly unforgettable! Add special details like the beautiful grain of the wood, and you have a true showstopper!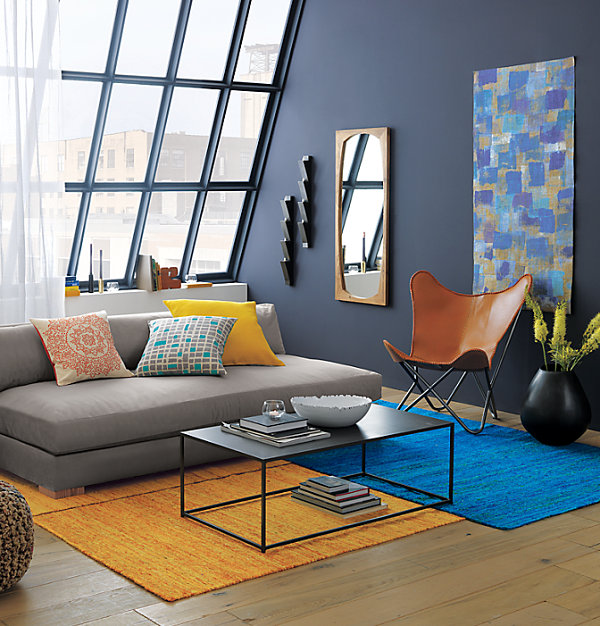 Would you ever hang a series of three mirrors above your bathroom vanity area? I have to admit I'd never considered it. But this configuration now definitely has my attention… [from Forum Phi]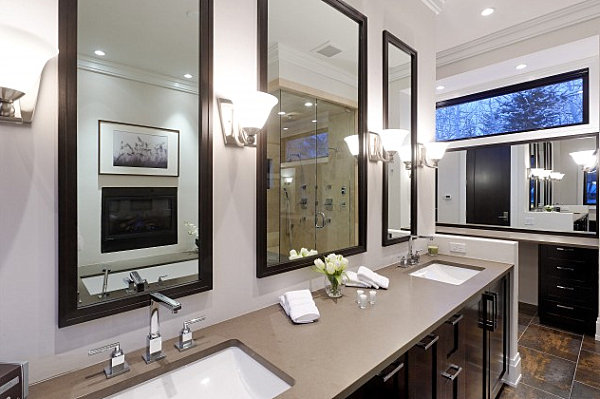 Or how about one large dramatic mirror in a prominent place, such as over the fireplace? Not only do mirrors create the illusion of space in a room, they reflect the light. And the larger the mirror, the grander the space appears. We think the mirror below is perfect for a room that features intriguing furnishings and dramatic greenery. [from Cary Bernstein Architect]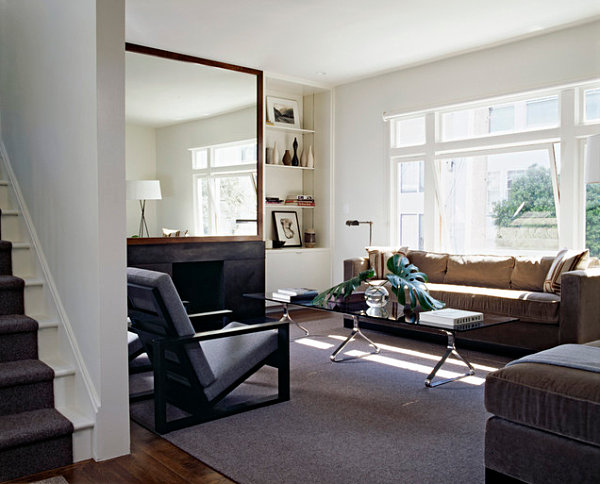 A mirror on each side of the bed? Why not?! There's the obvious space-enhancing benefit. And of course, it would be quite handy to have another reflective surface to glance into while getting ready for the day! [from Michael Abrams Limited]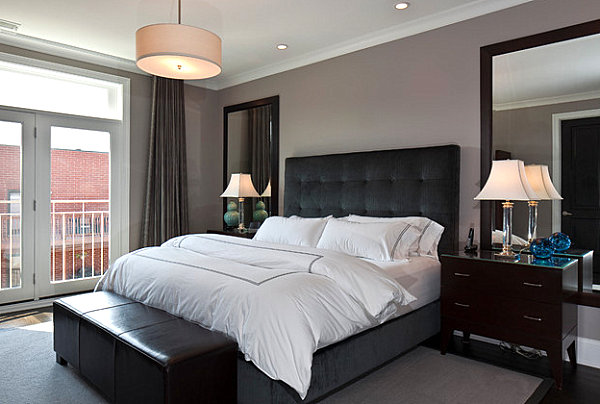 This next featured mirror gets bonus point for color, thanks to a glossy burnt orange lacquer finish. It's the Hi-Gloss Square Mirror from CB2, featuring an engineered wood frame. And it's particularly tasty in a space rich in black and white tones!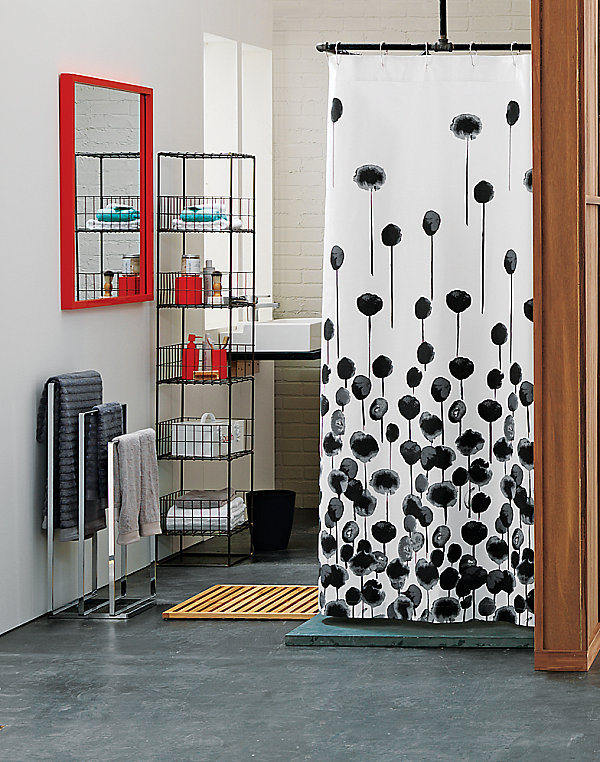 Speaking of gloss, the mirror below has the best of both worlds: a rough-hewn wooden frame that's also coated in shiny lacquer! Is it elegant? Is it earthy? Maybe both! The Rustic Lacquer Wall Mirror from West Elm can complement a variety of looks…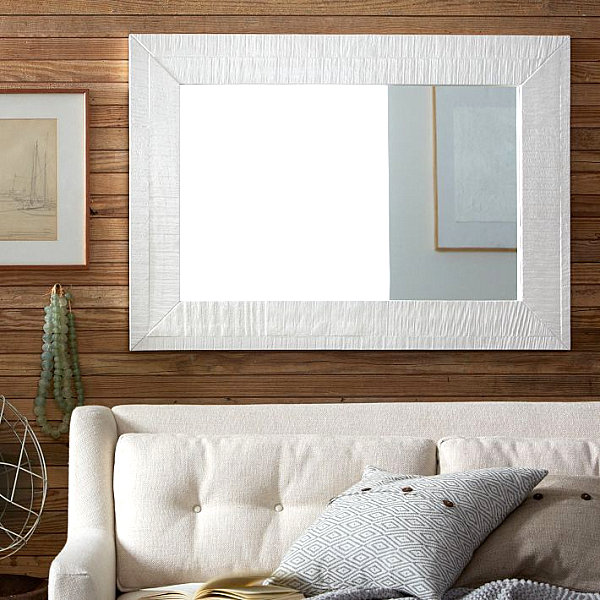 Wall Mirrors with a Twist
We end by featuring a series of wall mirrors that take the spaces they inhabit to a whole other level. These Venetian mirrors are gorgeous enough in their own right, but layer them on top of a wall featuring mirrored tiles, and the result is sheer opulence! [from Laura U Interior Design]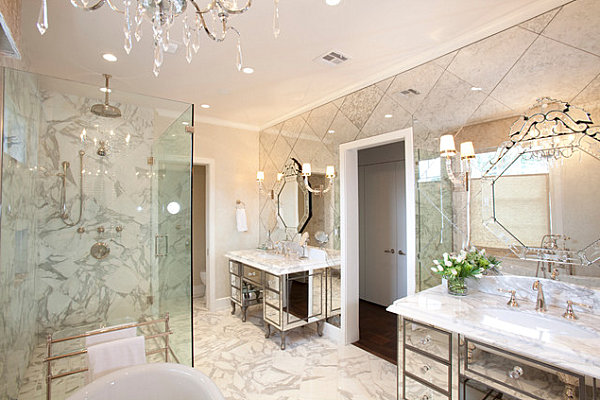 Bring on the light! A little extra illumination never hurts, especially if you're trying to create some mood lighting. And of course, there's nothing like a little help from the light while applying make-up in the evening hours! These selections come from Majestic Mirror & Frame: [from Edgewater Design]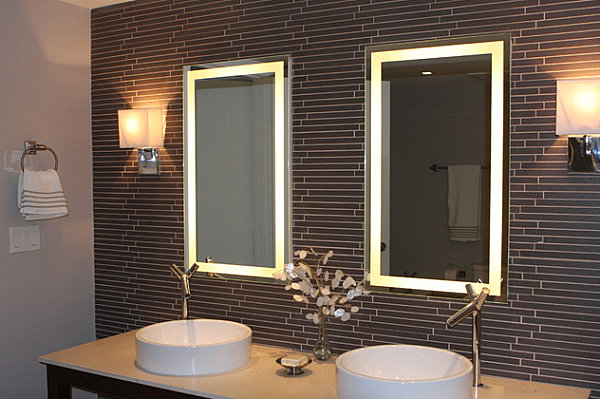 Vertical bars give this pair of mirrors a distinct look, along with the blue-tinted light that emanates from them… [from Flüff]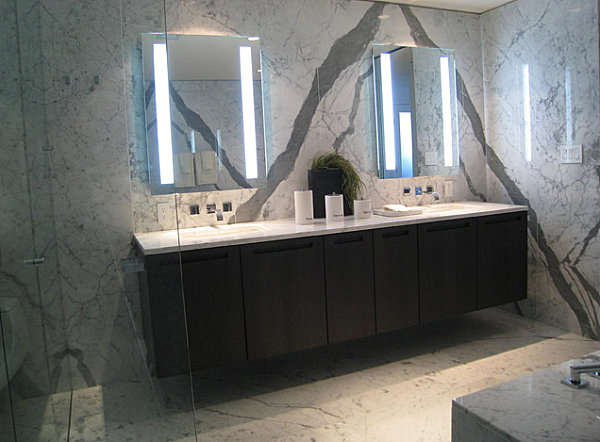 Let's not forget the value of a mirror that pulls double duty! This Vintage Mirror Entryway Organizer from Pottery Barn has a steel and aluminum frame that's enhanced by a bronze finish. Beveled glass is another highlight. But we can't deny the handy quality of this piece, thanks to features like hooks and a shelf with a rail…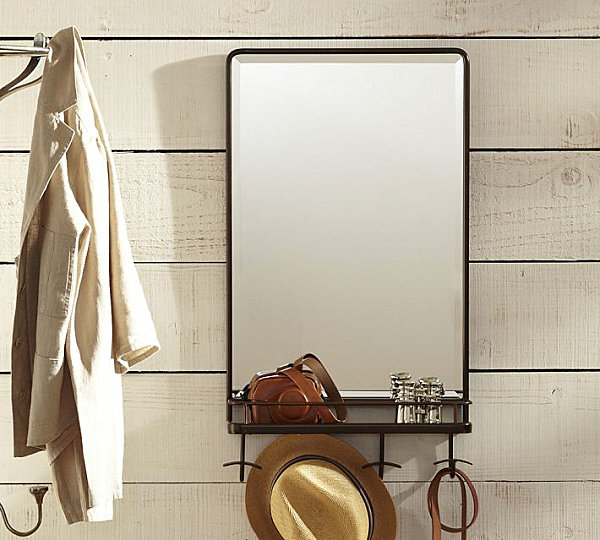 Let's go out with a bang! The "mirror" in our last featured room is created with the help of tiles that help define the main reflective area. Mirrored wall or art piece? You decide! [from Murphy & Co. Design]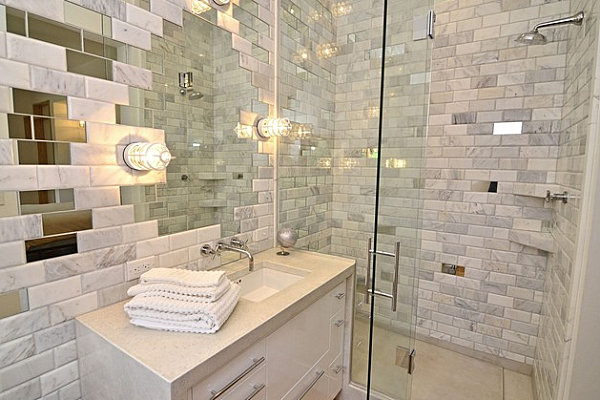 Have you found the wall mirror of your dreams? I think I have a few ideas up my sleeve after seeing the images below! How do you feel about hanging two mirrors side by side rather than one large piece? When it comes to mirror frames, do you prefer the sleek and metallic variety, or would you go with something more bold? Share your thoughts by leaving a comment below…