Many of us have little problem using white, beige or even gray to shape a beautiful dining room backdrop that serves as a neutral canvas for some lovely accent additions. Others prefer going with brighter shades such as red and yellow in the dining space. But one color that is often overlooked and even detested at times is black. Many believe that black and the dining room simply do not fit. This is especially true in the case of homeowners who believe that adding black will take away from the cheerful, contemporary appeal of their home. But today, we will try and put that myth to bed by taking a look at a few gorgeous black dining rooms.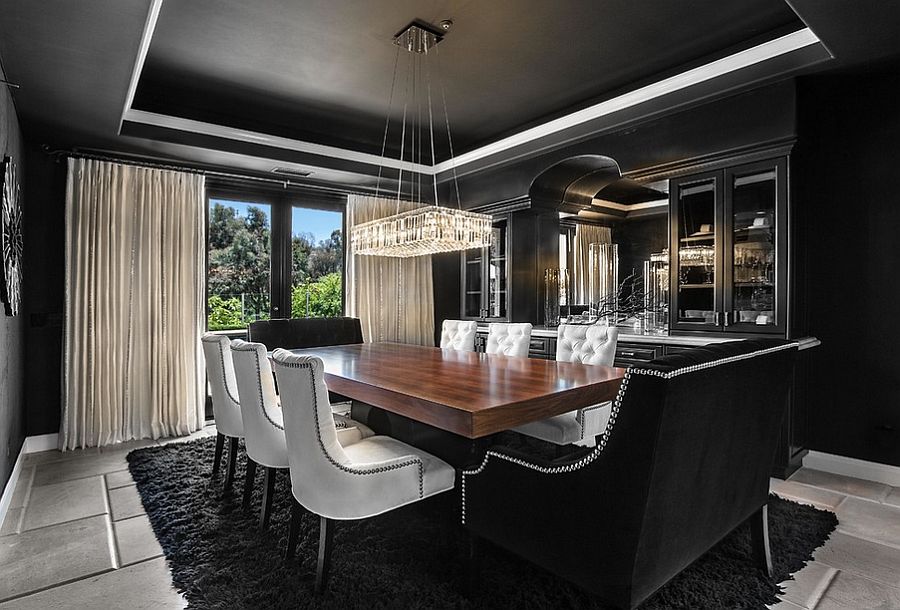 Black adds sophistication, style and chic elegance to spaces and can be used in a variety of ways to fit in with the theme, style and size of your dining room. Adding black to the dining room does not necessarily mean creating a dark and gloomy setting that borrows from an era gone by (though that look works like magic in certain cases!). Here are some handy tips on how to use black in the dining room, along with fabulous inspirations that will get you started in the right direction.
1. A Sophisticated Backdrop
We will admit that using an all-black backdrop in the dining room is definitely not for everyone. You need to be comfortable with the look and happy with the color to really pull it off. Moreover, remember that you will be stuck with it for awhile, so make sure you are ready to commit to black fully before going down this path. If paint seems too boring for a black background, try out wallpaper, which will not only add texture to the space but will also break the visual monotony. Another smart approach is to just paint a smaller portion of the walls black and use a secondary, lighter shade for the other parts.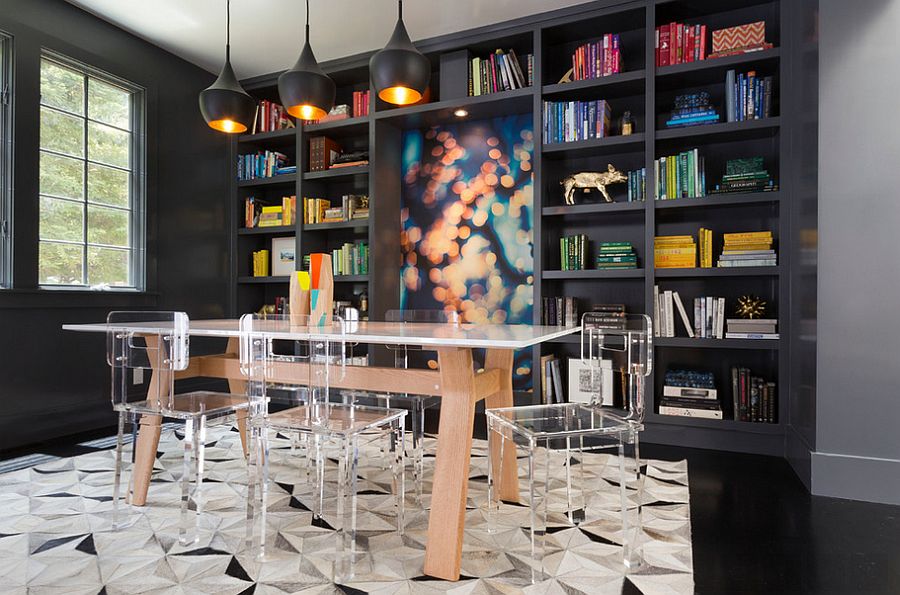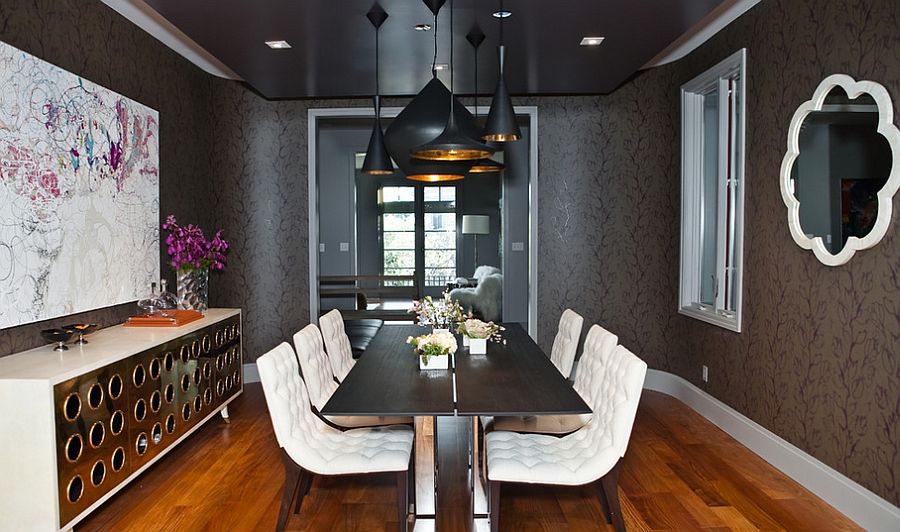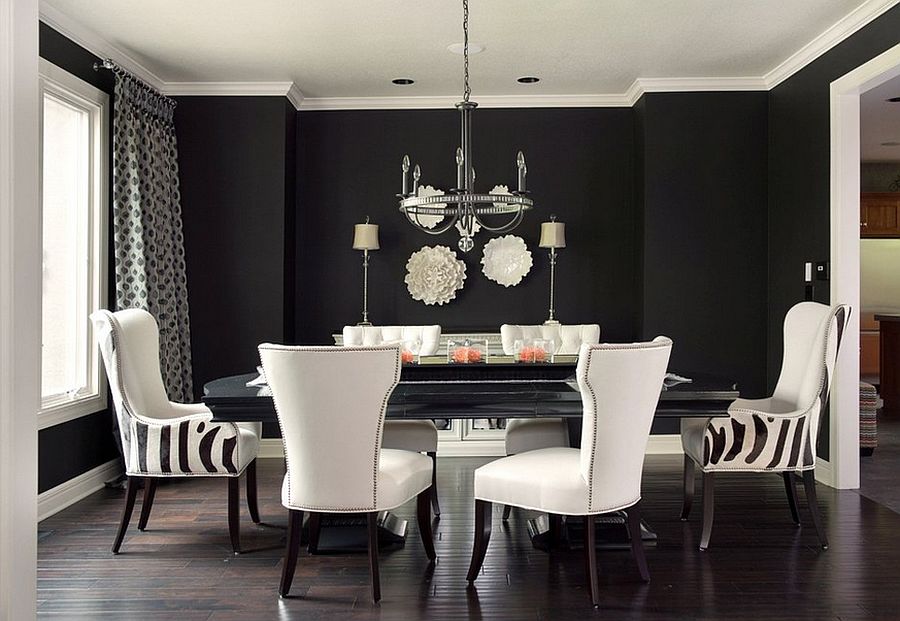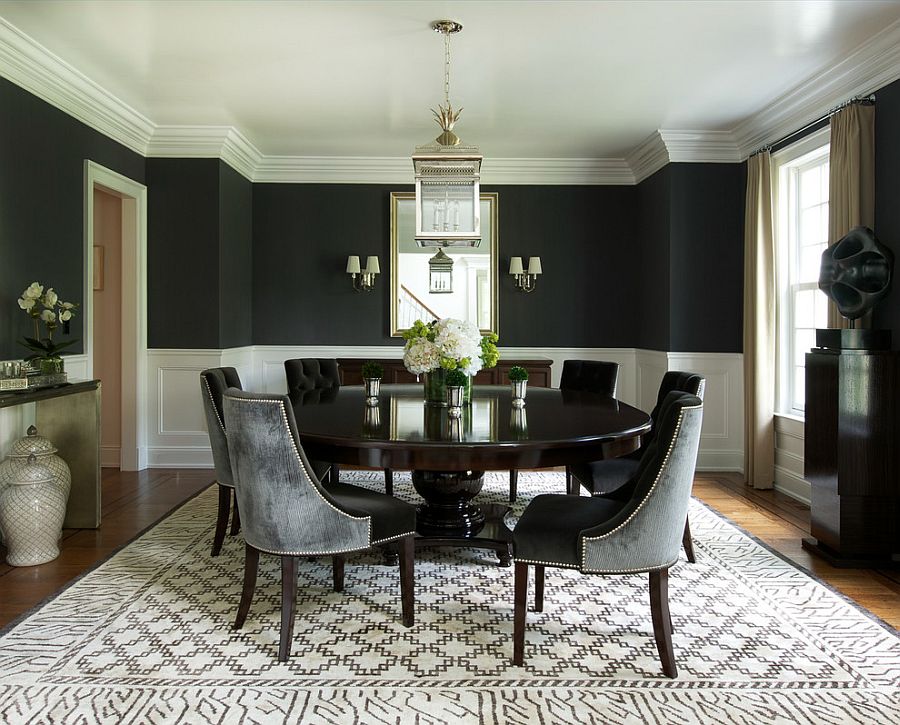 2. Look to the Ceiling
It is absolutely delightful to see so many homeowners going beyond just plain old white ceilings these days. We have always believed that the ceiling is the most neglected and underutilized part of a room. If you want to keep your walls light, then paint that ceiling black to create a truly spectacular visual. Black generally works well in dining rooms that are spacious and have a high ceiling, but trying this approach in a smaller room can yield a cozy and urbane ambiance. Make sure, though, that the room is well lit and organized to avoid unnecessary visual clutter.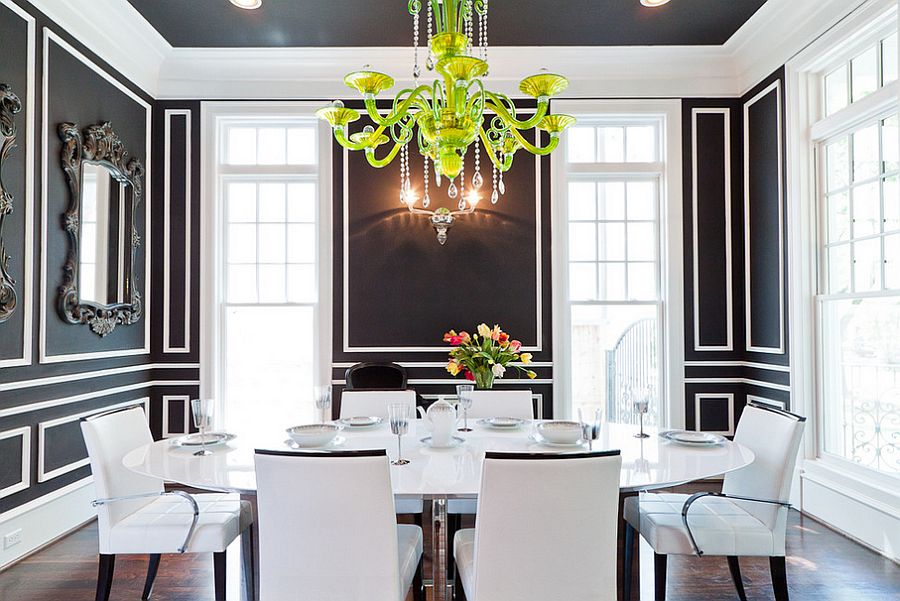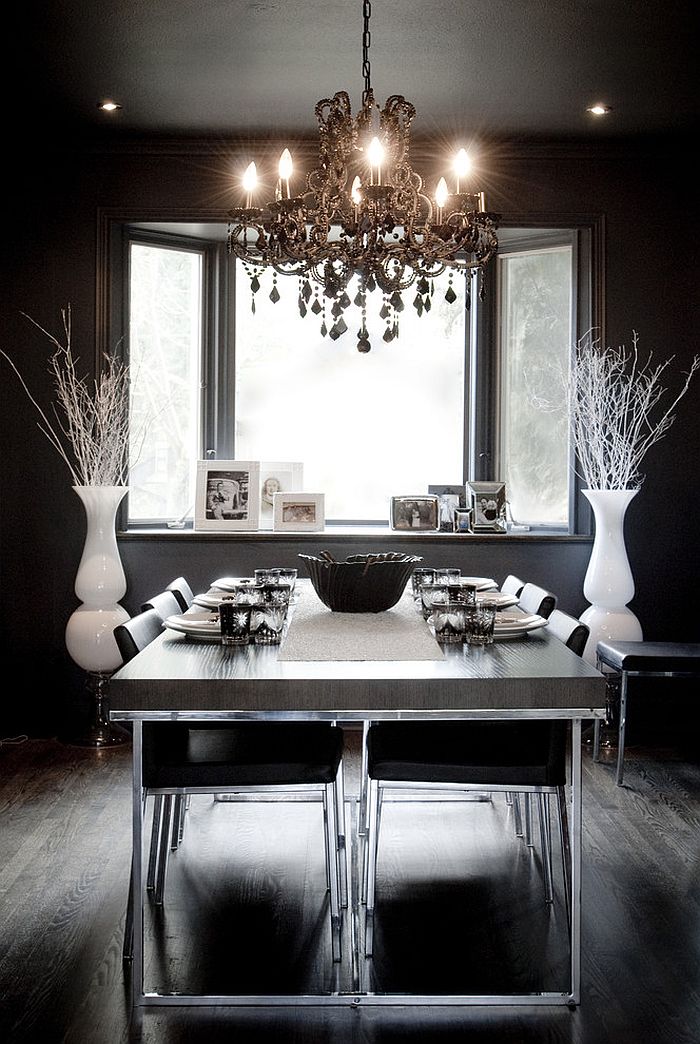 3. Time for Dark Flooring
There was a time when people shunned the idea of painted black floors. But that trend was turned on its head in the last few years, and designers are quickly using dark floors to bring visual contrast to a room in an understated fashion. A black floor is far less intimidating than all-black walls and easier to work with compared to a dark ceiling. By using decor and furnishings in a similar hue, you create a coherent look that makes a dramatic impact when the walls are painted plain white.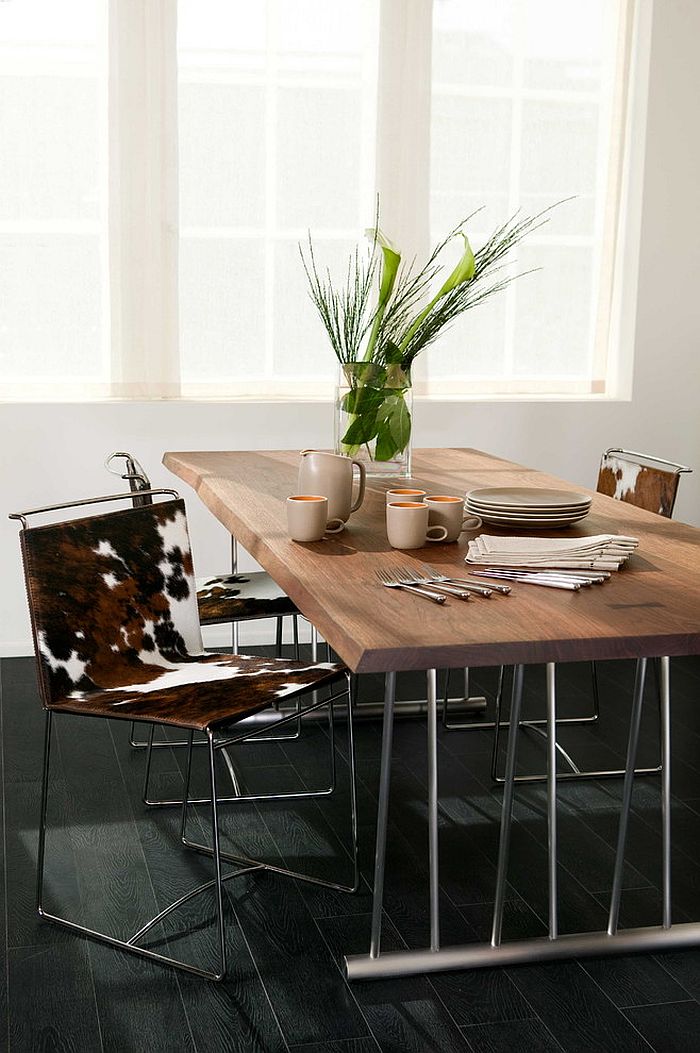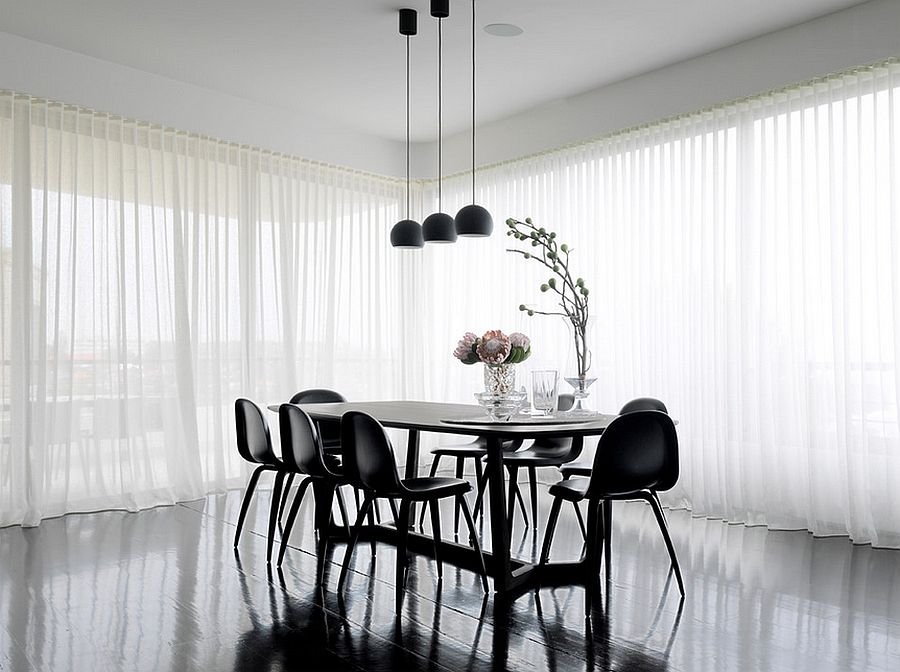 4. Stylish Seating to Anchor the Space
The dining room is a great place for introducing a color that you are just starting to get comfortable with, and in the case of black, there is no shortage of smart options. Get your feet wet with some fabulous dining table chairs in black, a contemporary credenza in a similar hue with a glossy finish, or even a stunning dining table that is clad in black. Repeat the color throughout the room using other accessories to get the best possible result.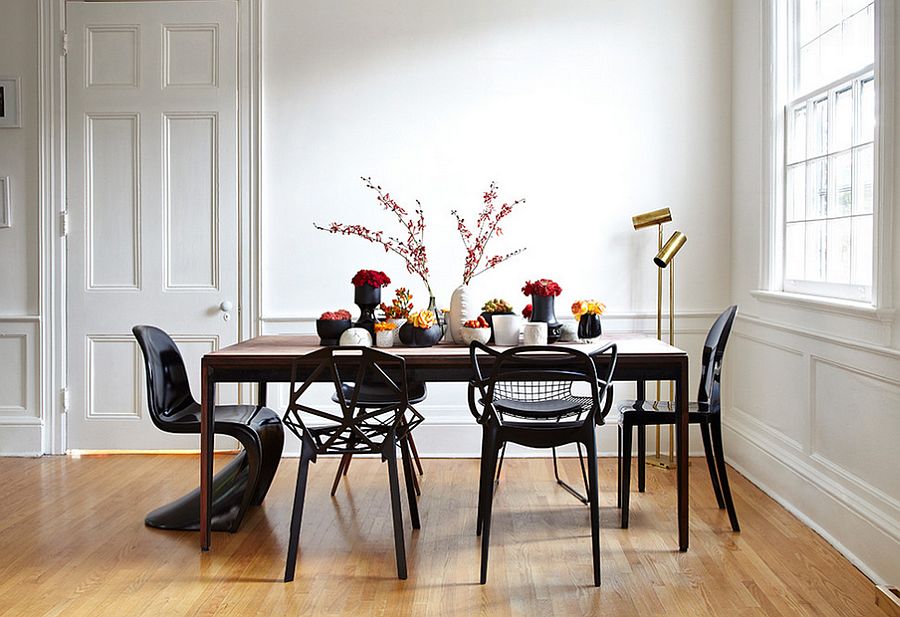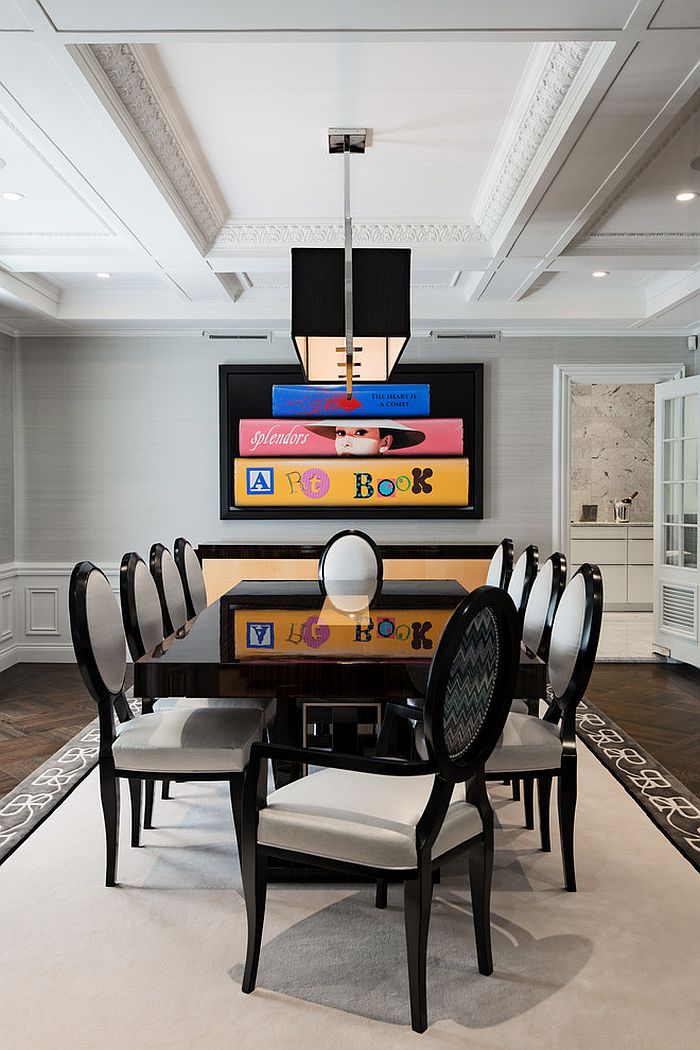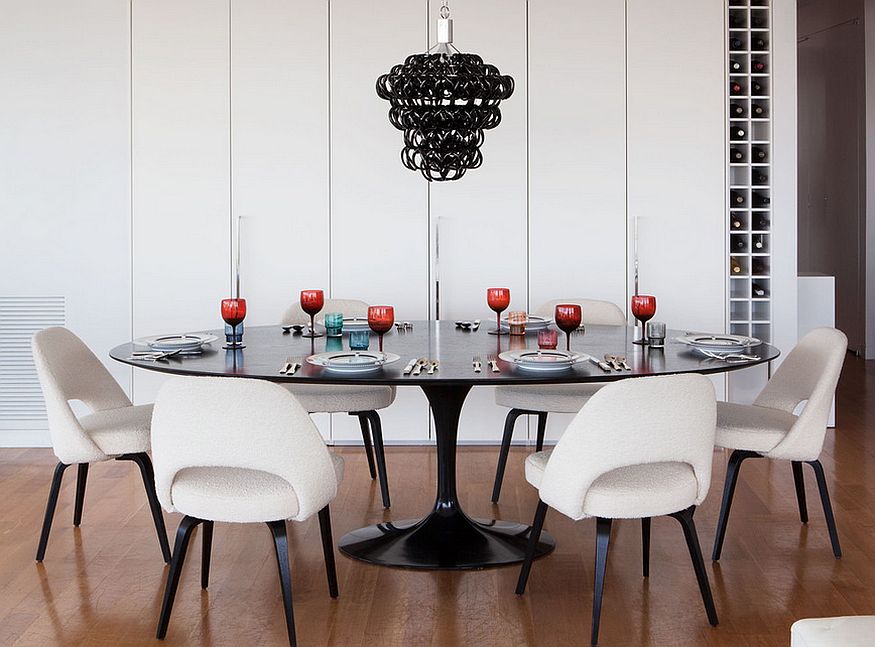 5. The Magic of Rugs and Drapes
Rugs and drapes are far less expensive and a far easier way of adding black to your existing dining room without any major changes. Do not underestimate the visual impact of a wall of dark curtains and a matching rug! Using rugs in black for a dining space in an open plan living area highlights the space and also demarcates it elegantly without much fuss. By using drapes, rugs and decor in black and a backdrop in pristine white, one can create the classic black and white look in the dining room with ease. Of course, the opposite approach with both colors works beautifully too.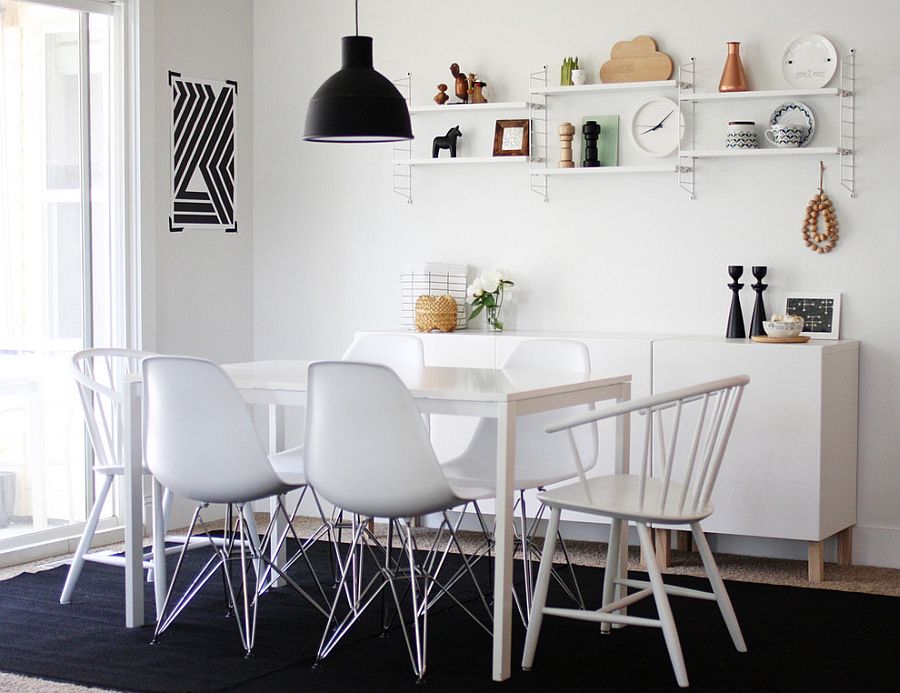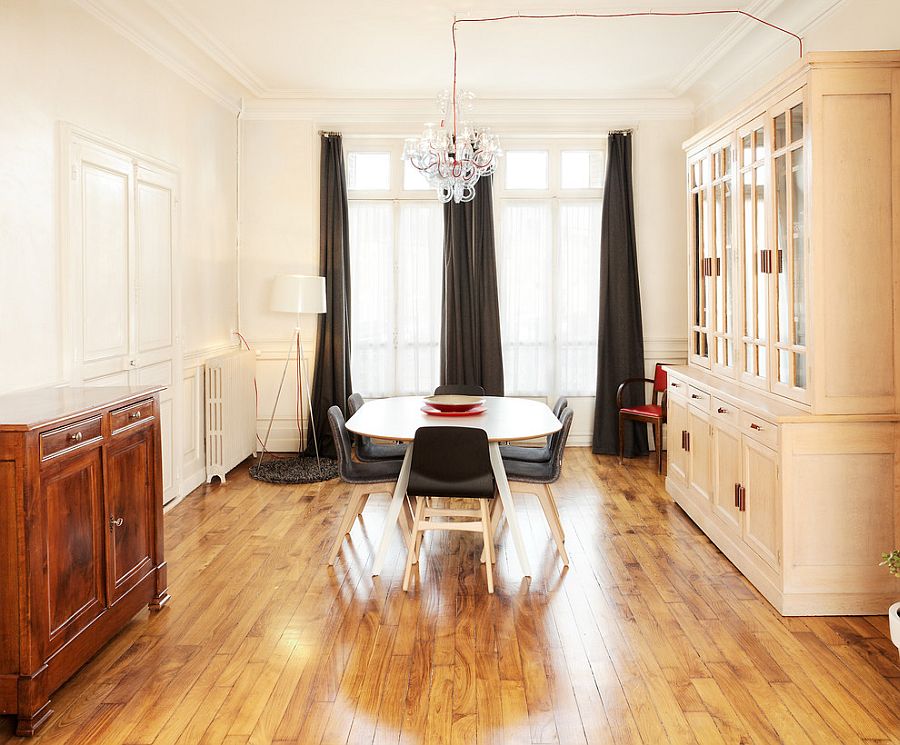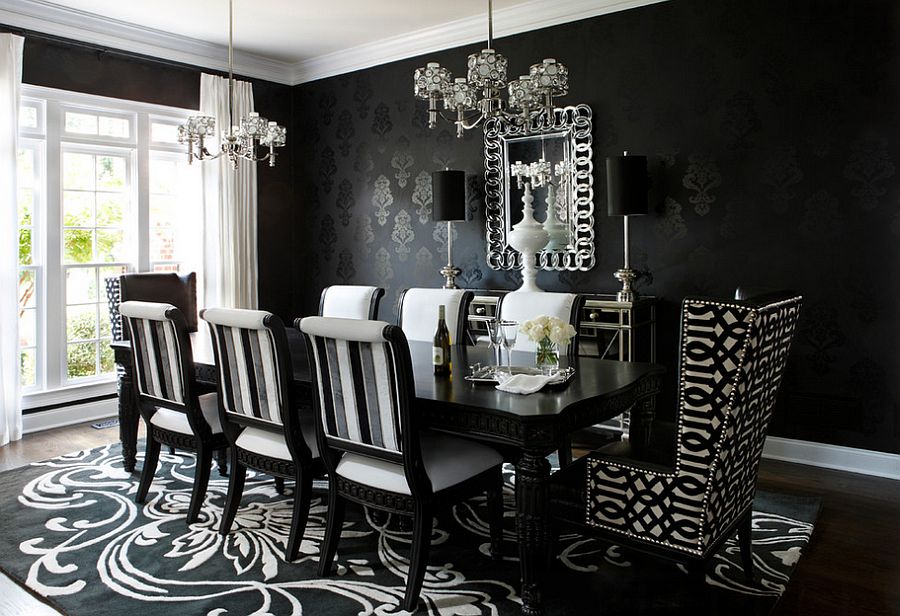 6. Lighting Makes a Difference
Any room that uses black in an extravagant fashion achieves the perfect blend of natural and artificial light. But we are talking here about the lighting fixtures themselves, and with the wide array of pendant lights on offer these days, you can use these dazzling delights to introduce black as well. The classy collection of pendants from Tom Dixon has become incredibly popular in dining rooms across the world. Also, large drum pendants in black are perfect for those looking to add drama to the dining room while creating a sensational focal point. Never underestimate the value of the right lighting!