Blue is arguably one of the most versatile colors when it comes to decorating your home, and its many shades can be used to create diverse themes that range from the chic and refined to the eclectic and playful. It is also an incredibly popular color for both bedrooms and kids' rooms, as it brings with it an air of tranquility while moving away from less exciting grays and whites! It is this adaptability and soothing style that also make blue the ideal color for a cool and trendy nursery; and not just for the baby boy!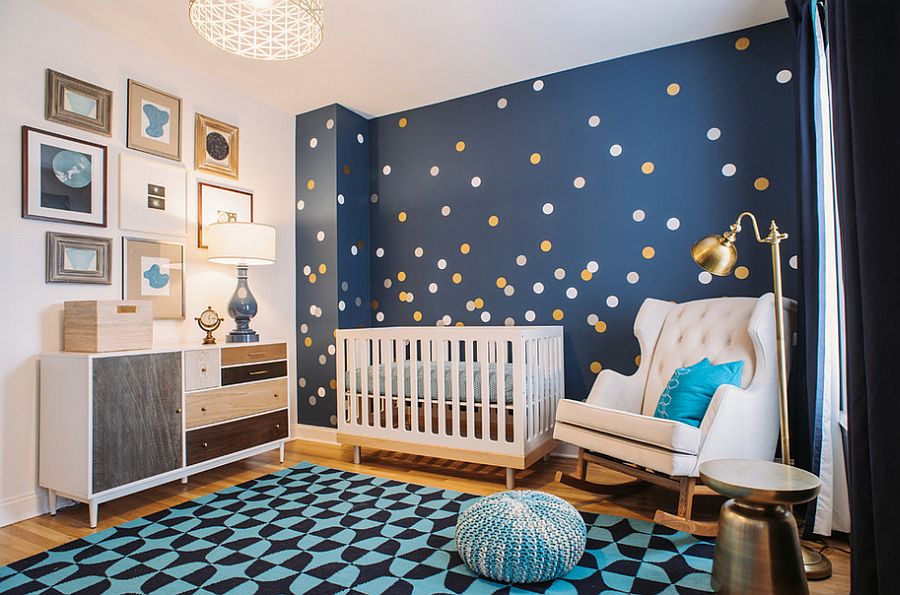 Blue can be used equally effectively in nurseries designed for both the baby boy and the baby girl, and it is an ideal choice for homeowners who want to create a space that will grow along with the needs of their little one. The 25 stylish blue nursery ideas on display today should convince you of the same!
Style and Pattern
A color palette that includes blue fits in perfectly with almost any theme that you have planned for the nursery, and the many shades of blue ensure that there are plenty of options to choose from. Navy blue is a natural fit for those looking to usher in a nautical theme, while lighter shades of blue and turquoise can help create a relaxing coastal vibe. Studies have shown that blue is indeed one of the best possible colors to use in the nursery, as it soothes your little one while offering just enough visual stimulation. Think of designs that incorporate blue and white stripes, chevron patterns or lovely wall murals that draw the attention of your child.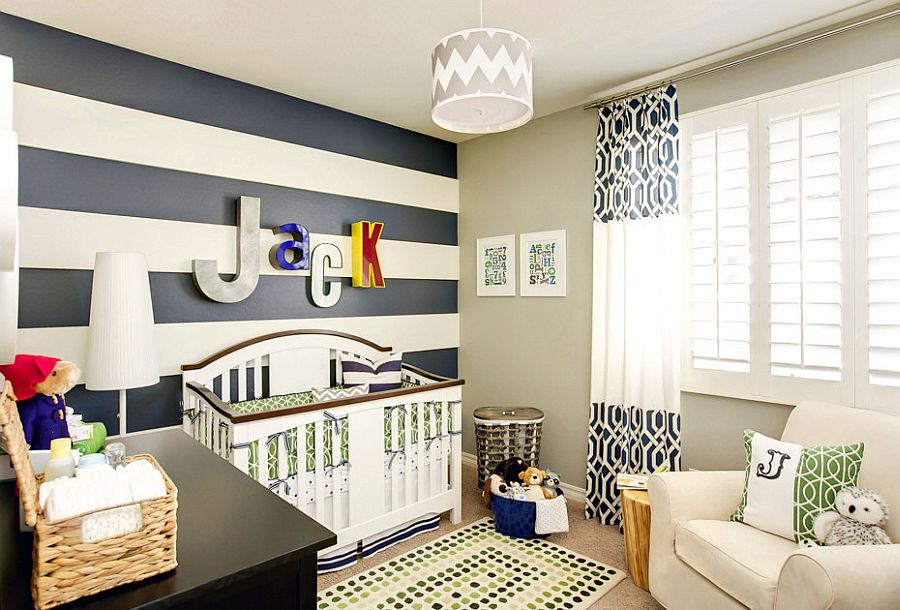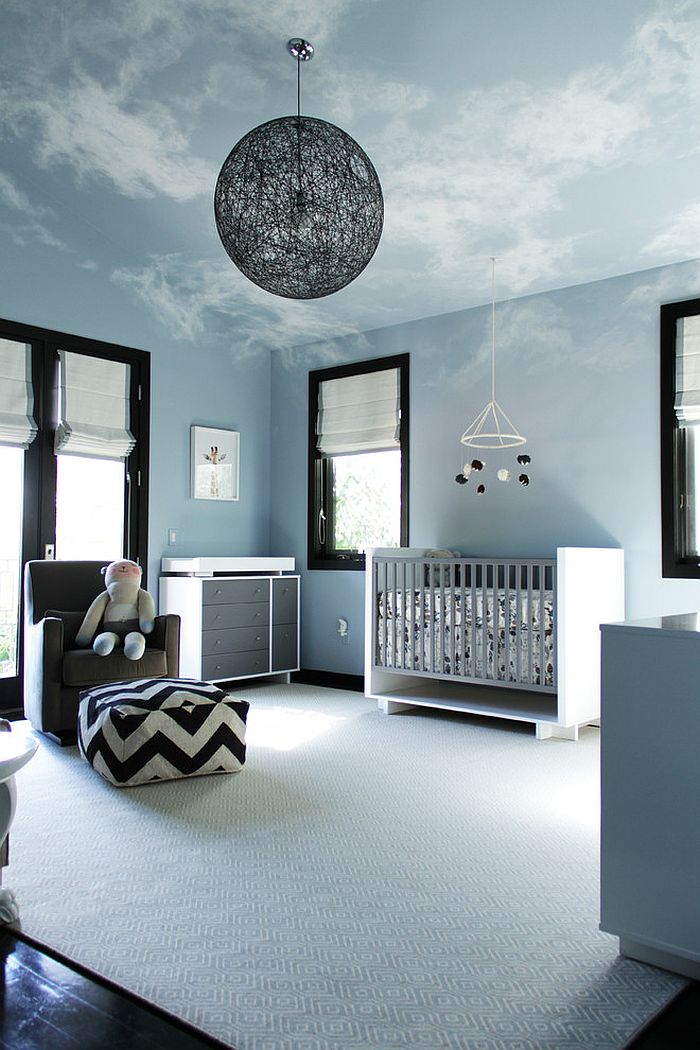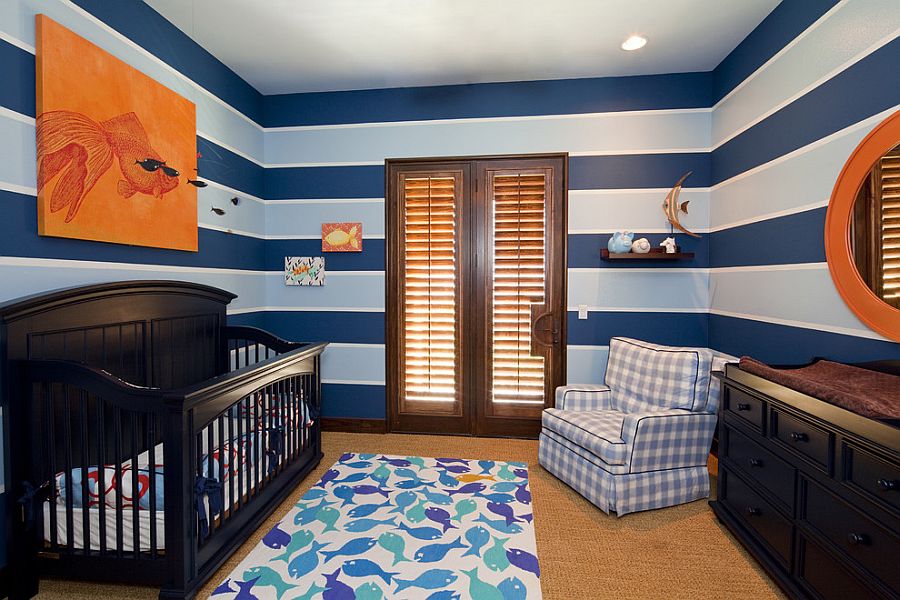 Wallpaper is another great choice in the nursery, as it adds both color and pattern without too much effort. But make sure you pick a design that is not too overwhelming, as complex patterns can be disorienting for your little one. If you think that there is too much blue in the room, throw in pops of other bright colors such as yellow or orange to break up the monotony.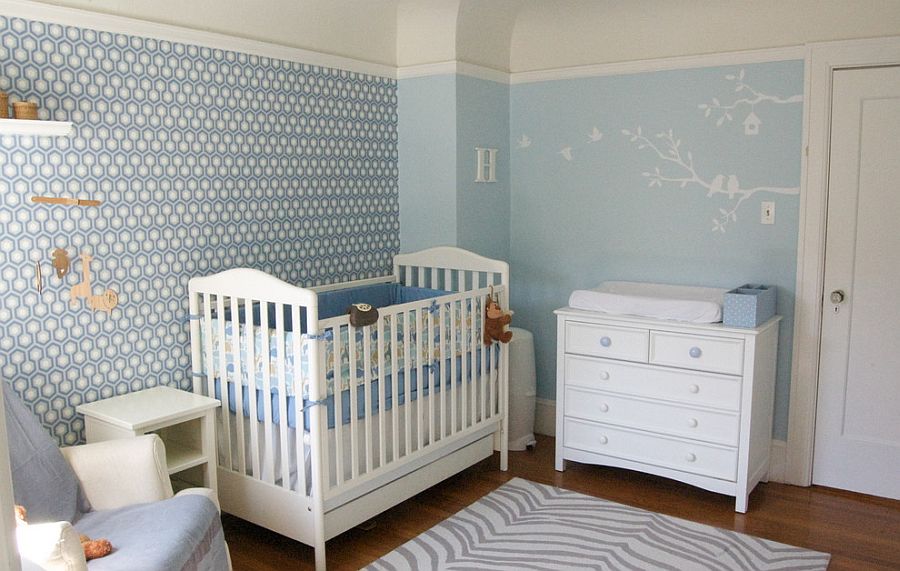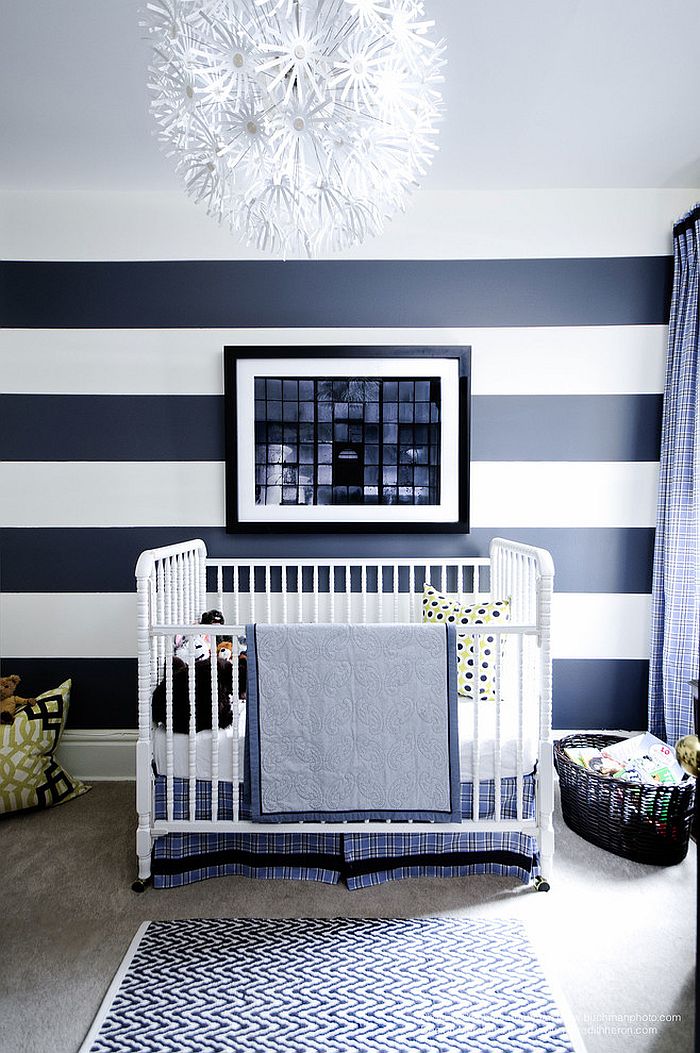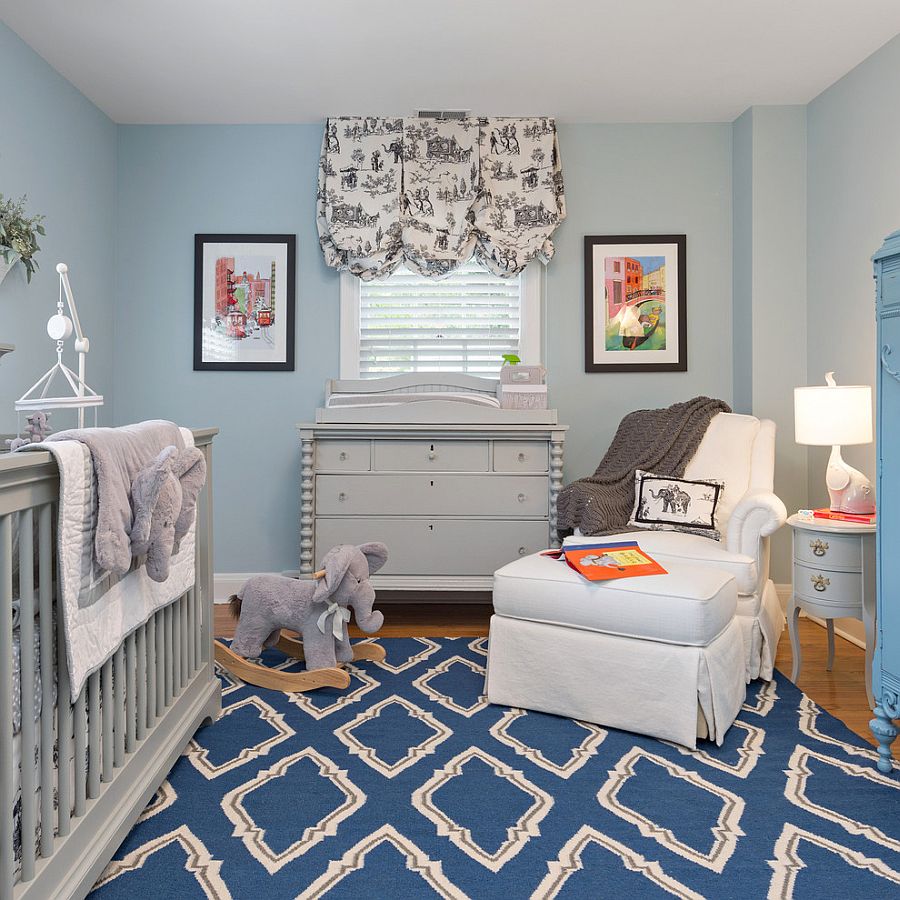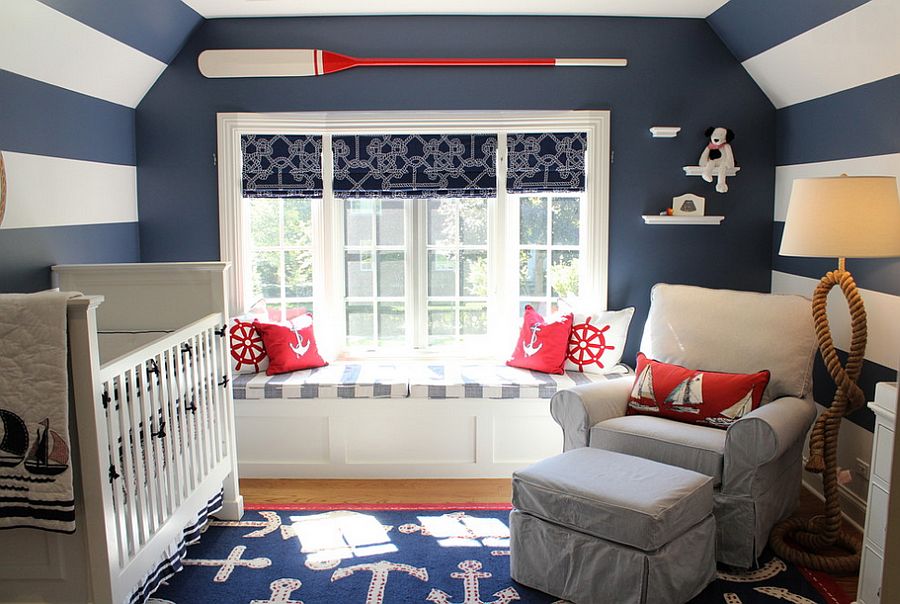 Not Just for Boys!
The myth doing the rounds these days is that blue is a color exclusively meant for the baby boy and pink is the color of choice for your little princess. While we do agree that pink nurseries look simply fabulous, there is no reason why blue cannot be used as well in such rooms. Unlike pink, a room in blue can offer a great backdrop for a girls' nursery, and all you need are touches of pretty pink, a hint of sunny yellow or even pops of orange to turn it around. Add feminine decor and accessories to turn a gender-neutral nursery in blue into a smashing hub for your little girl. Wall murals and decals can further bring visual softness to this setting.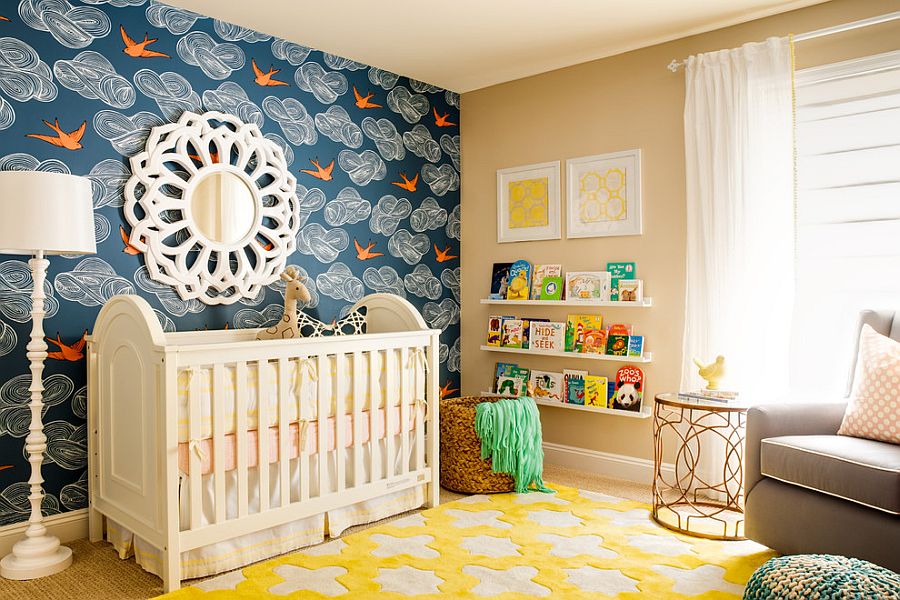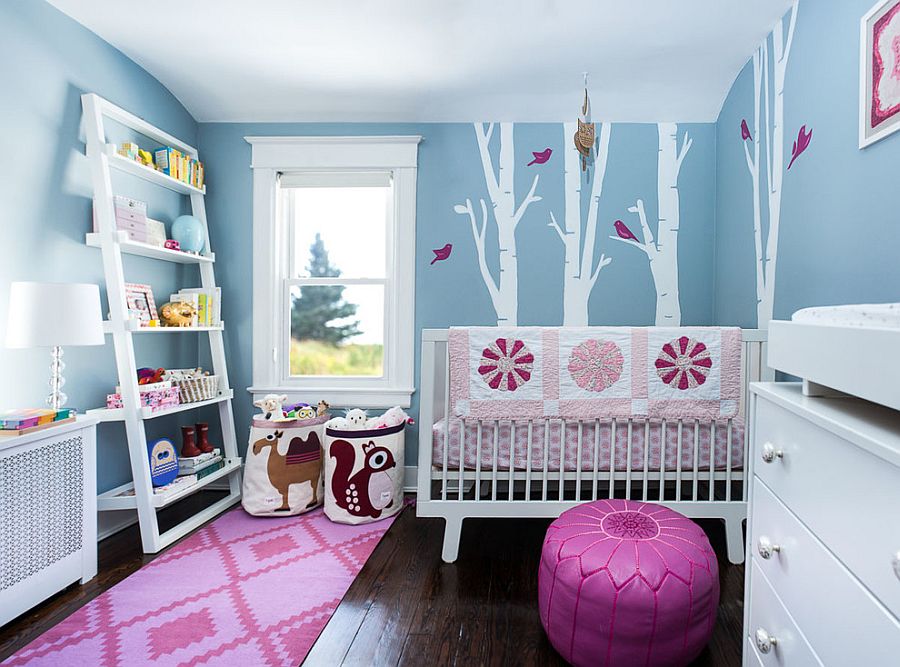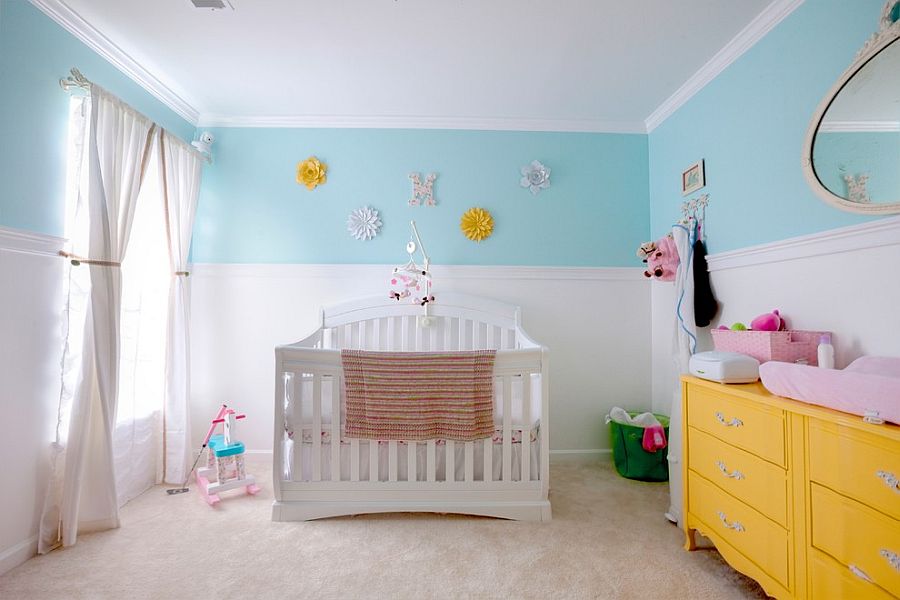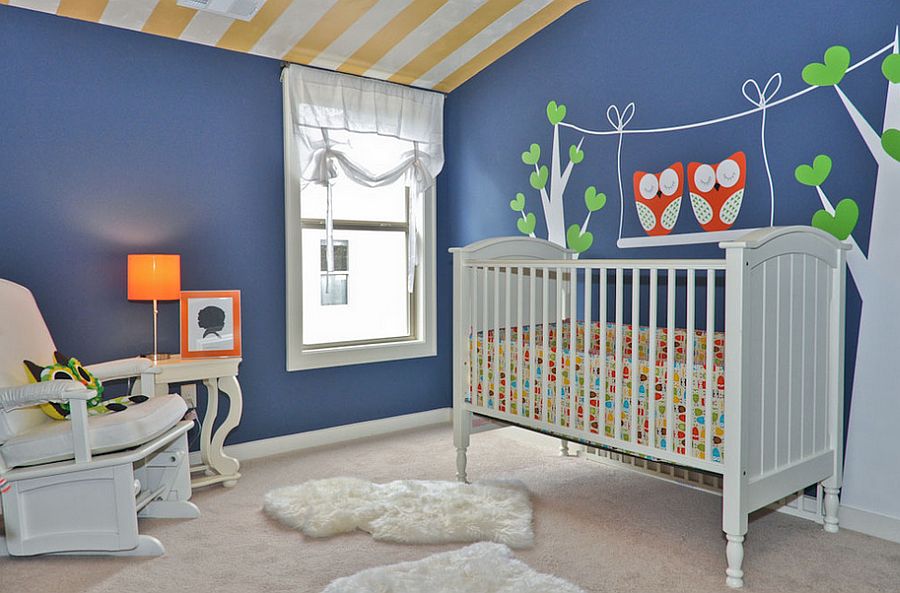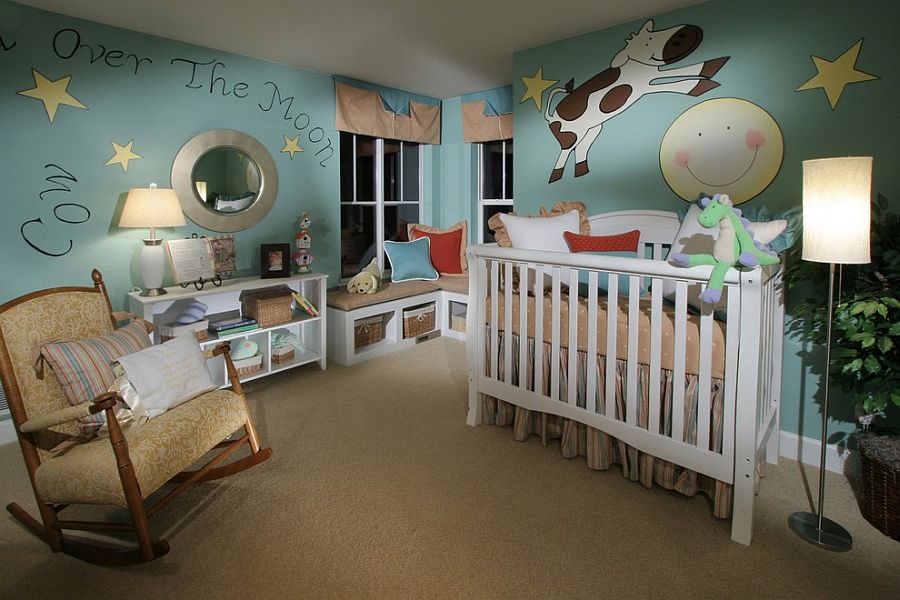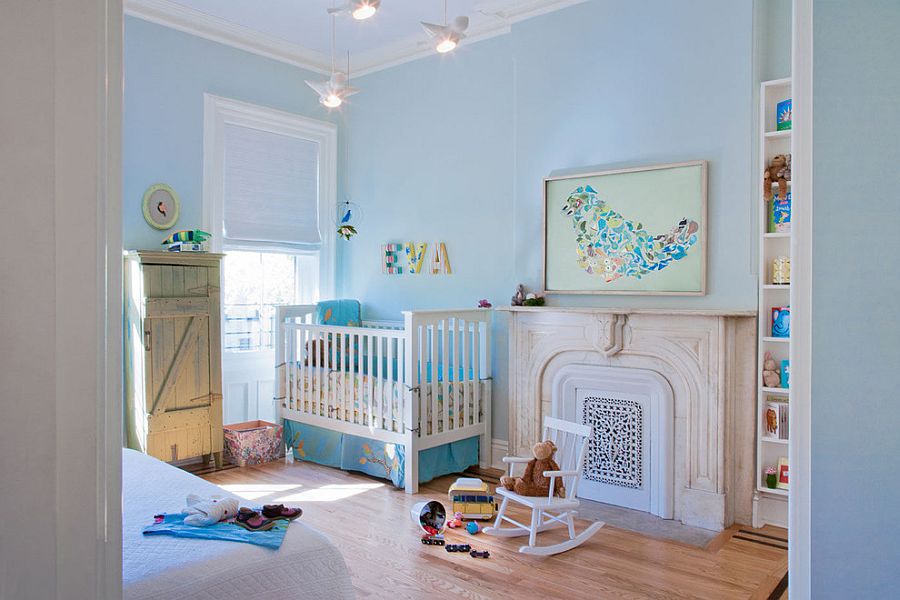 Decorate with Blue
Whenever we talk of decorating and color palettes, the natural instinct is to think about paint or wallpaper. But there are plenty of ways in which you can add color to the room without actually altering the neutral backdrop. This approach not only saves time and effort, but allows you to easily switch the color palette of the room around when your child grows up and finally realizes he has the power to haggle and decide the look of his bedroom! (Trust us; it won't take long for that to happen.) Keep the walls as neutral as possible and add blue to the room using curtains, rugs, chairs, lamps, storage units and even wall art. It is an approach that simply cannot go wrong!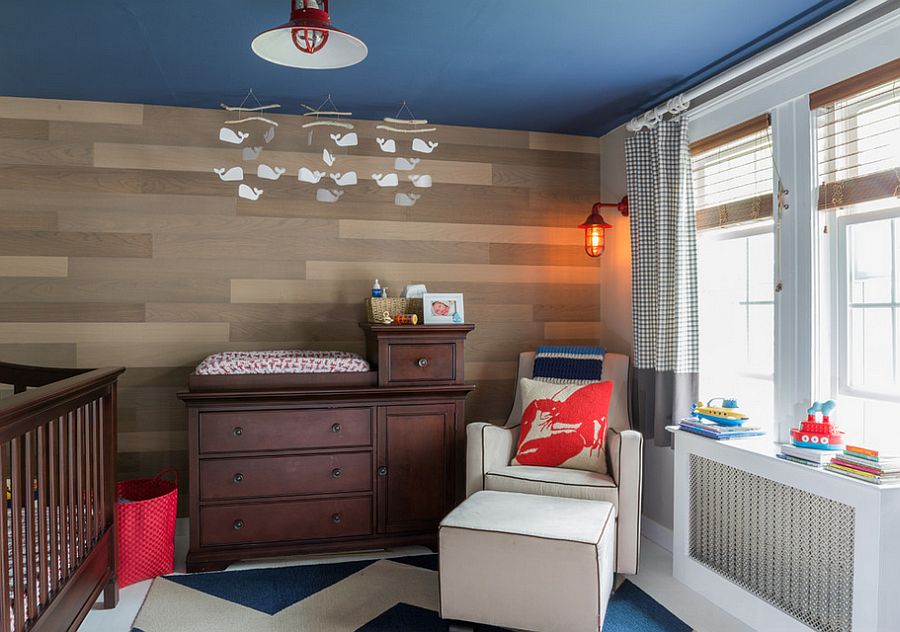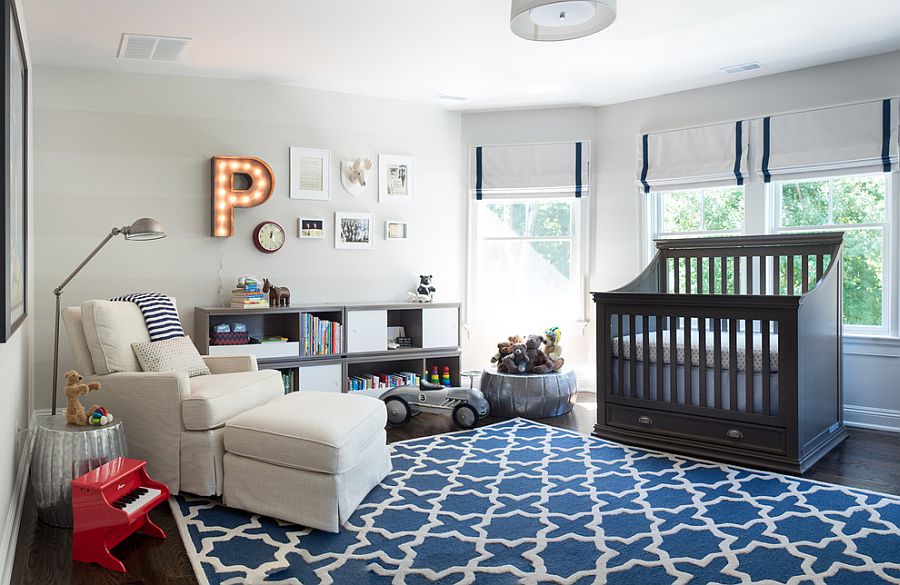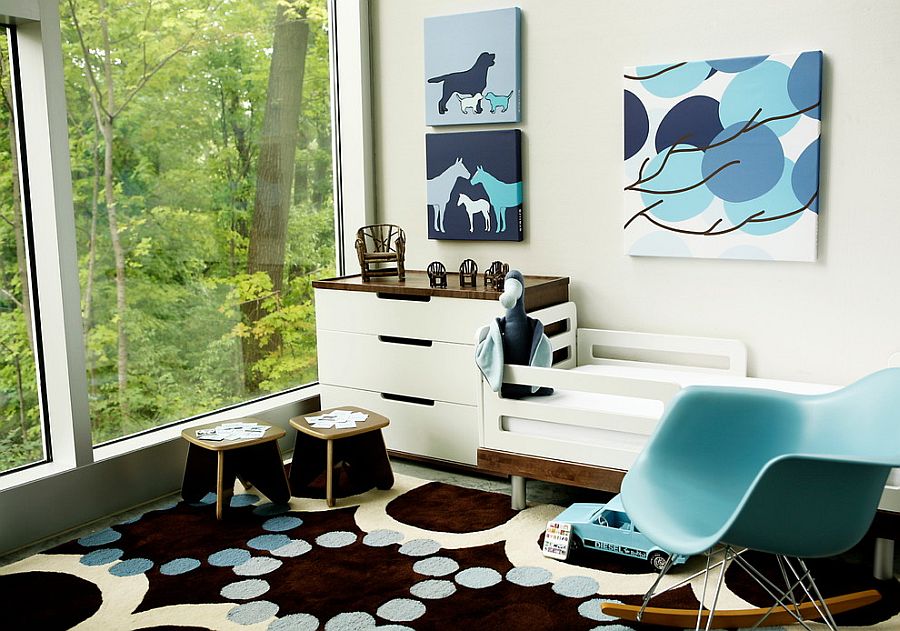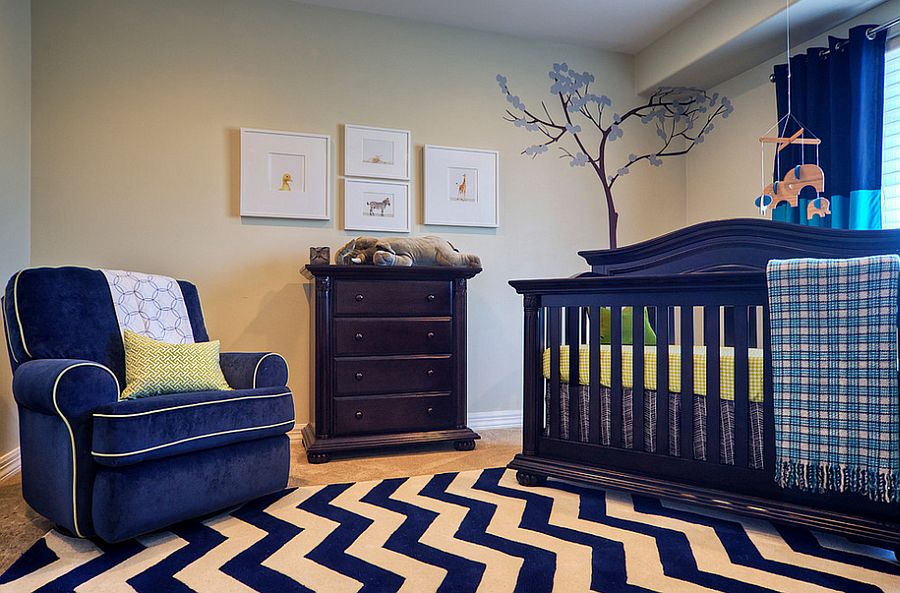 Shooting for the Right Shade
When using blue in the nursery, we suggest you pick a shade that is easy on the eyes and calming for the obvious reasons. If the theme of the room demands a darker hue, use it in a less extensive fashion. Lighter shades of blue that are close to gray or white allow you to easily bring in other dark colors such as red, yellow or green, and the combination looks both pleasing and seamless. Consider the natural ventilation in the room before picking the shade of blue for the walls, as a small nursery with poor ventilation draped in dark blue can quickly make for a claustrophobic setting.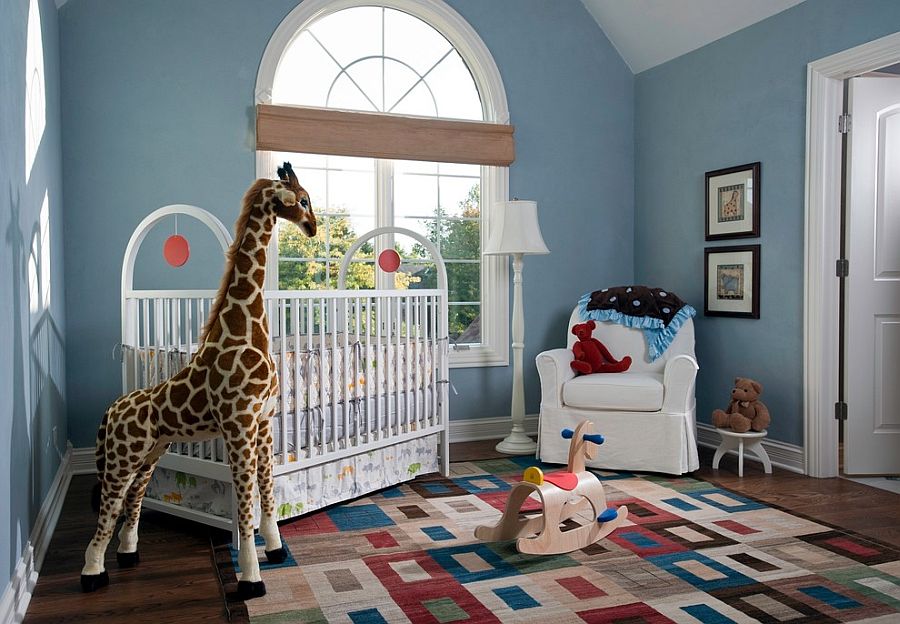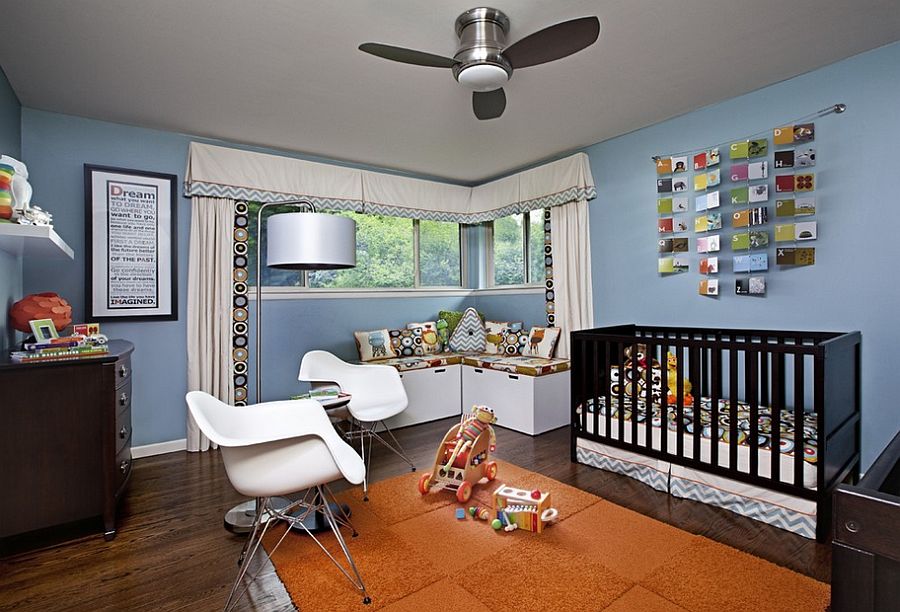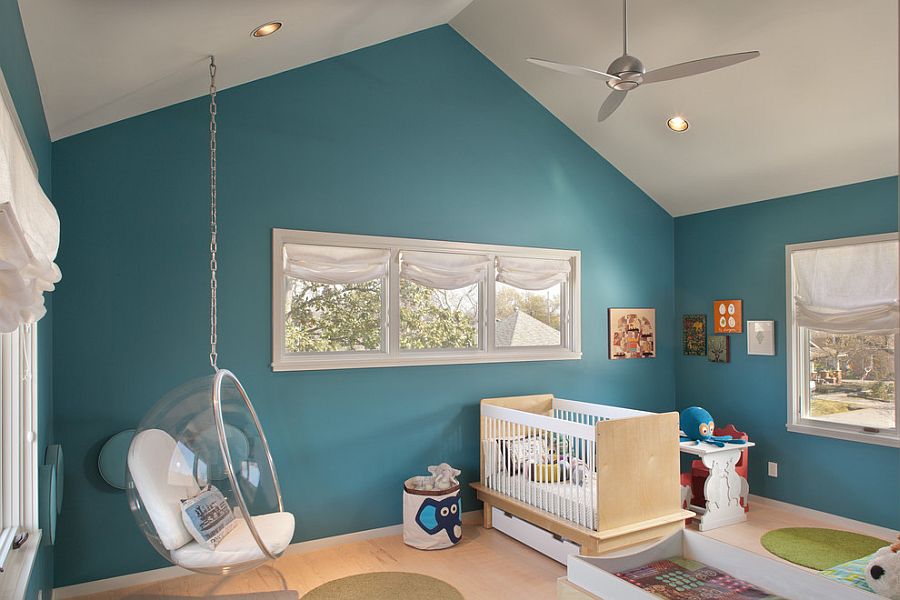 Text