Long gone are the days when you leave work behind as you punch out your card and head for home. In the modern world filled with laptops, tablets and smartphones, you carry your work pretty much everywhere. As a result, more and more homeowners are wanting a dedicated home office that allows them to get the job done with comfort and ease. Whether you have an envious home office with unabated ocean views or a practical workspace in the basement, it is the ambiance of the space that ultimately determines its productivity. When it comes to creating an elegant, relaxing and efficent workspace, few styles work as well as Asian.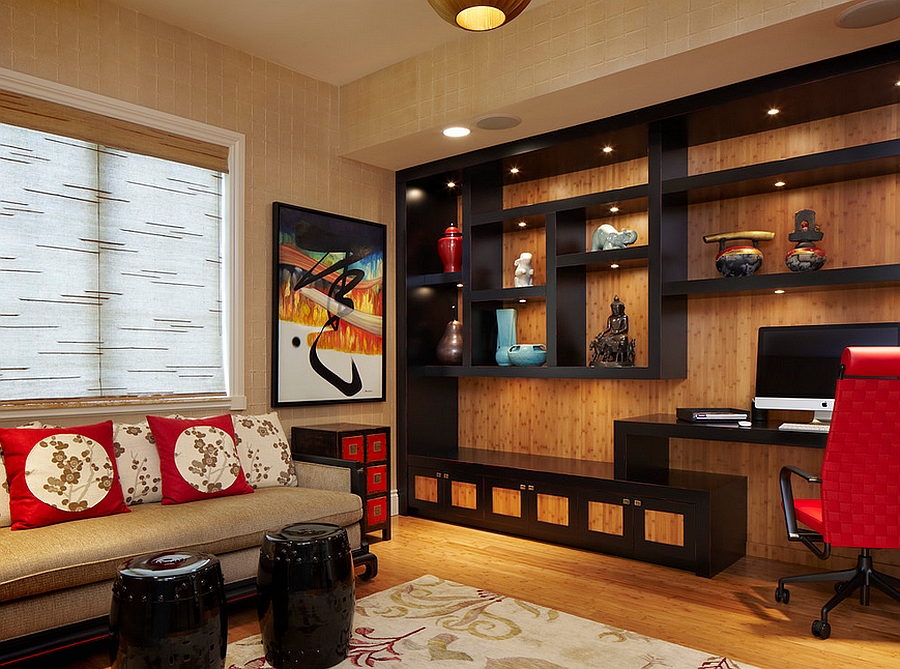 The Asian style is largely defined by the use of natural materials, calming hues and innate simplicity. Ergonomics meet form beautifully in Asian-style home offices, and today we have 10 outstanding inspirations that showcase how to pull off the look while embracing modern aesthetics.
Multitask with Ease
Not all of us have homes that are blessed with an extensive amount of space, and often the home office is combined with the bedroom or even the kitchen. This Asian-style home office works perfectly for those who want a smart craft zone along with an elegant workspace. The design is kept simple, the color scheme neutral and the decor comfy to usher in a sense of serenity. Window shades, wall murals and interesting accessories complete the look.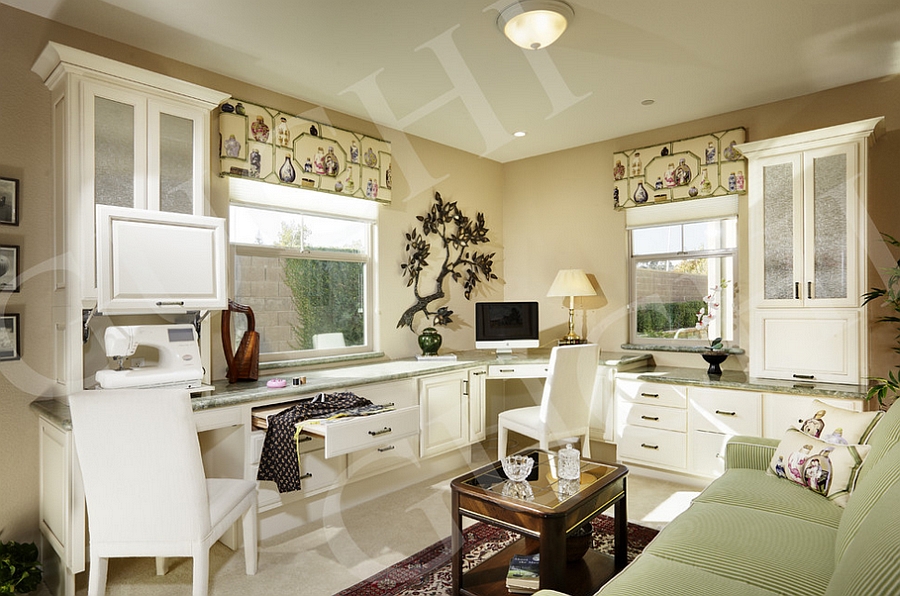 How often have you seen the home office of a lawyer being typically filled with a stoic wooden table and walls of books? Well, this one is different as it turns to Asian style cabinetry and decor to acquire a completely different and ingenious appeal. Obvious additions such as the Buddha statues and the wall art in the backdrop accentuate the Asian vibe even as gray accent wall brings a hint of modernity.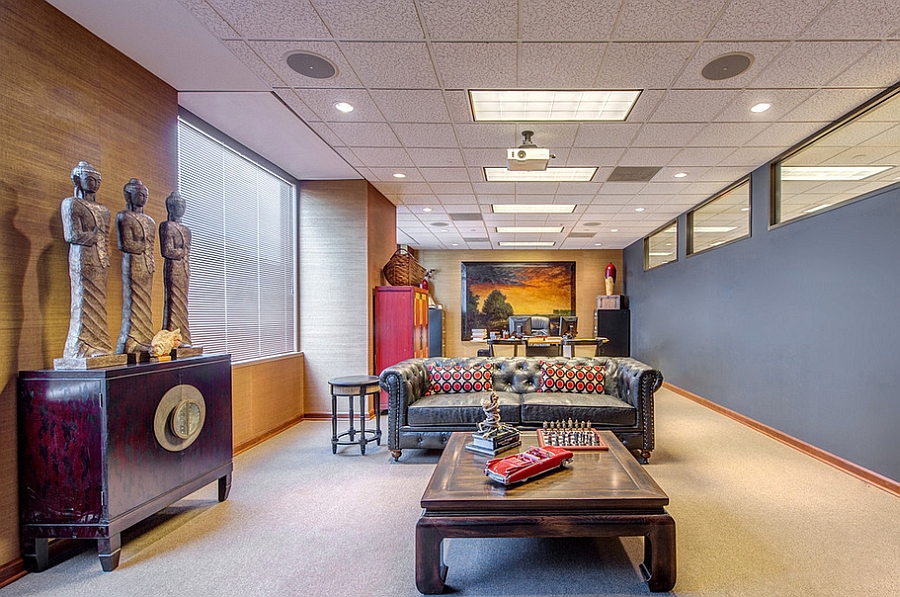 Having an exclusive home office does not mean you need a dedicated room that is only devoted for this purpose. This home office uses open shelving to separate itself from the living room and yet is visually connected with the living area at all times. By using a series of shelves instead of a wall, the space has an open, airy appeal and a wonderful flow of natural ventilation.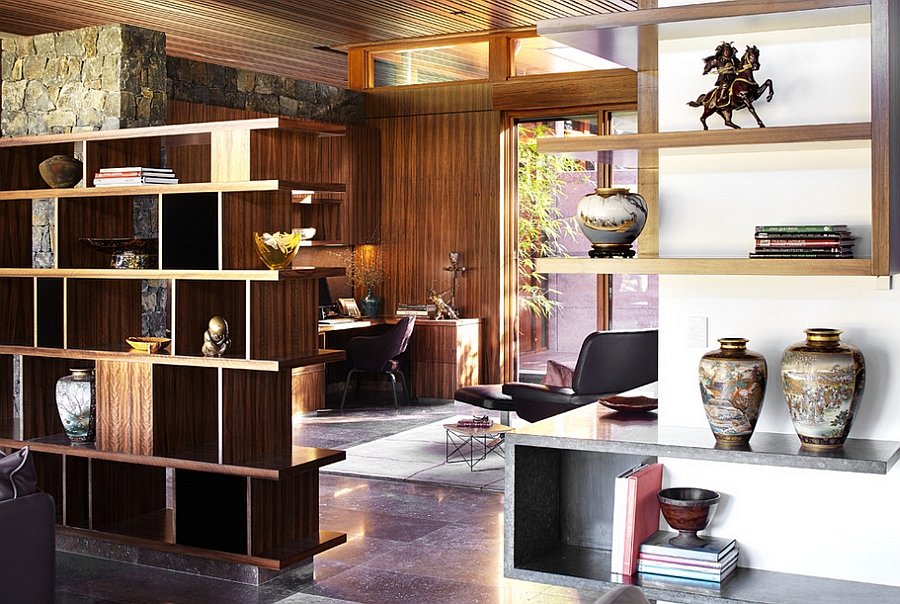 Smart use of Space
Space is definitely not a constraint when you are trying to create a relaxed and beautiful Asian-style home office. The two inspirations below showcase how the right color scheme, decor and accessories can easily create the look in even the tiniest of corners. Think of warm, calming yellows for the wall, furniture in natural wood, Asian-style lighting and some smart accessories to replicate this look.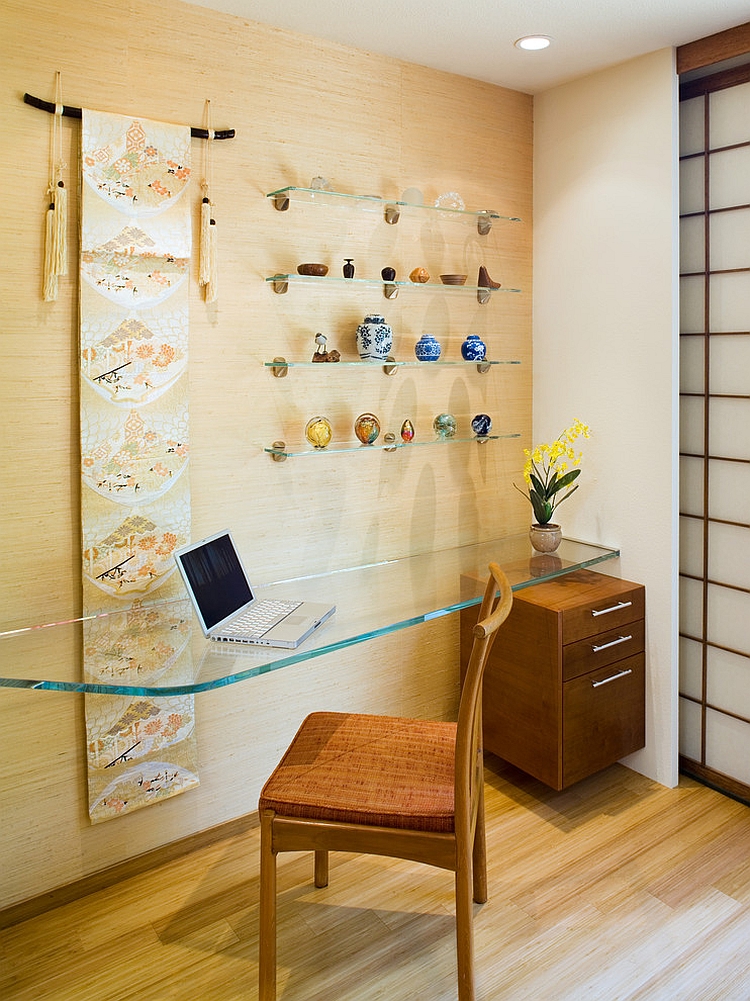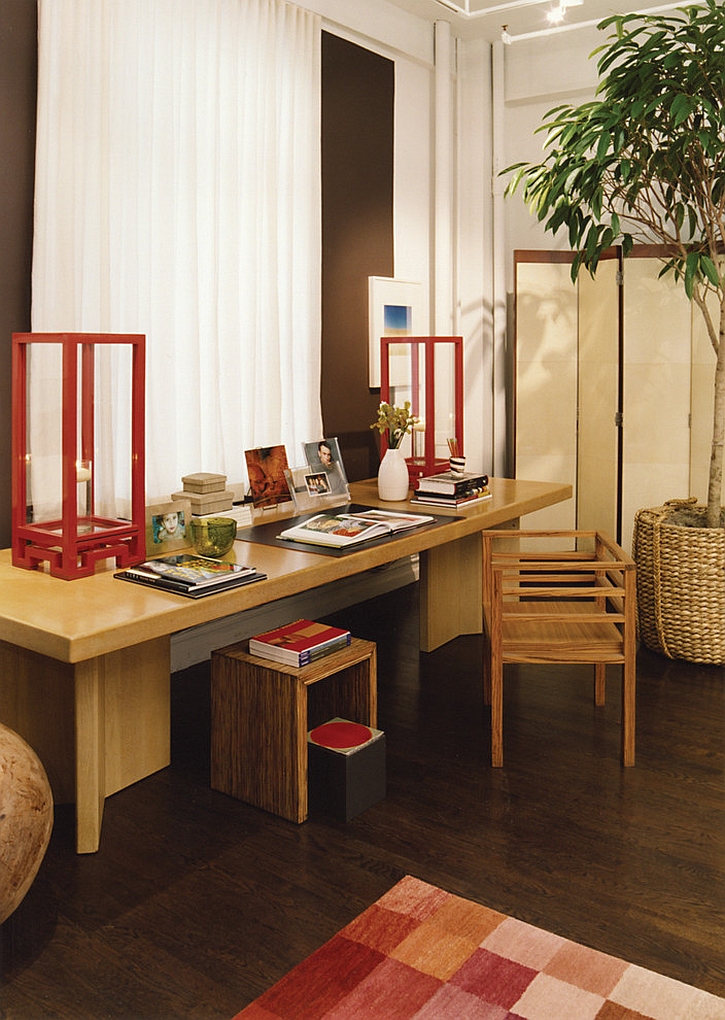 This home office might not really be cramped, but it does utilize space that might have been otherwise left unused. Staircase landings and nooks under the staircase are perfect for a nifty little home office. The unique design of the desk and the bookshelf in the backdrop give this home office its dash of Asian flavor.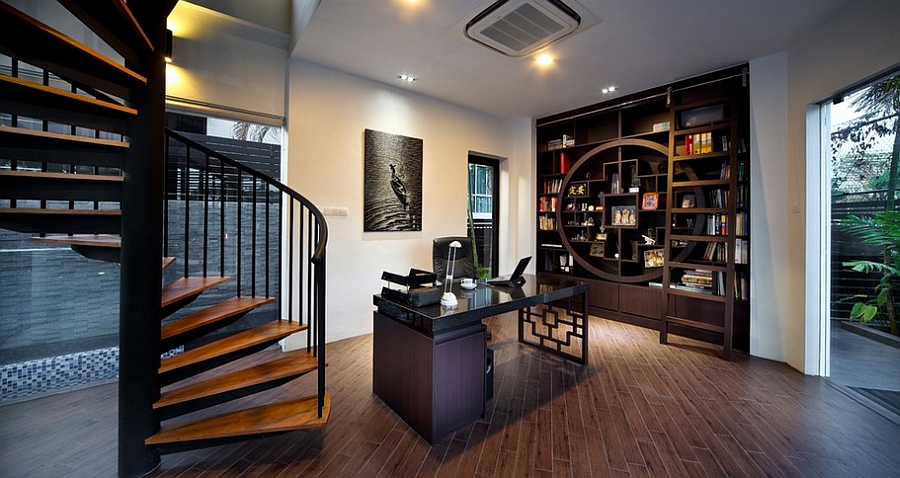 Color and Creativity
Remember that the Asian style encompasses a broad spectrum that actually includes many different styles originating from regions across the continent. But in most instances, homeowners associate Chinese and Japanese design influences as 'Asian', and they do seem to be the most popular among the lot. The vivacious use of red along with a hint of gold in the home office below seems to be inspired by the classic Chinese color palette.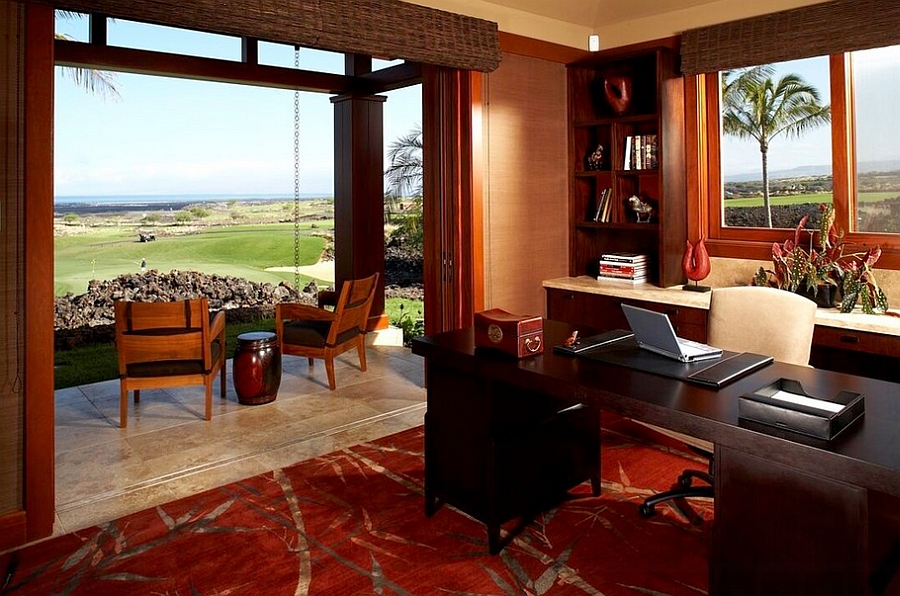 If the office above is all about Chinese opulence, this one revels in the unassuming simplicity of Japanese design! What seems like a 'Zen nook' is actually filled with a hydraulically controlled desk that can be operated at the touch of a button, a wall with a screen dedicated to video conferencing, and of course, a minimalist workstation.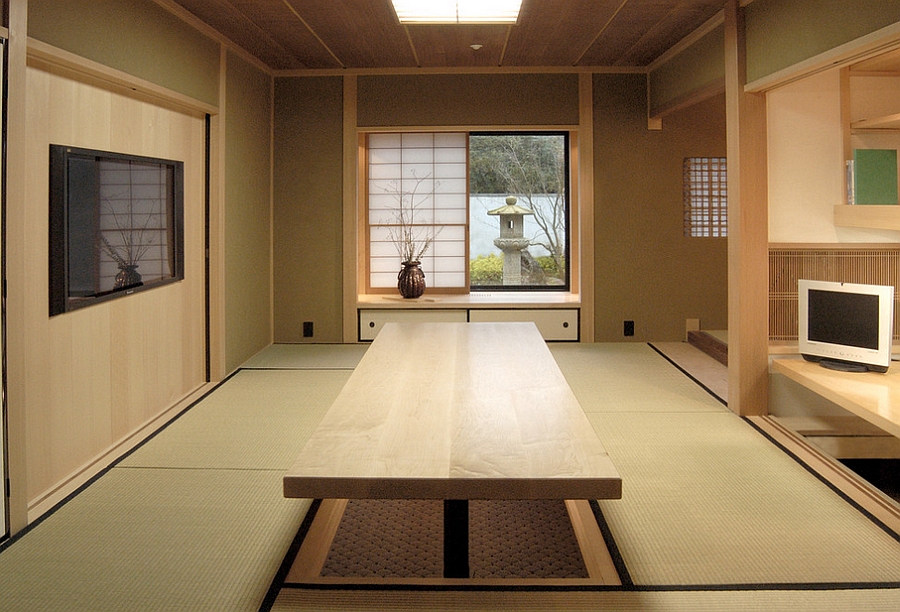 Not comfortable making a turn towards the oriental style completely? Not to worry, as you can easily strike a balance between the contemporary and Asian styles with a home office such as the one below. Using a dashing black and gold color scheme, the space is decidedly modern and yet has undeniable Asian flair.