There are many children's room trends that have grabbed our attention over the last few years, from wall decals and Hollywood Regency-style bedding to dot banners and flag bunting. But what if you're looking to make a unique statement using fresh design ideas? Today's post is dedicated to the art of kids' room design, and the ideas below are as child-friendly as they are stylish. Let's take a closer look…
Walls and Flooring
We start by setting the stage with wall decor and floor decor! This modern children's bedroom and playroom space is covered in abstract patterns, including the rug and the wall art. The statement is simple yet bold, and we couldn't imagine a more perfect backdrop to the colorful abstract action than white walls. [photo by Ofer Wolberger, from Mabbott Seidel Architecture]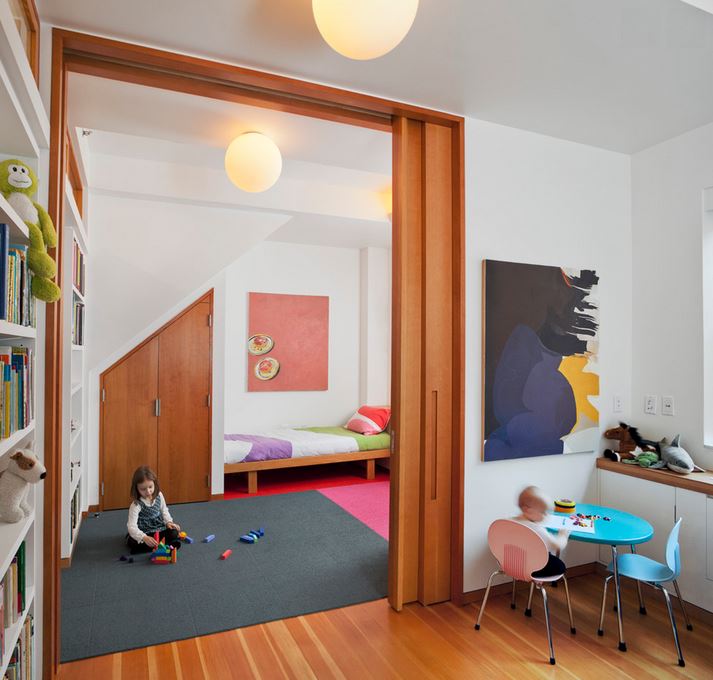 For a more ornate look, choose a modern wallpaper in a playful pattern. This classic Vivienne Westwood design called Squiggle is the perfect backdrop to the room's crisp white furnishings. Did you know that Westwood designed this pattern in 1981, and '80s icons like Boy George wore it on clothing items when they performed? Nothing like a little bit of retro fun for a child's space! [from Amory Brown]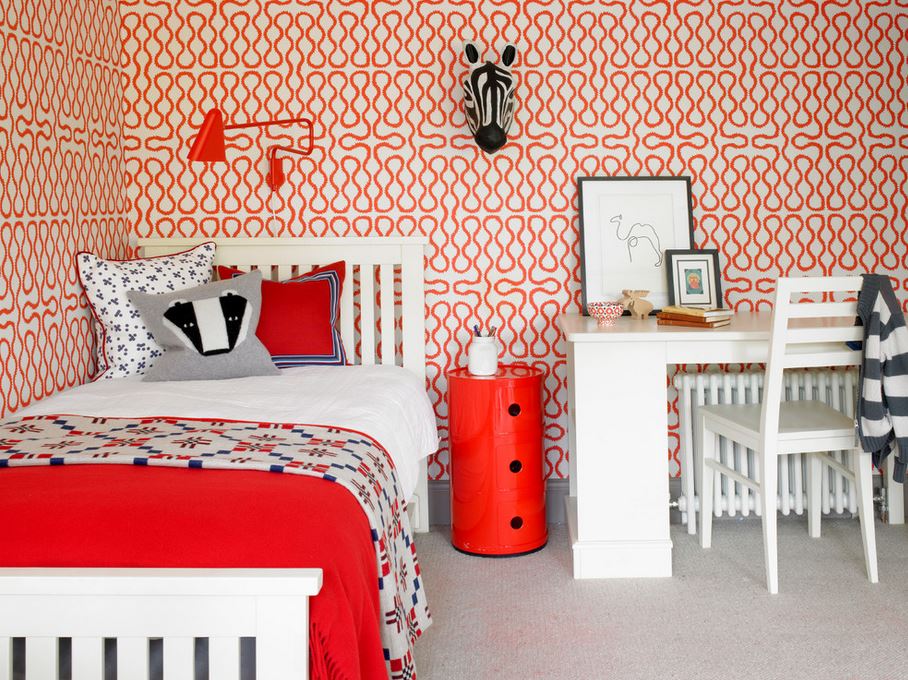 From nurseries to the bedrooms of teens, popular rug choices are increasingly including "grown up" selections from retailers such as West Elm rather than "kids' rugs" in overtly child-friendly patterns. But isn't there something inherently child-friendly about striped and geometric rug designs?! Not finding what you like at the children's store? Don't hesitate to scan your favorite shops for kids' room rug solutions.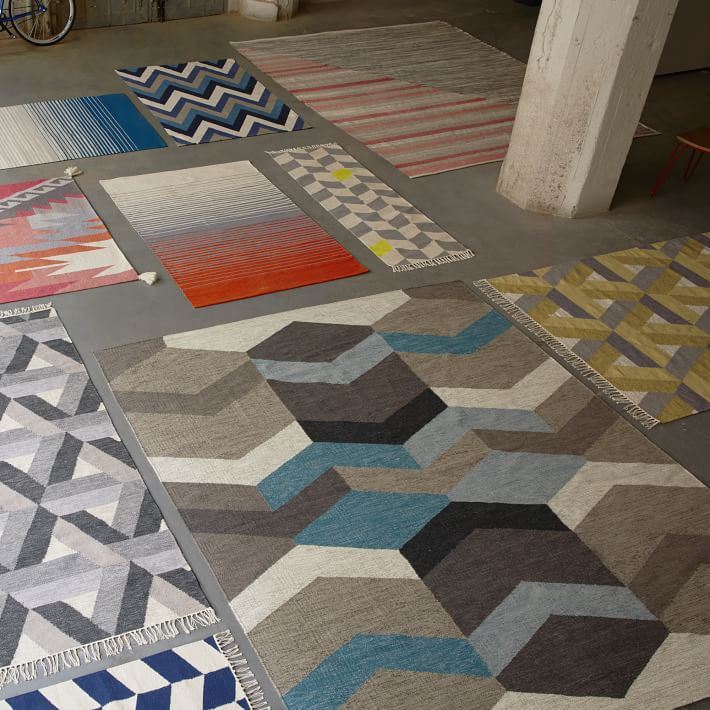 Furniture for Kids' Rooms
When it comes to furniture, bookcases are becoming stylish settings for artful vignettes in children's rooms. Choose a modern selection like the Metalwork Bookcase in Mint from The Land of Nod (which includes a kit to help secure the bookcase to the wall), and fill it with toys, books and other collectibles that are age appropriate. We like to call it a bookcase art installation!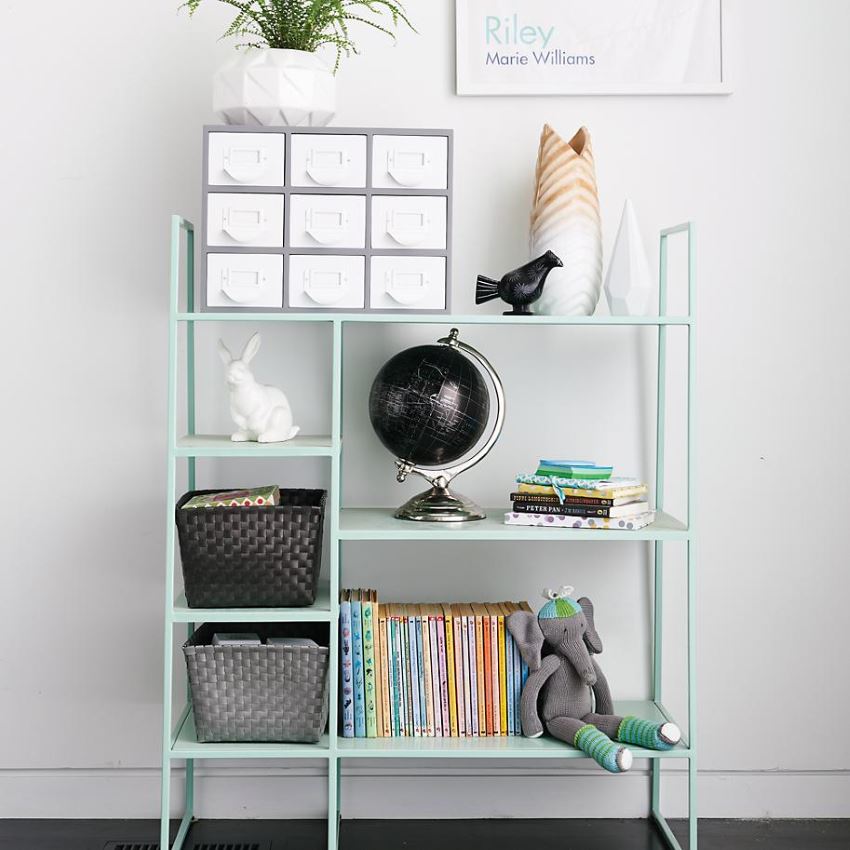 A touch of neon never hurts. While the neon explosion that surfaced a few years ago might have had the potential to be a rather short-lived trend, fluorescent hues have proven that they have staying power. We were thrilled to spot this new Neon Chalkboard Table in Hot Pink from The Land of Nod, which as a bonus has a chalkboard surface that kids can draw on!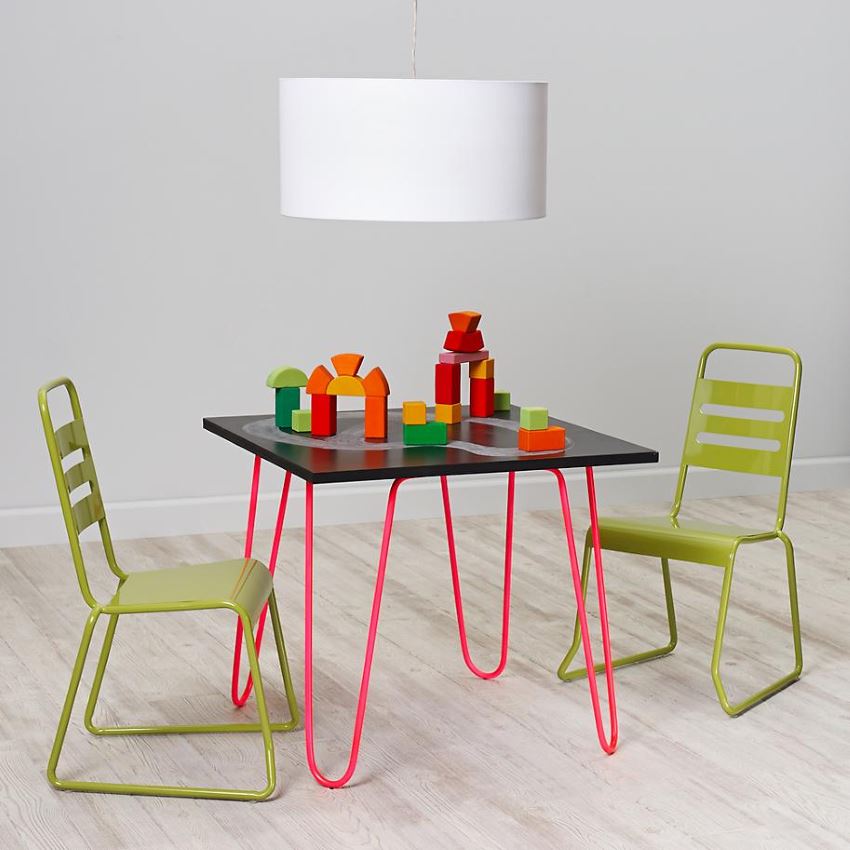 Why not add a statement chair to your child's space? Kids love having their own special place to sit, relax and read. This Domino Lounge Chair in Green from The Land of Nod is an homage to modern style. Crafted of powder coated iron, the piece includes a contoured back that adds comfort. Recommended for kids ages 3 and up:
Bedding and Accessories
And now…the icing on the cake! There's nothing like those special touches that add comfort and flair to a child's bedroom. For example, try incorporating a couple of floor cushions that can accommodate friends during playtime. Not to mention, they will provide a cushy spot for your child's reading and floor play endeavors! [photo by Black Bike Photography, from Elevate Architecture]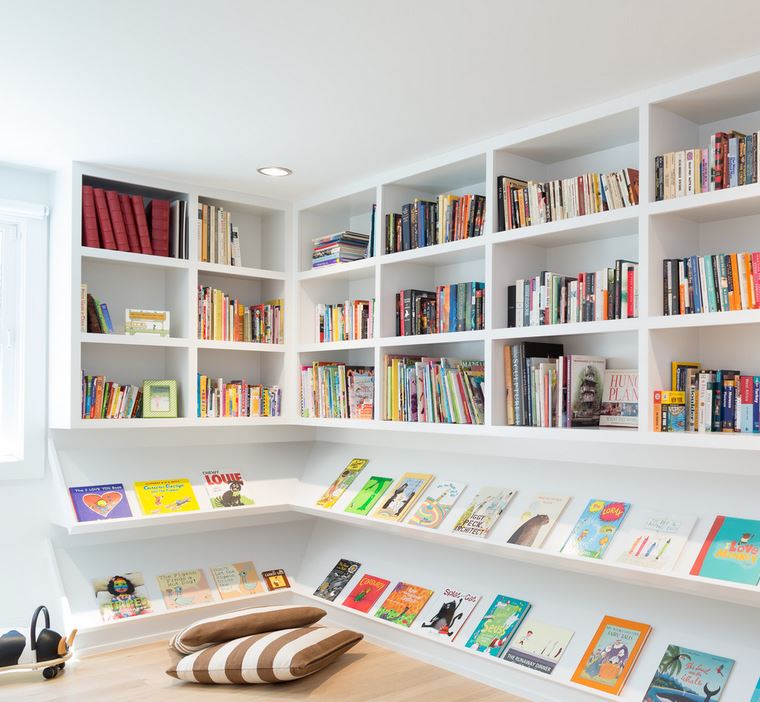 Pattern-filled bedding in vibrant colors is hard to ignore, but sometimes a more subtle approach is exactly what a room needs. Minimalist bedding is the perfect choice when geo-fabulous patterns like the one below are involved! Say hello to the Teepee Bedding from Ferm Living, which also comes in grey. Looks good enough to eat!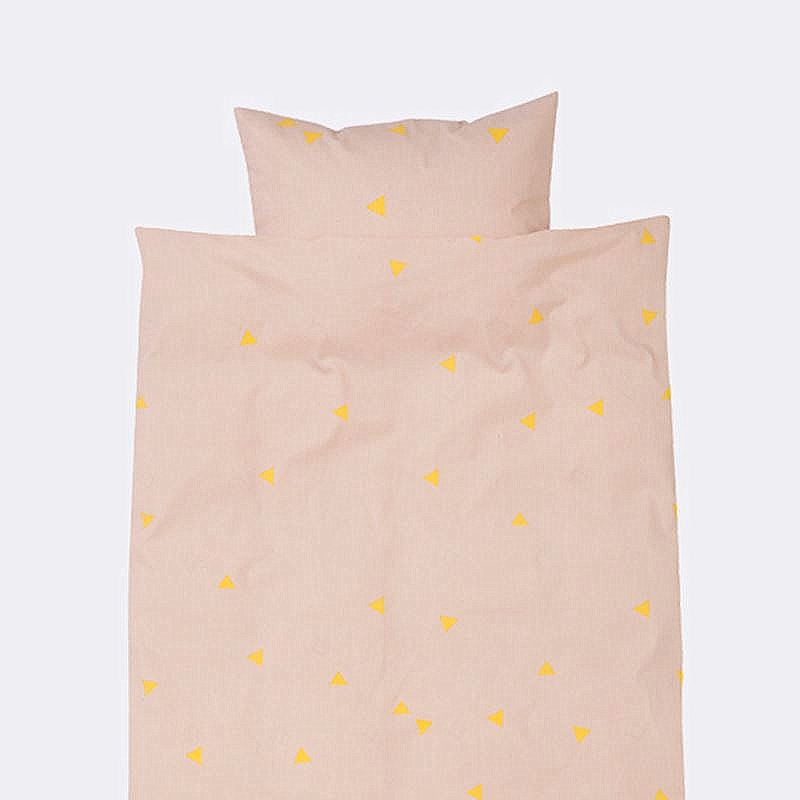 For an easy room refresher, try adding a bold throw pillow. We've been drawn to the new offerings from The Land of Nod, including the Triangle Throw Pillow in the next featured image: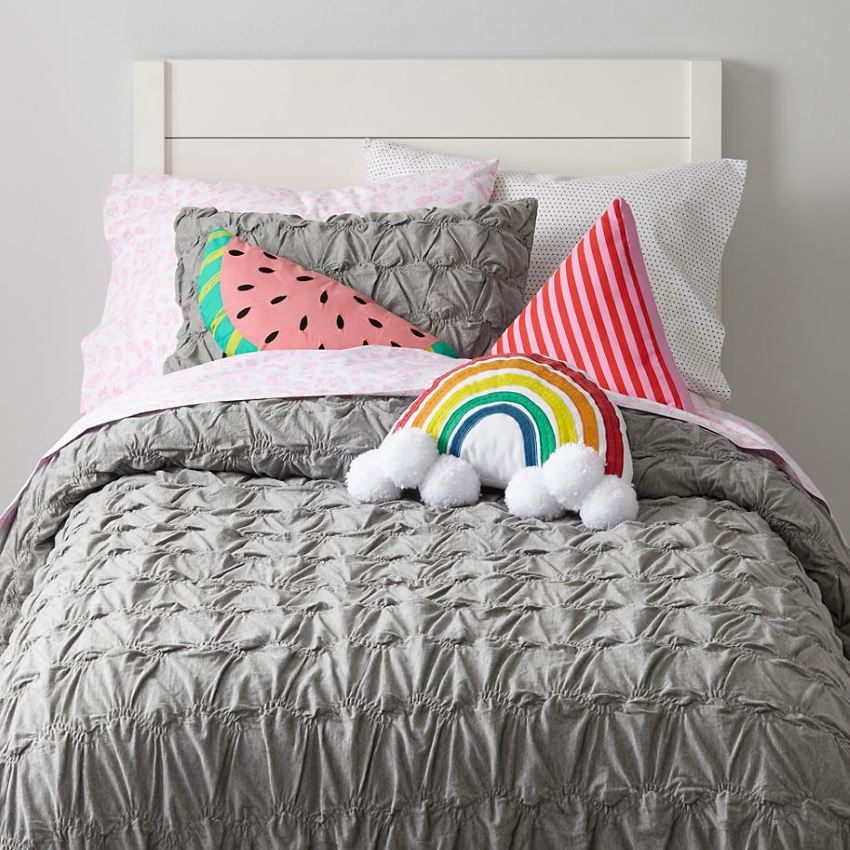 Our last featured photo shows the power of geometric wall shelving. There are so many fun options today, and like the artful bookcase vignettes mentioned above, a wall shelf is the perfect spot for arranging your child's most design-fabulous toys. Below we see the Round Dorm and House Blocks from Ferm Living: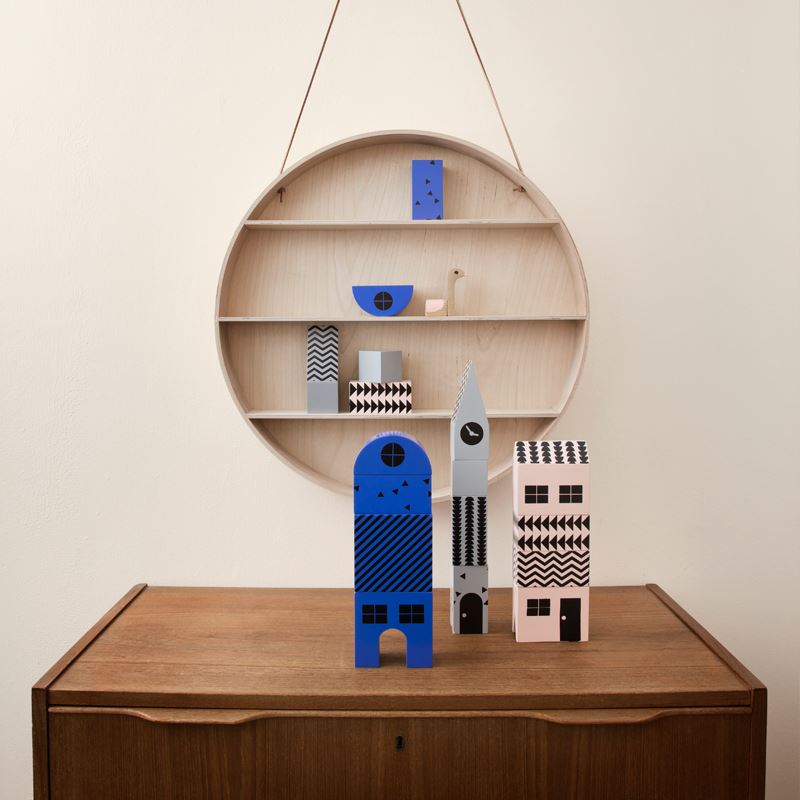 From abstract patterns to neon accents, we hope today's featured images have given you some fresh ideas for your child's space. Most importantly, there's nothing like letting your little one drive the boat when it comes to the design of his or her room–a 100% authentic way to get a unique result. We approve!