New Year's Eve is my favorite night of the year. What can I say–celebrating a fresh start gives me a rejuvenating burst of energy! Plus, as a design lover, I can't help but plan an eye-catching spread of sparkly decorations and delicious food to enjoy with my hubby each year. Whether it's just the two of us or we're welcoming friends, this "party" is an event I look forward to for weeks.
But if you're like me, you just might be a little wiped out from the holidays. The last thing I want to do at this point is spend a lot of money on a big basket of groceries, give my oven another workout and wash a sink-load of dishes. That's why the New Year's Eve party ideas featured in today's post focus on a few special touches. Because you deserve to usher in the new year in hassle-free style! The key is putting your energy into a handful of special details and keeping the rest simple (yes, store-bought cookies are allowed). About those special touches–check out my favorite festive ideas below…
Cool as Crystal
Today's first featured party concept is perfect for those who love decorating with rocks and minerals. Use sparkling treasures you already own, repurposing them as party decorations for the night. Here are the basics:
rock and mineral samples + rock candy champagne stirrers + gem-like confetti = crystalline New Year's Eve style!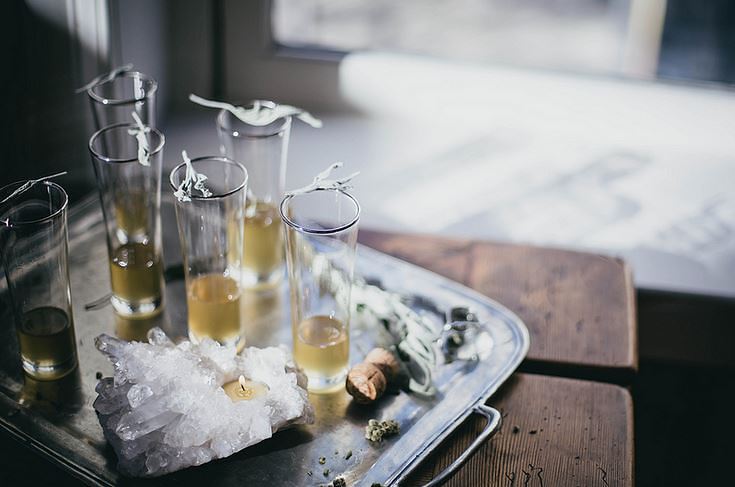 Above we see a fetching image of a quartz votive holder, as well as a tray filled with glasses of Sage Ginger Prosecco. Get the recipe for this cocktail at Local Milk. Another fun way to add a dash of faceted style: use rock candy on a stick as drink stirrers, dunking them in your champagne flutes! The photos below are from a swanky New Year's fete designed by Camille Styles in collaboration with Kate Spade New York: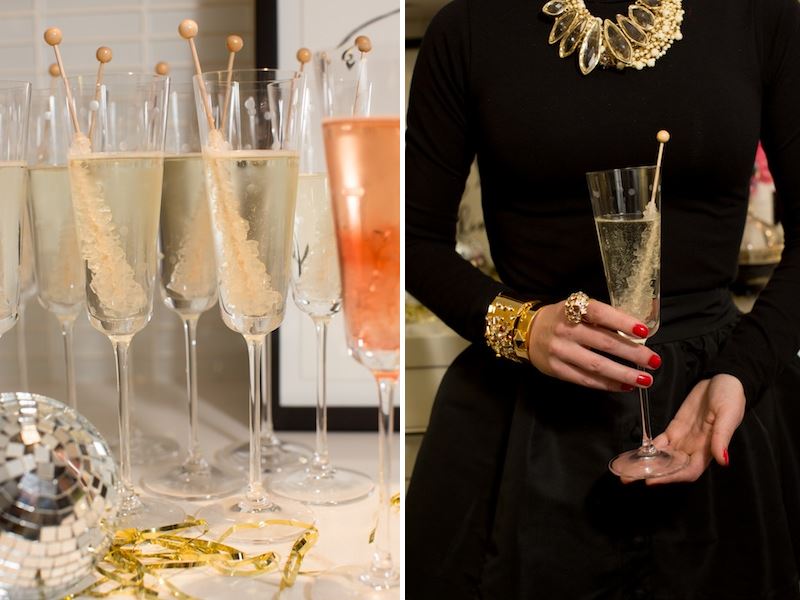 Order jewel-like confetti to grace your party table, or simply head to the craft store and buy a pack–or a baggie of crystal-like beads! This super easy way to add shimmer makes a bold statement. Below we see acrylic diamond wedding table confetti from eBay seller Sorrento Crafts: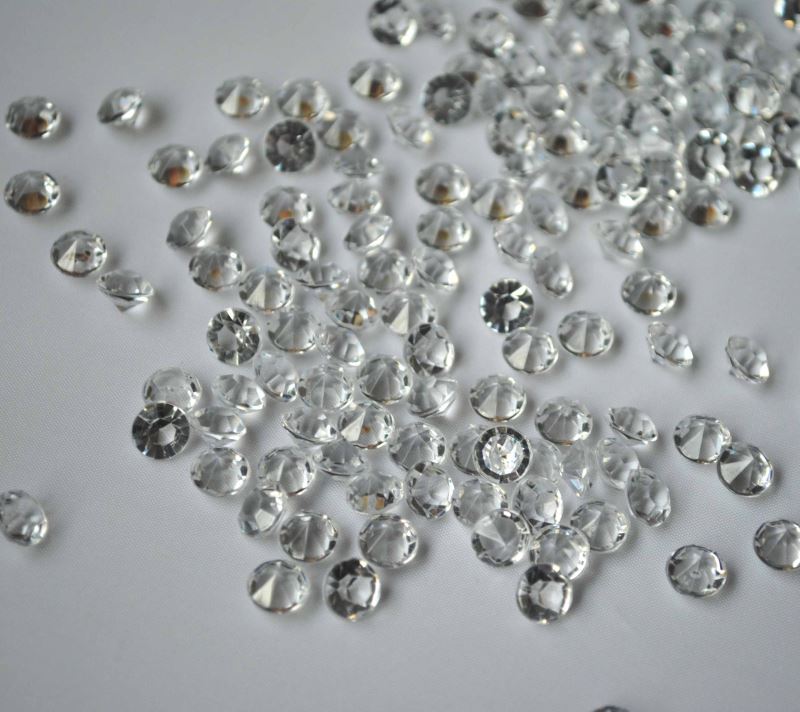 Colorful Flair
The next featured party theme is all about color. Here's the formula for success:
vibrant balloons, streamers and flowers + dip-dyed cookies + a colorful cocktail = a radiant New Year's Eve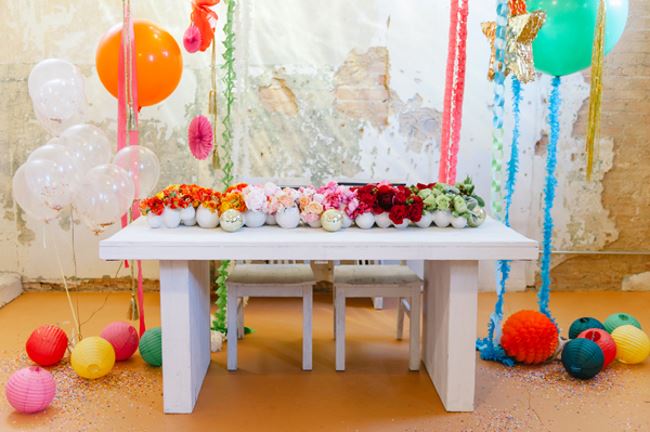 When it comes to decorations, it's easy to pick up colorful items at affordable prices. Whether you hit the crepe paper aisle, load up on balloons in vivid hues or group your flowers by color, the possibilities are endless. Above we see a collection of Mod New Year's Eve wedding ideas from Ruffled. Below is a tasty recipe for success: Dip Dye Cookies from Brit + Co. Colorful icing has the power to take store-bought cookies to the next level!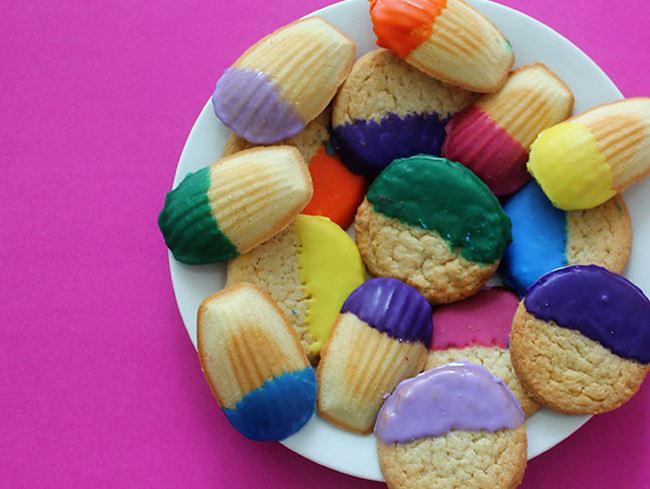 Add a burst of color to your champagne cocktails, thanks to the addition of something red (such as red currant puree or a dash of grenadine). Top it off with a strawberry, and you're set! Learn more about this red currant champagne cocktail at Sugar & Cloth: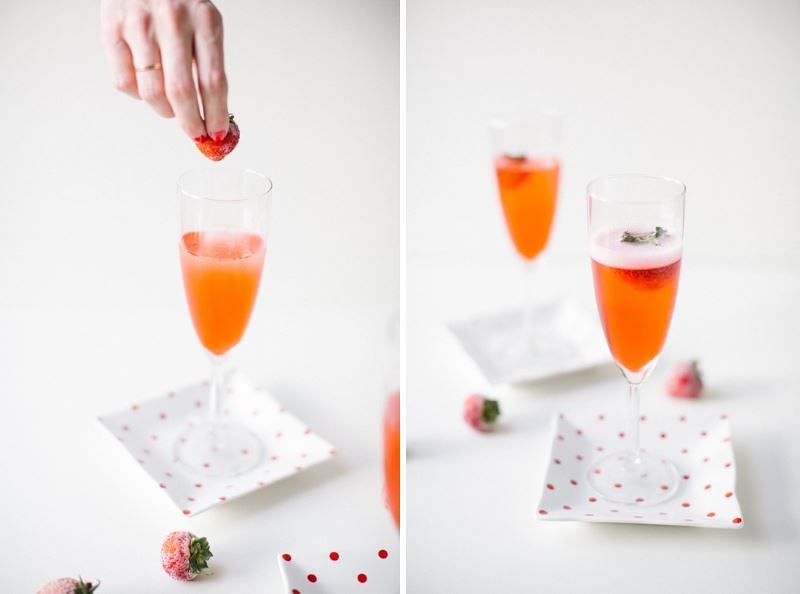 Fresh and Natural
If you're a fan of fresh greenery, this next party idea is for you! Here's the recipe…
evergreen clippings + sparkly or neon details + a cocktail garnished with fresh herbs = a natural spin on New Year's glamour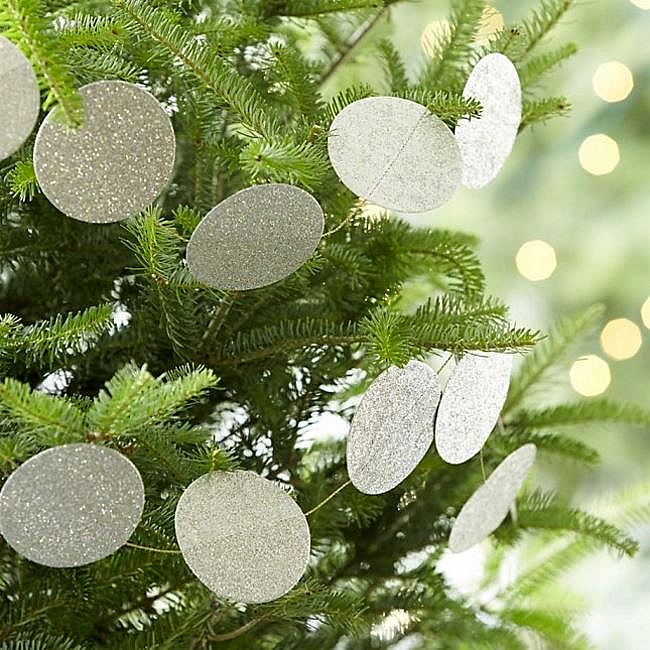 Above we see a Crate & Barrel garland featured at Brit + Co. If you still have holiday greenery in the house (your Christmas tree, an evergreen garland, a wreath), add a splash of shine with a glittering garland. Or you can put a festive spin on winter foliage by displaying it in vases with neon accents. I created the arrangement below using glass vases, washi tape, flagging tape, and glass ball ornaments. Read all about it in this Decoist DIY post: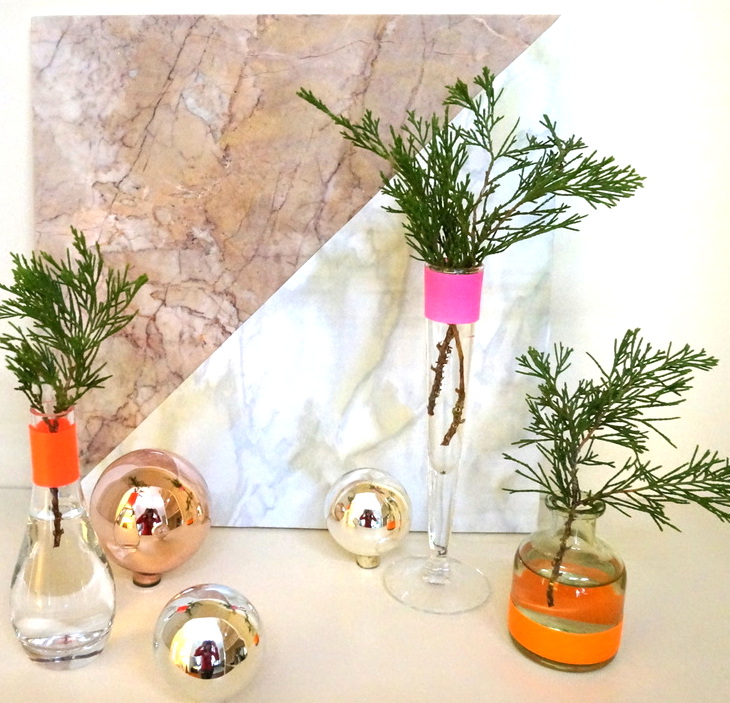 Keep the fresh and natural theme alive by preparing a champagne cocktail garnished with fragrant herbs. I was excited to come across this Pear Nectar & Thyme Mimosa from Glitter Guide: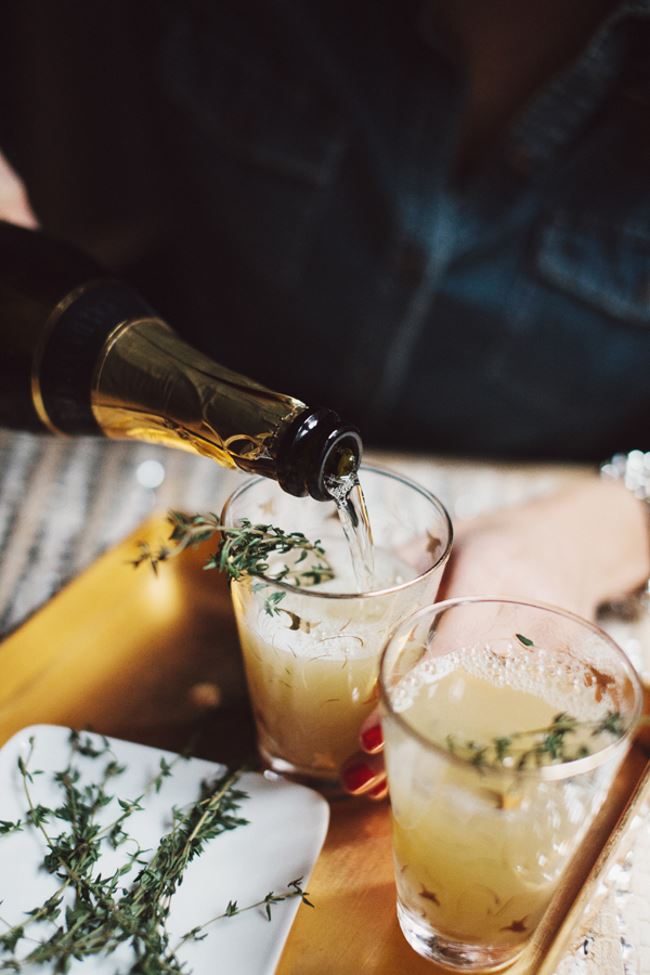 Retro Sparkle
And last but not least, today's final featured party theme is nothing short of sparkle-tacular. That's a word, right?! Here are the details:
disco balls + a fringe curtain photo backdrop + glittering drink stirrers = a shiny retro-style celebration!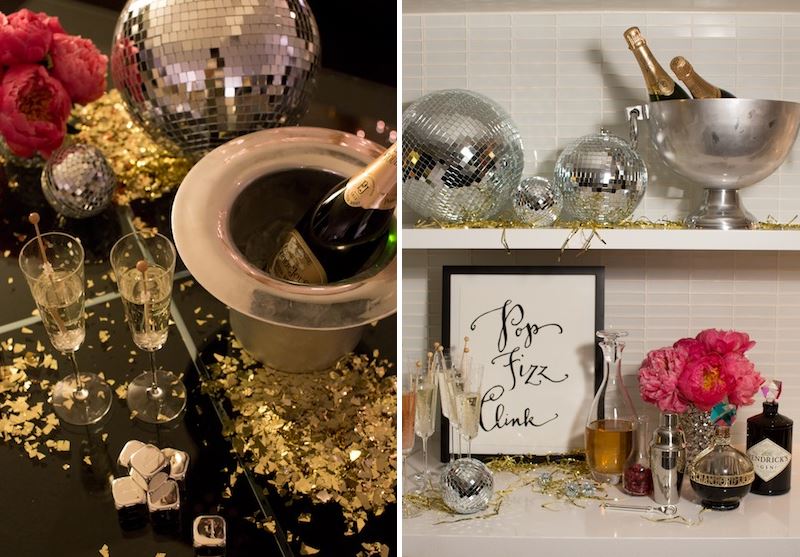 The shimmering decorations above prove that disco balls, metallic shred and gold confetti add an fun, elegant touch to New Year's Eve festivities. See more pics and fabulous party suggestions at Camille Styles. Another fun party idea: make a big statement with an affordable fringe curtain. This DIY home photo booth from A Beautiful Mess comes to life with the help of silver stars: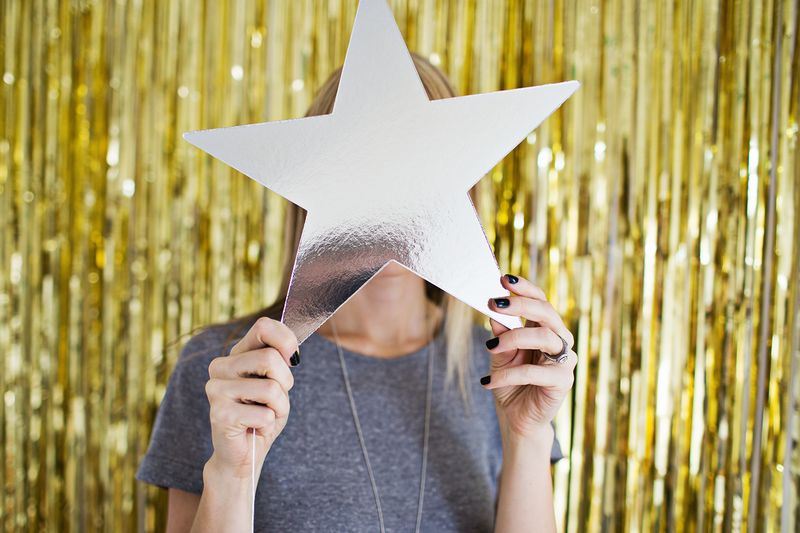 Let's not forget the power of shiny drink stirrers. I made the stirrers below by tying curly gold ribbon to bamboo skewers (inspired by this tutorial from A Subtle Revelry). More details can be found at my retro-modern blog Mirror80.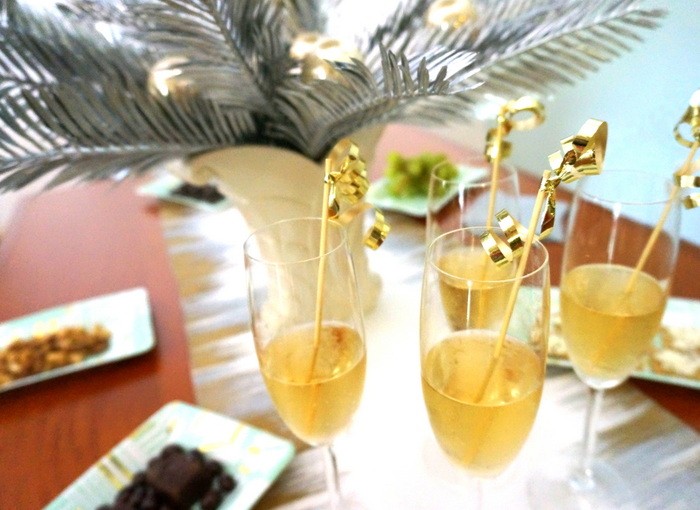 And finally, it's clear that tinsel drink stirrers are still a quintessential symbol for New Year's Eve glitz. The image below features Gold Tinsel Drink Stirrers from Em for Marvelous: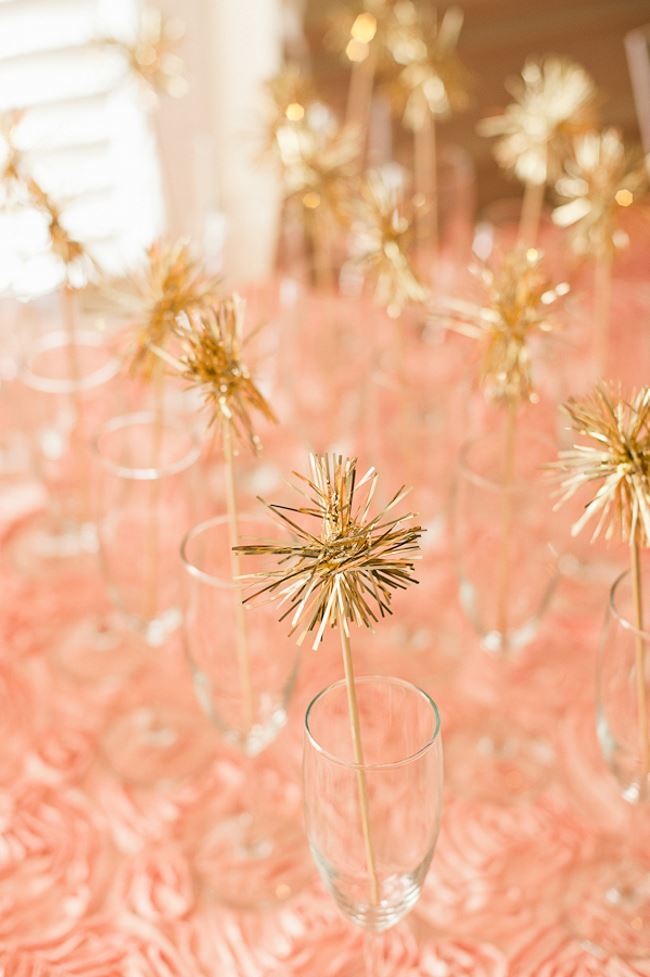 Remember, when you pick a theme and focus on a few special details, the rest can be kept simple. Yes, store-bought appetizers are allowed! When your guests are admiring the fizz of rock candy dissolving in their champagne or taking their photos in front of a gold fringe curtain, they won't care that they're eating off of disposable plates. It's all about striking a balance! Here's to a happy, stress-free New Year's Eve!