Greetings, Decoist readers! On this post-Christmas winter day, we want to know… Are you hosting a New Year's Eve party this year? As for me–I'm not sure. That's right, I still haven't decided! It would be a low-maintenance gathering of close friends, but my husband and I are torn between the idea of entertaining and the dream of a night out on the town. In terms of hosting, you think I'd be more worried since the new year is just a few days away, but why panic when there are so many amazing last-minute ideas at the ready? [from Elizabeth Anne Designs]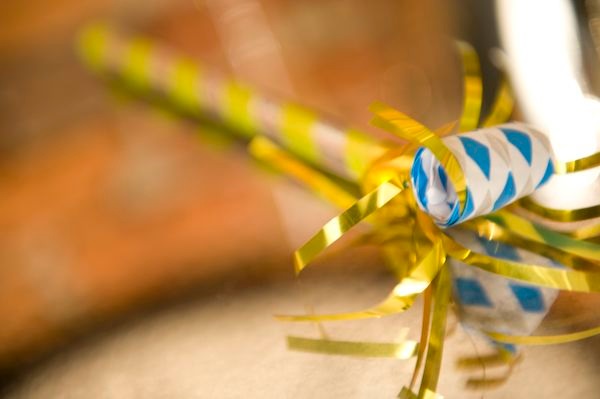 Whether you've been planning your party for months, hours, or you're still deciding whether or not to have people over on the big night, check out today's roundup of fabulous last-minute New Year's Eve party ideas. From decor and food to the fun of setting goals for the year ahead, we've got you covered. These festive ideas are fast, affordable and fun. Enjoy!
Easy New Year's Eve Decor
Let's start with the decor. It doesn't have to be difficult, folks! If you're looking to make a big statement, order a bunch of helium-filled balloons and let their whimsical festivity set the tone for a fun-filled night. [from Ryan Seacrest]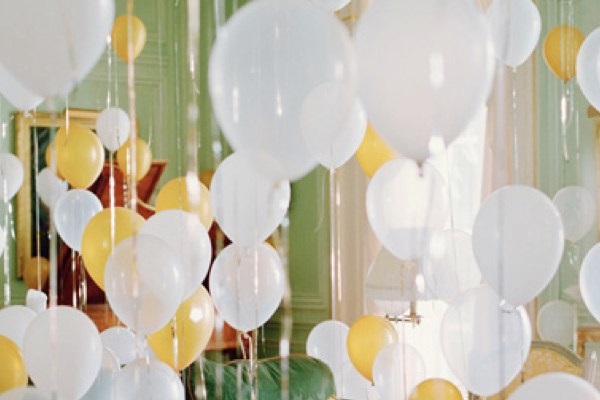 In this next set of images from the elegant holiday party of lifestyle and entertaining expert Camille Styles, we see the magic of bubbly champagne and the festivity of the season. While this fete was held before Christmas, we think some of the decor could work after the big day has come and gone. Don't be in a hurry to take down those holiday decorations before your New Year's Eve party. It IS still the holiday season, after all!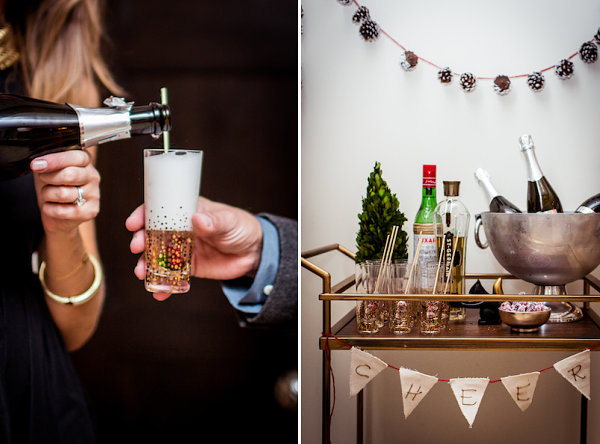 In fact, much of today's popular holiday decor can carry over into the New Year's phase of the celebratory season. Especially when silver and gold are involved… [from 100 Layer Cake]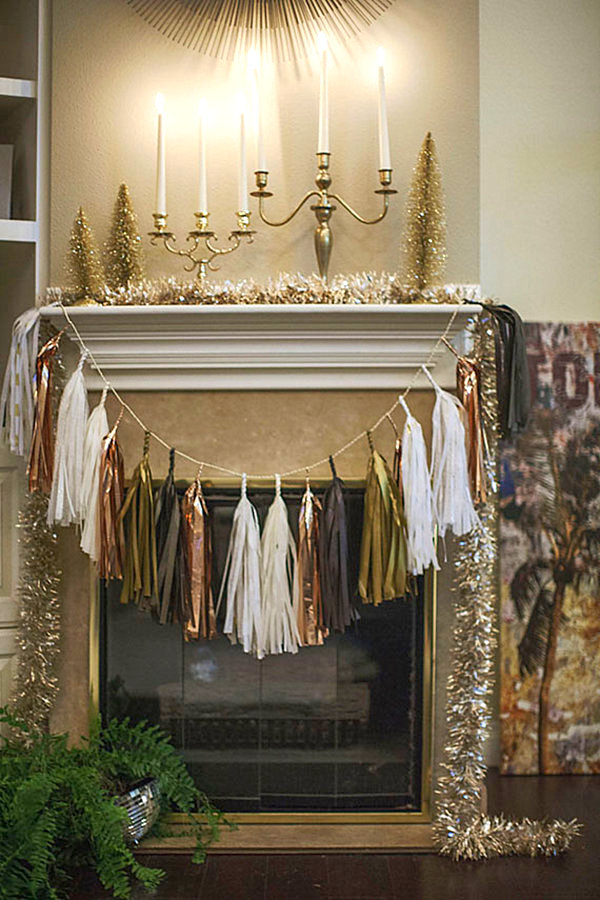 Bring on the metallic shred! This tinsel-like material can make a big difference on your party table. And it comes in different colors! I've always used silver, but I'm loving the red in this New Year's Eve Party Shoot from Lindye Galloway Design. [photo by Mark Brooke Photographers]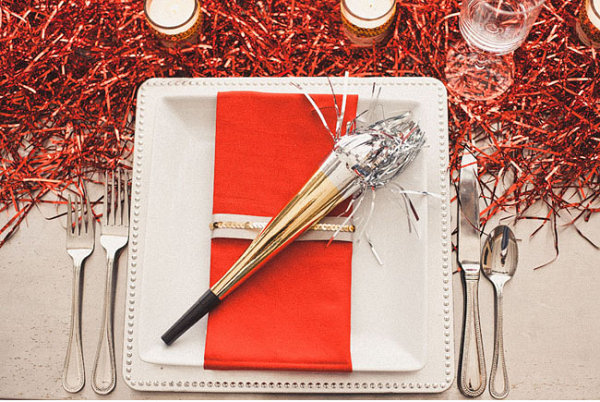 Do you have leftover tinsel from Christmas? Put it to good use with a speedy DIY project… This easy DIY New Year's Tinsel Garland from Housewife Redefined is created by tying classic holiday tinsel onto a long shiny ribbon.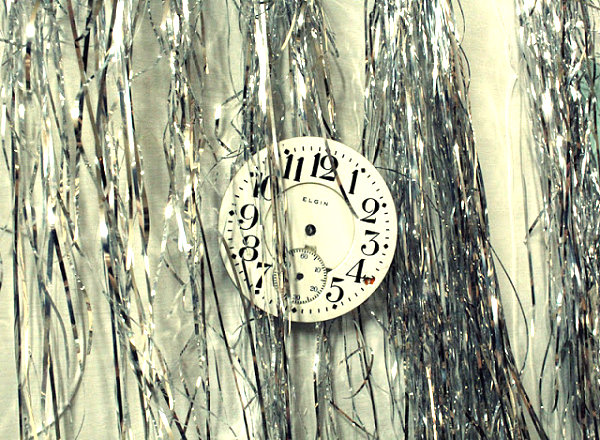 If you're looking for a money-saving DIY project that won't take up too much of your time, these Handmade Holiday Tinsel Swizzle Sticks are super easy to make. And they're undeniably festive! Check out a full tutorial at Odessa May Society: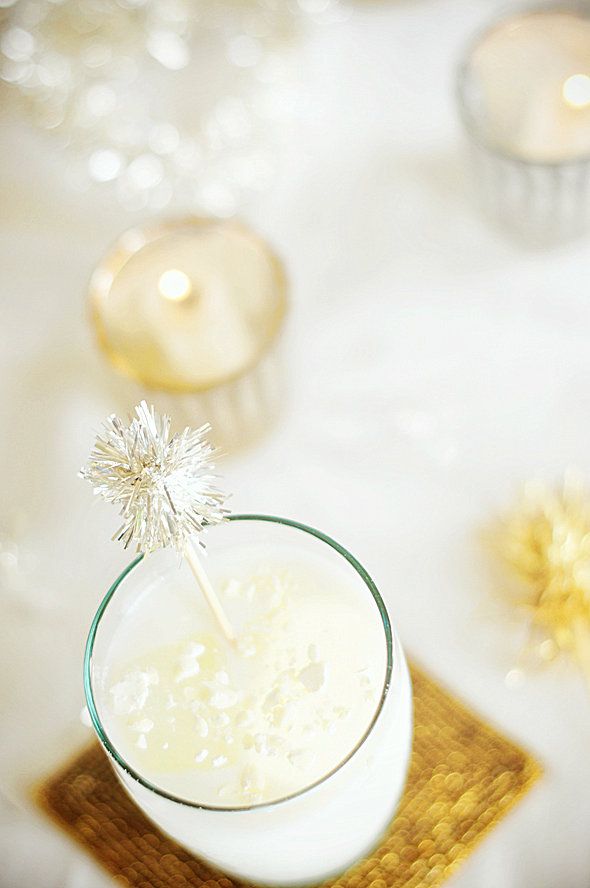 If you're looking for a new twist on the homemade party drink stirrer, try using curlicues instead of tinsel. We're crazy about this idea from A Subtle Revelry. Incorporate curled paper into the design (as shown in this tutorial image), or substitute ribbon, which you can purchase pre-curled in gift bow arrangements.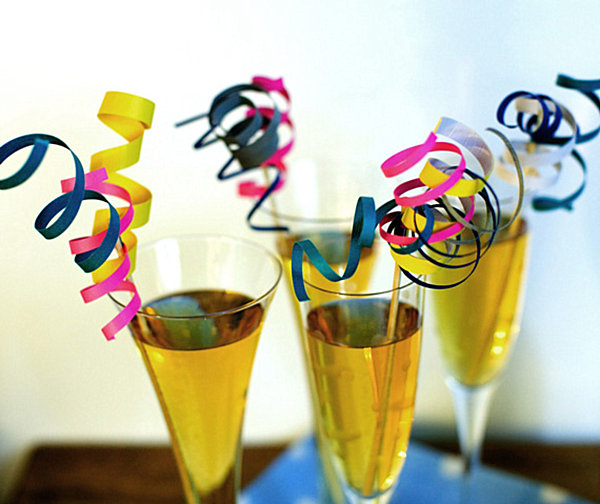 Simple Party Food Solutions
When it comes to last-minute edibles, we once again reinforce the fact that difficult is not always better. For example, don't be afraid to buy some of your party food. You can't go wrong with delicious truffles. These pink champagne truffles from Sprinkle Bakes were made by hand, but if you decide to purchase yours, we won't tell. And don't forget that blush is a great accent color for the metallic shades often featured at New Year's Eve parties…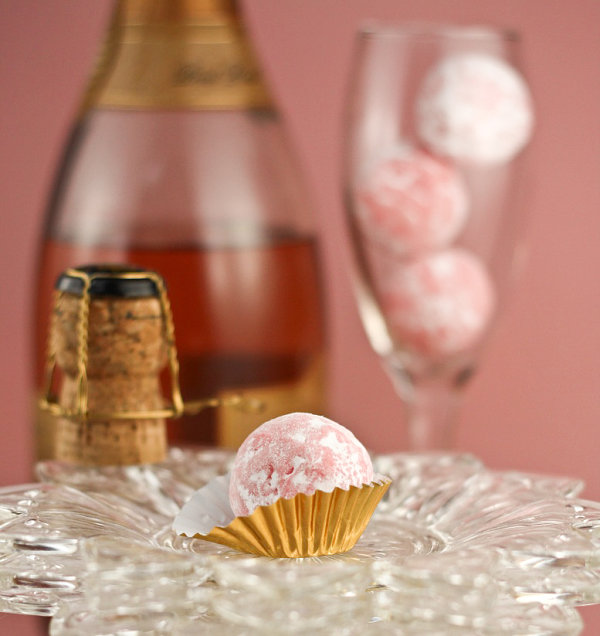 Last-minute recipes must be easy to prepare. That's why we've rounded up this batch of delicious goodies that make a big impact without a ton of prep time. This Herbed Mini Caprese Skewers Recipe from SheKnows combines several of our favorite ingredients: cherry tomatoes, mozzarella and herbs, to name a few…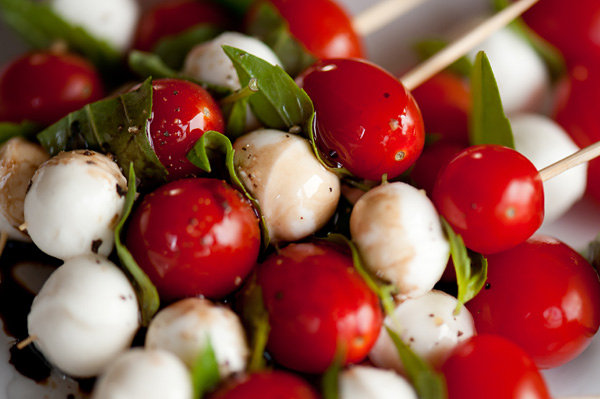 Brie topped with pomegranate is simply elegant, as shown on this holiday table designed by Athena Calderone. Check out more details from this scrumptious spread at Eye Swoon: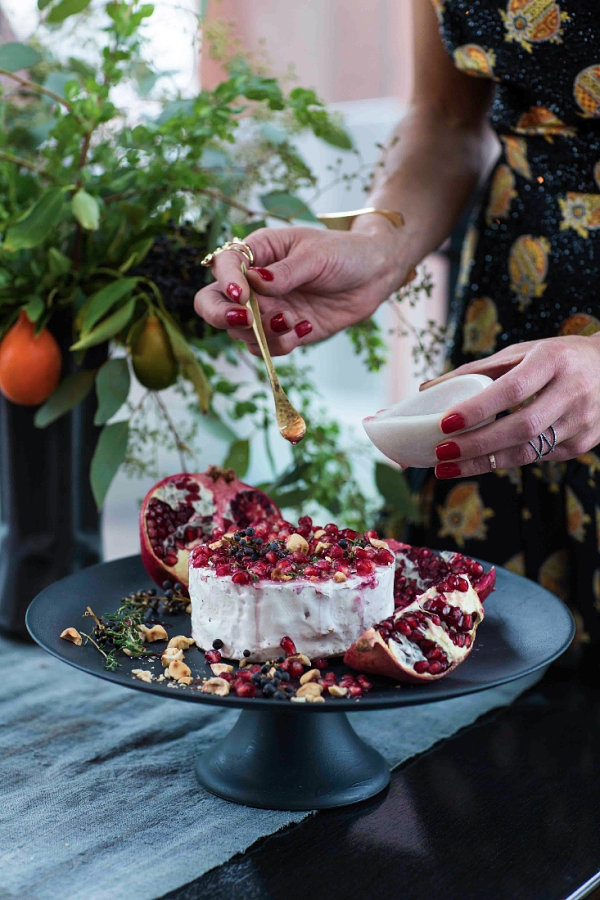 These Baked Potato Bites are as delicious as they are appetizing. And they're also easy to prepare! Head on over to Cook the Story for the full recipe…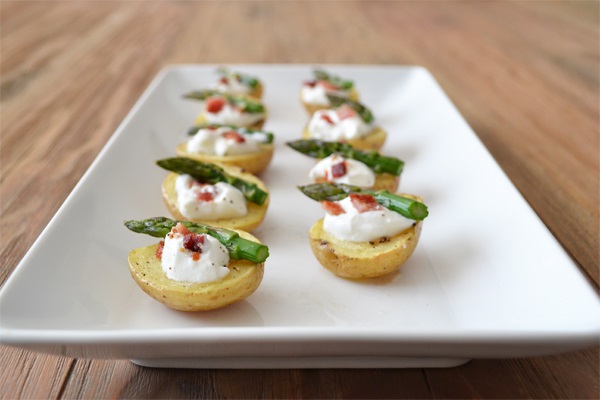 Looking to put your own stamp on the traditional glass of champagne? This Rose Water Cocktail from Style Within Reach is super easy to make, and the payoff is big! You may not think that rosewater is a natural fit with your favorite bottle of bubbly, but the flavors blend seamlessly. If you don't have a pink Moscato on hand, you can always add just a dash of cranberry juice to give your champagne cocktail a rosy hue. And I've even skipped the sugar and let the rosewater do the bulk of the flavoring.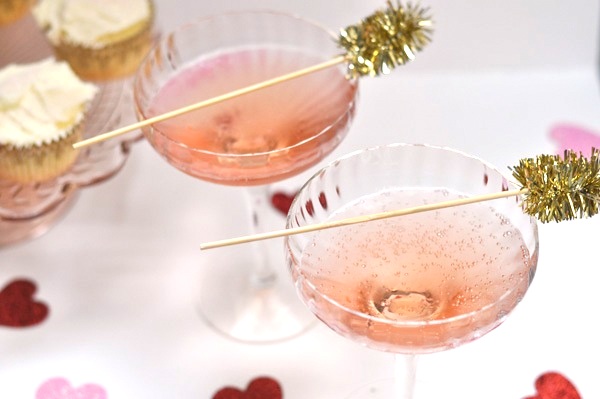 Festive New Year's Resolutions
Like icebreakers and bridal shower party games, New Year's resolutions are often avoided at parties because they seem forced. And let's face it–many folks ditch their resolutions a few days into the new year. But if you give guests a chance to reflect on the year ahead in a meaningful, fun way, a once-cliche activity becomes a chance to make a fresh start. Simply by providing guests with a piece of paper for recording resolutions can add a dash of purpose-filled festivity to your New Year's Eve party… [from 100 Layer Cake]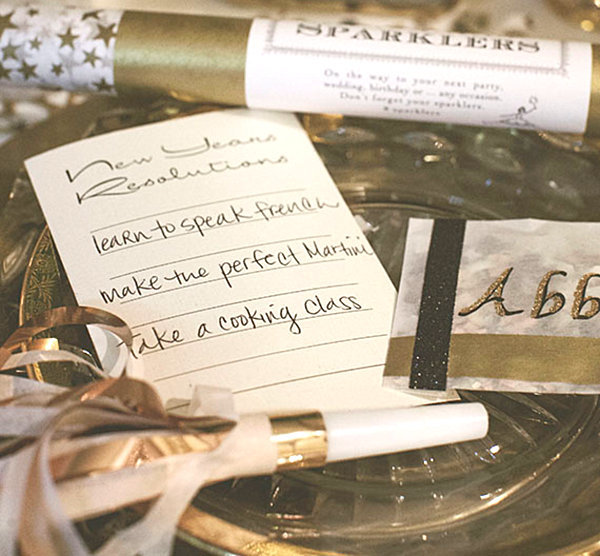 To make it clear that things should be more fun than formal, check out these New Year Playing Cards from Real Simple! Offer guests the chance to fill in the blanks to sentences such as "The skill I want to learn this year is _________", then watch as a potentially intimidating activity becomes surprisingly inviting…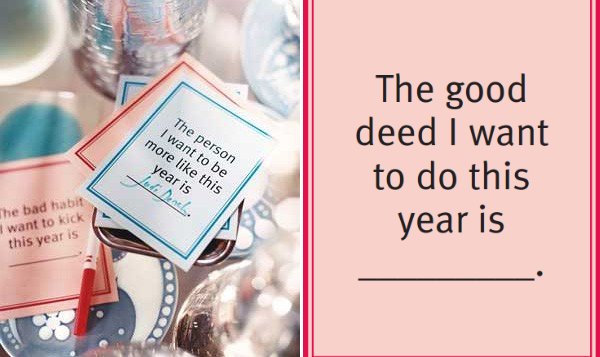 Another low-key way for guests to make their resolutions known? Use a Polaroid camera to snap pics of partygoers as they arrive. Then have them write one resolution at the base of each photo, as shown here in an image from Lauren Conrad: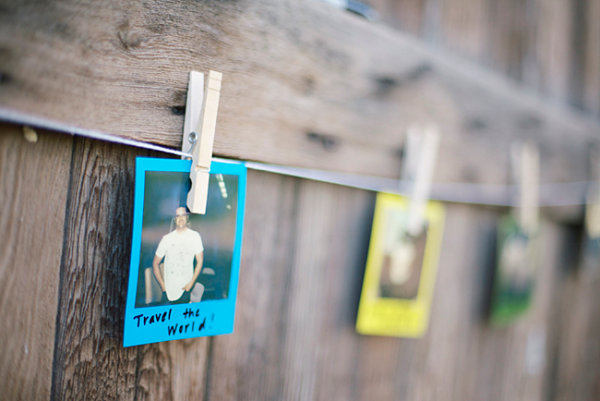 Of course, another way to reflect on goals, hopes and dreams for the year ahead is to share your thoughts and inspirations with a good friend or loved one as you toast the big night… [from Wine and Food Cruise and Tours]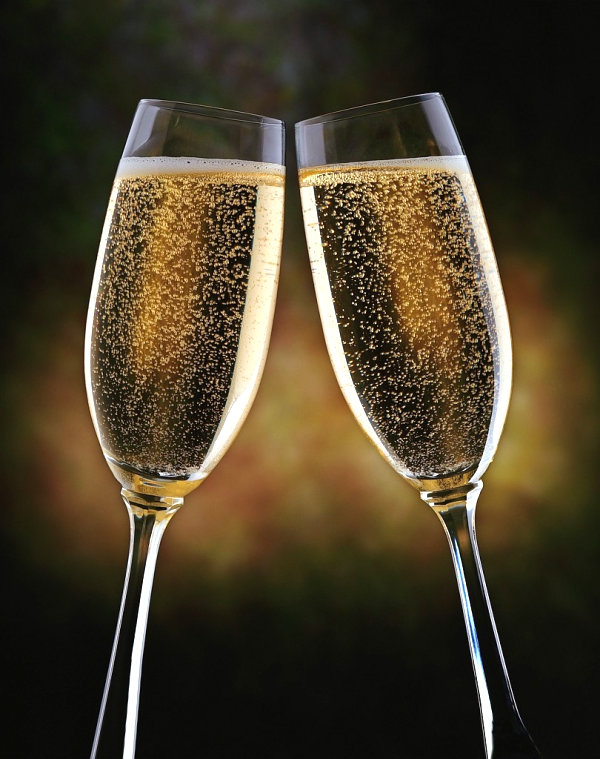 After viewing all of these gorgeous party pics, I'm more tempted than ever to host a New Year's Eve party of my own. Even if my hubby and I are the only two guests…