When design lovers set out to prepare a modern nursery for their little one, keeping the space both stylish and eco-friendly can be a challenge. That's why design studios such as Kalon are applauded for offering the best of both worlds: green living and modern style. In fact, Kalon Studios is committed to finding sustainable solutions for manufacturing, and they blend form, function and eco-friendly design to offer beautifully crafted items that are renewable, biodegradable, non-toxic and food safe. Learn more about Kalon's philosophy here, and read on as we spotlight some of their most popular finds for the modern nursery… [image below from Rosenberry Rooms]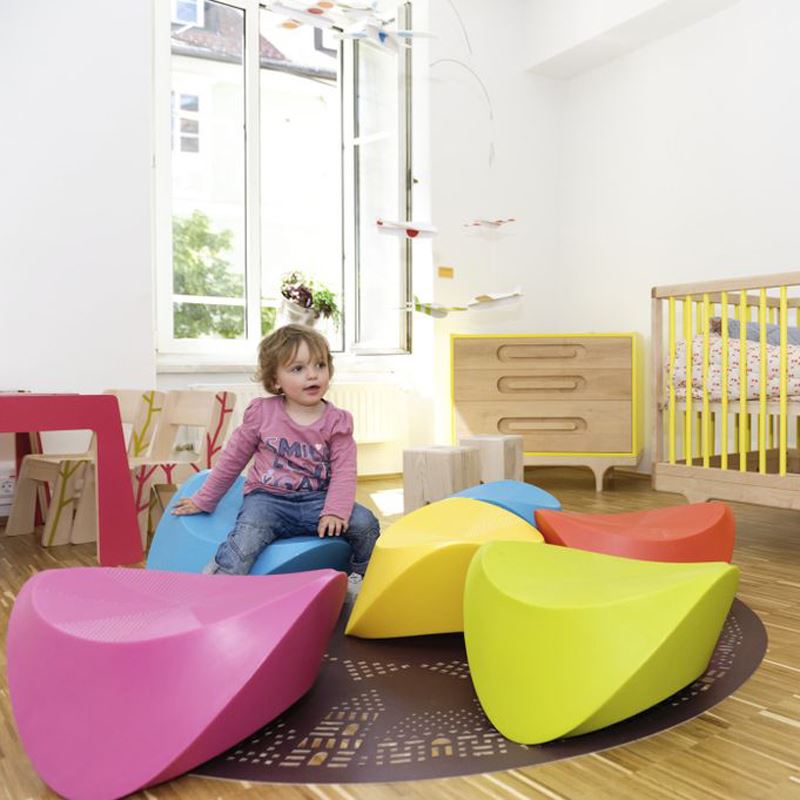 Kalon Cribs
Let's start with the crib, because that's where your baby will spend countless hours sleeping! Made of 100% solid sustainably harvested domestic Maple, the  Echo Crib is sturdy yet open, giving parents an optimal view of their little one from all angles. Did we mention that the Echo Crib is finished in your choice of either non-toxic oil or water-based paint?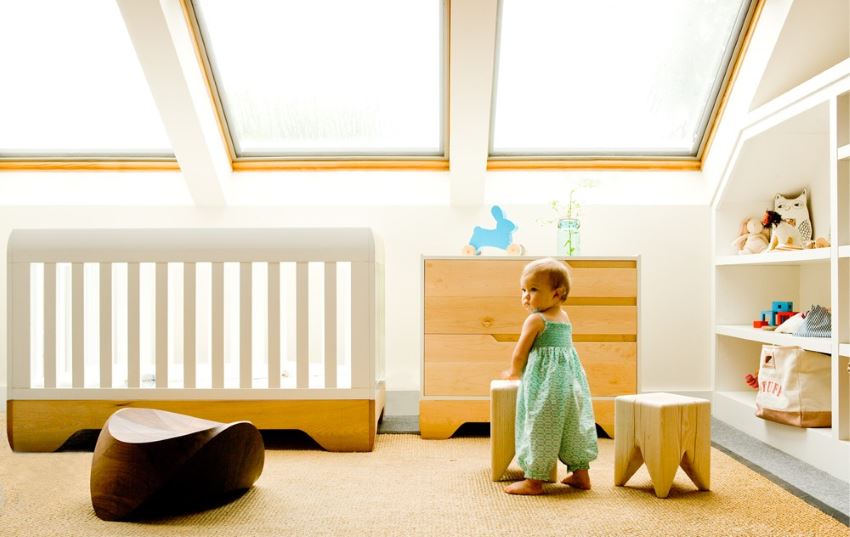 A true Kalon Studios favorite is the Caravan Crib, crafted almost entirely by hand and inspired by the design of a circus wagon. The sleek silhouette and unique feet of the crib are matched only by its superior construction. Not only does the Caravan Crib provide 100% visibility of your baby, it's crafted from FSC Certified domestic maple and non-toxic and/or food safe materials and finishes. As with the Echo Crib, this item can be converted into a toddler bed.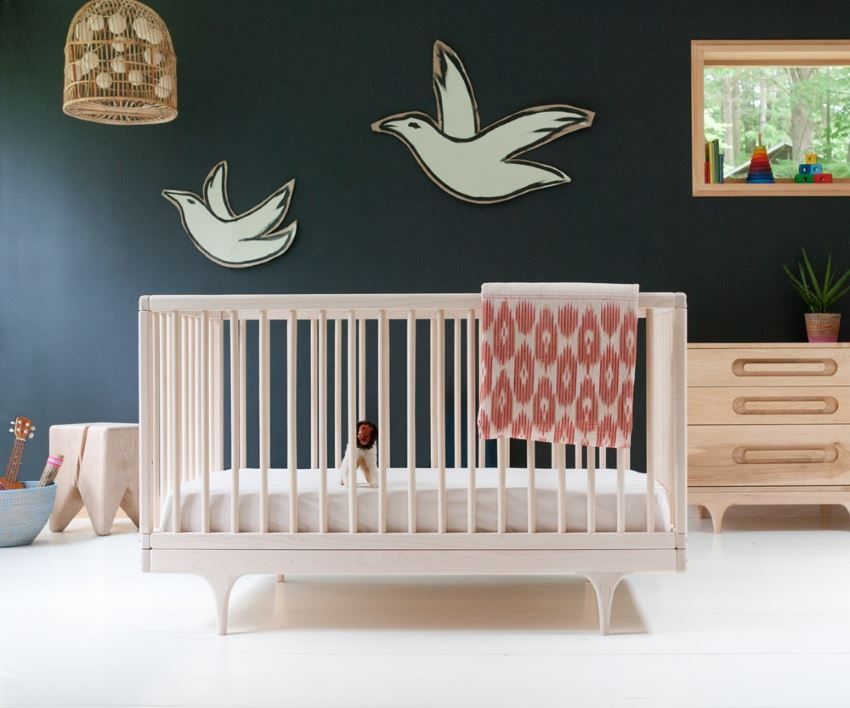 Let's take a look at some of the Caravan Crib's available colors! Black is an undeniably popular choice, as shown below in this modern nursery designed by Winter*Daisy: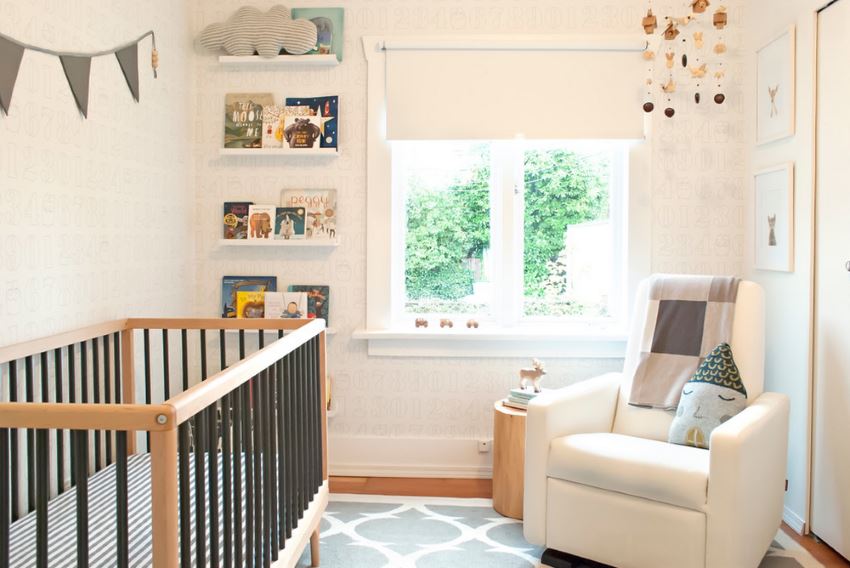 Even in the most neutral of spaces, the crib can be used to add a vibrant pop of color. In the next featured image, we see the Caravan Crib in blue. Note how the bold hue of the rails is a powerful contrast to the natural tone of the maple. [from Mood]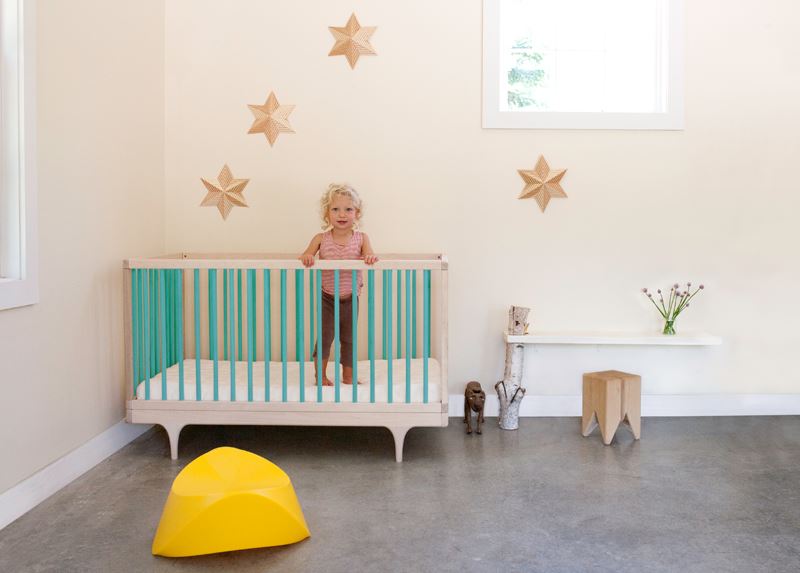 Other color options include red and green, as well as limited edition pink and white! The appeal of the Caravan crib can't be denied, especially since the piece has the potential to shine in spaces featuring a variety of styles. Its retro look is also somehow contemporary, making it a true find for design lovers with modern preferences.
Dressers by Kalon
We now showcase two dressers by Kalon Studios, and it's probably no surprise that we're starting with the Caravan Dresser. This piece is a perfect match with the Caravan Crib, and like the crib, it comes in a range of colors. Or it can be oiled as is, shown below…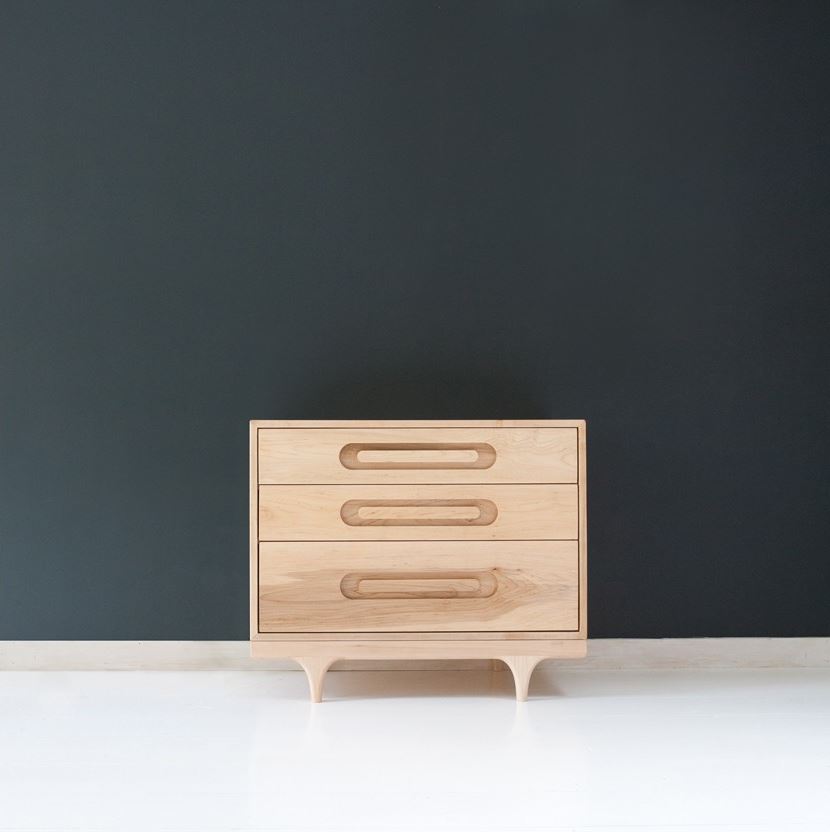 Yellow is a vibrant, sunny choice, and below we see a creative nursery featuring Caravan pieces in yellow. Note how this radiant hue is the perfect choice for a neutral nursery boasting dark, light and warm tones. [from Ella and Elliott]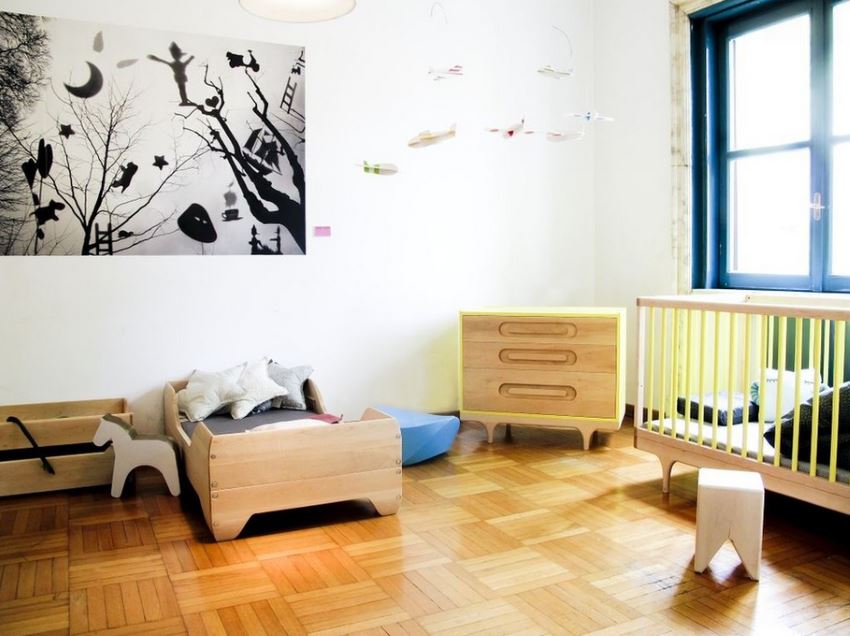 The IoLine Dresser is not just for kids–it makes a lovely addition to adult bedrooms as well. But since we're talking about nurseries today, we'll focus on its appeal for the spaces of little ones. Integrated drawer pulls are the standout feature, and a construction of bamboo and FSC certified woods and birch panels creates a truly sustainable piece. Purchase it painted or natural, and note that the paint is 100% non-toxic, low VOC, and HAPs-free!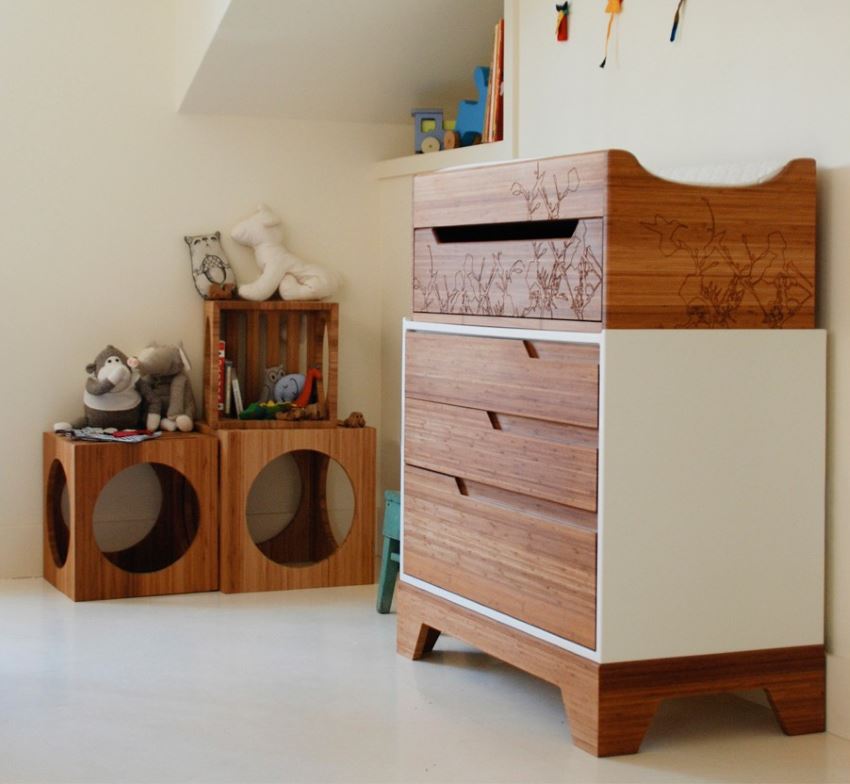 Special Touches
We end with some finishing touches that bring clever design and versatility to your modern nursery. Kalon's 3 Blocks celebrate the beauty of the circle, the square and the line. Use them as nesting tables, stools, or sculptural stacked shelving, as shown below. Plus, there's an option to order these blocks with a fern engraving that adds a detailed organic touch. Select bamboo, maple or black walnut as your wood of choice.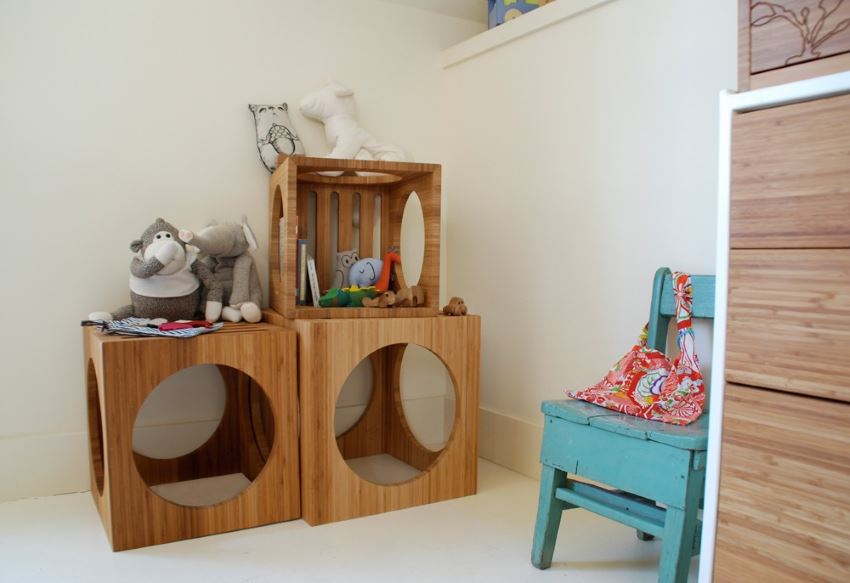 On a colorful note, Hut-Hut Kids (available in red, yellow, green, blue and pink sustainable resin) is a modern reinterpretation of the rocking horse. Selected as one of the top products at the 2010 Salone del Mobile, this unforgettable piece is made for toddlers and older. While your baby is growing into it, Hut-Hut serves as a colorful statement in the nursery. [from Rosenberry Rooms]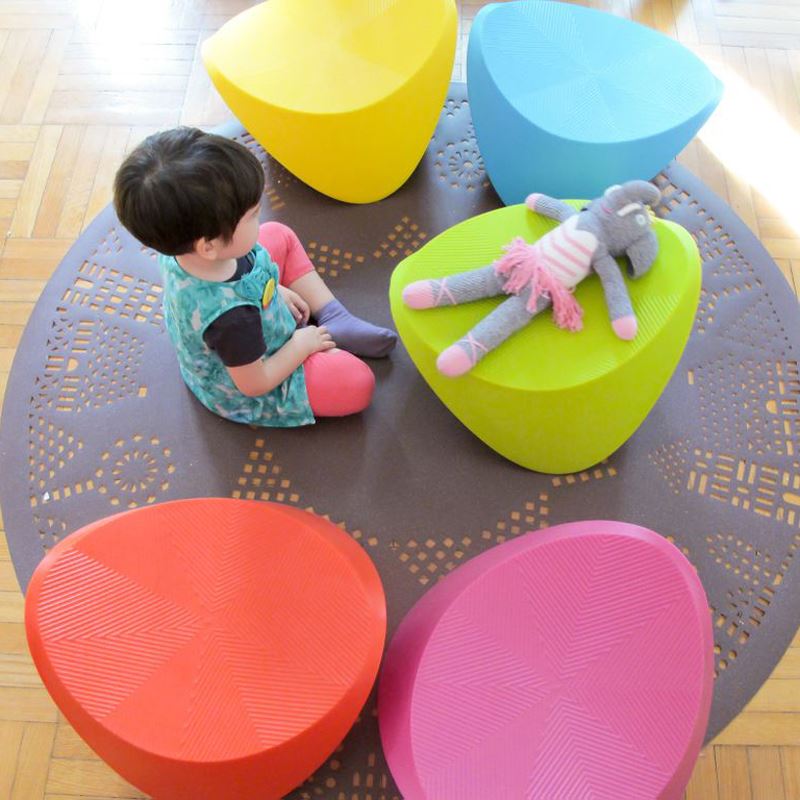 While one will do the trick, it's tempting to purchase a group of these pieces, especially when we see the colorful space below. Hut-Hut Kids in resin comes in a range of colors, but you can also order this item in the following FSC-certified materials: bamboo, black locust, black walnut, cork and maple.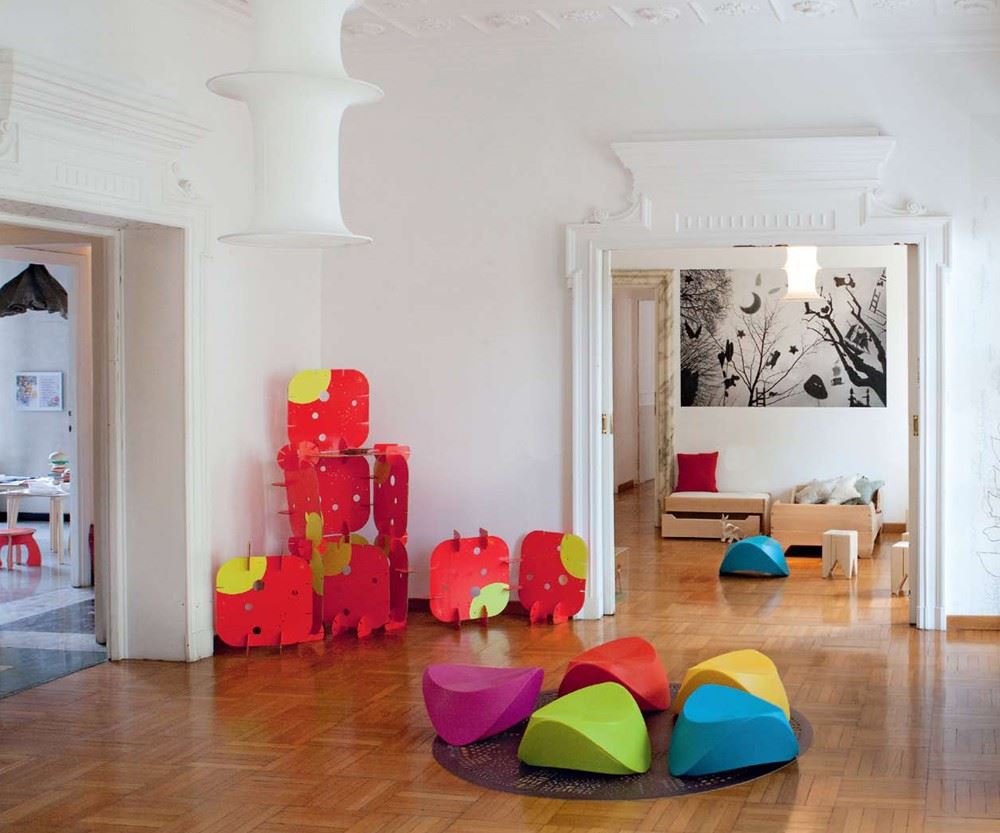 It's hard not to get excited about decorating your nursery after viewing today's featured pieces from Kalon Studios. Add Kalon's commitment to eco-friendly design, and you have the reassurance that you're providing your baby with a healthy space, as well as a stylish one!