The holidays are upon us, and now is the time to make a big statement with festive decor. I've been on the hunt for centerpiece and wreath ideas, and the images in today's post have already served as inspiration for two of my upcoming projects! The DIY wreath ideas below defy expectation with the use of interesting supplies and clever combinations. Whether you're looking to incorporate greenery, add a dash of vintage flair to your door or make a modern statement, read on for some unforgettable DIY endeavors that will spark your creativity…
Unique Modern Wreath Ideas
Let's start with a few modern wreath ideas. Today I came across this PVC Pipe Wreath project by Josh Rhodes A Beautiful Mess, and I was instantly hooked. I can't decide what I love more–the use of PVC pipe and spray paint to create a metallic contemporary statement or the way the wreath is styled to hold an array of festive items: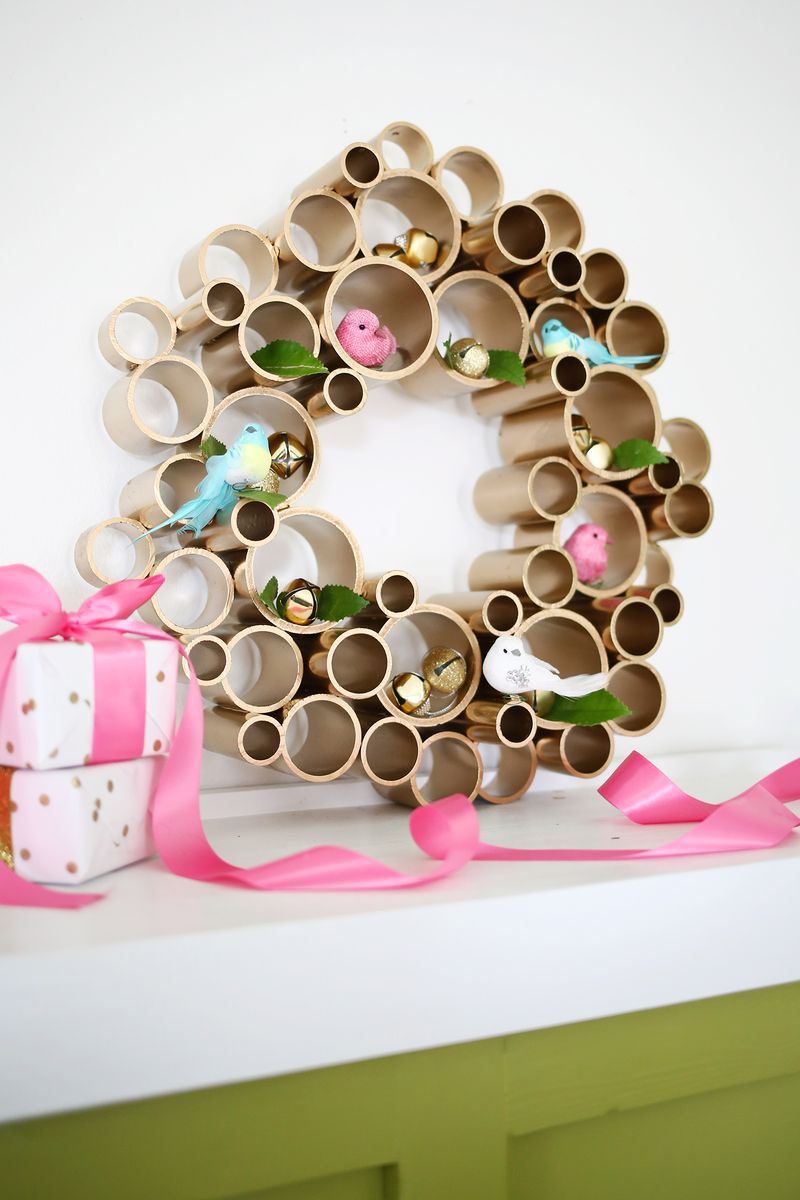 If you're a fan of himmeli, this geometric wreath tutorial from Vintage Revivals will inspire you to craft your own modern holiday wreath. There's even a helpful video to guide you through the process!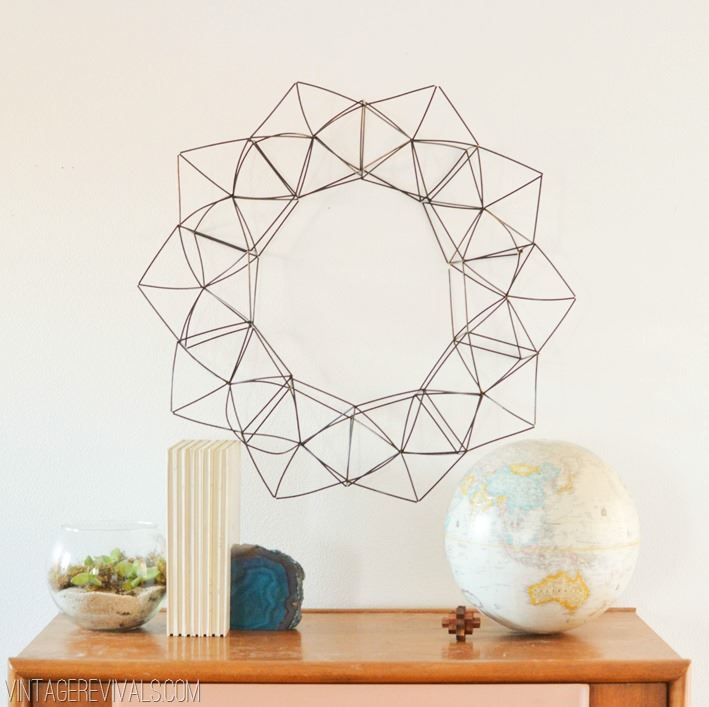 I know–this is a wall hanging, not a wreath! But if you caught my recent DIY Wall Hanging project, you know I'm a bit obsessed with easy macrame wall statements. The sequined strap on this creation from Love from Ginger inspires me to make a holiday version of my wall hanging and place it on the outside of my door to welcome guests: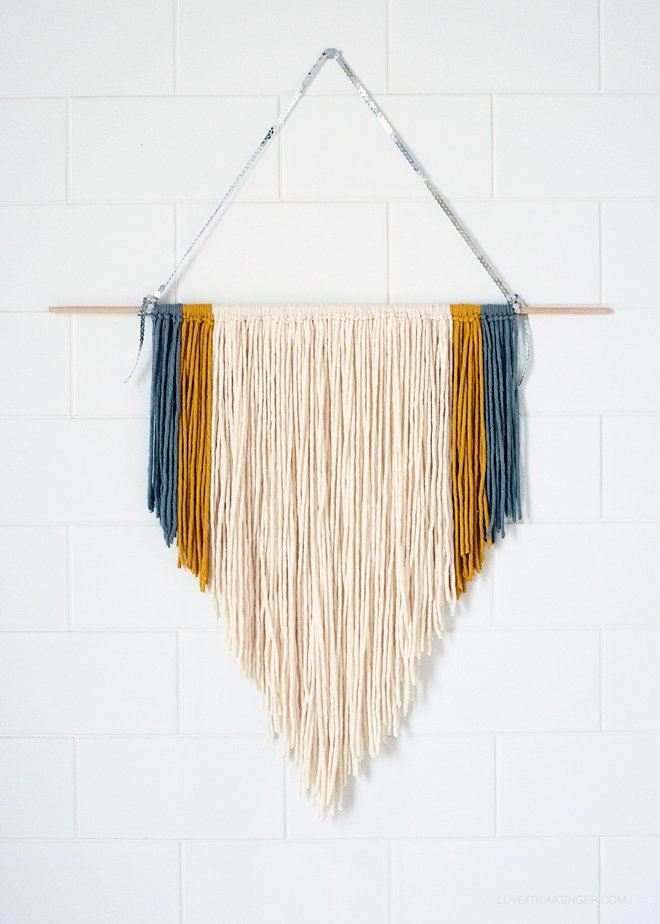 How fabulous is this Geometric Wreath from Nest?! Card stock geo forms are layered and glued to a cardboard ring to create a sparkling finished product: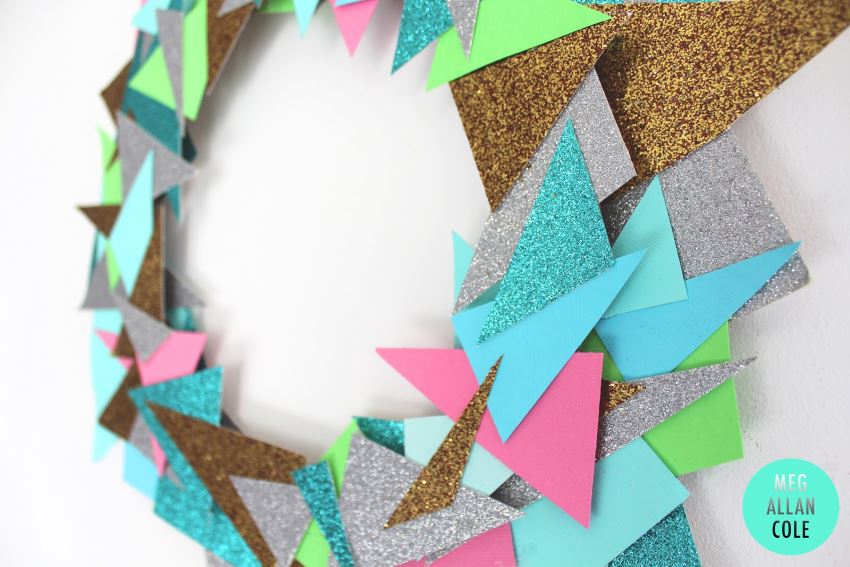 Retro-Style Holiday Charm
Much of my holiday decor combines the modern with the retro. I love when retro motifs are reimagined using modern supplies! If you enjoy entertaining, you're probably familiar with the current striped party straw craze. Why not combine a slew of straws in a sunburst-style wreath, as shown in this Paper Straw Wreath DIY from the Paper Source blog: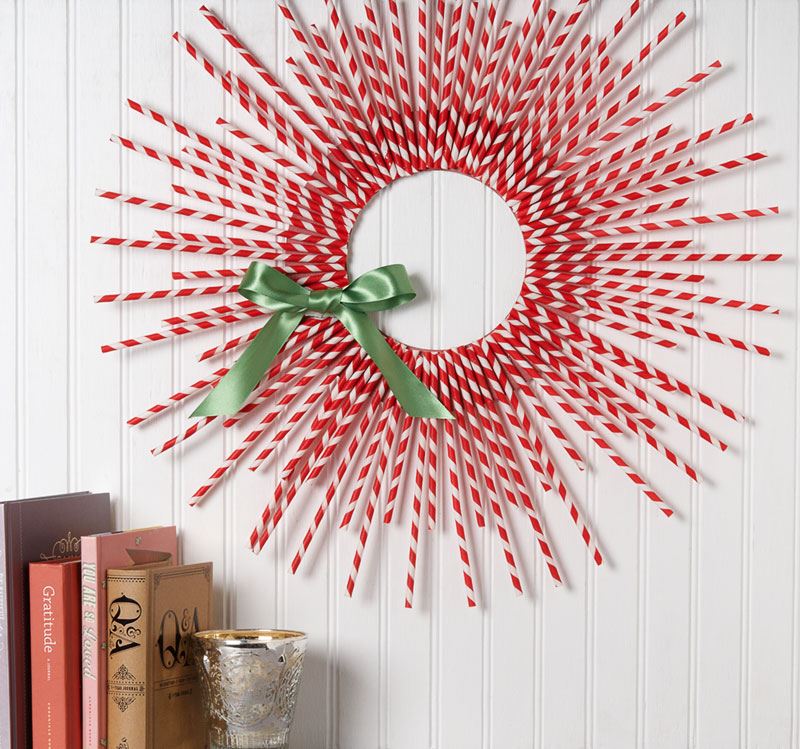 For the next project, colorful ornaments, sparkling tinsel and jingle bells are hot glued to a cardboard wreath. It's that easy! But only Katie of Skunkboy could make the finished product this fabulous, then break it down into easy steps for us to try: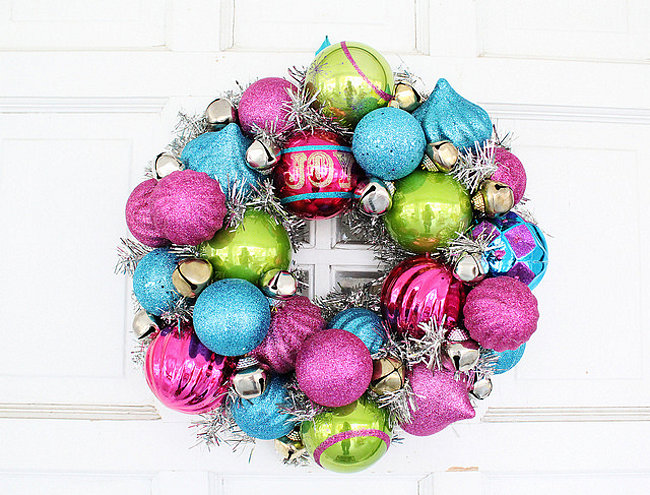 Honeycomb forms always evoke a vintage vibe, so it's no wonder that this Honeycomb Wreath from Oh Happy Day blends the retro with the modern in a colorful display of creativity!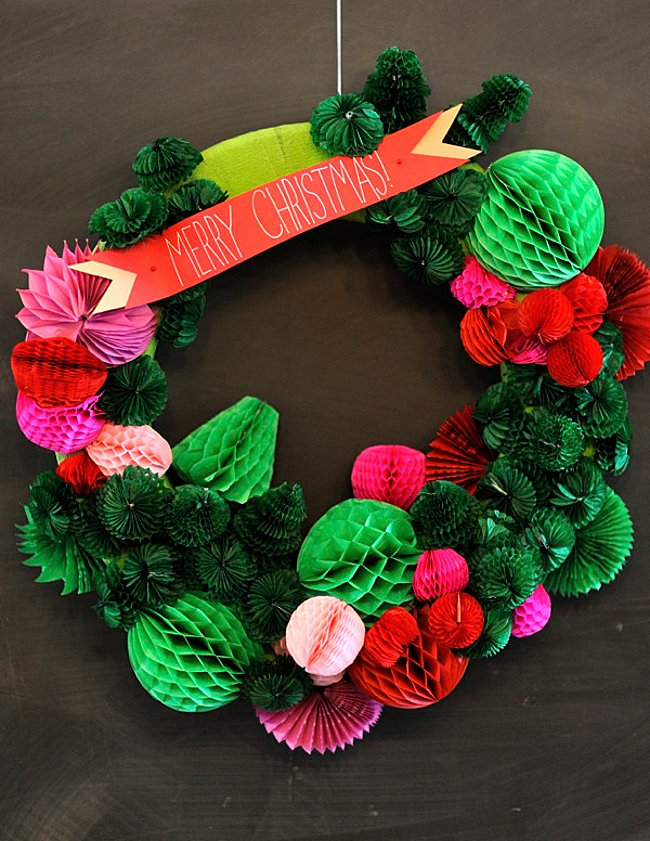 Paper fans also channel vintage style, especially when you're strategic about the paper you choose for the project. Go with patterns, as shown below in this wreath creation from Crafts a la Mode. Or you can take the project in a different direction with bold colors and metallic tones!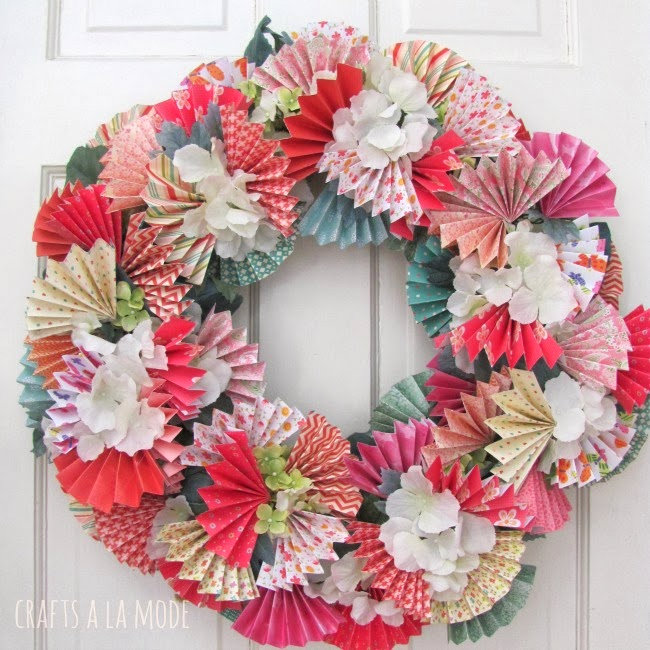 Evergreen Wreaths with a Twist
Retro and modern looks are both fabulous, but perhaps you've got your heart set on the classic greenery-based wreath concept. Why not take this idea and give it a special twist? Our own Thalita Murray created a 3-in-1 Herb Wreath using embroidery hoops and fresh herbs. Check out the full tutorial in this post.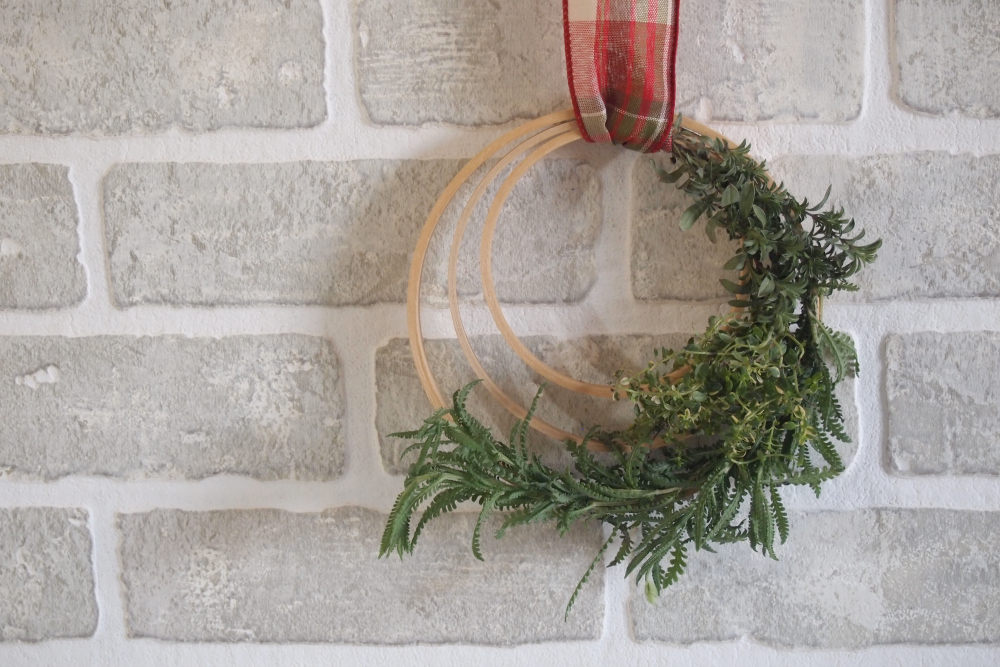 Ever since I read about these DIY modern wreaths at Front + Main, I've been masterminding a modern wreath project of my own using wooden strips and other embellishments. Designed by Brittni Mehlhoff, these geo creations are a refreshing take on the classic wreath, with a touch of asymmetrical greenery: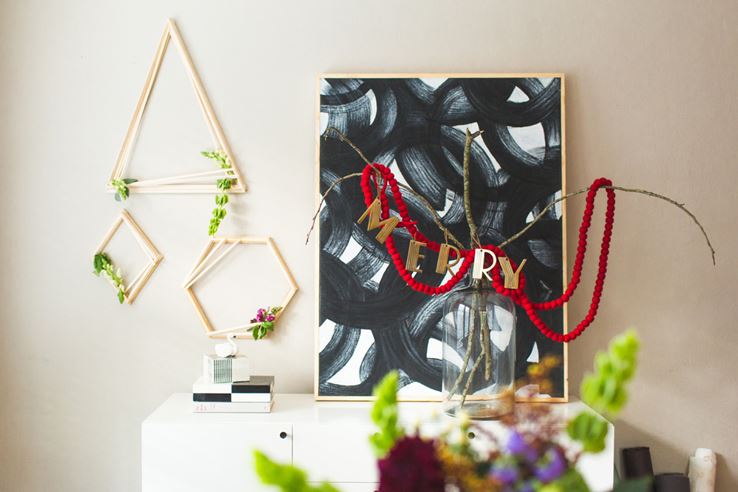 Triangles are definitely having a moment! Why not celebrate their lines and angles by shaping some fresh herbs into a Triangle Rosemary Wreath with the help of an easy-to-follow tutorial from Oleander + Palm? A few supplies and a little bit of creativity are all it takes!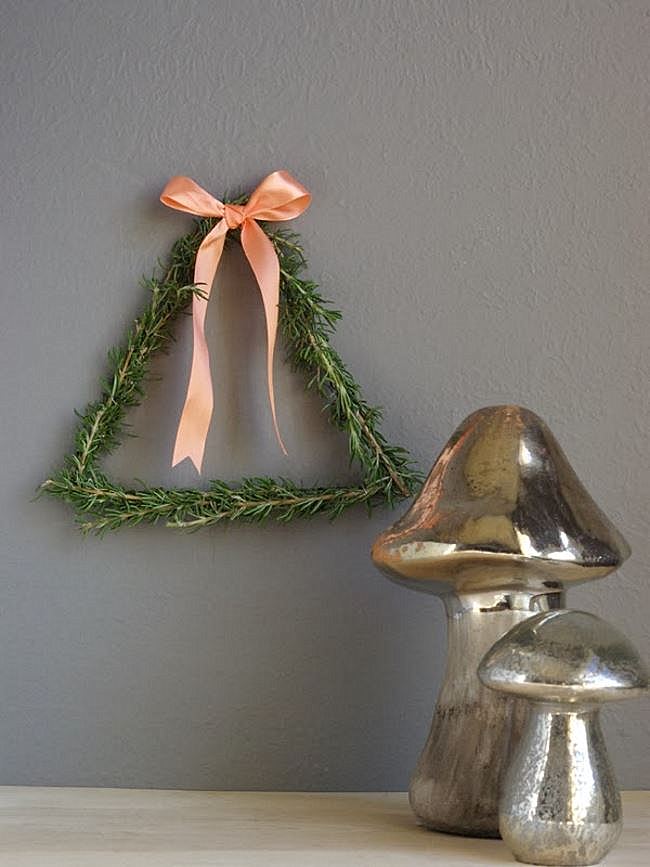 If you're looking for a way to put an interesting spin on the tried and true round wreath, this Holiday Wreath DIY from Design Love Fest brings asymmetrical style home: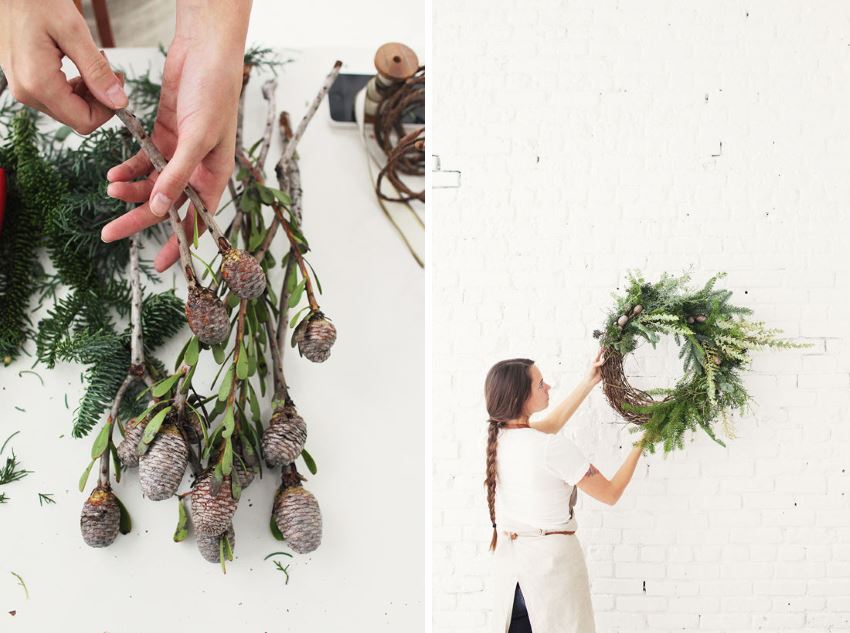 Did any of today's projects inspire you to create a DIY wreath of your own? Tell us about your favorites in the comments section below…