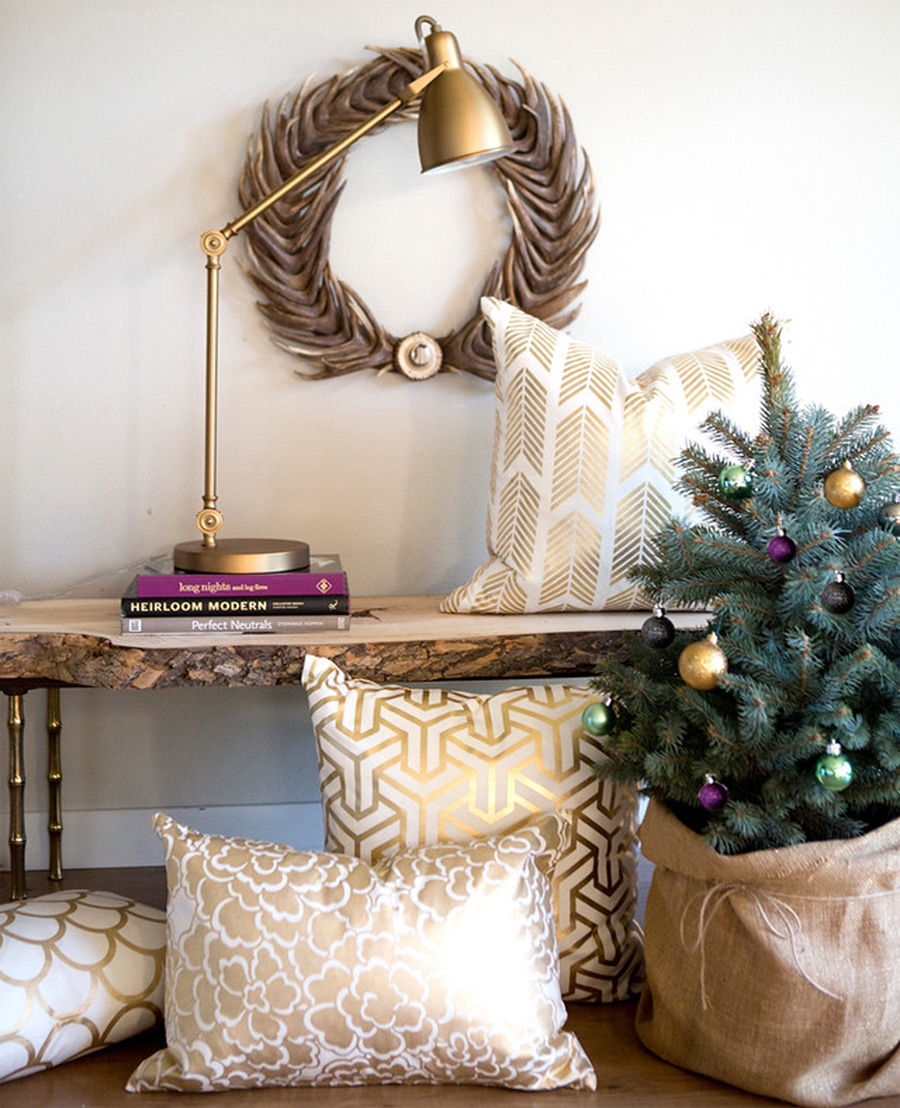 You've probably heard of the Golden Rule of ethics and the Golden Ratio in mathematics, but luckily when it comes to utilizing gold decor, there really is no hard and fast edict. Of course, there are some techniques to maximize the shimmering metallic's efficacy without erring on the side of garishness. If you're hoping to work the Midas touch on your home, read on for eight tips on how to spruce up your space tastefully with gold.
Take an old or inexpensive piece of furniture from snore to bore by giving it a "dip" in gold. Hello Lidy explains how she achieved this trendy and modern look here, but if you don't feel like putting in the elbow grease, Etsy purveyors such as Hayleon Vintage have plenty of pre-gilded specimens to choose from.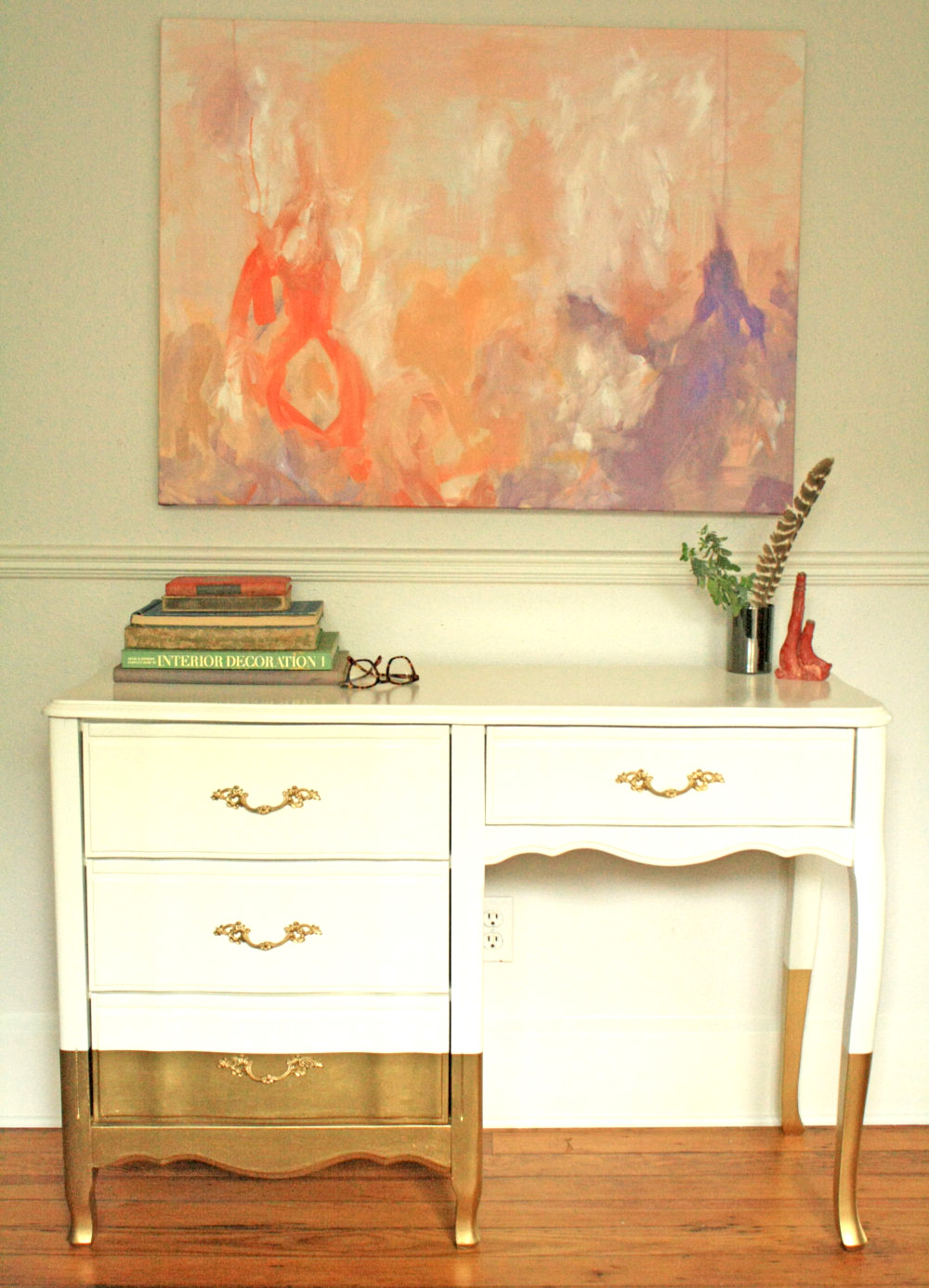 When choosing or creating art incorporating gold, steer clear of the Tony Montana look and opt for a less is more mentality. Check out this great example from our very own Thalita Murray of how gold foil can be used sparingly to spruce up an abstract painting.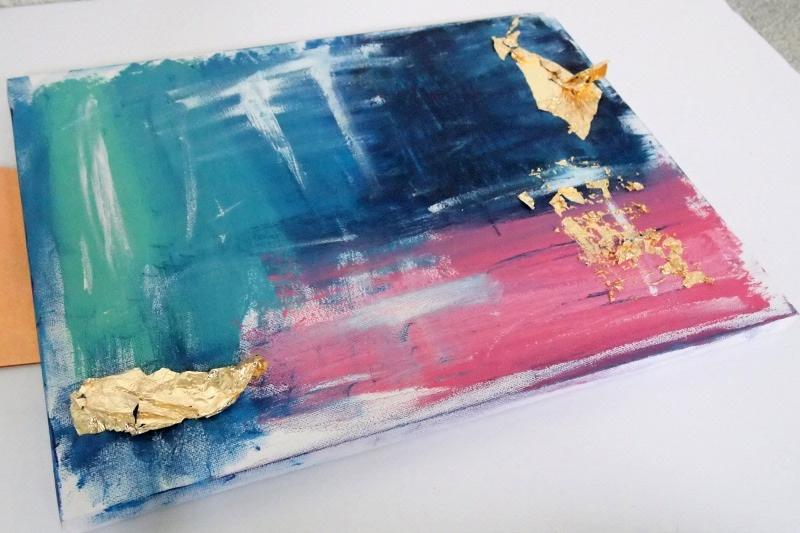 Gold cushions are an easy way to boost a room without making a big color or monetary commitment. We especially love these patterned pillows from Caitlin Wilson Textiles, because you can mix and match them, and if you get tired of the look, simply swap them out and place them in storage.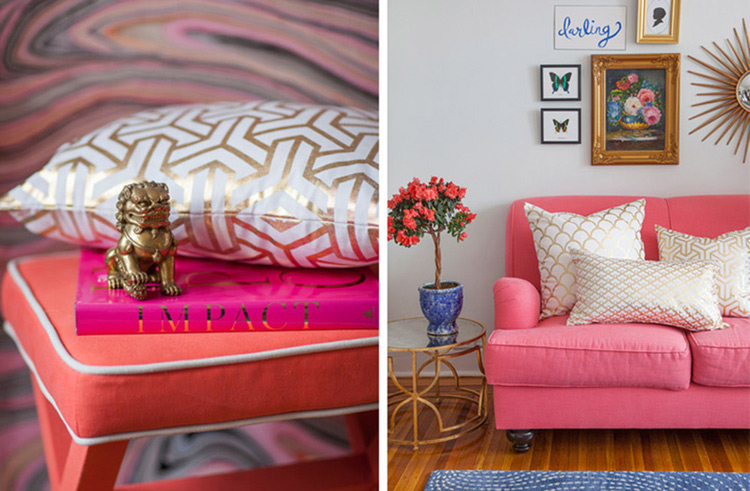 For the holidays, try creating decorative vignettes around your home using ordinary objects that have been sprayed gold. For example, these gold acorns by Light of Day Creations would look lovely presented in tall hurricanes or scattered across a tablescape.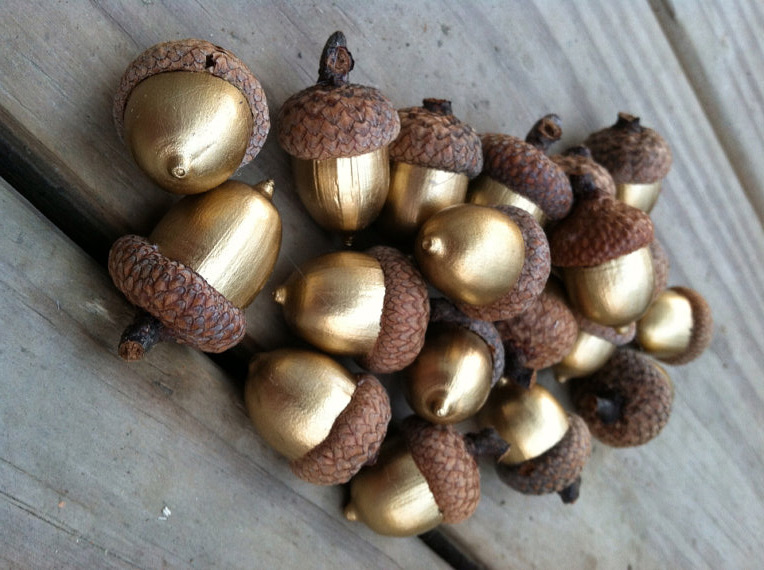 A Touch of Art Deco
Though the pairing of gold and black has been around since ancient times, it was recently popularized again because of movies like The Great Gatsby. Add a little Art Deco flair to your next cocktail party by taking an afternoon to make some DIY gold-tone coasters.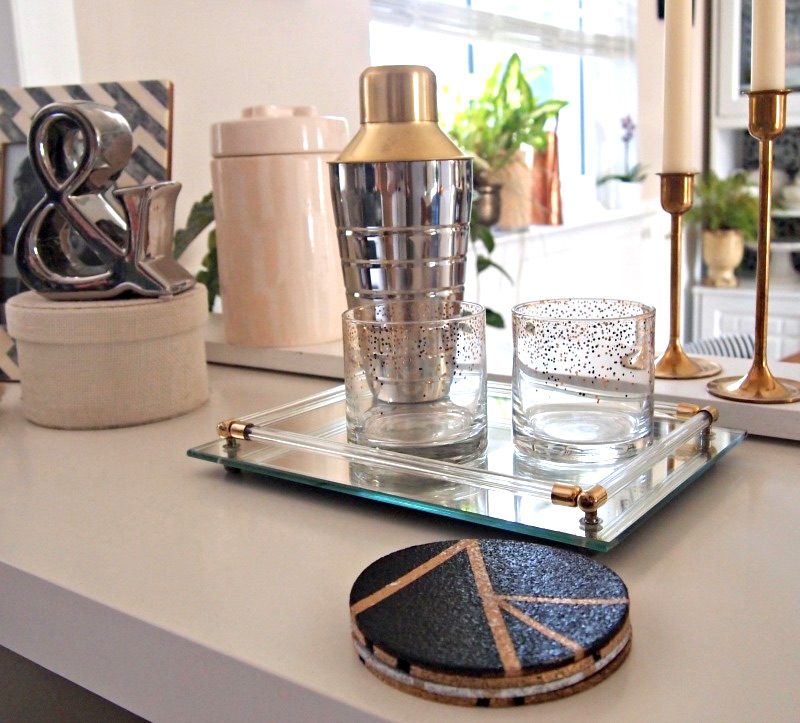 OK, very few interior design phrases can strike fear into the hearts of clients like the words "gold wallpaper" can (except for maybe electric blue shag carpet), but if you're willing to get over the initial shock, the results can be quite transformative (in a good way). It does take a certain aesthetic preference, but take this impactful Fruits of Design pattern by Flavor Paper, for example. We guarantee that no one's going to be forgetting a room like this one any time soon!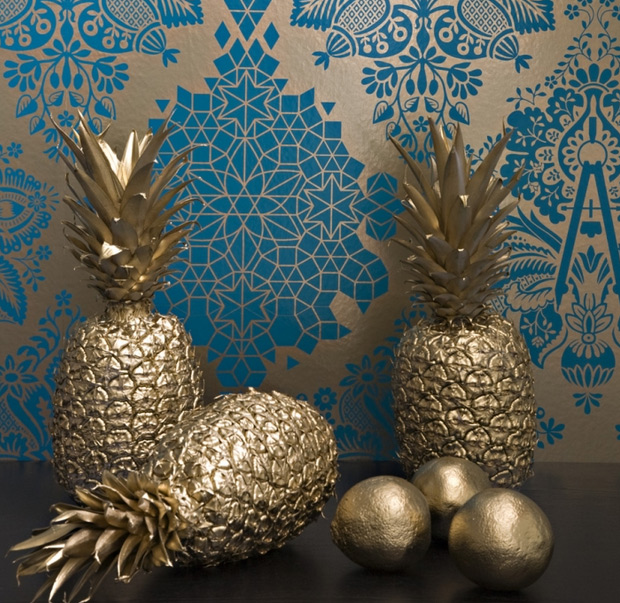 Juxtaposing pops of gold with sprigs of greenery is a refreshing way to balance opulence with nature. Try it in your space by making these darling DIY metallic planters following our step-by-step instructions.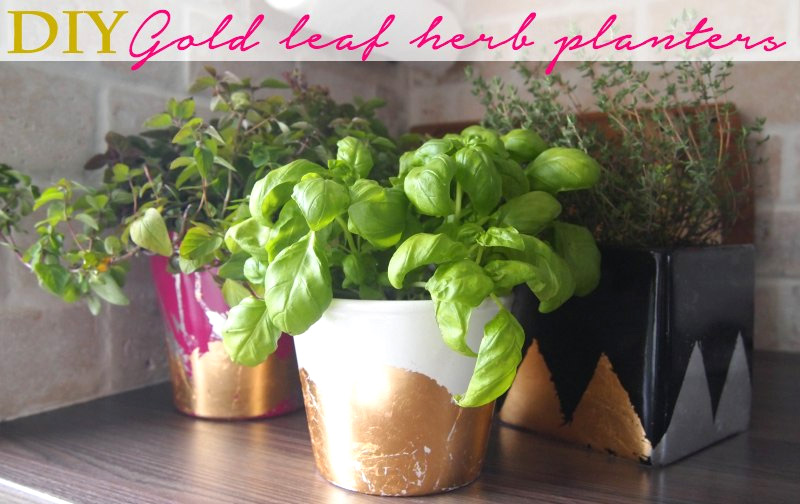 Finally, if you saw our DIY holiday mason jar tutorial, use the same technique to add a golden polish to your goblets. Just be sure to spray the outsides of the glasses instead of the insides!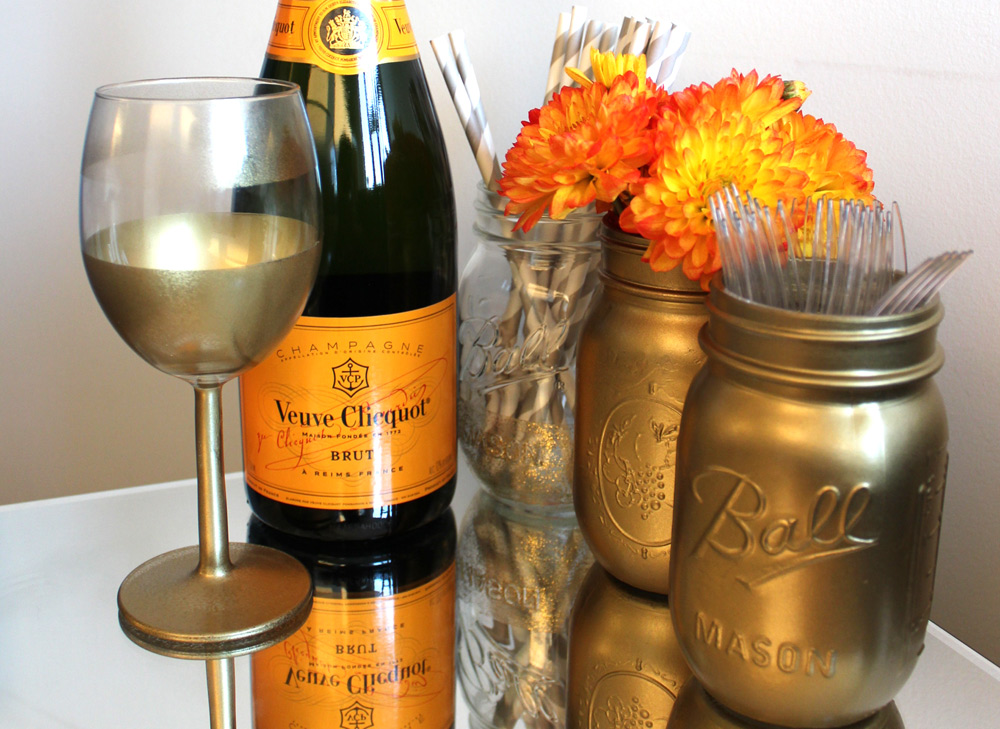 How would you use gold in your space? Share your own tips with us in the comments below!