There's something so beautiful and tranquil about interior design that evokes the feel of the Caribbean. While it's impossible to boil this rich style down to a handful of key elements, today's post showcases a few features that can infuse your home with a celebration of the sea, lush plant life and timeless elegance. From unforgettable hues and crisp textiles to tropical greenery and wooden pieces with a history, here are some ideas and images to get you started on your Caribbean-style design journey. Below you will find traditional spaces, as well as a modern take on the Caribbean look. Enjoy!
Vibrant Colors
While many of today's most popular interior design styles involve a prevalence of white and neutral tones, those who celebrate Caribbean style at home often incorporate vibrant colors. [from Structures Building Company]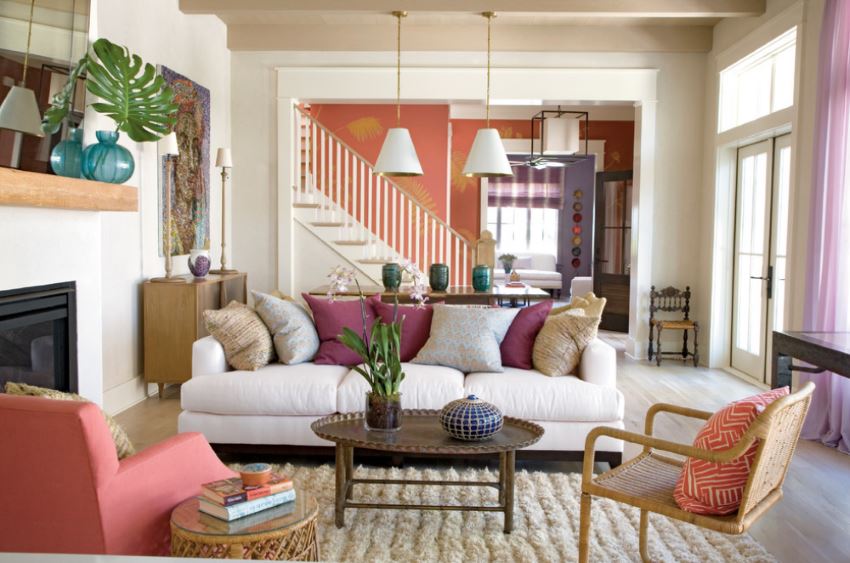 From radiant walls to vivid accents, think tropical when it comes to selecting your colors. To bring a sense of sea and sky indoors, don't hesitate to involve shades of blue, as shown below. [from Brenda Olde Photography via Houzz]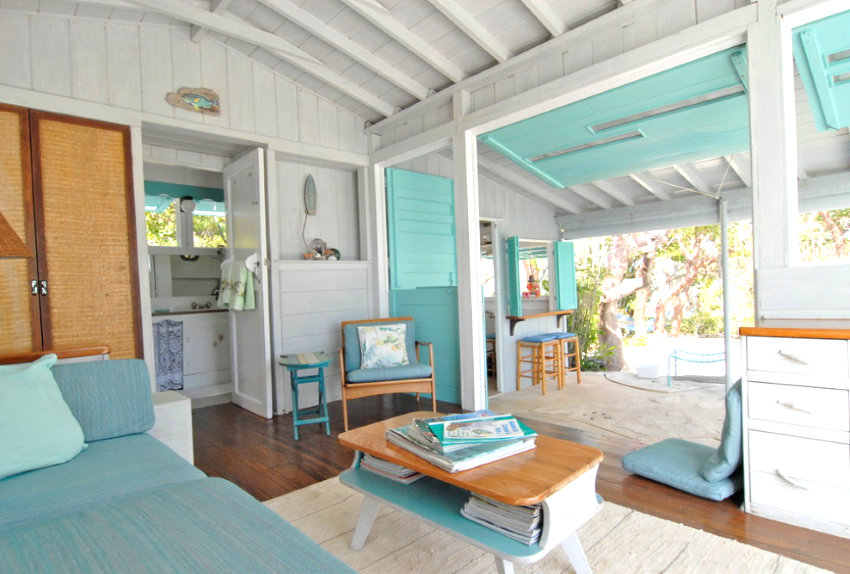 You can keep it simple and soothing, or you can go all out with a range of unexpected colors. The interior below designed by Bronwyn Poole puts a modern touch on Caribbean style, adding brilliance in the least expected places. Even the arm of a chair is an opportunity for an eye-catching interplay of tropical tones. [from Touch Interiors]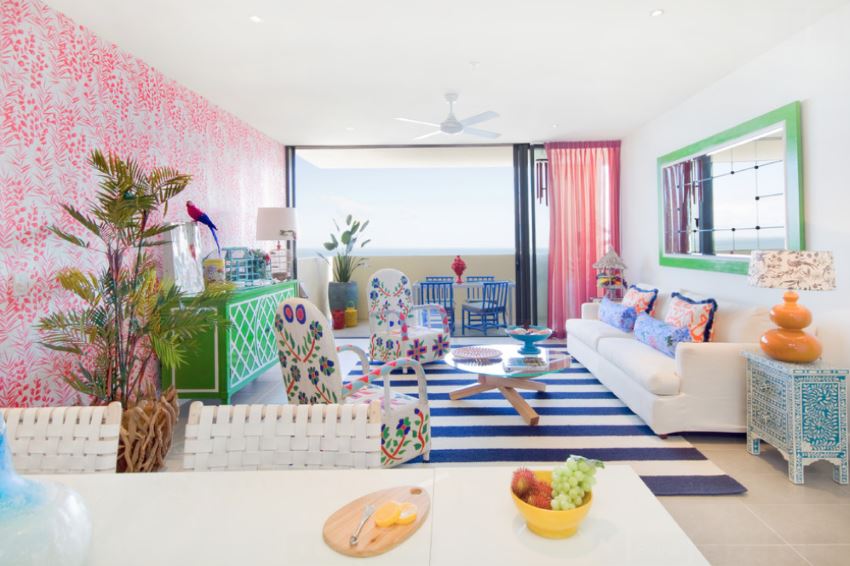 On a similar note, we see contemporary style with tropical flair in this stunning lobby of the W Retreat & Spa Vieques Island. Note the use of tropical hues and invigorating brights as accent colors throughout the space: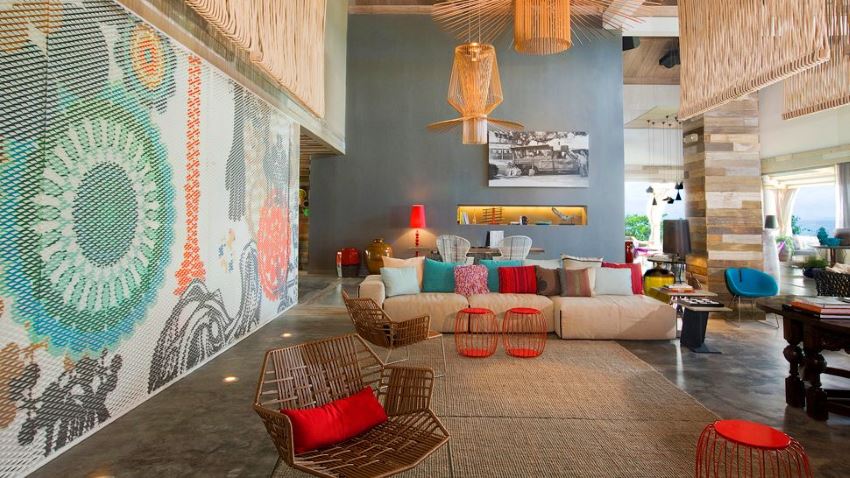 Crisp Textiles
When it comes to textiles in the Caribbean-style home, think crisp. White is a popular choice, either as a background hue for colorful embroidered designs or as a contrast to other textiles in more saturated tones. Below we see a cottage from Golden Rock Inn on the island of Nevis. The combination of the bedding's rich tropical hues and white sheets is striking and inviting. [from Lonny]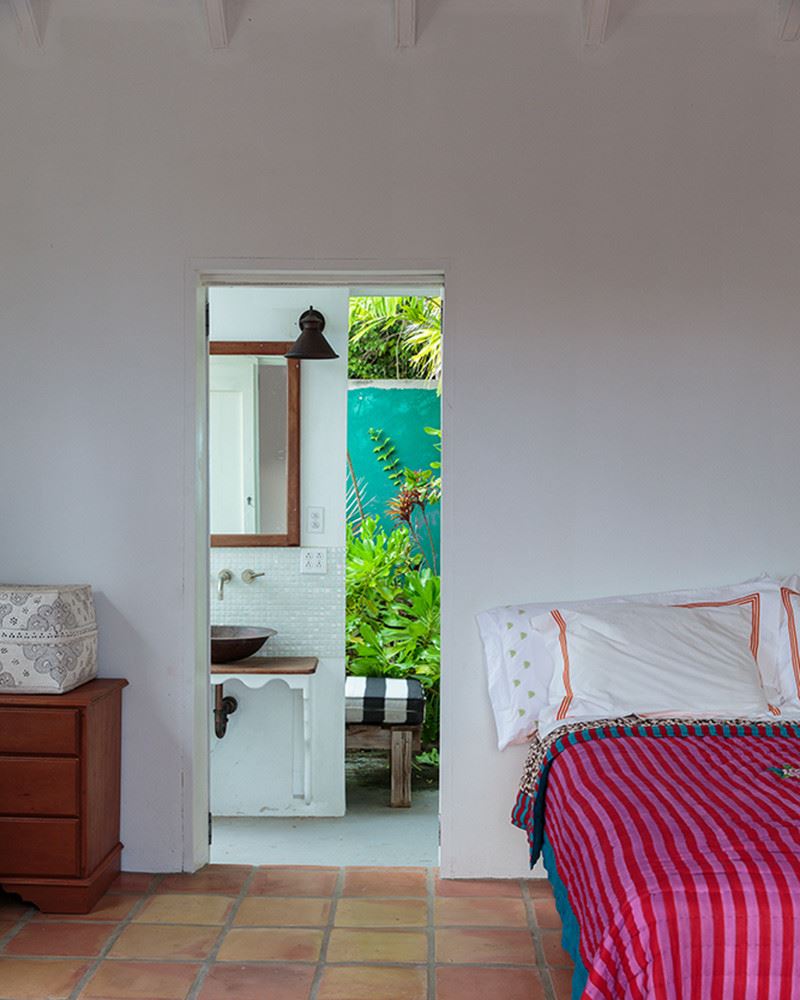 Another popular crisp bedding choice: a sheer mosquito net hanging overhead. Sheer fabrics let in plenty of natural light while evoking a breezy feel. [from Gary McBournie]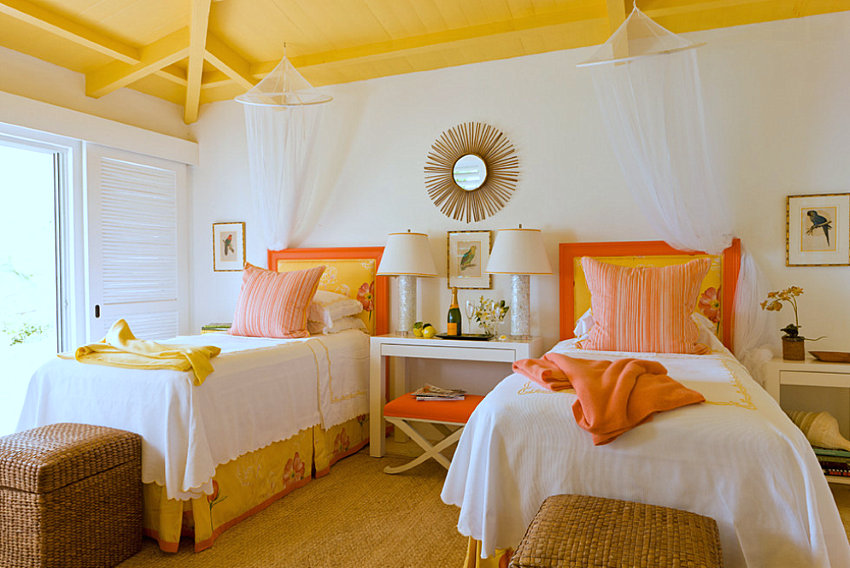 Sheer canopy fabric is a great way to evoke a Caribbean vibe. Draped into curtains that can be secured at the bedposts, the fabric styled in this manner creates a resort-style feel at home while having the practical benefit of keeping creepy crawlies away from your sleeping space! [from Lonny]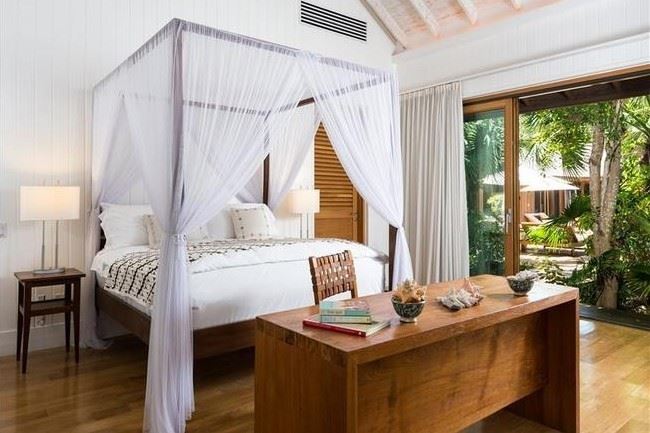 As shown below, sometimes white on white is the perfect tone and textile approach to interior design when the Caribbean is your backdrop. [from Viceroy Anguilla]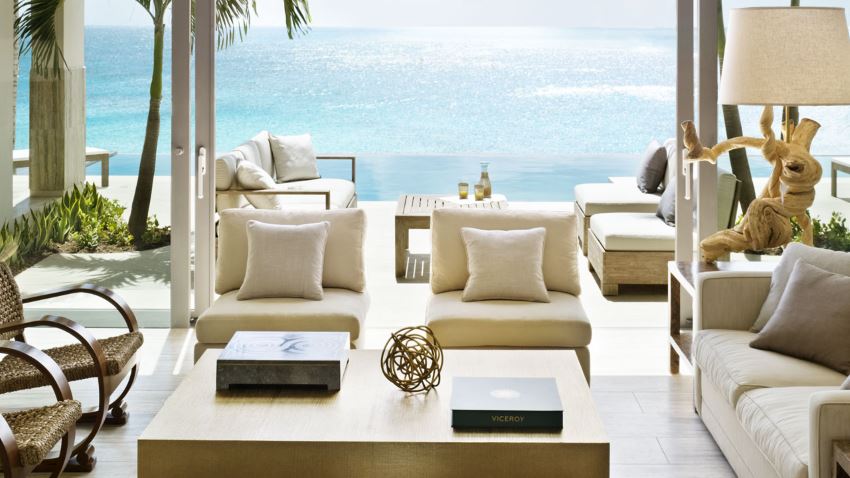 Wooden Accents
Bringing wooden accents into the Caribbean-style home creates a sense of depth, contrast and history, especially when your wooden pieces seem to tell a story. Below we see woven rattan cabinet doors from Dura Supreme Cabinetry. [via Houzz]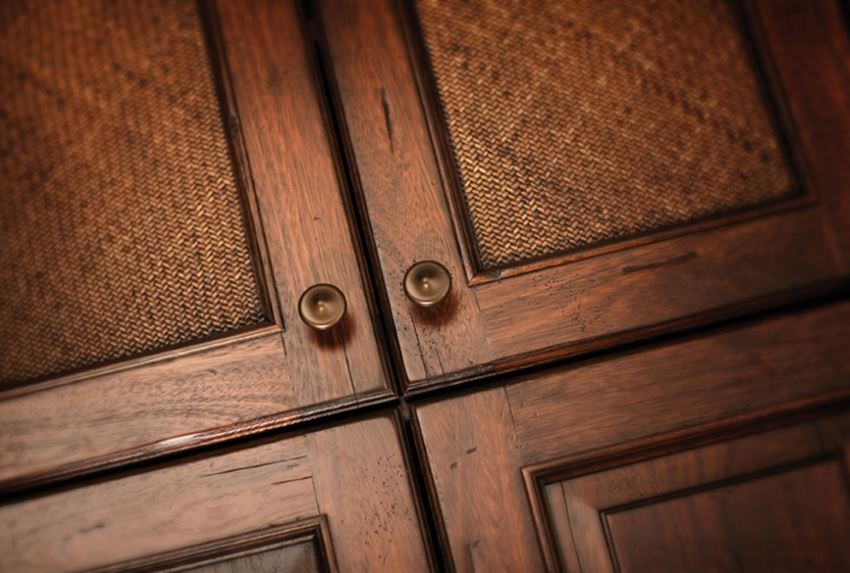 Rattan, bamboo, and woven pieces that add texture to your space are excellent choices for Caribbean spaces. In fact, many rooms decorated in this style create a sense of richness through the contrast of white walls and wooden trim. [from Lonny]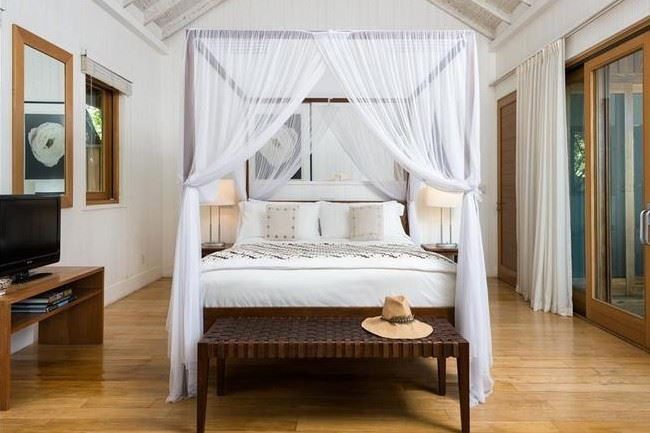 Antique pieces or items that are weathered, worn and tell a story are the perfect choice for Caribbean spaces. Below we see a beautifully decorated powder room with a tropical feel. [from Lonny]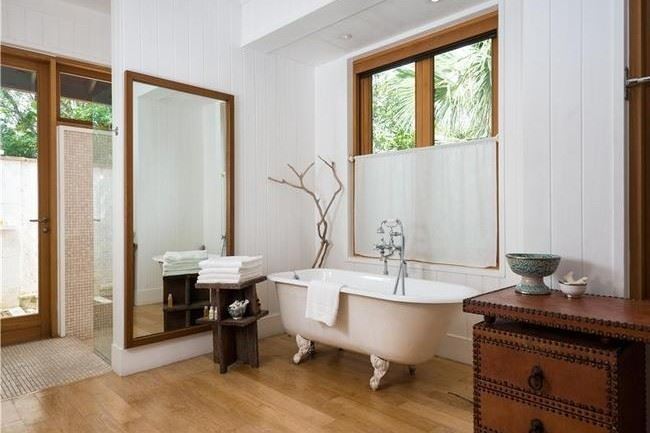 Here's a little inspiration from The Gallery Inn in Old San Juan, Puerto Rico… As you can see, ornate furnishings in a range of wooden tones create a sense of timeless elegance: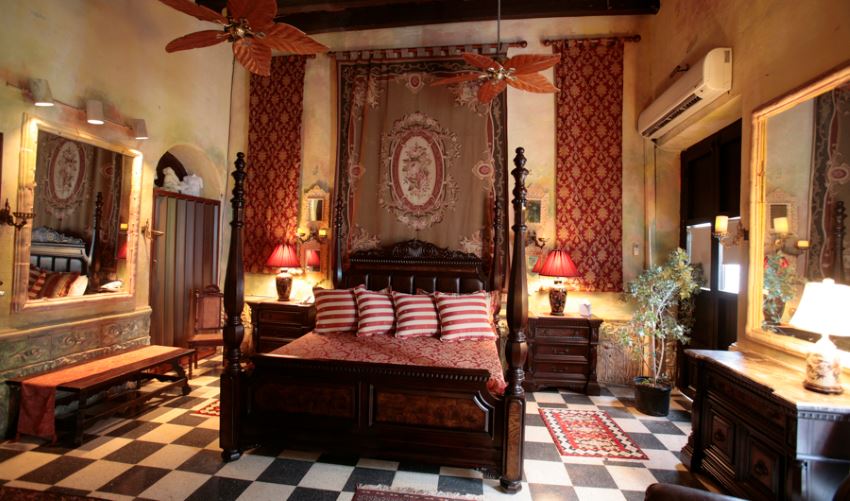 While clean-lined pieces aren't necessarily a traditional Caribbean choice, it can be fun to create an updated look by incorporating modern elements, as shown in the San Juan living room below. [from Lichelle Silvestry]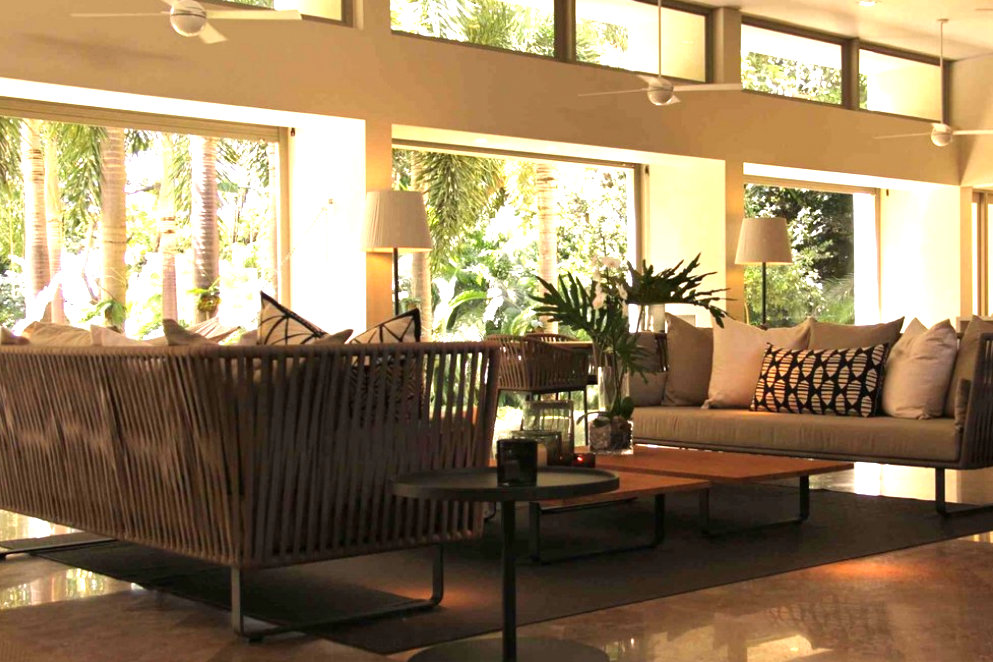 Tropical Greenery
When creating a Caribbean feel, don't underestimate the power of tropical greenery. Even if your home isn't surrounded by lush blooms (or doesn't have the light required to help your favorite tropical potted plants thrive), it's often possible to purchase cut tropical greenery year-round. Many tropical leaves can last weeks in water, making this choice as cost-effective as it is stylishly dramatic! [from Lichelle Silvestry]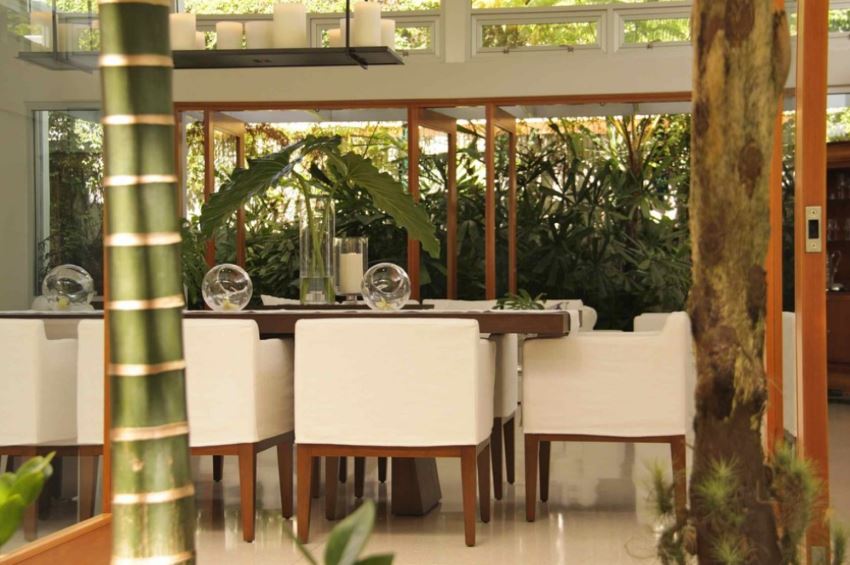 Greenery can add a fresh look to your space, from all-white interiors to rooms that incorporate a range of colors. Bringing a touch of nature indoors connects you with the natural beauty of tropical environments. [from Structures Building Company]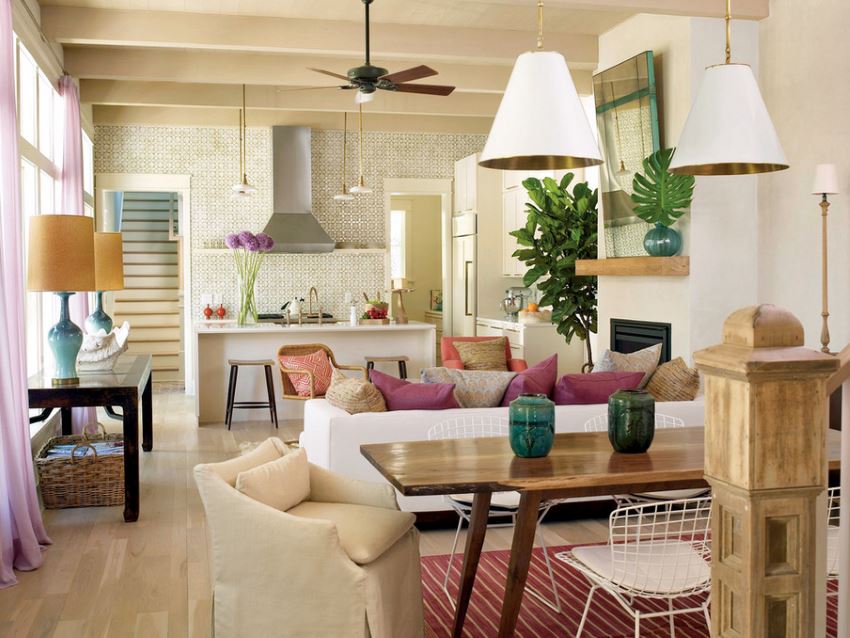 Sometimes one palm leaf can set a Caribbean tone, as shown in this powder room of the Viceroy Anguilla resort. Also note the dark latticed woodwork that provides a privacy screen: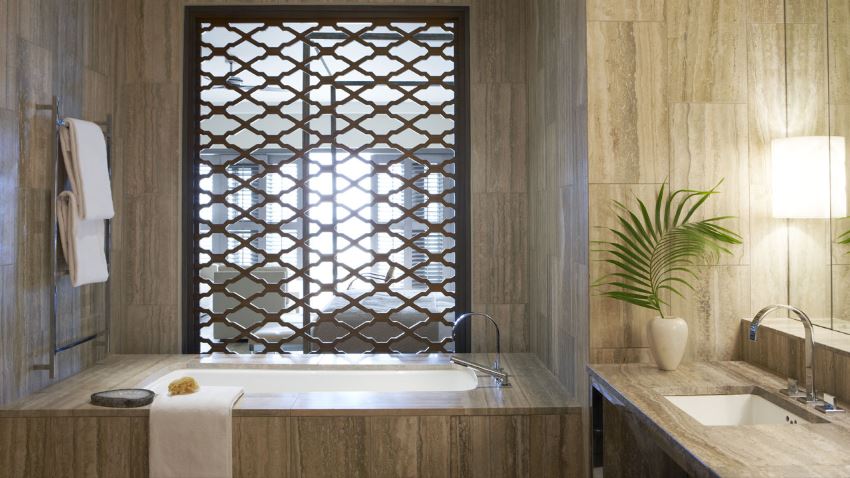 Greenery isn't the only way to celebrate natural tropical elements. Any decor that evokes the feel of the sea can create a beachy vibe in your interior, such as the white seashell centerpiece below. [from Houzz]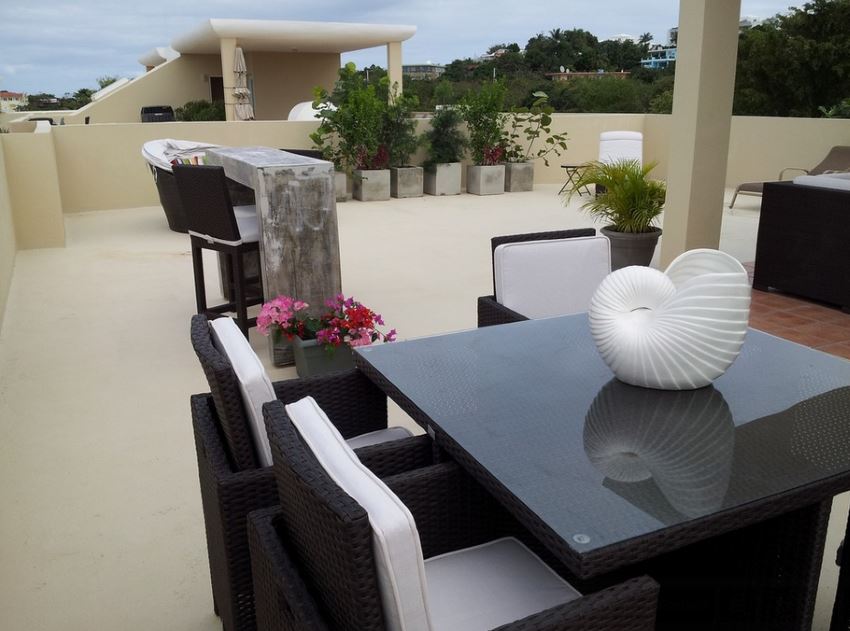 As we've seen from today's featured images, Caribbean style can be created with a range of elements, from the use of bright colors and tropical greenery in modern spaces to the incorporation of rich wooden details in traditional rooms. Which approach do you prefer?