I reveled in researching today's post, in part because I love planning a beautifully designed table, and in part because there are so many exquisite table ideas to choose from. I'm on the hunt for unique fall table settings–I enjoy hosting a pre-Thanksgiving meal each year that is low-stress and all about gathering my nearest and dearest for a relaxing bite before the holidays officially begin. Below you will find 10 of my favorites for fall, from the table set for a formal sit-down meal to the table where you grab your plates and utensils before moving through the buffet line. Enjoy!
Something Vivid
We begin with colorful tables that proudly rebel against the standard fall color palette of oranges, browns and yellows. This progressive dinner party featured at Camille Styles incorporates radiant patterned dishes, as well as glasses in jewel tones. A bouquet in the classic shades of fall looks extra chic when placed in the middle of such a colorful vignette!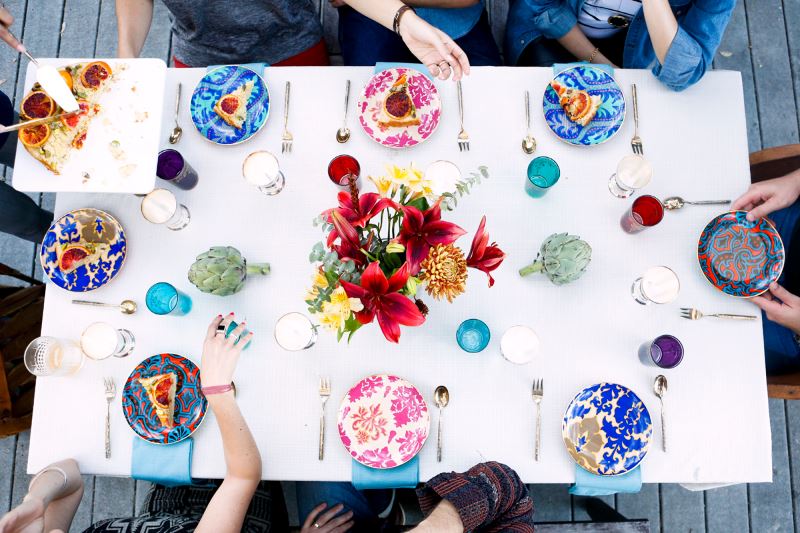 I love this next table by Jonathan Adler, because it's modern, it's playful, and it illustrates the power of blues and greens as they offset orange accents. Consider this colorful approach for a plate and utensil table. Stack dishes on an elegant serving piece like the Turquoise Quatrefoil Tray. Guests will enjoy the view as they grab their plates and head to the buffet table.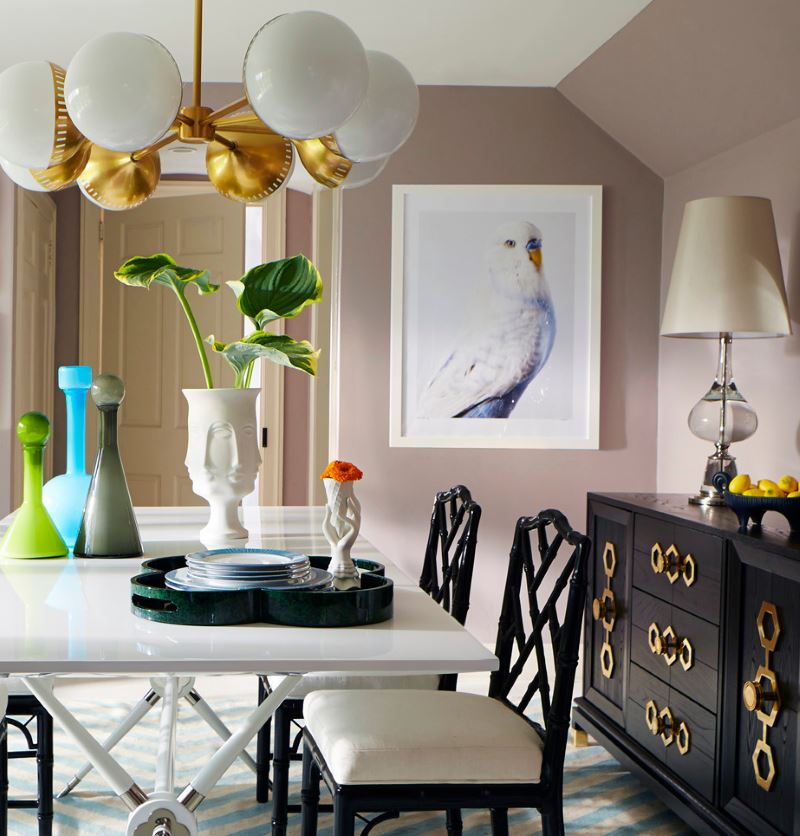 The Rustic Table
We now move on to rustic tables, but note that the ideas below are more modern than country. There's an earthy chic vibe going on here. Sticking with a neutral palette is one way to create a fresh look. White dishes and clean-lined materials such as marble, wood and slate add low-key style to the table below, which showcases the Palisades Cheeseboard from Crate & Barrel: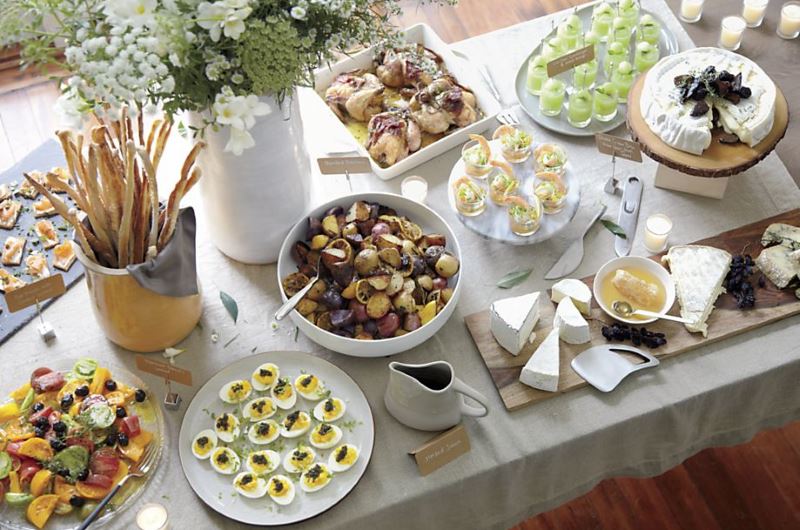 Dried wheat, a two-toned runner and tree stump chargers enhance this fall table from West Elm. The rich tones of the food pop against the warm palette. Not to mention, stylish flatware introduces a dash of mixed metals.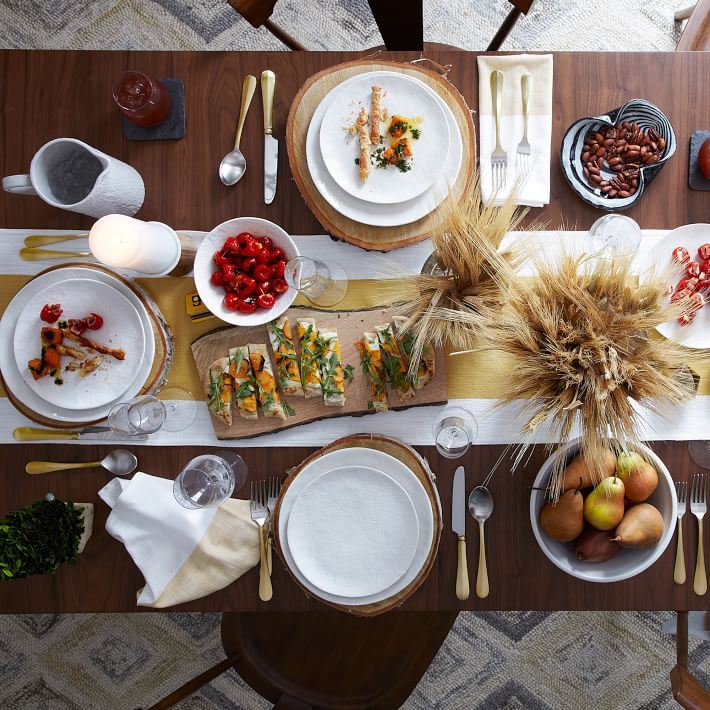 Grey Tones
There's something interesting happening in the world of food photography. Marble backgrounds and bright lighting are being replaced by rich, deep tones that bring out the subtleties of the food. I'm in love with this vignette featuring Neu stoneware from Ferm Living. Doesn't it inspire you to set a minimalist table filled with grey hues and hints of gold?!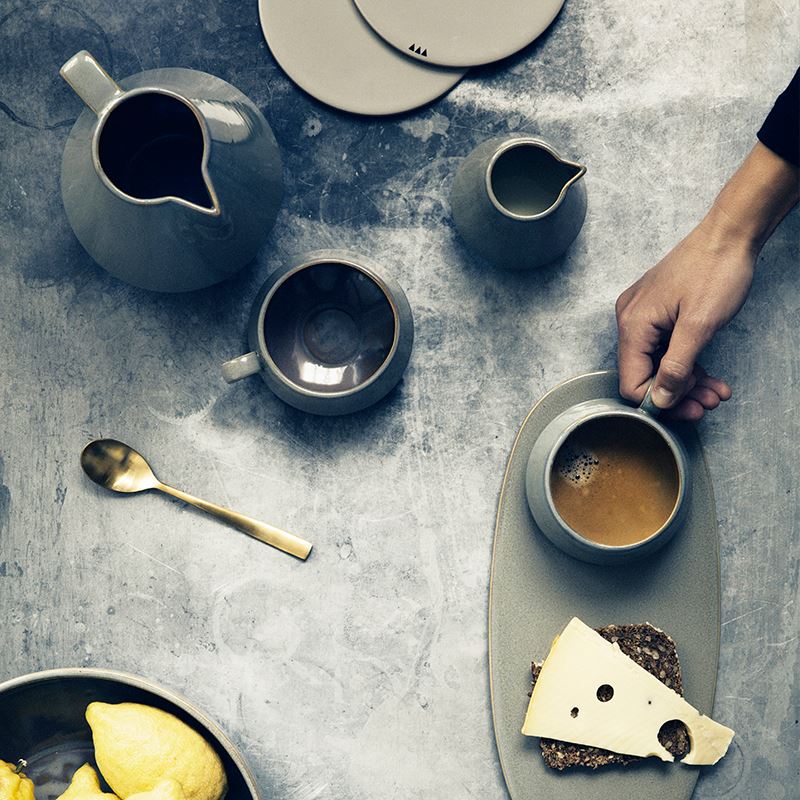 If you desire something a bit brighter, check out the Splash Table Cloth in Grey from Ferm Living. Its splatter paint pattern is the perfect backdrop to a dash of orange fall produce, as well as interesting plant life. Organic and festive, don't you think?!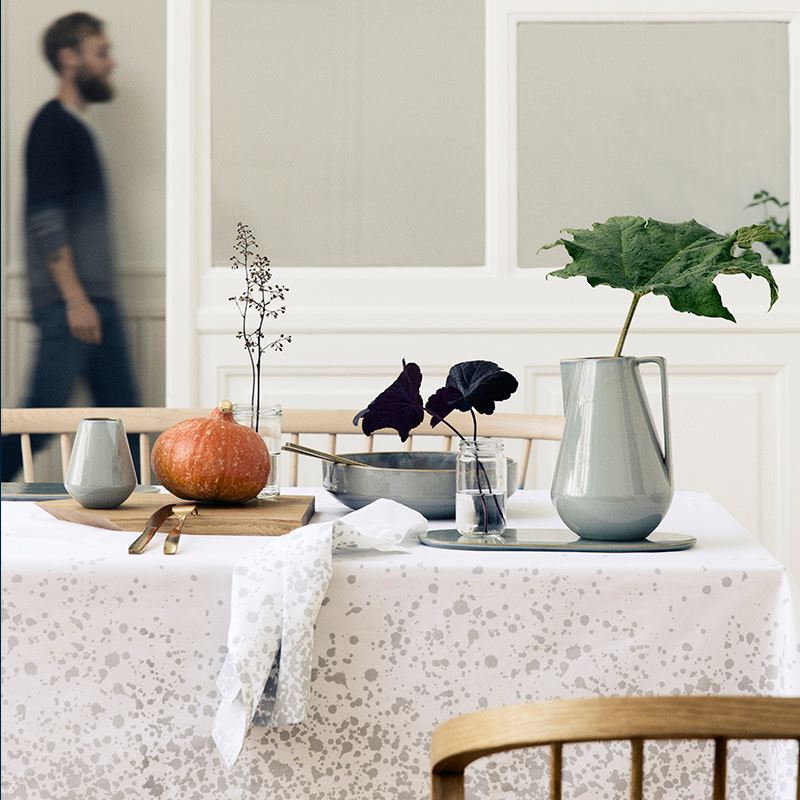 Decadent Overtones
We now turn to the decadent with a pair of tables that celebrate luscious fruit and a deep palette. This first table setting incorporates geometric Intermix Dinnerware from CB2. I love the unexpected color palette (notice the pops of teal?), as well as the use of pomegranates and branches to add a dash of natural beauty: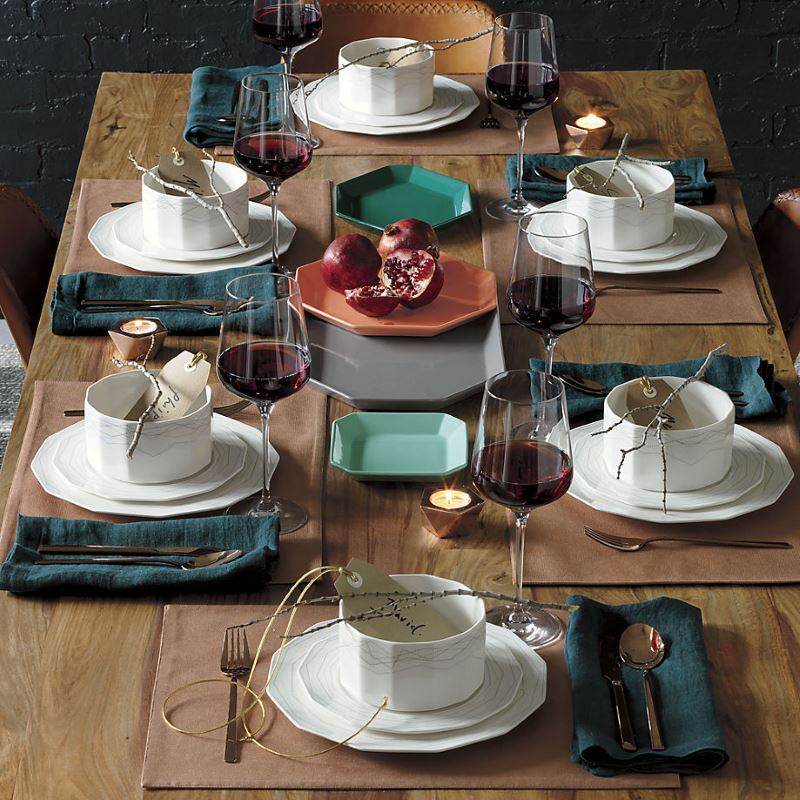 While the table below was actually designed for a holiday meal, its rich-toned palette is also perfect for fall. Athena Calderone of Eye Swoon incorporates showstopping elements such as wooden spoon "place cards" created with the help of chalkboard paint, and edibles as far as the eye can see. The epitome of decadence!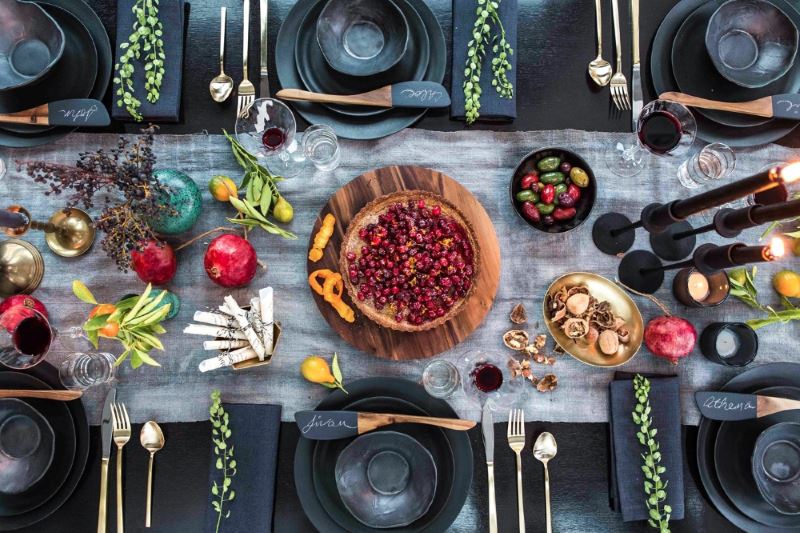 Retro Style
Today's final table style? Retro! We couldn't mention retro-meets-modern design without featuring the work of Jonathan Ader, who knows how to bring the elegance of the past into the present. Gold tones and classic patterns combine in the table below, thanks to items such as Malachite Glassware and Mykonos Platform Stitch Placemats: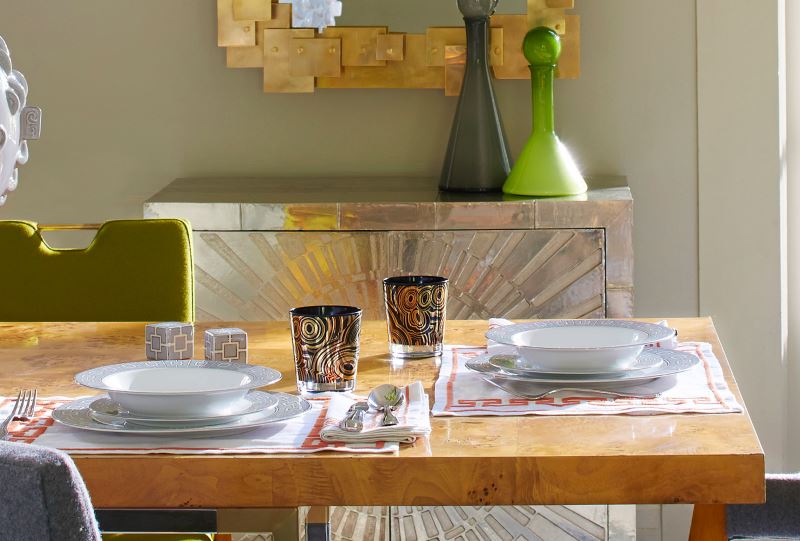 And here's a snapshot from a fall snack break photo shoot I created for my blog Mirror80. The mugs are from the 1980s, and I mixed them with a vintage container featuring a citrus motif. Using a bundt cake pan can also help to achieve a retro look when it comes to dessert. Try stacking pumpkins to create a focal point on your dessert table this fall…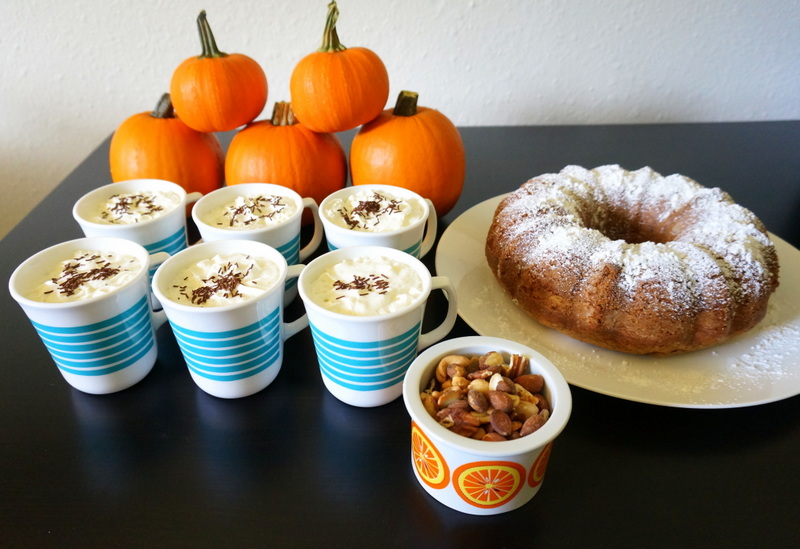 I definitely have my eye on the tables above as I zone in on a look for this year's pre-Thanksgiving meal.  Are you already planning the look of your Thanksgiving table? My hope is that today's post inspired you, giving you a few ideas that are as delicious as the food you'll serve. Here's to a delectable autumn!
Liked the story? Share it with friends.