Did you catch yesterday's post on Halloween party concepts? Halloween is one of many things I love about fall. Another autumn perk: getting to spend time with friends and family. There's also the joy of spending cozy evenings at home. Today's post is dedicated to new fall decor finds that will help you create a welcoming environment throughout your interior this season. From tabletop entertaining pieces to accents that will enhance your space as you lounge by the fire, these picks from some of our favorite retailers will empower you to celebrate the season in style. Enjoy!
Fall Tabletop Decor
Let's start with the fall table! Many new tabletop decor finds await us, and one of my very favorite trends this season is geo style. Maybe that's why this tabletop vignette from has CB2 caught my eye. Notice all the geo finds below? From the Noon China Dinnerware and Gami Rose Gold Candleholders to the Intermix Dinnerware, the geo flair is ever-present.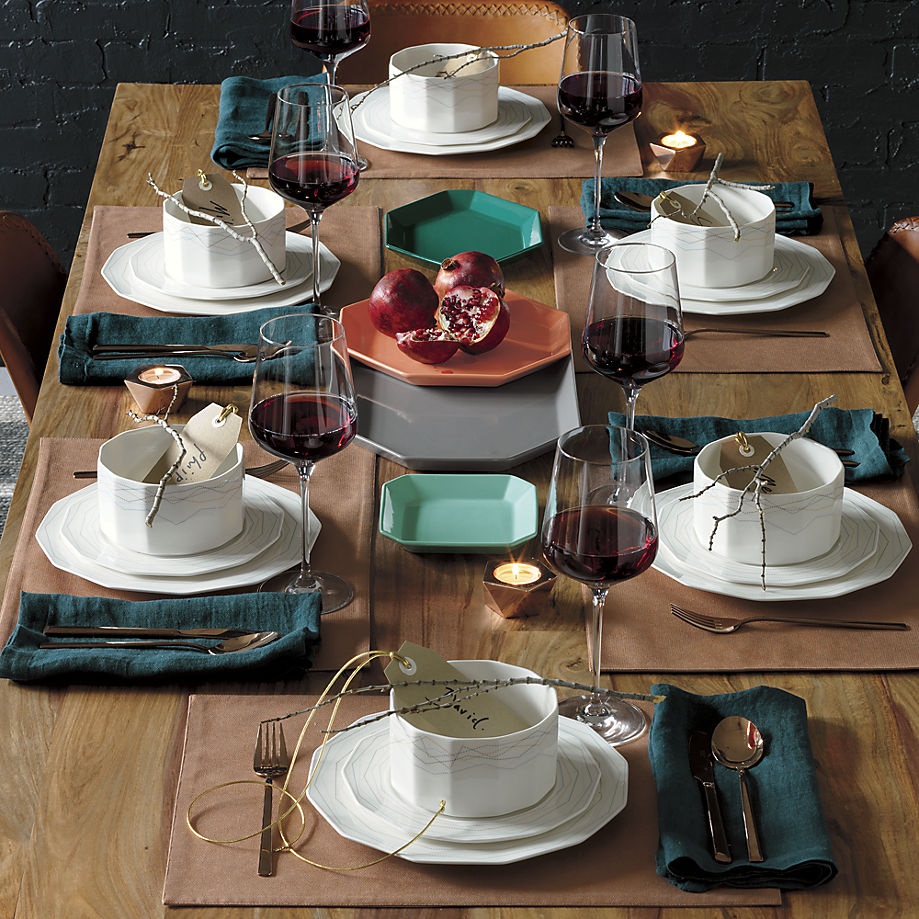 And how about that palette of oranges, blues and greens? With fabulous finds such as the Uno Blue-Green Linen Napkin, CB2's offerings provide plenty of opportunities to put a modern spin on the season.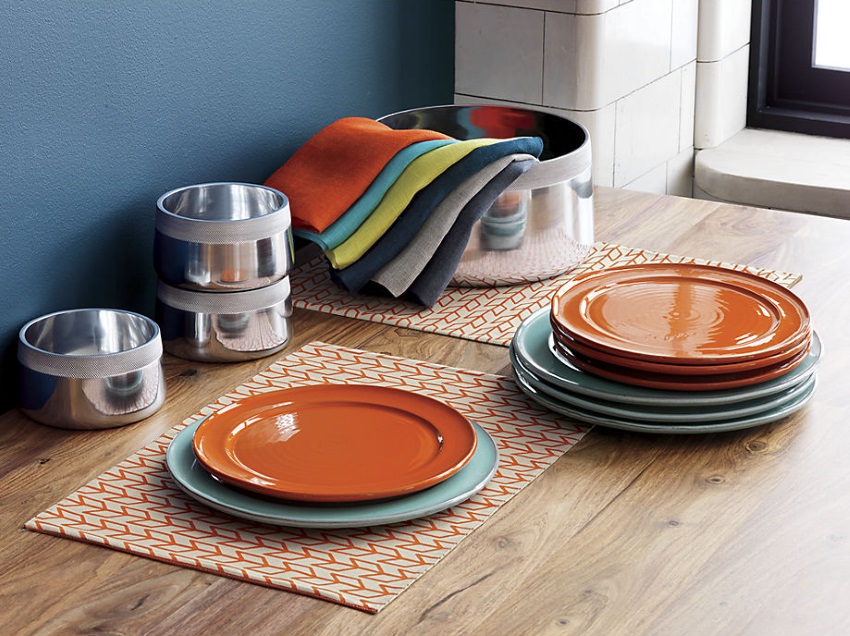 Another tabletop approach to enjoy this fall: rustic-meets-modern style. This tabletop setting from West Elm exemplifies the contemporary earthy look. Try placing dried wheat stalks in vases at your table this autumn and see how they complement your decor!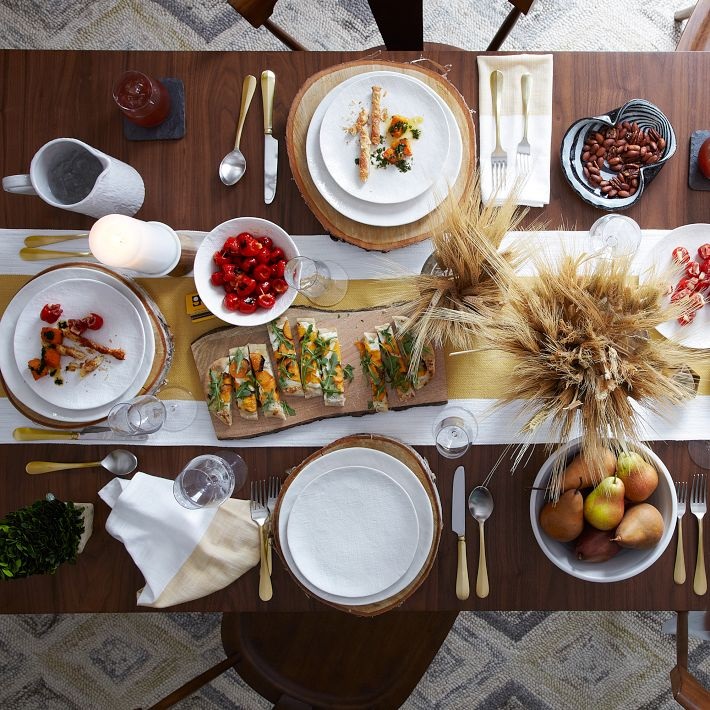 You can even introduce a hint of geo style to your rustic table with the help of Octagonal Chargers from Pottery Barn, shown below. Crafted of plastic with a pewter/brass lacquered finish, they are durable and affordable.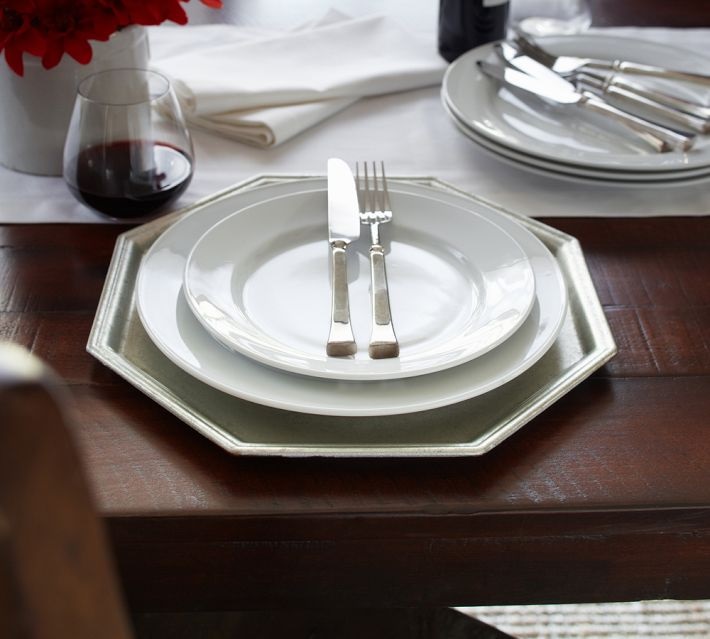 Mixed metallics are still popular this season, so a new batch of gold-toned flatware is emerging. I love the look of this Two-Tone Flatware from West Elm. Plus, these pieces are dishwasher safe–win!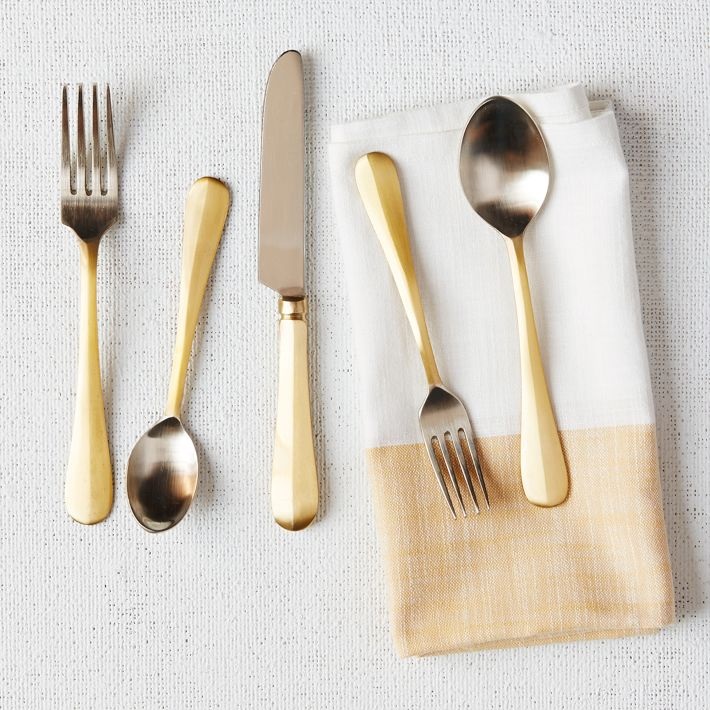 The Fair Isle Collection from West Elm features a whimsical pattern that blends with earthy, modern and tribal motifs alike. Choose from products like the decanter below to add a hint of neutral patterning to your fall table: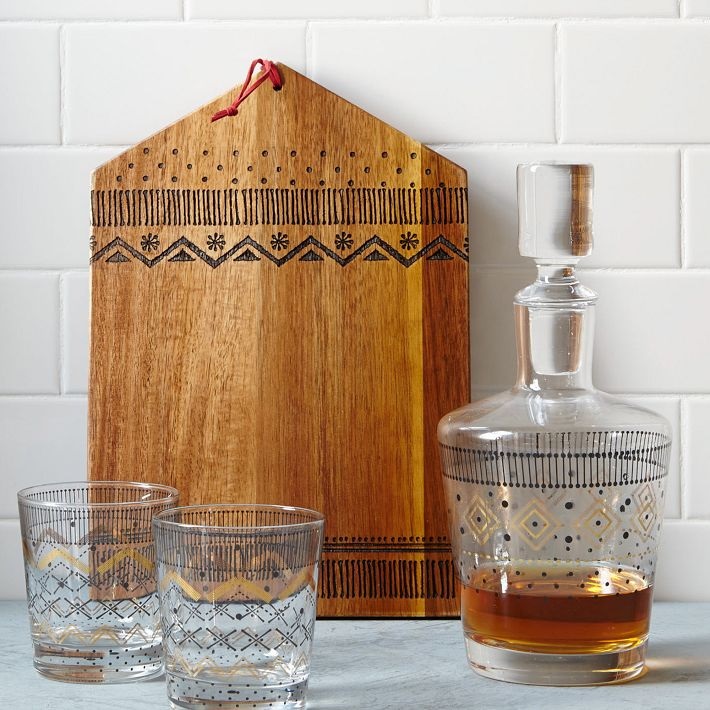 Dramatic flair is the theme of this Malachite Glassware from Jonathan Adler. Gold and black are the colors of choice, and this combo is so glam, it can shine at your winter holiday table as well. A modern twist on the malachite pattern!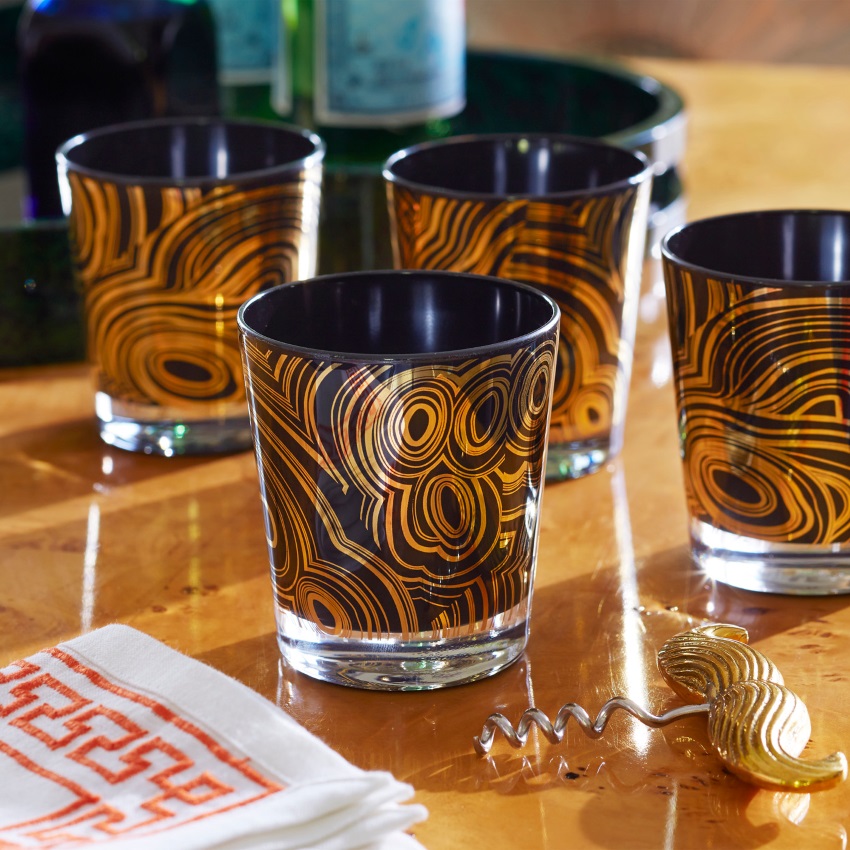 There's nothing like a wooden cheese board to bring your foodie pairings to life. This Vintage Wood Cheese Board from Pottery Barn is made from sustainably harvested mango wood: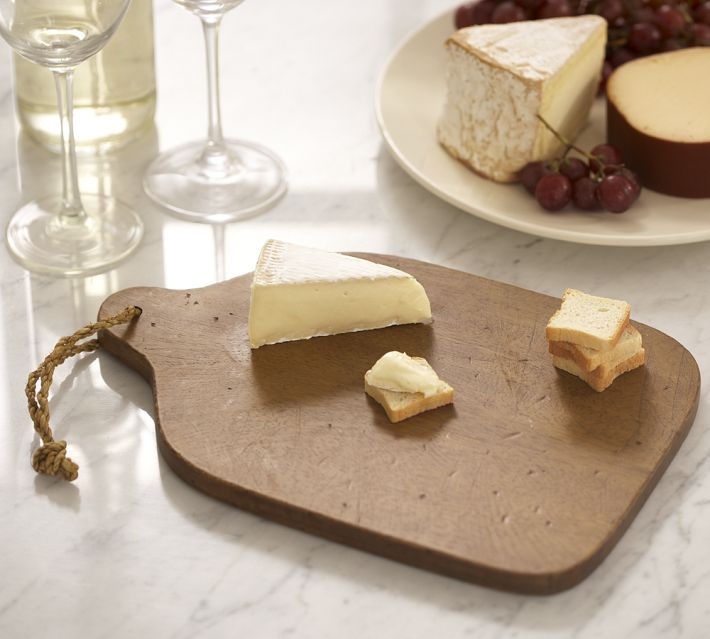 How cute are these Fox + Owl Salt + Pepper Shakers from West Elm, crafted of white glazed stoneware with gold accents?! Perfect for animal lovers and design lovers alike, they blend whimsical style with modern panache.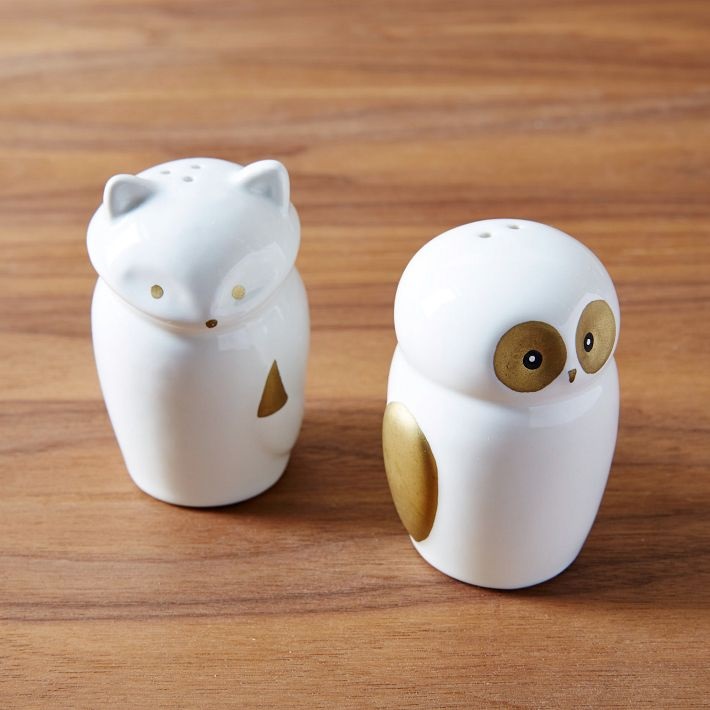 Simple and chic–these Wishbone Napkin Rings from Pottery Barn are sold in a set of 4. With an antique brass finish, they add a warm yet modern tone to your fall tablescape: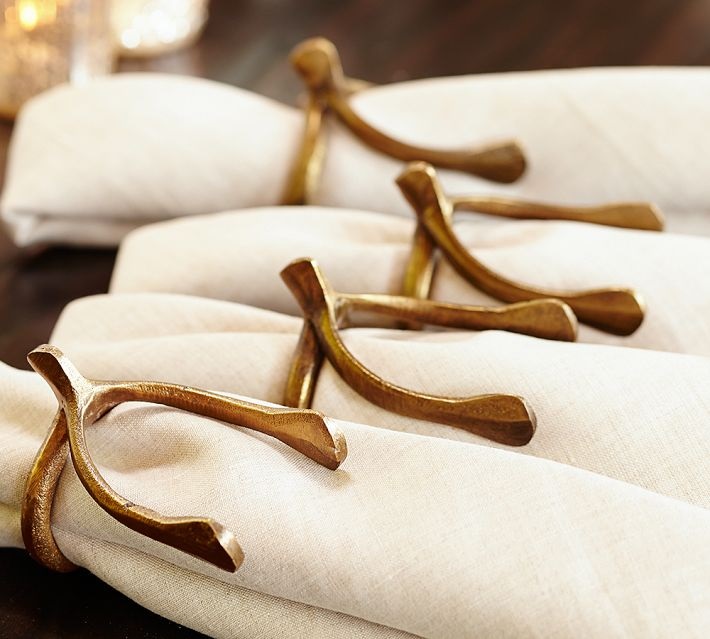 Fall Design Finds for a Festive Home
We move from the tabletop to the living room (and beyond), as we explore a collection of decor that ranges from artwork to tabletop vases. And speaking of artwork, below we see the Snyder-Phillips "Buck" Framed Sumi Ink Painting from Jonathan Adler, An original painting by New York based artist Jenna Snyder-Phillips, this piece is created with the help of Japanese sumi ink. The perfect touch of fall style!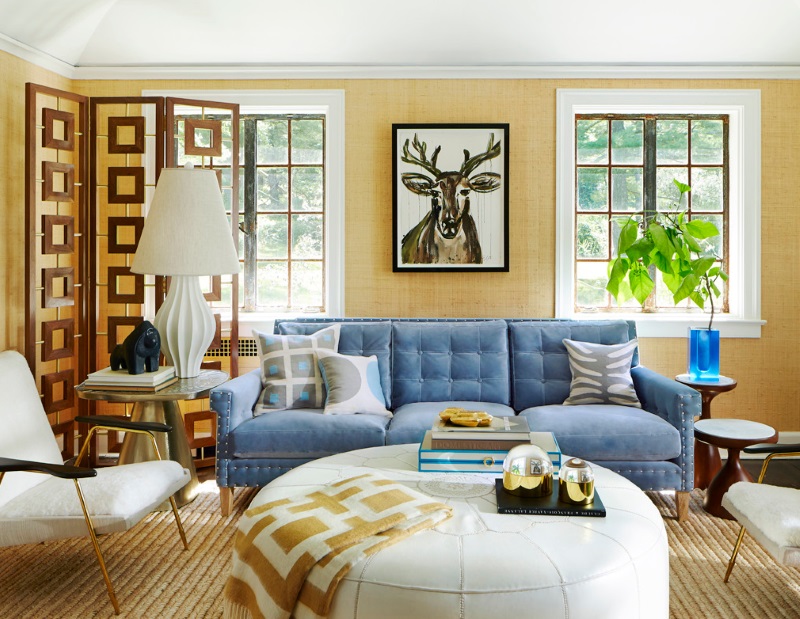 From the walls to the floor–this next find is the geo-fabulous Frick Rug from DwellStudio. It has a retro-meets-modern appearance that's also a little bit luxe. Plus, with its neutral tones, this rug is compatible with almost any color.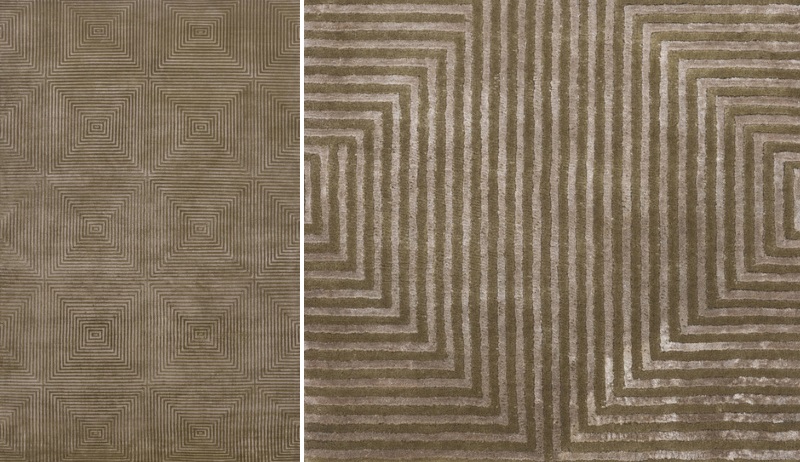 Now we turn our eyes to the ceiling, where you can hang these Geo Chimes from Anthropologie. Featuring four shapes, the chimes combine metallic style with geo flair in a wonderfully modern way.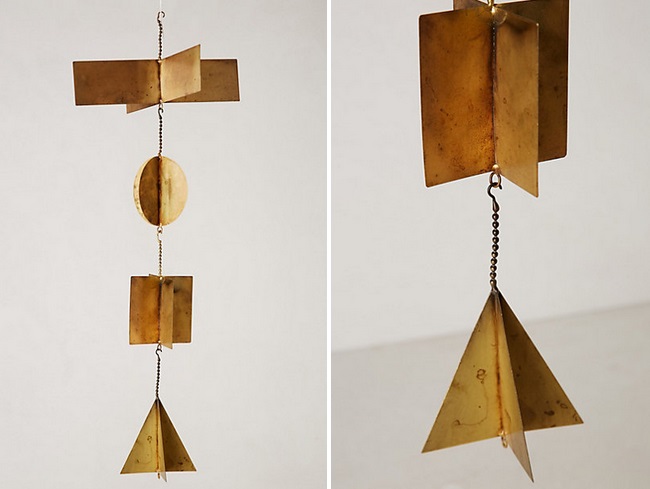 If you're looking for that perfect statement piece, why not purchase a vase for your table, desk or shelf? These new vases from Jonathan Adler (including the Futura Greek Borders Vase) are crafted from high-fired porcelain and pure gold: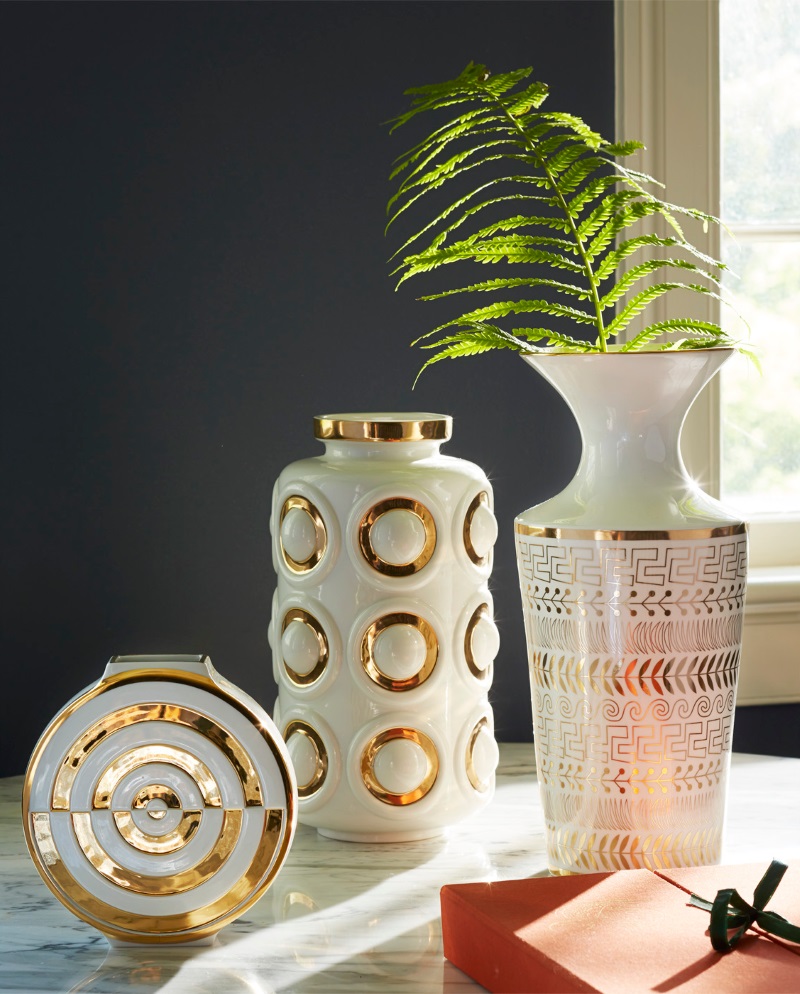 The Puckr Tall Copper Vase from CB2 can be seen below in this next featured group of modern decor finds. There's nothing like the marriage of faceted style and metallic shine, especially when warm tones are involved: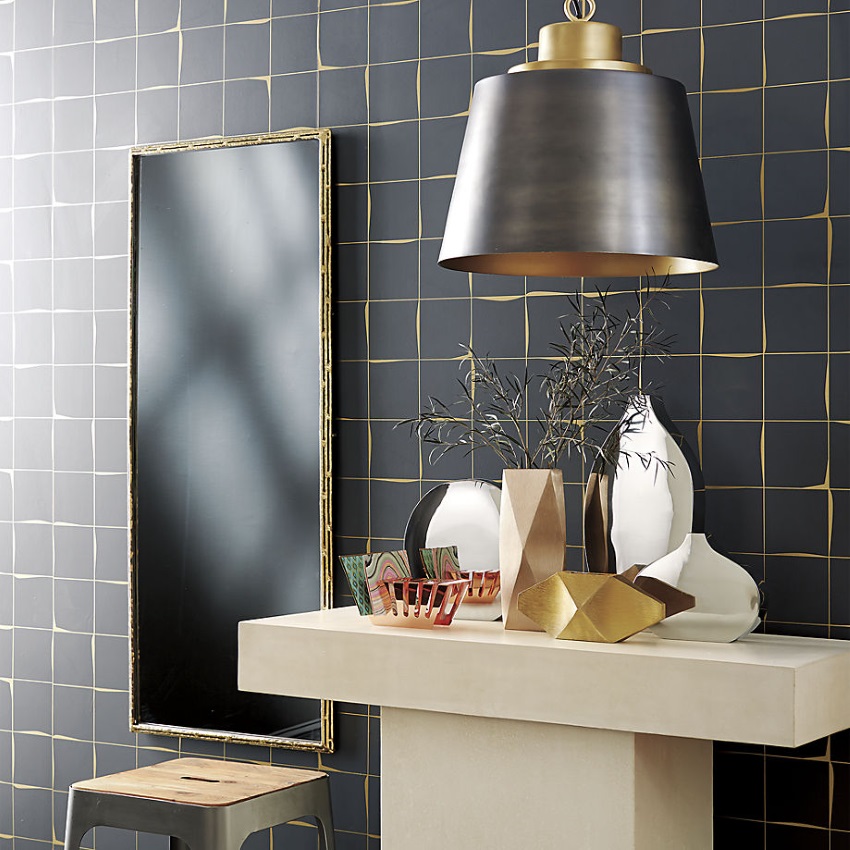 You know those snow globes that seemed so magical when you were little? These Globo Boxes from Jonathan Adler capture that same whimsical feel, thanks to a base of polished brass and a Lucite lid. Perfect for that side table or nightstand!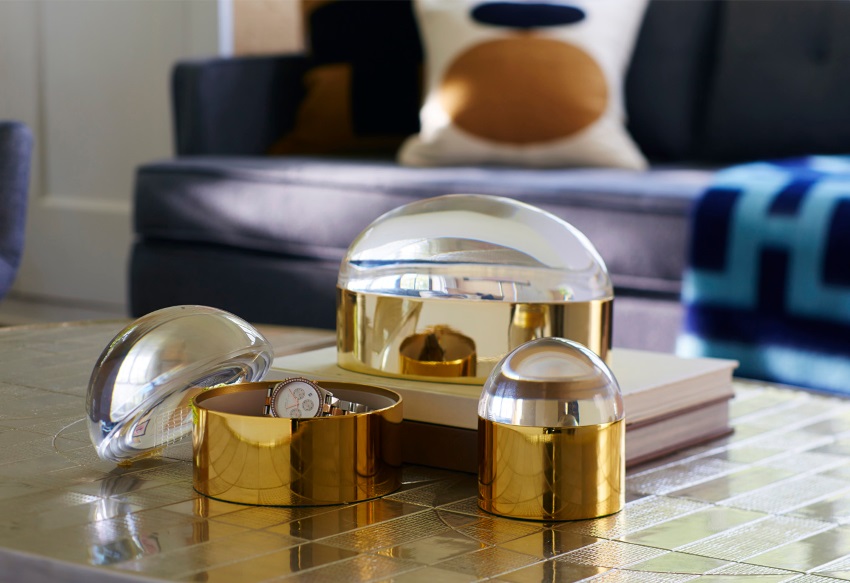 A touch of ochre is the perfect fall accent, and this Lucca Duvet Cover from DwellStudio features plenty of this golden hue. Add block print patterns, and you have an inviting bedding find that is undeniably modern: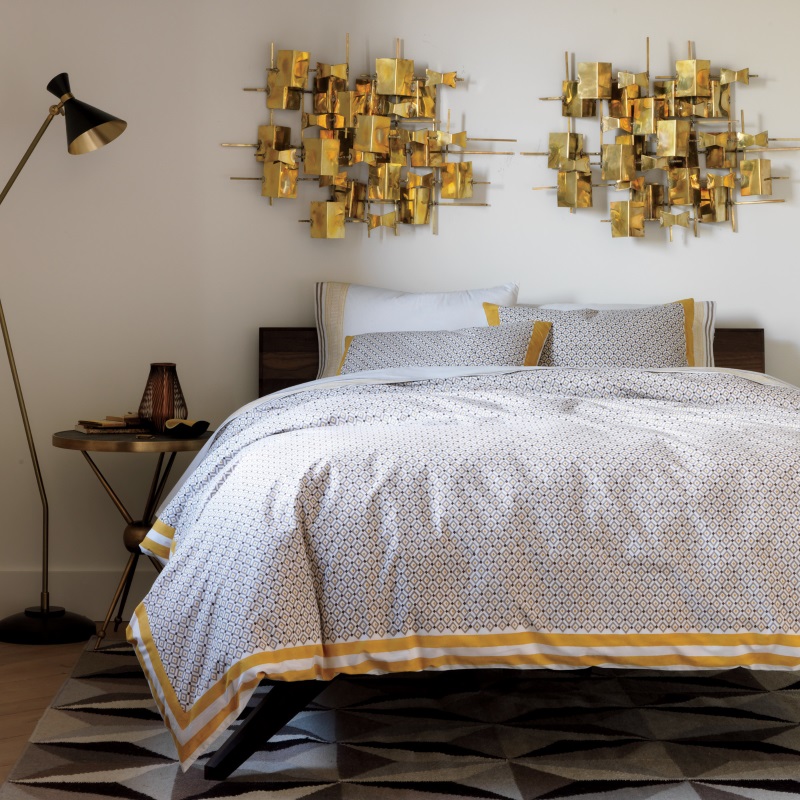 Warm tones evoke the golden glow of fall, and with materials such as brass continuing to gain popularity, there are plenty of golden-hued accents to be scooped up this season. Go for an artistic touch with this Brass Max Sculpture from CB2, complete with a geodesic form: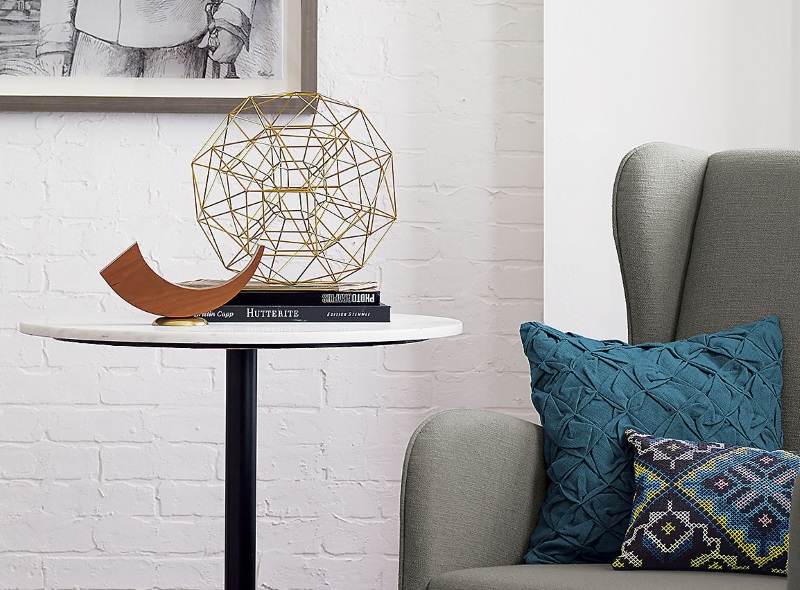 These metallic patterned pillows from West Elm are perfect for fall, and they will continue to dress up your interior for the holiday season. Choose from various colors and patterns, several of which have a distinct Art Deco vibe: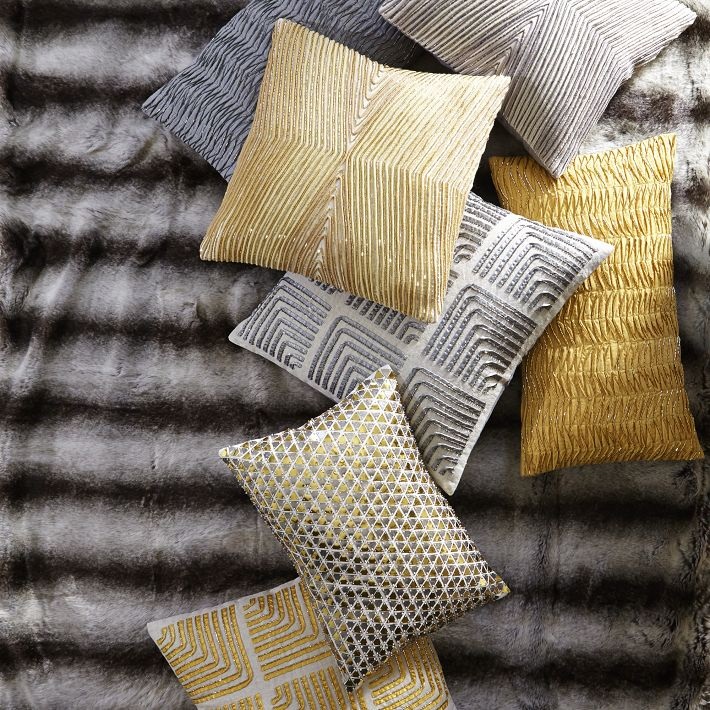 We end with the Metallic Nico Pillows from Jonathan Adler, which evoke a '70s glam feel, thanks to sequins and the metallic shimmer of pewter, silver, bronze and gold tones: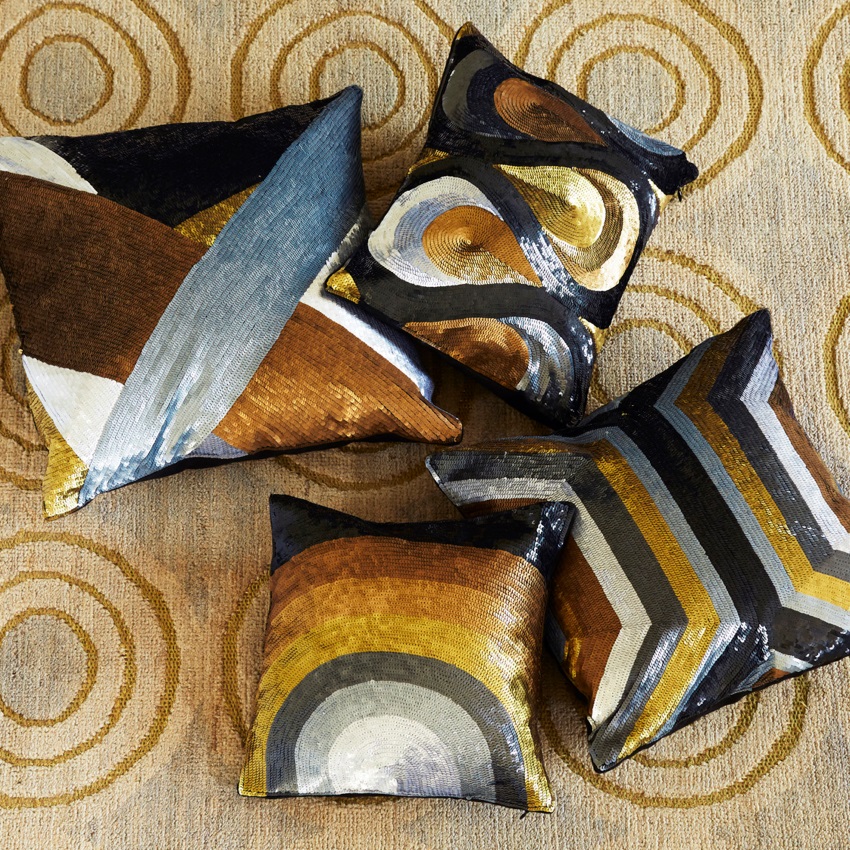 We at Decoist wish you and yours a glorious fall season! Remember, you can create a cozy home on any budget. Don't forget to check out our collection of DIY projects for some crafty inspiration. Autumn puts me in the mood to create. And redecorate, of course! What about you?…