Today's roundup is dedicated to the modern fireplace, but there's also an element of coziness involved. For example, some modern rooms with fireplaces still manage to be more stark than inviting. What makes a room cozy? How can a modern fireplace enhance the warm feel of a space? And more importantly, how can your interior create a cozy vibe this fall, with or without a fireplace? Let's take a look at some beautifully designed living rooms below for inspiration:
It's All About Texture
There's nothing like a room with a fireplace. And if you're lucky enough to have one, play up the warmth with plenty of texture. A soft rug can do wonders, as can hand-carved wood sculpture art, such as the piece by Roi James hanging over the fireplace below. [from Texas Construction Company]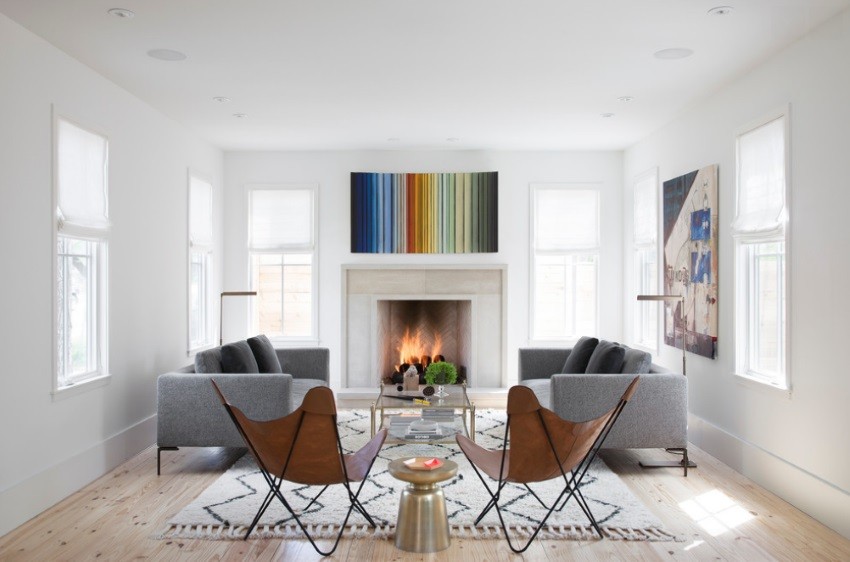 Shaggy rugs are definitely one of today's top design trends. Flokati rugs are increasingly popular–who wouldn't love a woolen rug with a thick pile?! Another way to add texture: a tiled fireplace, especially if the tile is as shimmering as the glass on the fireplace below. [Photography by Jan Stittleburg, from Burns Century Interior Design]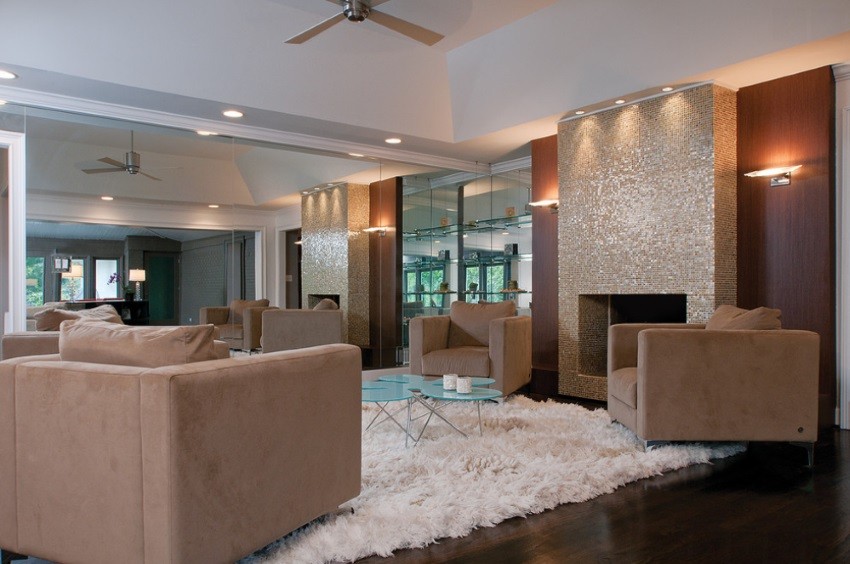 Texture can take many forms, including the wood blind variety. Add a few plants, and your modern space comes alive with natural elements (including the glow of the fire). [from Interior Design Ideas]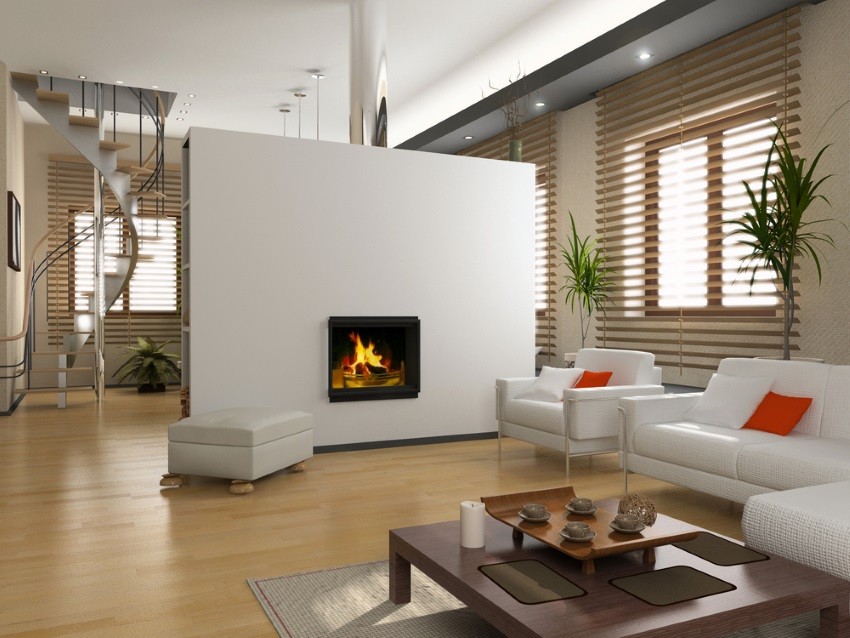 The sculptural fireplace below is a stunner! Also of interest in this space: a textured rug and a tall plant in a container that appears to be part planter and part basket. [from AgentAve.net]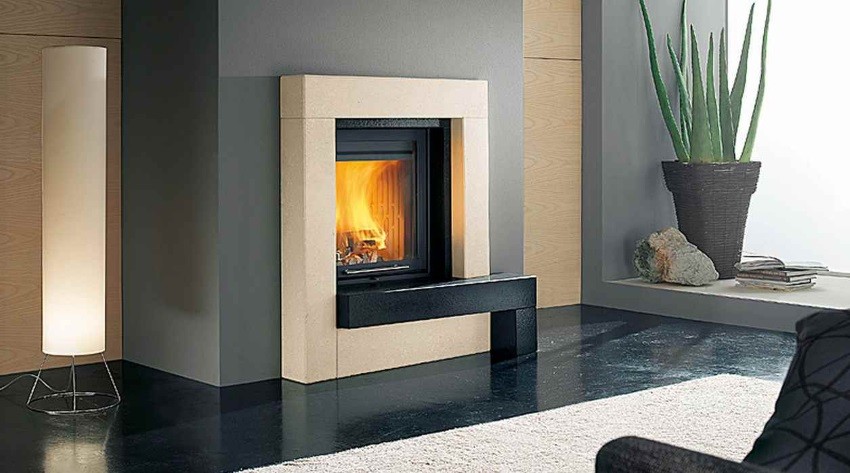 Ample Seating
If you have a fireplace, why not make it the focal point of your space? Surrounding it with inviting seating is one way to go, especially if you add extra pillows and throws for the chilly months ahead. In addition to the gorgeous marble fireplace, the room below sports a backless sofa, a sectional sofa, and a coffee table that doubles as an ottoman. Because you just might want to put your feet up… [from Sarah Greenman via Houzz]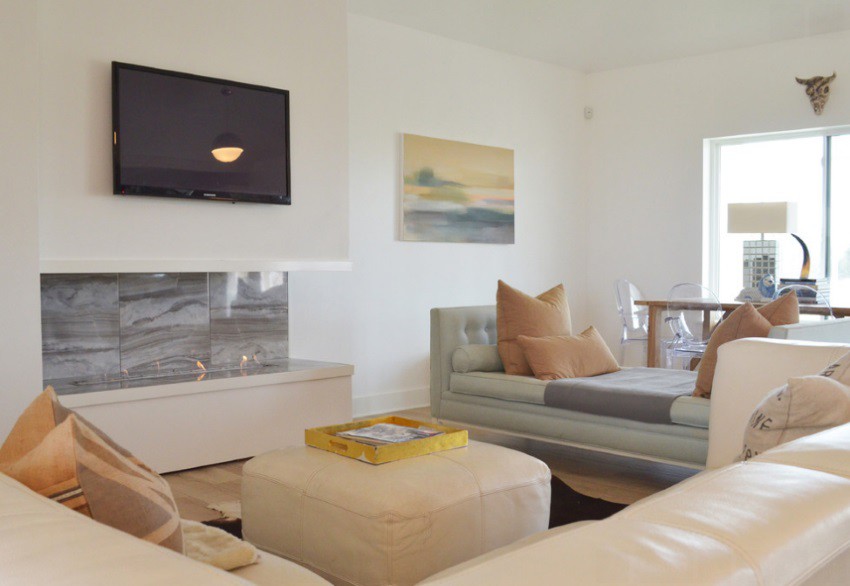 Sectional sofas are a popular choice for modern living rooms, especially when the living room boasts a cozy fireplace. And a stunning view! [from Fresh Palace]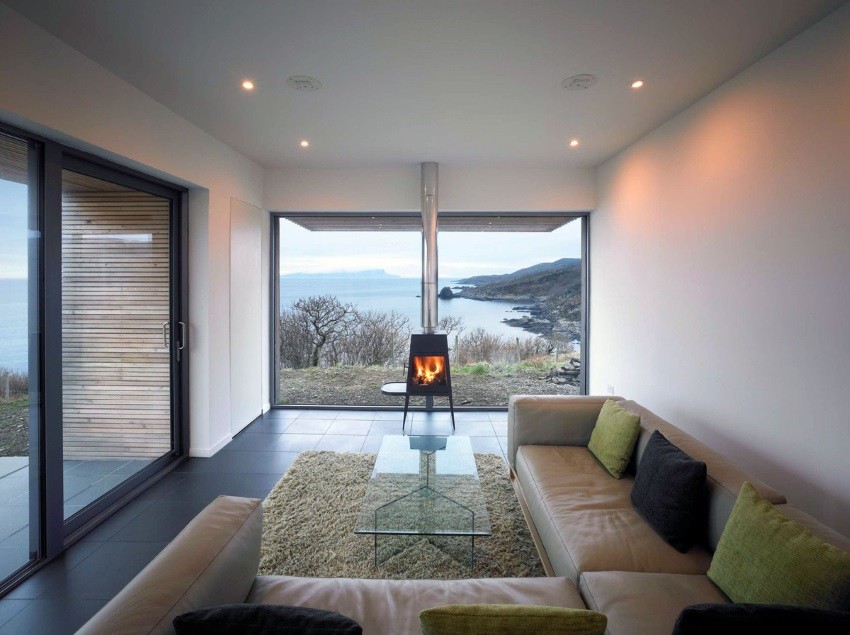 The brick fireplace in the next featured image truly anchors the space. So does the cushy sofa in a fetching shade of navy. Notice how this cozy room integrates a variety of elegant features without seeming overly formal. [from Lonny]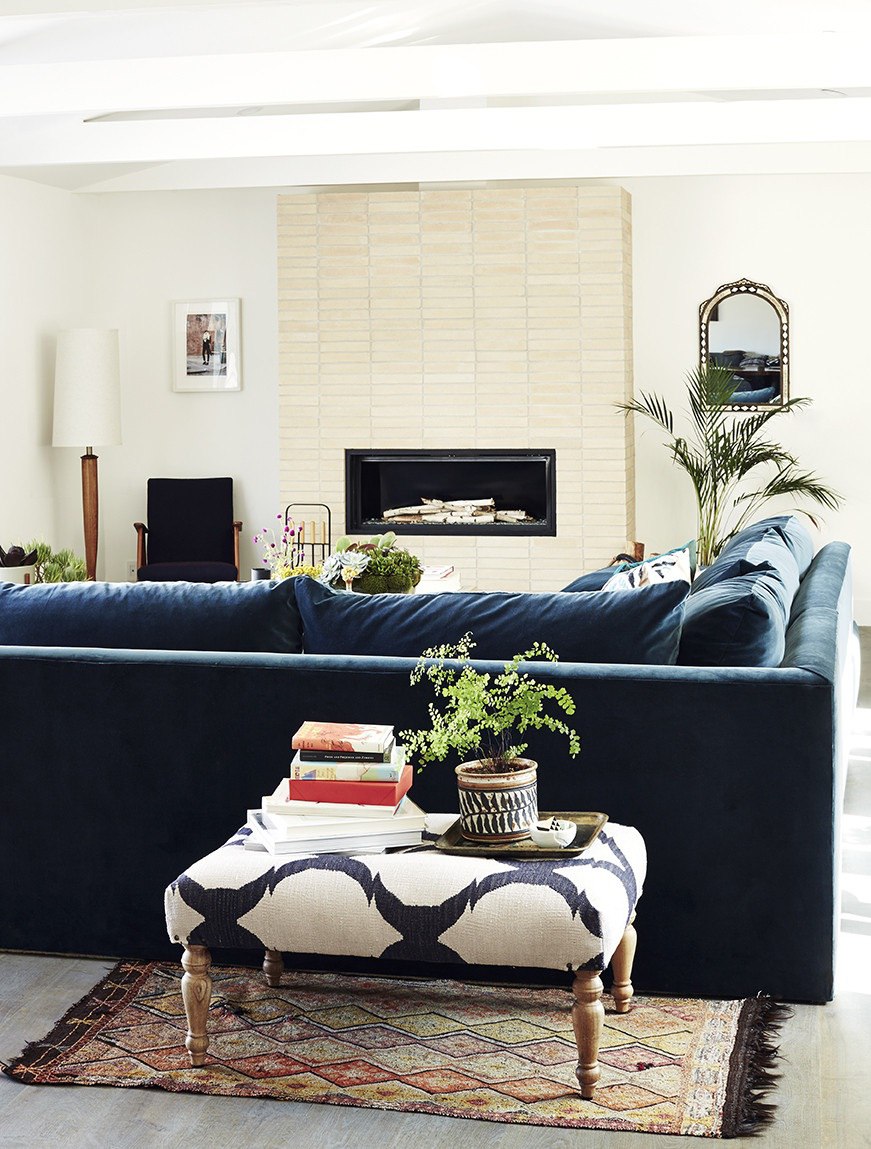 Warm Tones
One easy way to warm up your space for fall and winter is to fill it with warm tones. The glow of the fire below is heightened by an abundance of tan and blush hues. And how about that intriguing tropical plant arrangement?! [from Modern House Architects]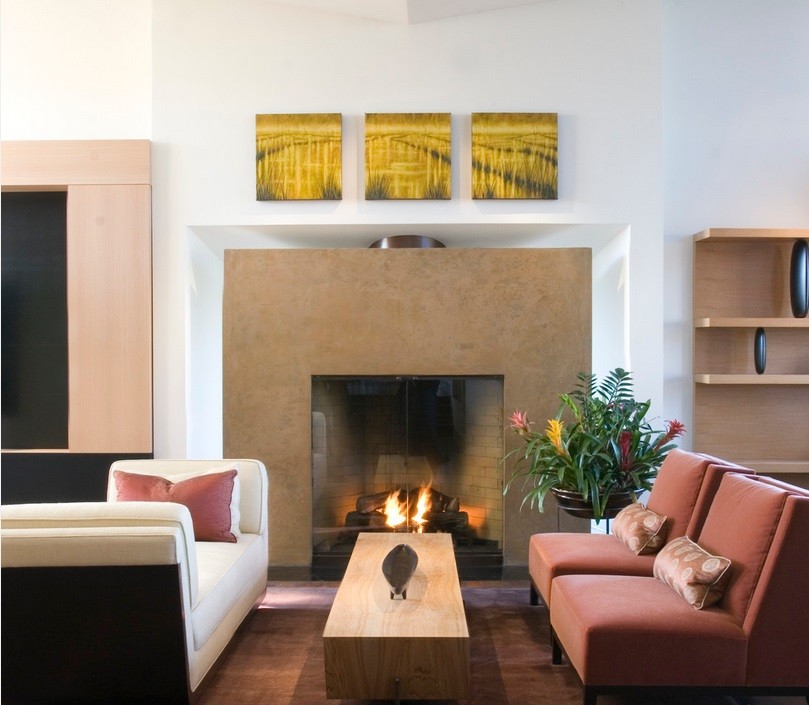 The next featured fireplace creates a vibe that is contemporary yet traditional, and this beautifully designed space is extra cozy, thanks to orange, tan and gold tones. A grey rug keeps things interesting by serving as a cool contrast. [from Lonny]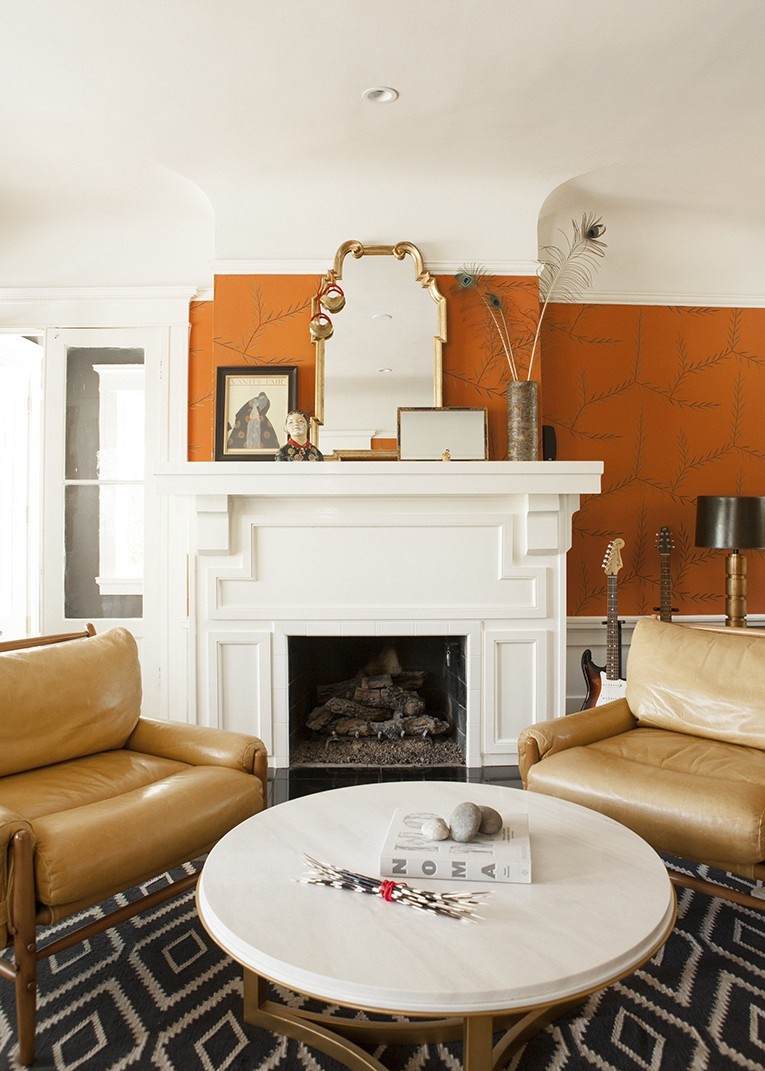 We end with an ultra-modern room that can't help but channel a retro feel, thanks to wooden paneling. Plus, this space combines all three of today's highlighted design features: texture, ample seating and plenty of warm tones. In case you're wondering, the fireplace backsplash is slate, the white trim is Meganite, and the wooden cabinetry is walnut. [from Altius Architecture Inc.]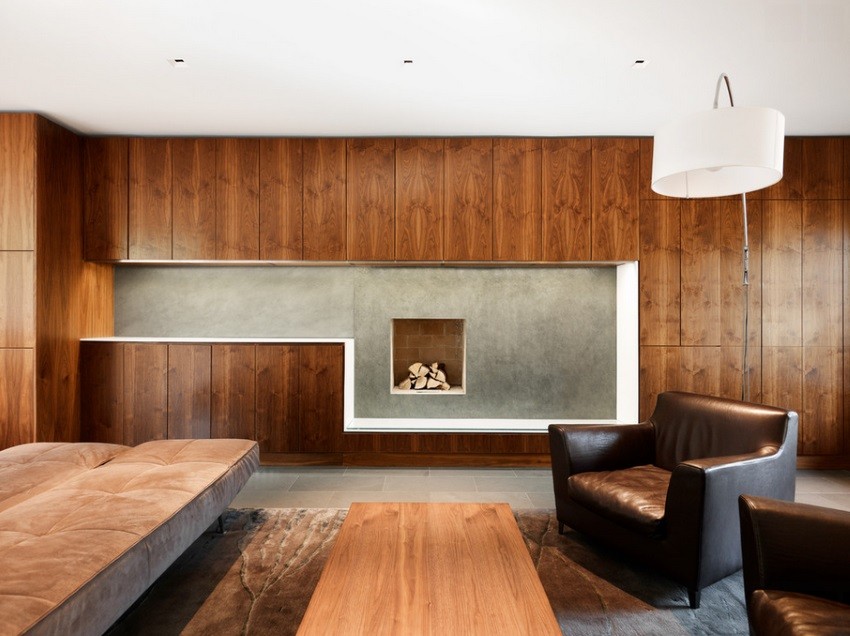 Did today's post help add some warmth to your fall day? Remember that even if your home doesn't feature a fireplace, there are still plenty of ways to create a cozy feel!