The world of interior design is indeed incomplete without brilliant artwork that adds a new and exciting dimension to any space it graces. Last week, we brought you the first part of Decoist's exclusive interview with artist Theresa Stirling, who offered a beautiful insight into the world of encaustic painting. Today, in the second part of the interview, she talks about her inspirations, favorite art piece, getting ahead in the real world as an artist and how to decorate your home with art.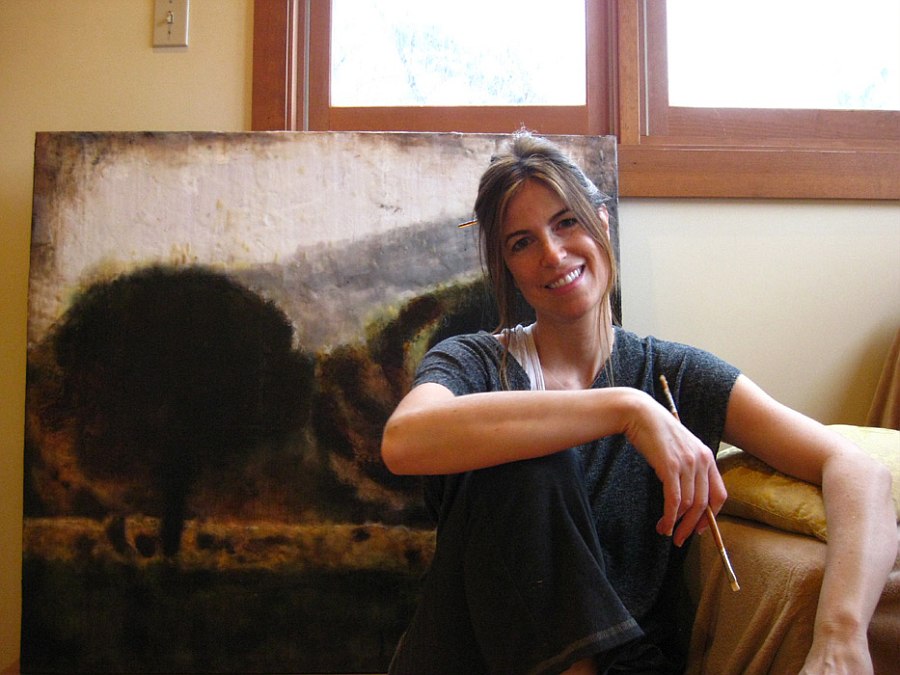 D: Do you believe nature offers you the best inspiration? Have you ever considered iconic city skylines (like NYC) or monuments or other inspirations for your work?
TS: I do believe nature offers me the best inspiration in a full-circle kind of way. Rachel Carson's quote comes to mind, "Those who contemplate the beauty of the earth find reserves of strength that will endure as long as life lasts." After a fairly rural upbringing, there was a time, in my early 20's, living in a big city and working high up in a skyscraper, where that type of urban landscape really ignited me. Since that time, I have returned to living in a more agrarian community, where the deliberate and slow-life is valued and revered. I tend to immerse myself in the bosom of the mountains, swim in chilly waterfalls, and rub pine needles between my fingers, inhaling that fragrance, whenever possible.
Nature, for me, is a wellspring of renewal, energy, and lends limitless ideas from which to paint. I am constantly amazed at wood and the nuances. The life of trees standing tall and reaching up; old, wise, living, breathing, quiet beings. The durability of oyster shells, weathering every tide, storm, and relentless salt water with no compromise to structural integrity. The hexagonal arrangement and elegant layout of beehives, over and over for centuries, renders me speechless. I am both delighted and astounded that there is no limit to where I can take photo-encaustics in my art practice.
Today, I have real confidence and flexibility with the range of images I will take on. I do feel nature is at my most basal level of doing what I love; what grounds me most, but does not necessarily limit my breadth on where this can go. The beauty and subject matter with nature seems endless. I feel I can better contemplate things in the country, surrounded by the artistry of Mother Nature.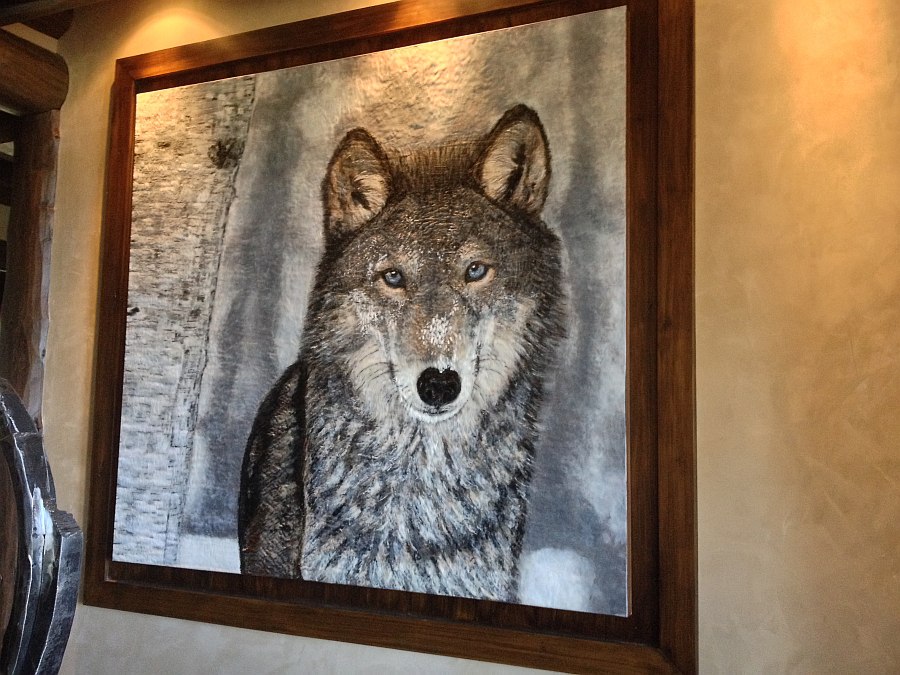 D: Your style seems not just rustic, but the images seem to exude a sense of nostalgia; like an attempt to capture a fleeting moment in time and preserve it carefully. Would you describe it the same way? (If I have got it wrong, please feel free to disagree)
TS: I love that, thank you for the compliment! Creating a sense of nostalgia could be a good long-standing goal. My dad used to say, "Our greatest pain is in our memory." If that's true, then the corollary might be "your greatest pleasures are in your memory." I do find my stare is held a bit longer, with a piece, if it is a fleeting moment, such as thundering horses coming over the hilltop at full speed, or wheat spires waving in the wind. I do go to great lengths to preserve it carefully, and there are no shortcuts with encaustics. It is a proverbial labor of love. Each brushstroke must be fused with a blowtorch in order to adhere to the layer below.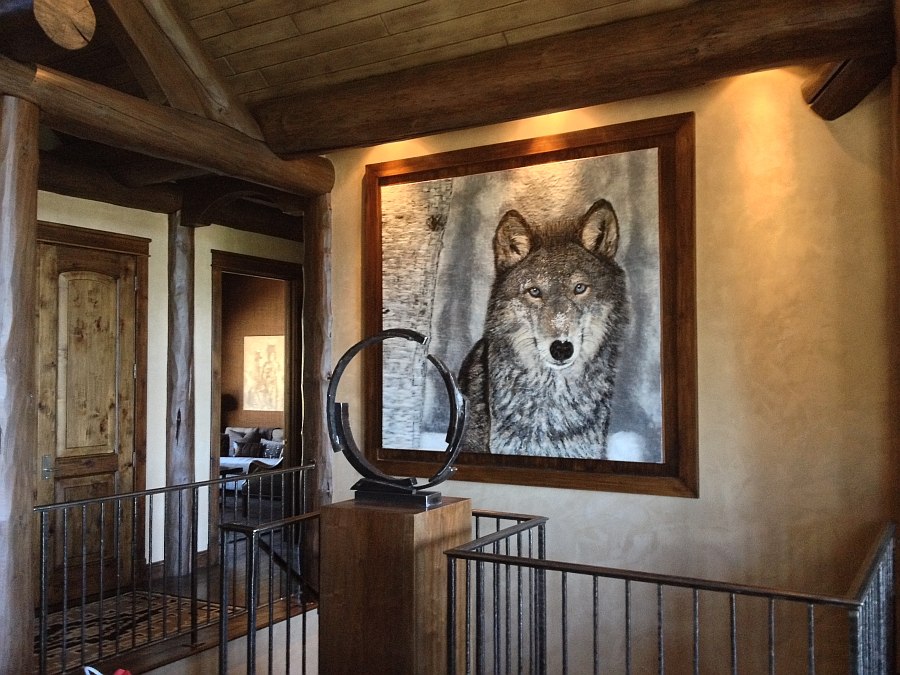 I have certainly focused my style as refined-rustic, in a sense. Elegant, with a rustic feel you could say. It is tactile, shows surface texture, and is built up of many, many layers over a photographic image. The image guides me for the first 10 or so layers and then it is submerged. The process becomes a free-form, painterly approach to what is underneath. That is where the magic happens and time seems to literally stand still when I am creating in that part of the piece.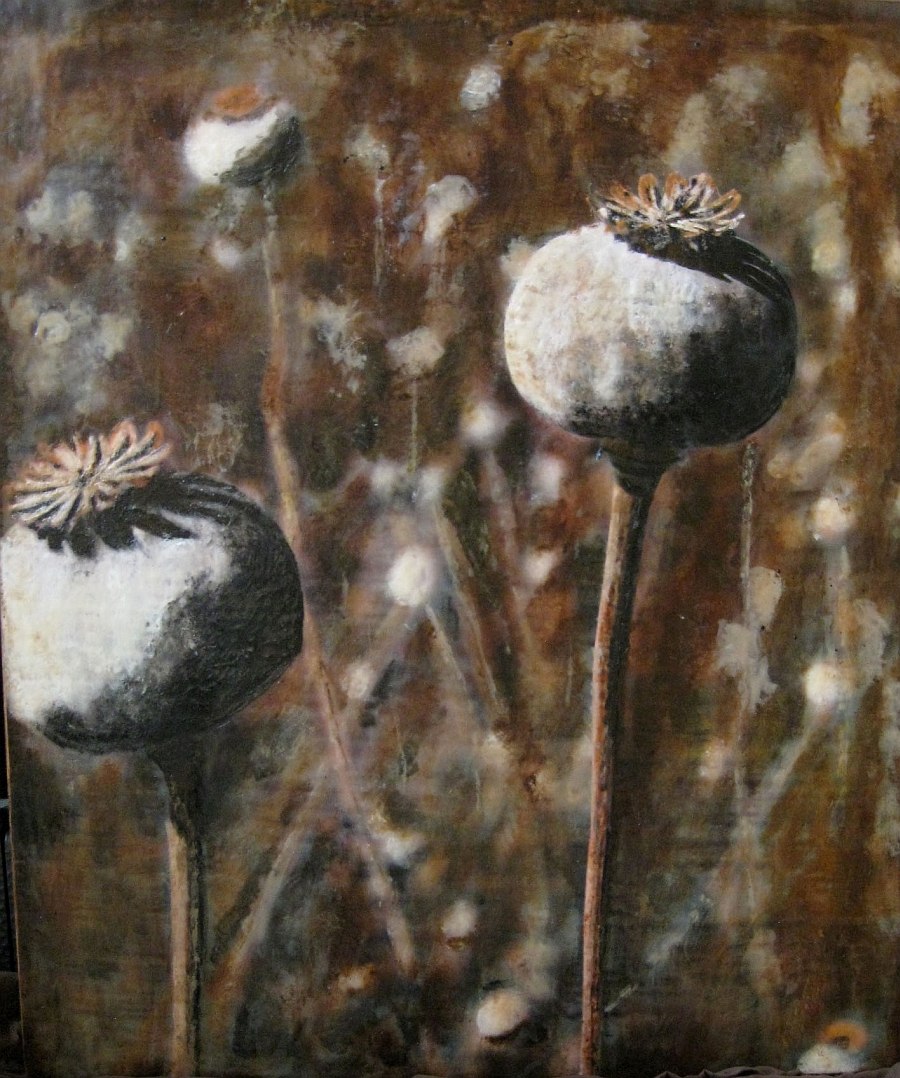 I certainly have an appreciation for abstract art, especially pieces that pull me in with surface interest and texture. I wouldn't mind toggling between nature-inspired and abstract pieces along the way. I also plan to do a collection of dreamy botanicals soon. I truly enjoy working in layers, not unlike how I like to cook or do landscaping. I may even do a whole riff off the food-styling industry and capture some fabulous still life imagery that I swoon over when rolling through my Instagram feed or Pinterest (all good, guilty pleasures)!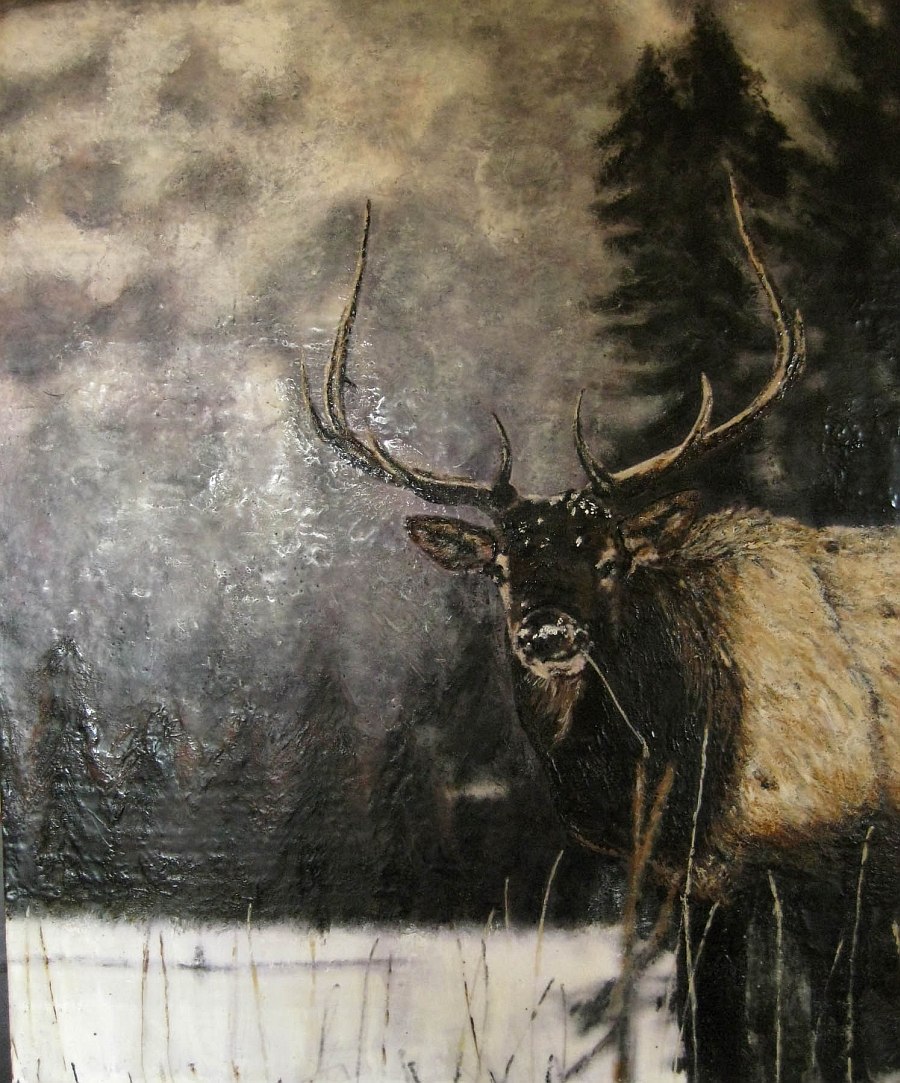 D: Art and interior design: How would you describe the interaction between the two and what do you feel is the ideal way to decorate with art?
TS: Art is the perfect way to complement interior design. It can prop it up, deepen the style and it can be the soul of a place. For example, I have seen, over and over, where a contemporary piece of art highlights a traditional-style space. Just the same, I enjoy seeing a rustic work of art harness a real contemporary or modern interior. Modern-rustic is a terrific blend; think old farmhouse gets a redo, lots of wood and old beams, yet the art is a splash of more contemporary, reminding the viewer "things have really evolved."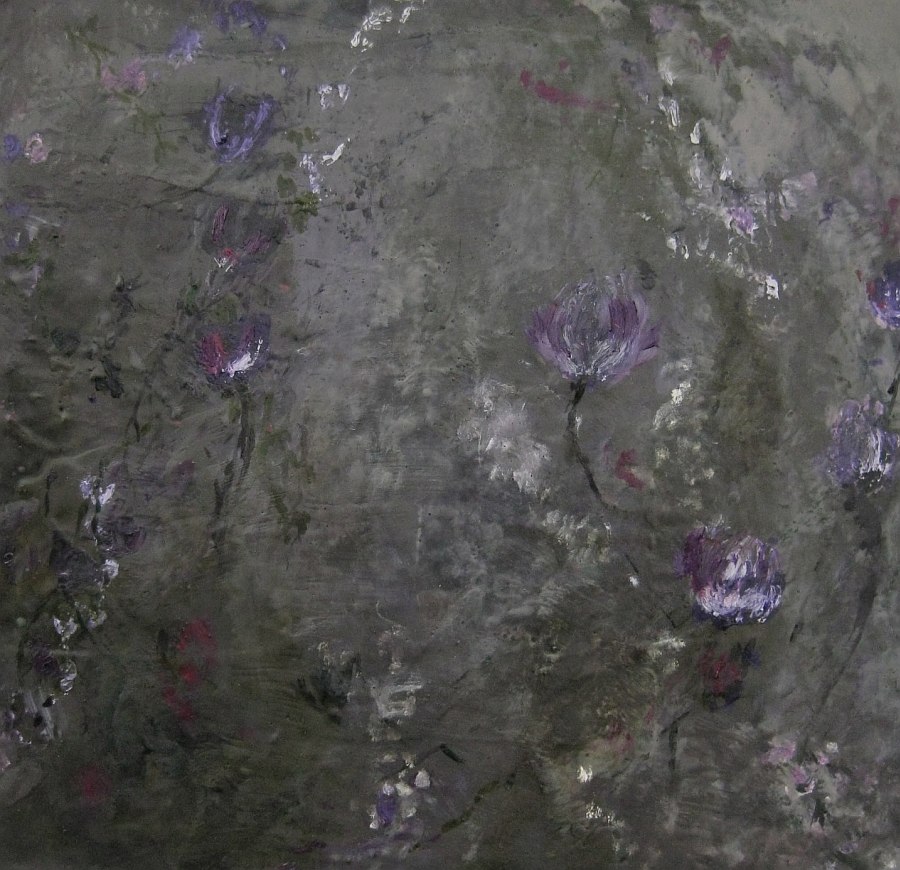 It seems the best way to decorate with art is to make choices that resonate with you. Honest art choices that might suggest your personal tastes, interests, likes or lifestyle versus choosing art for what guests may really like. Let that be a secondary reason. Primary reason, in my opinion, is that it engages you on some or many levels. Maybe it is a color cord, a texture love, it might touch on a poignant memory, or simply soothes you to the very core, day in and day out.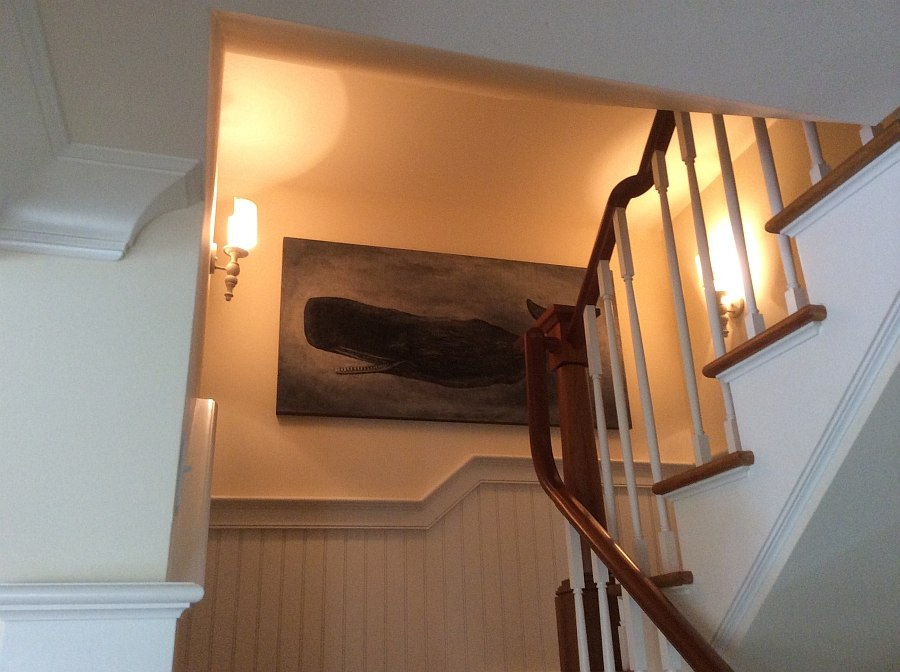 I have the unique privilege to come into people's homes or work spaces and to collaborate with them on where to take a custom piece. We are always considering the interiors very carefully, and looking at the art as the capstone piece. Anytime a collector and I work closely to develop custom art, I like the art piece to complement the whole and to evolve with that household or space. I do admire people who choose their art to bring the interiors alive, maybe going a step beyond complementing.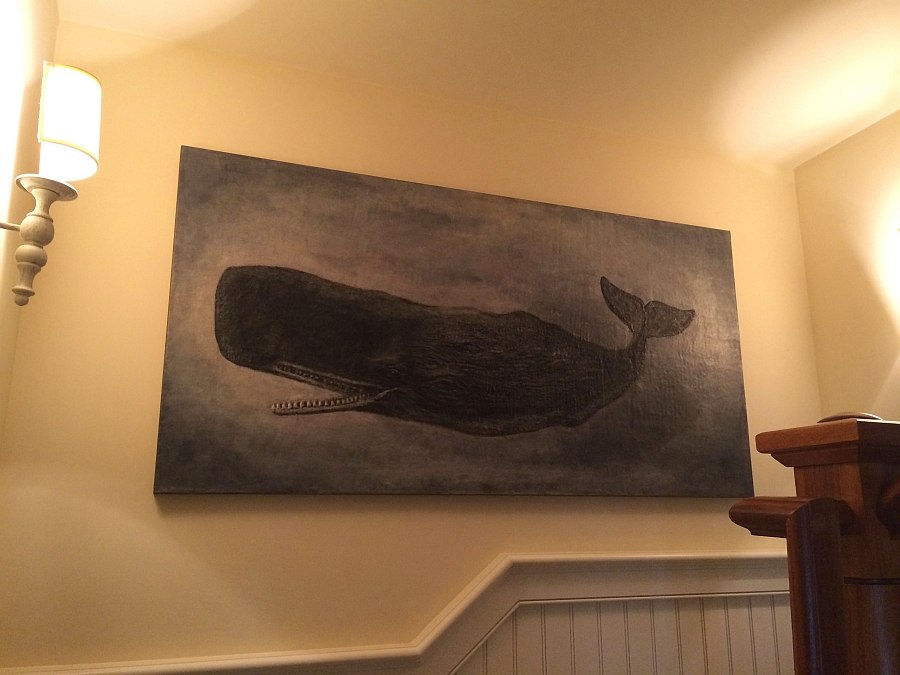 D: We know that no artist loves this question: But if you had to pick one piece as your best work or most cherished one, which would it be and why?
TS: A good mother never has any favorites you know (laughingly)… but if I chose my best piece, it might be a commissioned 6-foot poppy pods scene. It was a field of giant, rounded poppy pods, many shades of rusts, browns and creams, for a landmark mid-century modern home above the hills of Portland, Oregon. Rustic, sculptural in places, great plays on the poppy crowns with dark, rich colors and I gave myself license to go freeform, outside the lines a bit. I put my whole self into the painting, heart and soul. A lovely handful of pods that faded out into the sort of "bokeh" or background of the piece, so I could really make the foreground stand on its own proudly. The depth of the piece turned out well.
The couple had it off-set over their fireplace mantel. I absolutely loved their placement and the effect. The space and the art, though very different in style, worked beautifully together. The pods looked alive with dimension. I tend to look for a focal point in the images but also one where there are out-of-focus areas in either the foreground or background. Wax is lovely for creating that dream-like effect yet suggesting something is still there.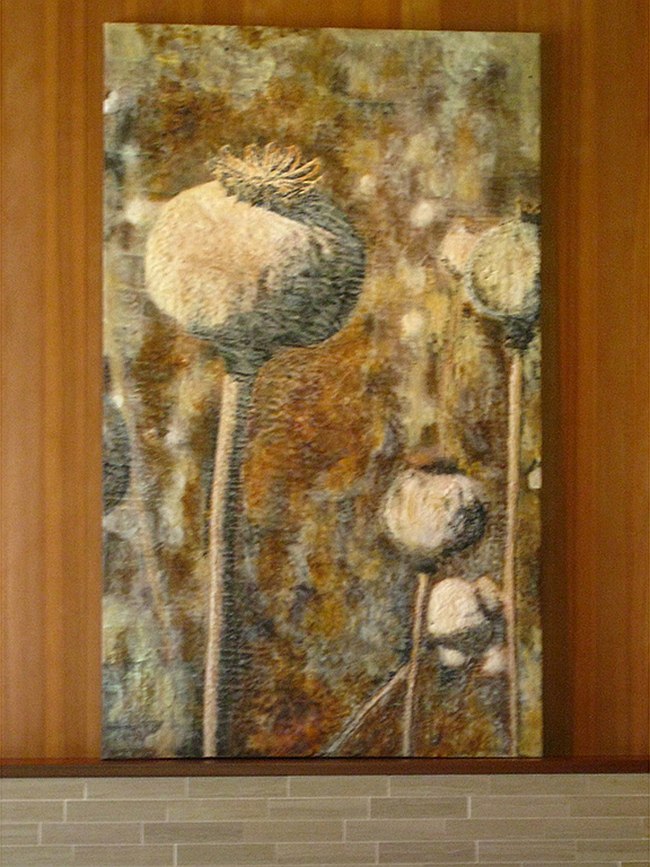 D: For all those looking to take up design, decorating and even art in a more serious fashion after years in another (often less creative) field, what would your advice be? Were there any hurdles that you faced while making the transition?
TS: That is a great question. In short, do it. Try and have the courage to go beyond what the heart can see. The long answer is make it a stepwise transition, if you know the stirrings are there and real. In my case, I found myself absolutely energized and thrilled to be painting or creating in my off-work hours, such that it fueled my energies for my day job and made me content to the core. That is a real feeling. A stepwise transition might mean fitting in the creative time on evenings, mornings, weekends, and getting your work out there somehow.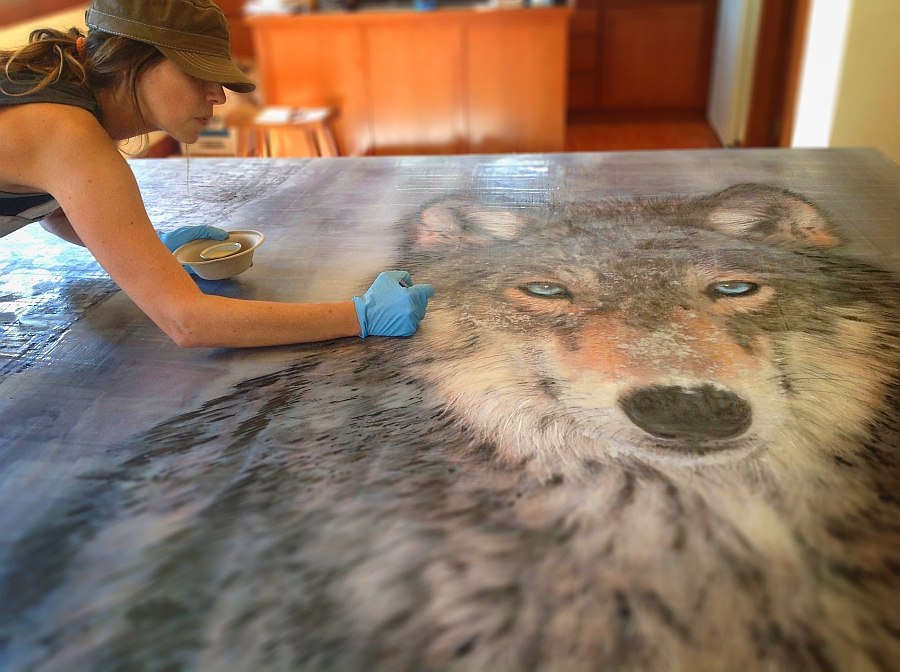 I got many rejections, in person and in writing. I began to believe what they were saying, for a while, and the hurt went in deeply. I spent plenty of time finding my style, "my voice" with my approach to art and creating. I also got very focused with what I envisioned for my local success and worked backwards with a plan.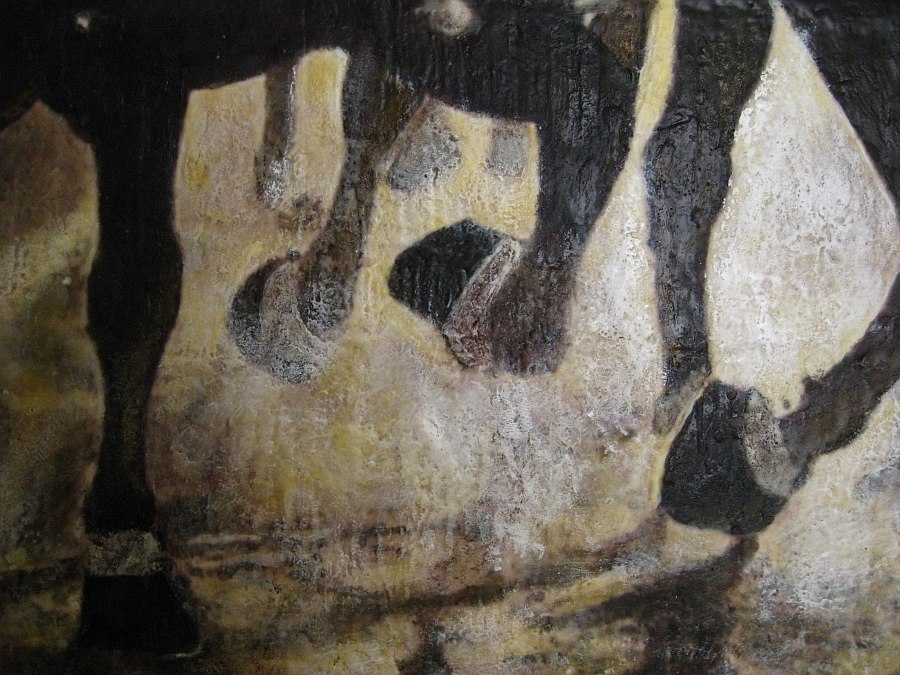 Have a vision of where you would like to take it and then work backward on your road-map on how you are going to get there. I was sure to leave my ego behind and humbly cherish all coveted opportunities. Treat it as you would any other business start-up. Take good care to be responsive to others in a timely way; be thorough with any details pertaining to the inventory or revenue tracking pieces; and I always try to under-promise and over-deliver on each and every art collection or commission project.
It has also been to my benefit to hire an art-coordinator, Crista Dougherty, to help me with business/computer-related tasks. My time is better spent on studio practice and production, not battling for hours with photo software or online print layouts. She (Crista) helps me broaden my outreach, which in turn, expands my business foundation. Outreach is so very important.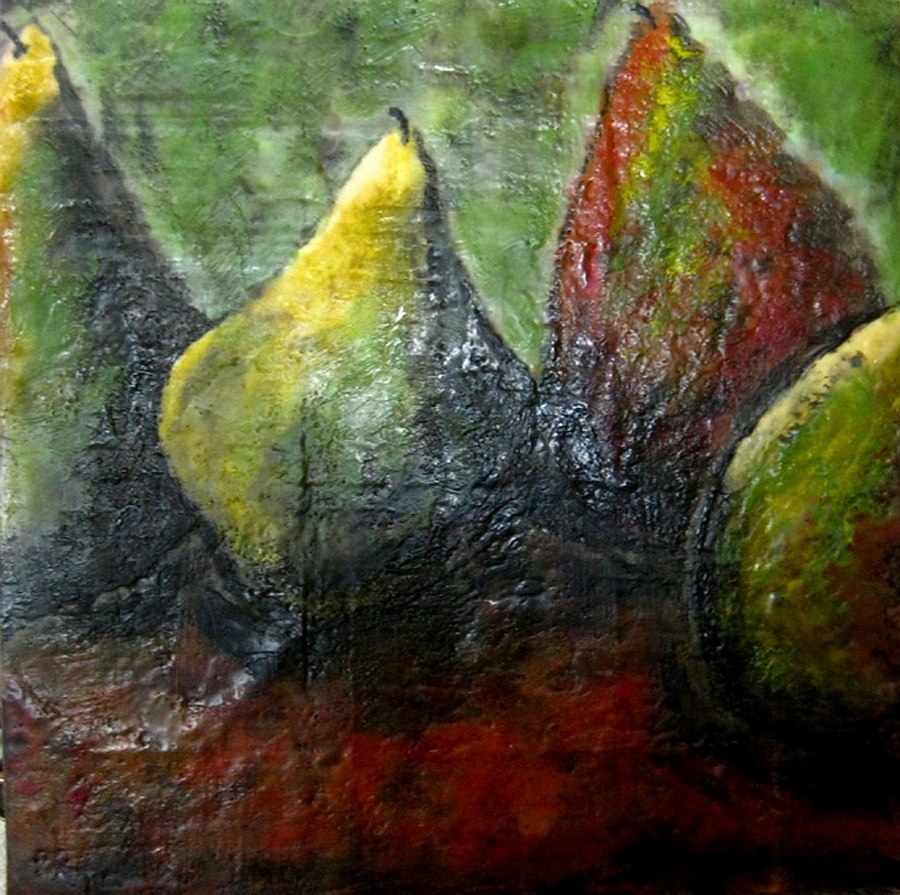 D: Finally, since we are all about interior decorating, could you give our readers a few basic pointers on how to go about looking for artwork when they are trying to decorate their homes?
TS: Make choices that resonate with you. Maybe something that arrests you and makes you study it longer, or a feeling you get immediately when you see a piece in the context of where you live. Pay attention to those impulses. Be mindful of your home's overall flow; disjointed spaces can quickly become distracting if there isn't a flow to the overall aesthetic. I have always loved interiors, and am finding a personal draw to anything that creates the feeling of sanctuary: your home and your space as your sanctuary. With that in mind, choosing pieces that complement your interior style seems best, yet sometimes that takes an objective outsider's opinion. Others feel art should be a bold statement and lead the rest of the space.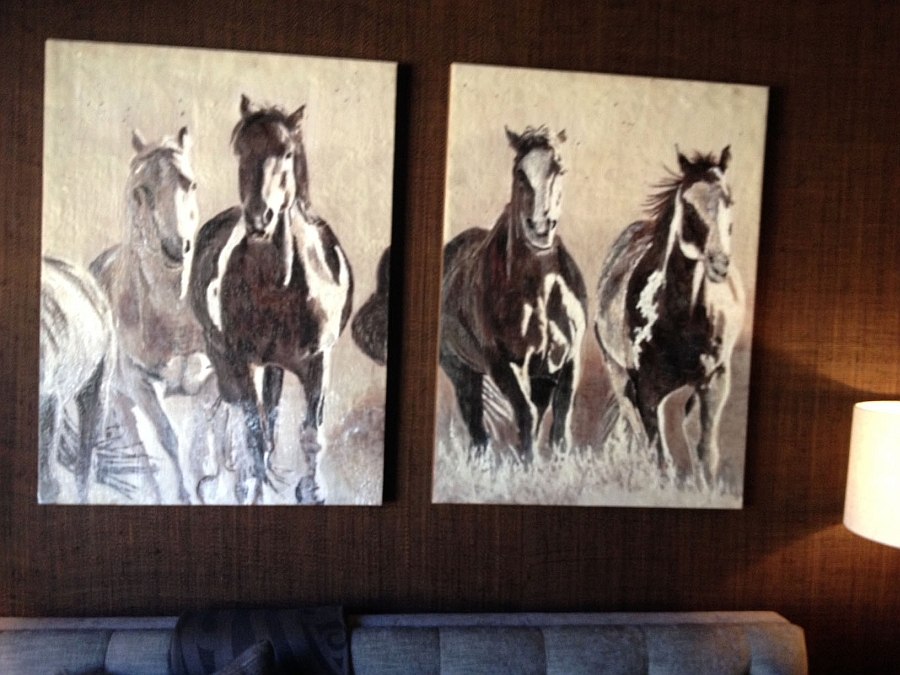 In addition, lighting is also vital and can make all the difference in how art shows in your own space. Up-lighting can be a nice alternative, but art-lighting really takes it from wall-piece to statement piece, I believe. Interiors are something that I can dream into forever. Contrasting textures and softening lines can be nice in any space. If a space has too many straight lines, or angles, it can become a bit austere. Heavy drapes, modern wall tapestries, washed linen are all the sorts of things that might work well with 2-D art on the walls.
Our Pacific Northwest home is Mediterranean-inspired, and the interiors have an essence that reveres the old-world, big, dark, beefy beams, concrete counters, and reclaimed wood plank floors, yet it is awash with natural light and soothing, neutral colors. It feels natural as a whole, and that essence seems to be a real equalizer for anyone who comes into the home. I find subtracting from a space is an important design element; otherwise it becomes a vortex of accumulations.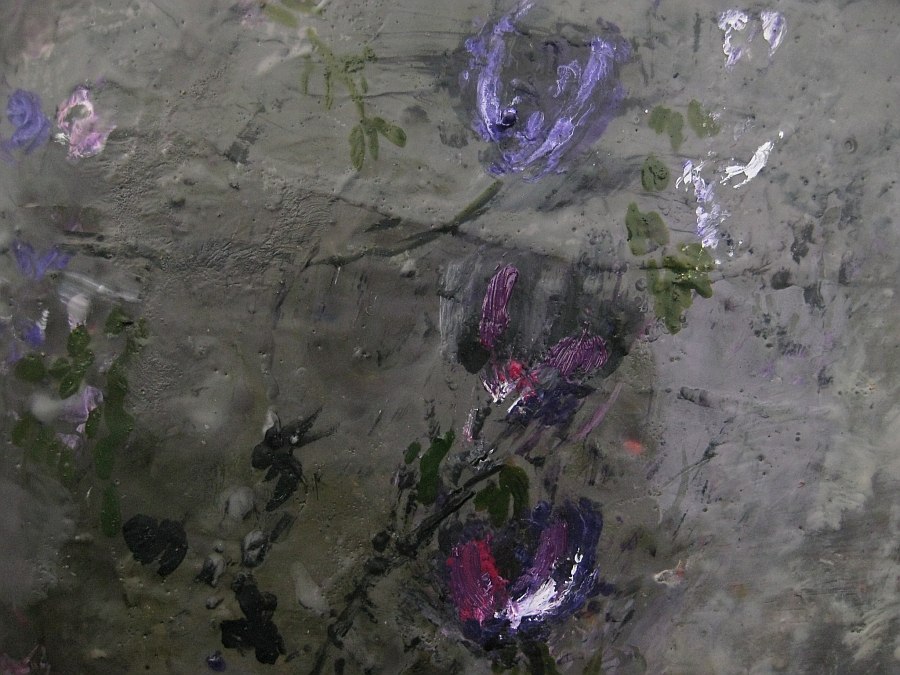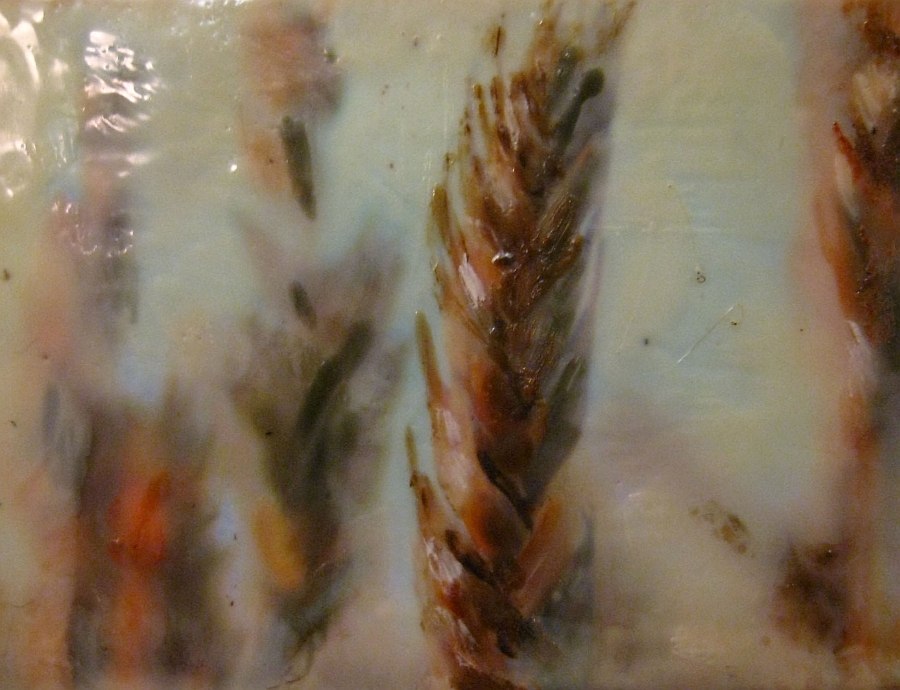 We thank both Theresa and Crista for making this interview possible and also the beautiful images of Theresa's work. We hope to see her gorgeous art pieces grace many more homes in the years ahead!