It's official–fall is here! Crisp mornings and chilly evenings are making an appearance, along with the promise of beautiful foliage in the coming weeks. I don't know about you, but fall energizes me more than it makes me want to cocoon. Yet even I can't help but relish a rainy fall afternoon at home (or a night on the couch with a hot chocolate). In that spirit, today I present 10 cozy rooms that celebrate texture. Haven't you noticed all of the sheepskin rugs and faux fur throws offered this season?! Below you will find a collection of enticing spaces filled with textural details…
Cozy Bedrooms
If you don't feel like getting out of bed most fall mornings, there's a good chance the decor of your room is just right! But even the comfiest of bedrooms can use an extra dash of texture. This dreamy space from CB2 features rich hues, as well as an abundance of textural surfaces, including flowers, bedding, and an Icelandic Sheepskin Throw (used here as a rug):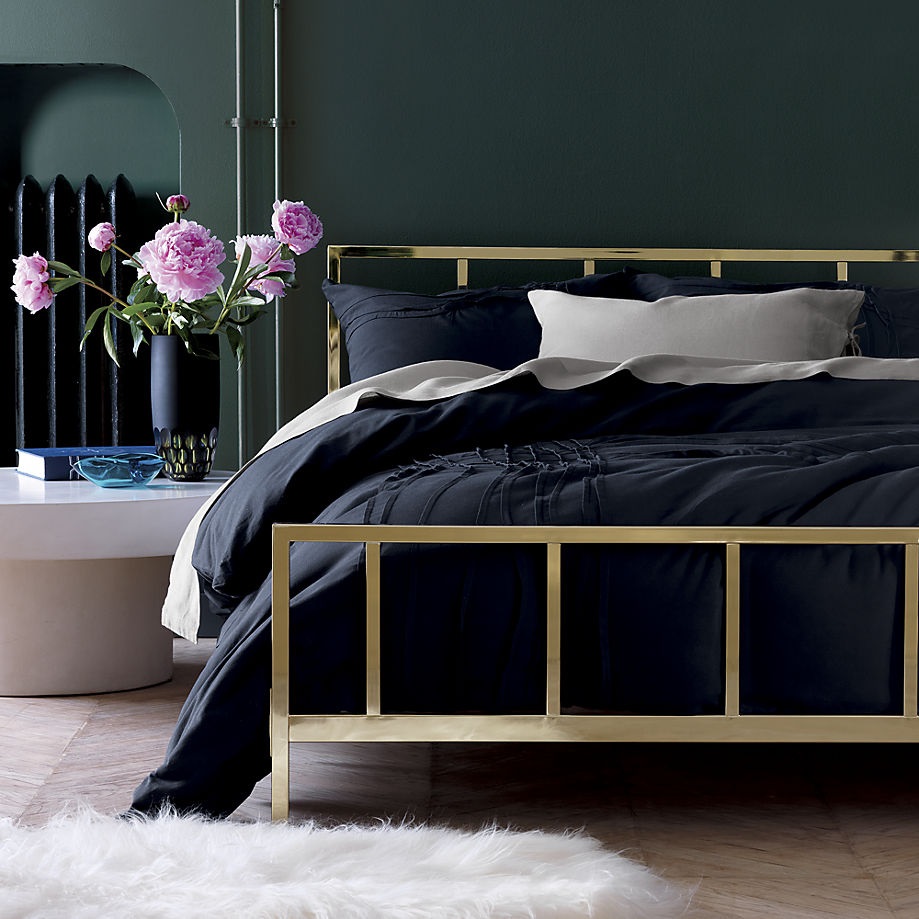 While I began with a deep-toned space, many of today's beautifully designed textural rooms feature creamy tones and other neutrals. After all, there's no better way to add interest to an all-neutral space than with an array of textures! Recycled timbers, gray accents and a large cushy rug highlight this bedroom from Capital Building. [photo by Sue Murray]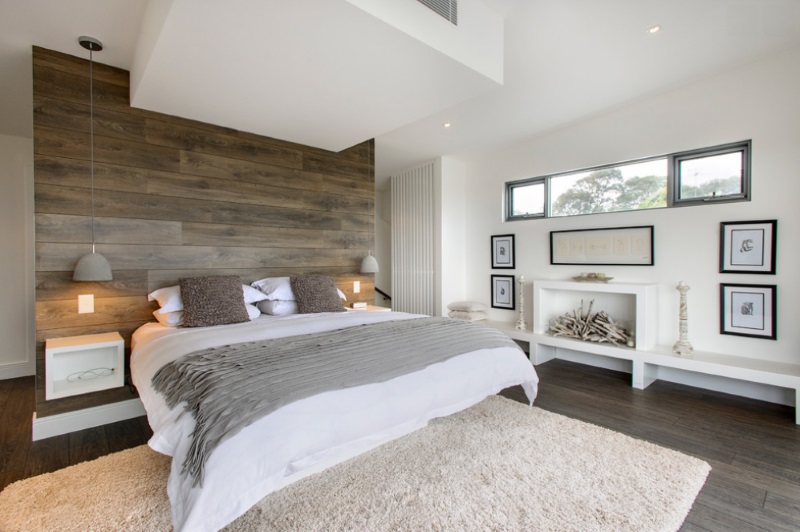 Don't forget about the ability of plants to add texture to a cozy space. Not to mention, when a room is largely filled with neutrals, a dash of greenery is a welcome burst of color. The space below is anchored by the Honeycomb Textured Wool Rug in Ivory from West Elm: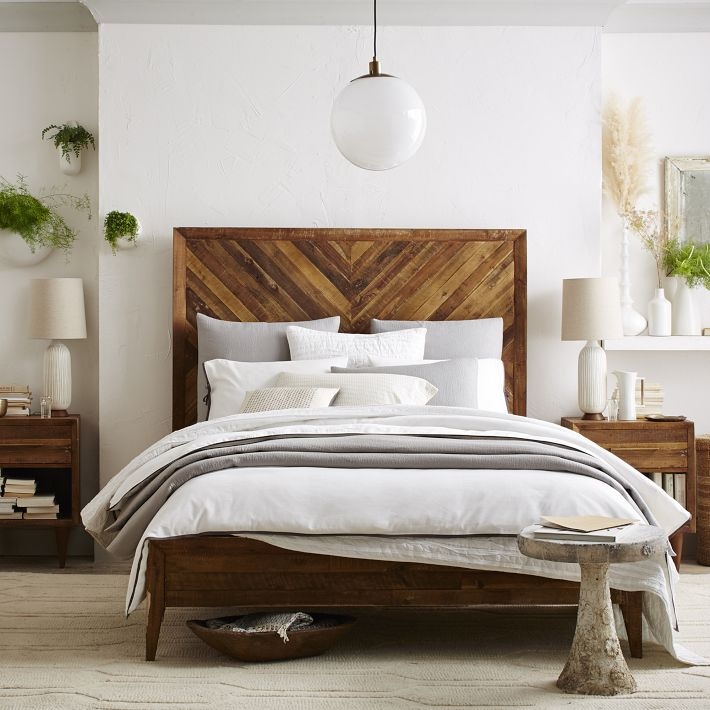 Floor-to-ceiling draperies and bedside pendant lights give this next featured bedroom a lofty feel. Yet the space is definitely cozy, thanks to upholstered wall panels, a textured rug and plenty of comfy bedding. [photo by Tria Giovan via Jarlath Mellett]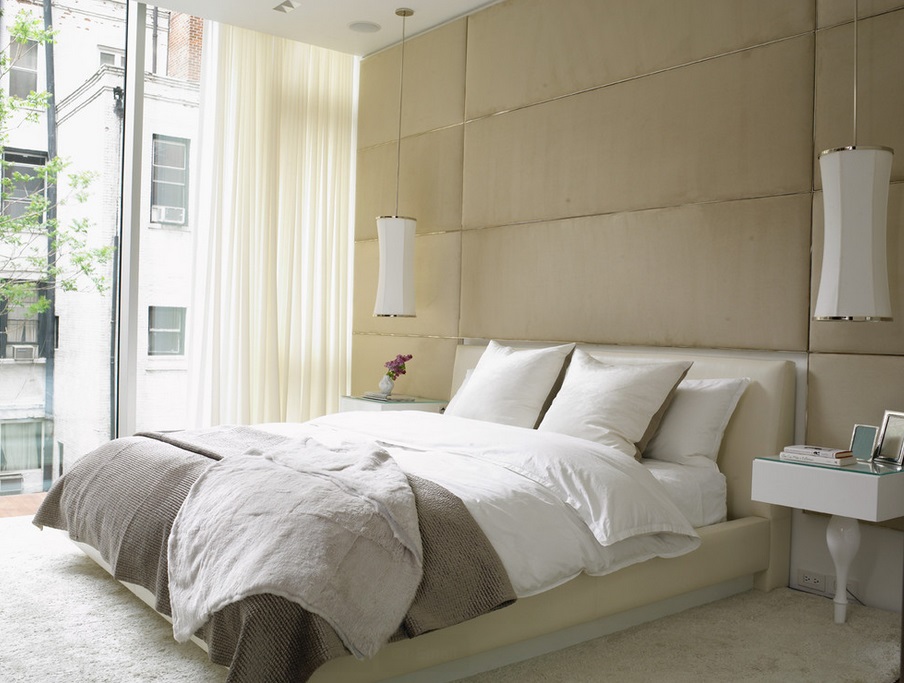 Warm, Inviting Living Spaces
Next we showcase a collection of living areas that are undeniably inviting. Warm tones permeate this living room by Darren Palmer Design Studio. Other cozy details: a textured rug, wall coverings and floor-to-ceiling draperies, all of which wrap this space in a blanket of earth tones.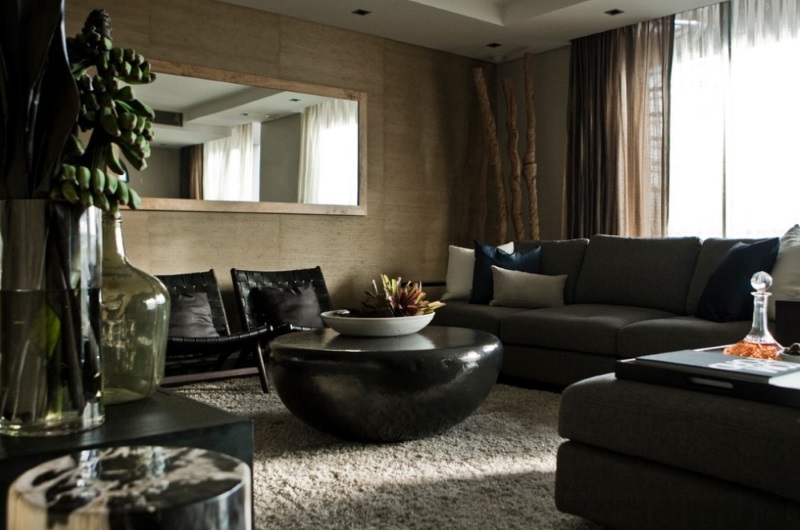 Can a room be cozy yet light and airy at the same time?! Of course! As we've seen, texture plays a big role in creating a cozy vibe. The breezy living room below is filled with comfy pillows, gauzy draperies, and intriguing succulent gardens. Once again, we see the textural quality of plants. [photo by Ashley Camper]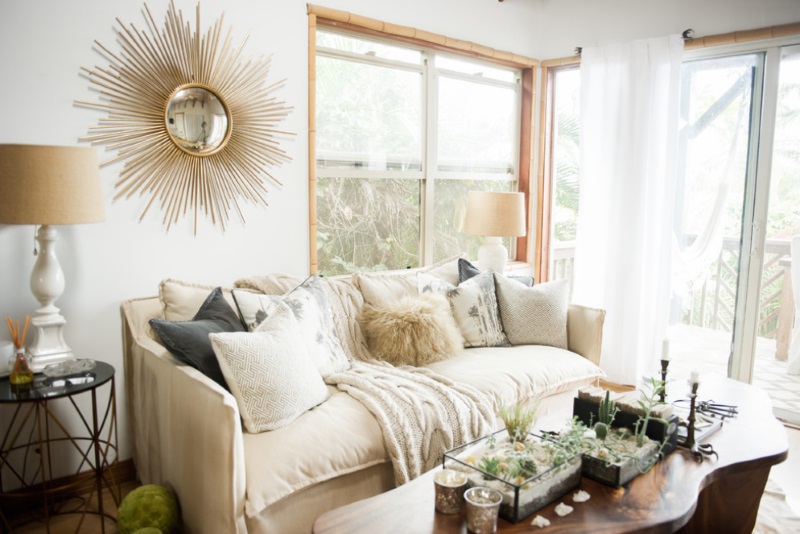 This living room by Thom Filicia is filled with rich, earthy hues and mixed patterns. As intriguing as it is inviting, the space is anchored by a round cushy rug: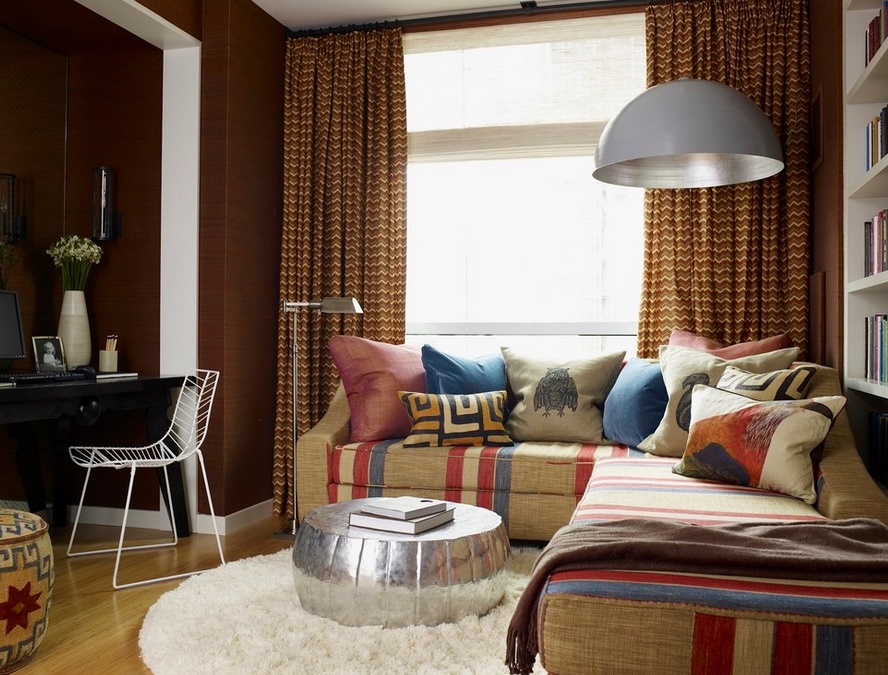 A Dash of Cozy in Unexpected Places
A cozy bedroom. A cozy living room. We're not surprised when these areas of the home usher in a cozy vibe. But a cozy kitchen?! Absolutely! This culinary space from The Cross Decor & Design featured plush bar stools, as well as globular pendant lights that help create a warm feel. And that textured stone wall on the right–perfection!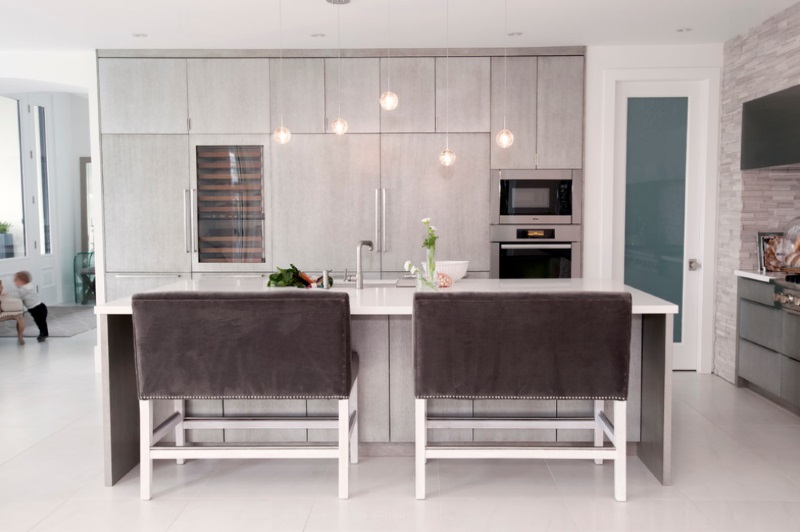 Yes, even a home office can be cozy. Especially if you carve out a nook where you can warm up with a blanket and a cup of tea while taking a break from your daily duties. The glow of pendant lighting overhead contributes to the cozy feel. [from CB2]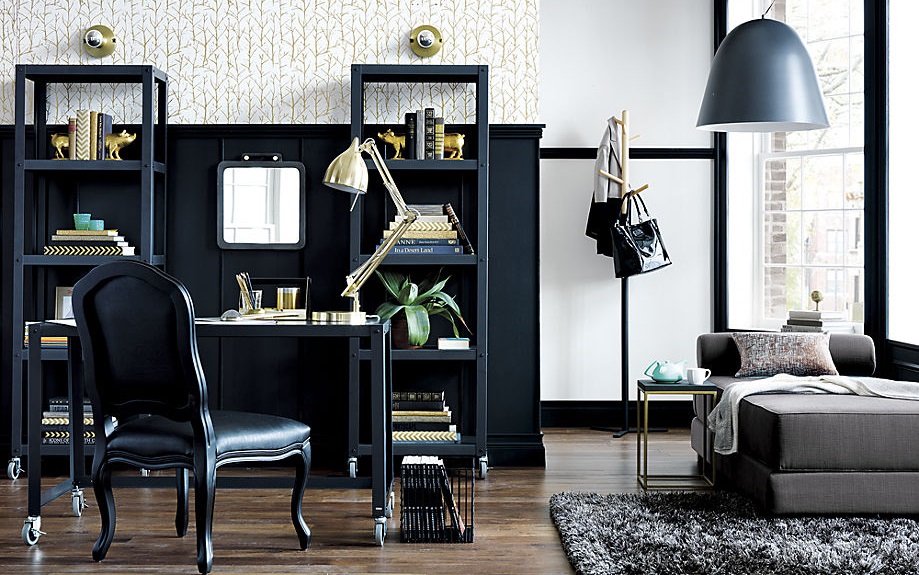 I know–this last photo is more of a vignette than a room, but it's there for a reason! To remind all of us that we have the power to make our spaces cozy. No major makeover is needed. Pick a corner, add a wool rug and drape a comfy throw over your favorite chair and you're set! Below we see the Faux Fur Striped Throw in Silver Gray from West Elm: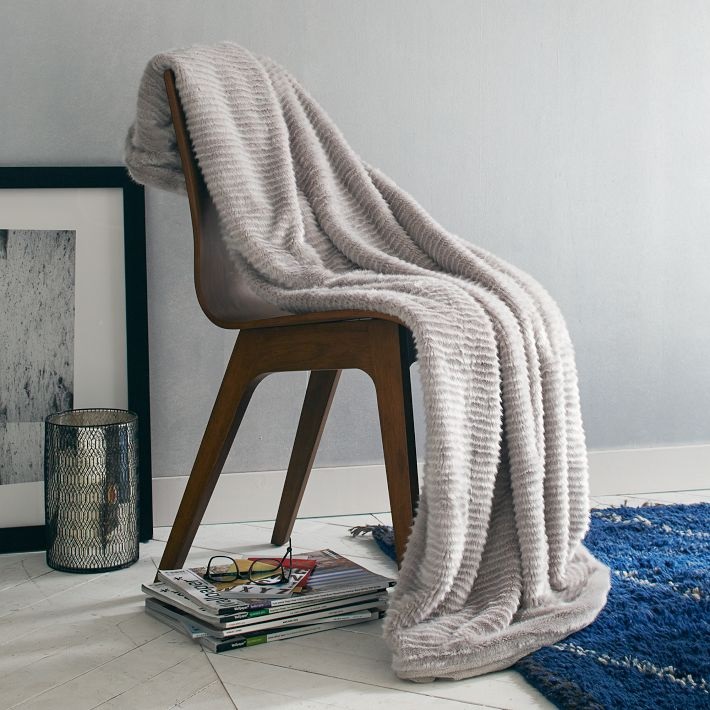 Did the roundup above make you want to take a nap on this cool fall day? Me too! Here's to a cozy autumn!