Is it chilly where you live? Do you wake up some mornings and spend countless moments trying to convince yourself to get out of bed and start the day? What if you could stay under the covers and admire the stunning ocean view outside? Today's waterfront escape isn't tropical in nature. We've featured oceanside rooms in a previous post, but today's spaces are all about cozy interiors that are perfect for curling up with a good book and watching the waves crash against the rocky shoreline during a rainstorm. Happy fall!…
Floor-to-Ceiling Windows
One common trait of bedrooms with an ocean view is the presence of floor-to-ceiling windows. Why not enjoy the scenery to the fullest? Another must for a room with a view of the rocky coastline? A fireplace! [from Fulcrum Structural Engineering]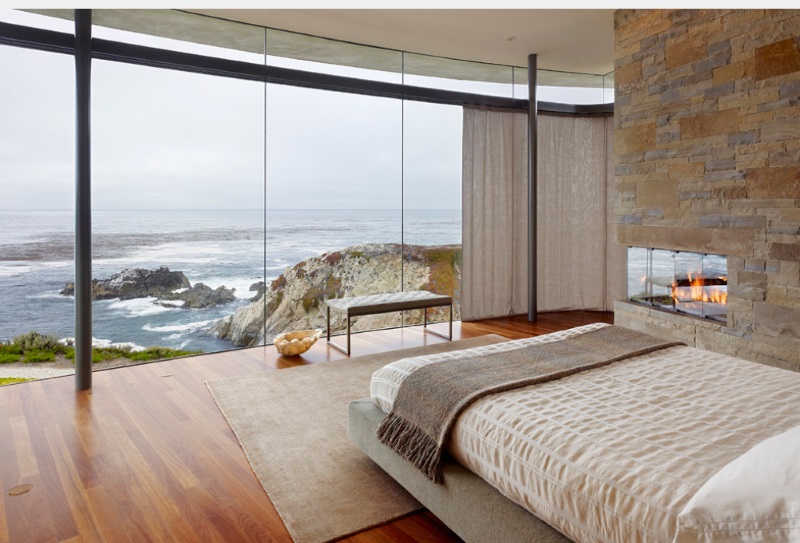 Some of the most stunning seaside rooms have corner windows that make the space appear as if it's jutting out into the landscape. This room may very well be! [photo by Joe Fletcher via Fougeron Architecture]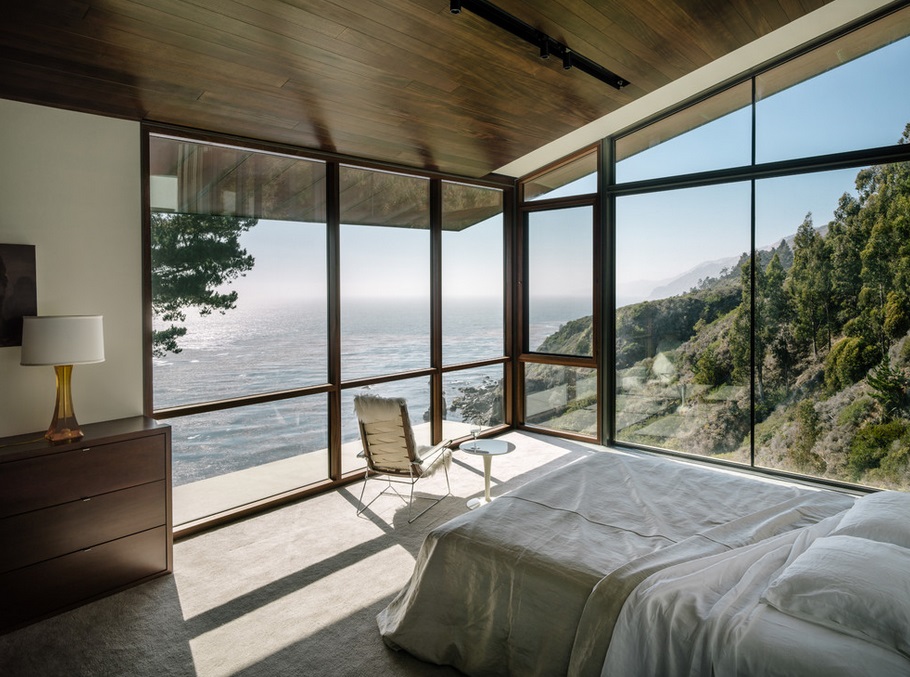 Here's a Santa Barbara bedroom with not one, but two corner windows and a fireplace! The decor is serene, but the real star of this space is its surroundings. Kudos to the designer for letting the scenery take center stage. [from Ciro Coelho Photography via Neumann Mendro Andrulaitis Architects]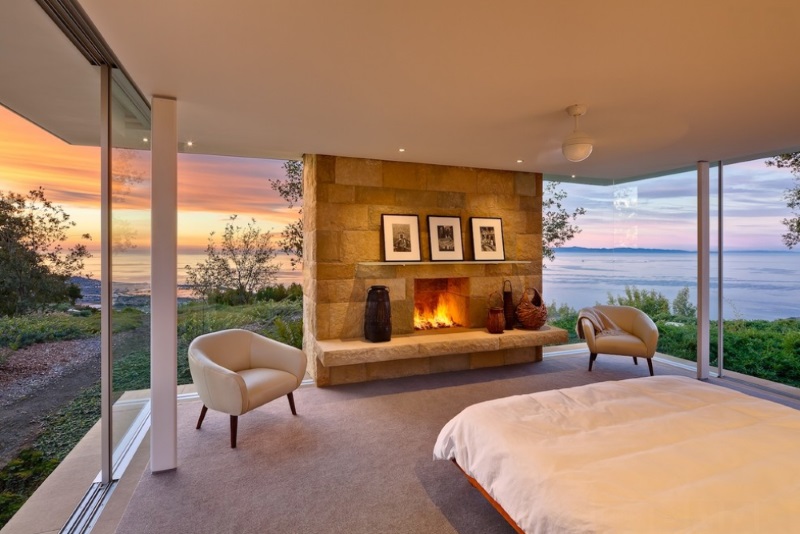 Sometimes the connection between the indoors and out is absoutely seamless, as in this long South African bedroom. Earth tones create a warm glow that beautifully complements the ocean view. [from Peerutin Architects]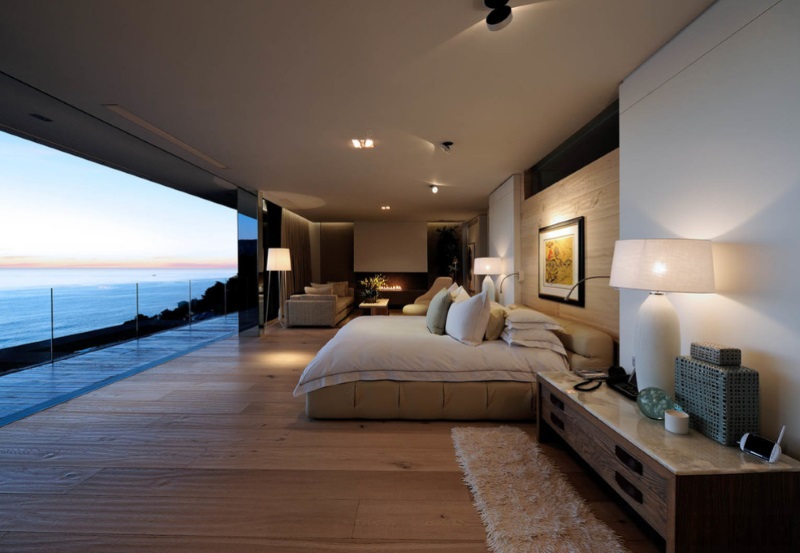 Keeping the decor simple is one way to draw attention to the ocean on the other side of the glass. But adding one unique, standout element can take your space to the next level. When floor-to-ceiling windows are involved and nature's backdrop is all-blue, the setting is just right for an unusual floral statement. This Rockledge Residence designed by Horst Architects was featured in a previous Decoist post. And we just had to feature it again!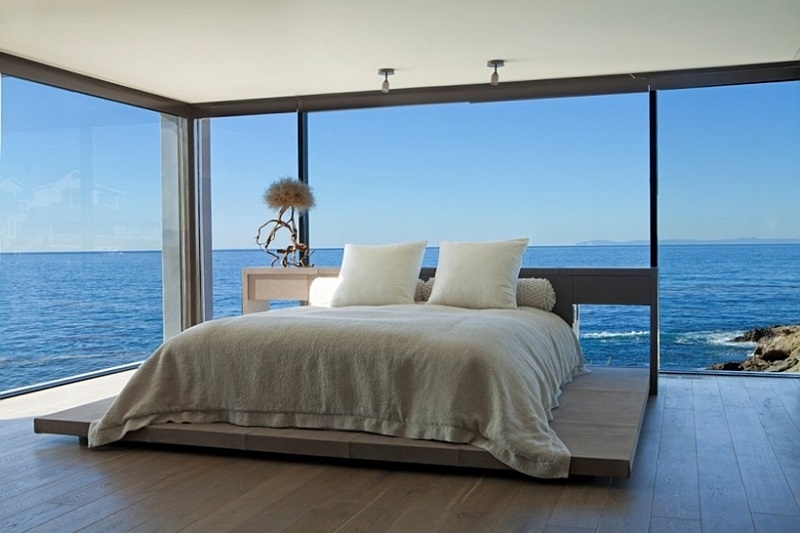 When trying to create a connection between your interior and nature, consider every feature, including the flooring. For example, this Sydney bedroom from T01 Architecture & Interiors merges carpet and gravel with a rich shade of gray. Man-made and natural materials combine to emphasize the rocky shoreline view: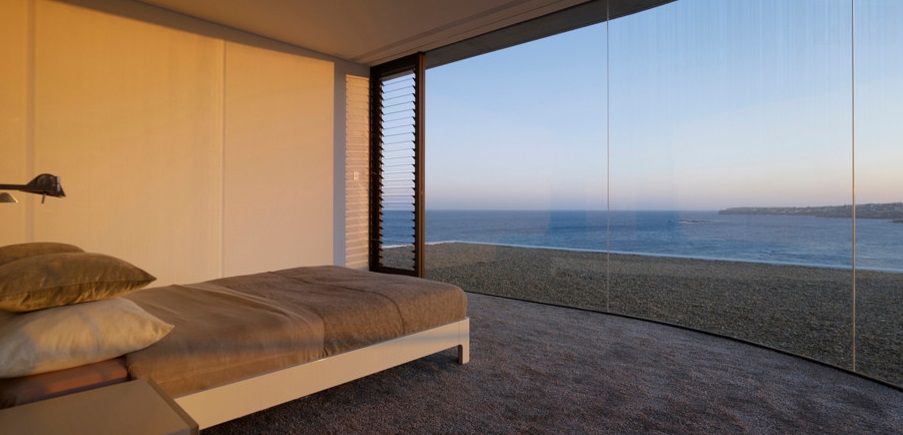 Bring Cozy Seaside Style Home
We at Decoist enjoy sharing inspirational images with you, not only for a good escape, but to empower you to bring chic style home–regardless of your budget! Our second batch of rooms reinforces the fact that great style is attainable, even if your home doesn't overlook the ocean. The cozy seaside look can be celebrated in any space with features such as a textured throw, a plush rug and an interesting coral sample. If your bedroom has enough space for a seating area, make it special. And a fabulous modern art piece never hurts, either! [from Houzz]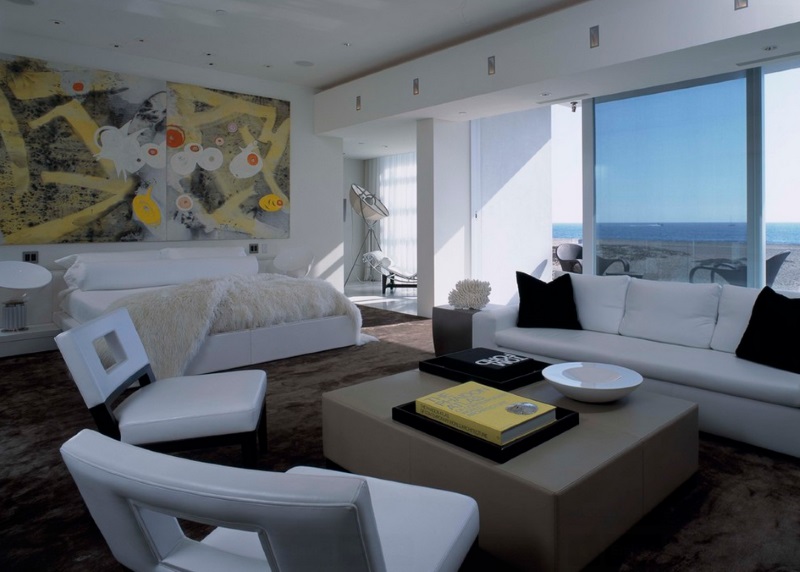 Our final three rooms come from the same home–a stunning South African villa that incorporates boulders into its structure! The guest room below features a seating area by the windows, as well as sleek, comfy bedding. [from Home Designing]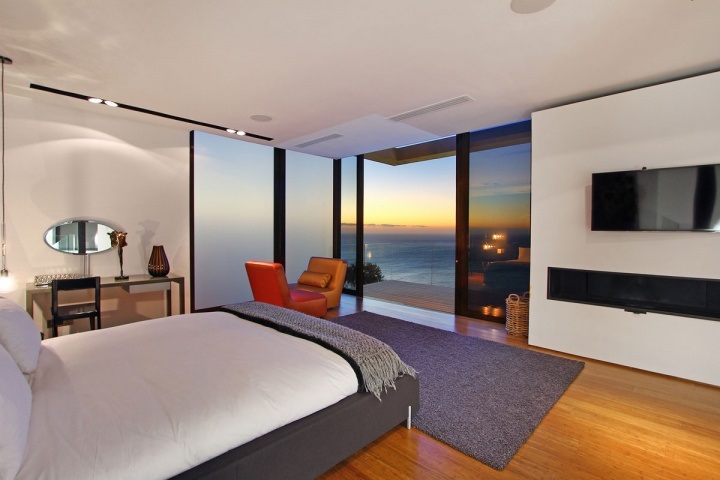 This bedroom from the same home includes a fireplace and a textured rug for added comfort and warmth. In fact, the shaggy rug ripples much like the ocean outside! Also note how the use of light neutrals creates a sense of tranquility: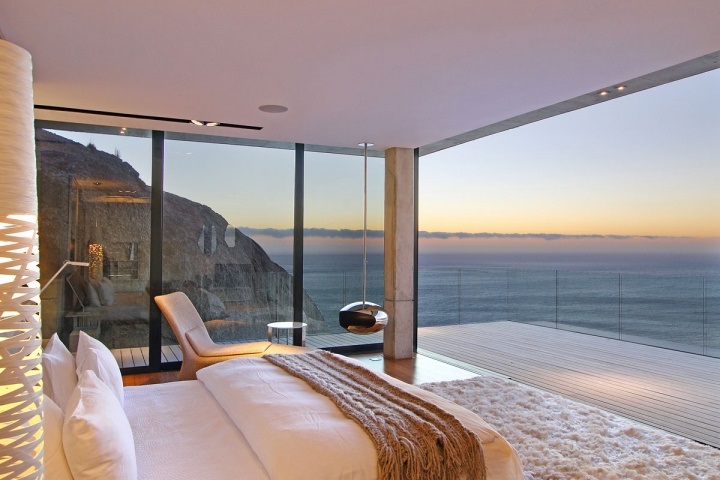 And there's nothing like a bedside bathtub to create a cozy feel. Because having a warm soak and then falling into bed while listening to the sound of the chilly waves is an ideal way to spend the fall. Even if there's no body of water outside of your sleeping space, you can still make your bedroom a spa-like cocoon!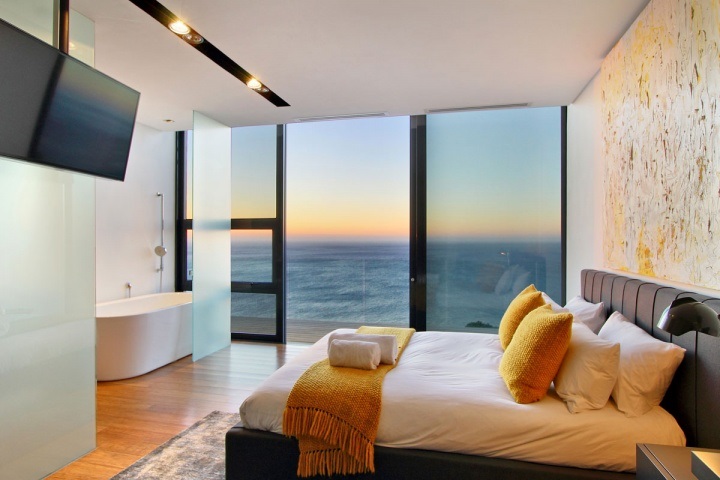 If you had an ocean-side bedroom retreat, what type of decor would you fill it with? Most importantly, how will you bring this cozy feel home? We hope today's featured images have inspired you to revel in the chill of fall from the comfort of your boudoir!