Nature-centric decor and design is currently all the rave, and while we have seen some fascinating projects and furnishings, few match the dramatic splendor of the latest lineup of tables and stools from Hilla Shamia. The ingenious product designer from Israel has come up with a new lineup of decor that creatively fuses old tree trunks with brilliant aluminum casts to shape some truly captivating creations. While most often we see a simple coming together of wood and metal, Hilla Shamia allows molten aluminum to flow into the crevices of the wood, giving this stylish collection of furnishings a distinctive appeal.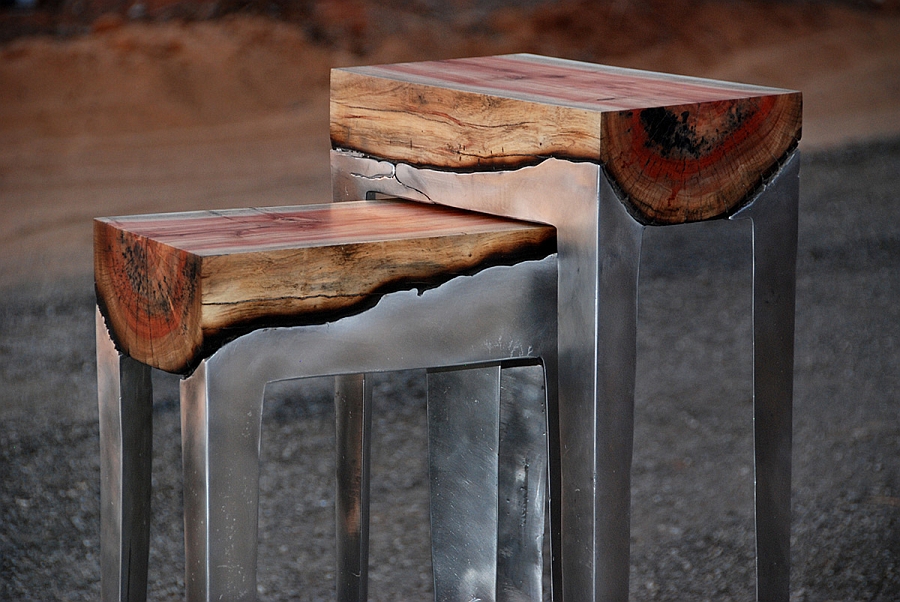 While burnt wood is often viewed in a negative fashion, the designer uses it in this case to shape a stylish, natural boundary between the tree trunk and the aluminum, making the furniture collection even more aesthetically pleasing. This dark black carbon layer is formed as molten aluminum burns a layer of wood on the tree trunk while it flows through the many niches in an organic fashion. Giving each piece contours of its own, the process also ensures that no two stools, benches or tables crafted by the designer are exactly identical!
Tree trunks of cypress and eucalyptus are utilized for the process, and the complex casting process ensures that you have a decor addition that is exclusive, distinct and an instant focal point in any room that it adorns. Creating a perfect blend of the natural and the contemporary, these benches and tables can fit in with any style that you have going around your house, and they sure promise to steal the show the next time you throw a lovely weekend party for friends and family!