Today's post is dedicated to the art of the centerpiece! Kate here, and I love a good focal point. Many of my furnishings feature centerpieces of one type or another, and there's nothing I love more than fresh greenery and indoor plants. You may think that beautiful centerpieces are hard to find, but below I'll show you how to create easy, affordable arrangements using basic supplies, including the blossoms in your own backyard! Read on for all the details, accompanied by a collection of photos I've snapped of my favorite centerpieces past and present…
Tropical Greenery
Tropical greenery can create a breezy vibe indoors all year long. In fact, many floral shops carry tropical leaves such as monstera regardless of the season. Not only is tropical greenery super affordable (especially if you purchase one leaf to make a big statement), it has the potential to last weeks (or months if you're very lucky).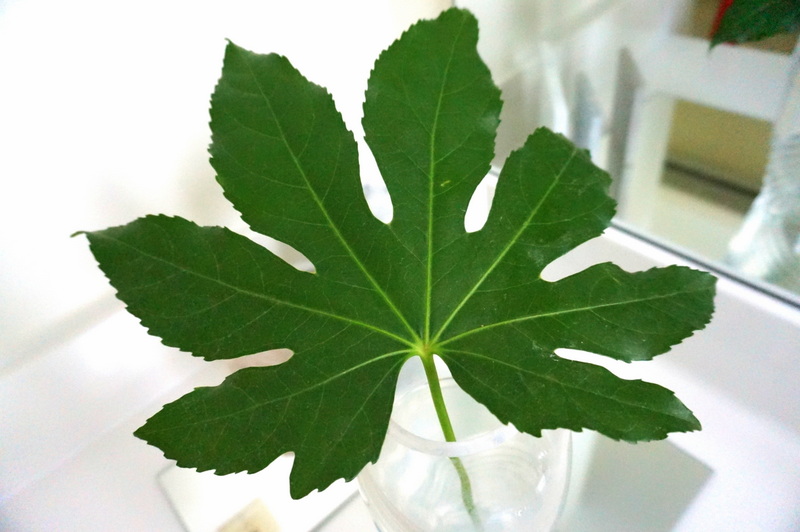 Above and below we see the allure of a single aralia leaf in a modern vase. To help my tropical greenery thrive, I change the water and snip off the ends of the stems every few days.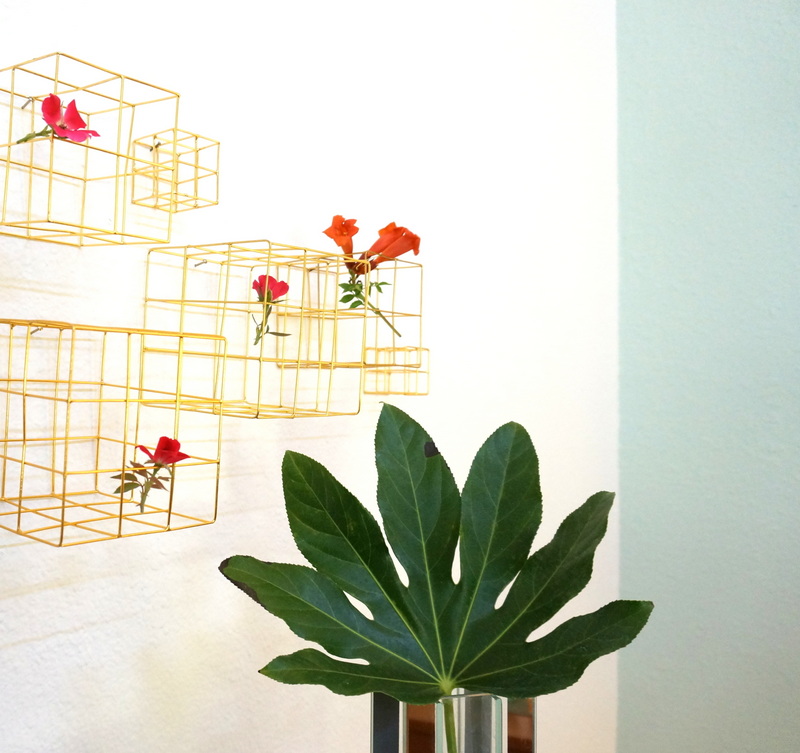 For a symmetrical look, purchase two leaves and display them in matching vases. The brass gridded cubes in this vignette are from CB2. I love collecting blooms from my backyard and placing them in the cubes for a living wall sculpture effect. This spread would make fun decor for a tropical party.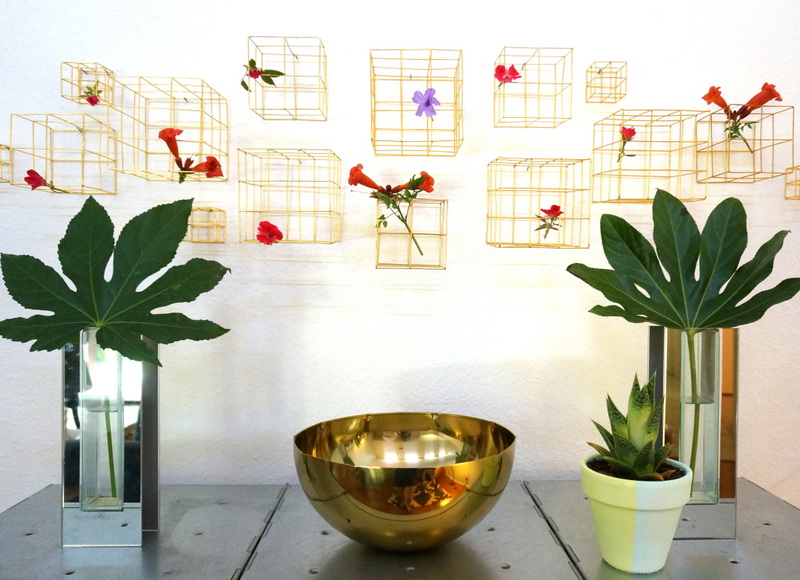 Affordable Bouquets
Speaking of affordable statements, sometimes you want a whole bouquet to set a stylish tone, rather than one single leaf. If you're on a budget, don't sweat it! There are plenty of beautiful options, including long-lasting alstroemeria, shown below. I even added an air plant to the base of this bouquet to make it a bit more dramatic!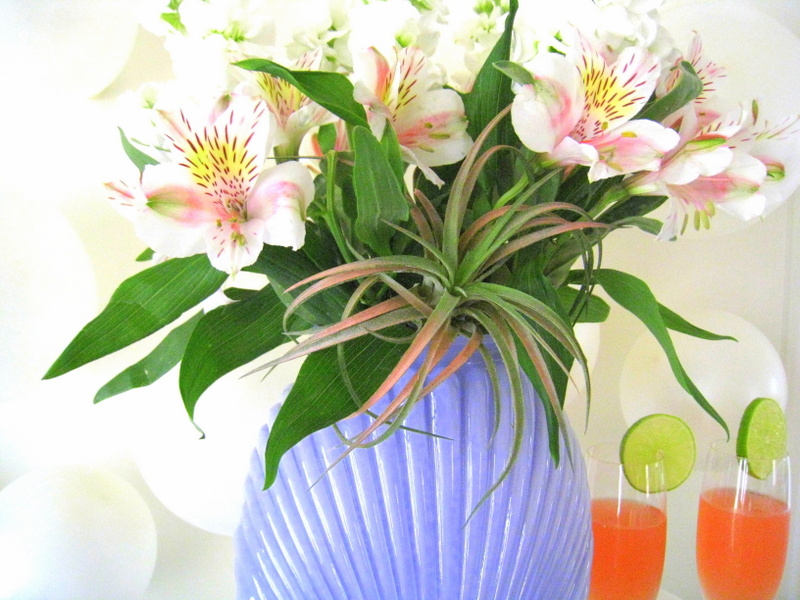 Another favorite of mine? Mums! I had LOTS of green spider mums at my wedding, and I still enjoy purchasing them to this day. They have a modern look, and I often keep the vase simple so the spiky form of the flower can take center stage: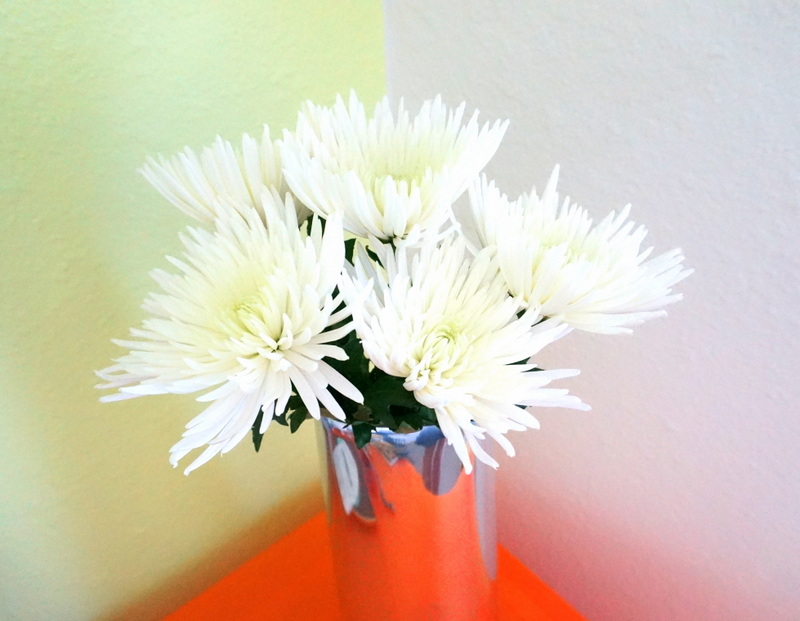 Then again, sometimes it's nice for the vase to truly stand out! I hunt for retro vases at thrift stores on a regular basis. The peach Royal Haeger vase below can sell for as much as $60 on sites such as eBay, but I found this one for around $7. It has such a Deco look, and it's fun to juxtapose the round shape with textured blooms in a contrasting color.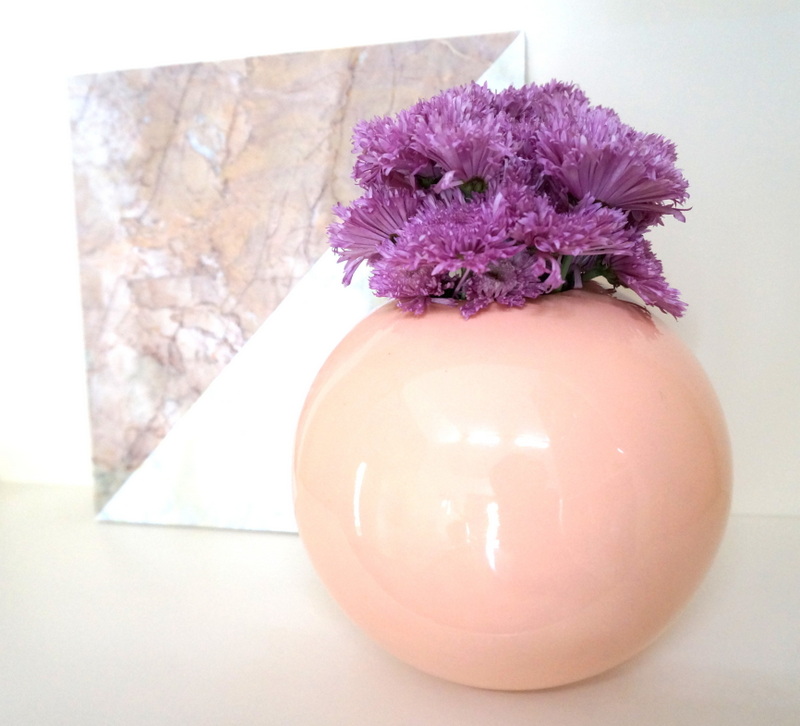 Sleek Metal Containers
Looking for a vase or planter that goes with everything? Try something metallic! Years ago, I purchased the chrome vase below from IKEA. I love the simple shape, as well as the chrome-like shine. It makes any flower look good, although a bouquet of red tulips needs little help: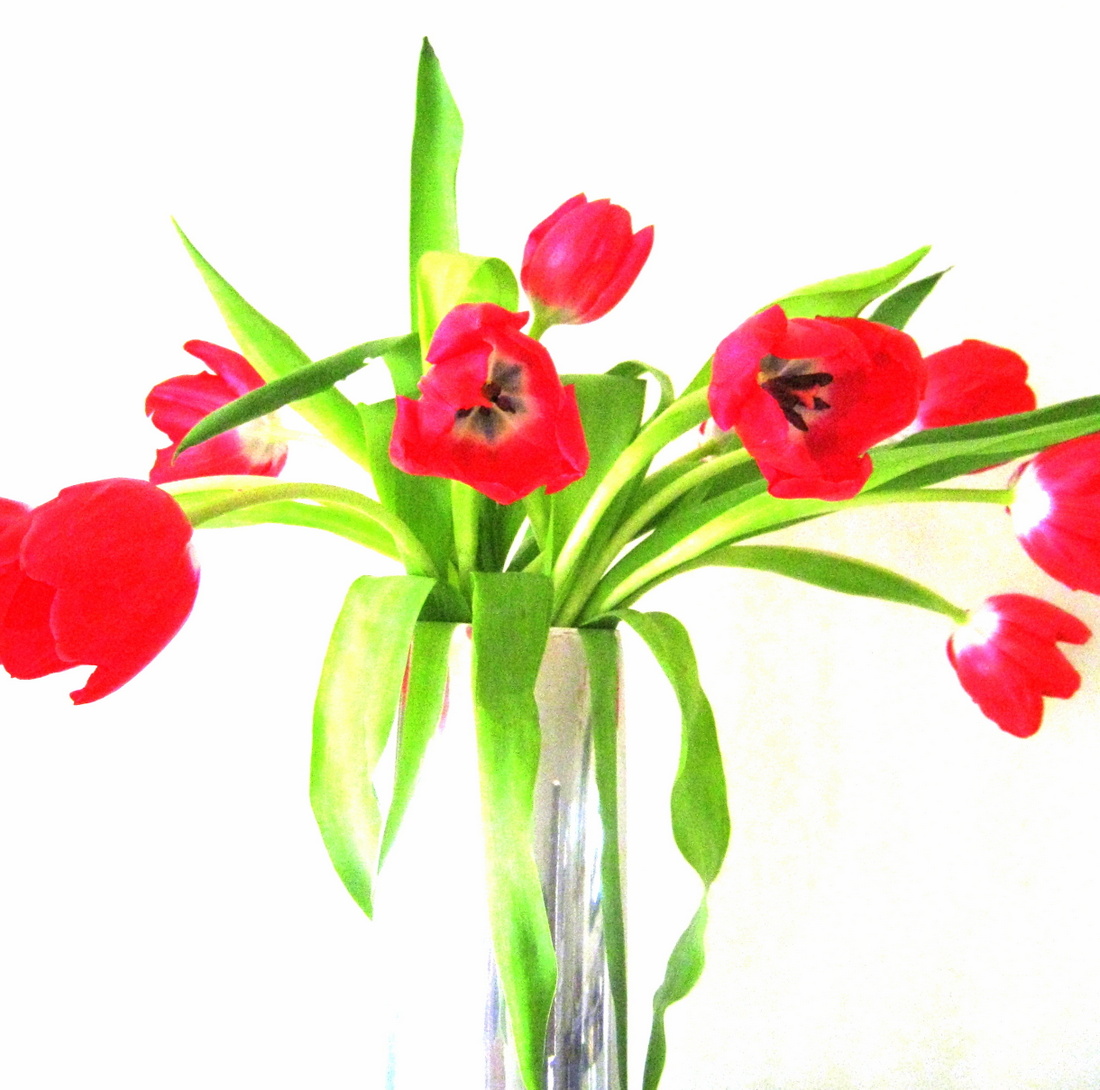 For another IKEA option that's currently available, check out GRUNDTAL, a metal utensil caddy that I've used as a planter (I removed the hanging component and set the piece on the window ledge). Although it's hard to see the shine in the image below, this sleek piece is definitely a winner: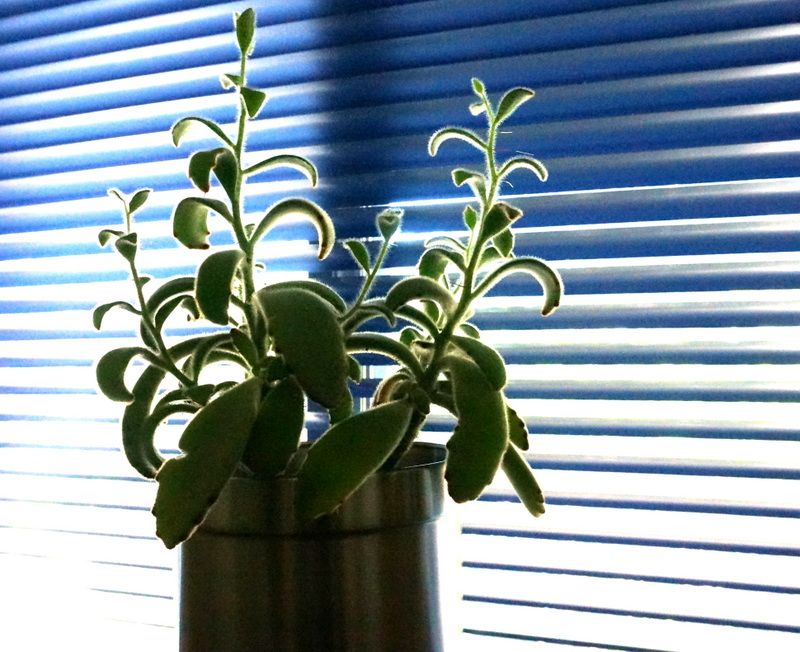 The Blomus planter below is one of my all-time favorite pieces. It has such a retro look, and it makes any plant it holds look classy! If you're on a budget, this alternative is both affordable and stylish.
Backyard Blooms
We now feature the most affordable option of all: flowers from the backyard! I must admit that when my hubby and I moved to our new place, there were already many beautiful plants in the yard. But regardless of your outdoor space, you'd be surprised at how a tiny rose, a wildflower or blossoms from the vine (shown below) can make a powerful statement.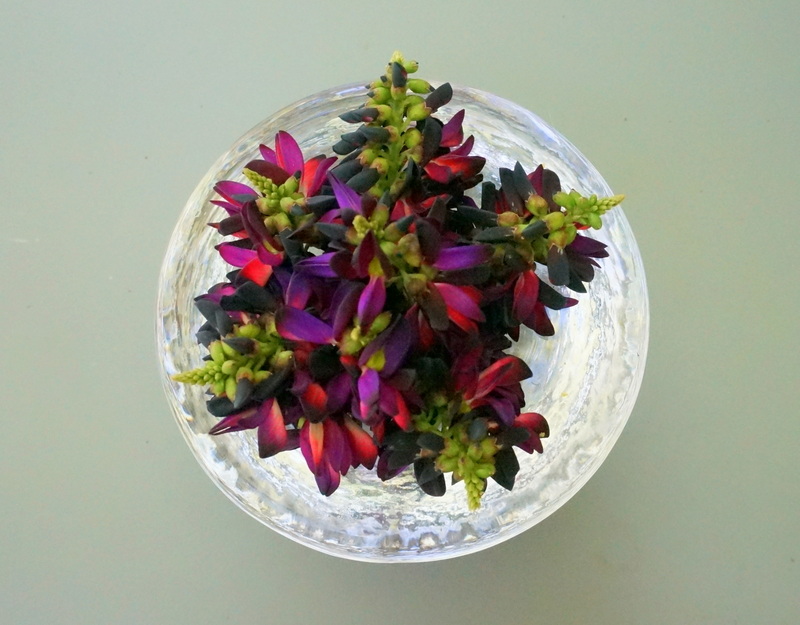 I enjoy displaying small flowers in a grouping, and a little bowl makes the perfect receptacle if stems are short. Don't have a backyard full of blossoms? Ask a friend to snip a few extra flowers from her yard. Selections such as trumpet vine blooms (shown below) are often abundant, making them easy to share!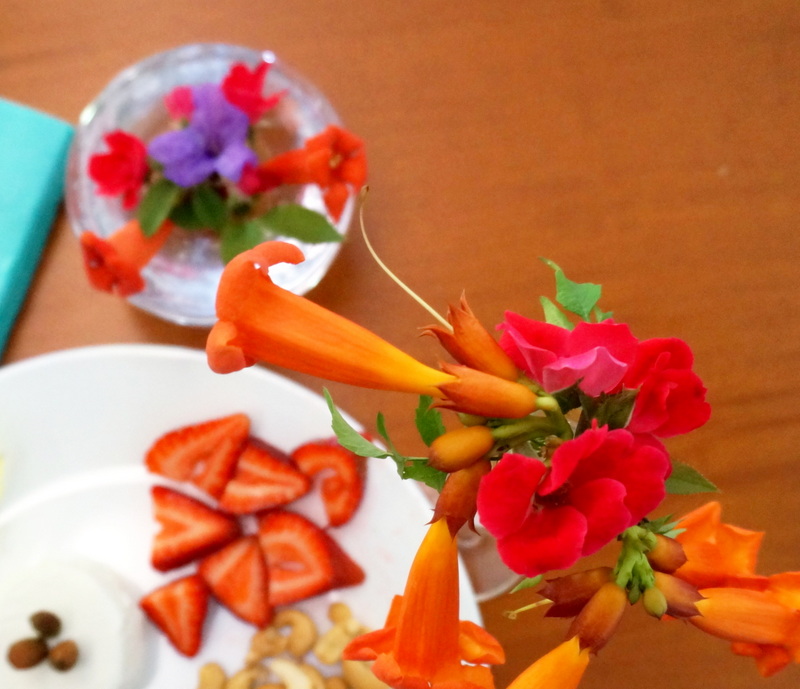 Glass Globes
If you're looking for a small centerpiece, nothing beats a glass terrarium. The glass orb below was a Christmas gift from a dear friend. She filled it with moss, as well as colorful pebbles. That's the beauty of clear containers–you can personalize them with unexpected touches!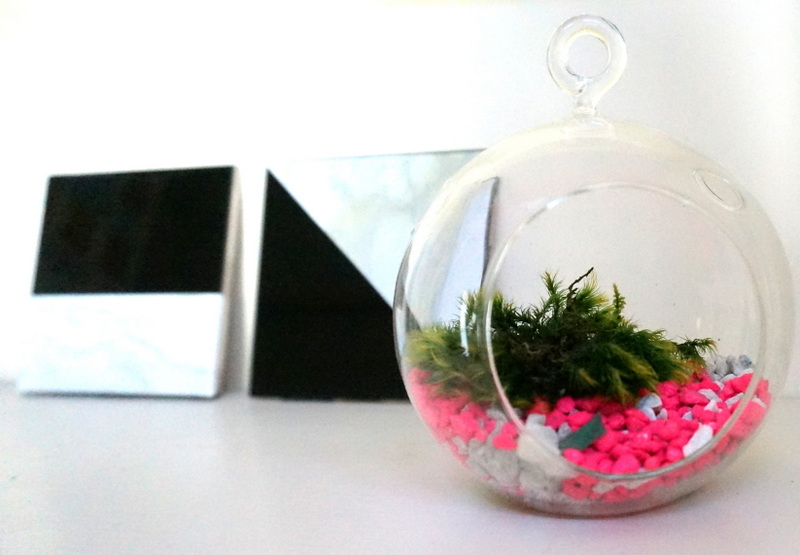 Speaking of gifts, the air plant and glass terrarium below were a birthday gift from a certain Decoist Editor-In-Chief. It makes the perfect centerpiece for my garden window. In fact, air plant globes are ideal centerpieces for smaller spaces, as they command attention without overpowering them.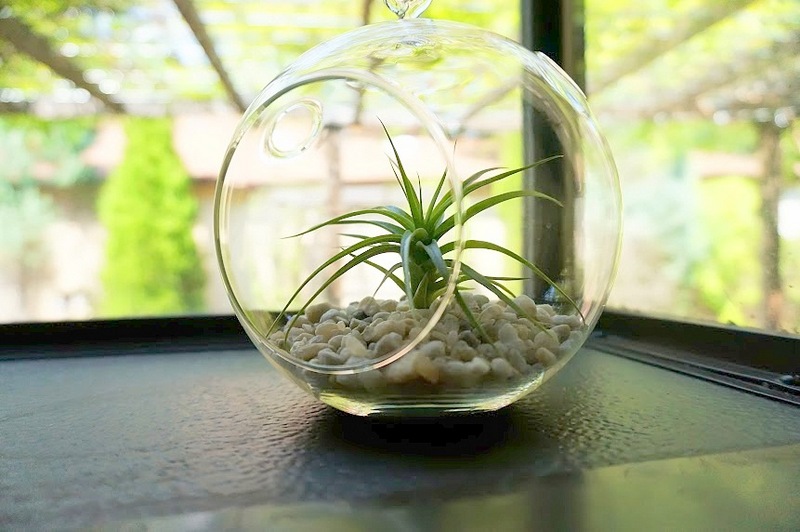 I hope today's post has given you some new ideas for interesting centerpiece options! There are many affordable plants and blooms at the ready, and don't hesitate to get creative with the containers. From glass terrariums to retro vases you pick up at the thrift store, the possibilities are endless…
Liked the story? Share it with friends.