If you love your furry friend as much as I love my kitty, chances are you're always checking out the latest pet decor and gear that will make your little miss' or mister's life purr-fect. Kate here, and I dedicate today's post to fabulous finds for animal lovers and their pets, from cushy beds to stylish forts. Check out the amazing products that follow–your cat or dog will thank you!
Products for Cats
Let's start with our feline friends, who always seem to be looking for the perfect place to perch! With the Buddha from Square Cat Habitat, lounging is a stylish activity. A variety of insert colors and textures are available, and this item is ideal for mounting on the wall, under a windowsill and more. With brackets that clamp onto the perch, the Buddha can support up to 40 pounds!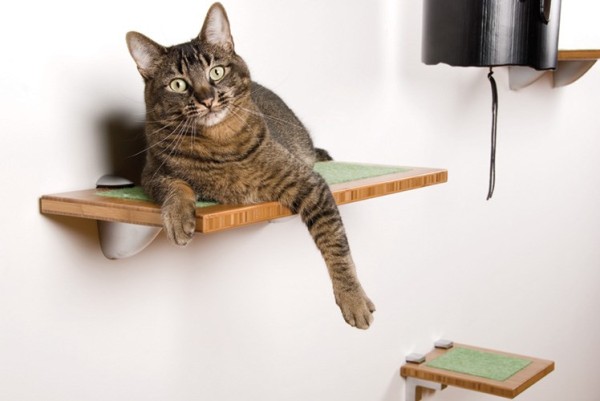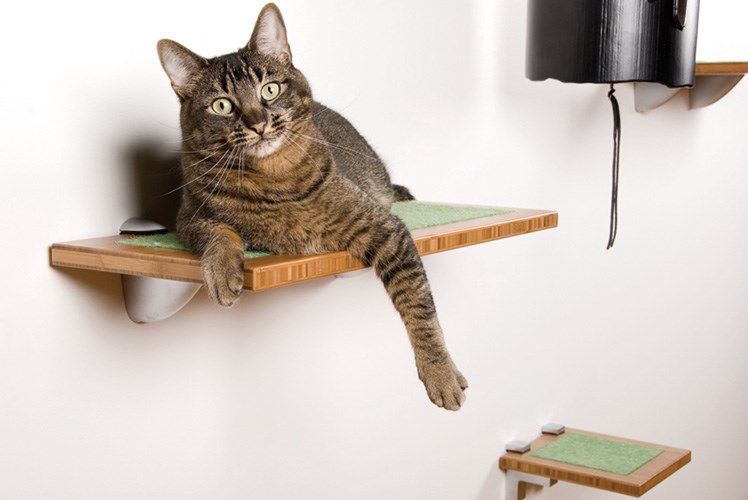 For another wall-mounted find that may as well be a work of art, check out this vibrant Modular Cat House/Cat Tree from Catissa, available through StyleTails. With an array of colorful compartments at the ready, felines have a place to climb, rest and play. Goodbye carpeted cat furniture!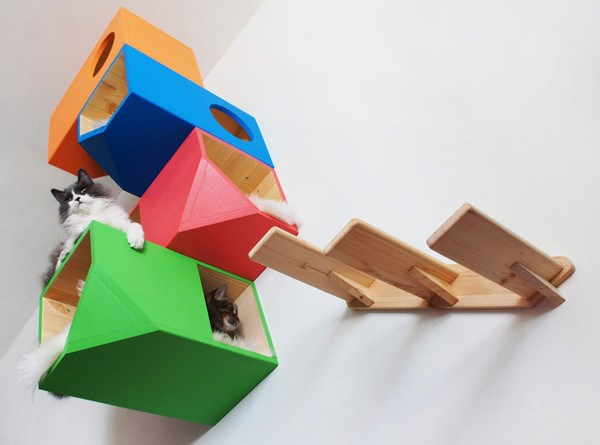 Is that a modern shelf we see below? Yes–only this shelf holds kitties, not decor. The Refined Feline Cloud Shelf in White from Petco features two platforms, and the item can support up to 70 pounds. Both right-facing and left-facing models are available. Don't you love the contemporary look?!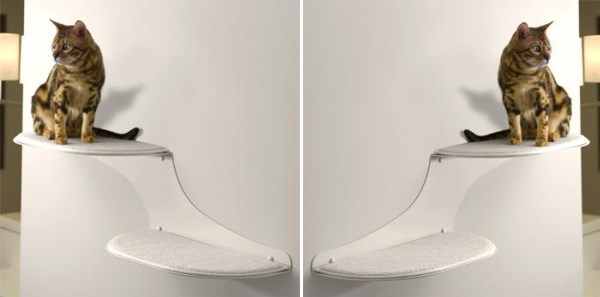 I've featured this amazing cardboard Cat Teepee in a previous post, but since I still have my eye on it for Kitty, I'd love to share it with you again. The teepee is very compatible with today's Southwestern decor comeback. Not to mention, it's affordable, and it's the perfect size for a feline friend! [image via mpgmb]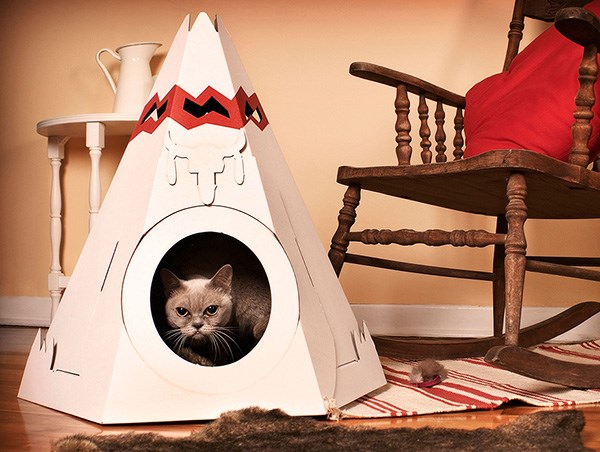 From a teepee to a cat tree! The Baobab Cat Tree from Square Cat Habitat features velcro-backed removable inserts for easy cleaning and replacement. Plus, with four branches for climbing and a treetop for perching, there's never a shortage of surfaces to explore!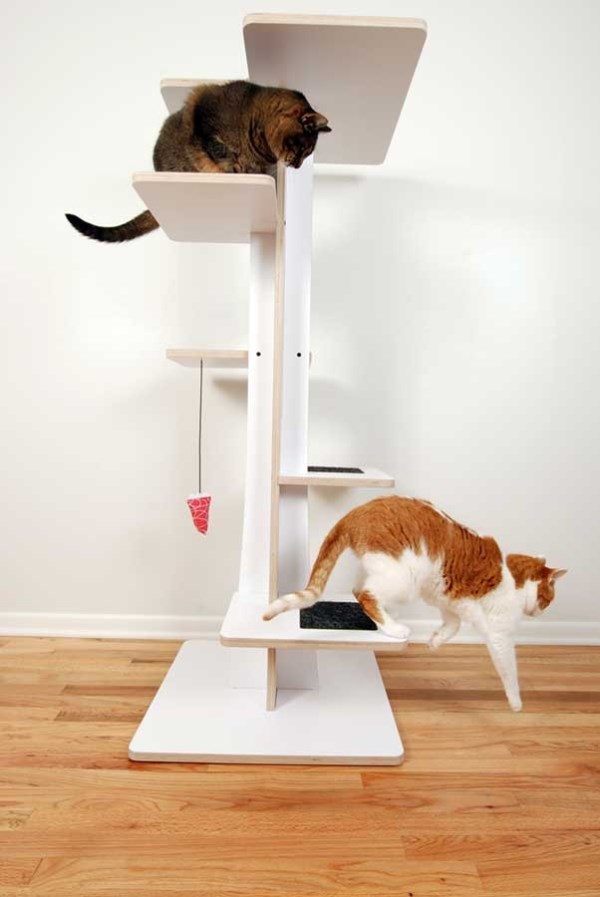 I've thrown in this final kitty selection in case any of you are feeling like spreading your DIY wings. That's right–this modern feline home was built by designer Leo Kempf for his cat Olive. Featuring a Plexiglas front, a cardboard scratching porch, and even a sheepskin rug and small paintings inside, this abode is an architectural masterpiece. For more amazing pics (including a glimpse at the interior), visit Leo Kempf Design: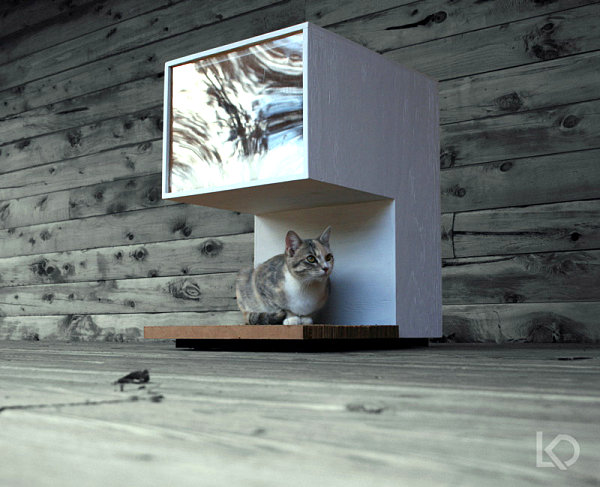 Products for Dogs
These days my beloved pet is a cat, but I grew up with dogs. I love both species! Which is why half of today's post is devoted to canines. How chic is this Donut Bolster Dog Bed in Hot Pink, available at StyleTails? Designed by Bone & Rag, the bed boasts two standout features–a donut shape and a vibrant hue. Did we mention that it comes with an extra cover?!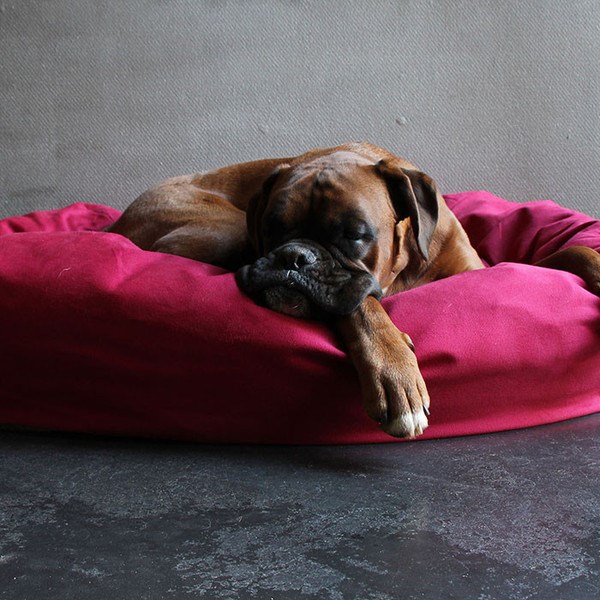 If only your dog could get some extra coverage on those chilly nights…now he can! This Luxury Dog Snuggle Bed from Charley Chau (available through StyleTails) features an envelope design lined with soft fleece. Modern weave fabric tops it all off, creating a contemporary look: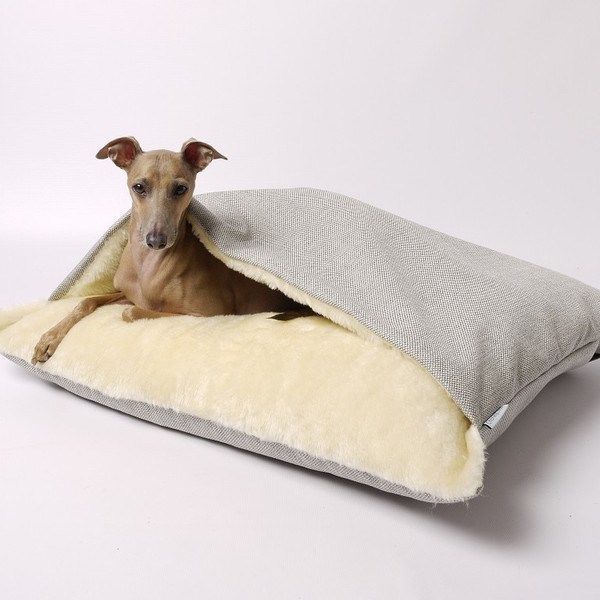 This Bambu Hammock 1 from Pet Lounge Studios has received quite a bit of attention. And why shouldn't it?! Its clever design takes doggie lounging to a whole new level. [image via inStash]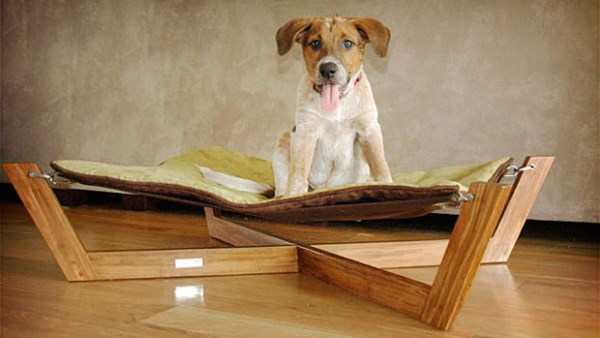 If you want to complete the look with a companion piece, purchase the Angled Bambu Diner from Pet Lounge Studios, crafted from renewable bamboo. Love those Midcentury-style angles! [photo via inStash]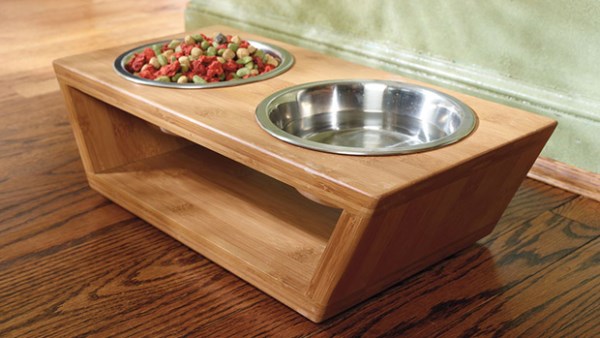 I couldn't end today's post without featuring a modern doggie abode. Say hello to Cubix from Best Friend's Home. Talk about a contemporary dwelling with a view! [via DigsDigs]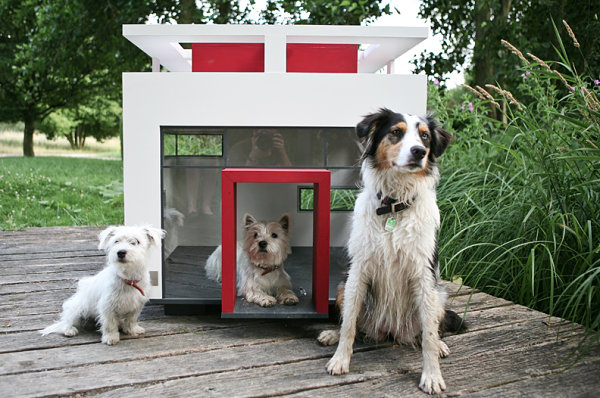 Are you ready to pamper your pet? Summer is the perfect time for celebratory gifting. And you can always start making a holiday treat list for your furry friend. Happy shopping!