If you're anything like me, your pets practically run the household! I have a big dog and an ornery kitten in my city apartment. Quite honestly, they are so spoiled – as bad as if they were my children. Since we share a home, it is important to me that they are comfortable too. (If my dog doesn't have a bed, he will just use mine, so this is in my best interest!) The thing is, in a small space, I don't have the luxury of hiding my 80-lb. dog's bed or even my cat's litter box or scratching post. The only solution for me is finding pieces that are beautiful enough to leave out for guests to see.
I wish I had researched for this post before I had purchased my furniture! Perhaps I need to buy my pets a modern Valentine's Day gift. Be prepared to see the most stunning furniture you can imagine – and yes, they're for your pets! [from Wowbow London]
The Modern Pet Bed
I cannot believe it has taken me so long to write an article about pets! They are so much a part of our home. As soon as I walk in the door, my furry friends are the first ones there to greet me and I just love it. If you are reading this post, I'm sure you have pets too and can relate — they have stolen our hearts! Well, just like us, our pets need a bed. The thing is, their beds don't have to be unsightly. Several amazing designers have tackled the issue of the pet bed and have come up with some beautiful and comfortable solutions for your pet.
The first bed is the Pei Pod. This bed is perfect for small dogs or cats. It comes in two sizes: small and medium. This bed is as stylish as it is functional. The pillow is 100% washable and the exterior easily wipes clean. The sleek and beautiful Pei Pod is eco-friendly and comes in several colors. [from Pei Pod]
This next bed is by Forma Italia. The company works with clients to customize dimensions for a perfect fit for your pet. [from Forma Italia]
Your pet bed can even be dual-purposed as an end table.
For truly luxurious living, check out this pet sofa! [from Architect Pets]
If you have cats, you probably know that they love a high vantage point. Also, note the cowhide chair — hides are completely pet-friendly! [from Pet Interiors]
I've never met a cat that didn't like a cat cave, and they are also beautiful. My cat does not have one, but he LOVES getting into tight cave-like spaces, whether it's a grocery bag, inside a shirt, or in a basket. Cats are so goofy! It's no wonder cats love these comfy wool beds — my cat would never get out if I got him one! You can find them on Etsy in any size or color. These two are perfect for a modern rustic-style home. [from Elevele, Storow]
Modern Cat Scratching Posts and Litter Boxes
Besides a toy basket, luckily my dog does not require too many home accessories, but my cat is a different story. Without a proper scratching post, my little cat threatens to ruin furniture, and don't even get me started on the bathroom situation. They are high-maintenance on your place, and your home aesthetics could be in danger! Don't get me wrong–I love my little guy, so luckily there are so many beautiful solutions.
I have this cardboard scratcher and lounge by Pet Fusion. I am an artist, and hilariously, one night one of my guests said, "I love your artwork, that must have taken you forever." The funny part is, he was referring to this scratching post. If it is good enough to look like art, I'd say it's a wonderful home accessory! [from Amazon]
The litter box is almost always an eyesore, but it doesn't have to be. Believe it or not, your cat's toilet can be beautiful! [from Modernist Cat]
I am pretty sure I need this gorgeous litter box by Chimere. This company specializes in modern pet furniture. We will look at more of their stunning designs later! [from Chimere Paris]
The Modern Cage
Some people have to crate train their dog, or choose to own more unconventional pets — perhaps you have a hedgehog, a rabbit, or a bird. If this describes you, you'll love this section. There are some gorgeous designs for caged animals too.
This bird cage is far from conventional and is seriously stunning. [from gregoire de laffores]
If you have a bunny, hamster, or hedgehog, this hutch is a gorgeous furniture piece for a modern interior. [from Chimere Paris]
Lastly, if you have to crate your dog, the ei Pet Crate is a very stylish option, but it's not cheap! This crate can cost over $1000 but it promises to be beautiful and functional. You can get it with a door for a crate, and no door for a bed. [from GO Pet Design]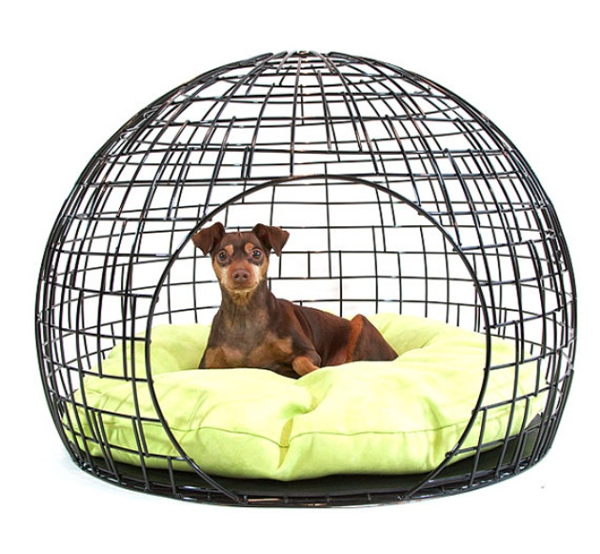 What furniture would you and your pets love? Share your comments below . . .