With the 4th of July just a couple of days away, it's time to finalize your party plans! If you're like me, you may not have initially planned on hosting a gathering, but as time has passed, perhaps you've reconsidered. I'm having a few family members stop by for dessert before we all head out to watch the fireworks, so I'm on the hunt for some last-minute 4th of July party ideas. Researching today's post has been a big help! Check out the decoration, food, favor and activity ideas below. Not only are they stylish, they are easy to throw together with little preparation. Enjoy!
Hassle-Free July 4th Decorations
Let's start with the decor! If you're pressed for time, you're likely looking for ways to cut corners. What if your food could also double as decor? These flag skewers from A Subtle Revelry are as easy as using the end of a plastic flag to spear an assortment of delicious fresh fruit. Now you have a way to display the flags upright, and when it's time to eat, the kiddos will love this festive snack. Then they can keep the flags as patriotic favors!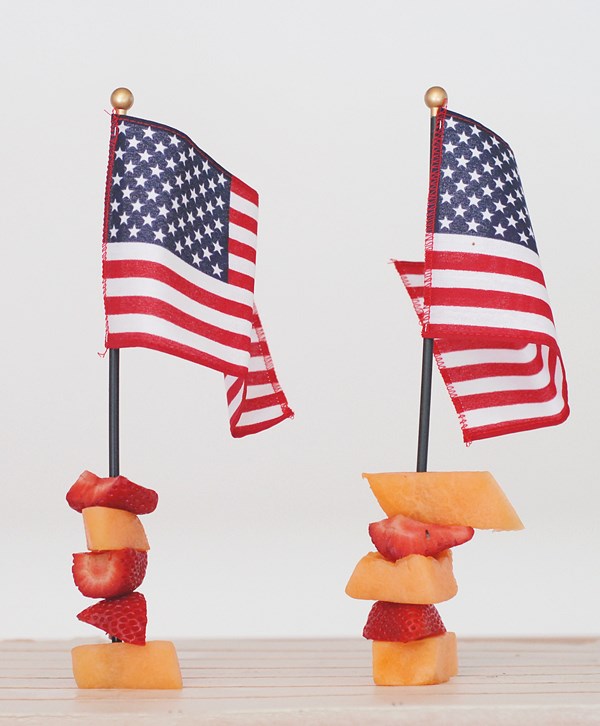 Speaking of food-related items that double as decor, take your paper cups to the next level with a tutorial for Painterly Party Cups from Stephanie Polli. Read all the details at Design Sponge, and marvel at how acrylic paint and water can be used to give your party decor a designer look. Display these cups on your party table with pride!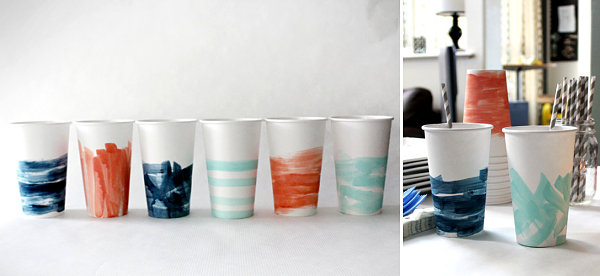 You know those cute little flag toothpicks you can find at many a party store this time of the year? Why not use the little flags to make a garland? Not to mention, this DIY 4th of July Flag Garland from Sugar and Charm will work beautifully with a variety of party themes, from the classic to the modern: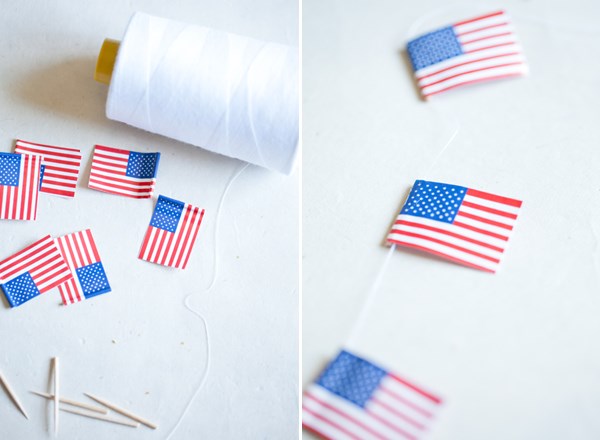 Does your party table need that extra touch? Take a few minutes to create an easy star table runner (or a series of them) by accordion folding paper in the color of your choice, cutting a star (making sure to leave a piece on each side attached), and then unfolding. Check out a full tutorial at A Subtle Revelry.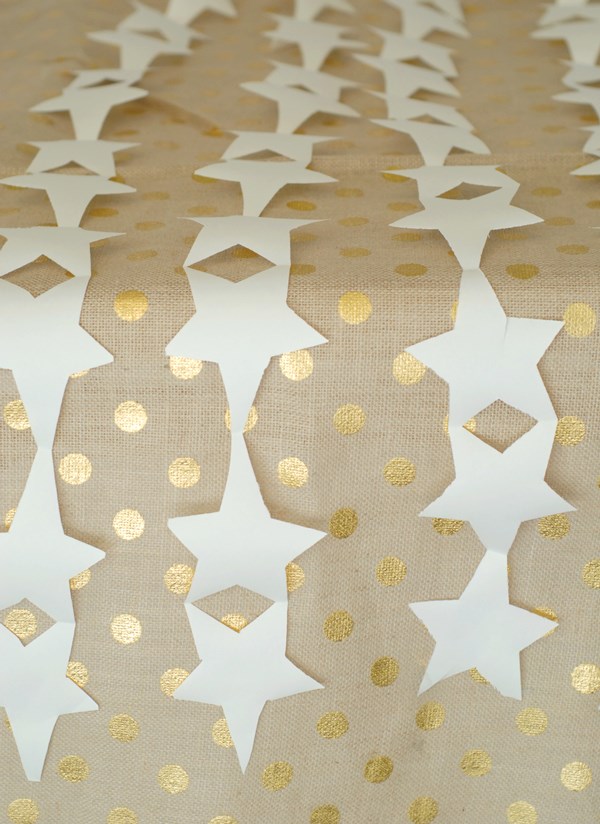 Don't forget that sometimes less is more! Try hanging a flag or banner behind your party table, and you'll have an instant festive touch. Below we see red, white and blue stripes used as a backdrop for a drink called the American Beauty (from POPSUGAR). And speaking of food and drink…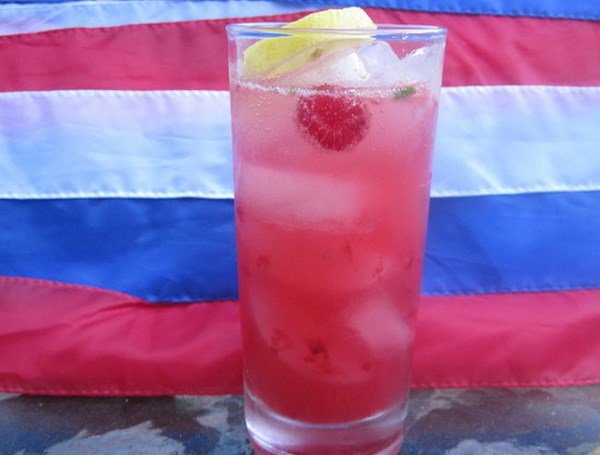 Easy Food and Drink Recipes
…now it's time to highlight a few quick and easy 4th of July party recipes! And it doesn't get easier than combining berries and white cake on a party tray! This Patriotic Berry & Cake Dessert Platter from Around My Family Table involves strawberries, blueberries and angel food cake. In fact, you can take this dessert in any direction you like. Add whipped cream or ice cream. Substitute watermelon for the strawberries. Red and blue fruit + white cake or cookies = the perfect 4th of July treat!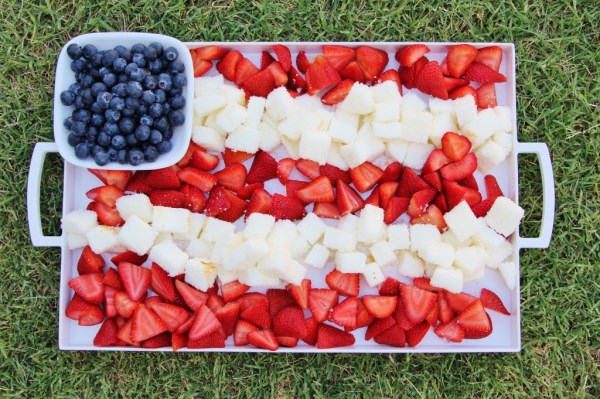 Have you noticed that popsicles are having a moment in the spotlight?! Many of today's most popular popsicle recipes involve freezing layer after layer of liquid in a series of steps. These popsicles are gorgeous (and I plan on making them one day soon). But when I'm planning a last-minute party, I need something fast! These Firecracker Popsicles from Sweet Pea's Kitchen are easy because you can pour in the Greek yogurt, strawberry and blueberry purees in layers, then mix them up with the swirling motion of a skewer. Freeze once and enjoy!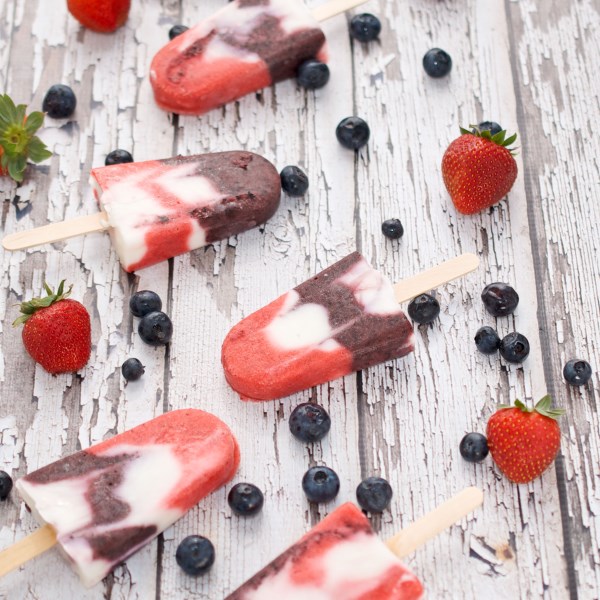 There's no shame in store-bought food, folks! Get a box of ice cream sandwiches, cut them in half, and then let popsicle sticks and sprinkles transform them into something truly special. These Red, White and Blue Ice Cream Sandwiches from Simple Sojourns will be the hit of the party!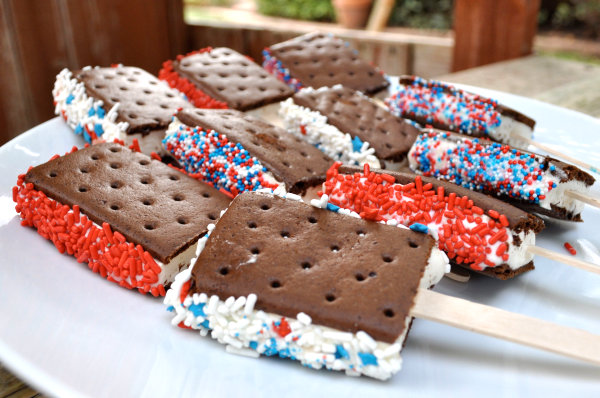 You can also buy ice cream in various flavors with patriotic color schemes. For example, the photo below features Baskin-Robbins ice cream, as well as blue and red sorbet. Tasty, festive, and no preparation required! Just some serious scooping. [from Sugar and Charm]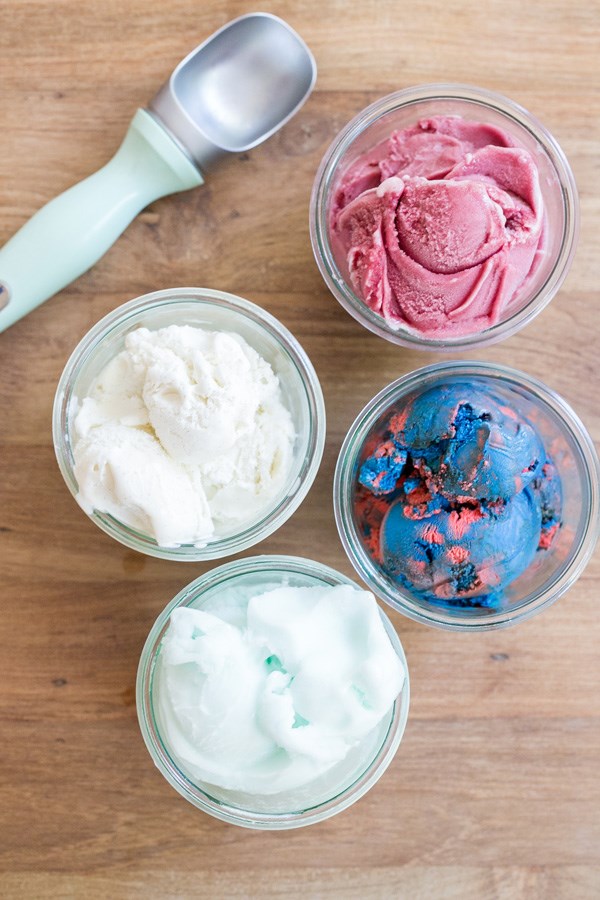 We couldn't resist starting with dessert, but let's not forget about the drinks! Create a super easy signature party cocktail for the grown-ups. This Blueberry Mint Mojito from Design Love Fest has three ingredients: blueberry vodka, lime and club soda. Top it off with some fresh mint and blueberries, and you have a delicious drink that your guests will be talking about long after the 4th has come and gone.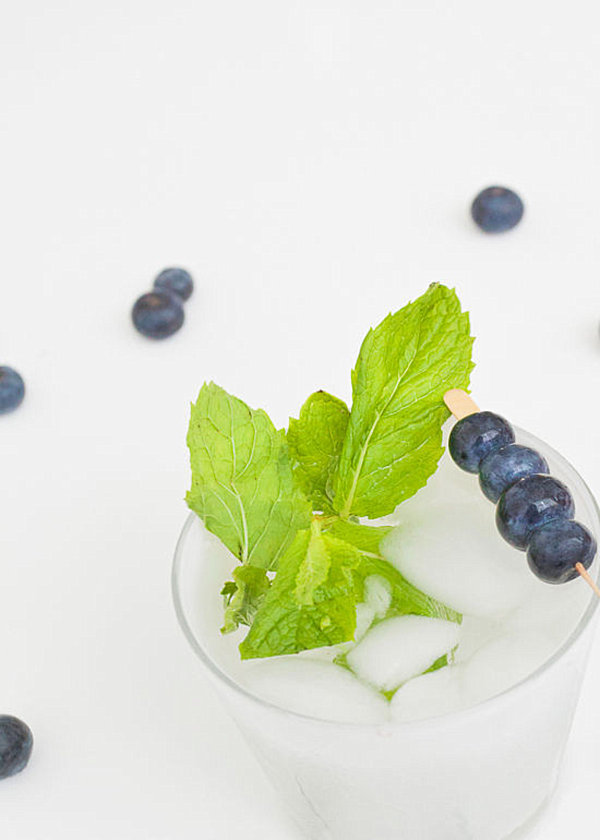 Speaking of drinks, don't hesitate to keep it simple when it comes to bottles and cans. Fill a large pail with ice, and stock it with beer, soda, water bottles and other packaged sips. Add a cup of freshly cut lemons for garnishing, and you're set. [from A Beautiful Mess]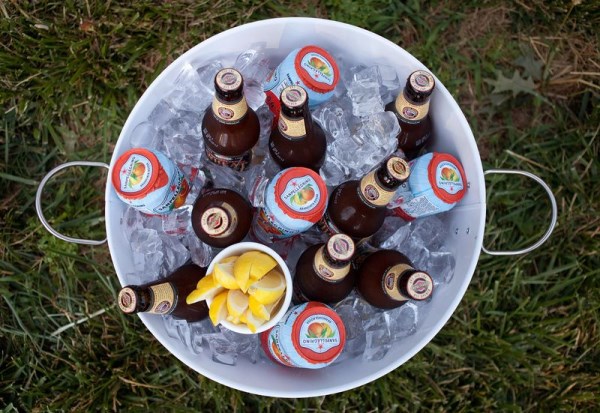 And if you're serving dinner but you don't feel like firing up the grill (or you're looking for a "side dish" that can double as a main course for vegetarians), check out this Local Farmers' Market Pizza, which features a host of fresh ingredients such as red bell pepper, corn kernels and cherry tomatoes. For a full recipe, visit Cooking Light. You can also concoct a variation of this pizza with whatever fresh veggies you have on hand. To further simplify the process, use a store-bought crust. [photo by Johnny Autry]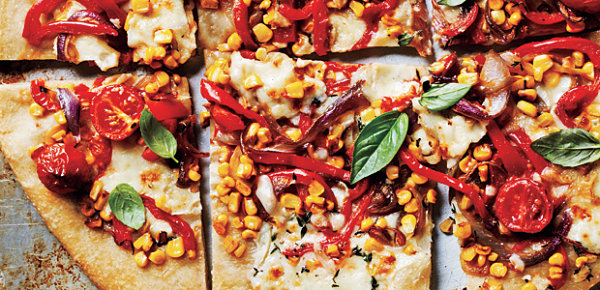 Just because your party is filled with goodies and treats doesn't mean you can't enjoy some healthy nibbles. And when they're as delectable as this Watermelon & Arugula dish from Camille Styles, you'll truly feel like you're indulging. Not to mention, ingredients such as arugula, watermelon sprinkled with sea salt, marcona almonds and parmigiano-reggiano will truly stand out on blue and white plates: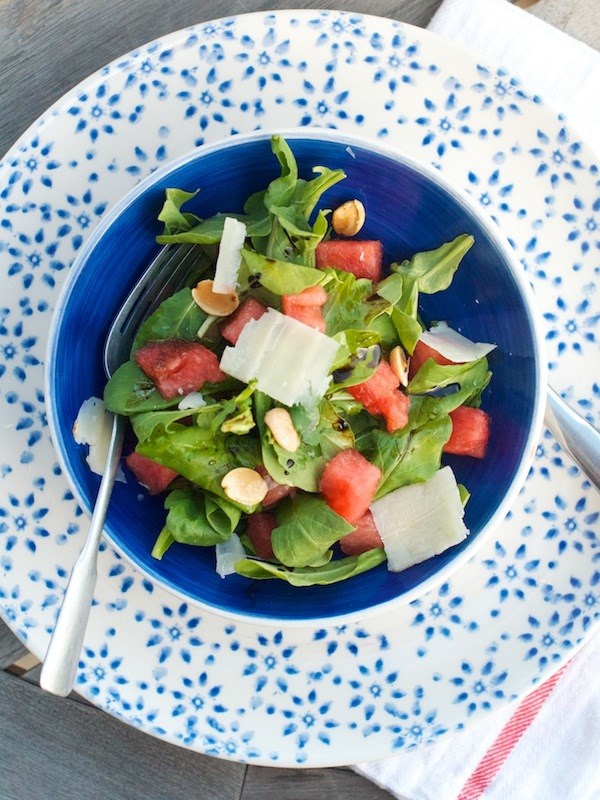 Fun 4th of July Favors and Activities
I'll end today's post with a few ideas for party favors and activities. If kiddos are attending your event, it's always nice to make a special effort to include them in the festivities. These Dip Dyed Firework Bags from Oh Happy Day can be filled with child-safe fireworks such as mellow poppers. Creating this favor is as easy as dipping a muslin bag in dye: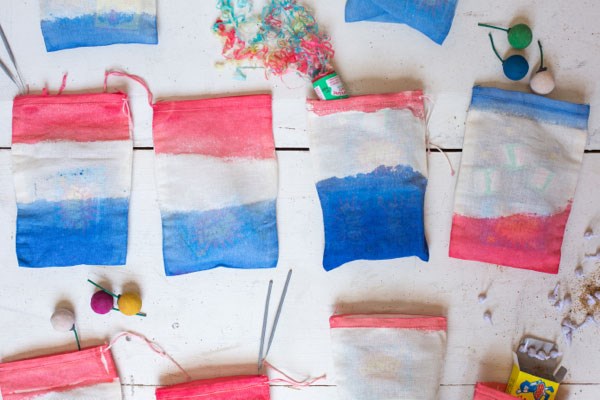 Last week I came across this Bubble Relay Race idea, also from Oh Happy Day! Blogger Jordan set up 4 bubble machines and let the kids race through (then chase after) the sea of bubbles. A fun variation: purchase or rent one bubble machine, and then give the adults their own bottles of bubbles. Get them involved in creating clouds of iridescent orbs. Bubble mania for everyone!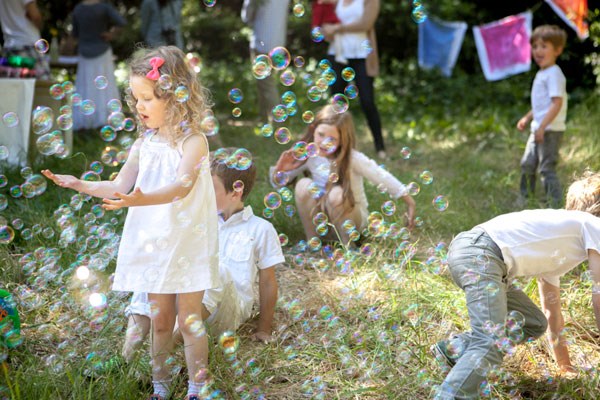 Another activity idea: have the kids bring their bikes and decorate them with streamers, stars, crepe paper and other festive materials. Then have an impromptu (and supervised) parade around your yard or up and down your street. Use these Fourth of July Decorated Bikes from Say Yes as your inspiration: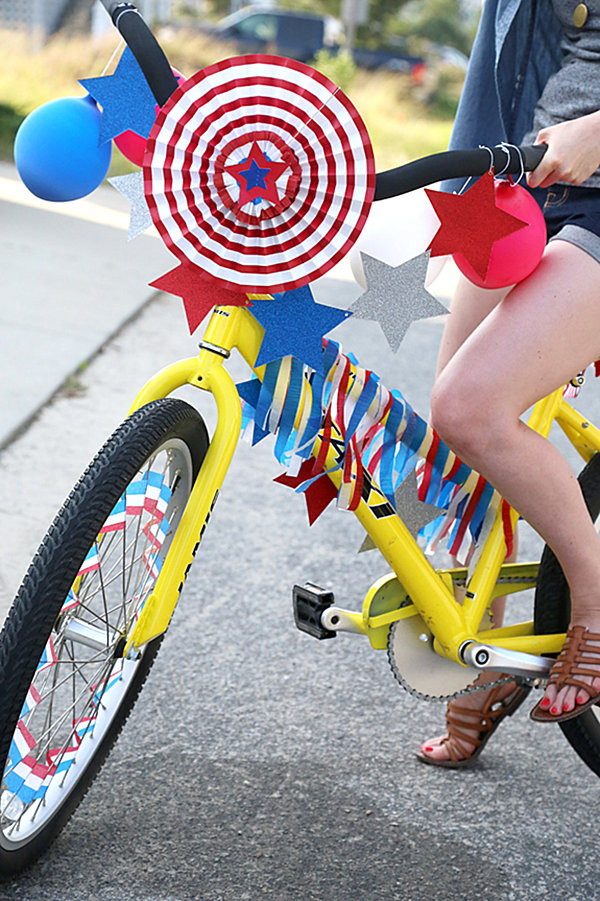 Finally, you can create a series of backyard forts by purchasing a few affordable tents. Guests can pose in them (with their heads peeking out) for pictures. Plus, the kids will love playing "camp out," especially if you include toy dishes and food inside the tents. You can even use tissue paper and sticks to make a pretend camp fire! [from A Beautiful Mess]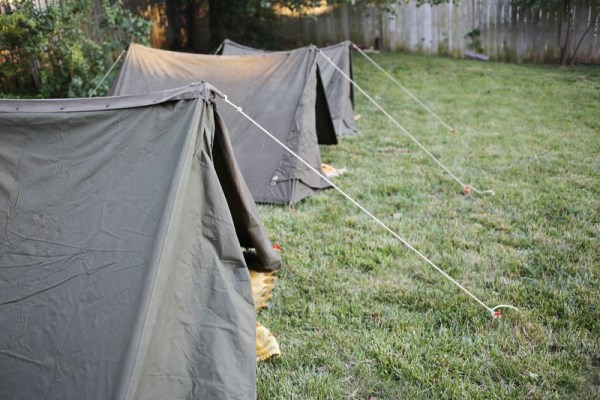 I don't know about you, but my head is swimming with party ideas! I just might have to invite my family over for dinner and dessert before the fireworks, just so I can make that delicious veggie pizza, serve that watermelon and arugula salad, and top it all off with fruit and yogurt popsicles. Happy 4th of July!