We at Decoist love celebrating fabulous design through the change in seasons. And it's easy to get excited about summer style! The bright, warm weather lends itself to crisp, cheery patterns. Stock up on bold geometrics, from the earthy and breezy to the retro and modern. Lines, angles, shapes and curves blend well with any style, thanks to a wide range of geometric patterns available. Today we highlight our current favorites. Enjoy!
Geo Patterns for the Walls
Let's start with the walls! Pick one (or more) and get ready to wallpaper. In fact, an accent wall is a great way to freshen up your interior! Showcase a radial grid motif with this Orbit Small Metallic Self-Adhesive Wallpaper from CB2. Mod yet contemporary, thanks to a double-line design: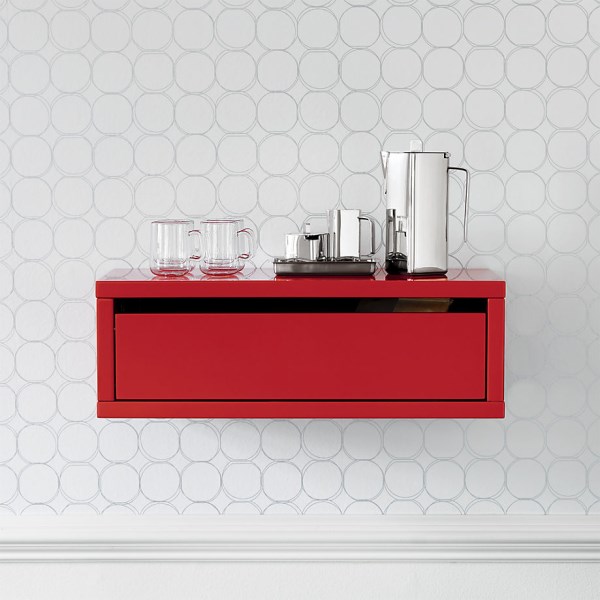 Speaking of grids, this Peeks Traditional Paste Wallpaper from CB2 boasts a gold-on-charcoal color scheme. Imperfect lines make this pattern designed by Noël Ashby truly interesting. Let's hear it for the freeform grid!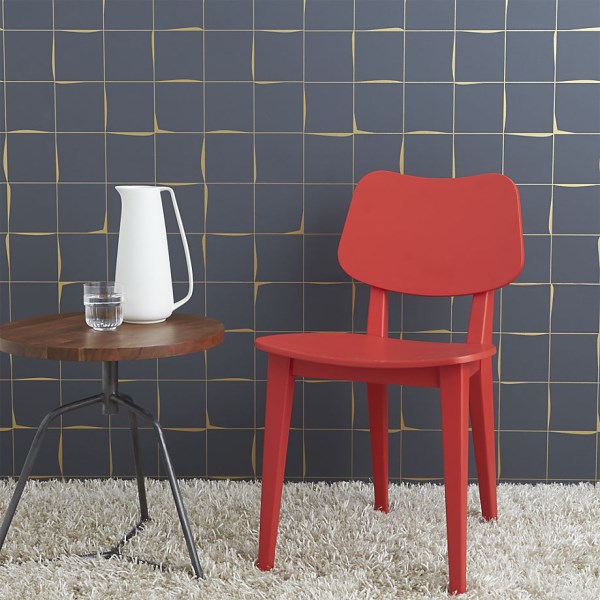 Don't overlook the power of a striking piece of artwork. This Capiz Wall Art in Triangle from West Elm features hand-inlaid capiz shells in an interlocking triangle pattern that's very on-trend. Plus, the glisten of the shells evokes a beachy vibe: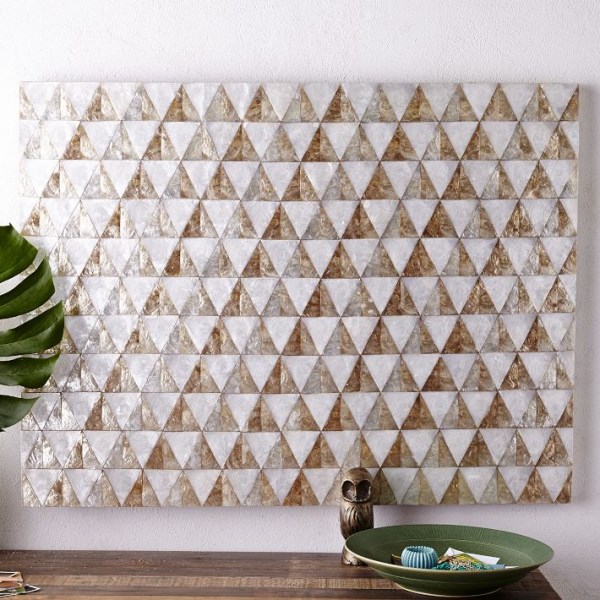 A Little Geometry for the Floor
From the walls to the floor…and don't forget the outdoors! This Bergama Reversible Outdoor Rug from CB2 features a geo tribal pattern in white and gray, thanks to the talents of designer Aelfie Oudghiri.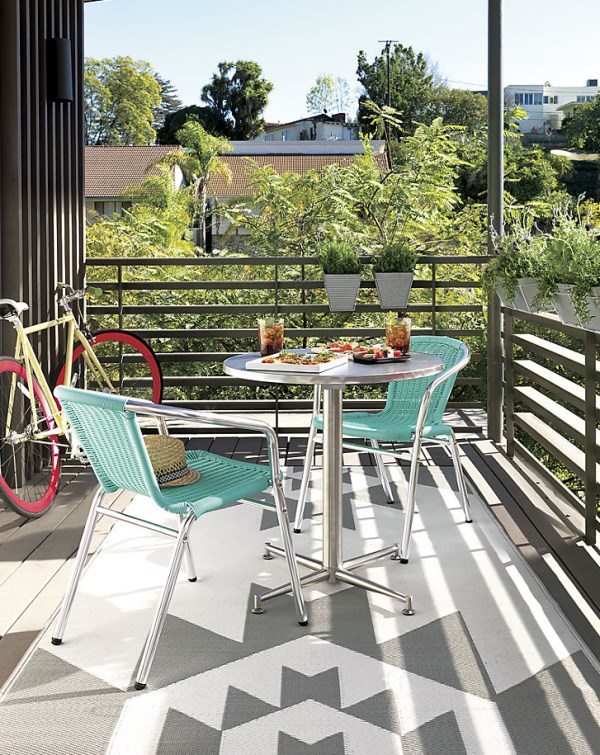 Want to mix patterns? Consider a small geo pattern, such as the tile-like motif of the Geo Indoor-Outdoor Rug from Crate & Barrel, crafted of durable polyester: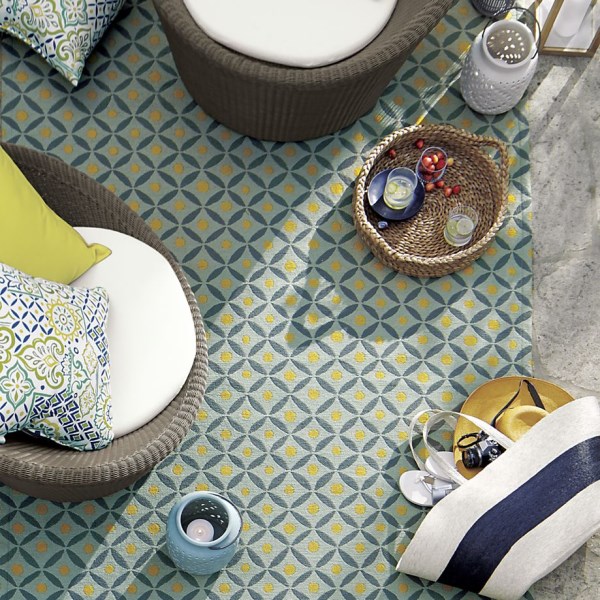 It's about time the chevron pattern got an update! This Rubicon Jute Rug from West Elm boasts a large chevron motif in natural and bleached jute: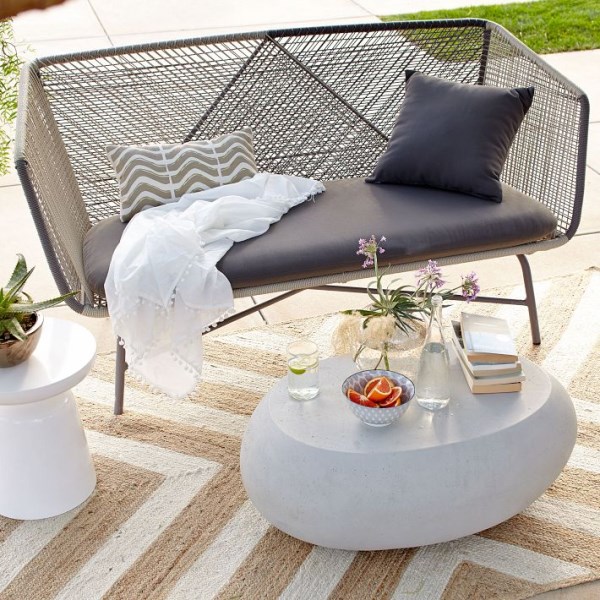 Monochromatic triangles make a statement on the Andes Wool Rug in Slate from West Elm, thanks to the varying heights of the wool. Texture, layer and depth are created, yet the unifying slate tone keeps this piece from being too busy: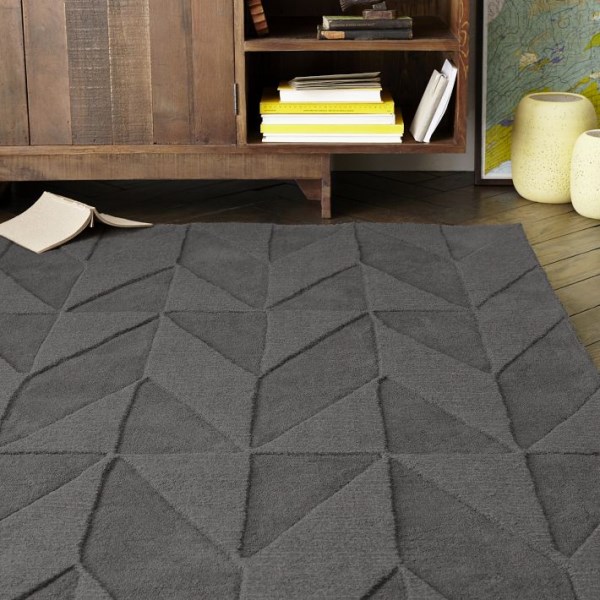 Geometric Furniture Patterns
Some of today's most interesting geo patterns appear on furniture. This large chevron pattern in reclaimed pine really calls attention to the slanted wooden planks of the Alexa Bed from West Elm. Yes, slanted wood is once again stylish!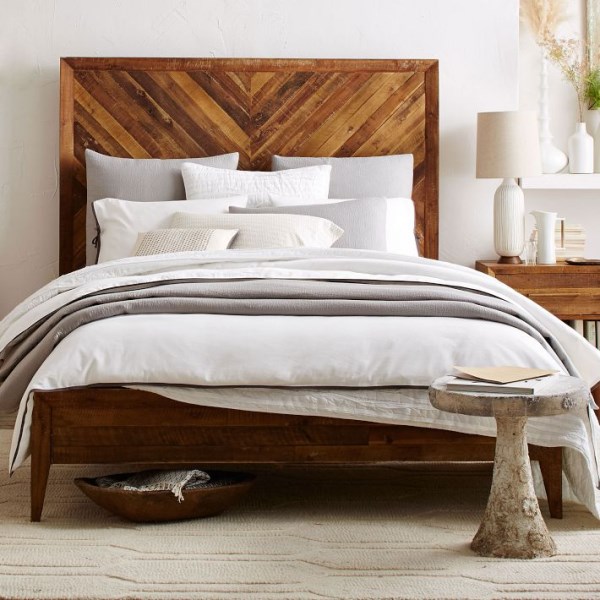 A colorful chevron definitely makes an impact! This Stella Cabinet from CB2 features a bold design by Ceci Thompson. Once again, a large pattern without zig-zag repetition updates the oh-so-popular chevron that's dominated the design scene for the last few years. Time for a change, folks!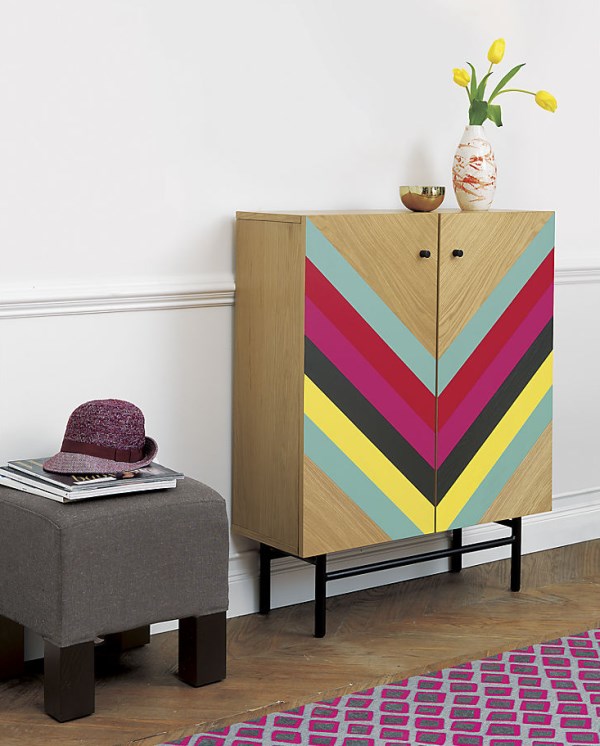 How about a geo pattern within a pattern?! The Talita Cocktail Table from Jonathan Adler features a hand-stamped design on nickel-plated metal. In the image below, we see the piece from the side, then we zoom in for a good look at the details of this metallic geo pattern: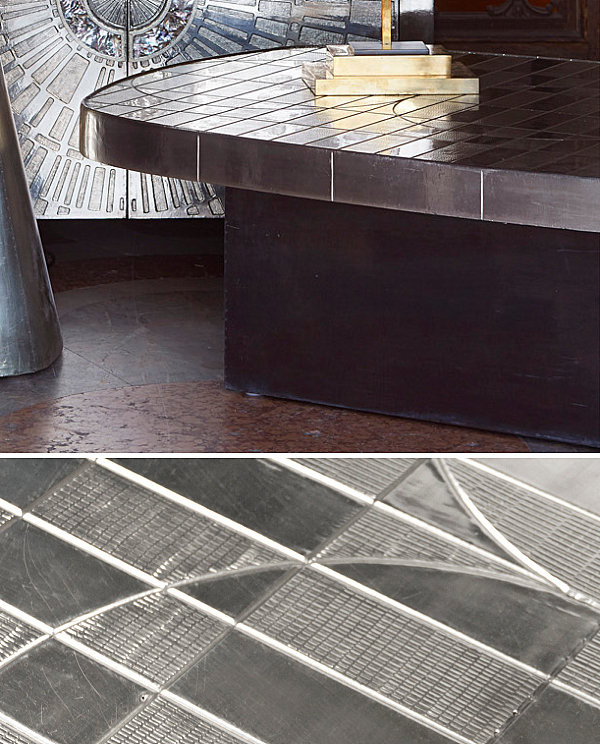 One of today's top design trends is wire furniture. A modern revival of a retro concept, the return of wire provides ample opportunity for summer airiness and geometric patterns. The asymmetrical triangle motif of this seating from Bend features galvanized iron with a white powdercoat finish: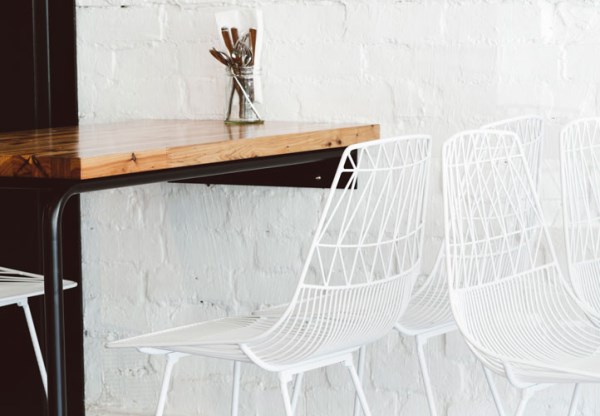 Fabulous Geo Accessories
We end with a series of geometric accessories that make a powerful statement with their bold patterns. This Inka Blanket (shown hanging below) is one of many striking geo offerings from ferm LIVING. Note the tribal look of the blanket's geometric pattern: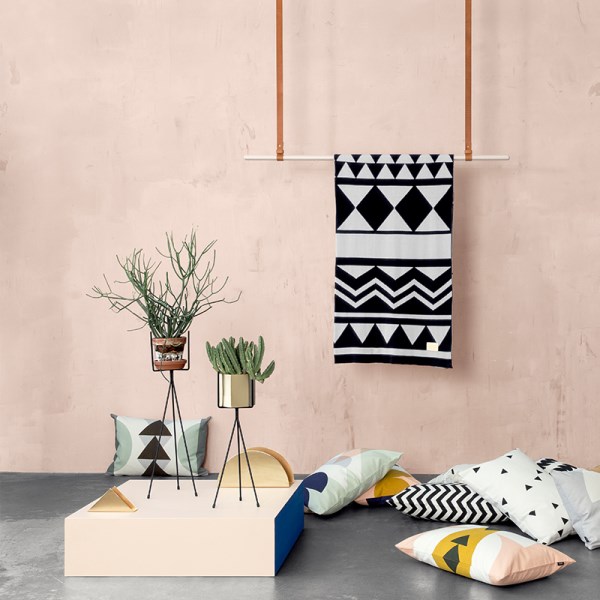 Another bold geo tribal pattern can be found on the Hira Pillow from Crate & Barrel. This time the design is inspired by a folk art theme: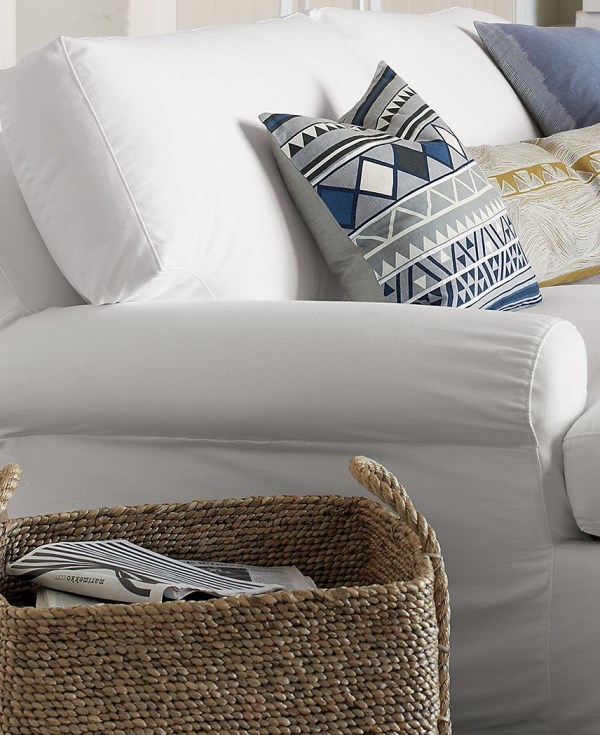 Geo meets breezy in the Kofi Pillow from Crate & Barrel. Designed by Josi Severson, the piece features chain stitching on cotton canvas in a crisp blue and white motif that's perfect for summer!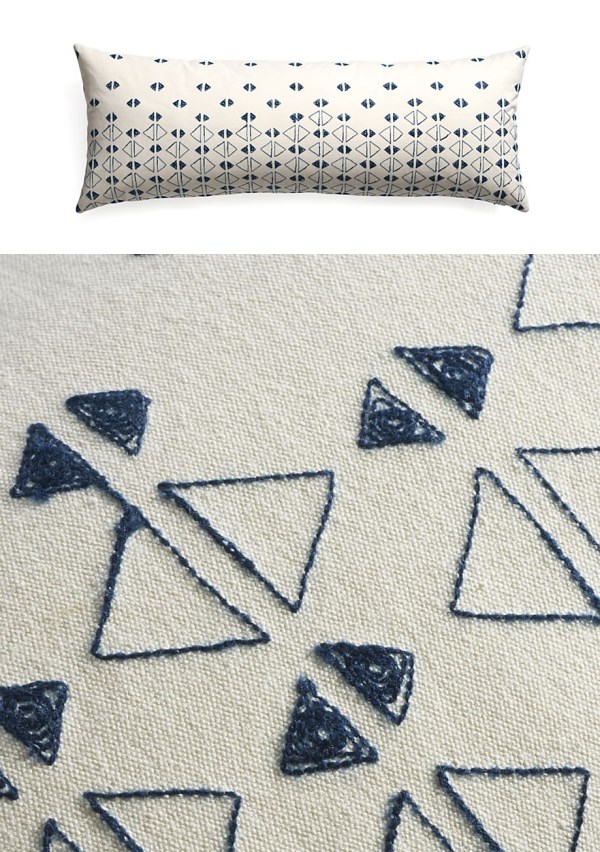 A crisp geometric pattern like the one found in this Bobo Labyrinth Triangle Throw Pillow from Jonathan Adler can go in many directions. From the bohemian to the retro (anyone else get an '80s vibe?), it may be just the dash of design that your chair or couch needs: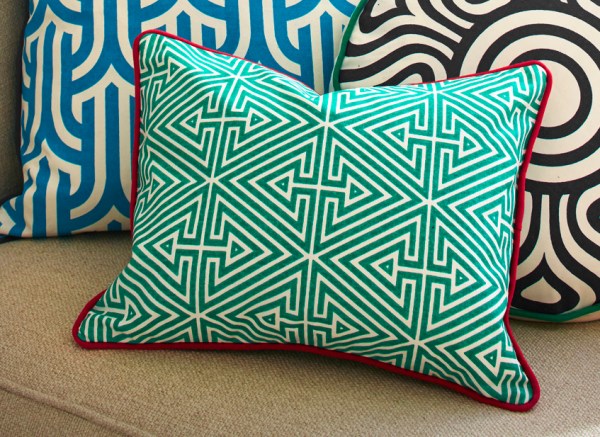 Don't forget the lighting! Once again, powdercoated galvanized steel makes a strong statement, thanks to the pendant lighting below from Bend. Interlocking diamonds create the pattern of choice: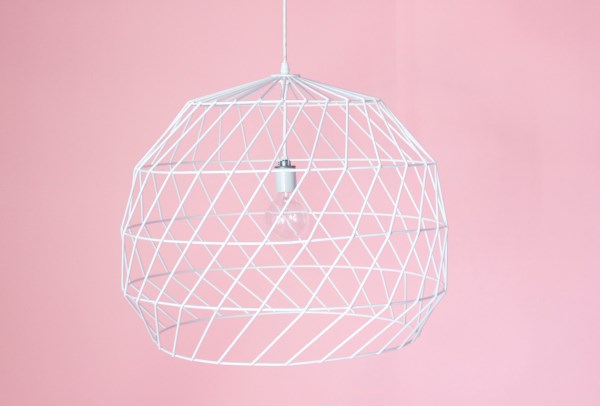 Bring some geometry into the kitchen with an array of patterned finds from ferm LIVING, such as the minimalist triangle-motif Buttering Board below: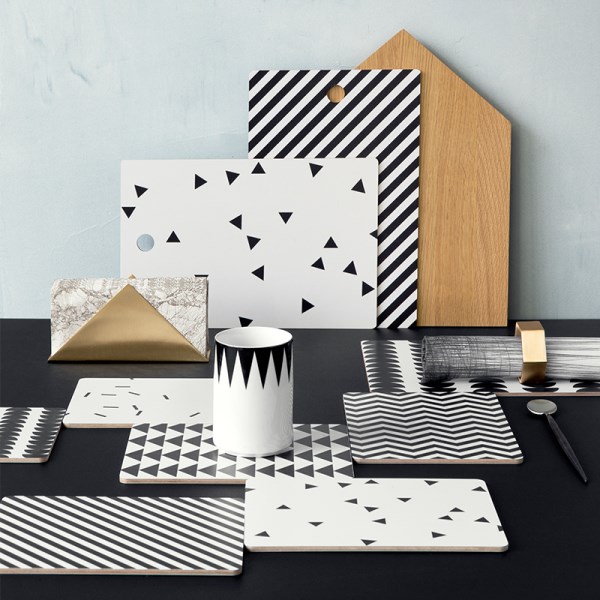 Top it all off with a collection of graphic-patterned mugs from Jonathan Adler. Classic yet bold geometric motifs (such as the Greek Key) are the perfect wake-up call when filled with your favorite coffee!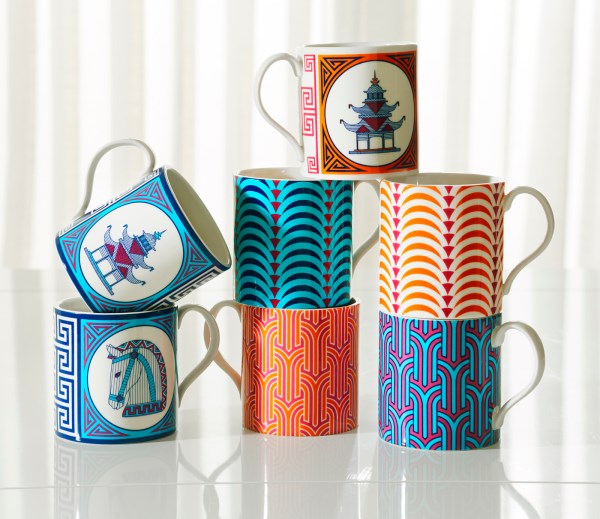 We hope today's roundup of geometric patterns has inspired you to update your home's look with a few new pieces this season. We at Decoist wish you a vibrant summer!