I'm in search of a new home office space! Kate here, and this past week our home office flooded after a particularly torrential bout of stormy weather. While we're taking care of repairs, the room will be uninhabitable. For 4-6 weeks! My hubby and I have temporarily moved our home office into another room, but this is by no means a permanent solution. And when our now-flooded space is back up and running, we may use part of the room for another purpose. I'm seriously considering permanently moving my office to a spare nook and making it work. [from Sarah Jefferys Design]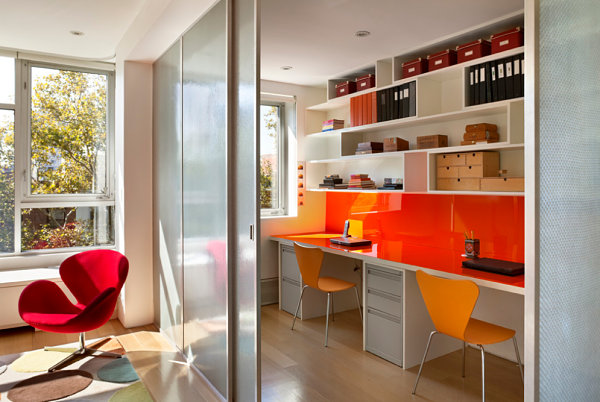 Did you catch our recent post on home office lighting? In that spirit, today we explore ways to make a small home office look–well, not so small! What do you truly need to make the space work? How can you keep clutter at bay? Any tricks for making your workspace seamlessly blend with the rest of your home? Read on for all the details…
Organizing Your Small Home Office Space
Let's start with the basics–what you need to have a functional home office. This may vary from person to person. For example, I need a surface to hold my laptop, a filing box to contain a series of folders filled with essential documents, and some shelving and/or a drawer to hold books and other necessities. However, I don't need my shelf items to be in the same room as my desk. For others, it may be absolutely essential to have shelving near the desk. Start by defining your priorities. [from Leslie Christine Designs]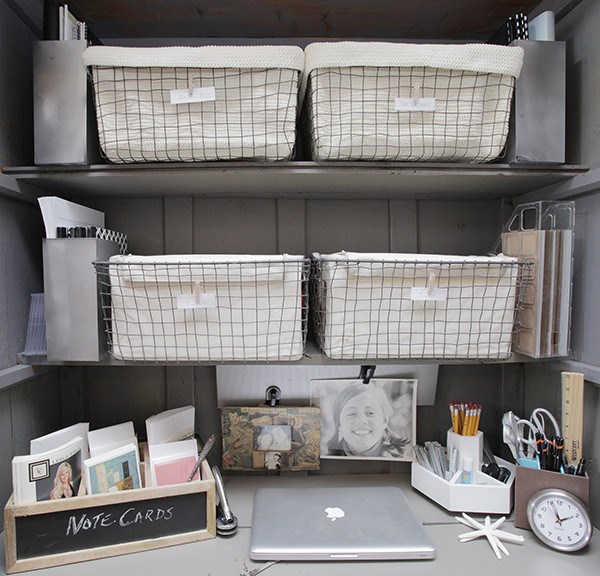 What about the desktop? Keeping it tidy is essential, but that doesn't mean it can't be pretty! A vase of flowers and some glossy trays for containing currently-in-use items can nicely complement one another in a chic vignette. [from Camille Styles]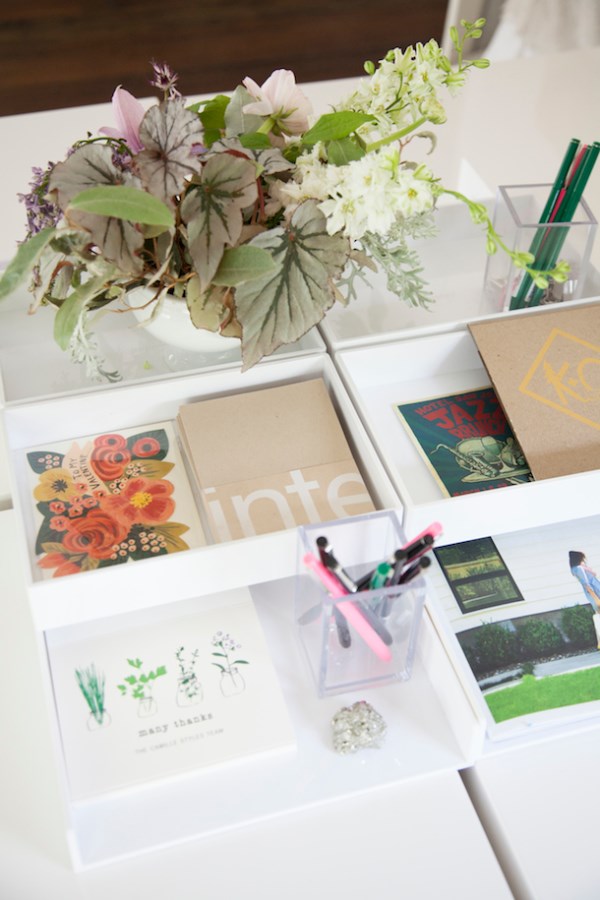 You might make it a point to purchase a few organizational items as you kick off your small office design project. Often, one or two pretty yet practical pieces can serve as an incentive for truly de-cluttering your space. I love the clean look of the Lacquer Office products from West Elm, shown below: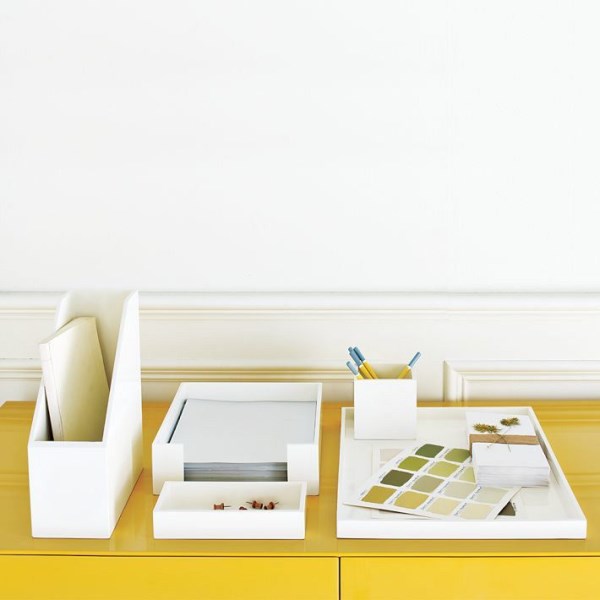 Have you noticed some of the office design styles showcased already? From the modern and the eclectic to the elegant and the minimalist, no style is a mismatch. Be true to your look, and your office will feel like home. You may even have a bit of extra space for arranging some of your favorite decorative items, as shown in the next featured image. [from Lonny]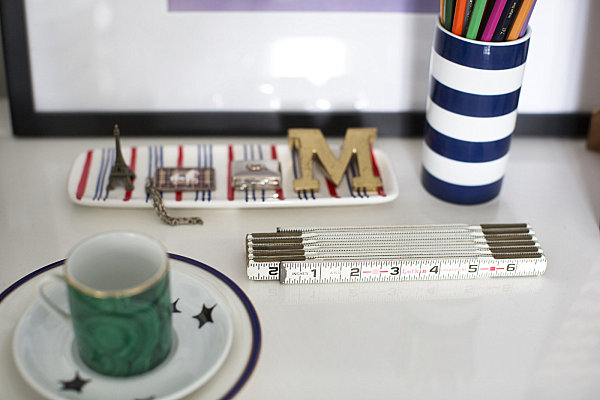 You've decided on a style and you've bought a few organizational items… Now it's time to order any extra furnishings you may need. Remember how I mentioned that shelving is essential for the success of my home office setup? There are many styles to choose from, as well as many price ranges to accommodate your budget. In the next image, we see the Tiered Tower Bookcase from West Elm, which features a series of cascading mirrored shelves: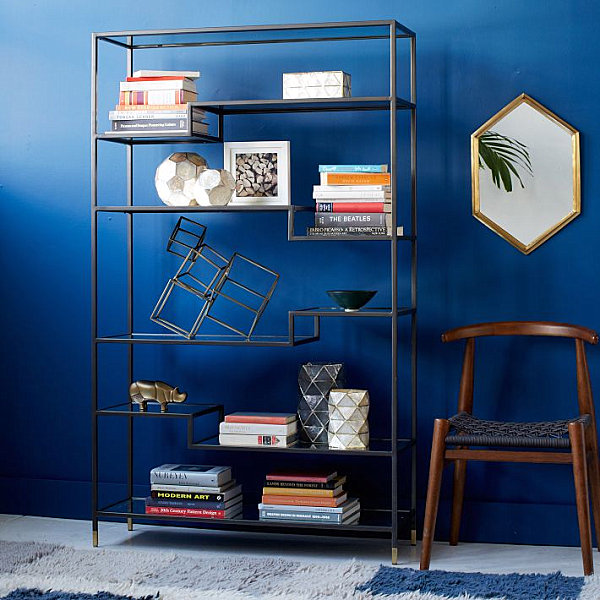 Remember–there's room to make the space your own. Some prefer a minimalist look with lots of gleaming surfaces. For others, an office wouldn't feel right without a true lived-in look. However you choose to organize your space, just make sure that you leave some room to let your personality shine. [from Lonny]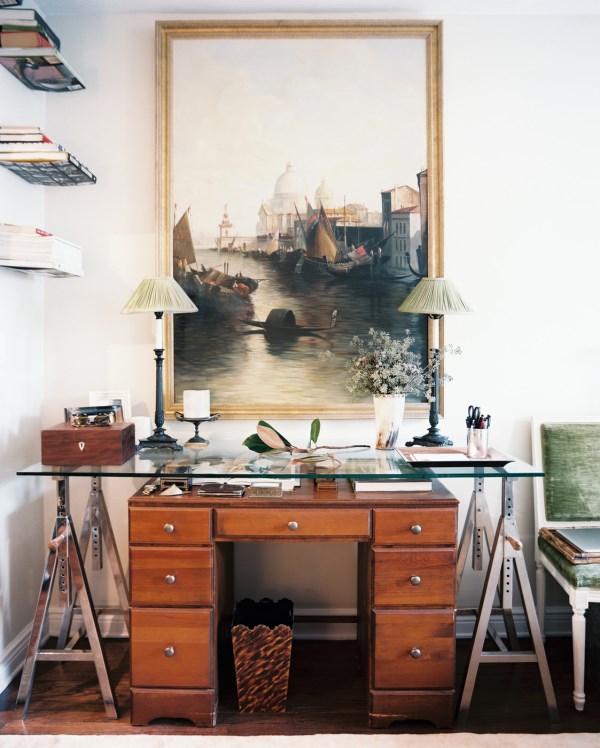 Home Office Nooks
We now turn our attention to the home office nook–the compact space that occupies any hint of spare room in your abode. Got an empty closet that can be transformed into a workspace? Needing to buy a small desk for that compact corner of the room? I sure do! Here are some clever ways that design enthusiasts have incorporated a small home office into larger areas–we'll kick things off with the compact modern work nook below. [from Slade Architecture]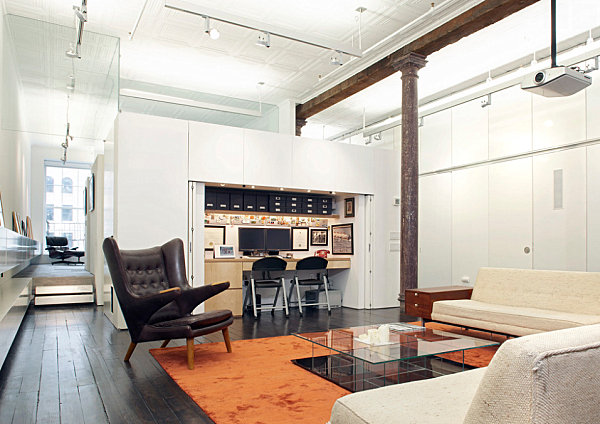 Got a little room under the stairs? It may be all you need, especialy if you can find a way to incorporate a bit of shelving! [from Kia Designs]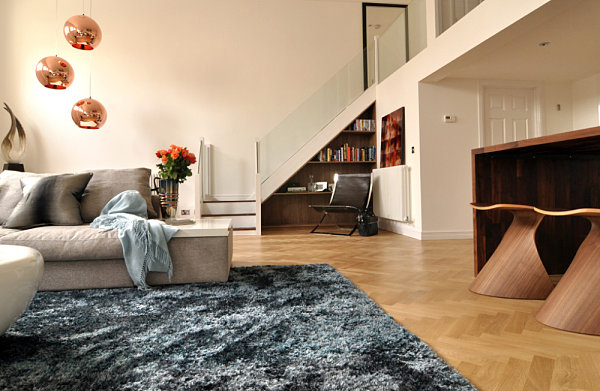 Does your kitchen have a built-in desk? If so, you may not be jazzed about putting office supplies on display where you cook. Consider a pull-down aluminum shutter to hide excess items, as shown in the gleaming space below. [from Korn Interior Design]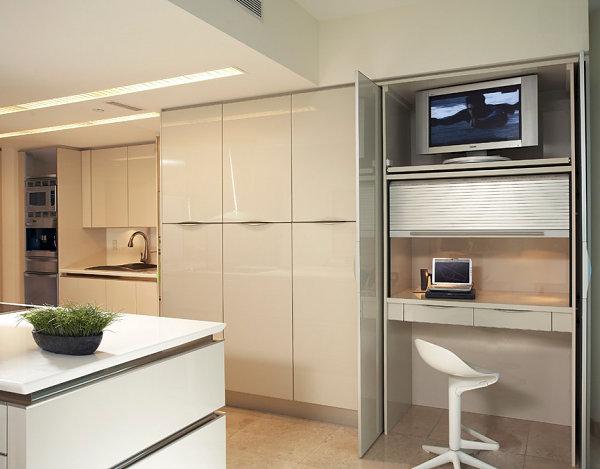 And for those who want to disguise their home office areas, a built-in desktop that involves cabling and concealed sockets helps create a panel that can easily be hidden. [from Housetohome]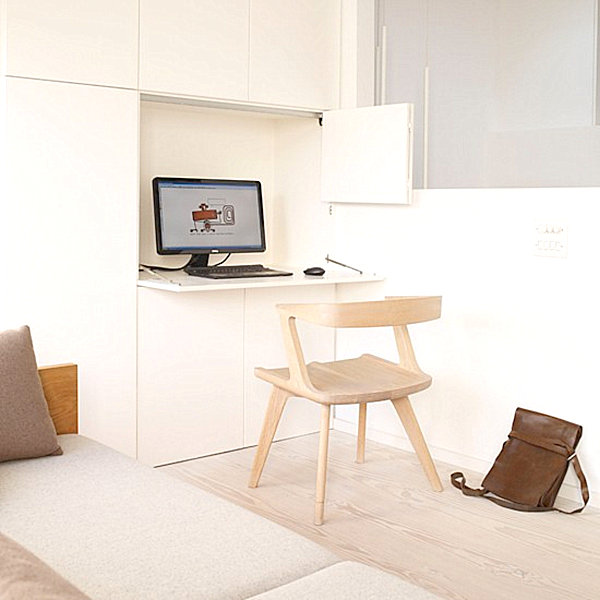 But don't think that the small home office must be a concealed one! Sometimes a sleek, compact desk is all you need to turn a little nook into a functional work area. And you can always "hide" the desk by going acrylic! See-through furniture is a win-win for small spaces. This Peekaboo Clear Console Table from CB2 is crafted from stylish plexi: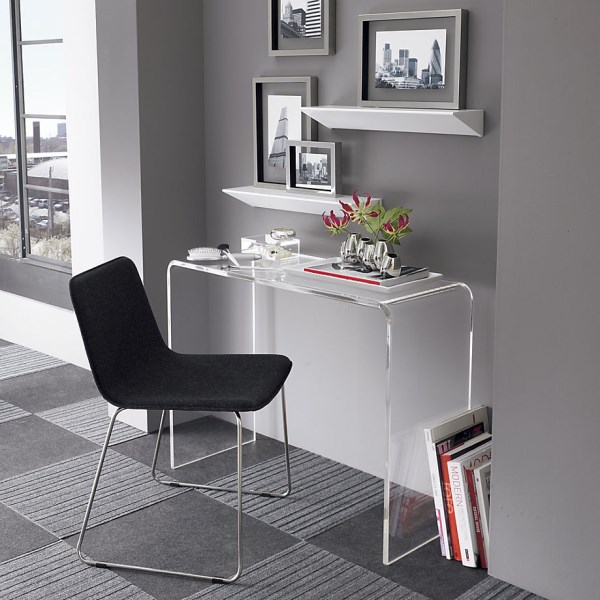 Small Home Office Design
Got a bit more room to work with? Whether you're accommodating a tiny sliver of space or you have an entire room to work with, here are a few hints for making each statement count. Remember that clean lines and surfaces create a sense of roominess. Don't worry about your pure, sleek look veering into bland territory. You can always punctuate your home office with bold accents, such as colorful lamps and seating, as shown in this vignette from Buckingham Interiors. [via Lonny]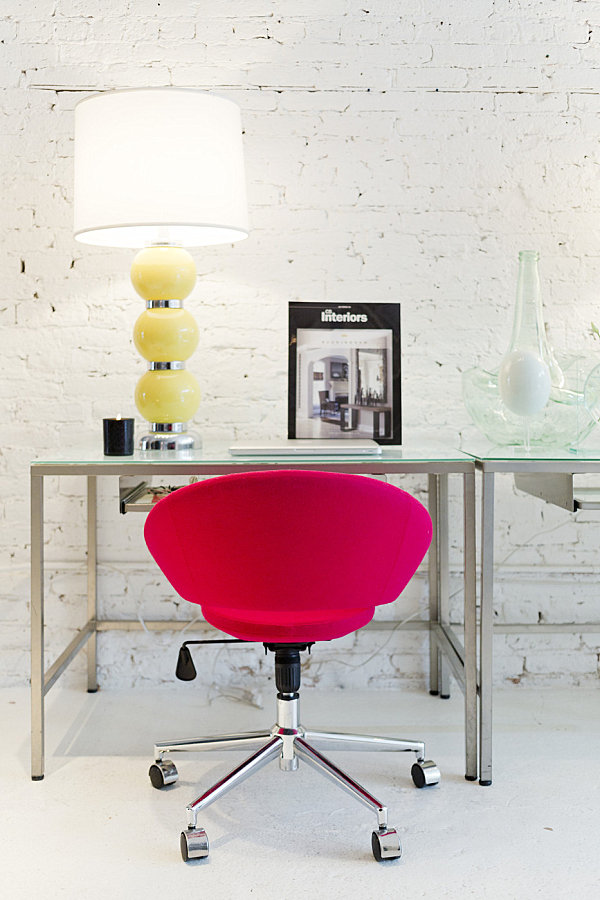 Short on wall space? Utilize wall-mounted open shelving over your desk, or tuck a couple of bookcases behind your work space so you can easily grab what you need. Below we see the Chamber Desk from CB2, paired with the Hancock White Bookcase: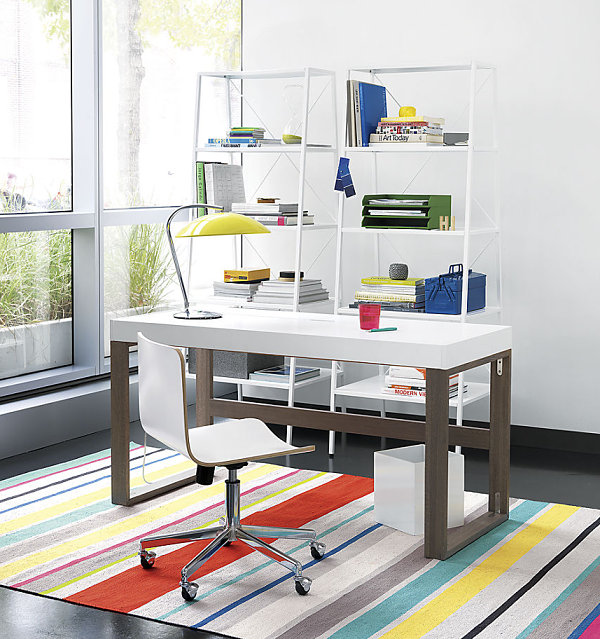 Just because the space is practical doesn't mean it has to be boring! Glass-top desks (such as the Tesso Desk from CB2) pull double duty–they add a chic touch AND they appear to take up less space. Complement your home office with other interesting, useful statements, such as a colorful file cabinet or a curved modern chair.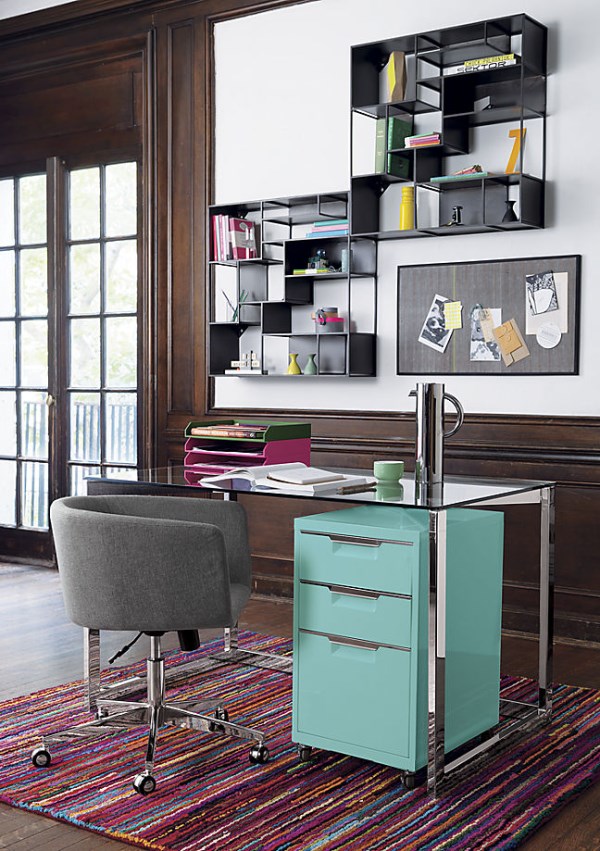 Don't forget the personal touches, such as a string where pegs can help secure photos and special reminders to the wall. It's the next best thing to a memo board! [from Housetohome]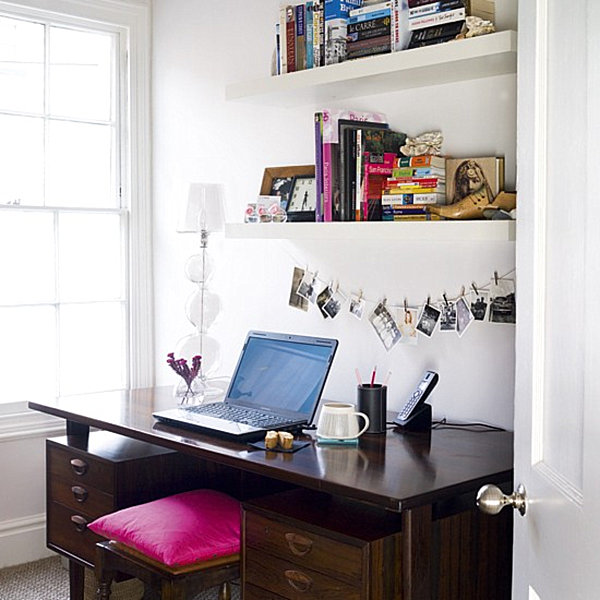 And you can always go all out! Wallpaper, designer lighting, and other special accents serve as a constant reminder that your home office is a creative space where amazing ideas are born! [from SME Interiors]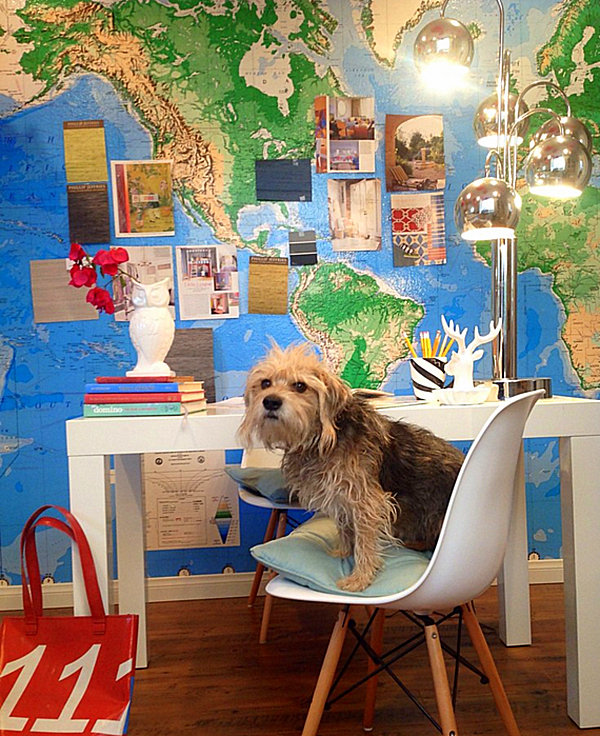 Do you have a home office that maximizes the available space? Tell us about how you made your work area a stylish and practical one by leaving a comment below…