Modern minimalist designs often seem to give too much importance to aesthetics, and in the process ergonomics take a backseat almost every time. But offering a refreshing change from this trend is the collection of Feel&Scenery living spaces from Scavolini. Much like the amazing kitchen and living room compositions that we have seen from them earlier, here is another living space that focuses on the integration of functions, relaxation and a seamless connectivity with the kitchen. With modern homeowners gravitating towards the open floor plan, Feel&Scenery offers a smart solution that blurs the line between the living room and the trendy kitchen.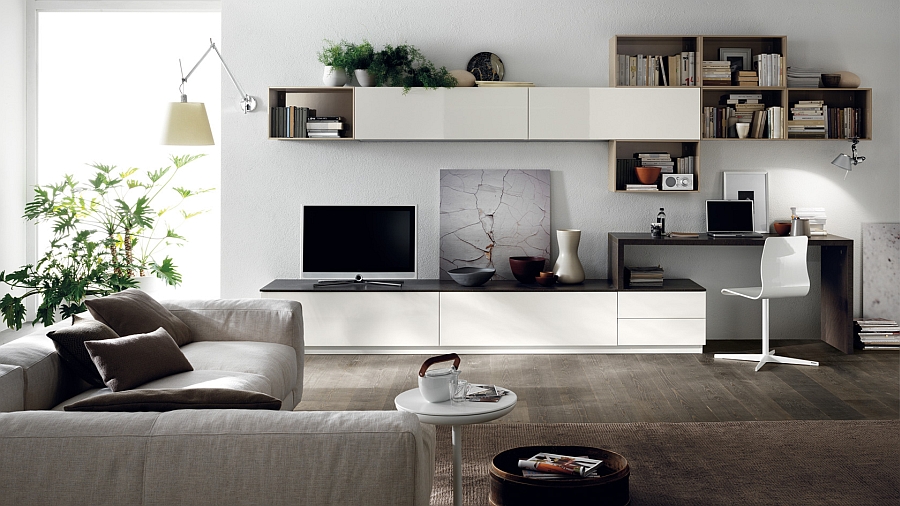 The concept of "Feel-Scenery" is ideal for homes with limited space, as it integrates the living area, the kitchen and even the adjoining dining area into one flowing space with common architectural elements. Subtle variations in shades, styling of the shelves, their alignment and placement allows you to distinguish between each space. The sleek wall units offer a variety of open and closed cabinets that let you combine sparkling displays with smart storage. Yet at no point do these living room compositions sacrifice elegance or visual flair for the sake of functionality!
Providing a sense of continuity for the contemporary home with the open floor living area, Feel&Scenery encourages the family to spend more time together by creating one large social area. Inventive, stylish and trendy, it truly epitomizes the sophisticated urban life!