When you entertain, do you ever throw in a dash of red? What if instead of red being an accent color, it became the hue that anchored your entire table setting? Some shy away from the boldness of a red tablecloth, and others automatically place it  in "holiday" territory. But red is about so much more than Christmas decorations and Valentine's Day flair. Today we show you how one bright red tablecloth can create three very different looks…
Red Meets Natural Beauty
Though this first featured table setting is for a large group, it can easily be adapted for a small dinner party. The event below is the Midsummers Party for the Parrish Art Museum in Watermill, New York. With Ron Wednt Design on board, the festive gathering became a feast for the eyes: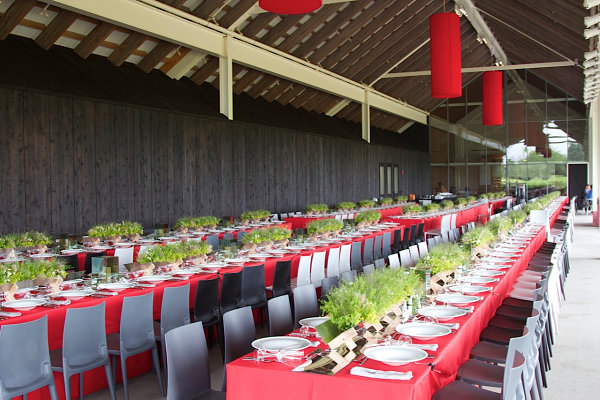 The color red anchors this event without taking over. Combined with gray and black chairs and fresh green centerpieces that evoke the natural beauty of meadow flowers, red becomes clean, modern and appetizing!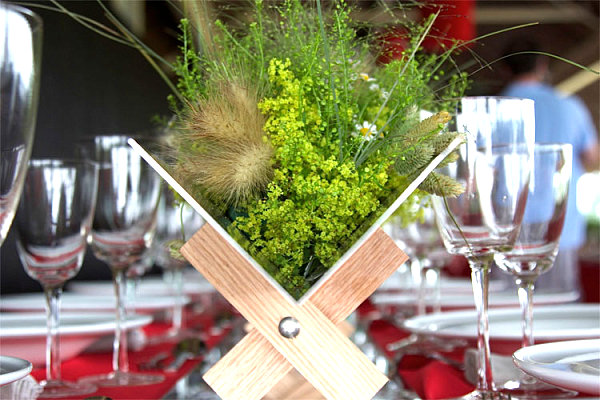 As an added bonus, the glowing lighting overhead was reflected in the mirrored table runners at this lively party. To create the look at home, opt for a tomato red tablecloth, add a fresh green centerpiece, and keep the overall vibe clean and simple. Metal chairs and accents are the perfect complement to tomato red!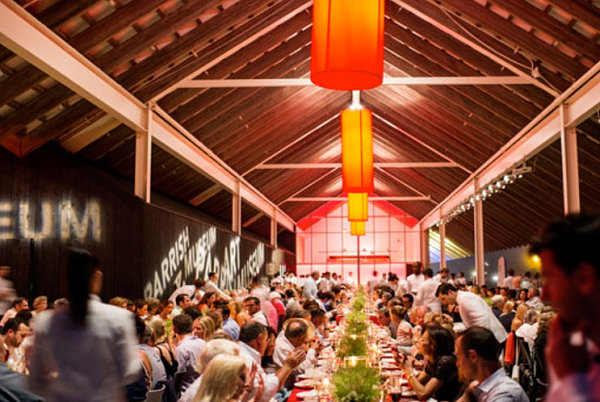 Red Meets Vintage
There's something so culinary about red! It stimulates the appetite, and when paired with crisp white, it is simply alluring. And a little bit vintage… [from Southern Plate]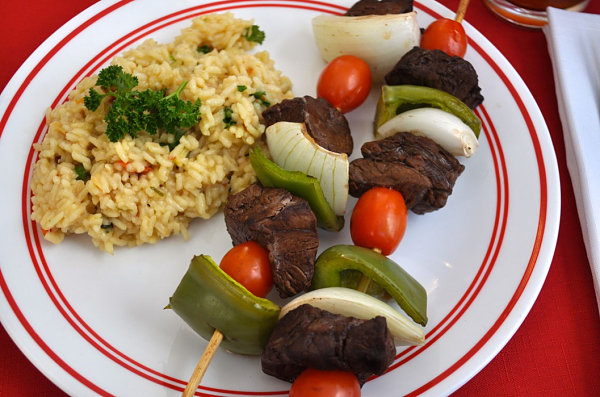 A few years ago, designer Eddie Ross created this stunning holiday table setting featuring milk glass and peppermints. We think it's perfect for year-round fun, as the pairing of red and white screams vintage, and the candy-themed motif will make your table setting look good enough to eat. Whimsical, yet crisp and polished!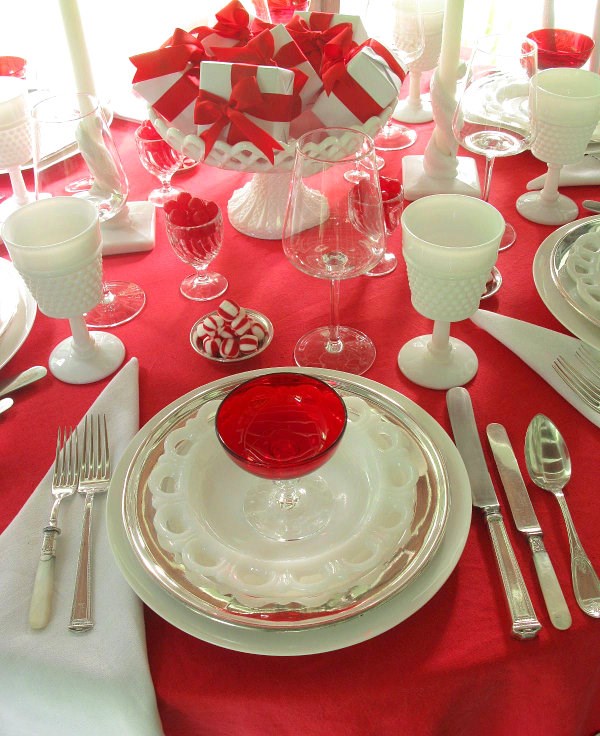 Did someone say candy stripes? The next image reminds us that red and white stripes evoke the days of yore and signal good times ahead. Think of all the circus and carnival tents with this pattern! Try punctuating your red tablecloth with red-and-white-striped napkins for a standout look. [table created by Punch, photo by Sara Gray Photography via Green Wedding Shoes]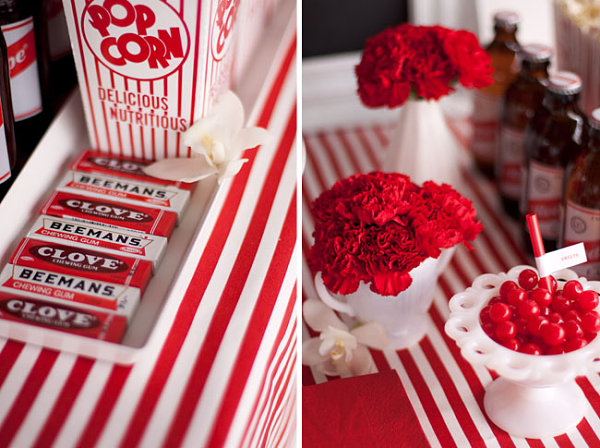 Red can also be decadent and glamorous, as in this '30s-style Art Deco wedding table. Top your red tablecloth with heaping containers of fruit and other goodies, and discover an elegant take on entertaining. [photo by Callaway Gable, featured at Ruffled]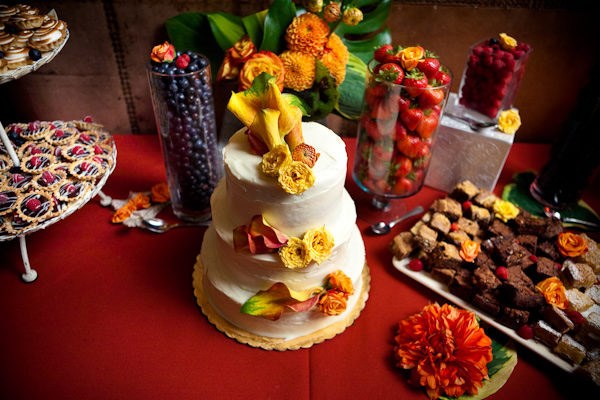 Red Meets Youthful Fun
Did we mention that red is perfect for kids' tables?! Use a red tablecloth to offset name cards in vintage-style lettering. Don't forget the gingham accents! [Farmer's market party from Hostess with the Mostess]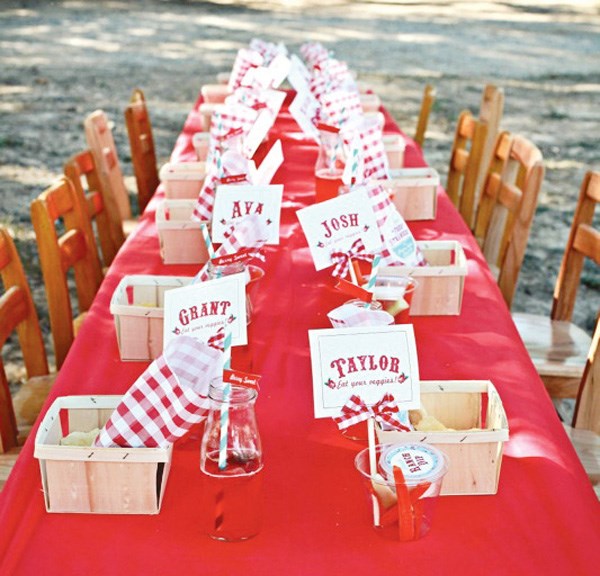 When combined with multicolored embellishments, such as the lollipop below, a red tablecloth is given a breath of fresh air. Red is an ideal backdrop for vibrant patterns and accents, especially when a kids' table is involved! [photo by Gulnara Studio via Ruffled]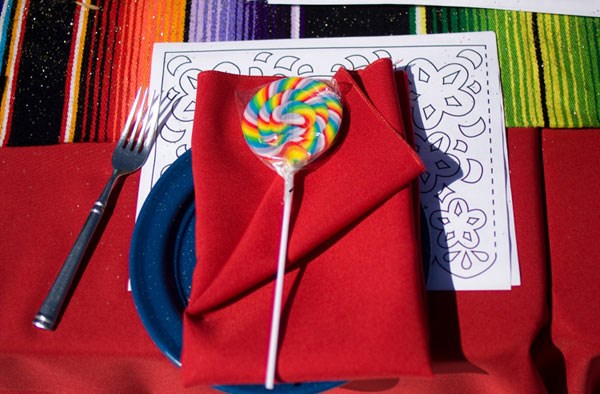 For a summery look that showcases red, white and blue, try adding accents of blue and white to your vivid red tablecloth. The result: a nautical take on a classic color! While the kids are waiting to eat, they can enjoy some arts and crafts at this child-friendly party spot. Just remember to protect your tablecloth with paper, as shown below. [from Mathieu Photography via Elizabeth Anne Designs]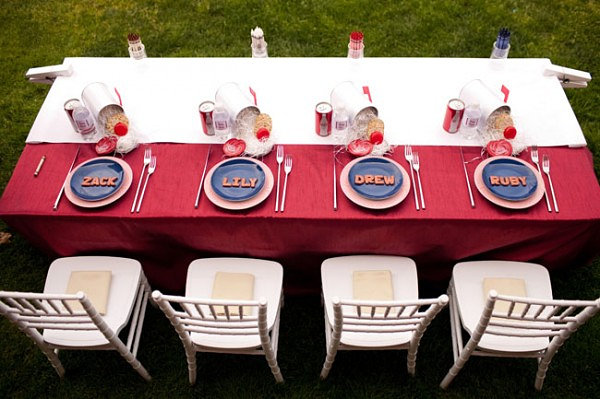 Do you use a heavy dose of red in your entertaining endeavors? Remember that this hue is perfect for modern table settings, vintage-style vignettes, and of course, kids' parties! Go bold, and enjoy the process of reveling in a dynamic hue that can add interest and fun to your next gathering.